<![if !vml]>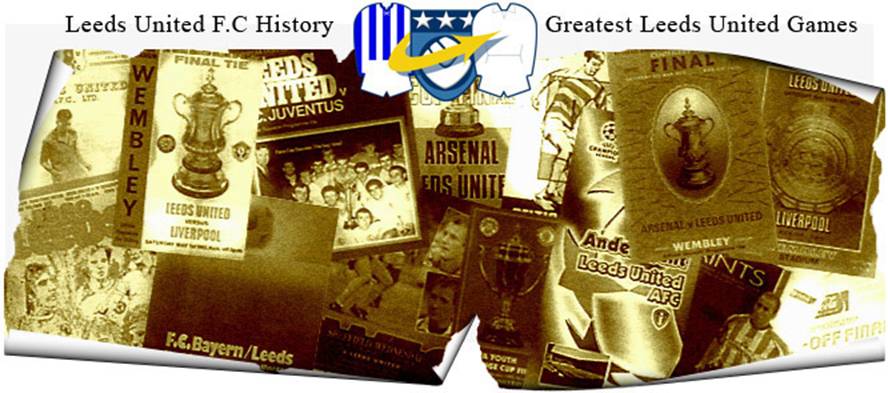 <![endif]>
Date: Saturday, 21st February 2004.
Venue: Old Trafford, Manchester.
Competition: English Premier League.
Score: Manchester United 1 Leeds United 1.
Scorers: Manchester United: Scholes. Leeds United: Smith.
Attendance: 67,744.
Teams:
<![if !vml]>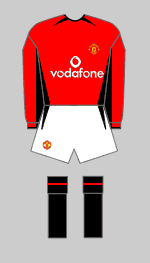 <![endif]><![if !vml]>
<![endif]>
Manchester United: Howard; G. Neville, O'Shea, Silvestre (Brown), Fortune; Kleberson (Keane), Butt, P. Neville (Solskjaer), Giggs; Scholes, Van Nistelrooy. Unused Subs: Ronaldo, Carroll.
<![if !vml]>
<![endif]><![if !vml]>
<![endif]>
Leeds United: Carson; Kelly, Caldwell, Matteo, Domi; Pennant, Bakke, Johnson, McPhail; Milner (Sakho), Smith. Unused Subs: Harte, Radebe, Olembe, Allaway.
Referee: Mr M. Halsey (Bolton, Lancashire).
On a day when Leeds United were mourning the loss of a true club legend, it was fitting that one of their modern day heroes should come up trumps at Old Trafford. Alan Smith's second half equalizer, his first goal against Manchester United, might have proved to be the defining moment in a season that had seen Leeds lurch from one crisis to another.
Granted, it wasn't enough to win the game. It wasn't even enough to spare Leeds the ignominy of slumping back to the foot of the Premiership. But it was enough for United to secure an against-the-odds draw against the league champions on their own soil, and if Leeds could get a result there they could get a result anywhere. It was a fully deserved point for Eddie Gray's gutsy battlers. They scrapped for everything and were rewarded with a stunning draw against a side that were expected to slaughter them.
 
Leeds did ride their luck at times, but that was only to be expected against a side possessing the likes of Ryan Giggs, Paul Scholes and Ruud Van Nistelrooy. However, luck had been in short supply for Leeds that term and it was about time fortunes started to change on that front. There were heroes all across the park for Leeds as they turned in a workmanlike display that ruffled their hosts to the extent that they were unable to play their usual slick, controlled football. It wasn't always pretty, but it was effective. And, while people might criticise the home side for not finishing off the strugglers, it was Leeds who deserved the credit for making life difficult.
<![if !supportLineBreakNewLine]>
<![endif]>
Manchester United did have their moments and plenty of them, but it was telling that teenage debutant Scott Carson only had two serious saves to make. The first was when a looping Paul Scholes shot almost crept under the bar and the second was a tremendous block from point-blank range to deny Nicky Butt. Other than that, Carson was able to fling himself around as the ball flew high and wide. The woodwork did come to the rescue twice, but few would have begrudged Leeds that fortune. Carson was behind a defence which was in control. Skipper Dominic Matteo talked the teenager through his debut while Steve Caldwell also offered advice. The duo was forming a good partnership at the back. Dominic Matteo was immense in nullifying the threat of Ruud Van Nistelrooy, while Steve Caldwell turned in another towering display.
<![if !supportLineBreakNewLine]>
<![endif]>
Gary Kelly and Didier Domi also coped well with the expected barrage down the flanks and Leeds looked a tidy unit at the back. In the middle of the park, it was Seth Johnson's day. Johnson had come under fire from a section of the support, but he showed what he was capable of against the Reds. He played with bags of energy and was instrumental in breaking down play and getting Leeds moving. He was well supported by Jermaine Pennant, Eirik Bakke and Stephen McPhail. The midfield's work rate was phenomenal at times and the hosts were rarely given any space or time. Jermaine Pennant worked as hard defensively as he had done all season and Leeds were successful in keeping the home side out of the danger zone.
<![if !supportLineBreakNewLine]>
<![endif]>
Kleberson, in particular, found the going tough, while Nicky Butt struggled to make an impact as the Leeds midfield ground them down. Eddie Gray deserves credit for sticking by his beliefs in "having a go" at Manchester United. Early on, Leeds relied heavily on lumping the ball forward for Alan Smith and James Milner, but they soon settled and their build-up play was neat and tidy. Alan Smith was outstanding. He held the ball up superbly well and gave a timely reminder of his worth as a striker. He never shirked a challenge, the injured Mikael Silvestre will testify to that, and the home defenders knew they had been in a contest. James Milner offered good support and the pairing interchanged well as they looked to expose the hosts' notoriously fragile defence. Sir Alex Ferguson graciously gave Leeds credit for their performance after the game and acknowledged that their work rate had made it difficult for his side.
<![if !supportLineBreakNewLine]>
<![endif]>
For all their flair, the champions clearly didn't fancy a scrap and it was only when Roy Keane arrived midway through the second half that they found a new lease of life. Keane had blasted his team-mates on the eve of the match for not having the desire to retain the title, but his appearance as a sub rallied the troops and it was no coincidence that they scored within six minutes of his arrival. Scott Carson could only parry a low drive from Gary Neville and Paul Scholes was on hand to hammer the ball home from close range. That looked like game over and there were grandiose mutterings from the fickle home crowd about how many goals they would go on and score.
 
But Leeds showed great character to come straight back at their hosts and were level within three minutes. It was Didier Domi who broke down the left to deliver a cross for Alan Smith. The Leeds hit man came charging in towards the back stick and produced a superb header that left American keeper Tim Howard clutching at thin air. It was a tremendous goal and one which sent the 1,700 travelling fans into ecstasy. They've waited a long time for a win at Old Trafford, but Alan Smith's equaliser represented a morale victory.
<![if !supportLineBreakNewLine]>
<![endif]>
There were no two-fingered salutes to the Australian Soccer Authorities from the jubilant Leeds players, following the decision to ban Mark Viduka, but the defiant celebration from Alan Smith said more than gestures could. The hosts had the better of the final twenty minutes, but they never looked like breaking Leeds down and Eddie Gray's side held on to secure a precious point.
<![if !supportLineBreakNewLine]>
<![endif]>
Not even the news that Wolves' defeat of Fulham had sent Leeds back to the bottom took the shine off what was an impressive away performance at Old Trafford. To gain a point against the odds is one thing, but to come from behind after matching the champions is another thing all together. Heads didn't drop and Leeds players, to a man, showed great character and a welcome willingness to fight on.
<![if !supportLineBreakNewLine]>
<![endif]>
Saturday may have been a sad day for those connected with Leeds United because of John Charles' death, but it could also prove to be the day the season turned. If Leeds could play like this on a consistent basis between then and May, they would have every chance of staying among the elite the following season.
<![if !supportLineBreakNewLine]>
<![endif]>
<![if !vml]>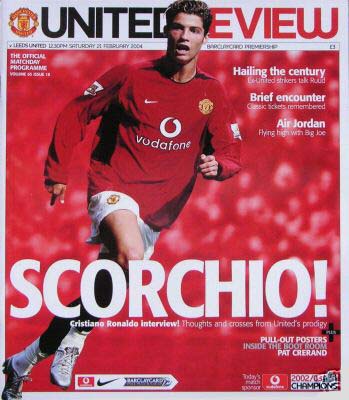 <![endif]>
Match Action:
 <![if !vml]>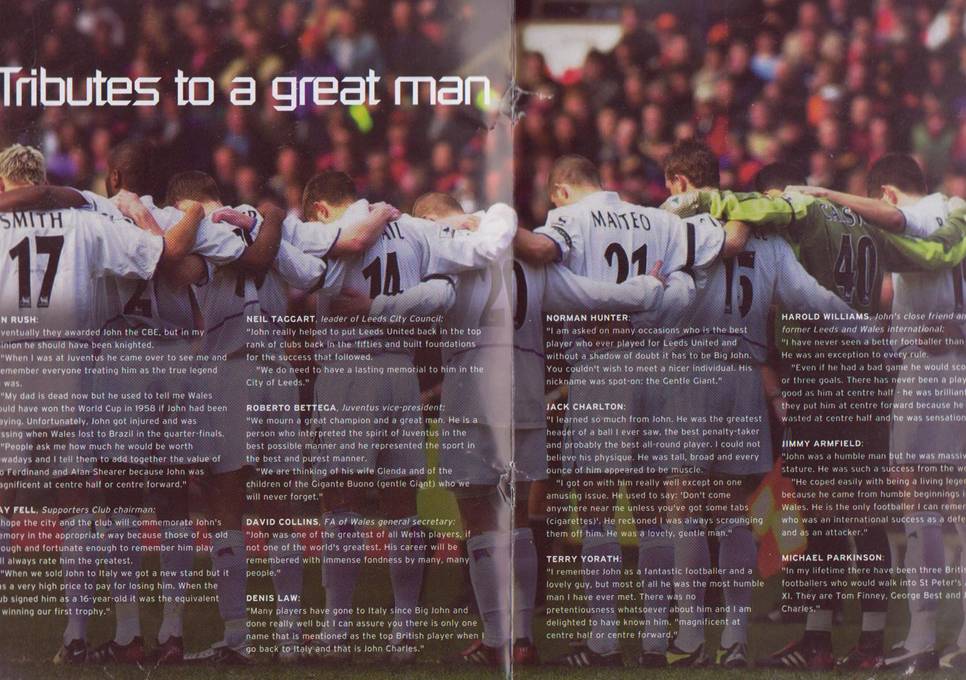 <![endif]>
<![if !vml]>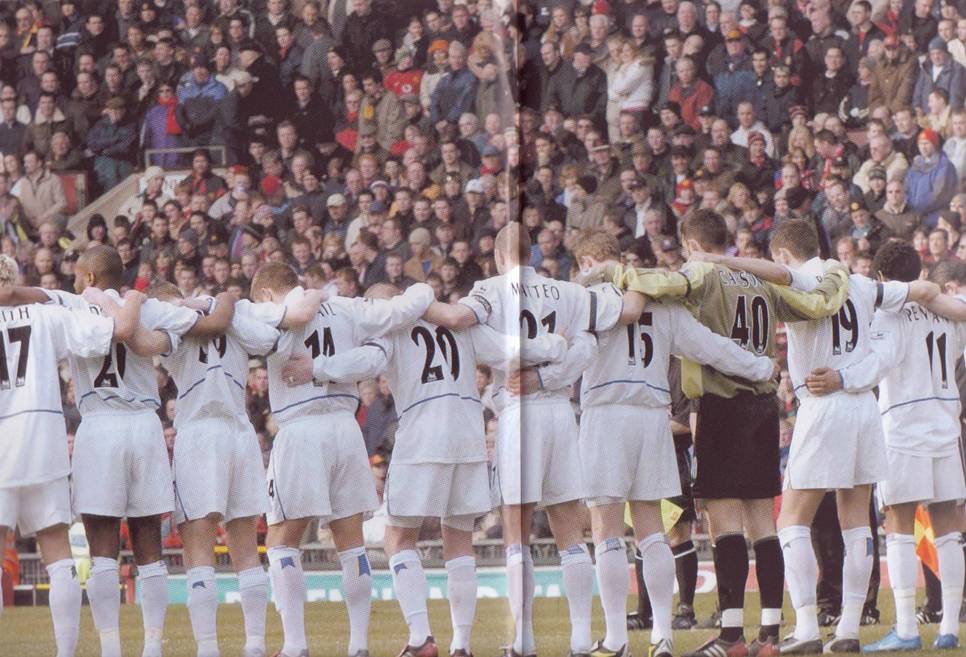 <![endif]>
Alan Smith, Didier Domi, James Milner, Stephen McPhail, Seth Johnson, Dominic Matteo, Stephen Caldwell, Scott Carson, Eirik Bakke,
Jermaine Pennant and Gary Kelly link arms in remembrance of the legendary John Charles, whose sad passing received an impeccably
observed minute's silence.
<![if !vml]>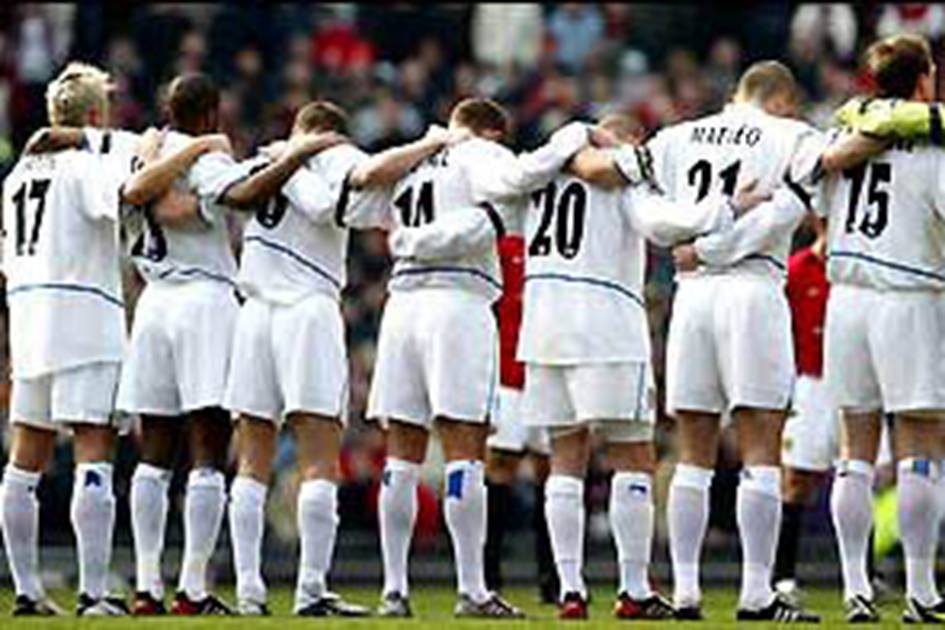 <![endif]> 
<![if !vml]>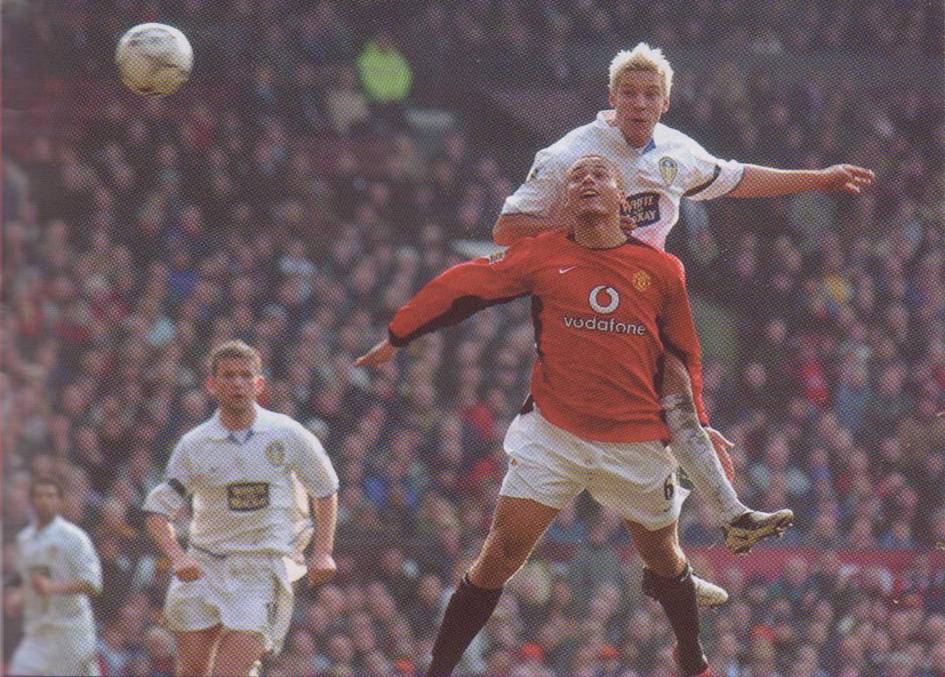 <![endif]> 
Alan Smith climbs far higher than Wes Brown to power home the equalizer
<![if !vml]>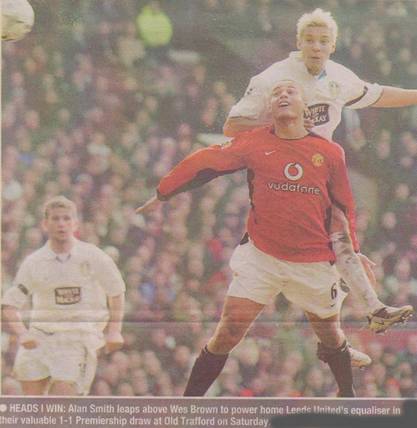 <![endif]>  <![if !vml]>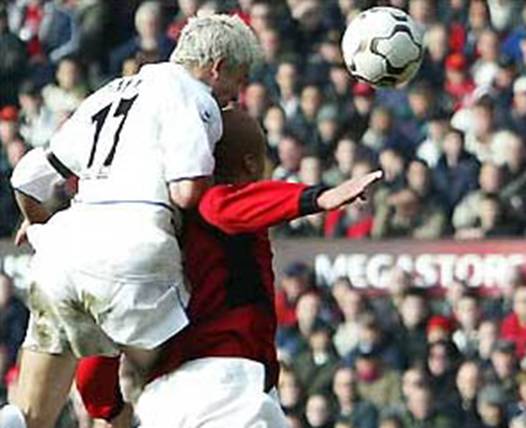 <![endif]>
<![if !vml]>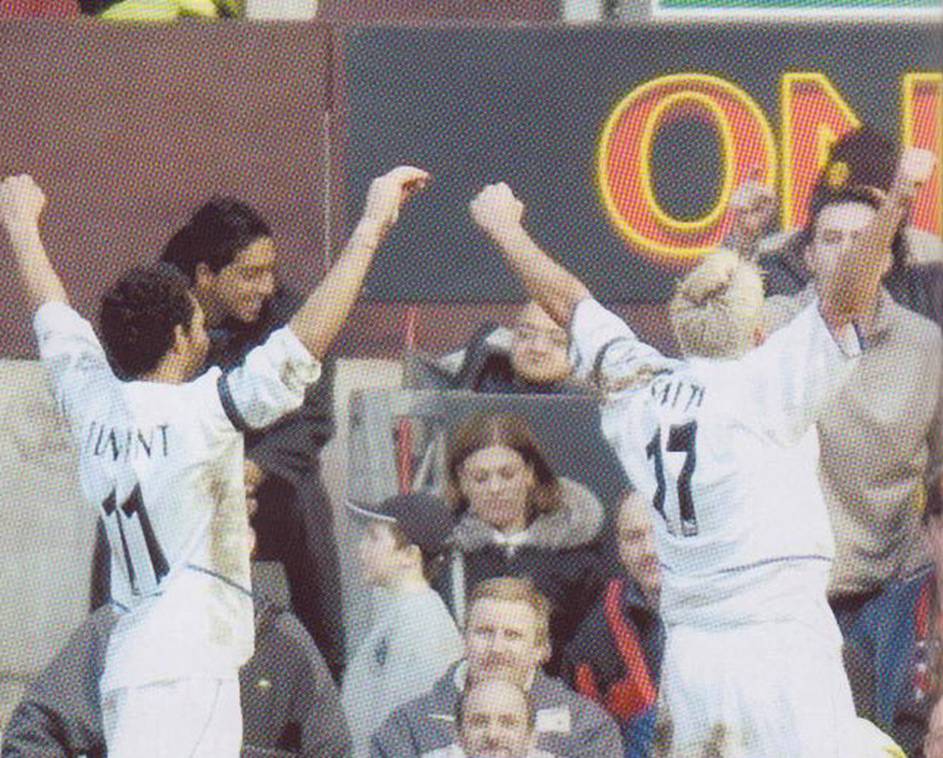 <![endif]> 
Jermaine Pennant and Alan Smith salute the crowd after the United goal
<![if !vml]>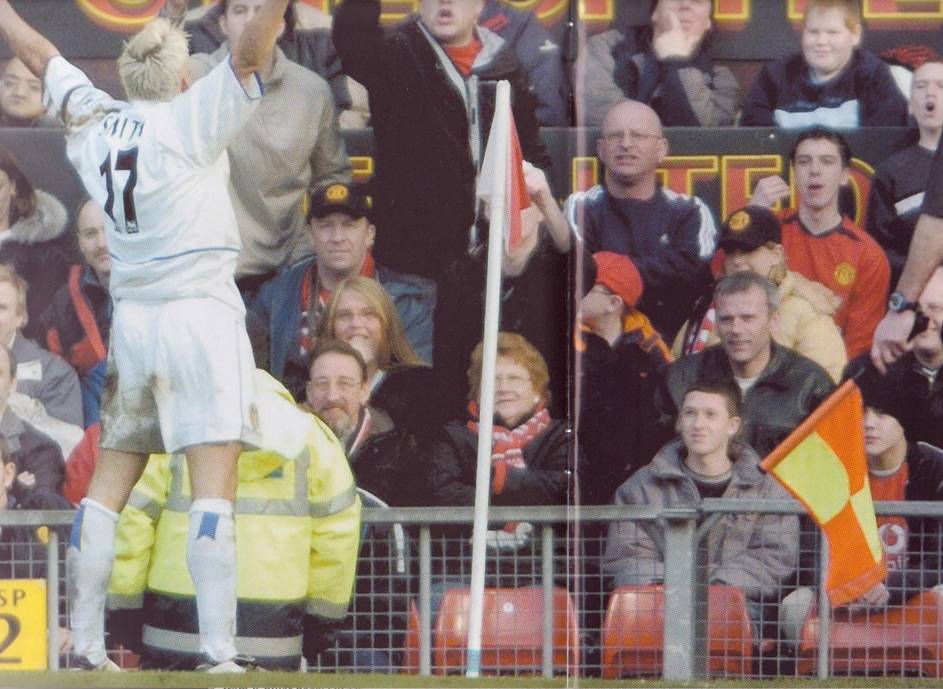 <![endif]> 
          The Manchester crowd did not appreciate Alan Smith's celebrations
<![if !vml]>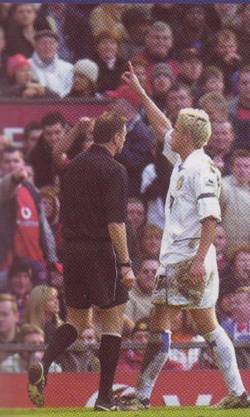 <![endif]>    <![if !vml]>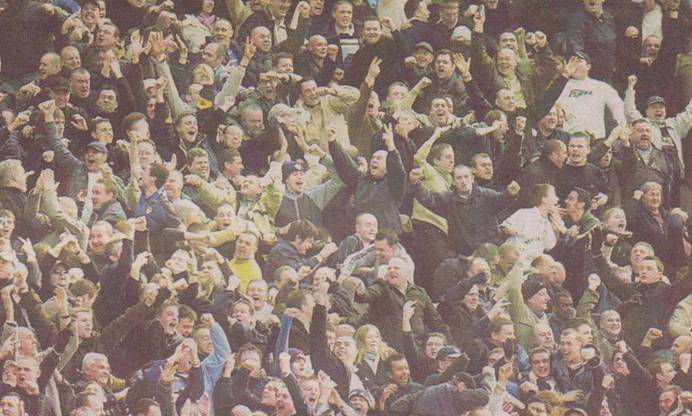 <![endif]> 
Alan Smith salutes the fans and the Leeds section show their delight
<![if !vml]>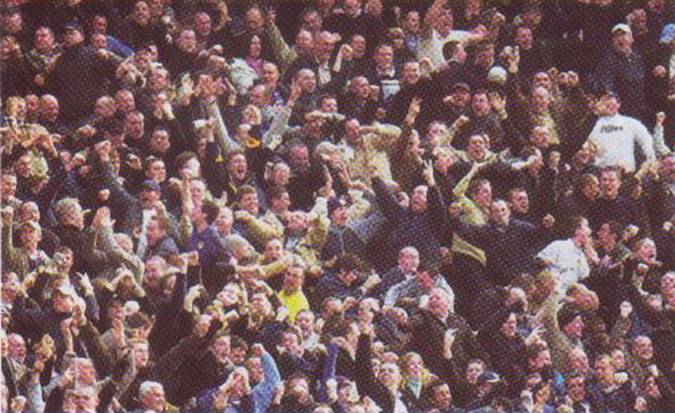 <![endif]> <![if !vml]>
<![endif]>
In answer to the Leeds fans celebrations Alan Smith kisses the badge. Things changed in a few short months as he crossed the Pennines
<![if !vml]>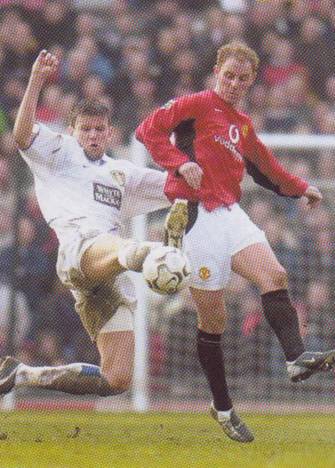 <![endif]>      <![if !vml]>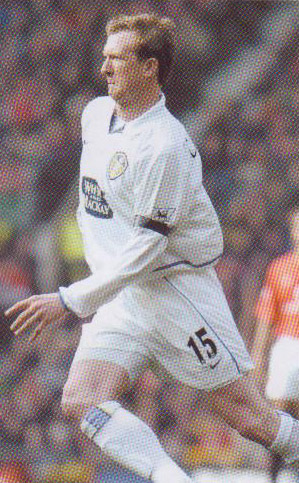 <![endif]>       <![if !vml]>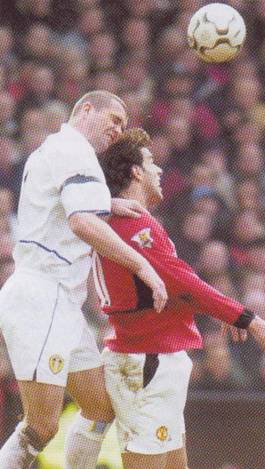 <![endif]> 
Eirik Bakke gets in ahead of Nicky Butt                        Stephen Caldwell in defence                                Dominic Matteo beats Ruud        
                                                                                                                                                                          Van Nistelrooy in the air
<![if !vml]>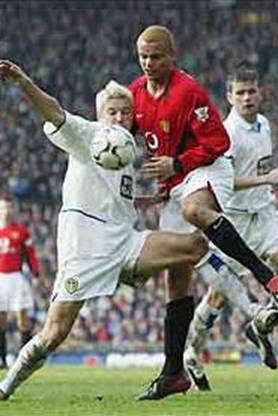 <![endif]>       <![if !vml]>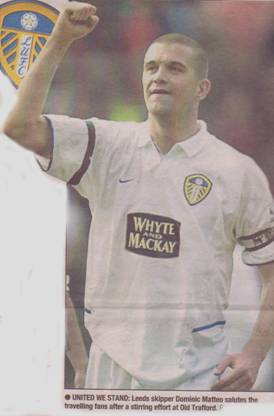 <![endif]>        <![if !vml]>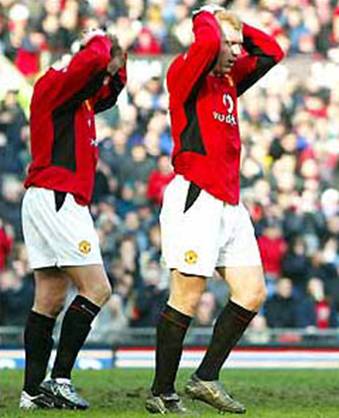 <![endif]>
Alan Smith gives Wes Brown a hard time                                                                                      Nicky Butt and Paul Scholes cannot believe
as Eirik Bakke looks on                                                                                                                  they did not score
<![if !vml]>
<![endif]>    <![if !vml]>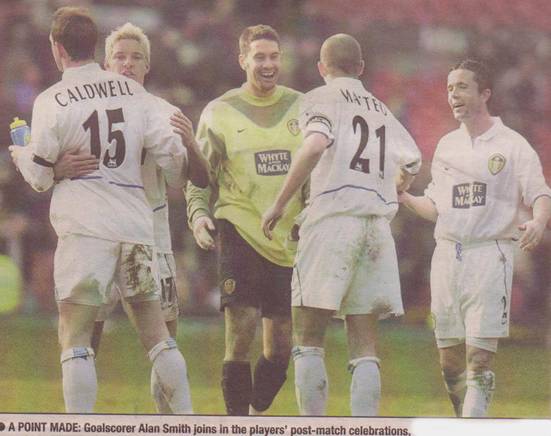 <![endif]>
Stephen Caldwell, Alan Smith, Scott Carson, Domimic Matteo and Gary Kelly celebrate an unexpected point
<![if !vml]>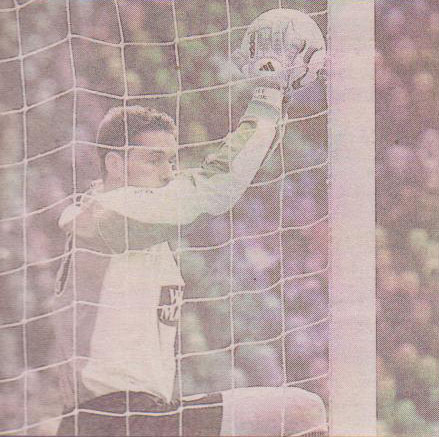 <![endif]>      <![if !vml]>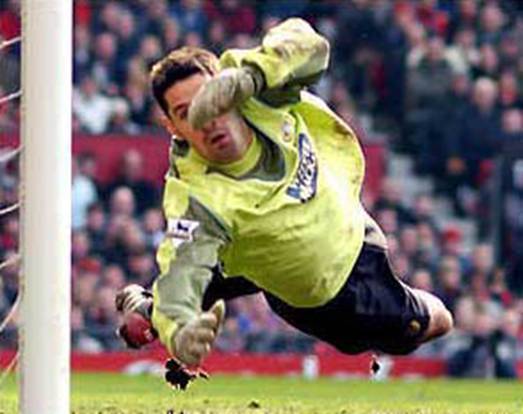 <![endif]>
Scott Carson, on debut, was surprisingly untroubled in the Leeds goal. He takes a goal attempt with ease and watches a shot to safety
<![if !vml]>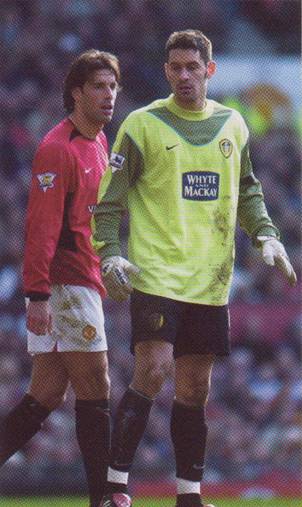 <![endif]> <![if !vml]>
<![endif]> 
Scott Carson seems unphased by                       Alan Smith again gets the better of Wes Brown
Ruud Van Nistelrooy
<![if !vml]>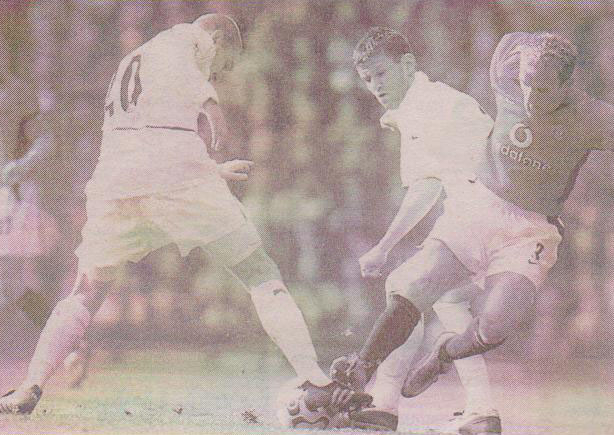 <![endif]>  <![if !vml]>
<![endif]>
Seth Johnson and Eirik Bakke combined to beat Phil Neville                                                  Jermaine Pennant gets past Quinton Fortune
<![if !vml]>
<![endif]> 
Nicky Butt has to take evasive action as Seth Johnson wins the ball
<![if !vml]>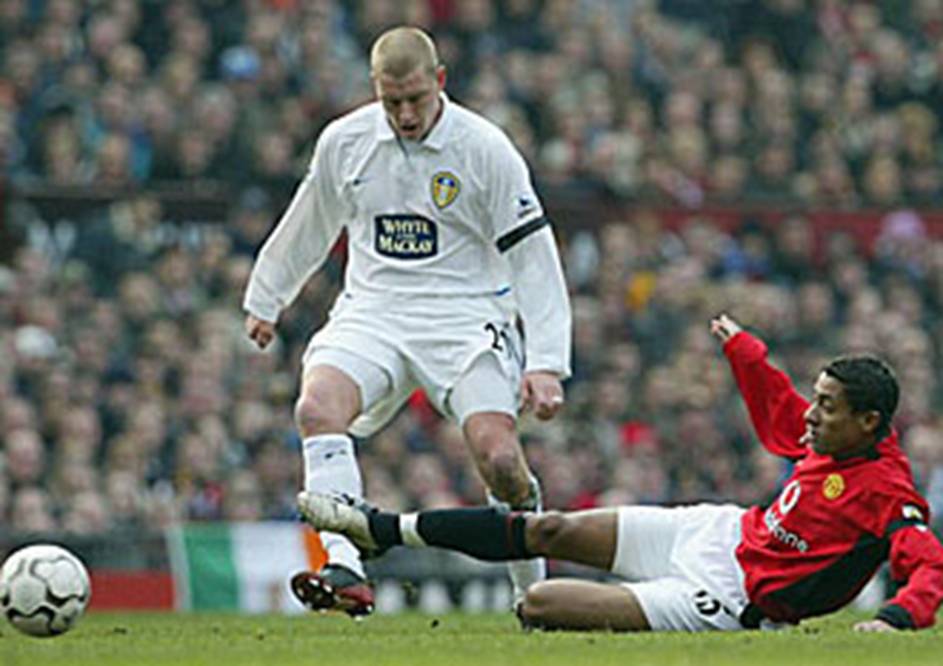 <![endif]>
Seth Johnson is thwarted by a Kleberson sliding tackle
<![if !vml]>
<![endif]>
Mikael Silvestre was injured and had to leave the field
Players:
<![if !vml]>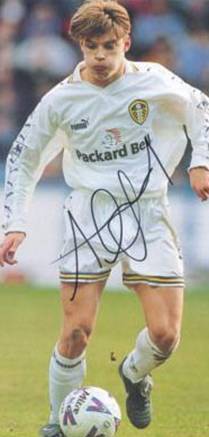 <![endif]>  <![if !vml]>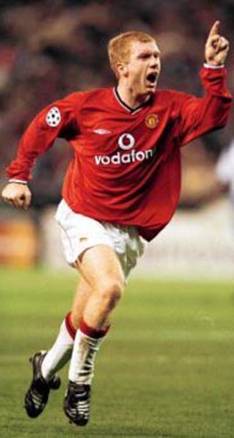 <![endif]>           <![if !vml]>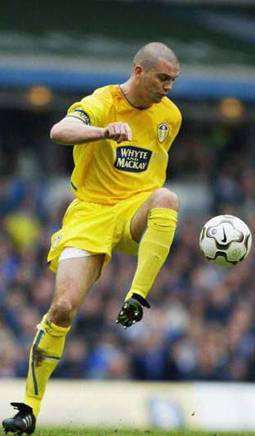 <![endif]> <![if !vml]>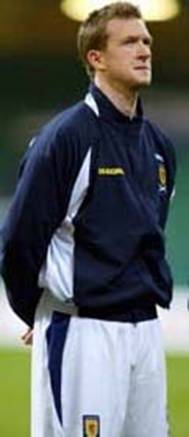 <![endif]>
Alan Smith equalized Paul Scholes' goal                                     Dominic Matteo and Stephen Caldwell helped Scott Carson with towering displays
<![if !vml]>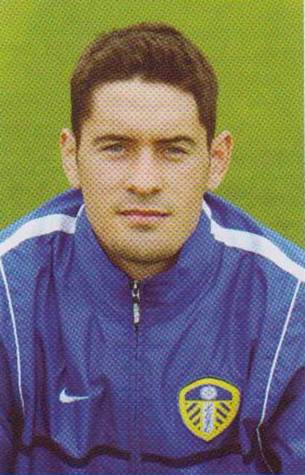 <![endif]>  <![if !vml]>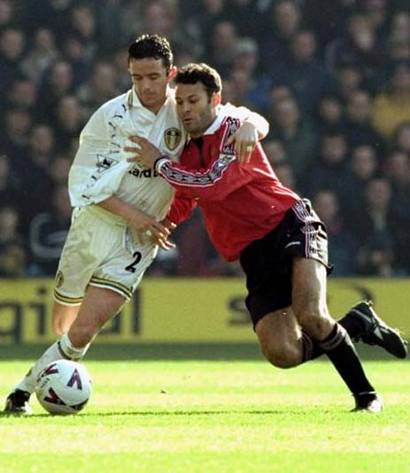 <![endif]> <![if !vml]>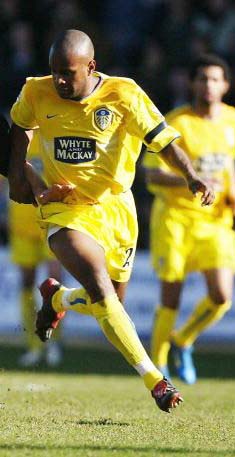 <![endif]>
Debutant Scott Carson was rarely tested              Gary Kelly and Didier Domi coped well with the opposing wingers
 <![if !vml]>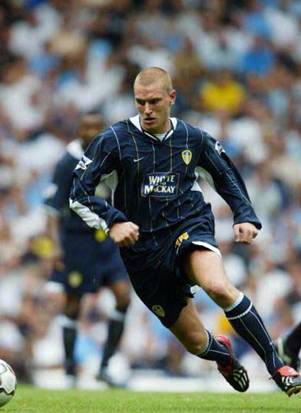 <![endif]> <![if !vml]>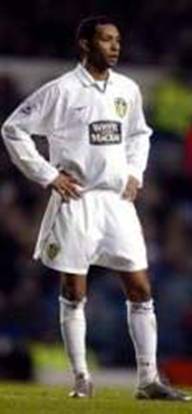 <![endif]> <![if !vml]>
<![endif]> <![if !vml]>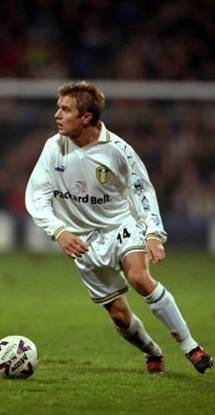 <![endif]>
  Seth Johnson was outstanding in midfield, strongly supported by Jermaine Pennant, Eirik Bakke and Stephen McPhail
<![if !vml]>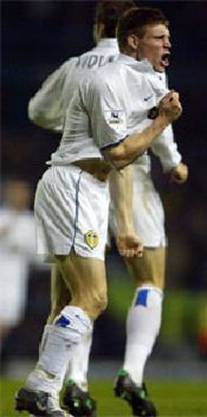 <![endif]> <![if !vml]>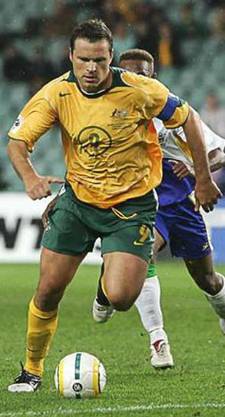 <![endif]>  <![if !vml]>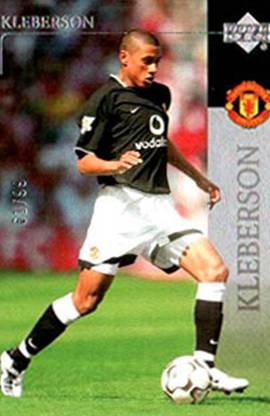 <![endif]> <![if !vml]>
<![endif]>
James Milner gave Alan Smith good support in the absence                      Kleberson and Ryan Giggs came into the Manchester starting XI
of Mark Viduka, who was banned  by the Australian FA
<![if !vml]>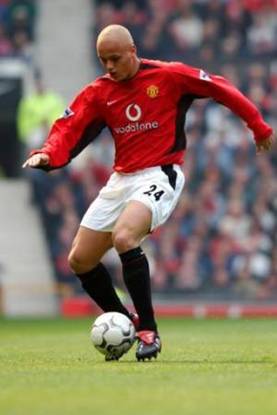 <![endif]> <![if !vml]>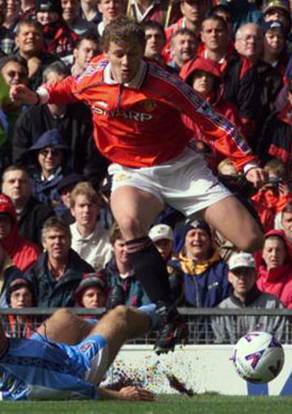 <![endif]>
Wes Brown and Ole Gunnar Solskjaer were used as substitutes