<![if !vml]>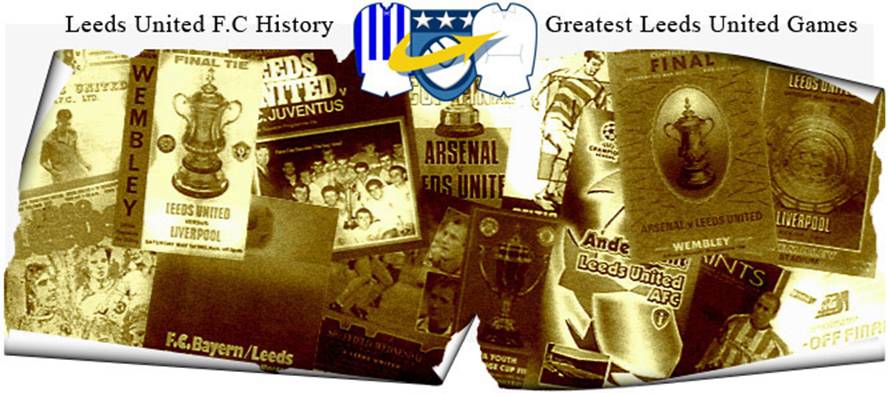 <![endif]>
Date: Saturday 21st February 1987.
Venue: Elland Road, Leeds.
Competition: FA Cup Fifth Round.
Score: Leeds United 2 Queens Park Rangers 1
Scorers: Leeds United: Baird, Ormsby. Queens Park Rangers: Rennie (o.g.).
Attendance: 31,324 (Receipts £122,000).
Teams:
<![if !vml]>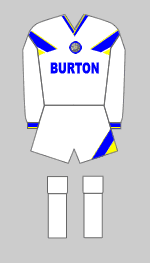 <![endif]><![if !vml]>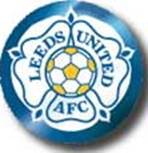 <![endif]>
Leeds United: Day; Aspin, Adams; Rennie (Buckley), Ashurst, Ormsby; Stiles, Sheridan, Pearson, Baird (Edwards) , Ritchie.
<![if !vml]>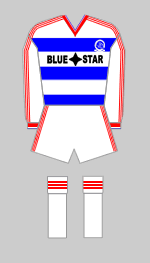 <![endif]><![if !vml]>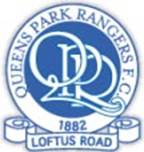 <![endif]>
Queens Park Rangers: Seaman; Neill, James; Walker (Lee), Chivers, Fenwick; Allen, Fillery (Maguire), Bannister, Byrne, Fereday.
Referee: K.P. Barrett (Coventry).
The roof nearly blew off Elland Road when skipper Brendan Ormsby gunned down Queens Park Rangers with a late header. United had given their all against their First Division opponents in a frenzied tie played out against backcloth of colour and noise. The crowd, the biggest at Elland Road for five years, were already thinking about a replay on the notorious plastic pitch at Loftus Road when Ormsby sent the fans into ecstasy.
Second Division Leeds United had the ideal opportunity to win back old friends and influence new ones when they were given a home draw against First Division Queens Park Rangers in the Fifth Round of the FA Cup in February 1987. They did just that, qualifying for the quarter-finals with a rousing 2-1 victory over the Londoners in an emotion-charged game watched by a crowd of 31,324, some 10,000 above United's average at the time.
"It is one of the biggest occasions we have had for sometime and there is a lot at stake," United's manager said before the game, and he was rightly proud of his men after the win. Naturally United went into the tie as underdogs but they were in the last sixteen of the competition for the first time in ten years and were hungry for further Cup progress. It showed in a team performance that had endeavour to the fore.
Lanky John Pearson had not scored for his new team in his five games for United following his £70,000 transfer from Charlton Athletic, a situation that had not exactly made him popular with United fans, but he emerged with great credit from this shock Cup defeat of QPR. The six foot three inch striker capitalised on the absence of Rangers' suspended Northern Ireland international centre-half Alan McDonald and played an influential part in United's win, using his height to maximum advantage as he 'made' the two goals that sank Rangers and brought emotional scenes to Elland Road.
Although Rangers pedigree showed through in flashes, United's chase and harry game worked well with no man shirking his duties and there were occasions when they attacked with skill and precision. Good work from John Sheridan, John Pearson, Ian Baird and Andy Ritchie had raised the danger signals for Rangers early on, so it was no surprise when United took an eighteenth minute lead.
Micky Adams, who marked speed merchant Wayne Fereday out of the game, found time to use his own pace to get round the defence and when John Pearson headed back his centre, there was Ian Baird to bravely flung himself horizontally to head the ball past David Seaman from close range, for his fourth FA Cup goal of the term and his thirteenth of the season in all games after eighteen minutes.
The exciting match developed into a battle between United's non-stop running and Rangers' more intricate skills. United's style was more suited to the Cup-tie atmosphere generated by the crowd and had their chances to put the game beyond Rangers' reach. Andy Ritchie sent one shot over the bar and then had another saved by David Seaman. At the other end Mervyn Day made a flying save to touch John Byrne's shot around the post after fifty-eight minutes.
Just as United seemed to have drawn the sting from Rangers they gifted the London side a sixty-fourth minute equalizer. It was a major blow for United when David Rennie, under pressure from QPR attackers, and facing his own goal, sliced his clearance. To his horror he saw the ball soar past Mervyn Day and into his own net from fifteen yards out. But United roared on by their feverish supporters continued to attack, and were rewarded with a text book set-piece move that almost saw scorer Brendan Ormsby swallowed up in the celebrations on the Kop five minutes from the end. United clinched the tie with a move straight from the training ground when Sheridan floated the ball to the near post from a corner and Pearson flicked on for Brendan Ormsby to dash in and plant a powerful header past Ranger's keeper David Seaman.
Alternate Reports: (Courtesy Mark Ledgard)
Comment: Leeds captain Brendan Ormsby, who scored a dramatic winner in the 2-1 victory over QPR, believes progress in the FA Cup will help, not hinder, their promotion ambitions. Ormsby headed the decisive eighty-fifth minute goal to move Leeds deservedly through to the quarter-finals, and revive memories of the club's glory days at the beginning of the 1970's. He said, "After I scored the second goal, all the stars came out and it was just like the old days. The atmosphere was tremendous. Our priority is still the League, and anything in the Cup is a bonus. But it could help us win promotion." He believes the performance of Leeds' players will improve as they strive for a team place in the next round. However, Ormsby and fellow goal-scorer Ian Baird could miss the next round. Both were booked in the first half, within a minute of each other, as tempers warmed up. "I think that Ian and I are now suspended for the following round," said a bitterly disappointed Ormsby. "We are both sick about it."
Leeds fully deserved their place in the draw for the next round. They were more fired up, and were helped immeasurably by the crowd, which generated feelings of such intense hostility that it must have intimidated some of Rangers' less experienced players. However, Leeds undoubtedly benefited by having an extra man in midfield, as QPR adopted a 4-2-4 formation. Their young trio of John Stiles, David Rennie and particularly John Sheridan were always in command. They took the lead in the eighteenth minute, when Ian Baird headed home. QPR equalised, when David Rennie put the ball into his own net, but then Brendan Ormsby struck. "After they got their goal we did not panic and, in fact, picked our game up, and got the reward we deserved," he said. "I'd like a Third Division club in the next Round at home. I don't fancy Tottenham or Arsenal, because if you want to go to Wembley, you want to get there by not playing the hardest team."
Another view: Ian Baird put it graphically, "We got them by the throat. They are a pretty side, we are not." That neatly summed up a forceful Fifth Round FA Cup-tie, although it failed to emphasise the jubilation at Elland Road at the final whistle. Leeds won not by flowing football but by desire, less by skill than work rate and commitment. Football full of natural ingredients and not for those who prefer their skills processed. No one tackled harder or more often than David Rennie in midfield, until a dreadful error in the sixty-fourth minute, when he presented Rangers with an equaliser with an own goal from fifteen yards, poking the ball into the right hand corner as he attempted to clear. Few shots went Mervyn Day's way from Rangers, but when Johnny Byrne raced onto Clive Walker's knock on thirteen minutes into the second half, he produced a magnificent save, thrusting his right hand upwards, as he fell, to deflect the ball for a corner.
Billy Bremner, the Leeds Manager, must have been delighted with his decision to switch Mickey Adams to left-back in place of the Cup-tied Bobby McDonald. Since signing from Coventry, Adams had quickly proved his versatility on the left flank. Defensively he was secure against the pace of Wayne Fereday and made the vital run to set up the first Leeds goal after eighteen minutes. After evading Warren Neill to reach the goal-line, he crossed for John Pearson to head back from the far post and Ian Baird, abrasive, goal-hungry and thrusting aside two challenges on the line, headed in from a yard. Leeds were decisive in defence and their passing, although only ambitious if John Sheridan was in possession, was reliable. Farther forward, Rangers' offside trap was forced deeper and deeper. Andy Ritchie was involved in every move and misunderstanding, every hit and miss. He might have scored after thirty-four minutes when John Stiles clipped in a perfect cross from the right but blazed over from eight yards.
Respite for Rangers came with a free kick on the edge of the Leeds area and although Robbie James' low drive flew narrowly wide, the damage was done as Brendan Ormsby and Ian Baird were booked. Ormsby committed the foul by tripping, and then Baird encroached at the free kick. There was no let up in Leeds' assault in the second half as Andy Ritchie shot straight at David Seaman after Ian Baird and John Pearson had forced the ball to run loose, then Baird brushed aside Terry Fenwick but again hit the goalkeeper in the midriff. Andy Ritchie almost punished a Gary Chivers lapse, but shot across the face of the goal. Then came the winner, John Sheridan's corner from the left, John Pearson appearing at the near post and Brendan Ormsby heading in from six yards.
<![if !vml]>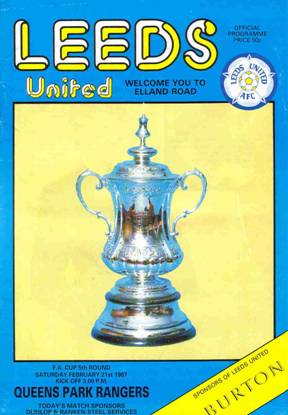 <![endif]>  <![if !vml]>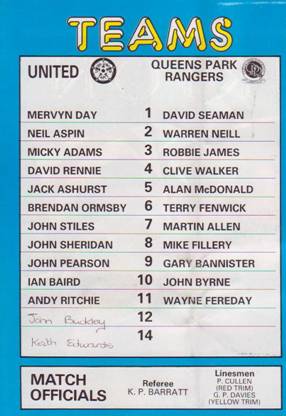 <![endif]>
Match Action:
<![if !vml]>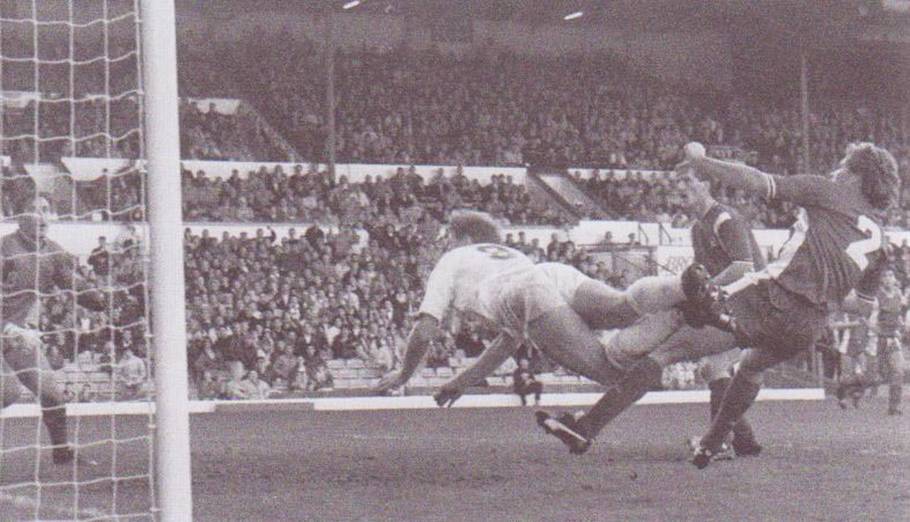 <![endif]> 
 Ian Baird scored United's first goal with a flying header
<![if !vml]>
<![endif]>                                            <![if !vml]>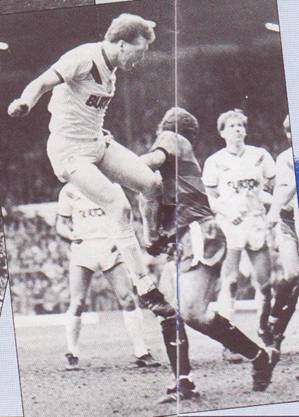 <![endif]>
                                                                                                                 Brendan Ormsby scored the second United goal with a powerful header
<![if !vml]>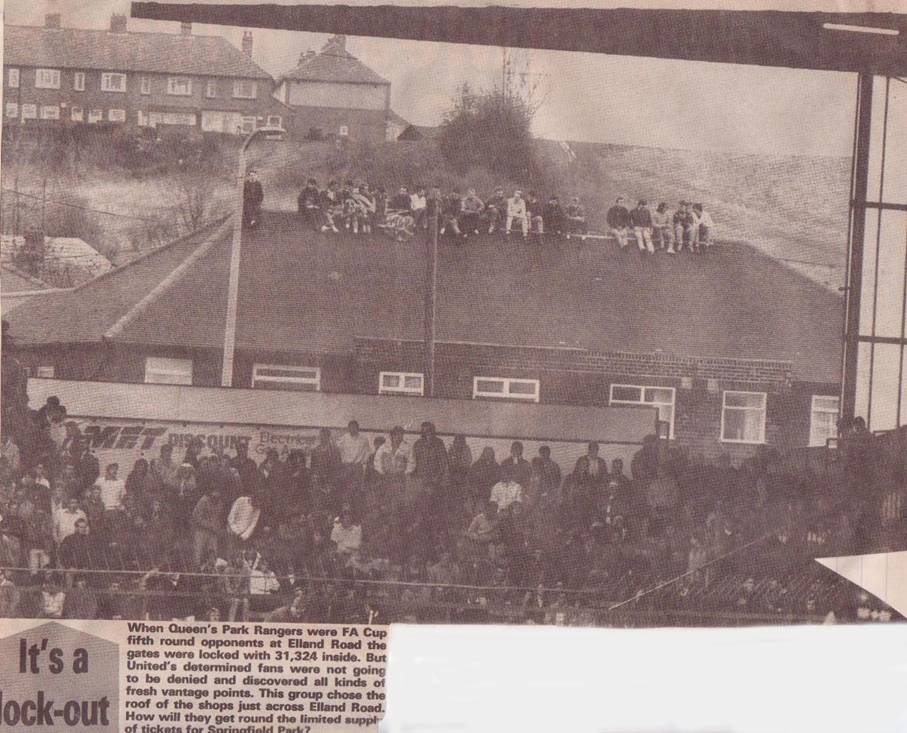 <![endif]>
            Fans watch from the roofs of neighbouring shops after the gates were locked
(Four photos Courtesy Mark Ledgard)
<![if !vml]>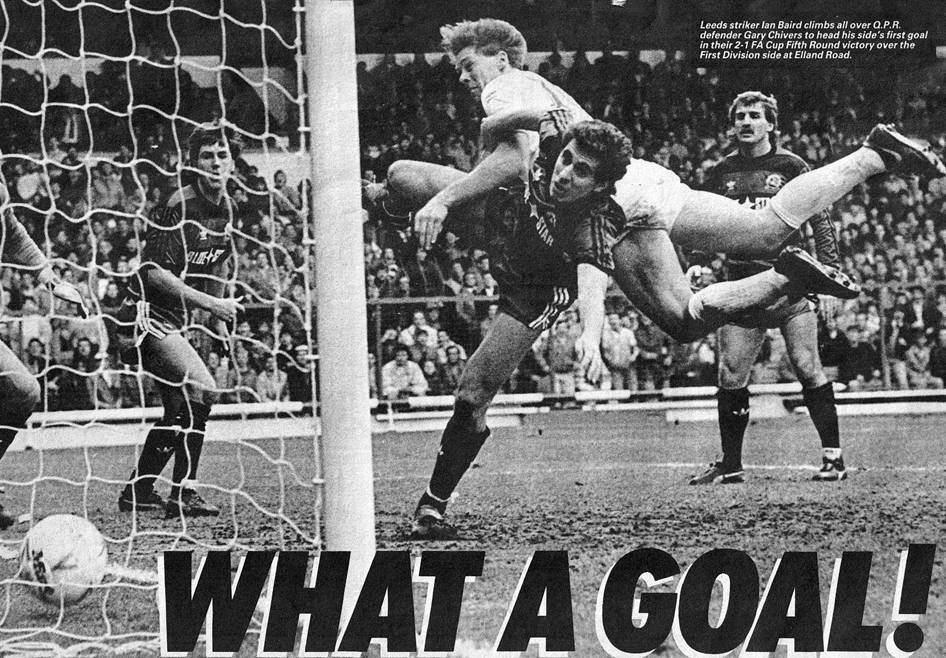 <![endif]>
<![if !vml]>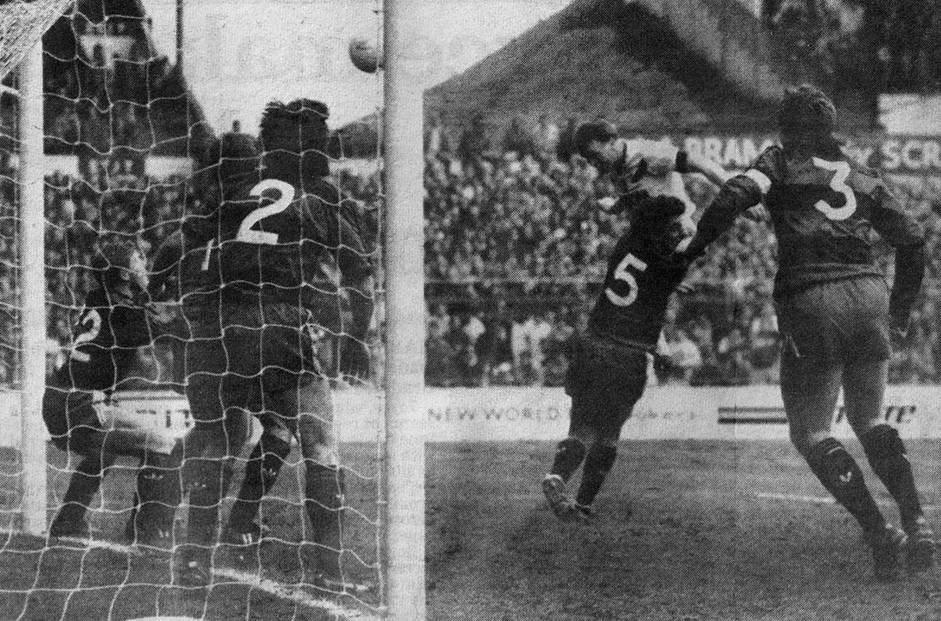 <![endif]>
Brendan Ormsby scores with a powerful header
<![if !vml]>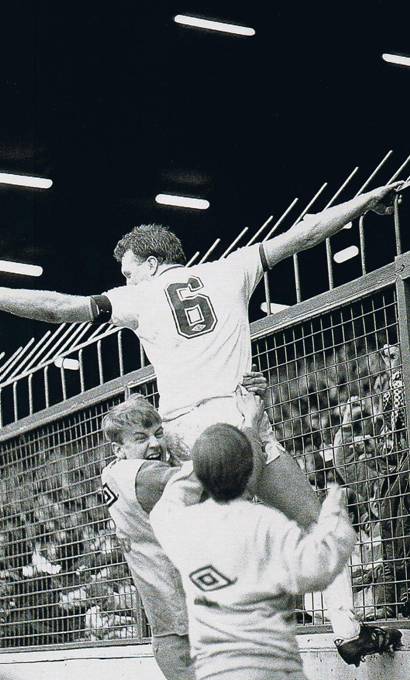 <![endif]> <![if !vml]>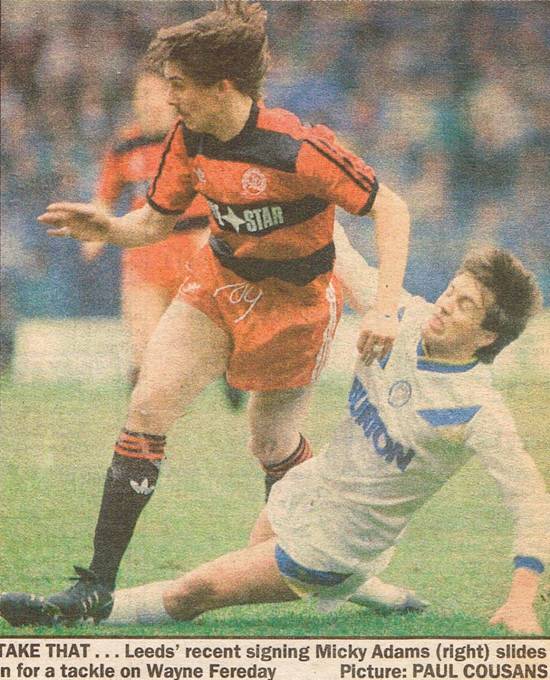 <![endif]>
Brendan Ormsby celebrates his goal                                                                                                                         
Teams:
<![if !vml]>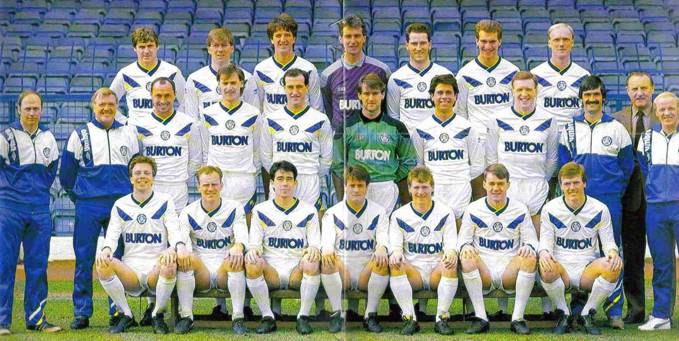 <![endif]>
Leeds United 1986-87:
Back Row: Jack Ashurst, Ian Baird, John Pearson, Mervyn Day, David Rennie, Peter Swan,
Neil Aspin.
Middle Row: Alan Sutton (Physio), Peter Gunby (Coach), Bobby McDonald, Peter Haddock,
David Rennie, Ronnie Sinclair, Nigel Thompson, Brendan Ormsby, David Bentley (Coach),
David Blakey (Chief Scout), Billy Bremner (Manager).
Front Row: John Stiles, Andy Ritchie, Bob Taylor, Micky Adams, Russell Doig, John Sheridan,
Keith Edwards.
<![if !vml]>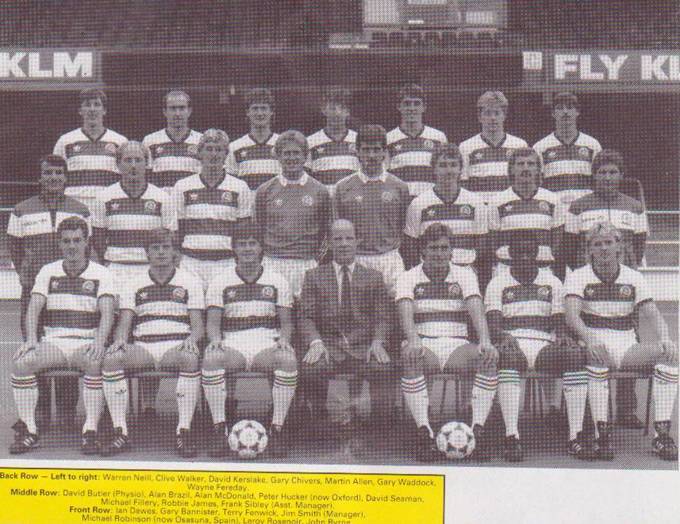 <![endif]>
Players:
<![if !vml]>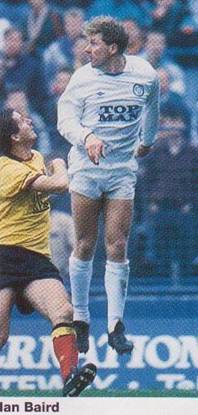 <![endif]> <![if !vml]>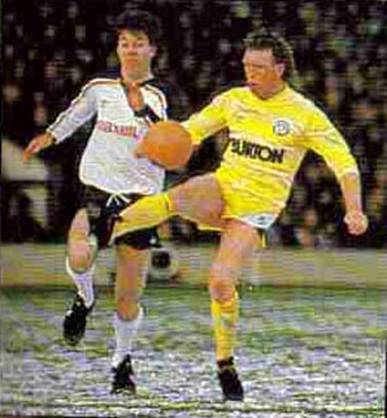 <![endif]> <![if !vml]>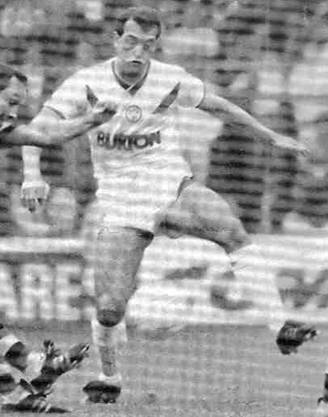 <![endif]>
Ian Baird and Brendan Ormsby scored the Leeds' goals with superb headers                      David Rennie scored an unfortunate own goal
<![if !vml]>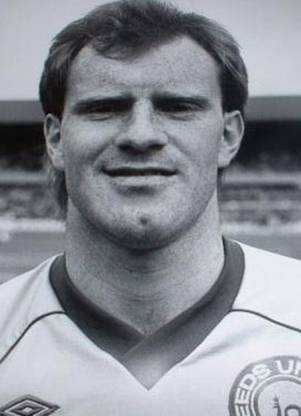 <![endif]> <![if !vml]>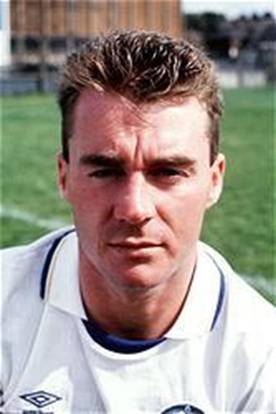 <![endif]>  <![if !vml]>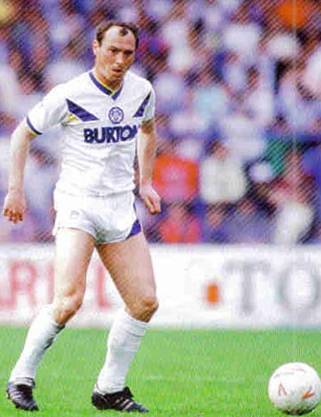 <![endif]>
                          Andy Ritchie and John Sheridan did good work                                            Bobby McDonald was Cup-tied
<![if !vml]>
<![endif]>                  <![if !vml]>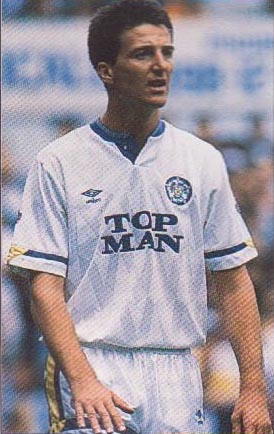 <![endif]>           <![if !vml]>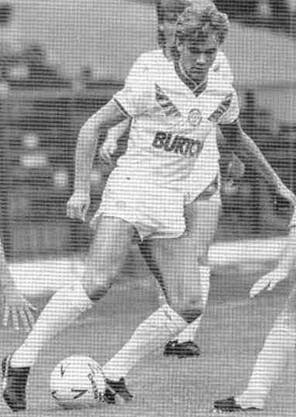 <![endif]>  
Mervyn Day could only watch the own goal    John Pearson used his aerial advantage            John Buckley was a substitute
<![if !vml]>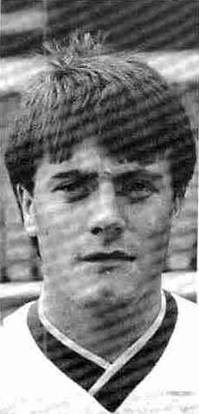 <![endif]>  <![if !vml]>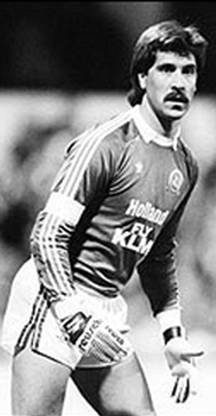 <![endif]>  <![if !vml]>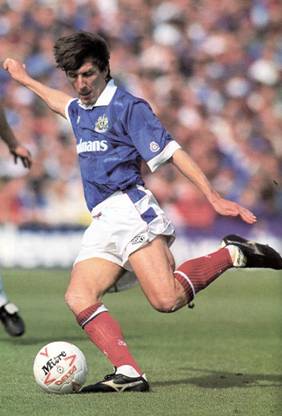 <![endif]>  <![if !vml]>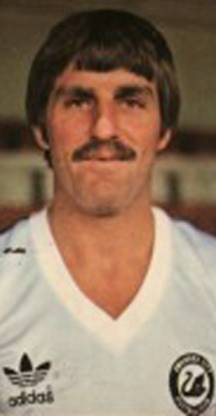 <![endif]>
Micky Adams used his pace      Former United Reserve keeper   Warren Neill was at right-back                     Robbie James was at Left-Back
                                                     David Seaman was in goal                                                                                            
<![if !vml]>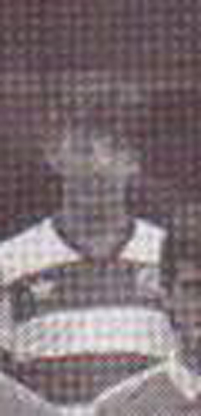 <![endif]> <![if !vml]>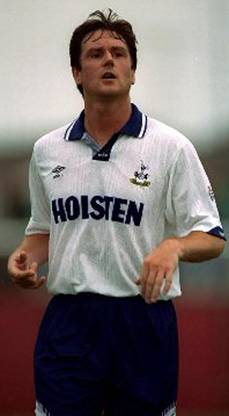 <![endif]>   <![if !vml]>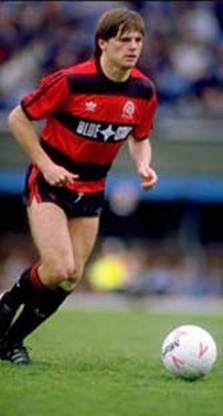 <![endif]> <![if !vml]>
<![endif]>
Gary Chivers and Terry Fenwick were partners in central defence   Gary Bannister and Johnny Byrne provided the strike force
<![if !vml]>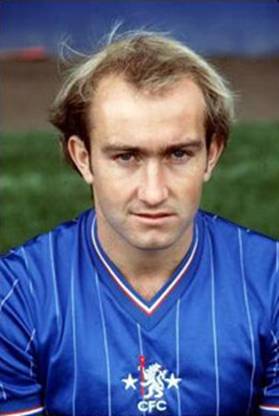 <![endif]> <![if !vml]>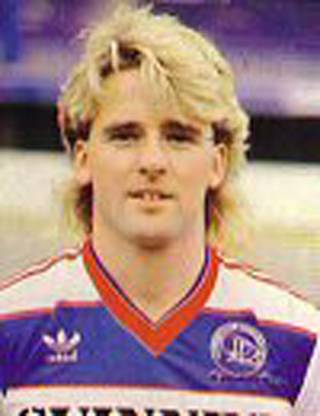 <![endif]>           <![if !vml]>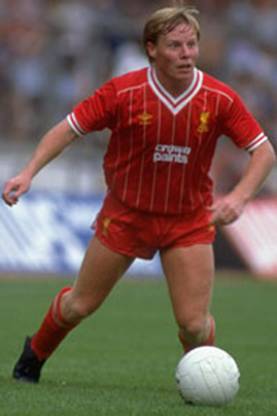 <![endif]>
Clive Walker and Mike Fillery started in midfield                                                                                Sammy Lee came on as a substitute
<![if !vml]>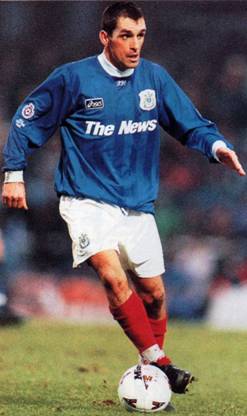 <![endif]> <![if !vml]>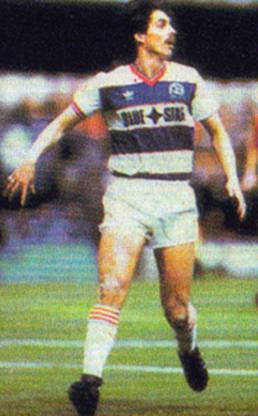 <![endif]>  <![if !vml]>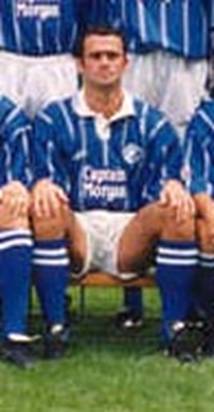 <![endif]>  <![if !vml]>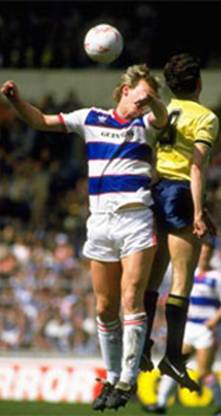 <![endif]> 
Martin Allen and Wayne Fereday were the two wide men                                   Gavin Maguire was a substitute  Alan McDonald's height was missed