<![if !vml]>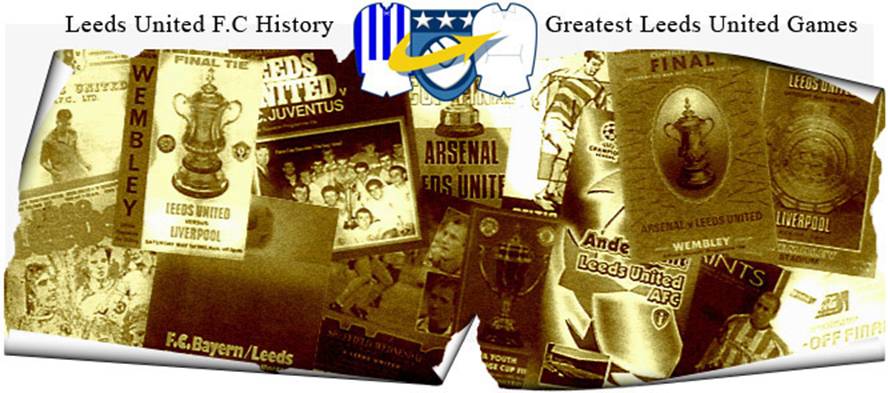 <![endif]>
Date: Sunday, 19th December 1999.
Venue: Stamford Bridge, London.
Competition: English Premier League.
Score: Chelsea 0 Leeds United 2
Scorers: Chelsea: Nil. Leeds United: McPhail (2).
Attendance: 35,106.
Teams:
<![if !vml]>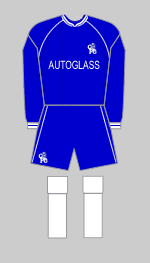 <![endif]><![if !vml]>
<![endif]>
Chelsea: De Goey; Ferrer, Desailly (Hogh, then Petrescu), Leboeuf, Harley; Wise, Di Matteo, Poyet, Deschamps; Sutton, Flo (Zola). Unused Subs: Morris, Cudicini
<![if !vml]>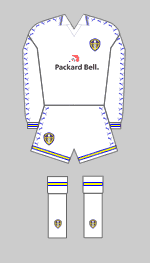 <![endif]><![if !vml]>
<![endif]>
Leeds United: Martyn; Kelly, Radebe, Woodgate, Harte; Bakke, Bowyer (Jones), McPhail, Kewell; Bridges (Wilcox), Huckerby. Unused Subs: Mills, Duberry, Robinson.
Referee: Mr J. Winter (Stockton-on-Tees).
Stephen McPhail doesn't score many goals, but when he does they are usually decisive. It was he that proved to be the unexpected provider of a hard-earned victory against ten-man Chelsea with two goals that will live with him forever. The Irishman netted twice in the second half to secure Leeds a Stamford Bridge triumph and all the talk was of a serious title challenge from David O'Leary's side. It was a win which kept United out in front at the top of the Premiership and there was genuine belief that O'Leary's 'babies' were ready to go on and steal the crown.
<![if !supportLineBreakNewLine]>
<![endif]>
McPhail and his young team-mates were refusing to count their chickens, but the goal-scoring midfielder admitted they were enjoying the ride. "We've come far in a short space of time and now we just have to keep it up," said McPhail after the 2-0 win. "But we're having fun. We're not thinking about whom the opposition is, we're just concentrating on our own performance and we don't think about any pressure. We came to Chelsea last season and put up a fight but were probably a bit too inexperienced. This year we came back with a lot of knowledge from the last game, so we're over the moon that we got this result. It was always going to be tough but we stuck in there. That shows how much spirit there is. There are a lot of young lads and some good experienced players to help us out, so there's a good blend in the team."
<![if !supportLineBreakNewLine]>
<![endif]>
Nigel Martyn was United's veteran performer at Stamford Bridge and the goalkeeper felt McPhail summed up the exciting talent that was beginning to emerge at the club. "Stephen's come on leaps and bounds and gives us good balance with a great left foot," said Martyn. "If you have a look at our bench and players who couldn't even get onto the bench, it shows what a strong squad we've got. The lads have obviously grown up very fast, they know what it's all about already and they don't get phased by anything and that's all credit to them. They're very young and very confident, they're up and ready for anything. It's a good way to be as they don't seem to worry."
He may be called McPhail but don't be fooled because he does not live up to his name. Stephen McPhail, born in London of Irish parents and brought up in the notorius Bronx district of New York, is anything but a Phailure. Mr Success we should call him after his delicious double delivered final confirmation of Leeds United's arrival among the Premiership elite.
There was never any mistaking that this fixture was the acid test. It was known that United were good, but not quite how good. Now, even manager David O'Leary, thus so far immovably determined to play down the prospects of  what the season might hold for his young guns, was forced to concede that they might, indeed, be mouth-watering. "We are not embarrassed to be at the top" He said. "We rather like it. There have been a couple of occasions when I have told the boys that they have had the lead stolen from them and it's up to them what they do about it. Manchester United again threw down the gauntlet by winning on Saturday and to get back to the top we had to beat Chelsea. In the dressing room afterwards they all looked at me with an expression in their eyes which said 'how about that! '. I don't know where we will finish in the league. We'll have to see. But the rest are chasing us now."
In the true traditions of encounters with Chelsea, this was a faint-hearts' nightmare, from the moment after all of seventy-five seconds that Lee Bowyer sparked a match-long personal vendetta with Dennis Wise to the sending off of French hot-head Frank Lebouef.
The Gallic defender was despicable, impetuously scything down Harry Kewell in full flight and then stamping on him just to make sure. The Frenchman just has no answers to the silky skills and speed of the mercurial Australian and he once again resorted to cynical fouls as his only answer to his plight, and for the second time he was sent off for going well outside of the laws of the game, not to mention sportsmanship, in a vain attempt to stop Kewell making a fool of him.
O'Leary said "Yes, it was physical. My boys know that it is part of the game and they know what to do. I want my teams to be hard but fair and you only have to look at young McPhail for the perfect example of how I want my players to be. He is lovely on the pitch, with this awful habit of finding one of his own team-mates every time he passes the ball, and is lovely off it, a true gent."
Match observer and Leeds old boy Gary McAllister said "Stephen was using the ball like that when he was fourteen and fifteen years old. He will go far in the game."
David Batty's continuing injury problems kept him out of contention and allowed Darren Huckerby a place in the starting line-up, while new signing Jason Wilcox was on the bench alongside former Chelsea defender Michael Duberry.
Chelsea, desperate for a win to kick-start their bid for a top-three position shocked the home faithful by relegating Gianfranco Zola to the bench and giving a second Premiership start to Jon Harley. But their front pairing of Tore Andre Flo and Chris Sutton would clearly hold many threats, with Flo having previously attracted a degree of interest from Leeds in their quest for a big striker.
There was a stirring start with Dennis Wise elbowing Lee Bowyer in the face, the Leeds man taking his gloves off and throwing them to the dug-out and then steaming in with a retaliatory challenge on the Chelsea captain, earning a tenth yellow card of the season and another ban. Sutton and De Matteo forced two corners in the first six minutes and from the second of Wise's flag kicks Leboeuf brought Nigel Martyn to his knees with a stinging shot. It was a lively start, and Martyn again did well when Chris Sutton climbed for Frank Leboeuf's free-kick and the keeper leaped above everybody to collect his header.
United replied with a dipping and swerving shot from Michael Bridges which Ed De Goey collected at the second attempt and it was fast becoming an absorbing contest. Eirik Bakke was stretchered to the touchline after Marcel Desailly got in a dubious blocking challenge but was back in the action after Ian Harte's free-kick cannoned off the wall. Leeds were more than holding their own by half-time due to some sterling work by Lucas Radebe and, in particular, Jonathan Woodgate and some fine midfield invention by Eirik Bakke and Stephen McPhail.
Chelsea brought on Jes Hogh for Marcel Desailly as the second half got underway and were soon on the offensive through Didier Deschamps. Again alert defending by Lucas Radebe won the day but moments later when it seemed as if Denis Wise must score with a point blank header from Gus Poyet's lobbed ball, but Nigel Martyn produced a brilliant diving save low to his left.
Only three minutes into the second half action substitute Jason Wilcox made his bow in Leeds colours as Michael Bridges limped off, but it was Gary Kelly who took the limelight with two fine saving tackles as Chelsea pressed. Darren Huckerby relieved the pressure with a solo dash on goal, but over-ran the ball, then Chelsea tried a change of tack by introducing Zola in Flo's place and he immediately set up a chance for Leboeuf, whose well struck shot was gathered by Nigel Martyn.
Di Matteo incurred the wrath of Chris Sutton when he preferred a wayward shot to a telling pass but Leeds had weathered a brief storm. Danish international Jos Hogh pulled up with an hamstring injury in the sixty-fifth minute and was substituted by Dan Petrescu, necessitating a re-shuffle of the home defence. Within a minute Leeds cashed in. Harry Kewell working some magic down the right. Then Lee Bowyer picking it up and laying the ball back for Stephen McPhail to slot home from the edge of the area with great aplomb and almost astounding accuracy.
Uproar was soon to follow as Harry Kewell again skipped past Leboeuf and was felled with unbelievable cynicism. The Frenchman had to go, but he did not depart before stamping on his prostrate victim, arguing furiously and then wanting to fight the entire Leeds dug-out. Chris Sutton retreated to central defence and with his move back went all semblance of shape. Chelsea collapsed into such disarray that when Darren Huckerby, having his best game for Leeds, was fouled by Chris Sutton on the right in the eighty-seventh minute Stephen McPhail's curling free-kick sailed straight into the net as Eirik Bakke cleverly dummied.
It was a monumental victory and, all cautionary notes thrown aside, the championship looked as if it might develop into a straight fight between United and their Old Trafford rivals. United went on to hold top spot until January, but they slowly lost their grip in the final weeks and had to be content with a third-place finish and the promise of Champions League football.
<![if !vml]>
<![endif]>
Match Action:
<![if !vml]>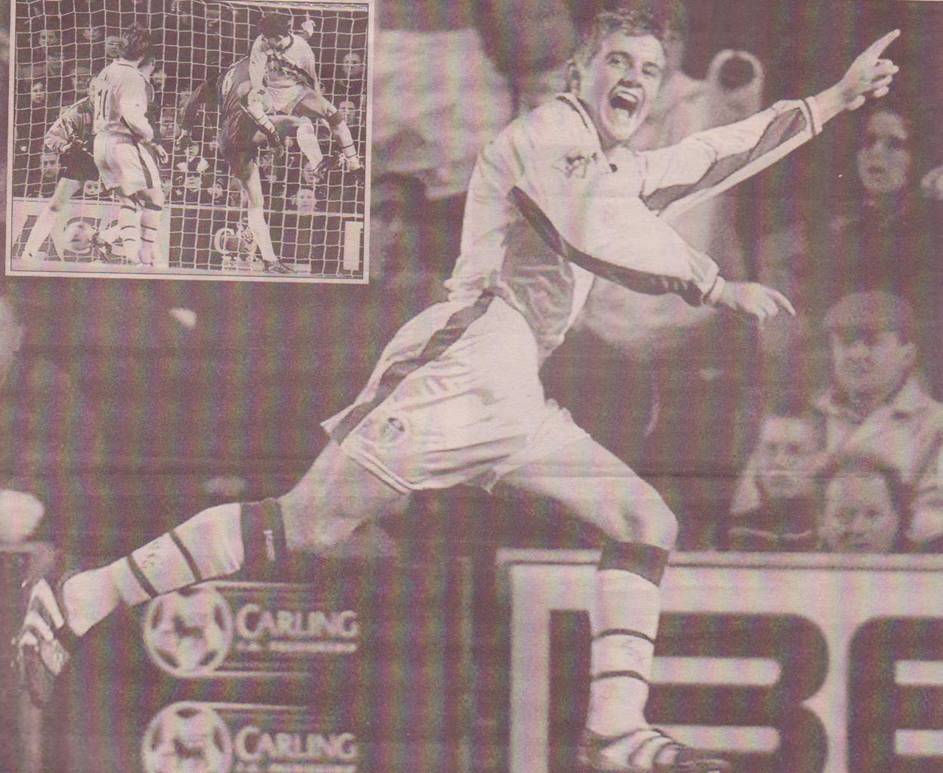 <![endif]> 
Stephen McPhail scores the second goal (inset) and celebrates
<![if !vml]>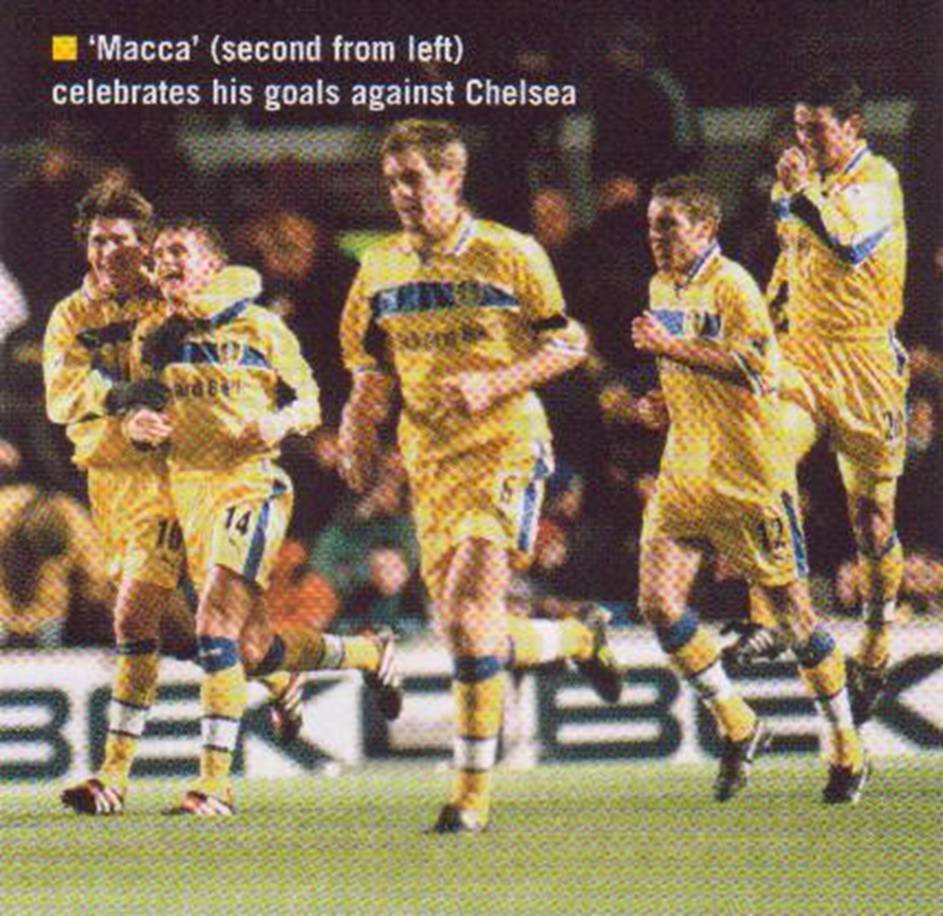 <![endif]>
<![if !vml]>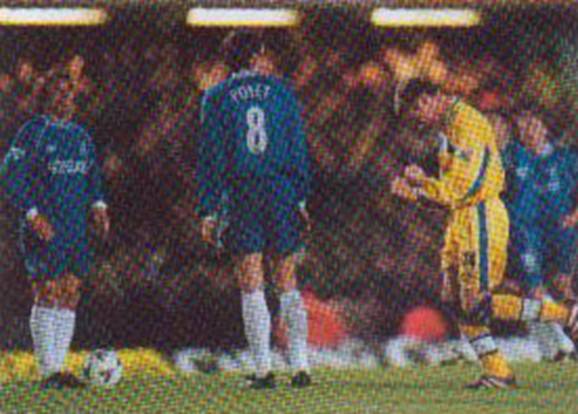 <![endif]> <![if !vml]>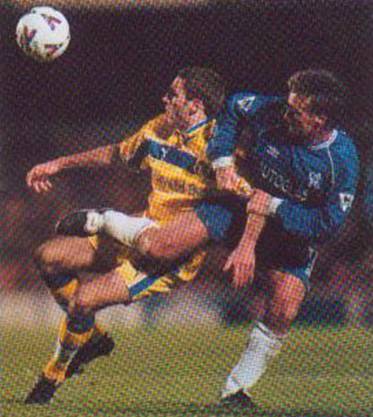 <![endif]>
Stephen McPhail celebrates                                                                                                    Darren Huckerby tangles with Albert Ferrer
<![if !vml]>

<![endif]>  <![if !vml]>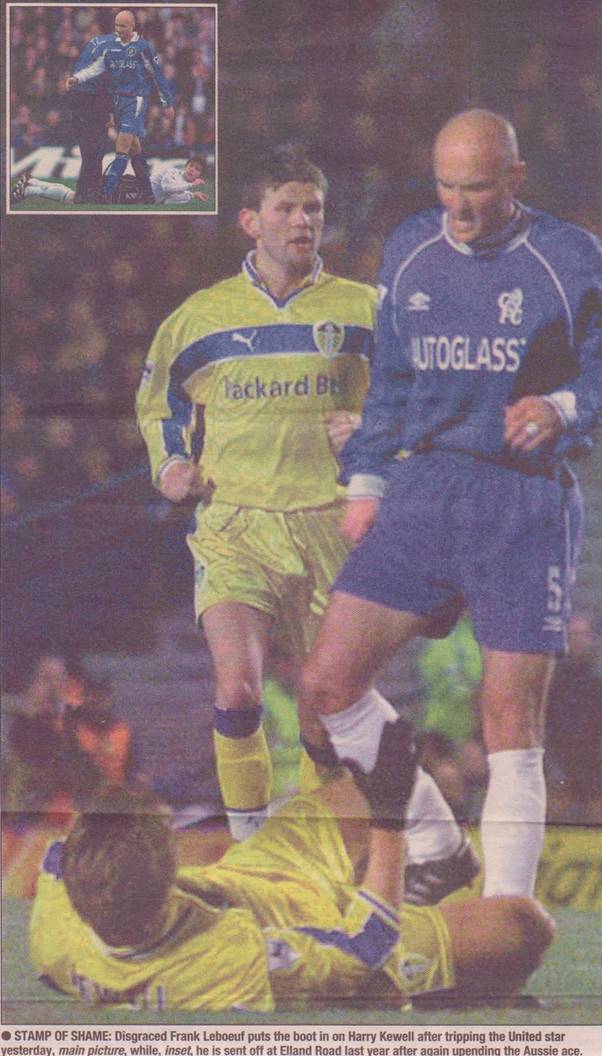 <![endif]> 
<![if !vml]>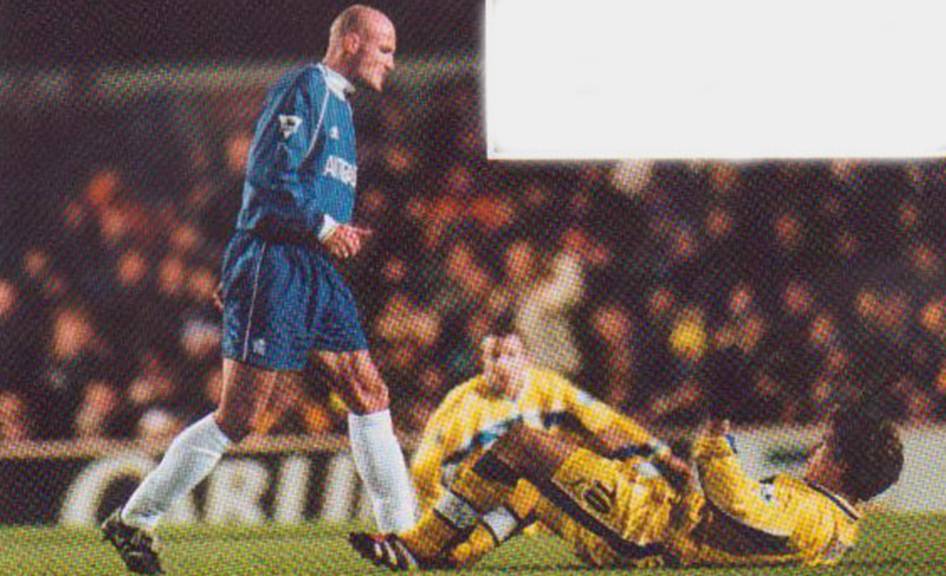 <![endif]>
Frank Leboeuf kicks Harry Kewell on the ground after fouling him in frustration at being given the runaround
<![if !vml]>
<![endif]> <![if !vml]>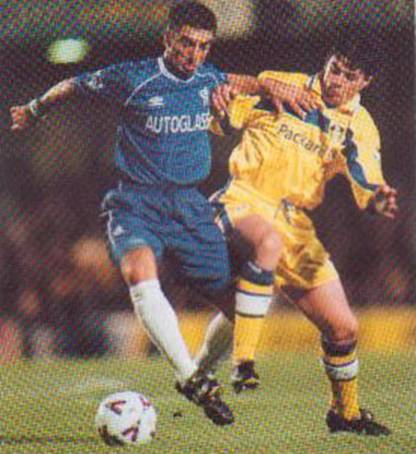 <![endif]>
Referee Winter justifiably shows Frank Leboeuf his red card. Ian Harte tries to dispossess Roberto Di Matteo
Players:
<![if !vml]>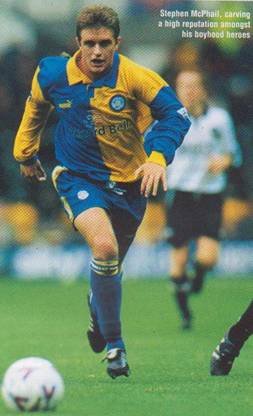 <![endif]> <![if !vml]>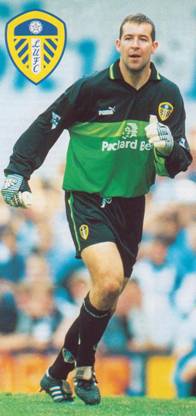 <![endif]> <![if !vml]>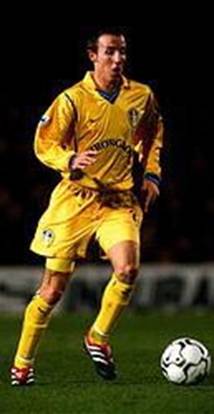 <![endif]>     <![if !vml]>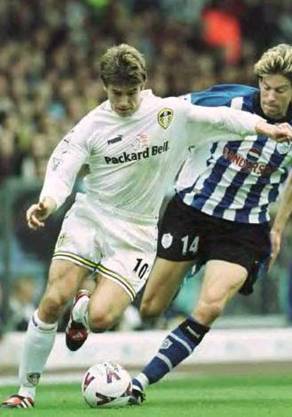 <![endif]>
Stephen McPhail scored both               Nigel Martyn saved well          Lee Bowyer was involved in           Harry Kewell received heavy
the goals                                                                                                    the first goal                                     treatment from the mesmerised
                                                                                                                                                                             Leboeuf and the Frenchman
                                                                                                                                                                             was deservedly red-carded             
<![if !vml]>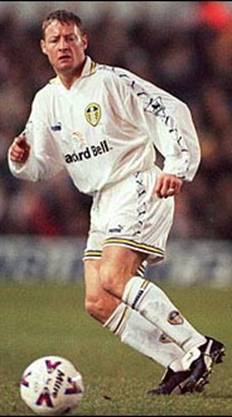 <![endif]>  <![if !vml]>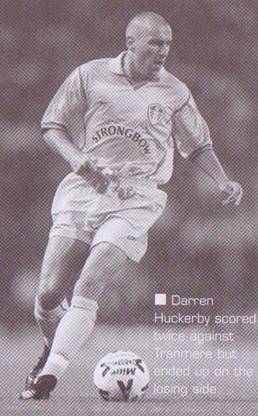 <![endif]>     <![if !vml]>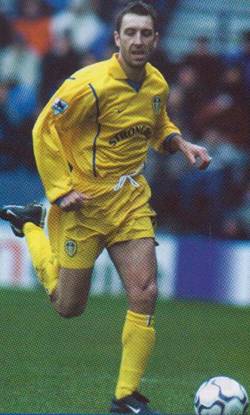 <![endif]> <![if !vml]>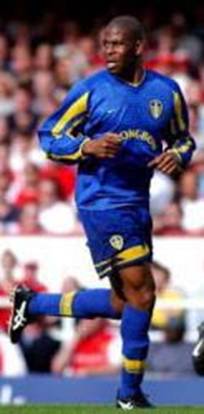 <![endif]>
David Batty was still not fit               Darren Huckerby was in the side while       Jason Wilcox came on as a substitute and Michael Duberry
                                                                                                                                    was on the bench
<![if !vml]>
<![endif]>   <![if !vml]>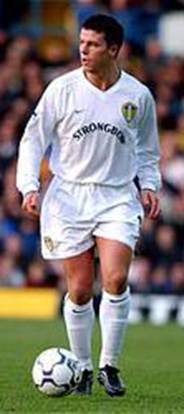 <![endif]>         <![if !vml]>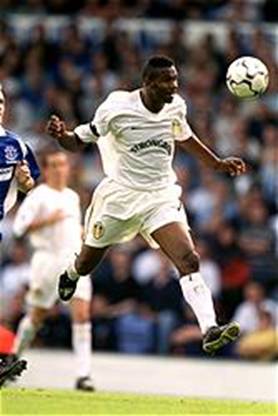 <![endif]> <![if !vml]>
<![endif]>
Eirik Bakke' clever dummy      Ian Harte's free-kick                   Lucas Radebe and Jonathan Woodgate were resolute defenders
brought the third goal.               cannoned off  the wall.
<![if !vml]>
<![endif]>  <![if !vml]>
<![endif]>  <![if !vml]>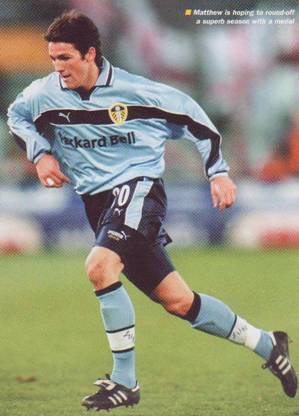 <![endif]>           <![if !vml]>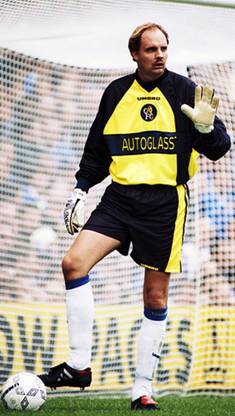 <![endif]>
Gary Kelly tackled well            Michael Bridges limped off  Matthew Jones replaced Lee Bowyer                        Ed De Goey was in goal
                                                    injured
<![if !vml]>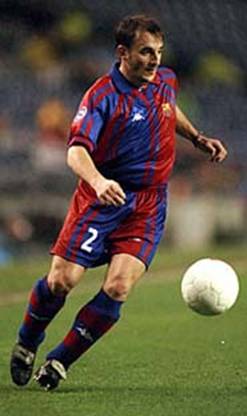 <![endif]> <![if !vml]>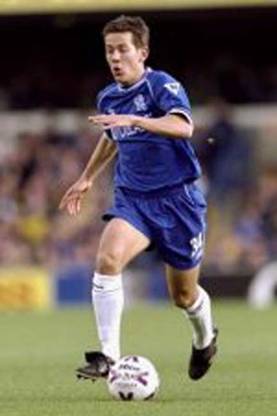 <![endif]>                 <![if !vml]>

<![endif]> <![if !vml]>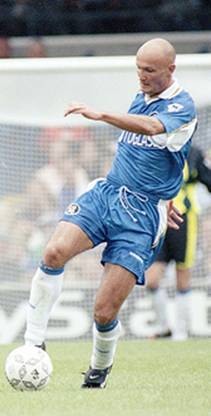 <![endif]>
                    Albert Ferrer and Jon Harley were the full-backs                                              Marcel Desailly and Frank Leboeuf were the centre-backs
<![if !vml]>
<![endif]>  <![if !vml]>
<![endif]>  <![if !vml]>
<![endif]>  <![if !vml]>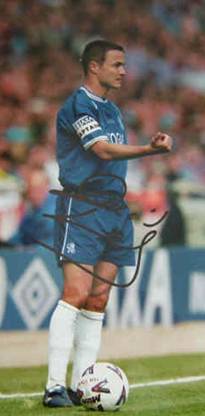 <![endif]>
Roberto Di Matteo, Gus Poyet, Didier Deschamps and Dennis Wise were in midfield.
Wise and Poyet were later to be Manager and Assistant Manager at Leeds
<![if !vml]>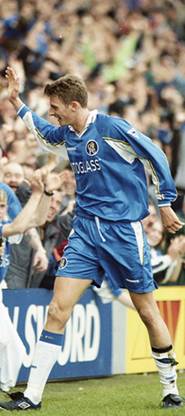 <![endif]> <![if !vml]>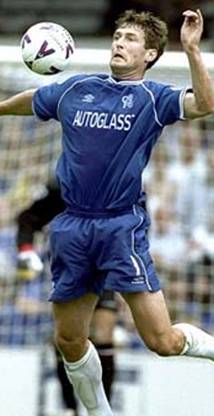 <![endif]>  <![if !vml]>
<![endif]> <![if !vml]>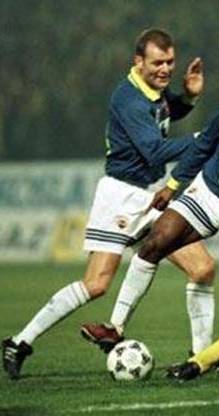 <![endif]> <![if !vml]>
<![endif]>
Tore Andre Flo, who later had a spell at Leeds, and                  Gianfranco Zola, Jes Hogh and Dan Petrescu were the substitutes
Chris Sutton were the strikers.