<![if !vml]>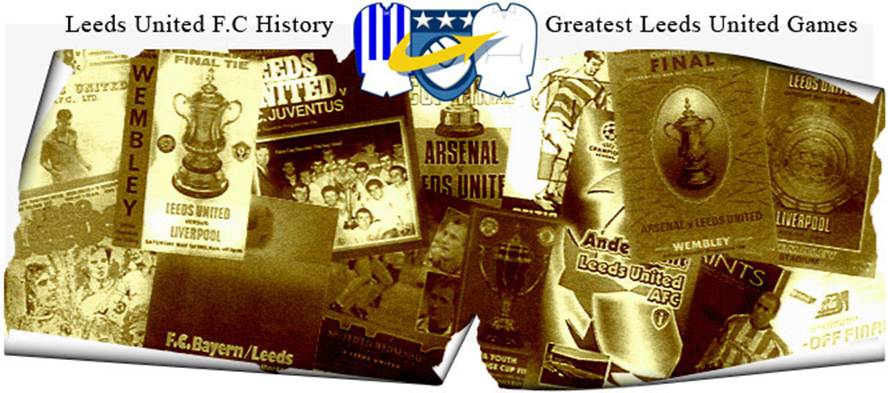 <![endif]>
Date: Saturday, 19th November 2005.
Venue: St Mary's, Southampton.
Competition: Coca-Cola Football League Championship.
Score: Southampton 3 Leeds United 4
Scorers: Southampton: Pahars, Quashie (2, 1 pen). Leeds United: Butler, Blake, Healy, Miller.
Attendance: 30,173.
Teams:
<![if !vml]>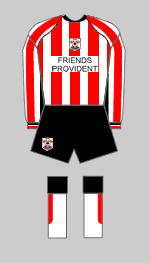 <![endif]><![if !vml]>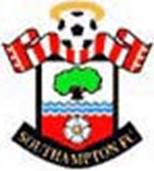 <![endif]>
Southampton: Niemi; Delap, Svensson, Lundekvam (Hajto), Higginbotham; Oakley, Quashie, Wise (Fuller), Pahars (McCann); Walcott, Omerod. Unused Subs: Belmadi, Smith.
<![if !vml]>
<![endif]><![if !vml]>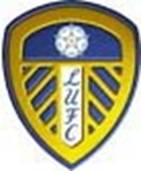 <![endif]>
Leeds United: Sullivan; Kelly, Butler, Kilgallon, Harding; Richardson (Healy), Derry, Miller, Lewis; Blake, Hulse. Unused Subs: Pugh, Walton, Douglas, Bennett.
Referee: Iain Williamson (Berkshire).
(As requested by Sam Bunn of MOT forum)
 
When people talk about the greatest comebacks ever, this will rank with the best. When they talk of significant turning points it would also rank high on the list.

To be dead and buried at 3-0 at half time then rise like Lazarus was a miracle indeed. Its significance to Leeds went deeper than that. It showed that fighting spirit and determination can affect matches. It turned around the whole attitude of Leeds United from a bedraggled inconsistent outfit, seemingly going nowhere in another season of mediocrity into a phoenix rising from the ashes of total destruction. In twenty minutes, it gave the team the belief that they could perform consistently at that level and proved a springboard for the resurgence of their push towards regaining their EPL status.

To put the game in its true context, for seventy minutes Leeds were truly awful and clearly second best to an outfit that had totally dominated the first half and were good value for their 3-0 lead. Marian Pahars, returning after long–term injury, gave Southampton a well deserved lead after twenty-seven minutes in a move straight from the training ground, when scoring from close range. Nigel Quashie, who dominated the midfield for over an hour, made it 2-0 after teenage sensation Theo Walcott had tied Matthew Kilgallon in knots. The third came on the stroke of half-time, when Dan Harding got himself into a panic, after Matt Oakley's header caught him out and the defender inexplicably blocked it with his hands. The referee was left with no alternative than to point to the spot. Nigel Quashie made no mistake with the penalty kick just on half time and the Leeds fans were left wondering just how humiliating the defeat would be. It was observed that Chairman Ken Bates left at half time but Charity benefited when the Mirror jumped to a wrong conclusion that he had left because he could not bear to see more.

Half-time saw vital changes take place as the reason for Southampton's first half dominance was disrupted. Their midfield of Matt Oakley, Nigel Quashie, Dennis Wise and Marian Pahars had so dominated, that they were able to pour forward at will through an almost non-existent Leeds engine-room, to exert pressure on an overworked defence. Marian Pahars was replaced by Neil McCann, after running out of steam and Tomasz Hajto and Ricardo Fuller replaced Claus Lundekvam and Dennis Wise, causing Southampton to lose their total dominance. Still there was no sign of things to come as Neil Sullivan was twice called upon to make stunning saves to keep United from total capitulation.

After sixty-seven minutes United made the move that was to be the catalyst for the game being turned on its head. The ineffective Frazer Richardson was withdrawn and David Healy came on and instructed to push up front. His arrival gave United what they had been lacking. He provided inventiveness; and Liam Miller suddenly came to life and became a major influence on the game.

Even when the never-say-die Paul Butler headed home a Gary Kelly cross with nineteen minutes to go, it appeared to be no more than a consolation goal. "We're going to win 4-3," chanted the travelling faithful, more in jest than any firm belief.

Six minutes later the tireless Robbie Blake got his reward as David Healy set him up for the second goal. It gave United thoughts of salvaging a draw. Danny Higginbotham, whose confidence had severely wilted in the United onslaught, gave Leeds that chance when he handled a David Healy shot and the Irish International made no mistake from the spot after eighty-four minutes.

It was 3-3 and still six minutes left, the great escape had happened and United would have had every reason to be happy with a draw. Not likely! They just kept on attacking as Southampton defended desperately. Rod Hulse unselfishly laid the ball back into the path of the onrushing Liam Miller and the loan player celebrated his second match by firing the ball unerringly into the Southampton net to make it 4-3 in the eighty-sixth minute.

The comeback was complete, and the Southampton players looked to the heavens for inspiration while the Leeds players celebrated as if they had won the World Cup.

Setting aside the first seventy-three minutes, such was United's dominance in the last twenty minutes that it is doubtful that any CCCL team could have lived with them. There was a swagger and verve about their play and an amazing self-belief, which had not been apparent in the first seventy minutes when they did not threaten the Southampton goal. One could only feel sorry for Southampton, unbeaten at home previously and having only conceded two goals all season, they could be forgiven for thinking they were home and dry against such abject opposition as the clock ticked past the seventy minute mark. Leeds simply ran Southampton ragged, when it mattered most, and the previous seventy minutes were erased in style.
<![if !vml]>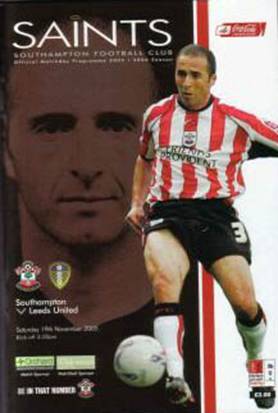 <![endif]>
Match Action:
<![if !vml]>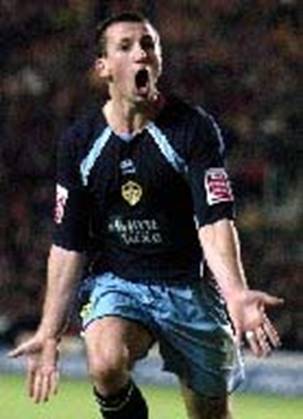 <![endif]>
Liam Miller celebrates the winning goal
Players:
<![if !vml]>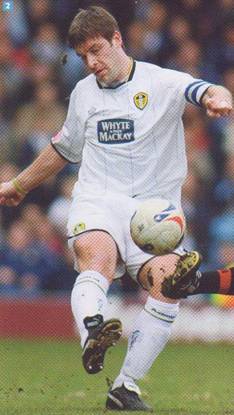 <![endif]> <![if !vml]>
<![endif]> <![if !vml]>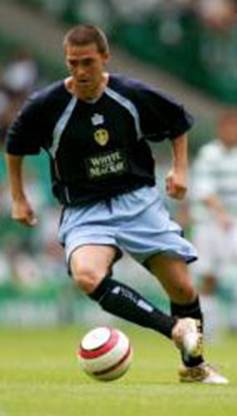 <![endif]> <![if !vml]>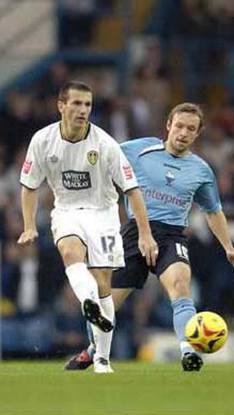 <![endif]>
Paul Butler, Robbie Blake, David Healy and Liam Miller were the United scorers
<![if !vml]>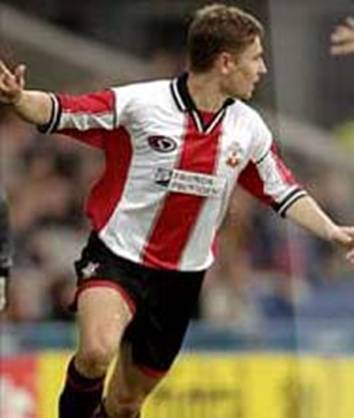 <![endif]> <![if !vml]>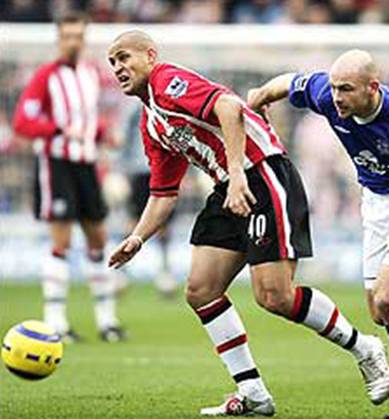 <![endif]>   <![if !vml]>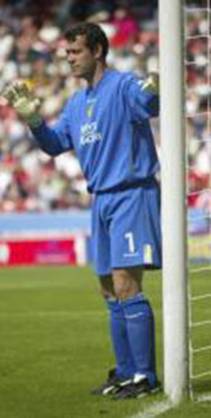 <![endif]>
Marian Pahars and Nigel Quashie (2, one from the penalty spot) scored for Southampton                                 Neil Sullivan twice made stunning saves
<![if !vml]>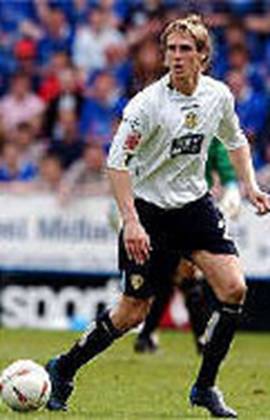 <![endif]> <![if !vml]>
<![endif]> <![if !vml]>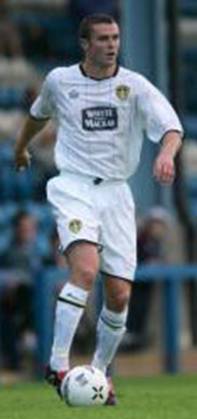 <![endif]> <![if !vml]>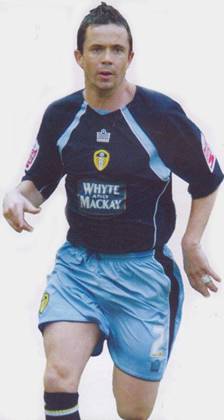 <![endif]>
Theo Walcott tied Matthew Kilgallon        Daniel Harding got himself                   The ineffective Frazer              Gary Kelly crossed for the
in knots                                                         into a panic                                             Richardson was withdrawn       first goal
<![if !vml]>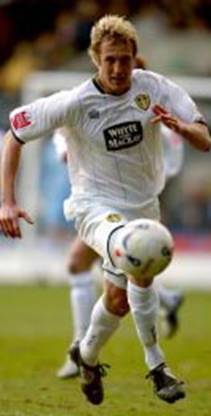 <![endif]>  <![if !vml]>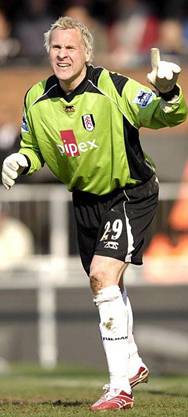 <![endif]>  <![if !vml]>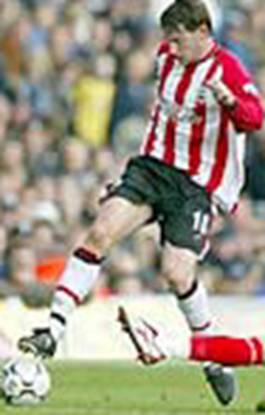 <![endif]> <![if !vml]>
<![endif]>
Rob Hulse unselfishly laid on       Antti Niemi was in the            Rory Delap and Danny Higginbotham were the full-backs
the winning goal                             Saint's goal
<![if !vml]>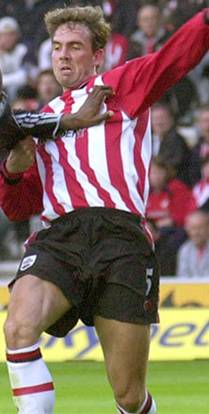 <![endif]> <![if !vml]>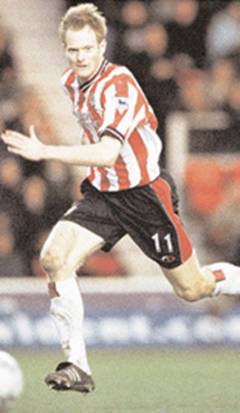 <![endif]>     <![if !vml]>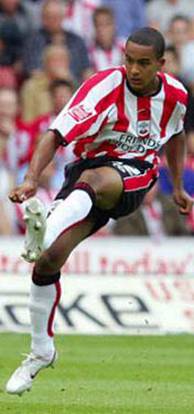 <![endif]> <![if !vml]>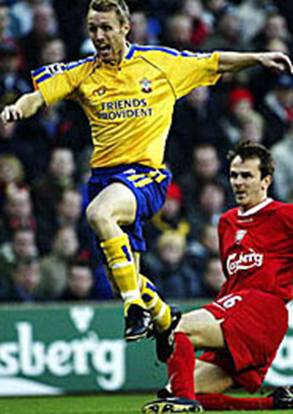 <![endif]>
Claus Lundekvam and Michael Svensson were in central defence          Theo Walcott and Brett Ormerod were the strikers
<![if !vml]>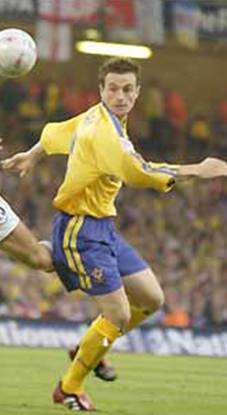 <![endif]> <![if !vml]>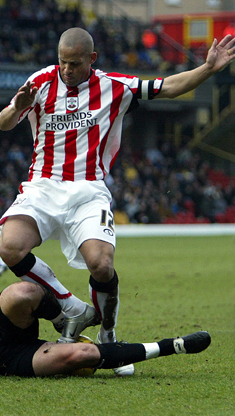 <![endif]> <![if !vml]>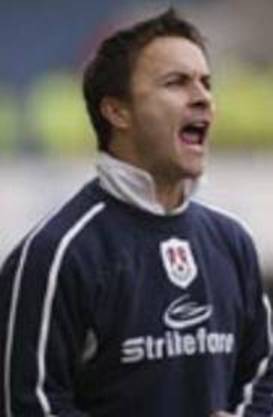 <![endif]> <![if !vml]>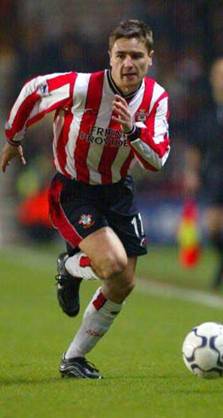 <![endif]>
Matthew Oakley, Nigel Quashie, future United Manager Dennis Wise and Marian Pahars started in midfield for Southampton
<![if !vml]>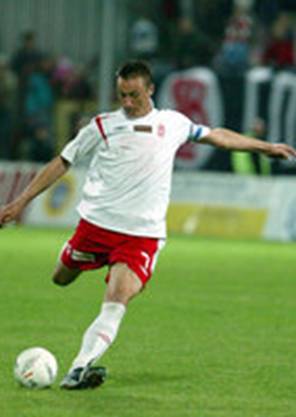 <![endif]>   <![if !vml]>
<![endif]>   <![if !vml]>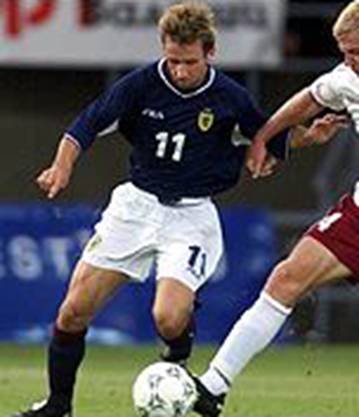 <![endif]>
Tomasz Hajto, Ricardo Fuller and Neil McCann were the substitutes used
<![if !vml]>
<![endif]>    <![if !vml]>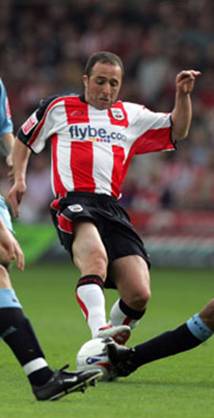 <![endif]> 
Paul Smith and Djamel Belmadi were the unused substitutes