<![if !vml]>
<![endif]>
Date: Tuesday, 19th September 2000.
Venue: Elland Road, Leeds.
Competition: ECL, Group H: Match 2.
Score: Leeds United 1 AC Milan 0.
Scorers: Leeds United: Bowyer. AC Milan: Nil.
Attendance: 35,398.
Teams:
<![if !vml]>
<![endif]><![if !vml]>

<![endif]>
Leeds United: Martyn; Kelly, Duberry, Mills, Harte; Bakke, Dacourt, Bowyer, Matteo; Smith, Bridges. Unused Subs: Huckerby, Hay, Jones, Burns, Evans, Hackworth, Robinson.†††††††††††††††††††††††††††††
<![if !vml]>
<![endif]>†<![if !vml]>

<![endif]>
AC Milan: Dida; Chamot, Costacurta, Maldini; Helveg; Giunti, Albertini, Coco, Guly (De Ascentis); Bierhoff, Shevchenko. Unused Subs: Leonardo, Roque Junior, Sala, Serghino, Saudati, Rossi.
Referee: Gunter Benko (Austria).
United were literally handed a Champions League life line by AC Milan goalkeeper Dida. The Brazilian International let a Lee Bowyer shot slip from his grasp and over the line to give United a priceless victory at rain-lashed Elland Road. Bowyers twenty-five yard shot one minute from the end appeared to have been covered by Dida at his left-hand side post in front of the Don Revie Stand. But the greasy ball was like a bar of soap and the unfortunate keeper saw it escape his clutches and pop into the net to turn the formbook upside down,
Eirik Bakke and Dominic Matteo replaced the injured Lucas Radebe and Stephen McPhail as United were overwhelming underdogs at home to AC Milan, a week after their heavy defeat at Barcelona. Without Harry Kewell, Jason Wilcox, Jonathan Woodgate, David Batty, Lucas Radebe, Stephen McPhail, all injured, and Mark Viduka on International duty, the hotch-potch misfits took on the might of AC Milan, who had been 4-1 first game winners over Besiktas. In the driving rain at Elland Road, United took to it like ducks to water while AC Milan certainly had their enthusiasm dampened. Their galaxy of super-stars were out-fought and out-thought, with Lee Bowyer getting a last gasp winner courtesy of a speculation shot which Brazilian keeper Dada allowed into the net. It was a night of shocks as Besiktas beat Barcelona 3-0 and all teams were locked on 3 points.
New £4.5 million signing from Liverpool, Dominic Matteo passed a fitness test and was given his United debut on the left of midfield against the immensely talented AC Milan who, like Barcelona, had a team crammed full of players of world reknown. Once again Leeds were decided underdogs and seen as just lambs to the slaughter for their Italian opposition. On a night when you would not have turned a dog out, passion not fashion, dominated the Elland Road catwalk as the fancy Dans of Milan came to play in the unrelenting torrent. The elegance of their designer players was swept aside by good old-fashioned Yorkshire features of a heavy pitch, heaving tackles and a weighty commitment. In the end it took a goalkeeping error of farcical proportions to separate the two teams, but there was no doubt that the three points went to the team with the healthiest appetite for battle.
United switched from the recently tried 4-3-3 formation to a classical 4-4-2 formation and this together with mightily impressive displays from Eirik Bakke and Dominic Matteo gave United a refreshed and re-invigorated look and, with good performances in central defence from stand-ins Michael Duberry and Danny Mills, and the drive of the energetic Lee Bowyer and the terrier-like Olivier Dacourt United posed a much bigger threat than they had at Barcelona. The Italians disappointed greatly, with the exception of a period midway through the second half when Andriy Shevchenko threatened to cause chaos. He didnít mainly because Michael Duberry and Danny Mills stuck to their task to blunt the threat.
Milan flexed their muscles early on when German International Oliver Bierhoff took a pass from Andres Guly but blasted high over then Danish International Thomas Helveg fired into the side-netting after he had dispossessed Ian Harte. United won a free-kick on the left but Lee Bowyerís cross just evaded Michael Bridges. A Dominic Matteo cross from the left had Milan in disarray and after Alan Smith had failed to connect, Eirik Bakke thundered in a shot which was blocked. United were almost ahead in the twentieth minute when a Lee Bowyer cross from the left was met by a powerful header from Eirik Bakke which narrowly cleared the bar. Milan replied through Italian International Demetrio Albertini who wriggled through but could only toe-poke his shot into Nigel Martynís waiting arms. Michael Bridges teed up Eirik Bakke and his volley tested Brazilian International keeper Dida, or to give him his full name Nelson de Jesus Silva, as United warmed to their task. Gary Kelly sent a cross in from the right and Dominic Matteo rose to head just wide. Then, after Lee Bowyer had been scythed down by Italian International Francesco Coco, United totally messed up their free-kick procedure in a promising position just before half-time.
Within a minute of the restart Demetrio Albertiniís corner found Oliver Bierhoff but he shot weakly and Nigel Martyn was untroubled to save. At the other end Michael Duberry got his head to a Lee Bowyer corner but the ball looped over the bar and when Ian Harte tried his luck from long range it was always going wide. Nigel Martyn came to Unitedís rescue when Ukrainian International Andriy Shevchenko got through and unleashed a thunderous shot which the keeper rose to neatly turn over. The dangerous striker, the leading scorer in Serie-A, bore down again on goal but an inch perfect tackle from Danny Mills averted the danger, but he was soon back fully testing Nigel Martyn with a drive to the near post. Italian International Paulo Maldini joined the attack with a shot from distance before, with fifteen minutes left on the clock, Danny Mills flattened Andriy Shevchenko twenty-five yards out and straight in front of goal. Thankfully Demetrio Albertini sent the free-kick into the wall, but Mills got himself into trouble by mishitting his clearance straight to Andriy Shevchenko, but fortunately he chose not to shoot, but passed to the offside Oliver Bierhoff.
Then out of the blue in the eighty-eighth minute Lee Bowyer found himself with no options and decided to have a speculative shot from twenty-five yards. What happened next was both comical and decisive. Dida appeared to have it well covered and, just as everyone was turning away for the up-field punt, he let the ball slip from his grasp and it squirmed into the net. It was unfortunate for Dida and AC Milan but very fortunate for Lee Bowyer and Leeds United, but it was a very swift recovery by Leeds from their recent ills and was a massive result which provided a solid base for future progress. All four contestants in Group H were locked together on three points after two games had been completed.
It was a night of upsets as Turkish underdogs Besiktas also thumped Barcelona by three goals to nil to throw the Group wide open, as the two unbackable favourites both lost on the same night to everybodyís underdogs. With all four clubs locked on the same number of points and United at home to Besiktas, while Barcelona were due to entertain AC Milan, they had it within their grasp to seize control of the ďGroup of Deathí.
<![if !vml]>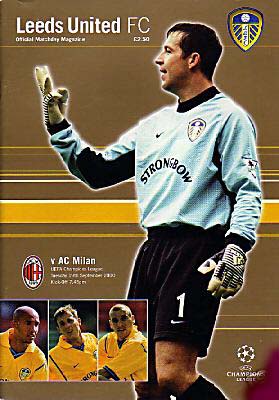 <![endif]>†<![if !vml]>
<![endif]>
Match Action:
<![if !vml]>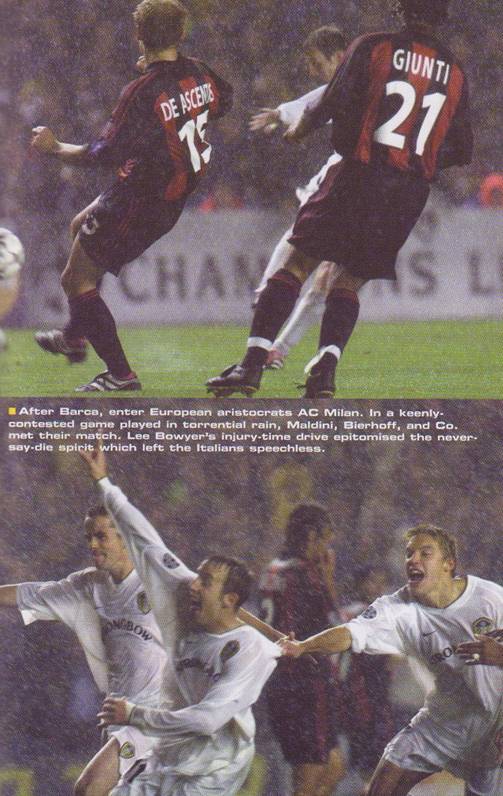 <![endif]>† <![if !vml]>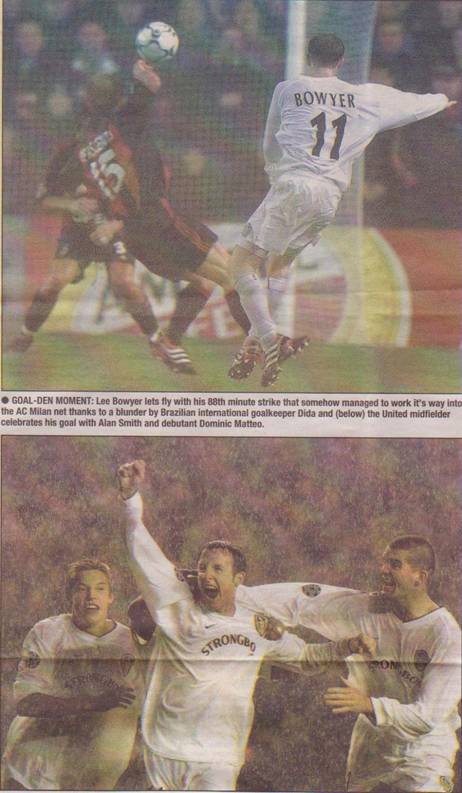 <![endif]>
<![if !vml]>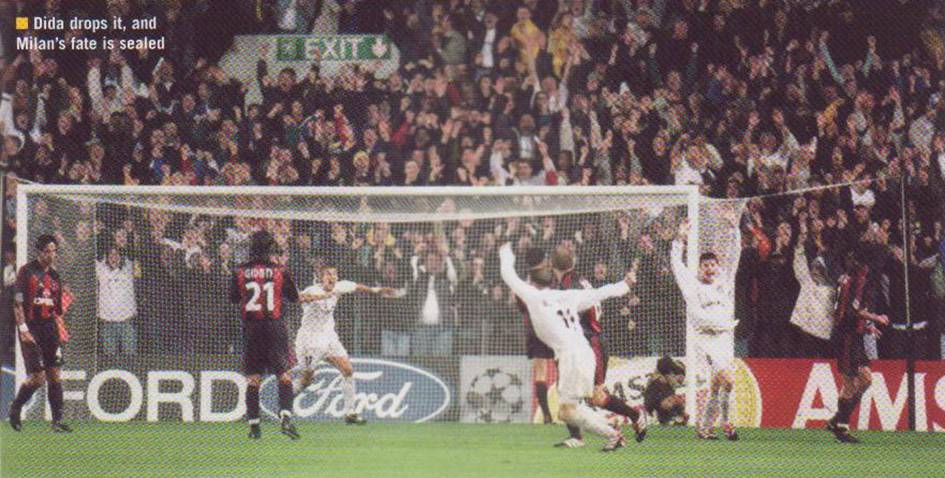 <![endif]>
<![if !vml]>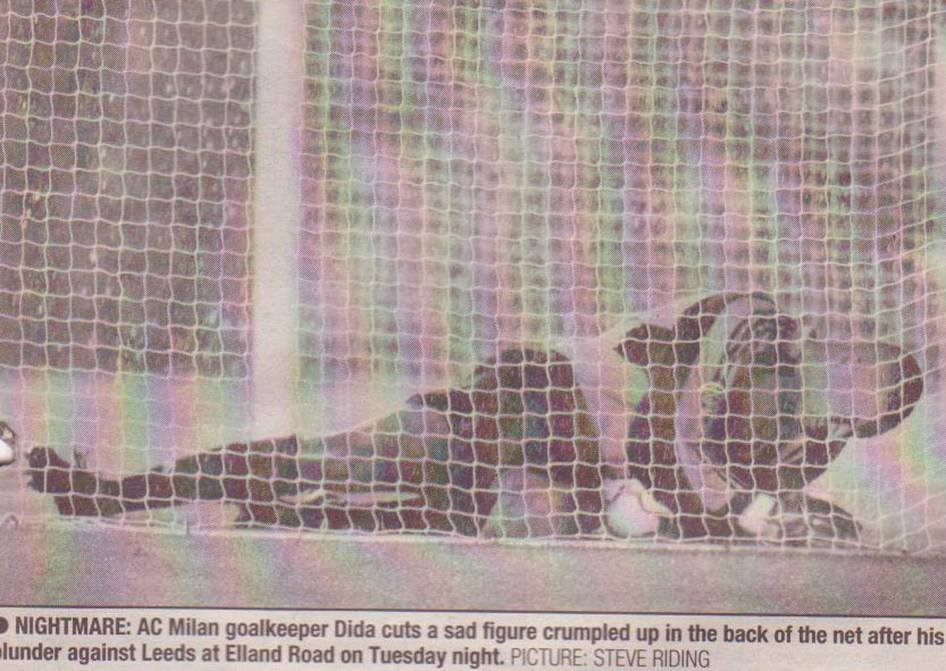 <![endif]>†
<![if !vml]>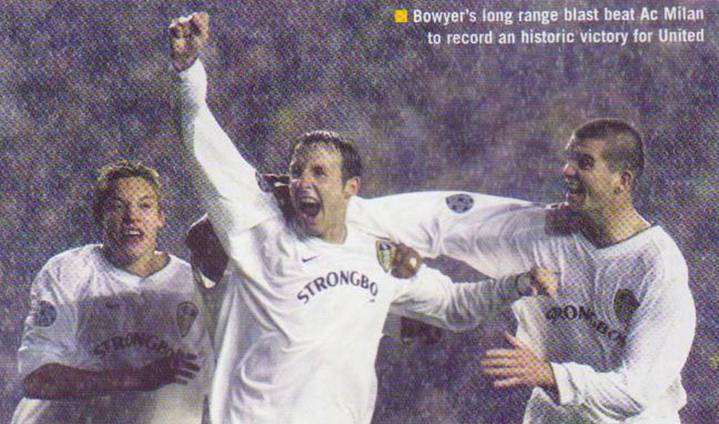 <![endif]>††††† <![if !vml]>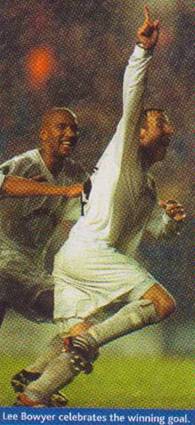 <![endif]>
<![if !vml]>
<![endif]>†
<![if !vml]>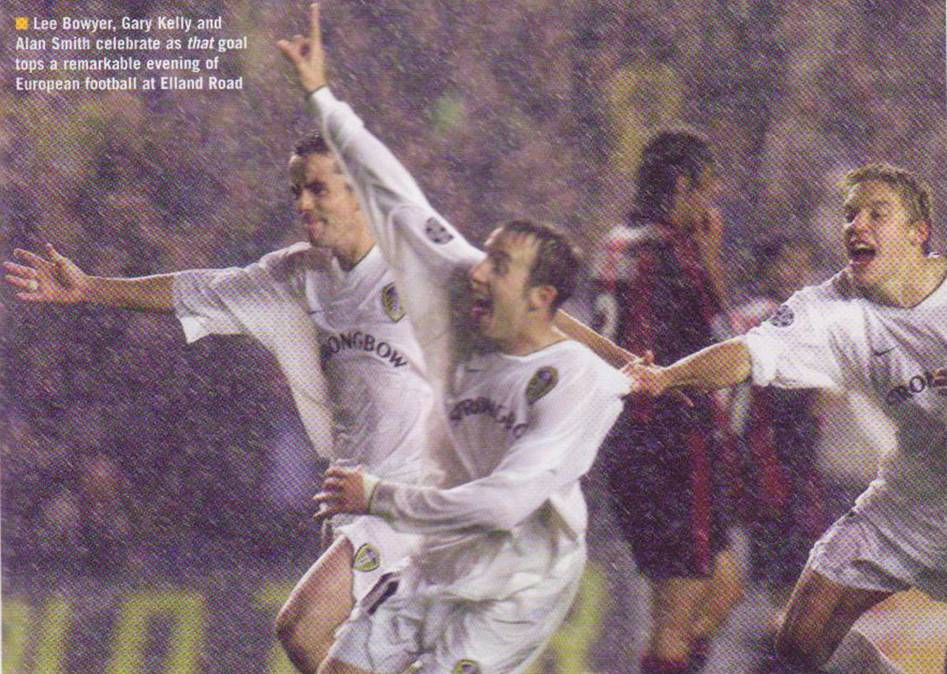 <![endif]>
<![if !vml]>
<![endif]>
<![if !vml]>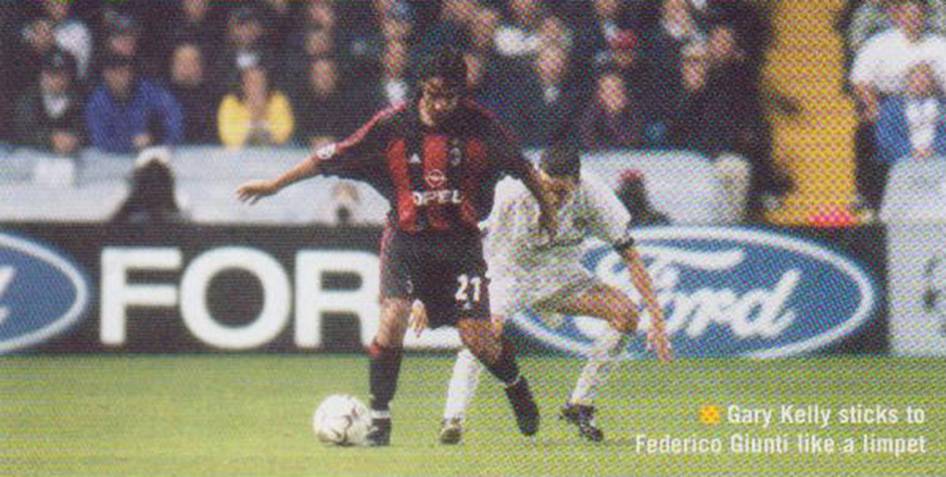 <![endif]>
<![if !vml]>
<![endif]>
<![if !vml]>
<![endif]>
<![if !vml]>
<![endif]>†<![if !vml]>
<![endif]>
Ian Harte holds off Oliver Bierhoff
<![if !vml]>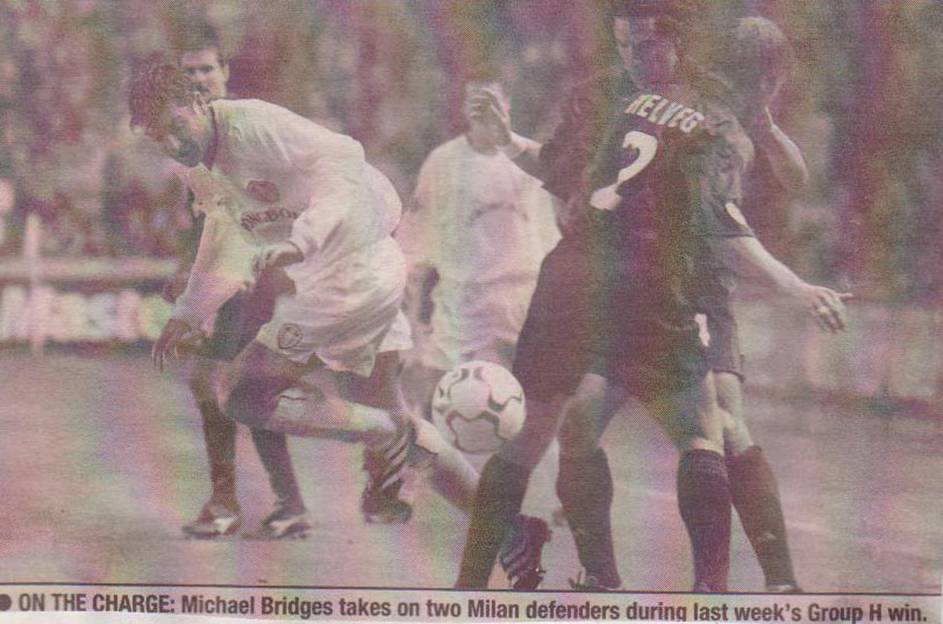 <![endif]>†
<![if !vml]>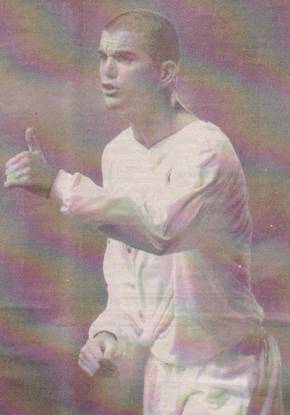 <![endif]>†† <![if !vml]>
<![endif]>†††<![if !vml]>
<![endif]>
Dominic Matteo gives the thumbs up
<![if !vml]>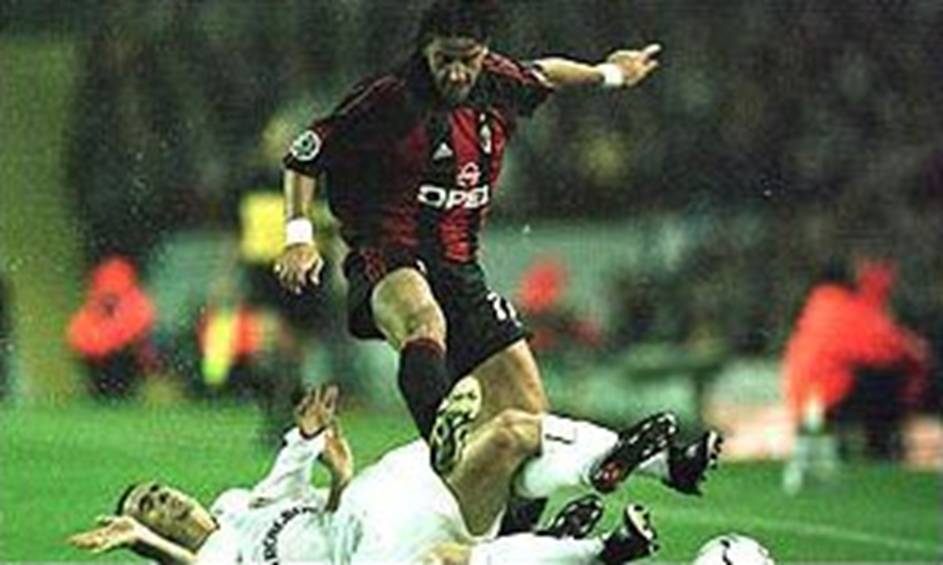 <![endif]>
Gary Kelly and a hidden Lee Bowyer tackle Coco
<![if !vml]>
<![endif]>
<![if !vml]>
<![endif]>
<![if !vml]>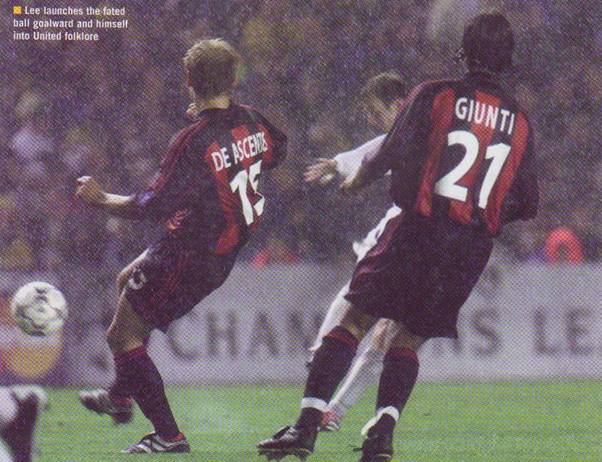 <![endif]>††††††† <![if !vml]>
<![endif]>
<![if !vml]>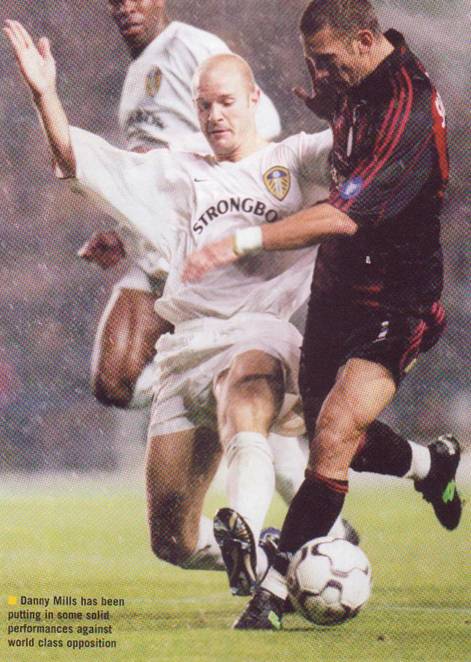 <![endif]>†<![if !vml]>
<![endif]>
<![if !vml]>
<![endif]>† <![if !vml]>
<![endif]>
<![if !vml]>
<![endif]>†<![if !vml]>
<![endif]>
Players:
<![if !vml]>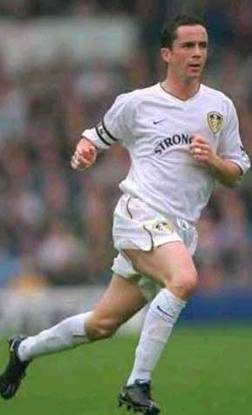 <![endif]>†<![if !vml]>
<![endif]>†<![if !vml]>
<![endif]>†<![if !vml]>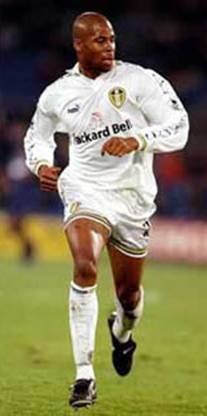 <![endif]>
††††††††††††††††††††††††††††† Gary Kelly and Ian Harte were the full-backs†††††††††††††††††††††††††† Danny Mills was paired with Michael Duberry in central defence
<![if !vml]>
<![endif]>†<![if !vml]>

<![endif]>†<![if !vml]>
<![endif]>†<![if !vml]>
<![endif]>
†††††††††††††††††††††††††††††††††††††††††††††††††† Eirik Bakke, Goalscorer Lee Bowyer, Olivier Dacourt and Dominic Matteo were in midfield
<![if !vml]>
<![endif]>†<![if !vml]>
<![endif]>†††††††††††††† <![if !vml]>
<![endif]>†
Michael Bridges and Alan Smith were the United front runners††††††††††††††††††††††††††††††††††††††††† Nigel Martyn was in goal††
| | |
| --- | --- |
| Dida was the Milan Goalkeeper | Jose Chamot, Alessandro Costacurta and Paulo Maldini were the AC Milan defenders |
<![if !vml]>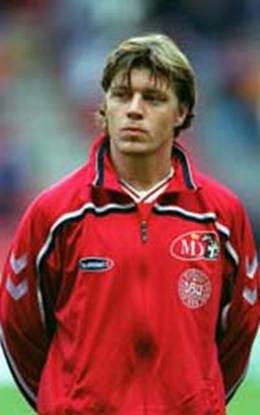 <![endif]>† <![if !vml]>
<![endif]>††<![if !vml]>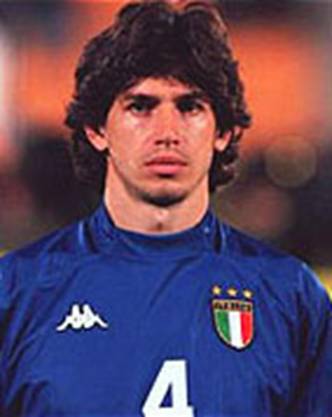 <![endif]>
Thomas Helveg, Federico Giunti, Demetrio Albertini,
<![if !vml]>
<![endif]>†<![if !vml]>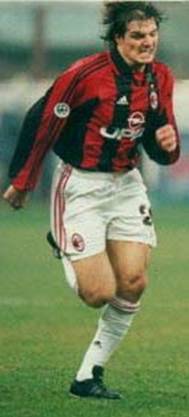 <![endif]>†† <![if !vml]>
<![endif]>†<![if !vml]>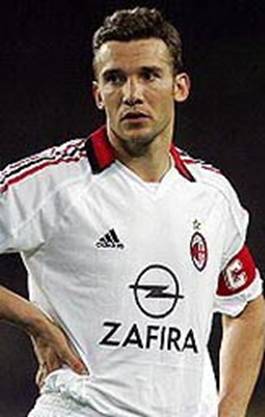 <![endif]>
Francesco Coco and Andreas Guly started in midfield†† ††††††††††††††††††††††††††††††Oliver Bierhoff and Andriy Shevchenko were the Milan stikers
<![if !vml]>
<![endif]>†††††† <![if !vml]>
<![endif]>††<![if !vml]>
<![endif]>
Diego De Ascentis was the substitute used†††† Sebastiano Rossi was the unused goalkeeper substitute and Lucu Saudati was also unused