<![if !vml]>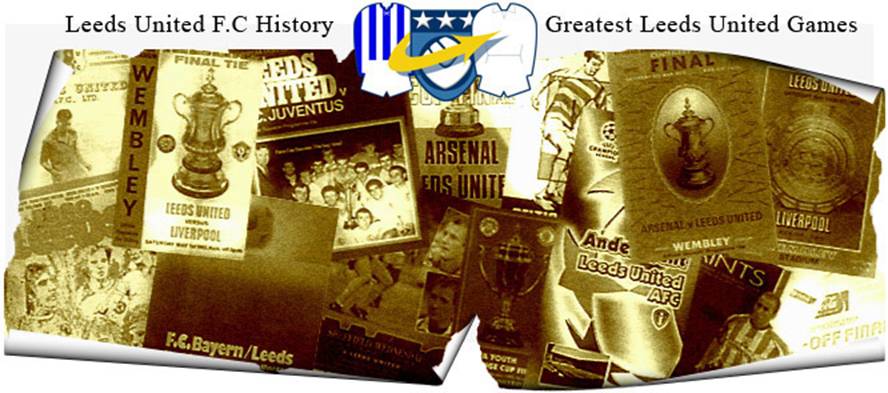 <![endif]>
Date: Wednesday, 19th September 1973.
Venue: Ullevaal Stadium, Oslo, Norway.
Competition: UEFA Cup, First Round, First Leg.
Score: Stromsgodset Idrettsforening 1. Leeds United 1
Scorers: Stromsgodset Idrettsforening: Amundsen. Leeds United: Clarke.
Attendance: 16,276.
Teams:
 <![if !vml]>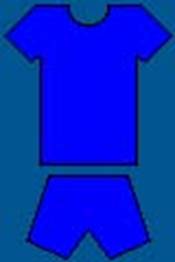 <![endif]><![if !vml]>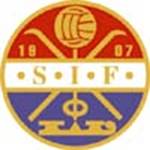 <![endif]>
Stromsgodset Idrettsforening: Thun; Wolner (Aarseth), Pedersen; Nistdahl, S. Andersen, Amundsen; Olsen, B. Andersen, S. Pettersen, Presberg, I. Pettersen (Halvorsen).
<![if !vml]>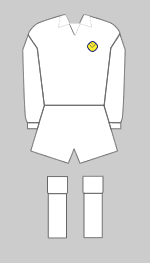 <![endif]><![if !vml]>
<![endif]>
Leeds United: Sprake; Madeley, Cherry; Yorath, McQueen, F. Gray; Liddell, Clarke, Jones, Bates, E. Gray.
Referee: Sven Jonsson (Sweden).
European success had always been high on Don Revie's agenda but there seemed to be a softening of that attitude in 1973-74. He made regaining the title they had fought so hard to win in 1968-69 their main priority. They certainly made the perfect start by winning the first seven games. They fully expected to extent their run when they travelled to Norway to take on the relatively unknown Stromgodset, whose amateur side included a five foot seven inch postman goalkeeper, office workers, a draughtsman, mechanic and lumberjack. With United banking on a 16-0 aggregate win over Norwegian opposition in Lyn Oslo just three years earlier it was the perfect opportunity for Don  Revie to rest players.  With Norman Hunter already suspended, David Harvey, Paul Reaney, Peter Lorimer, Billy Bremner, Johnny Giles and Joe Jordan also missed the trip. Revie handed the captaincy to Paul Madeley and gave young Scottish striker Gary Liddell his European debut in one of his rare appearances for United to gain experience on the right wing. Gary Sprake played his only game of the season, his final appearance for Leeds, as he was transferred to Birmingham City in October 1973 for a then record £100,000 for a goalkeeper.
Stromgodset moved the home leg from their own Marielyst Stadium in Drammen to the larger Ullevaal Stadium in Oslo and were rewarded with a crowd double their usual home capacity. Not only were they an unknown quantity but Stromsgodset became the team with the longest name that United had had to face. The Norwegians performed admirably on home soil holding Leeds to a 1-1 draw, Allan Clarke giving United a fifteenth minute lead but Odd Armundsen equalised nine minutes later.
Despite the Norwegian's rigid man-marking plan, it took United just a quarter of an hour to open the scoring, Allan Clarke chesting down an Eddie Gray centre and despatching a left-foot shot past Inge Thun. But United, with the Gray brothers in midfield tandem, didn't find it easy to break down a well organised Norwegian defence after that and Stromgodset equalised ten minutes later when Odd Amundsen smacked a low angled drive through a packed penalty area into the bottom corner. The local fans then roared their delight when Steinar Pettersen 'nutmegged' Gordon McQueen, but the cheers turned to groans when he shot straight at Gary Sprake. Gary Liddell nearly marked his debut with a couple of goals, but Inge Thun saved one effort with his feet and when the young striker did get round the goalkeeper on another occasion, Johnny Pedersen cleared off the line and Stromgodset hung on for a famous draw.
Don Revie summed up the Norwegians in his programme notes for the home leg by saying, "Nearly every European team is playing with four men strung across the back of the defence, and with a sweeper behind them. Even our opponents tonight, Stromsgodset, adopted this formation when we faced them in Norway last month. Although they are amateurs and part-timers, they train for one-and-a-half hours, four nights per week, are very fit and very well-organized in this defensive set up. Their timing for running out and playing forwards offside is near perfection, but we caught them out four times, when our forwards had only the goalkeeper to beat, and they should have paid the price for this."
"Playing football with this in-built defence mechanism is a policy I have never believed in. The offside game spoils matches for both opposing players and supporters alike. So much depending on timing and if one player is not alert to what is going on around him then he can be left with his collegues disappearing up the park and a pack of forwards swarming down on him. Even so it was a good, wholehearted performance by the Norwegians and consequently we are all looking forward to a good game tonight. It will not be an easy stroll as Stromsgodset are no pushovers by any stretch of the imagination.
<![if !vml]>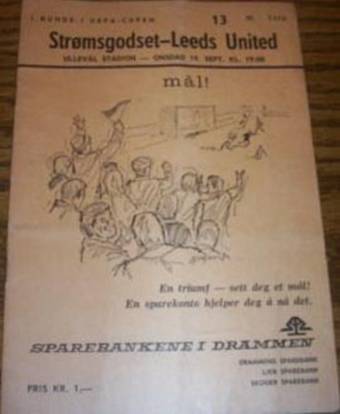 <![endif]> <![if !vml]>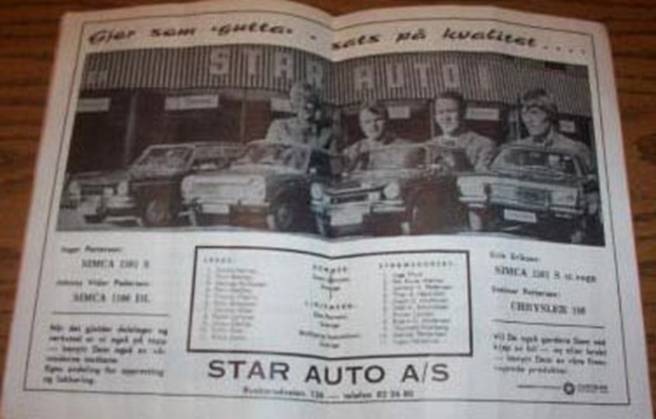 <![endif]>
<![if !vml]>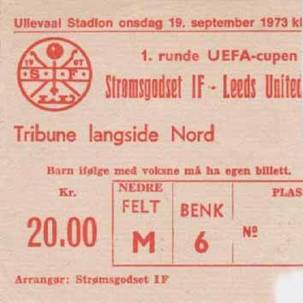 <![endif]>
Teams:
<![if !vml]>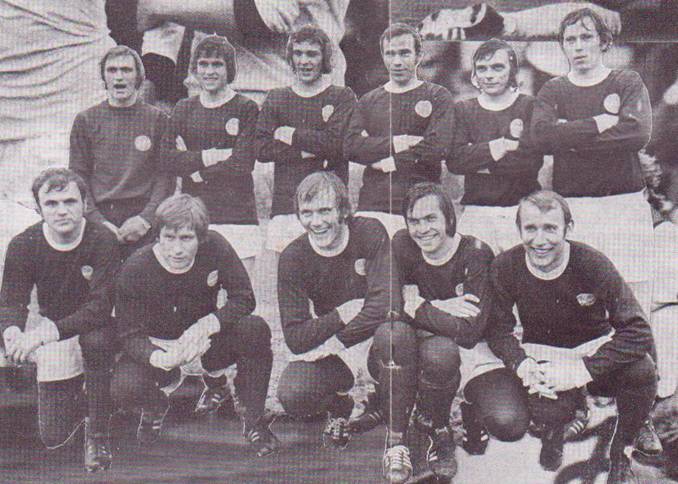 <![endif]>
Stromsgodset Idrettsforening 1973-74:
Back Row: Thun, Woelner, Halvorsen (sub), Nostdahl, Andersen (S), Amundsen.
Front Row: Pedersen, Pettersen (S), Pettersen (I), Presberg, Andersen (B).
<![if !vml]>
<![endif]>
Leeds United 1973-74 with Football League Championship Trophy:
Back Row: Gordon McQueen, David Stewart, David Harvey, Roy Ellam, Joe Jordan, Allan Clarke,
Norman Hunter, Paul Madeley, Mick Jones.
Front Row: Eddie Gray, Peter Lorimer, Terry Yorath, Trevor Cherry, Paul Reaney, Frank Gray,
Terry Cooper, Mick Bates, Billy Bremner. (Johnny Giles absent)
Players:
<![if !vml]>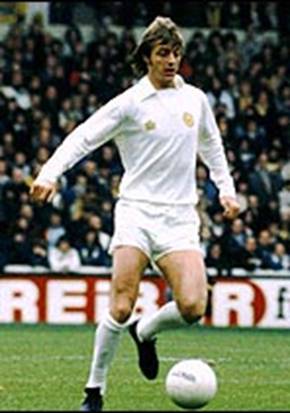 <![endif]>  <![if !vml]>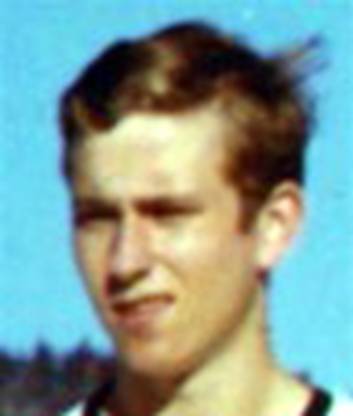 <![endif]>   <![if !vml]>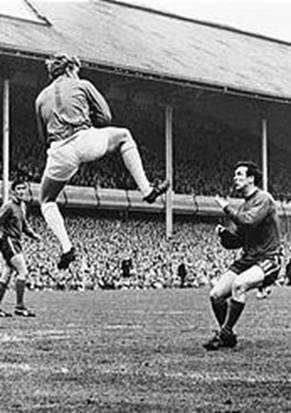 <![endif]>
Allan Clarke scored for Leeds                        Odd Arild Amundsen scored for Stromsgodset               Gary Sprake played his last game for Leeds
<![if !vml]>
<![endif]> <![if !vml]>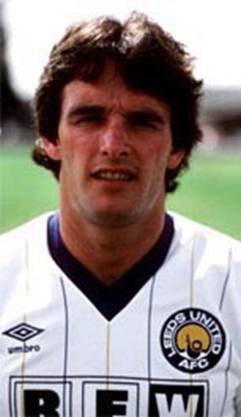 <![endif]> <![if !vml]>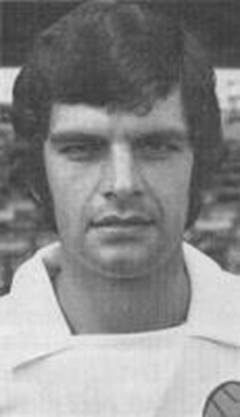 <![endif]> <![if !vml]>
<![endif]>
Terry Yorath, Frank Gray, Mick Bates and Gary Liddell were given European experience as several regulars were rested
<![if !vml]>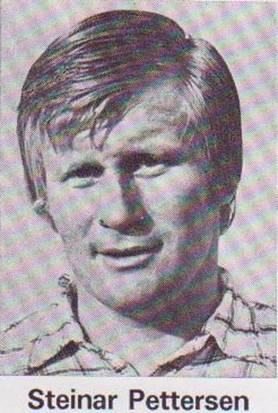 <![endif]>         <![if !vml]>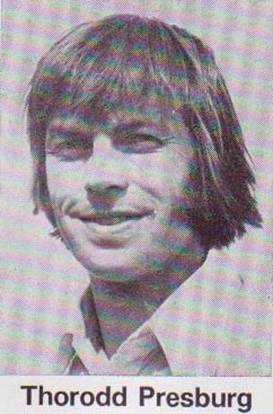 <![endif]>         <![if !vml]>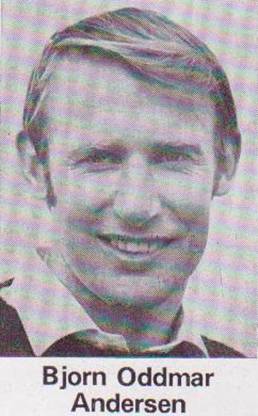 <![endif]>    
<![if !vml]>
<![endif]>                 <![if !vml]>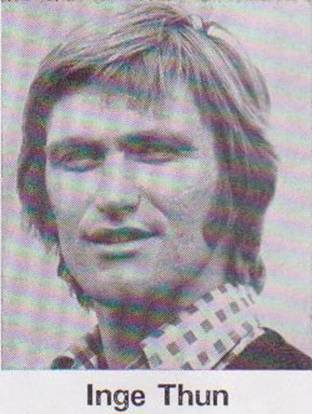 <![endif]>