<![if !vml]>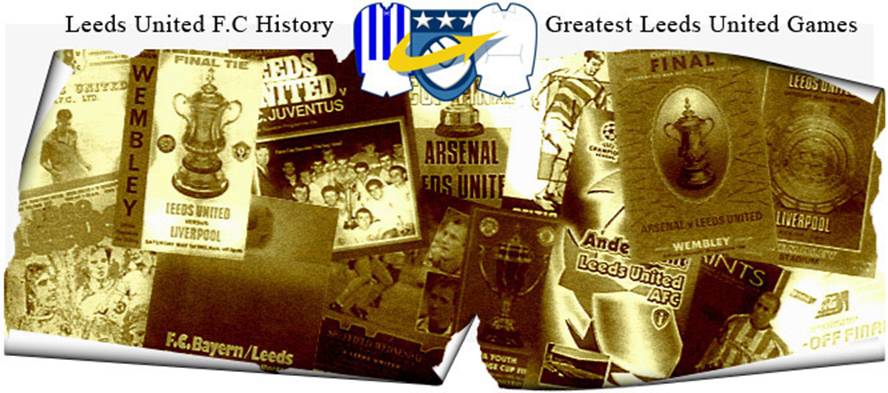 <![endif]>
Date: Saturday, 19th March 1988.
Venue: Elland Road, Leeds.
Competition: Second Division.
Score: Leeds United 5 Sheffield United 0
Scorers: Leeds United: Swan, Pearson (3), Sheridan. Sheffield United: Nil.
Attendance: 22,376.
Teams:
<![if !vml]>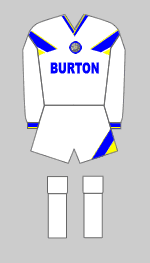 <![endif]><![if !vml]>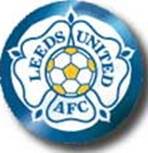 <![endif]>
Leeds United: Day; G. Williams, Haddock; Aizlewood (Sheridan), Ashurst, Swan; Batty, Taylor, Baird, Pearson, G. Snodin.
<![if !vml]>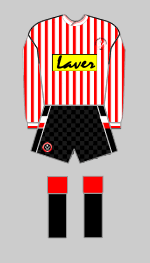 <![endif]><![if !vml]>

<![endif]>
Sheffield United: Leaning; Wilder, Pike; Todd (Powell), Webster, Smith; Hetherston, P. Williams, Agana (Cadette), Downes, Beagrie.
Referee: J.J. Timmons (Newcastle-upon-Tyne)
The effect of the 'Wilko era' on the change in personnel of the United team can be seen from this game in March 1988 only six months prior to his advent. Of the team that was to go on to lift the league title less than four years later only David Batty featured in the United line-up, while the same could be said for Sheffield United, who similarly had a huge change in players in the same period and none featured in the game that brought the title to Elland Road.
More than 22,300, which was the fourth highest match attendance in the country on the day, saw United inch nearer to a promotion play-off place by taking full advantage of the shortcomings in what was a struggling Sheffield United side.
Sheffield-born John Pearson, a former Sheffield Wednesday striker, put the icing on a rich United cake by scoring a second half hat-trick to add to goals by Peter Swan and John Sheridan. The Blades had their cutting edge seriously dented with the dismissal after forty-four minutes of their former Wimbledon midfield man Wally Downes, who was shown the yellow card for putting Mark Aizlewood out of the game in a thirty-eighth minute clash. He then tangling with Glynn Snodin a few minutes later and was booked again and consequently sent off.
Peter Swan had fired United into an eighty second lead with his tenth goal of the season but that was the only score in the first half. It was a different story after the interval with Pearson, who in the first half of the season had failed to find the net in twenty outings, now scoring in the fifty-third, seventy-ninth and eightieth minutes and Sheridan also got into the scoring action.
The encouraging feature of United's biggest win of the 1987-88 season was the concerted team work with everyone playing his part to the full but the game was particularly rewarding on an individual level for John Pearson and full-back Gary Williams. Williams had not made the impact he had hoped for following his £280,000 summer transfer from Aston Villa but his display against the Blades had, arguably, been his best of the season and the same could be said for Pearson.
Alternate Report from the YEP (Courtesy Mark Ledgard)
John Pearson, born a goal kick from Hillsborough and a former Sheffield Wednesday player, led the crushing of Sheffield United at Elland Road with his first hat-trick, scored in twenty-seven minutes as a rampant Leeds United raced to their biggest win of the campaign. The demolition of the strugglers from Bramall Lane nudged them nearer relegation as Leeds emphasised their determination to stay with the promotion-hunting pack. Dave Bassett's side sank particularly dramatically in the Elland Road mud when Wally Downes was sent off moments before half time. Some of their defending, as Leeds turned on exhibition-like football in the second half, was pitiful but most of the derby crowd were delighted by Leeds' work in the rain and treacle-like conditions. Particularly impressive was the finishing of John Pearson, the all-round efficiency of Gary Williams, who probably had his best game since his summer arrival from Aston Villa, and the tireless Ian Baird. John Pearson hah had a trying time that season before grabbing a regular slot for himself seven matches previous. His six goals since his recall, however, underlined how important the twenty-four-year-old striker had become to Leeds' promotion dream. His first goal in this game in the fifty-third minute was the one that really sent his hometown team skidding out of the contest. Gary Williams produced the perfect cross from the right and the big forward just had to stretch his neck a little to head the ball home.
He completed his hat-trick in the space of a minute after the Sheffield defence became really ragged. Gary Williams again obliged from the right eleven minutes from time and you had to feel sorry for Simon Webster, just installed in the centre of Sheffield's defence after moving down the road from Huddersfield Town, as Pearson found acres of room to dive and head in again. Ian Baird, in good company down the left, fashioned the third leaving Pearson with just a simple near post touch on. Pearson had won the ball for John Sheridan to place a twenty-yard side-footer for his twelfth goal of the campaign in the fifty-ninth minute. Leeds had elected to use the side that had done so well at Aston Villa seven days earlier, and in the opening ten minutes promised to finish the game off in double quick time. With the £1 million plus rated pair Bobby Davison and John Sheridan sat on the bench and the men picked suggested they were in a hurry to impress and by the sixth minute both Leeds' Villa Park scorers should have had goals. Bob Taylor missed his chance but Peter Swan tucked his away from close in with the game just eighty seconds old. From then on Sheffield had a lot to do but they hauled themselves into contention for a while and had Peter Beagrie and Peter Hetherston been steadier with half-chances midway through the first half, it might have been a different story. As it was the game blew up in an ugly finale to the first forty-five minutes. First Wally Downes and Jack Ashurst clashed after Mark Aizlewood had been flattened. The Leeds Captain was helped to the dressing room suffering from concussion and both Downes and Ashurst got bookings. No sooner had play got under way again than Joe Timmons the Newcastle-upon-Tyne referee was showing Downes the red card after he pulled him up for tangling with Glynn Snodin. Soon after Chris Wilder's heavy tackle on Peter Haddock and Paul Williams' brush with Ashurst brought Sheffield two further bookings. The day was bad enough for them then, but it got worse.
<![if !vml]>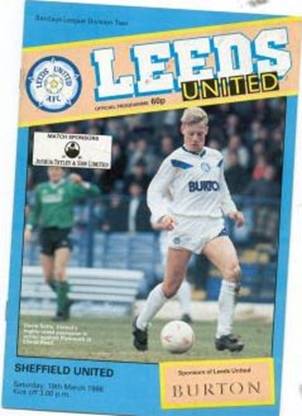 <![endif]>
Match Action:
<![if !vml]>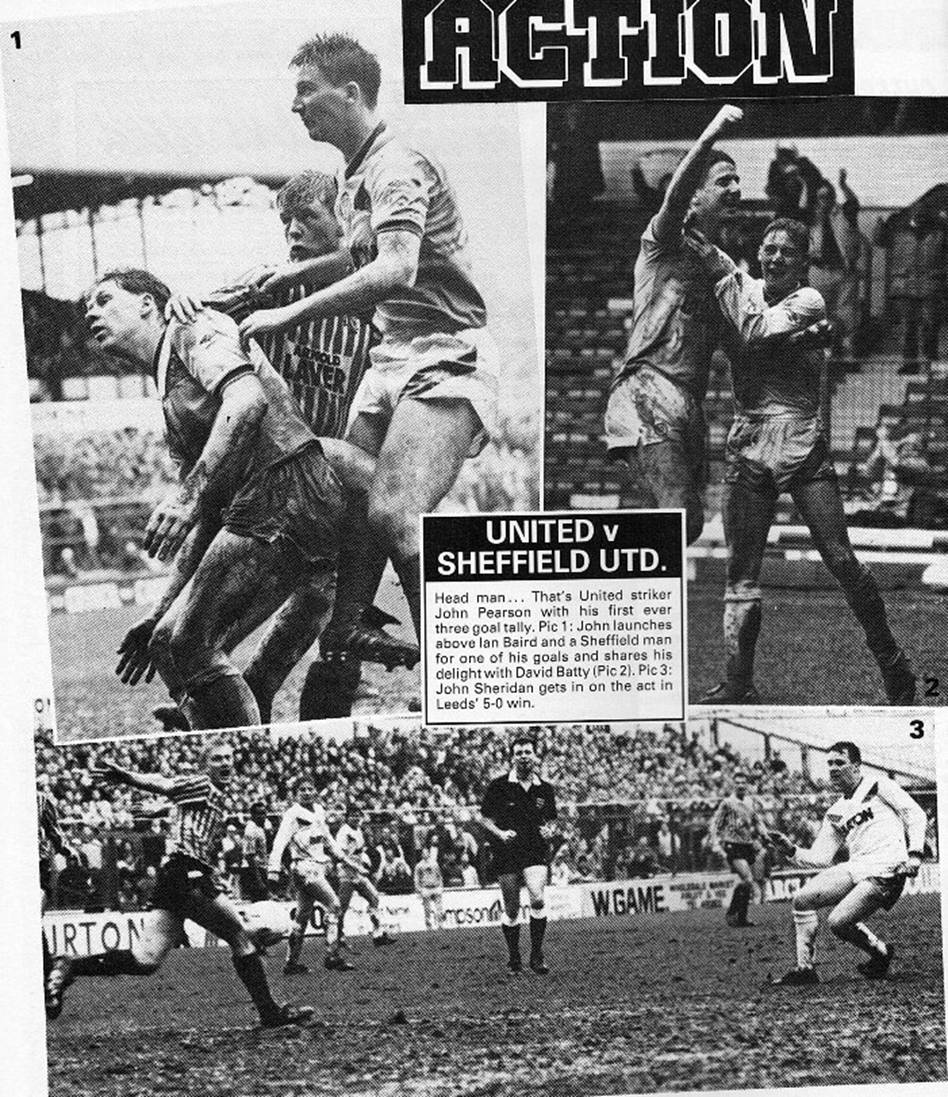 <![endif]>
 <![if !vml]>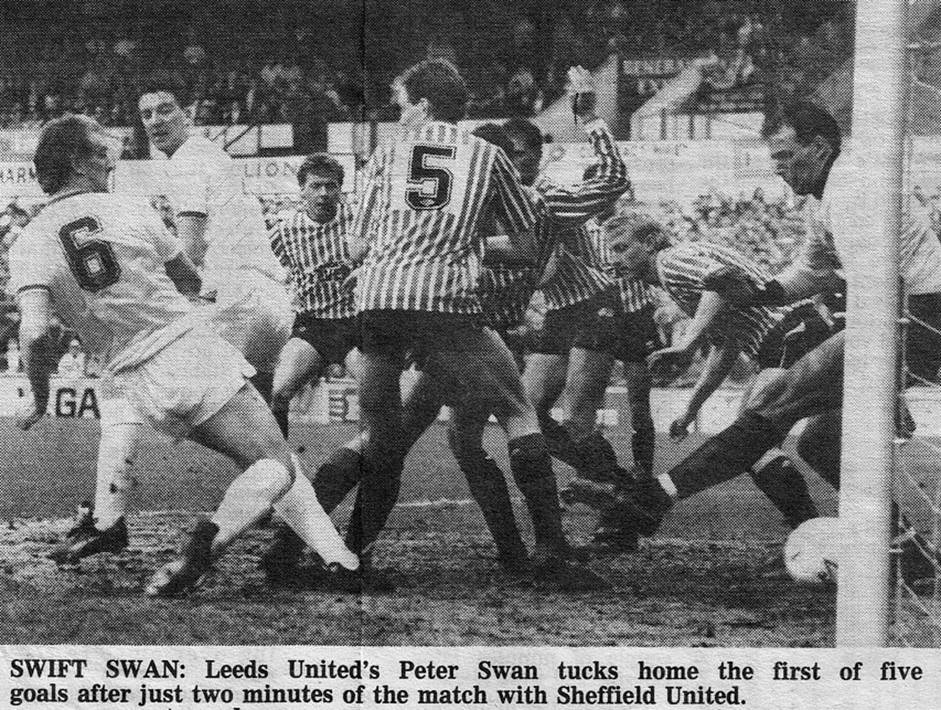 <![endif]> 
<![if !vml]>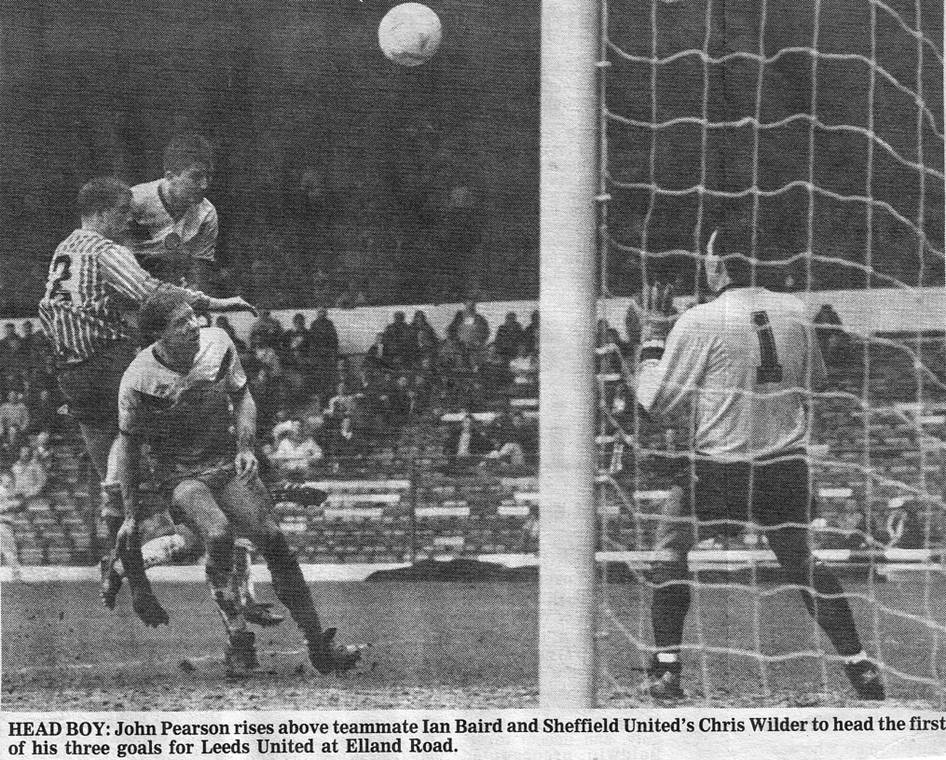 <![endif]>
(Above Match Action Courtesy Mark Ledgard)
<![if !vml]>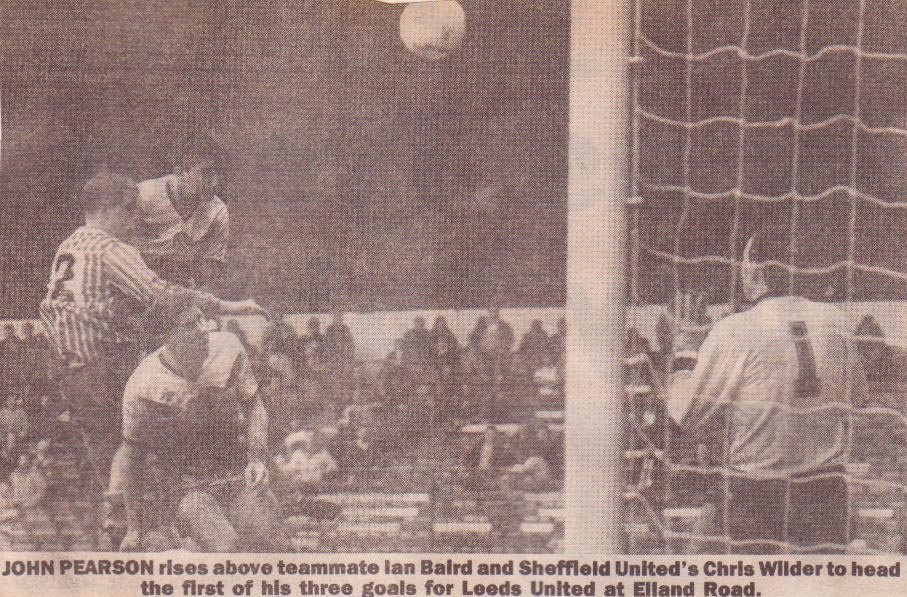 <![endif]>
<![if !vml]>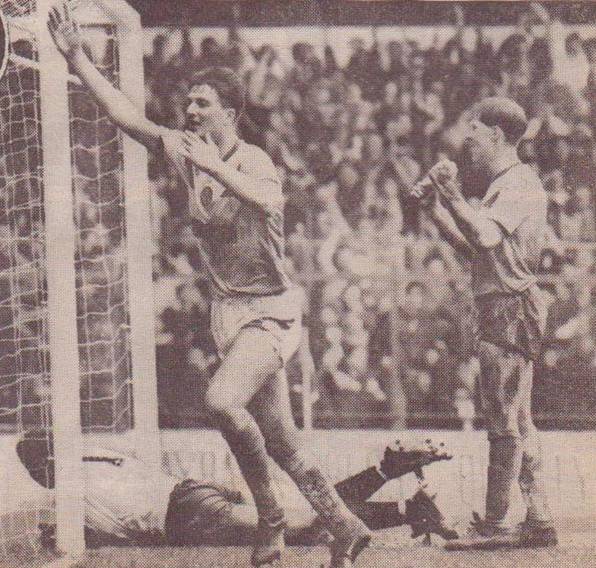 <![endif]> <![if !vml]>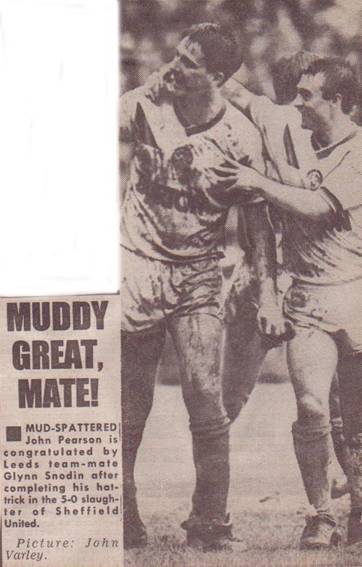 <![endif]>
Hat-trick Hero John Pearson (left) and team-mate Ian Baird celebrate the first of
Pearson's three goals against Sheffield United.
Teams:
<![if !vml]>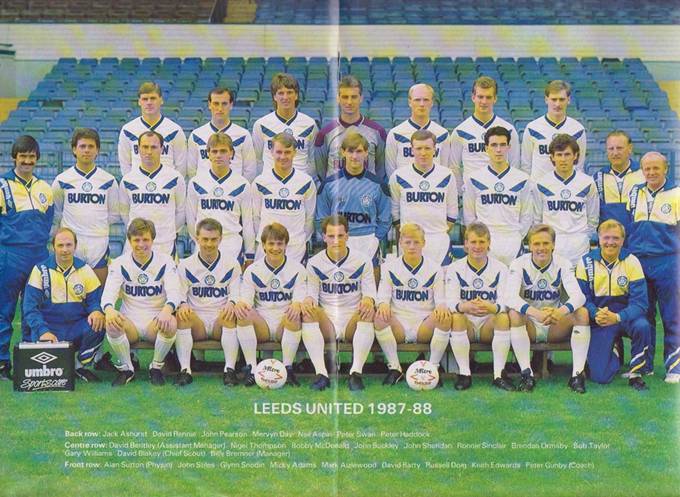 <![endif]>
<![if !vml]>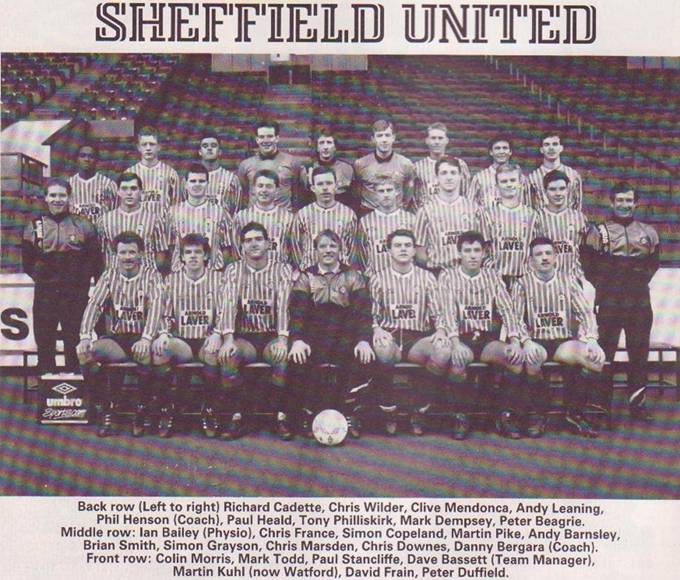 <![endif]>
Players:
<![if !vml]>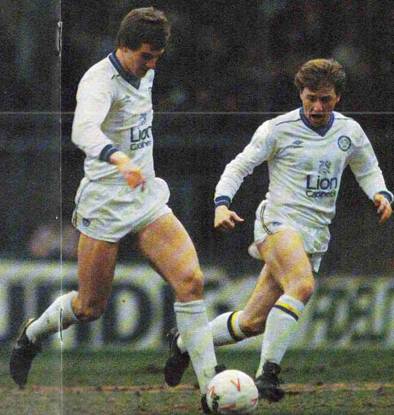 <![endif]> <![if !vml]>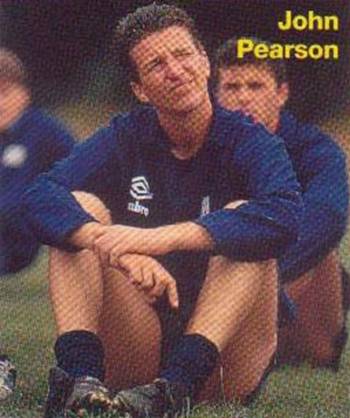 <![endif]> 
                                    The Leeds goals were scored by Peter Swan, John Pearson (3)
<![if !vml]>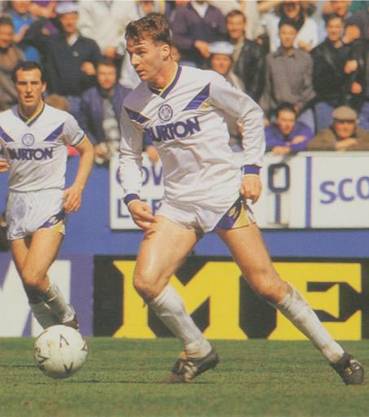 <![endif]>       <![if !vml]>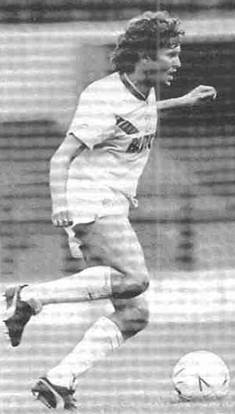 <![endif]> <![if !vml]>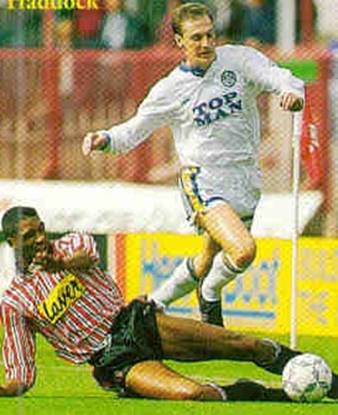 <![endif]>
and John Sheridan                                                                    Gary Williams had his best game for Leeds and Peter Haddock was also on form
<![if !vml]>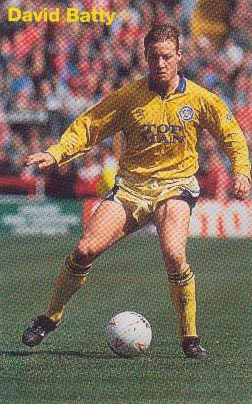 <![endif]> <![if !vml]>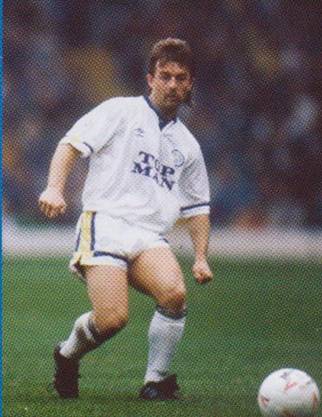 <![endif]>  <![if !vml]>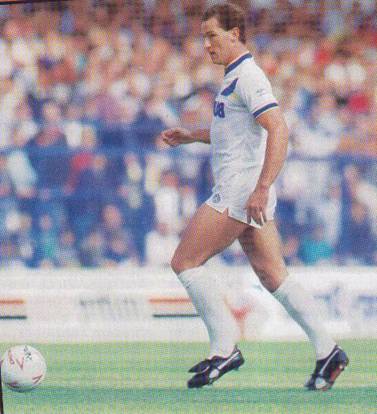 <![endif]> 
David Batty was the only player on        Yellow cards for foul tackles on Glynn Snodin and Mark Aizlewood saw Wally Downes sent off.
the pitch who played in United's
Championship clincher four years later         
<![if !vml]>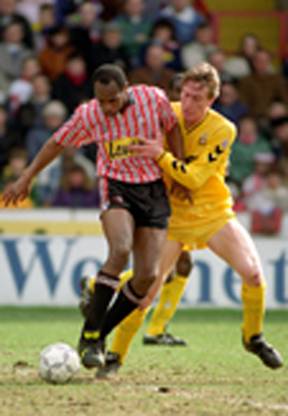 <![endif]>   <![if !vml]>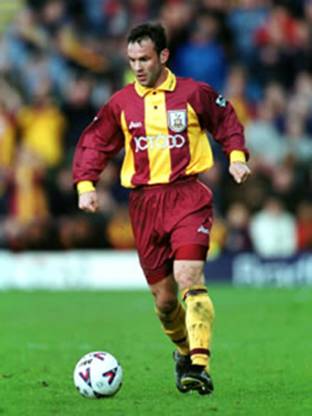 <![endif]>
Tony Agana and Peter Beagrie were Sheffield's main threats