<![if !vml]>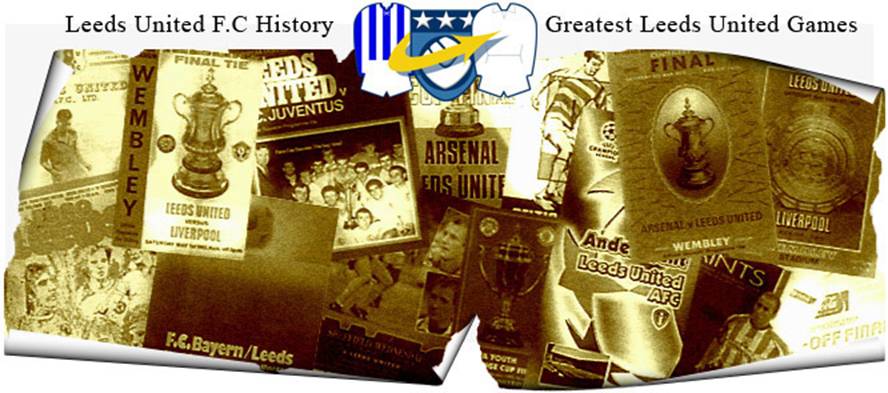 <![endif]>
Date: Saturday, 19th February 1972.
Venue: Elland Road, Leeds.
Competition: First Division.
Score: Leeds United 5 Manchester United 1
Scorers: Leeds United: Jones (3), Clarke, Lorimer. Manchester United: Burns.
Attendance: 45,394.
Teams:
<![if !vml]>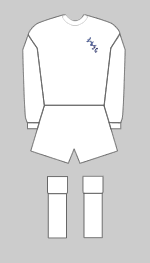 <![endif]><![if !vml]>

<![endif]>
Leeds United: Sprake; Madeley, Cooper; Bremner, Charlton, Hunter; Lorimer, Clarke, Jones, Giles, E. Gray. Unused Sub: Jordan.
<![if !vml]>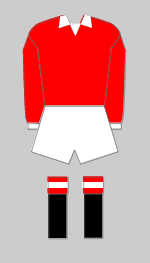 <![endif]><![if !vml]>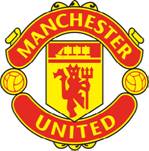 <![endif]>
Manchester United:  Stepney; O'Neil, Dunne; Burns, James, Sadler; Morgan, Kidd (McIlroy), Charlton, Gowling, Best.
Referee: N.C. Burtenshaw (Gt Yarmouth).
Since gaining promotion in 1964, Don Revie had always regarded Manchester United as the yardstick by which to measure his own team's progress. In the mid-1960's the men from Old Trafford had held the upper hand, but the balance of power tilted east of the Pennines after three block-busting FA Cup Semi-Final matches in 1970 and this match confirmed that Leeds had overhauled their arch rivals as a soccer super-power.
With Mick Jones back after a bout of flu to renew his lethal striking partnership with Allan Clarke, Leeds tore the visiting defence to shreds with some stunning attacking play. Amazingly there was no score at half time despite Mick Jones, twice, and Jack Charlton going close, but it took only two minutes after the break for Revie's boys to unlock the Manchester defence.
Eddie Gray, tantalizing and tormenting on the wing, saw his shot pushed onto a post but Mick Jones was on hand to nudge the ball over the line. Seven minutes later, Leeds produced another sweeping attack which saw Peter Lorimer's cross find Jones, whose shot was deftly flicked in by Allan Clarke.
Leeds were pouring forward at every opportunity and even after Francis Burns pulled a goal back in the fifty-seventh minute, Leeds hit back instantly when Mick Jones got on the end of Billy Bremner's cross to head into the ground and over the despairing Alex Stepney. Jones completed his hat-trick six minutes later when he prodded the ball over the line after more excellent approach play by Eddie Gray and Peter Lorimer. Man-of-the-match Mick Jones then turned provider, whipping in a cross which Peter Lorimer thrashed into the roof of the net to complete a five goal storm in twenty-seven minutes.
On a personal level the game was a triumph for striker Mick Jones who bagged three of the goals to record his first ever League hat-trick. It was particularly satisfying for Jones because he had been dogged by injury and had managed only two goals in twelve previous League appearances that season. His performance in this game against the Reds capped a devastating team display, particularly in the second half, when all the goals were scored.
The victory had taken United's point tally to four hundred and fifty since returning to First Division seven and an half years earlier and must rank as one of the sweetest in the club's history, particularly as the opposition had been sat at the top of the table only a few weeks earlier.
An alternate tribute to Mick Jones.
Mick Jones was one of the most unselfish strikers the English game has known, doing the spadework for many of the goals that Allan Clarke scored for Leeds United. The popular ex-Sheffield United striker, did of course, also score his fair share of goals, and he had a field day when Manchester United were the visitors to Elland Road in February 1972.
Jones had been dogged by injury in that season and, indeed, had just recovered from a bout of flu to face an Old Trafford side managed by Frank O'Farrell, who were without a win in their previous eight games. Manchester were left wishing that he had stayed in his sickbed.
The game was goalless at half-time and Manchester, trying to remain in touch with the First Division leading pack, must have been pleased enough. But the Jones boy changed all that with an amazing fifteen minute spell, which produced a hat-trick for himself and a fourth which he 'made' for Allan Clarke.
Three minutes of the second half had elapsed when Jones darted in to score when the ball ran loose after Alex Stepney had palmed a shot from Eddie Gray on to the post and seven minutes later Jones' powerful shot from a Peter Lorimer centre was deflected in by Clarke. It took a dressing room chat after the game to sort out who should be credited with the goal, and the verdict went to Clarke.
Francis Burns made it 2-1 when he pulled a goal back in the fifty-seventh minute before Jones struck again. He headed in following a centre from Billy Bremner in the next minute and Jones completed his hat-trick in the sixty-second minute when he flicked the ball past Alex Stepney to chants of "Easy, Easy." O'Farrell sent on Sammy McIlroy for Brian Kidd but twenty minutes from time it became 5-1 when Peter Lorimer fired in a close-range shot to complete an emphatic victory for Don Revie's men.
Every Leeds man had played his part, though Eddie Gray, Terry Cooper and Johnny Giles had been particularly prominent, and much to the delight of the 45,399 crowd, Leeds began to tease and taunt there opponents in true Real Madrid style, stringing pass after pass together without a Red-shirted player touching the ball. At the end of it all Revie boasted that his side was now as good as that great Spanish side were when they took Europe by storm.
<![if !vml]>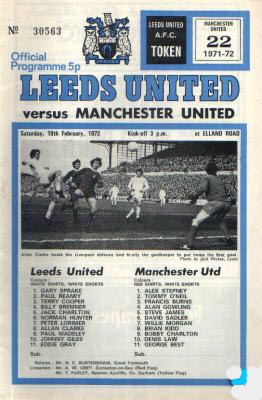 <![endif]> <![if !vml]>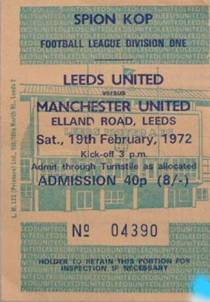 <![endif]>
Match Action:
<![if !vml]>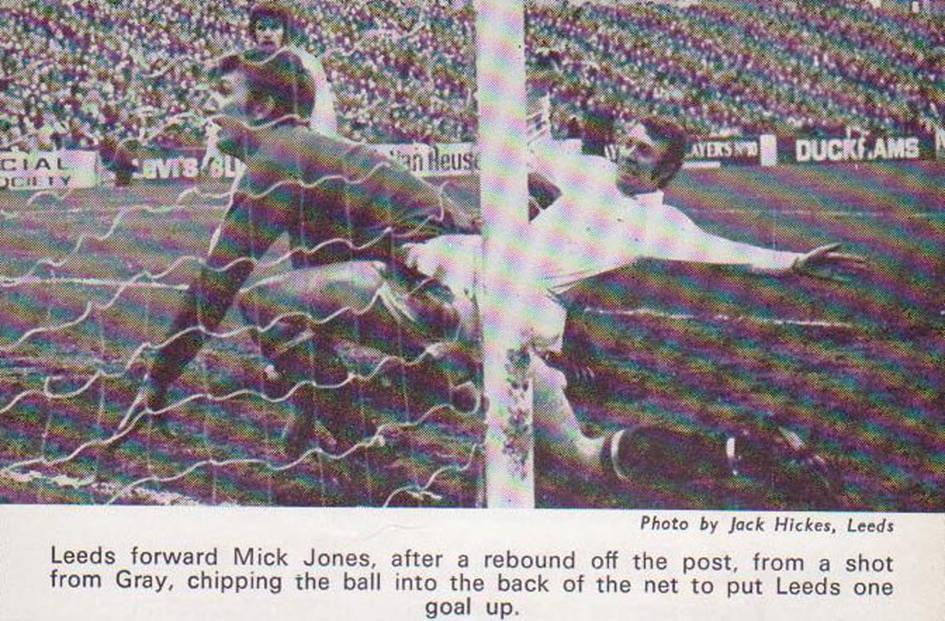 <![endif]>
<![if !vml]>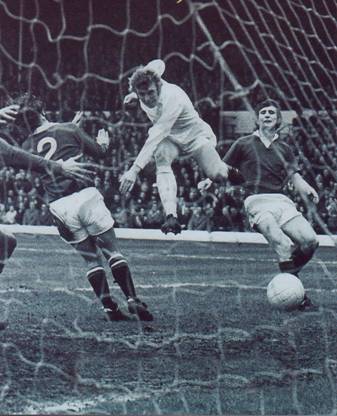 <![endif]>  <![if !vml]>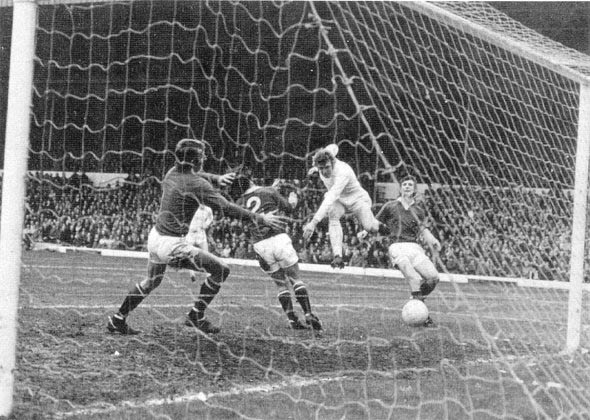 <![endif]>
 Mick Jones heads in his second and United's third with a header from a Billy Bremner cross.
<![if !vml]>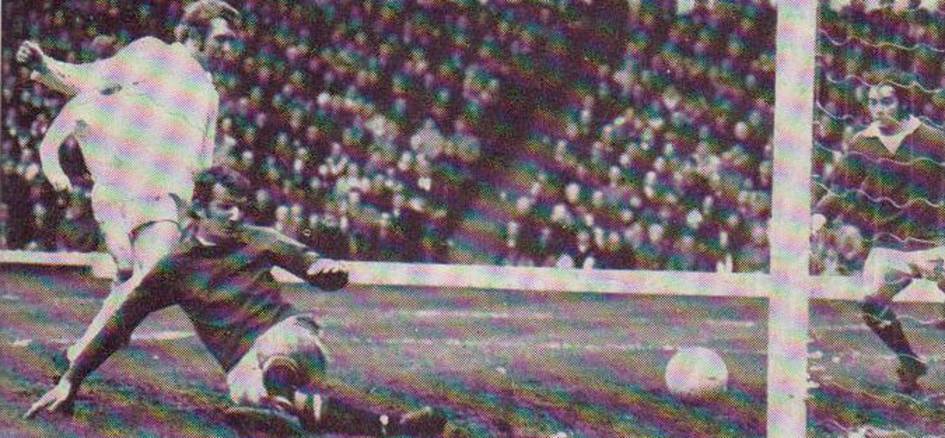 <![endif]>
Mick Jones watches his third goal enter the net
<![if !vml]>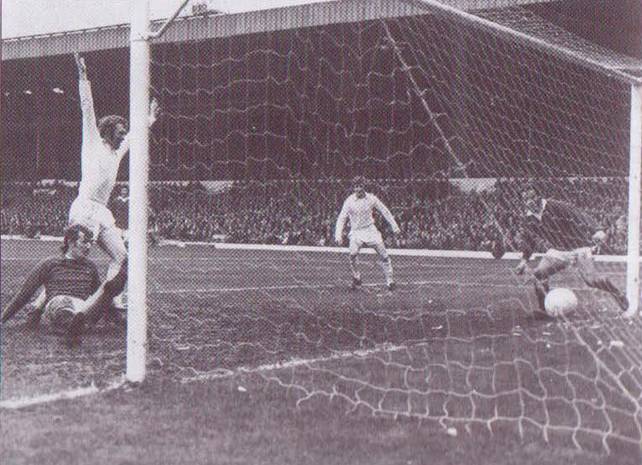 <![endif]>      <![if !vml]>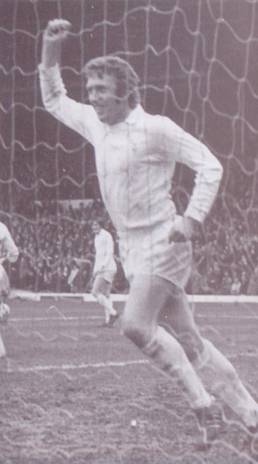 <![endif]>
Mick Jones completes his hat-trick as he scores United's fourth                                                             Mick Jones celebrates his hat-trick
Teams:
<![if !vml]>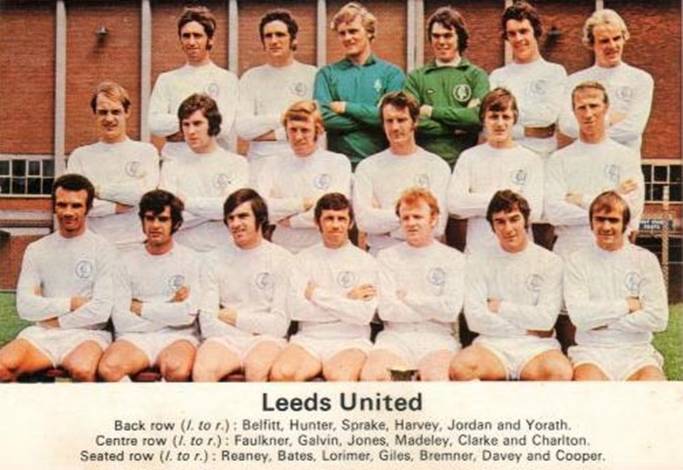 <![endif]>
<![if !vml]>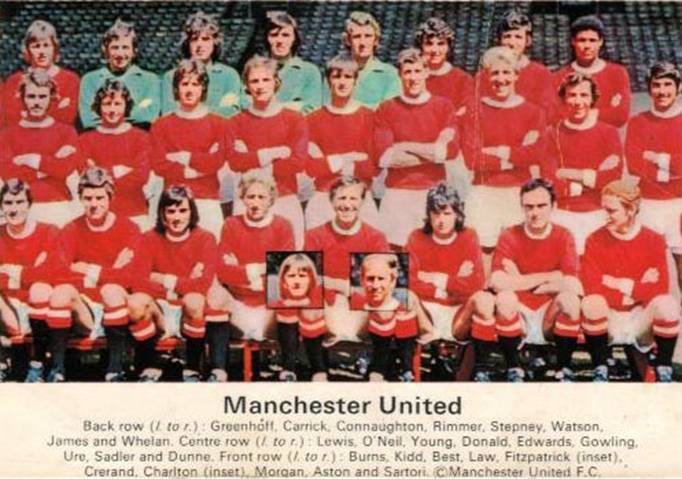 <![endif]>
Players:
<![if !vml]>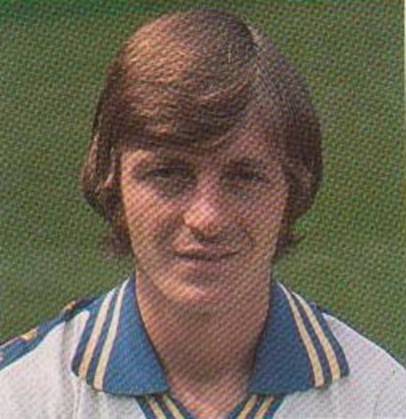 <![endif]> <![if !vml]>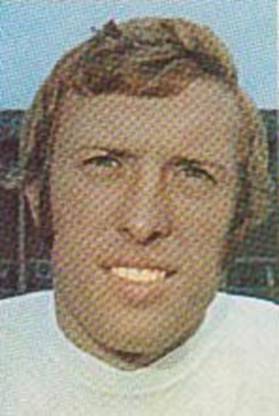 <![endif]> 
Allan Clarke got the first goal. Mick Jones scored a hat-trick with the second, third and fourth goals
<![if !vml]>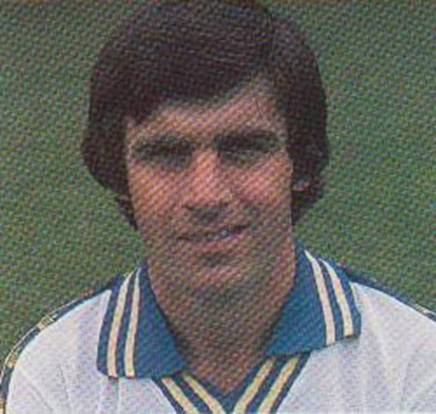 <![endif]> <![if !vml]>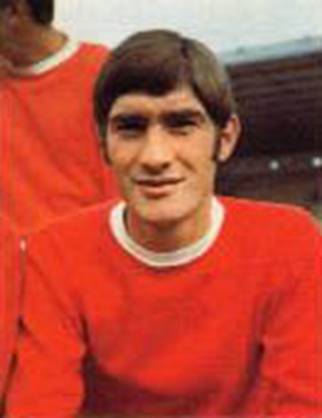 <![endif]>
Peter Lorimer rounded off the scoring with United's fifth                  Francis Burns got the Manchester United goal.