<![if !vml]>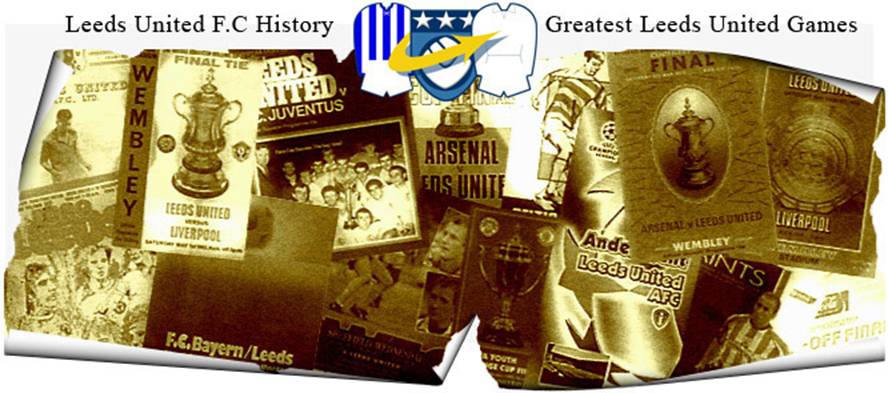 <![endif]>
Date: Saturday, 18th March 1972.
Venue: Elland Road, Leeds.
Competition: FA Cup Sixth Round.
Score: Leeds United 2 Tottenham Hotspur 1.
Scorers: Leeds United: Clarke, Charlton. Tottenham Hotspur: Pratt.
Attendance: 43,937.
Teams:
<![if !vml]>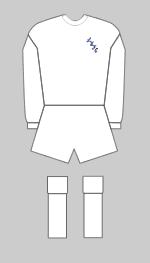 <![endif]><![if !vml]>
<![endif]>
Leeds United: Sprake; Madeley, Cooper (Reaney); Bremner, Charlton, Hunter; Lorimer, Clarke, Jones, Giles, E. Gray.
<![if !vml]>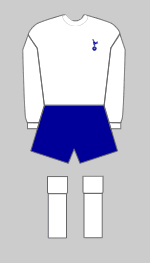 <![endif]><![if !vml]>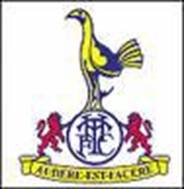 <![endif]>
Tottenham Hotspur:  Jennings; Evans, Knowles; Pratt, England, Beal; Gilzean, Perryman, Chivers, Peters (Coates), Morgan.
Referee: J. K. Taylor (Wolverhampton).
Viewers of 'Match of the Day' had been fed on a diet of Leeds United brilliance in the weeks before the FA Cup Quarter-Final clash with Tottenham Hotspur and in this match Spurs were devoured by United with another sizzling show. The famous 7-0 demolition of Southampton and the 5-1 thrashing of Manchester United had shown Leeds at their arrogant best. Although the win over Tottenham was slender there was an enormous gulf in class between the two sides. Leeds matched, if not bettered their displays against Southampton and Manchester. Only a world class performance by Northern Ireland International Pat Jennings prevented a landslide. Leeds played near perfect football in the first half when they were attacking the 'Scratching Shed' end.
Once again United were able to pick from strength, with Terry Cooper returning after injury, but it cost the almost 44,000 crowd a little more to watch them as the prices were increased by 50%. There was a little more entertainment for the crowd with Les Cocker putting the individually-named tracksuit-topped United players, complete with individually numbered sock-tags, through a series of warm-up procedures for the benefit of the crowd.
Tottenham had brought an estimated 10,000 fans with them, which made for an electric atmosphere, as Leeds tore into Spurs from the off, with Eddie Gray heading a Peter Lorimer cross against the bar and then Allan Clarke was close from ten yards. Mike England cleared a brave attempt from Mick Jones, as Tottenham weathered the Leeds storm and broke away for Cyril Knowles to find Martin Peters on the six yard line, but Gary Sprake pulled off a fine save to avert the danger.
United started to dominate as they played fine attacking football to keep Spurs under heavy pressure and Pat Jennings had to be on top form to keep out the rampaging Leeds forwards, making fingertip saves to thwart Terry Cooper and Mick Jones. Allan Clarke worked his way to the by-line but his cross found no takers. Eddie Gray was no far away with a chip before Clarke hit the crossbar and it seemed just a matter of time before United would take the lead.
Spurs did create a couple of chances but Gary Sprake was not extended as he saved from Martin Chivers and Alan Gilzean. But late in the first half the game turned ugly. First Peter Lorimer was injured after a heavy challenge from Cyril Knowles and then Phil Beal came off second best in a clash with Billy Bremner. Soon afterwards, Bremner was hacked down by Cyril Knowles. And as he laid injured Mike England, who presumably thought the Leeds skipper was feigning injury, tried to pull him to his feet, which triggered a potential free-for-all, but the referee quickly booked the two players to defuse the situation.
After so much dominance from Leeds, it came as a total surprise when Tottenham took the lead three minutes before half-time. It was a freak goal and totally against the run of play. John Pratt sent over an innocuous ball from the left into the United box from fully forty yards out. The big men, Martin Chivers, Alan Gilzean and Jack Charlton all went for the ball but missed it and the ball curled into the net past an unsighted Gary Sprake, as Norman Hunter made a last despairing effort to stop it from going in. It was the first time that United had been behind in the competition and they would have gone into half-time feeling hard done by if they had trailled.
Justice was done two minutes later as Allan Clarke got the equaliser. Peter Lorimer played the ball into the Spurs penalty area from the right and Eddie Gray, standing on the penalty spot played it back into the path of Billy Bremner as he broke into the area, but the skipper's shot was well blocked by Pat Jennings. But the rebound fell to Terry Cooper, who put the ball back into the danger zone. The ball fell kindly for Allan Clarke, who swivelled to put the ball past two defenders on the goal-line to get the deserved equaliser to send the teams into half-time back on level terms.
The second half featured some end to end play early on, as Norman Hunter hooked clear from the Spurs forwards, Peter Lorimer went close for Leeds and Hunter again cleared from a menacing Martin Peters. Then, after fifty-two minutes, Peters fouled Terry Cooper on the left edge of the penalty area. Billy Bremner took the kick and Jack Charlton met his cross perfectly, his powerful header giving Pat Jennings no chance as it flew into the top corner of the net to give United the lead. After the goal there was more sustained pressure from Leeds and Jennings saved brilliantly from Mick Jones, and Jack Charlton headed just over. Immediately, after seventy minutes, Spurs brought on Ralph Coates for Martin Peters in a desperate search for an equaliser, but it did not have the desired effect as Leeds carried on regardless and both Billy Bremner and Mick Jones forced Pat Jennings to pull off superb saves.
With eleven minutes left, Paul Reaney replace Terry Cooper, who had taken a knock, but United were able to play out the rest of the match without too much problem and another fancied team had been eliminated and United were through to the Semi-Finals.
<![if !vml]>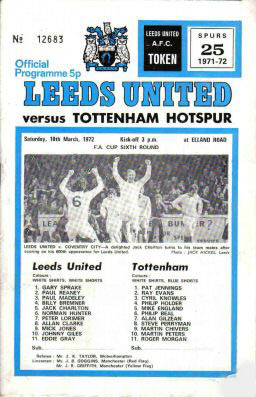 <![endif]>   <![if !vml]>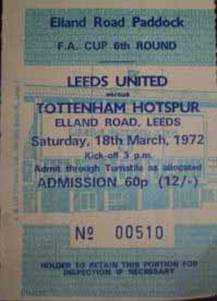 <![endif]>
Match Action:
<![if !vml]>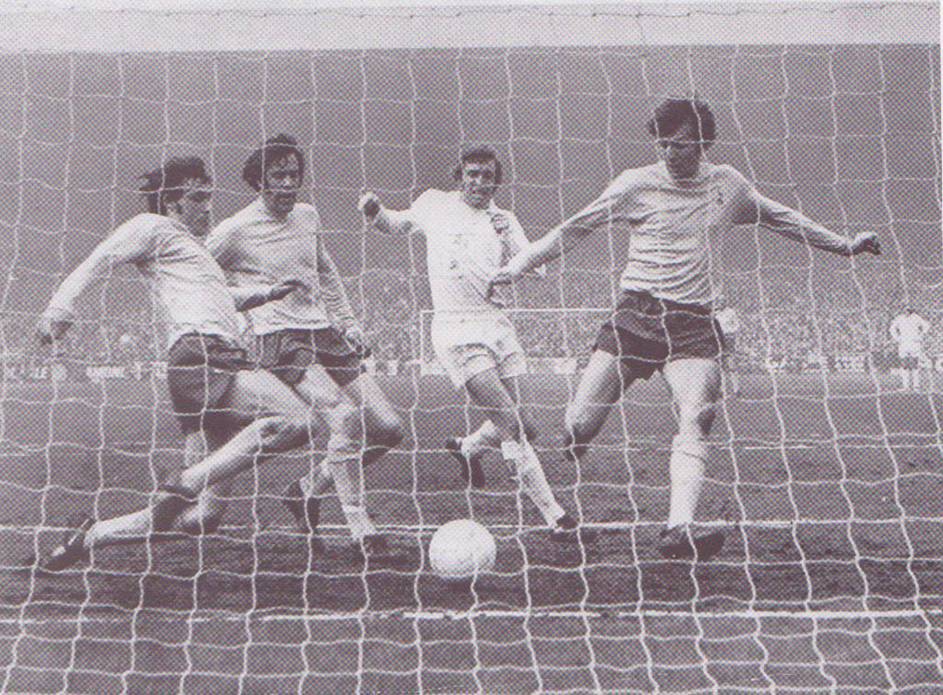 <![endif]> 
Ray Evans, Mike England and Martin Peters clear as Mick Jones closes in.
<![if !vml]>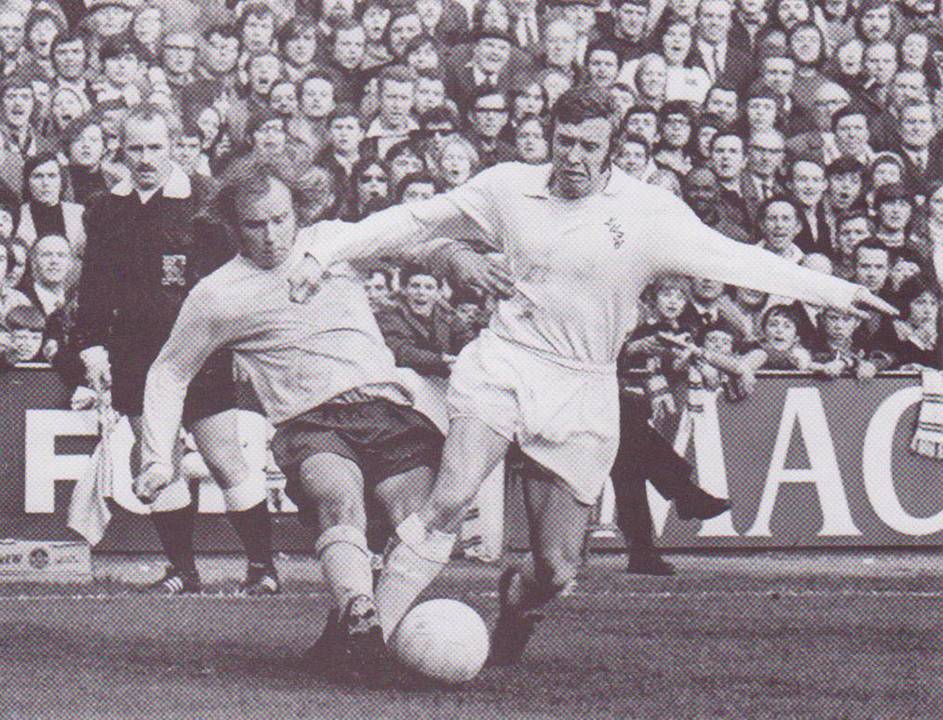 <![endif]>
Mick Jones is tackled by Phil Beal
<![if !vml]>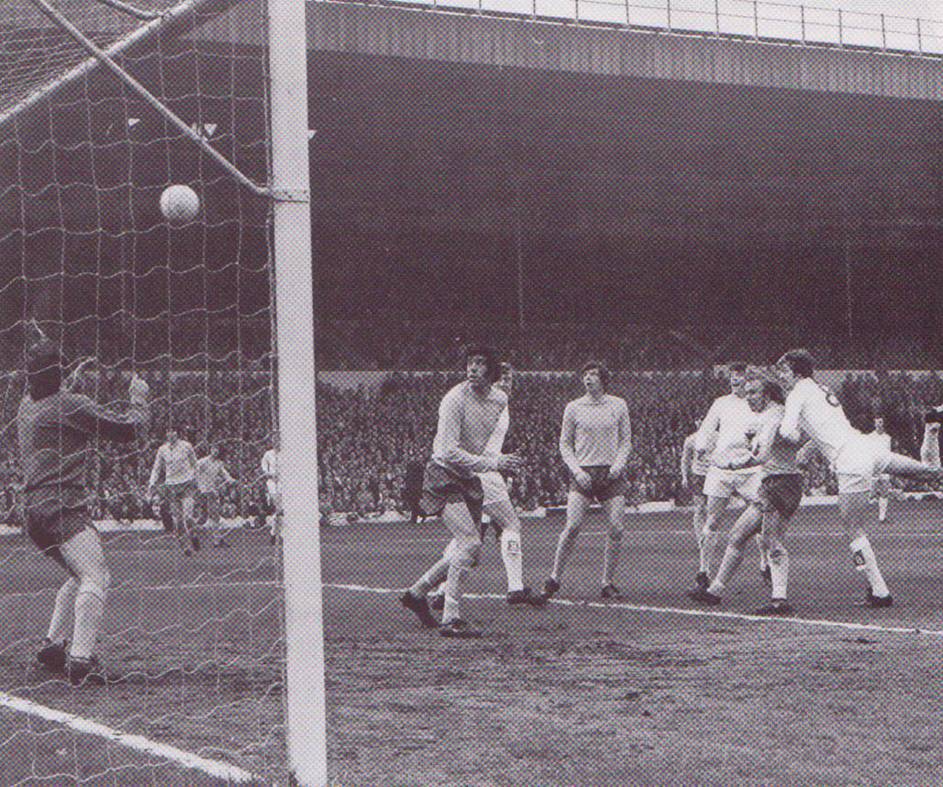 <![endif]> 
Pat Jennings can only watch as Allan Clarke's header hits the bar.       
<![if !vml]>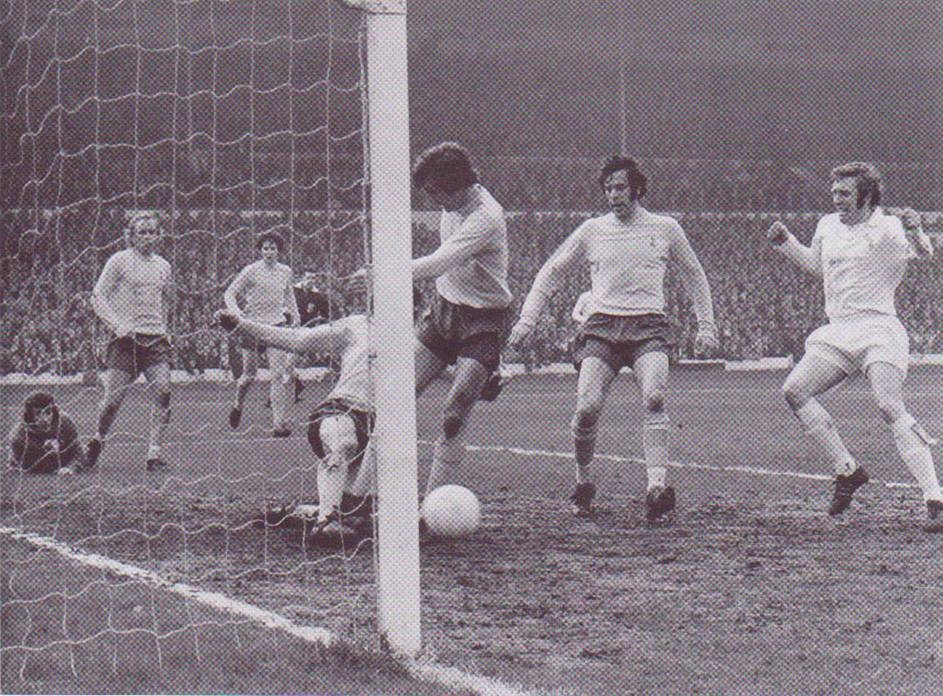 <![endif]>
Mick Jones cannot capitalise with Pat Jennings stranded
<![if !vml]>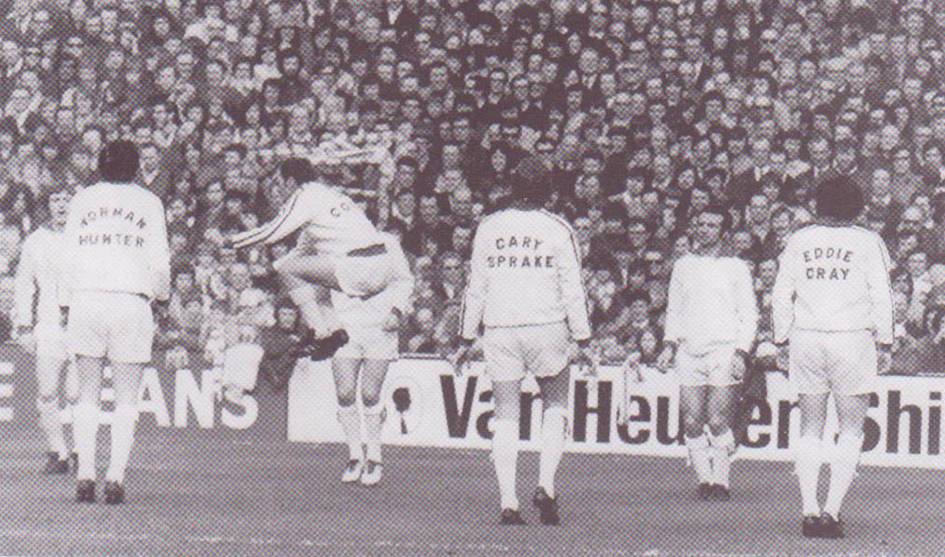 <![endif]> 
Les Cocker leads the United warm-up in their new individually named tracksuit tops and sock tags
<![if !vml]>
<![endif]>
Cyril Knowles gets a tackle in on Billy Bremner
<![if !vml]>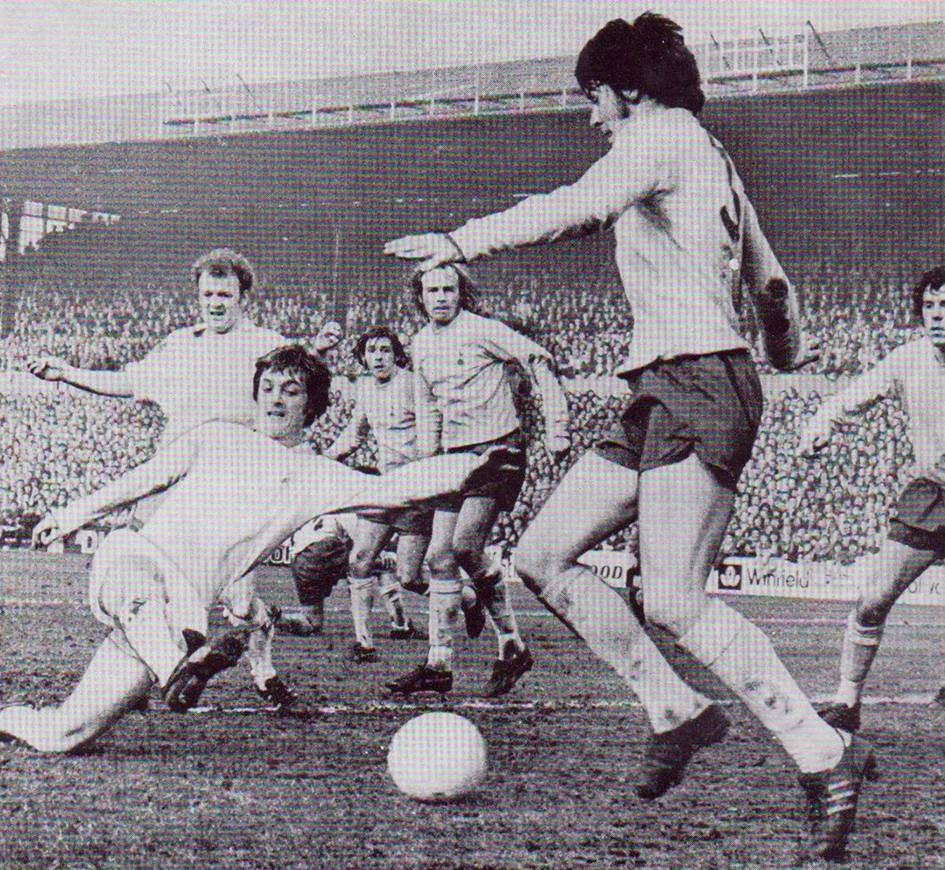 <![endif]>
Allan Clarke sweeps United's opening goal past Cyril Knowles
<![if !vml]>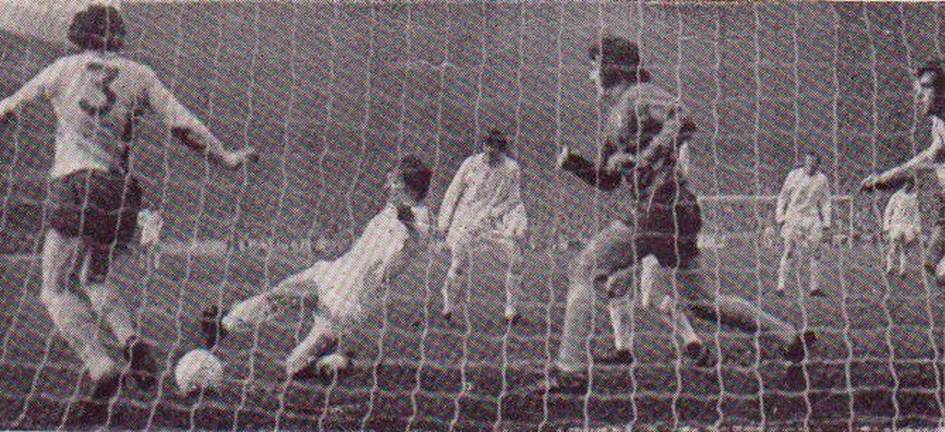 <![endif]>
Allan Clarke scores United's equalising goal
<![if !vml]>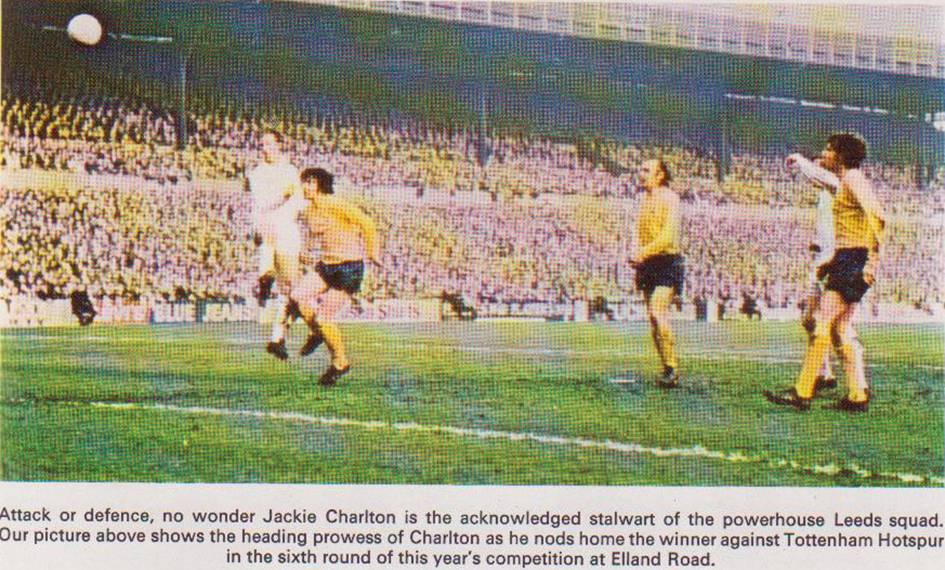 <![endif]>
<![if !vml]>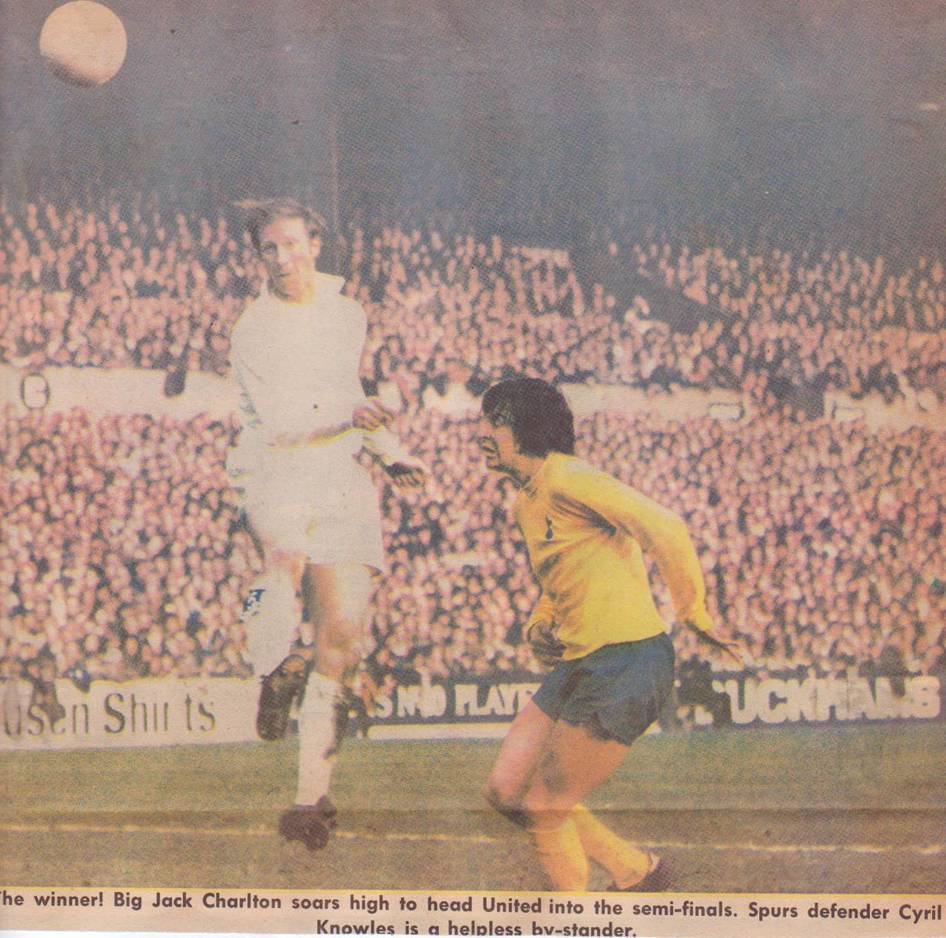 <![endif]>
<![if !vml]>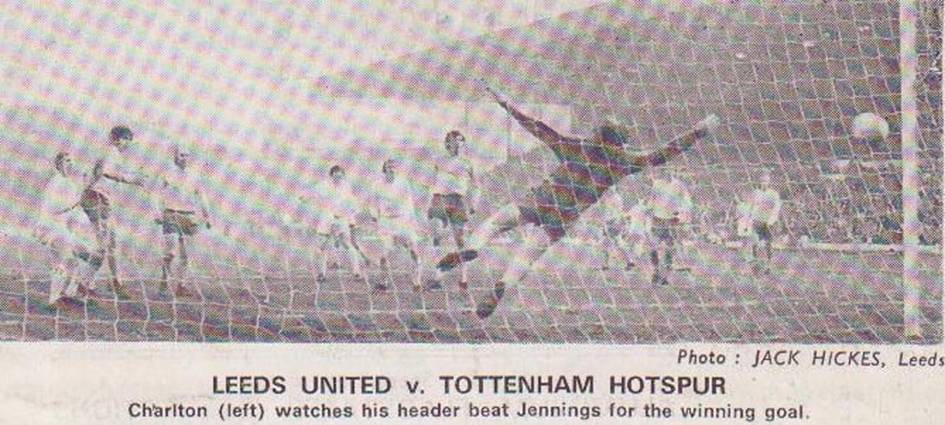 <![endif]>
<![if !vml]>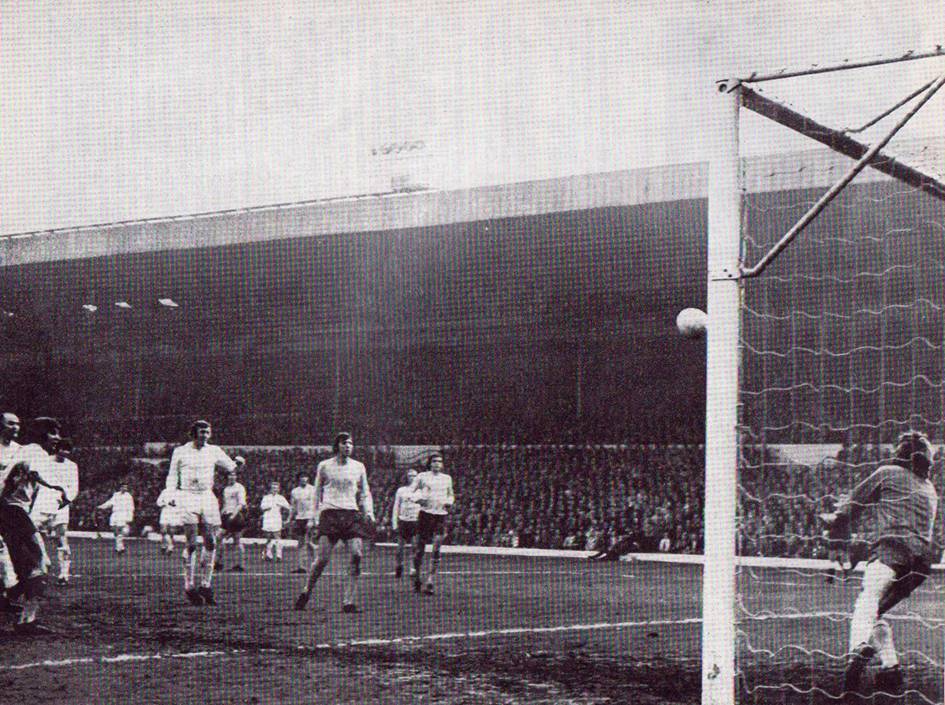 <![endif]>
Pat Jennings is beaten by Jack Charlton for the winning goal
Teams:
<![if !vml]>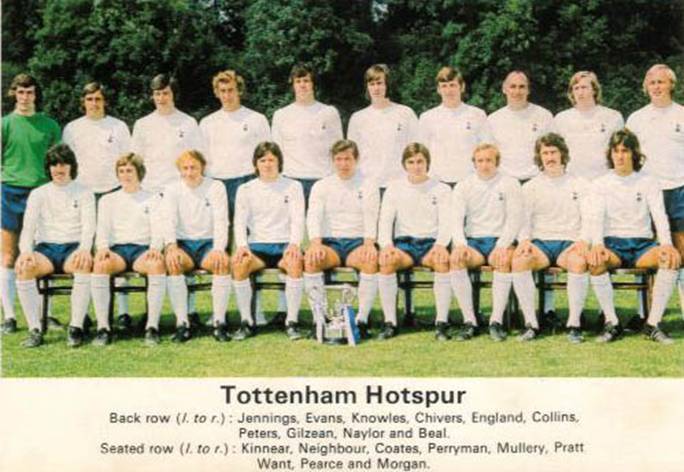 <![endif]>
<![if !vml]>
<![endif]>
Players:
<![if !vml]>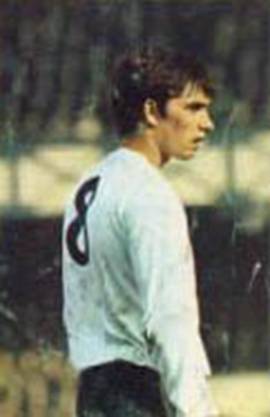 <![endif]>     <![if !vml]>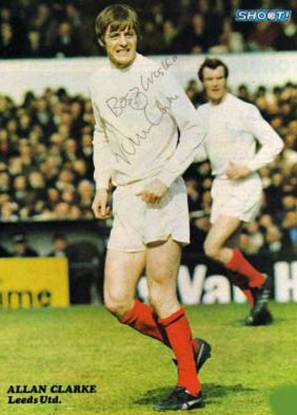 <![endif]>     <![if !vml]>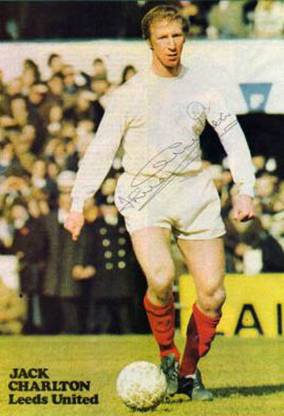 <![endif]>
 John Pratt opened the scoring for Spurs. Allan Clarke equalised just before half-time and Jack Charlton headed the winner