<![if !vml]>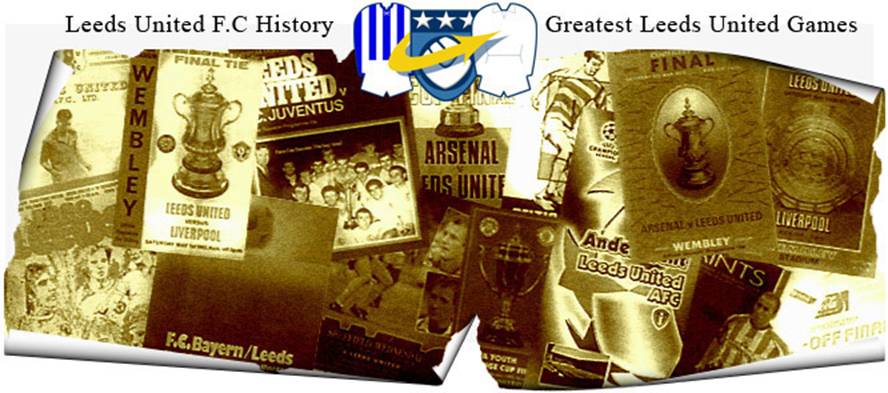 <![endif]>
Date: Saturday, 18th February 1989.
Venue: Filbert Street, Leicester.
Competition: Second Division.
Score: Leicester City 1 Leeds United 2.
Scorers: Leicester City Cross. Leeds United: Davison, G. Snodin.
Attendance: 14,151.
Teams:
<![if !vml]>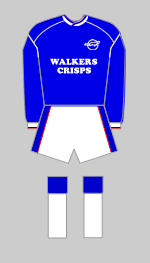 <![endif]><![if !vml]>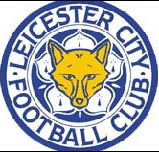 <![endif]>
Leicester City: Hodge; Mauchlen, Spearing; Ramsey, Walsh, Paris; Reid, Cross, Newell, McAllister (Groves), Turner (Quinn).
<![if !vml]>
<![endif]><![if !vml]>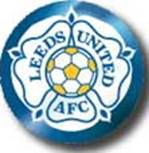 <![endif]>
Leeds United: Day; Aspin, G. Snodin; Adams, Blake, Rennie; Batty, Sheridan (Aizlewood), Baird (Pearson), Davison, Hilaire.
Referee: R. Pawley (Cambridgeshire).
Leeds United crowned a solid team display with two spectacular goals to beat Leicester City at Filbert Street in February 1989 and hoisted themselves into the top six of the Second Division for the first time that season. With a top six placing a necessity for a play-off qualification, this victory was looked on as a significant one for Howard Wilkinson's men. Several of their nearest challengers were without League games because of FA Cup commitments so it was desirable for United to take maximum points from their game with Leicester, if at all possible.
United had built an impressive record in the four and a half months since Wilkinson had taken over as manager and had lost only two of twenty League games to that point. They went to Leicester having drawn eight games away and determination and directness was evident from the start of the game. Inside two minutes United had taken the lead with a fine goal from Bobby Davison. The ex-Derby County star was a proven goal-scorer and he took his fifteenth goal of the season in delightful fashion. It was Vince Hilaire's great through ball that split the Leicester defence and Davison was on to it in a flash to lob over the advancing keeper Martin Hodge.
A strong swirling wind and a heavy pitch made life far from easy but United generally mastered the conditions better than their opponents. Gary McAllister fired wide from two reasonable chances when Leicester got going and Mervyn Day saved at the foot of a post from Nicky Cross as the home side went hard after an equalizer. It came on the half-hour when full-back Ali Mauchlen found Cross with a centre, and the striker fired home from an acute angle. Only a fine stop from former Sheffield Wednesday keeper Martin Hodge prevented Hilaire from putting United back into the lead after a long forward pass from David Rennie had put the winger through.
In a fast open game United scored what was to be the winner four minutes before half-time courtesy of a Glynn Snodin 'special'. The United full-back, whose previous goal, against Plymouth Argyle seven weeks earlier, had come following a spectacular effort after a sixty yard dash, burst through the Leicester defence to hit an unstoppable shot past Hodge from twenty-two yards. Micky Adams and Ian Baird had combined in a slick passing movement to create the chance for a goal that was worthy of winning any match.
Card-happy referee Roger Pawley, in his first season as a League referee, gave a false image to the game by booking eight players, and he also added eight minutes at the end, during which time both teams could have added goals. Mauchlen shaved the top of the bar with a rasping shot and after Bobby Davison had missed a good chance for United, Mervyn Day brought off a near impossible save to a close range effort from Leicester substitute Paul Groves.
Alternate Reports (Courtesy Mark Ledgard)
Sunday Post: Two spectacular goals earned Leeds victory and enhanced the Yorkshire side's challenge for a place in the promotion play-offs.  Leeds had been beaten only twice in their previous twenty games and took only two minutes to open the scoring. Bobby Davison raced through to meet a superb defence-splitting pass from Vince Hilaire and skillfully lobbed the ball over advancing goalkeeper Martin Hodge from twenty-two yards. In a fast open and keenly-fought game, Leicester forged the equaliser when full-back Ali Mauchlen's long right wing cross found Nicky Cross and the striker hit a fierce rising shot past Mervyn Day from an acute angle. What turned out to be the winning goal was a strike worthy of winning any match. Ian Baird and Micky Adams laid the foundations with a quick passing move on the left. Then full-back Glynn Snodin surged through to take position and unleashed a swerving twenty-two yard shot past the helpless Martin Hodge. Fussy referee Roger Powley booked eight players, Mike Newell, Steve Walsh, Paul Reid and Paul Ramsey of Leicester and Leeds' David Rennie, Bobby Davison, David Batty and Neil Aspin. But the game was never as rugged as the number of cautions might suggest.
Howard's way up: Howard Wilkinson believed Leeds were firmly back on course for the First Division. After the 2-1 win at Leicester the Leeds boss said, "Now you have to fancy our chances for the play-offs if we keep our nerve." Goals by Bobby Davison and Glynn Snodin registered Leeds' thirty-eighth point in twenty games under Wilkinson.
Snodin sizzler: Leicester's second home defeat on the trot was a nightmare for goalkeeper Martin Hodgewho was back in the side for the first time since the opening day of the season. Hodge had not even touched the ball before Leeds took the lead. Bobby Davison ran on to a Vince Hilaire pass and caught Hodge out of position with a lob after two minutes. Ian Baird should have put Leeds further ahead but he side-footed over the bar, and Nicky Cross made them pay by equalizing after half an hour. Hodge then beat away a volley from Hilaire but he could do nothing about Glynn Snodin's sizzling twenty-five-yarder four minutes before the break. But it wasn't until injury time that the game came to life again when Leicester went close to grabbing a point. Substitute Paul Groves forced Mervyn Day to save, then Ali Mauchlen rocketed a shot that grazed the bar.
Snodin's lift for promotion chasers: A rare Glynn Snodin goal proved the decider for Leeds United, who emerged convincing winners despite a battering during eight minutes of injury-time. The Leeds Manager Howard Wilkinson acknowledged afterwards, "It was a vital win. We might not know just how vital until the end of the season but now you have to fancy our chances for the play-offs if we keep our nerve." Glynn Snodin had promised a goal in his chat before the game with his former Sheffield Wednesday teammate Martin Hodges, who was back in goal for Leicester after a six month lay-off with damaged stomach muscles. And a glorious effort it was, driven hard and low from the edge of the penalty area after an intelligent pass from Micky Adams. Coming just four minutes before half-time it took the stuffing out of Leicester, who had been painstakingly edging their way back into the game after equalizing a second minute Bobby Davison goal. Hodge, looking decidedly rusty after his long absence, took the blame for misjudging his dash from goal after Davison had been played clear by Vince Hilaire who placed a looping pass behind the Leicester defence. Davison grasped the chance well for his fifteenth goal of the season but his task was undeniably made easier by Hodge's rash decision which left him stranded in no-man's land. There was nothing that Mervyn Day could do about Nicky Cross' equaliser on the half hour. But after Snodin restored the lead, Leeds were well in command until the prolonged injury time, added on by Roger Pawley for a catalogue of minor stoppages and the minutes it took him to book eight players, four from each side, for what were by an large technical offences. When the final whistle went at last, Snodin dwelt on the pitch to share the moment with a contingent of pitch invaders. This proved the last straw for one police officer, who also scolded Snodin for spending too long celebrating his goal in front of the Leeds fans more than an hour earlier. But it was too gentle an admonishment to mar an important afternoon for Leeds.
<![if !vml]>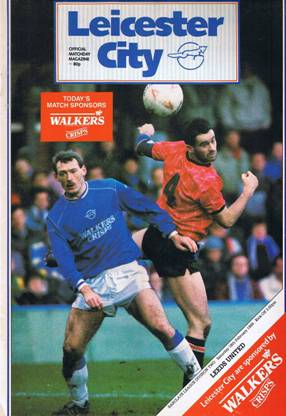 <![endif]>  <![if !vml]>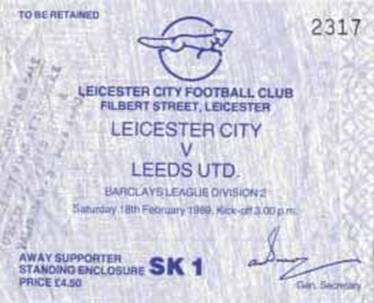 <![endif]>
Match Action: (Courtesy Mark Ledgard)
<![if !vml]>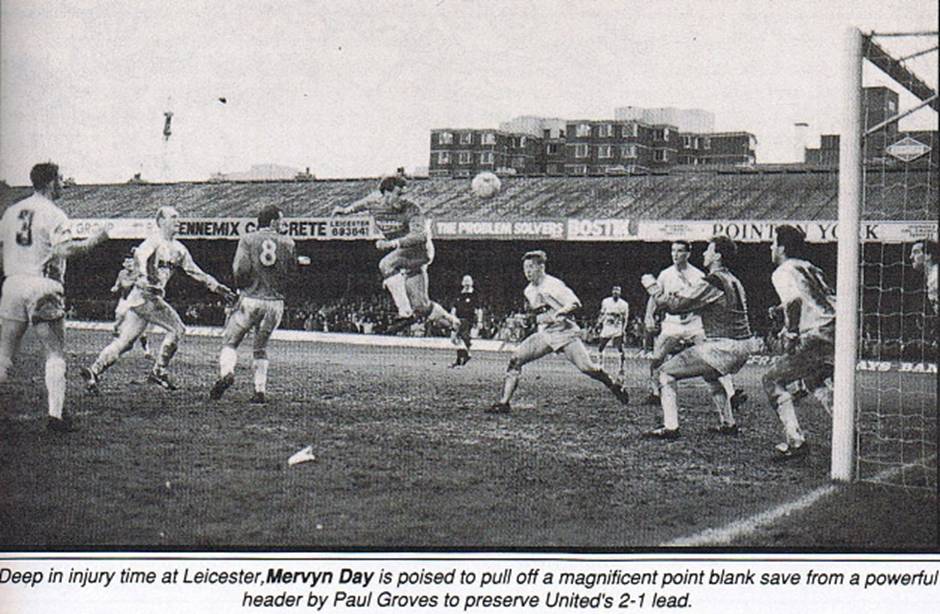 <![endif]>
Teams:
<![if !vml]>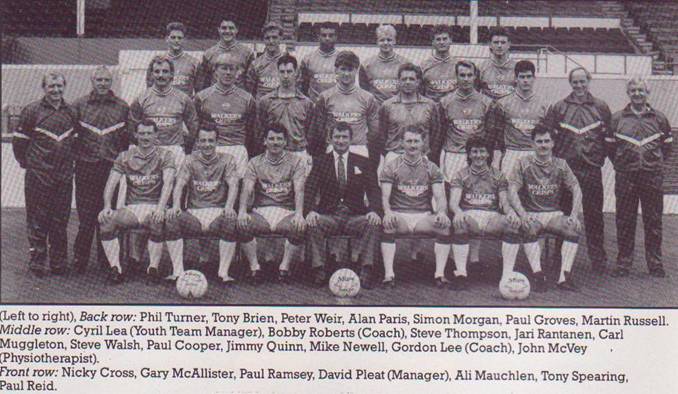 <![endif]>
<![if !vml]>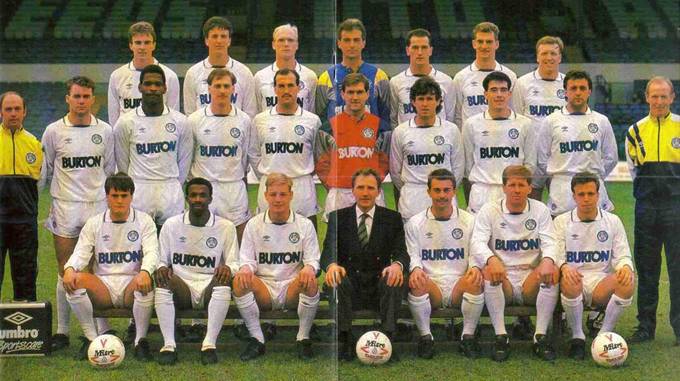 <![endif]>
Leeds United 1988-89:
Back Row: Andy Williams, John Pearson, Neil Aspin, Mervyn Day, Mark Aizlewood, Peter Swan,
Brendan Ormsby.
Middle Row: Alan Sutton (Physio), John Sheridan, Noel Blake, Peter Haddock, David Rennie,
Ronnie Sinclair, Gary Williams, Bob Taylor, Bobby Davison, Mick Hennigan (Coach).
Front Row: Mickey Adams, Vince Hilaire, David Batty, Howard Wilkinson (Manager),
Glynn Snodin, Ian Baird, John Stiles.
Players:
<![if !vml]>
<![endif]> <![if !vml]>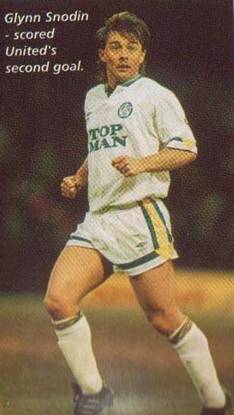 <![endif]> <![if !vml]>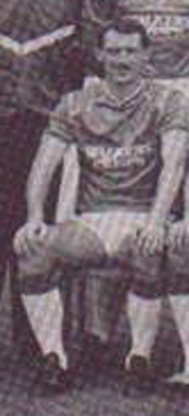 <![endif]> <![if !vml]>

<![endif]>
Bobby Davison and Glynn Snodin scored for Leeds                                               Nicky Cross scored for Leicester Mervyn Day made an
                                                                                                                                                                                             impossible save
<![if !vml]>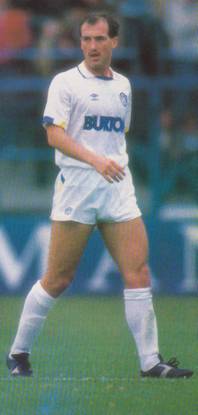 <![endif]>    <![if !vml]>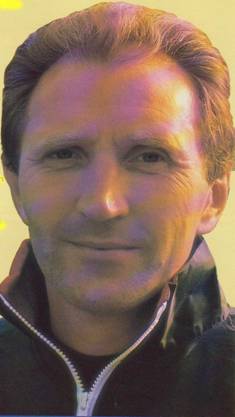 <![endif]>    <![if !vml]>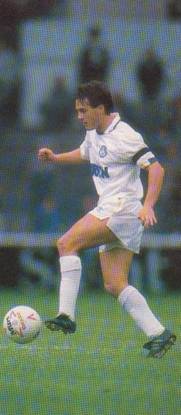 <![endif]> <![if !vml]>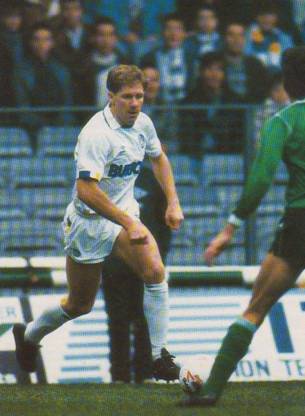 <![endif]> 
David Rennie played in              Howard Wilkinson was pleased                Micky Adams and Ian Baird combined well
Vince Hilaire
<![if !vml]>
<![endif]> <![if !vml]>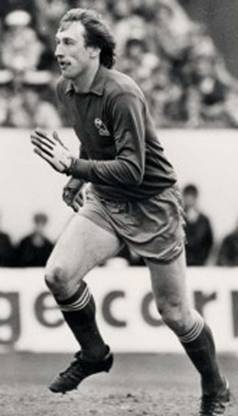 <![endif]>               <![if !vml]>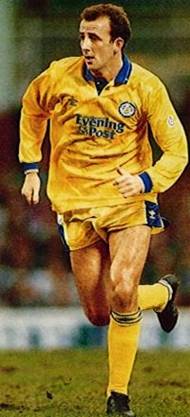 <![endif]> <![if !vml]>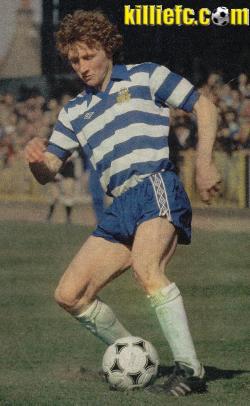 <![endif]>
Mark Aizlewood came on         Martin Hodge, future United                          Future United star Gary McAllister and loanee Ali Mauchlen
as substitute                              goalkeeper coach,   saved well                        made strong contributions       
<![if !vml]>
<![endif]> <![if !vml]>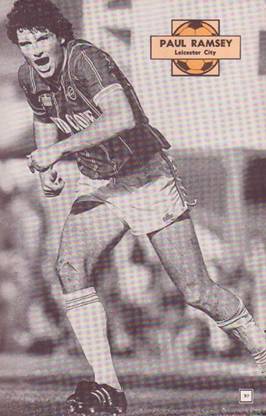 <![endif]> <![if !vml]>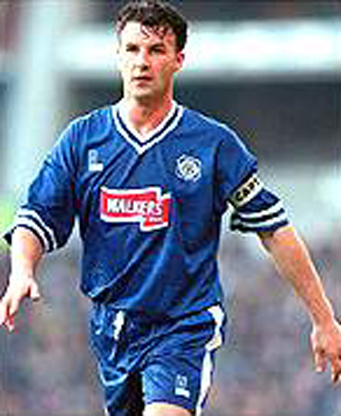 <![endif]> 
Mike Newell was a Leicester striker              Paul Ramsey and Steve Walsh were strong in defence for Leicester