<![if !vml]>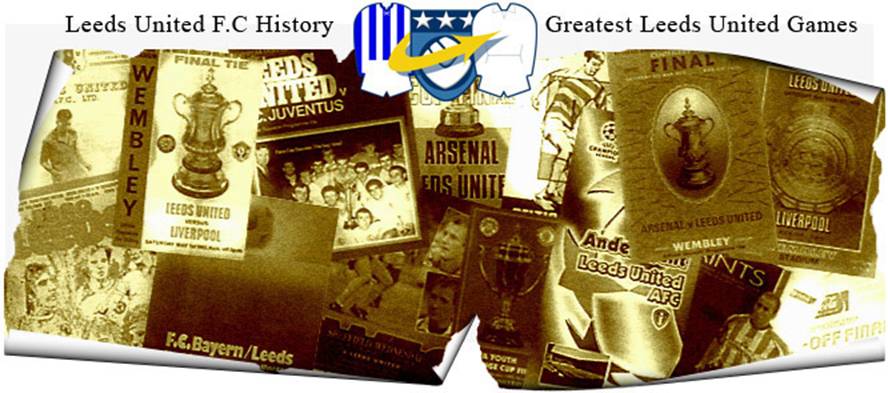 <![endif]>
Date: Saturday, 17th November 1973.
Venue: Elland Road, Leeds.
Competition: First Division.
Score: Leeds United 3 Coventry City 0
Scorers: Leeds United: Clarke, Jordan, Bremner. Coventry City: Nil.
Attendance: 35,552.
Teams:
<![if !vml]>
<![endif]><![if !vml]>
<![endif]>
Leeds United: Harvey; Reaney, Cherry; Bremner, McQueen, Hunter; Lorimer (Yorath), Clarke, Jordan, Bates, Madeley.
<![if !vml]>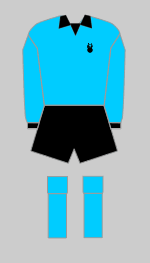 <![endif]><![if !vml]>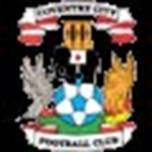 <![endif]>
Coventry City: Glazier; Coop, Holmes; Mortimer (Cartwright), Parker, Dugdale; Cross, Alderson, Stein, McGuire, Hutchison.
Referee: A.E. Morrisey (Bramhall, Cheshire).
Coventry's genial general manager Joe Mercer saw everything that was best about English football as he watched Leeds United demolish his Sky Blues and increase their lead at the top of the table to seven points by scoring three excellent goals without conceding any. "A little bit of magic wasn't it," he said in admiration. "The first goal was a typical Allan Clarke effort, the second came from nothing, out of a tight situation, and the third was sheer precision football," he added.
Coventry had made a good enough start to the season themselves, winning their first five home league games, but they had slipped a little and were hardly in with a chance against United in this game. Even though United were without midfield ace Johnny Giles and had Paul Madeley and Paul Reaney playing with high temperatures as well as suffering a late set-back when leading scorer Mick Jones had to pull out after picking up an injury in training, they still managed to hit top form without too much difficulty.
Young Scottish international striker Joe Jordan covered admirably for Jones, while Mick Bates did so well in midfield that the absence of Giles, one of the greatest schemers in the business, went virtually unnoticed. Jordan had the satisfaction of scoring the second of United's goals, his first of the season for United, and Bates had the even greater satisfaction of playing a part in all three of his side's goals. He provided the pass from which Clarke went away on one of his weaving runs which ended with him hitting a perfectly timed left-footer low into the net from twenty-five yards. Bates also made the vital centre from which Jordan headed the second in the sixty-ninth minute before, five minutes later, he figured in a great move which led to the third goal, from Billy Bremner.
"The last fifteen minutes of the game were sheer poetry, and the third goal was one of the finest I have seen. It began with David Harvey and ten men touched the ball before it went in," delighted manager Revie said. In short this was United at their devastating best once again. They had that title look about them, a point Coventry team manager Gordon Milne readily agreed with. "Seven points ahead, it's a race for second, third and fourth places this season," he said.
<![if !vml]>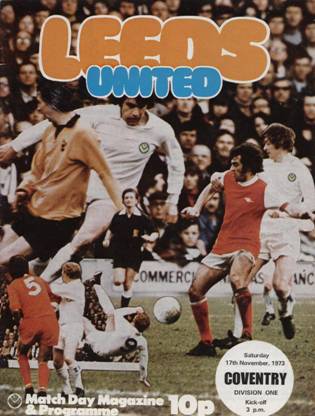 <![endif]>
Team:
<![if !vml]>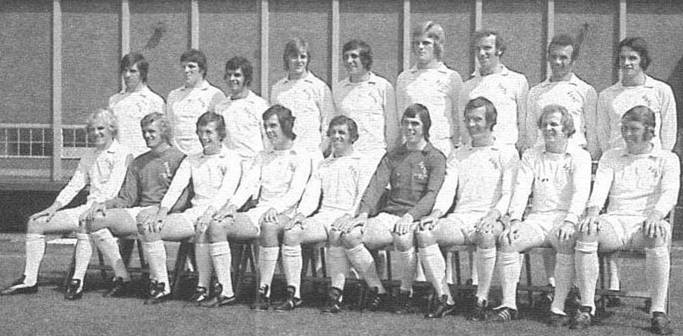 <![endif]>
Leeds United 1973-74:
Back Row: Peter Lorimer, Eddie Gray, Mick Bates, Allan Clarke, Norman Hunter,
Gordon McQueen, Roy Ellam, Paul Reaney, Frank Gray.
Front Row: Terry Yorath, Gary Sprake, Trevor Cherry, Joe Jordan, Johnny Giles, David Harvey,
Paul Madeley, Billy Bremner, Mick Jones.
<![if !vml]>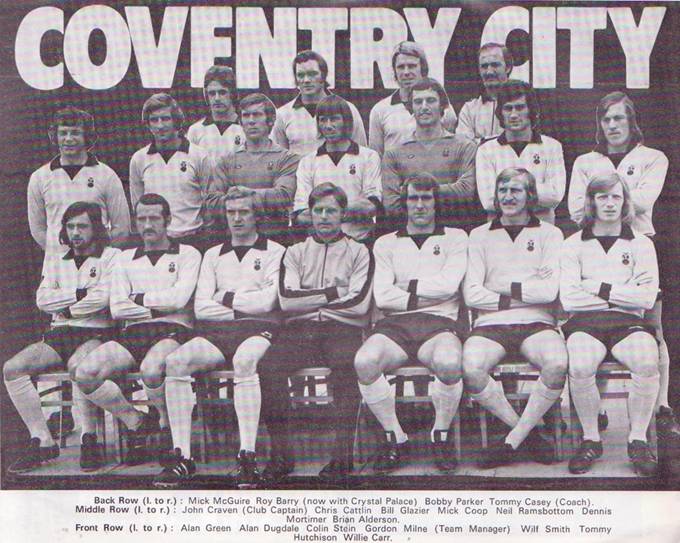 <![endif]>
Players:
<![if !vml]>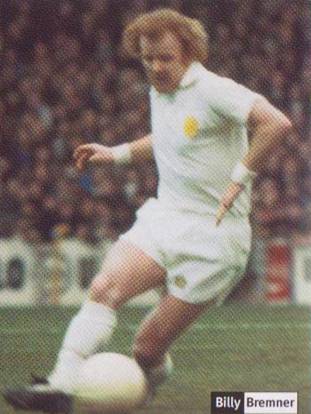 <![endif]> <![if !vml]>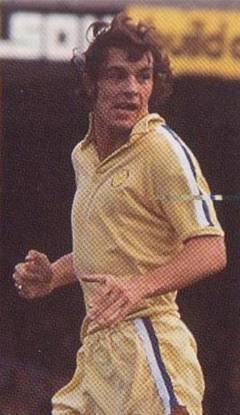 <![endif]> <![if !vml]>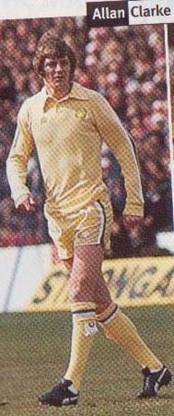 <![endif]> <![if !vml]>
<![endif]>
Billy Bremner, Joe Jordan and Allan Clarke scored the Leeds goals                                                                          Bill Glazier was in goal
<![if !vml]>
<![endif]>       <![if !vml]>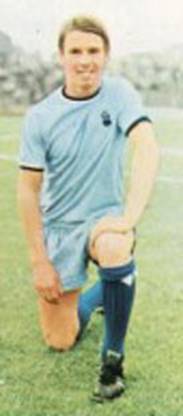 <![endif]> <![if !vml]>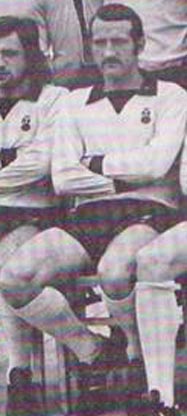 <![endif]>                <![if !vml]>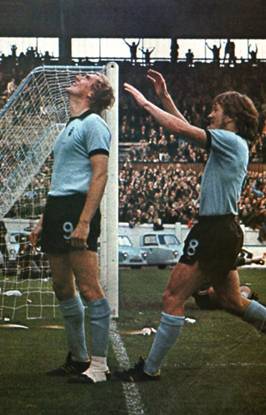 <![endif]> 
Mick Coop (and Jim Holmes)           Robert Parker and Alan Dugdale were the central defenders   Colin Stein and David Cross were the strikers
were the full-backs   
<![if !vml]>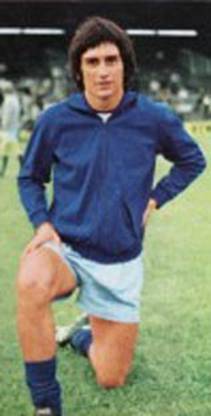 <![endif]> <![if !vml]>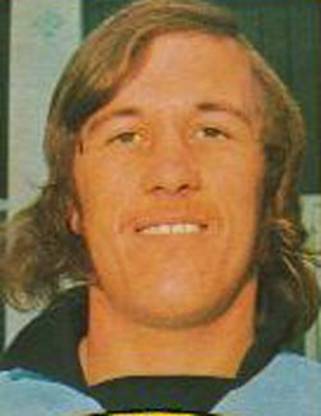 <![endif]> <![if !vml]>
<![endif]> <![if !vml]>

<![endif]>
Denis Mortimer, Brian Alderson, Mick McGuire and Tommy Hutchison were the Coventry midfield