<![if !vml]>
<![endif]>
Date: Wednesday, 17th September 1969.
Venue: Elland Road, Leeds.
Competition: European Cup First Round First Leg.
Score: Leeds United 10 SK Lyn Oslo 0
Scorers: Leeds United: O'Grady, Jones (3), Clarke (2), Giles (2), Bremner (2). SK Lyn Oslo: Nil.
Attendance: 25,979.
Teams:
 <![if !vml]>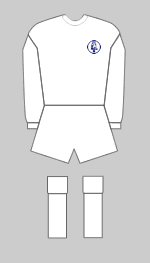 <![endif]> <![if !vml]>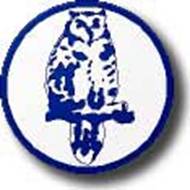 <![endif]>
Leeds United: Sprake; Reaney, Cooper; Bremner, Charlton, Hunter; Madeley, Clarke, Jones, Giles (Bates), O'Grady.
<![if !vml]>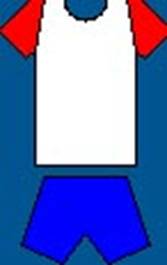 <![endif]> <![if !vml]>
<![endif]>
SK Lyn Oslo: S. Olsen; Rodvang, Ostvold; Marisbak, Kolle, Gulden; Boerrehaug, Christopherson, Berg, O. Olsen (Hovden), Austnes.
Referee: E. Smejkal (Czechoslovakia).
No club made a more dramatic entry into the European Cup than United, who turned in a blockbusting performance to demolish the Norwegian champions and set up a new club record score.
With four seasons of Fairs Cup experience behind them, Leeds were rated as one of the best prepared and equipped teams to carry the English flag in Europe's premier club competition, but no one was ready for the landslide which was to bury Lyn's team of students, teachers and clerks.
Lyn, who had reached the quarter-finals of the European Cup-winners' Cup the previous season, were on the rack from the start. Just thirty-five seconds after the kick-off United swept into attack and the transfer-listed Mike O'Grady drove in a left-foot shot for what was believed to be the quickest goal in European Cup history.
Three minutes later Mick Jones powered in a header from a Paul Reaney cross, and then, after receiving a defence-splitting pass from Billy Bremner, he hooked a shot in for the minutes. Goals continued to fly past goalkeeper Sven Olsen, who had only arrived at the ground thirty-five minutes before kick-off.
The rout continued with goals from Allan Clarke after nineteen minutes, after the £165,000 acquisition from Leicester City had dribbled round three opponents before planting a left-foot shot into the net.  Johnny Giles, in the thirty-fourth minutes, with a thirty-yard drive which soared past Sven Olsen as United went to the break 5-0 up.
Allan Clarke got his second when he headed in a Billy Bremner centre after forty-seventh minutes. Mick Jones completed his hat-trick, in the sixty-first minute, when after receiving a pass from Mick Bates his first-time shot hit both posts before going in. Billy Bremner completed the scoring in the sixty-fifth and eighty-eighth minutes, the first with a long range shot and the second again from distance which was deflected past the keeper, to equal the best-ever score by a British club in Europe.
It could have been more as with twenty-five minutes left United were in front 9-0 and during the match there were two occasions when chances were missed. Allan Clarke missed from inside the six-yard box and Johnny Giles didn't even bother with a clear opening from a little further out. Lyn Oslo only had two chances. A free-kick from Olsen was saved by Gary Sprake as it was streaking towards the corner of the net, and a back-pass from Jack Charlton looked dangerously close to becoming an own goal until it just went wide of the post. Alan Thompson of the Daily Express wrote, "It was so easy, this merciless hammering but it could have been many more."
Alternate Report
When talking about big scores in Europe, the tie that most United's fans remember would probably be the 10-0 thrashing of SK Lyn Oslo in September 1969. The European Cup tie ended with a 16-0 score-line as United hit half-a-dozen more goals in Oslo.
Few teams could have made a more dramatic or eye-catching entry into the European Cup than Don Revie's men. Their ruthless demolition of the Norwegian champions was something to savour, though it has to be accepted that in those days Norwegian football was not very strong and Lyn Oslo's team was comprised of part-timers, mostly students, teachers, office workers and the like.
On the other side of the coin though, Lyn Oslo had been good enough to get to the quarter-finals of the European Cup-winners Cup the previous season.
It took less than a minute for United to open their account when Mike O'Grady scored and two goals from Mick Jones had United three up in less than nine minutes. Jones went on to complete his hat-trick with a second half goal and the others came from Allan Clarke, Johnny Giles and Billy Bremner, who all scored twice.
United had several key players absent for the return leg, Jack Charlton, Allan Clarke, Johnny Giles and Norman Hunter, but they still managed to stroll to a 6-0 win with goals from Terry Hibbitt (2), Rod Belfitt (2), Mick Jones and Peter Lorimer.
<![if !vml]>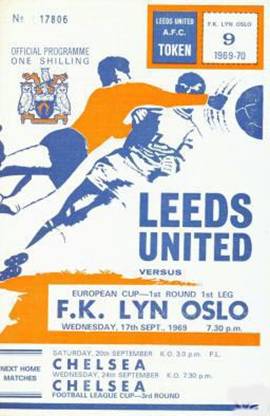 <![endif]> <![if !vml]>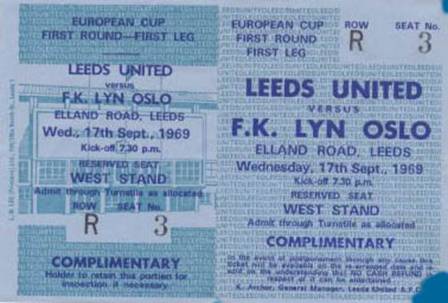 <![endif]>
Match Action:
<![if !vml]>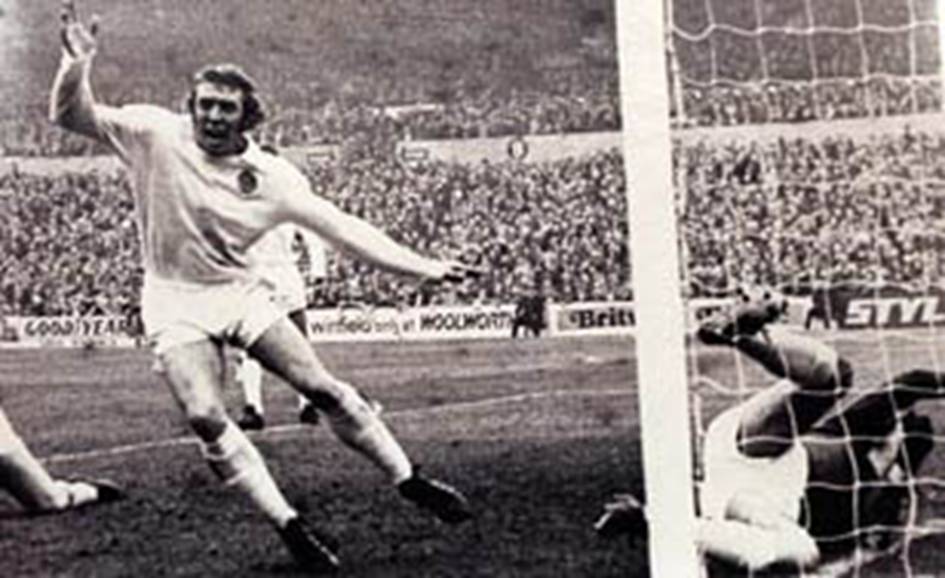 <![endif]>
Mick Jones celebrates his first goal
<![if !vml]>

Allan Clarke misses from close range
<![if !vml]>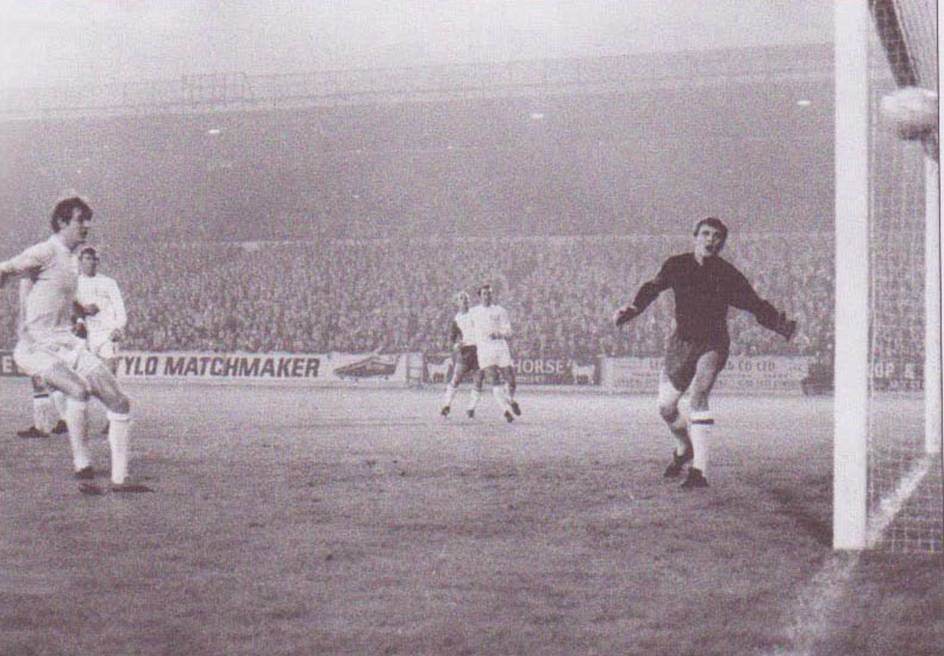 Allan Clarke watches as Mick Jones heads his third goal
<![if !vml]>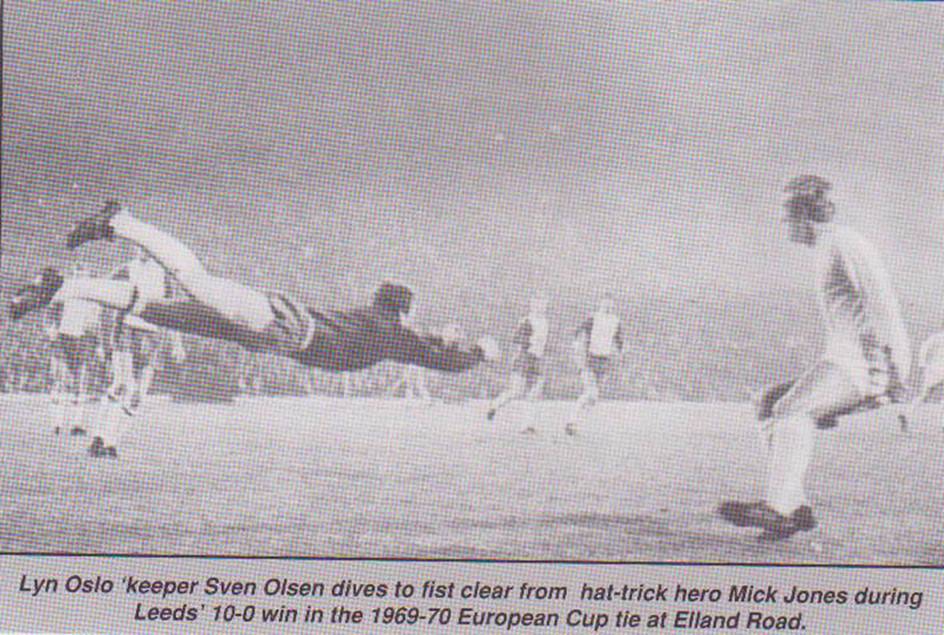 <![endif]>
Players:
The United goals were scored by Mike O'Grady, Mick Jones (3), Allan Clarke (2), Johnny Giles (2) and Billy Bremner (2)