<![if !vml]>
<![endif]>
Date: Tuesday, 17th April 2001.
Venue: Estadio Riazor, A Coruna, Galicia, Spain.
Competition: ECL Quarter-Final, Second Leg.
Score: Deportivo La Coruna 2 Leeds United 0
Scorers: Deportivo La Coruna: Djalminha (pen), Tristan. Leeds United: Nil.
Attendance: 34,500.                                                                                                  
Teams:
<![if !vml]>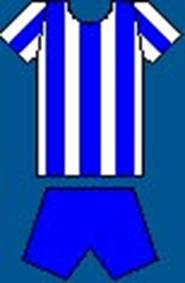 <![endif]><![if !vml]>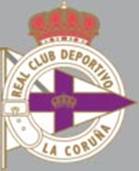 <![endif]>
Deportivo La Coruna: Molina; Pablo, Naybet, Donato, Romero; Silva, Djalminho (Valeron), Fran, Victor (Tristan); Pandiani (Flores), Makaay. Unused Subs: Cesar, Scaloni, Fernando, Songo'o.
<![if !vml]>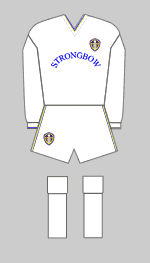 <![endif]><![if !vml]>
<![endif]>
Leeds United: Martyn; Mills, Ferdinand, Matteo, Harte; Batty, Bowyer, Dacourt, Kewell (Bakke); Smith, Viduka. Unused Subs: Wilcox, Burns, Maybury, Robinson.                                                                    
Referee: Stefano Braschi (Italy).
Deportivo had come back from a three goal deficit in previous games and had recently achieved the feat in Europe in beating Paris St. Germaine. The Riazor Stadium was a place where opposition trod in trepidation and not surprisingly, urged on by the majority of the 34,500 spectators Deportivo threw everything but the kitchen sink at United. On the night Deportivo were ahead from the spot after only eight minutes but United held out until the seventy-third minute before conceding again. After that Mark Viduka brought out a spectacular save from the Spanish Keeper and Deportivo were reduced to speculative shots from distance as United held firm. There were wholehearted efforts from Alan Smith, Nigel Martyn, Ian Harte and Olivier Dacourt and United progressed to the Semi-Finals to meet another Spanish club, Valencia, as England's sole surviving representative. Bayern Munich met Real Madrid in the other Semi-Final.
Under merciless and unrelenting pressure United swayed, wavered and rocked but refused to roll over to the Spanish Champions in a spine-tingling ecounter at the Riazor Stadium which they would not forget in a hurry. Their passage to the Semi-Finals had been littered with high drama, but nothing that had happened previously could be compared to what they had to withstand at the home of Deportivo La Coruna. United needed all of their three-goal lead from the first leg as they were subjected to intense pressure the whole game from a team that attacked from everywhere and with such purpose that they often threatened to run amok.
United were unchanged from their magnificent Good Friday win at Anfield and they did not take the option of a 4-5-1 formation as it would have invited an all-out attack from Deportivo. They stuck to their normal formation which had seen them only defeated once since the turn of the year, and that by a hand-ball goal from Raul at the Bernabeu. Deportivo had a much more attack-minded team than at Elland Road, bringing in free-scoring striker Walter Pandiani to partner Roy Makaay up front with aging Brazilian Donato bolstering the defence and the midfield was also strengthened by the inclusion of the lippy Victor and Mauro Silva. United were off to a good start with Harry Kewell skinning Manuel Pablo and Alan Smith getting in an header from Lee Bowyer's cross and then Harry Kewell's cross just eluded Lee Bowyer at the far post. After the early United pressure Deportivo started to settle to their task and they scored in the eighth minute when Roy Makaay crossed from the left and Harry Kewell was adjudged to have pushed Victor in the box and Djalminha sent Nigel Martyn the wrong way from the spot.
Spurred on by their early success Deportivo proceeded to rock United with both Rio Ferdinand and Danny Mills being put through a thorough examination by the adventurous Victor and the speed of Walter Pandiani. Donato's push on Alan Smith relieved the pressure but United were unable to capitalize on their free-kick as Nourredine Naybet swiftly cut off Alan Smith progress on the edge of the area. On the half-hour United were grateful for a terrible miscue by Roy Makaay from point-blank range. Then Rio Ferdinand cleared of the line, Nigel Martyn made two crucial stops and Manual Pablo's strong volley took a critical deflection as United's goal remained under siege. Nigel Martyn then flung himself to his right to keep out Walter Pandiani's glancing header and it was extremely astonishing that the hosts only led by the single goal on the night. Such was the disarray in the United camp that Alan Smith and Mark Viduka argued openly, but three minutes before half-time Donato's under-hit back pass gave Alan Smith a chance, but after rounding the keeper the best he could do was fire into the side-netting.
Ian Harte's crucial header from under the bar denied Victor and Nigel Martyn tipped Romero's shot onto a post as Deportivo reappeared after the break with no less intent. Olivier Dacourt brought Francisco Molina to his knees, Alan Smith cleverly won a corner on the right and Harry Kewell was equally cunning on the left as United finally broke free. They were soon on the back-foot again as Ian Harte made another important headed clearance, Nourredine Naybet was too high with a header from Fran's corner and Nigel Martyn kept out Roy Makaay's stinging shot after he had been played in by Fran. The Leeds keeper was booked for time-wasting in the sixty-third minute after the overlapping Djalminho's shot had whistled just wide. Significantly Deportivo were now resorting to shooting from distance but Makaay did test Nigel Martyn with a header which he tipped over for a corner. But after Alan Smith had made an excellent saving tackle to stop Fran, Deportivo scored their second goal after seventy-three minutes when Valeron hit the ball to the near post and his fellow substitute Tristan on was on hand to clip it in left-footed.
Mark Viduka was instantly presented with a glorious chance to wrap the game up for United after Dacourt had put him in the clear but Francisco Molina, springing to his left produced a spectacular save. As sinews tired and hearts pumped, Fran tried to catch out Nigel Martyn in the closing stages with a shot inside the near post, after shaping to cross, but the United custodian was equal to the task and had it well covered. Then came the sweetest sound of the final whistle.
<![if !vml]>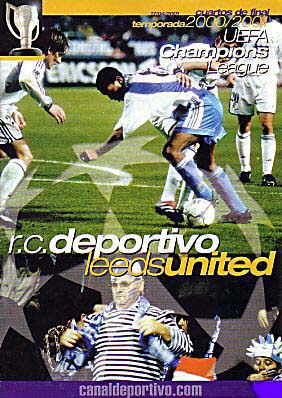 <![endif]> <![if !vml]>
<![endif]> <![if !vml]>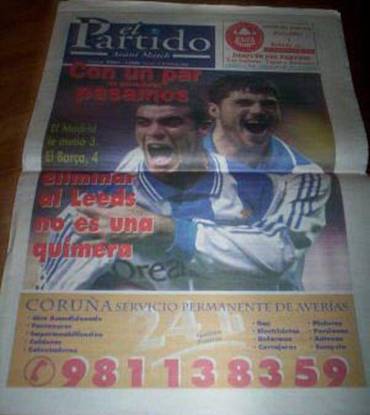 <![endif]>
<![if !vml]>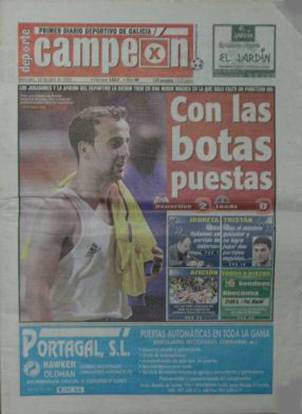 <![endif]> <![if !vml]>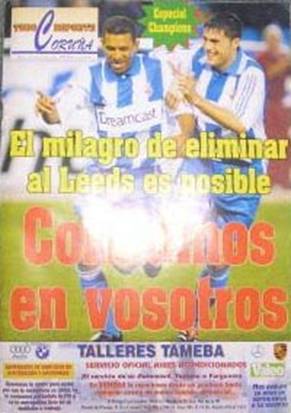 <![endif]>
Match Action:
<![if !vml]>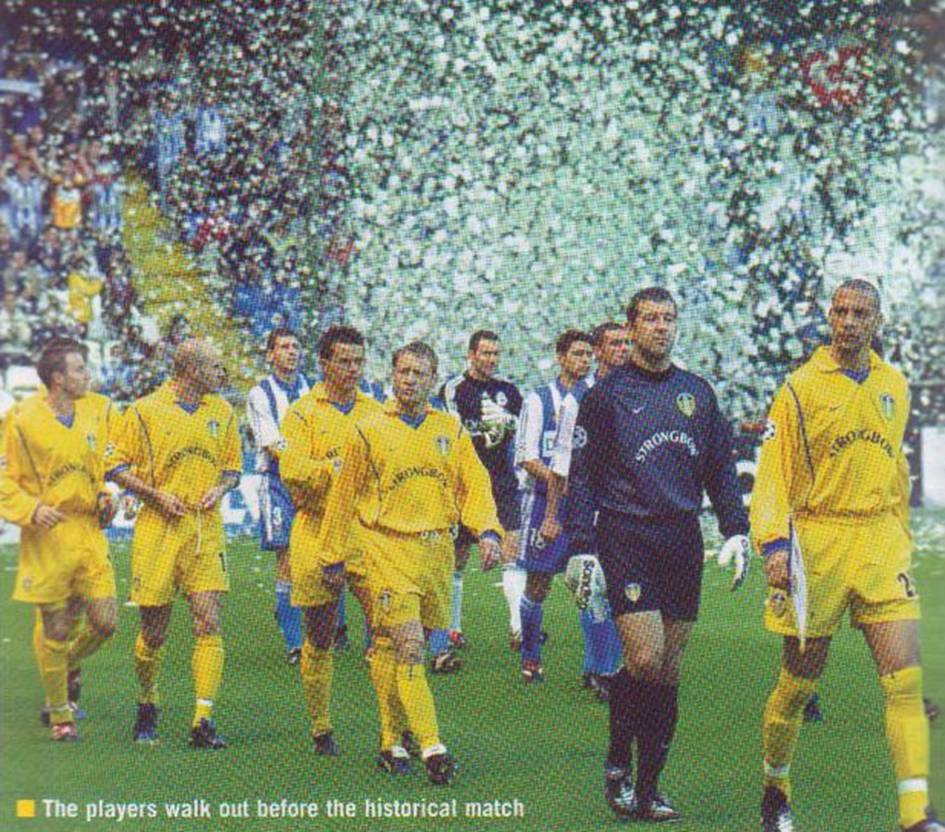 <![endif]> 
<![if !vml]>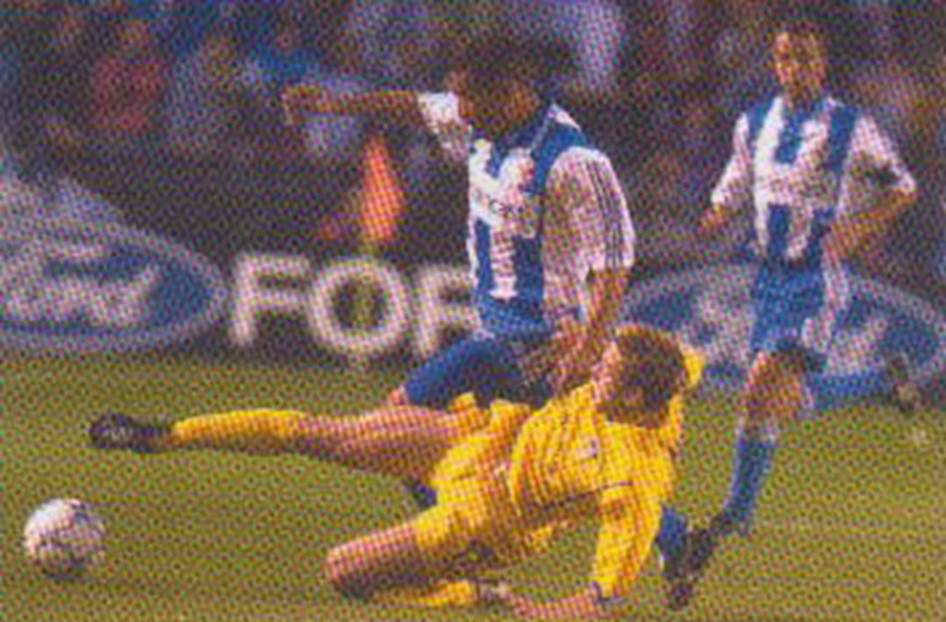 <![endif]>
Alan Smith goes in hard
<![if !vml]>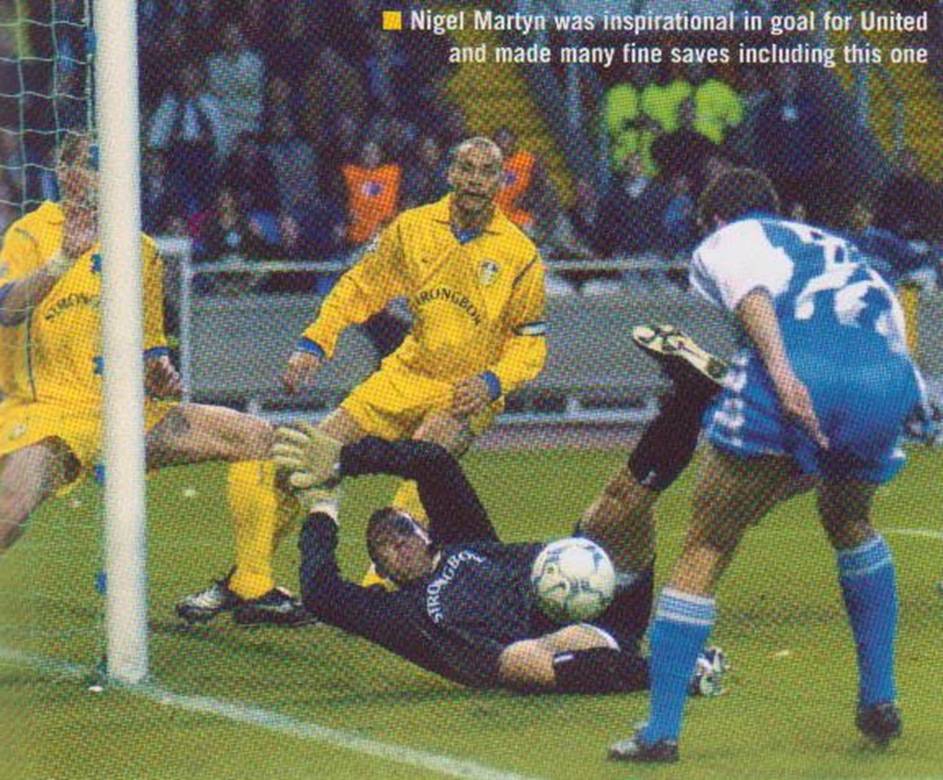 <![endif]>  
<![if !vml]>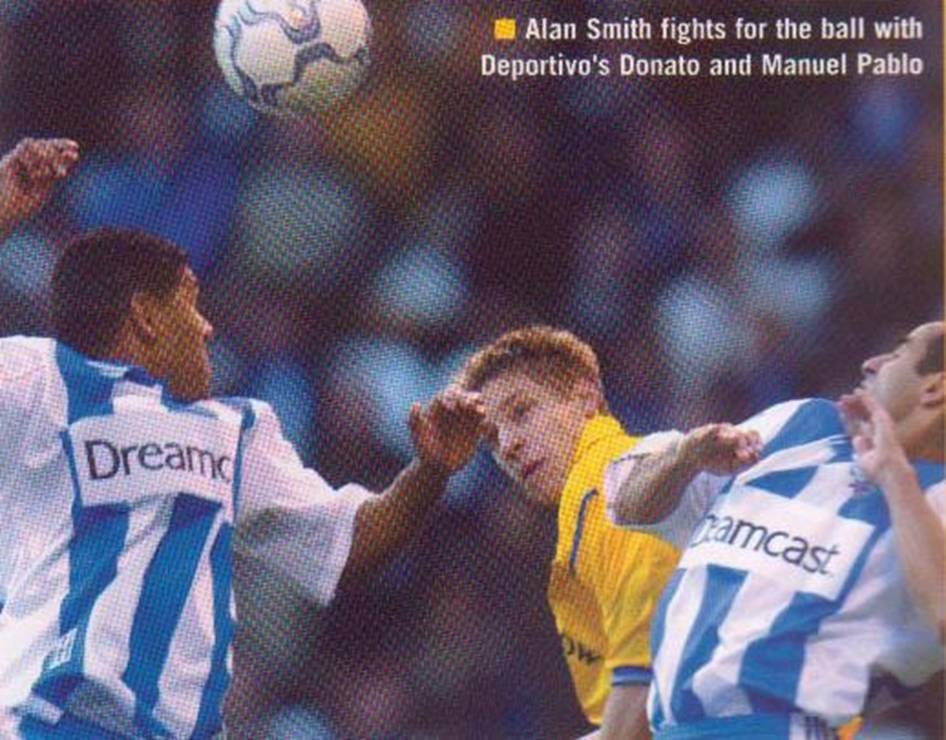 <![endif]> 
<![if !vml]>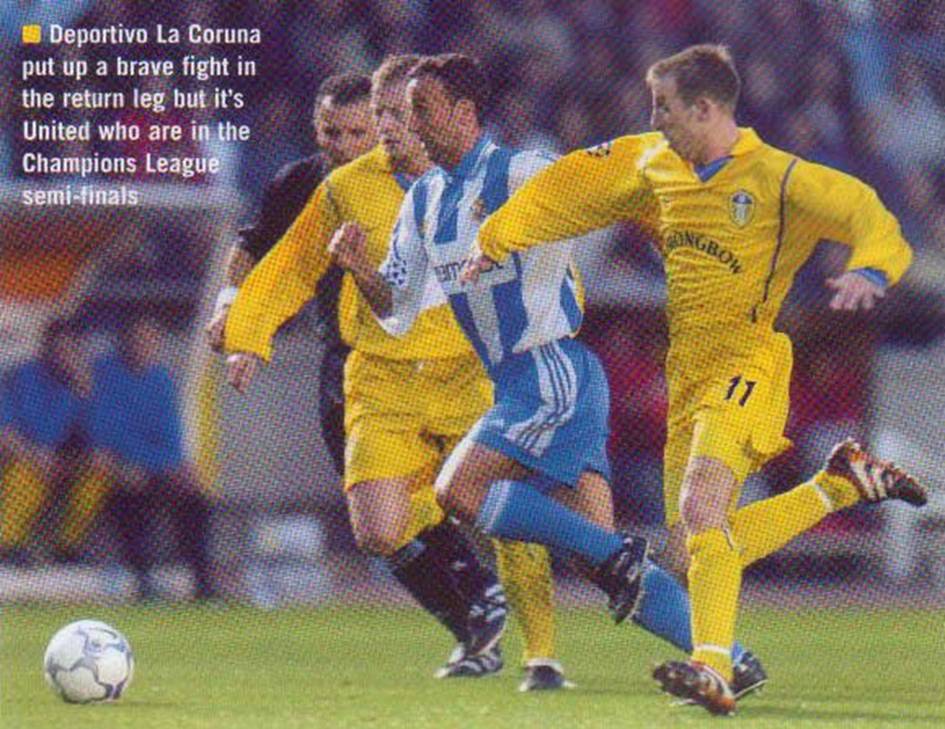 <![endif]> 
<![if !vml]>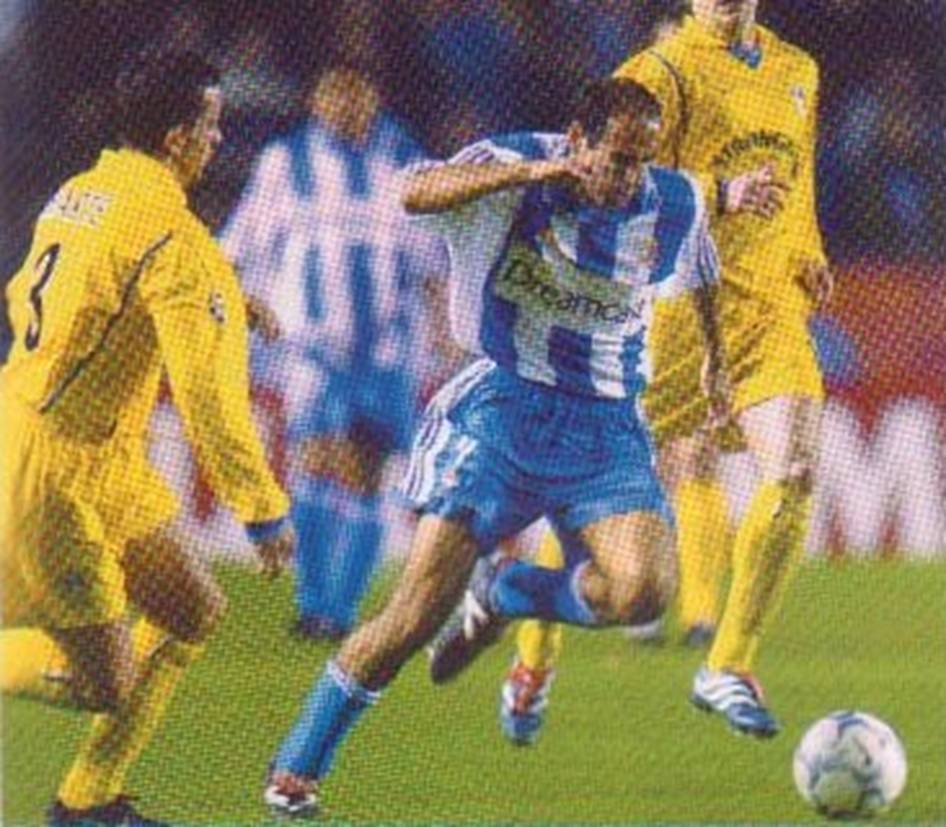 <![endif]> 
Ian Harte confronts Manuel Pablo
<![if !vml]>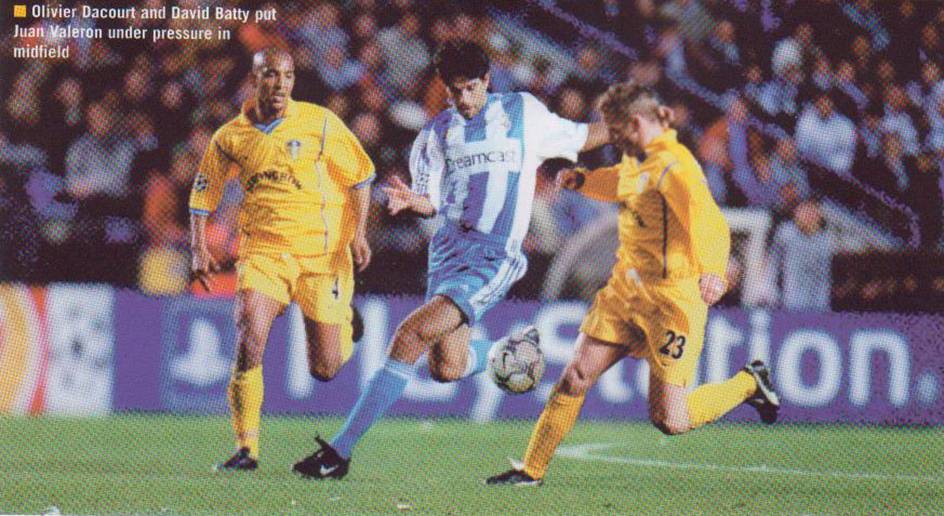 <![endif]>
<![if !vml]>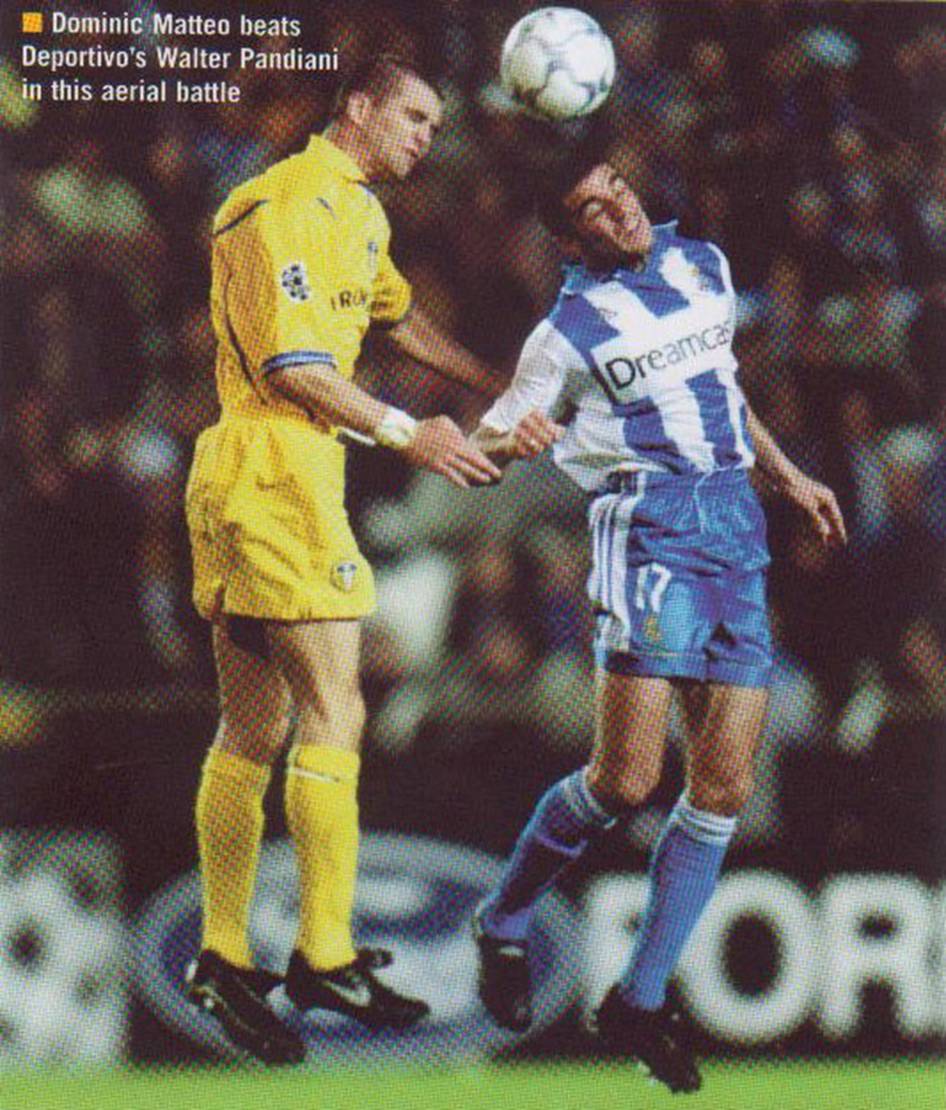 <![endif]>
<![if !vml]>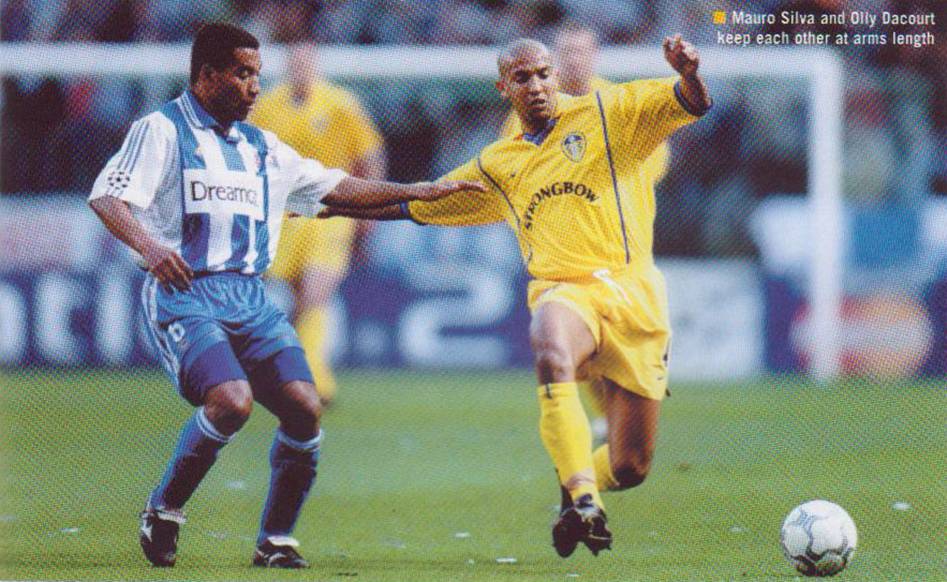 <![endif]>
<![if !vml]>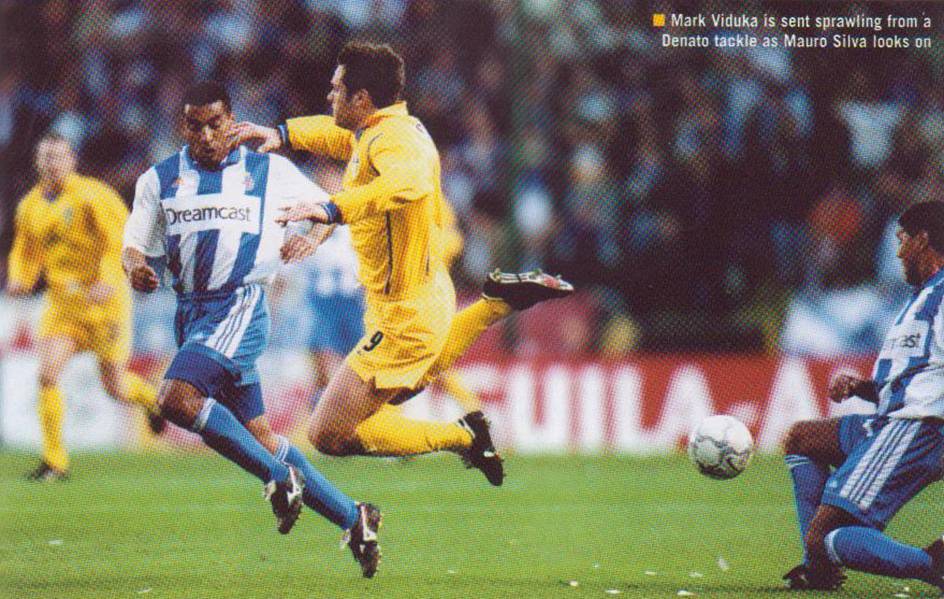 <![endif]>
<![if !vml]>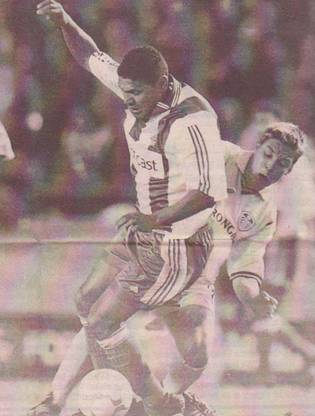 <![endif]>      <![if !vml]>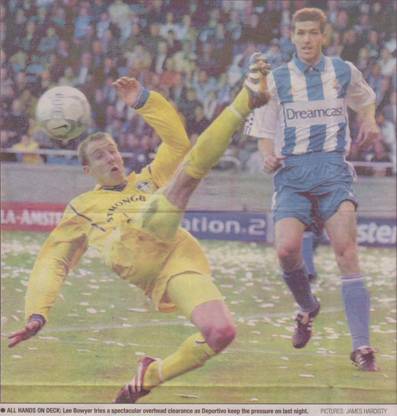 <![endif]>        <![if !vml]>

<![endif]> 
Alan Smith hassles Donato
<![if !vml]>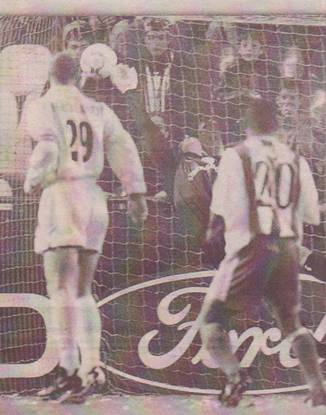 <![endif]>  <![if !vml]>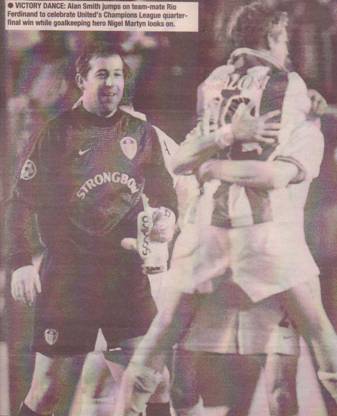 <![endif]>  <![if !vml]>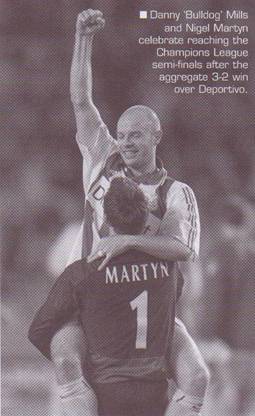 <![endif]>
Rio Ferdinand admires a brilliant save by
Nigel Martyn
<![if !vml]>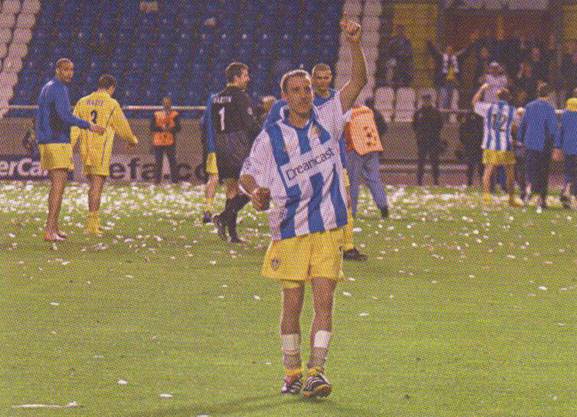 <![endif]>    <![if !vml]>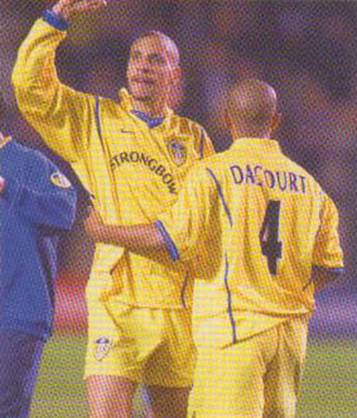 <![endif]>  
Lee Bowyer salutes the fans after the game                                                                          Rio Ferdinand and Olivier Dacourt at the end of the game
<![if !vml]>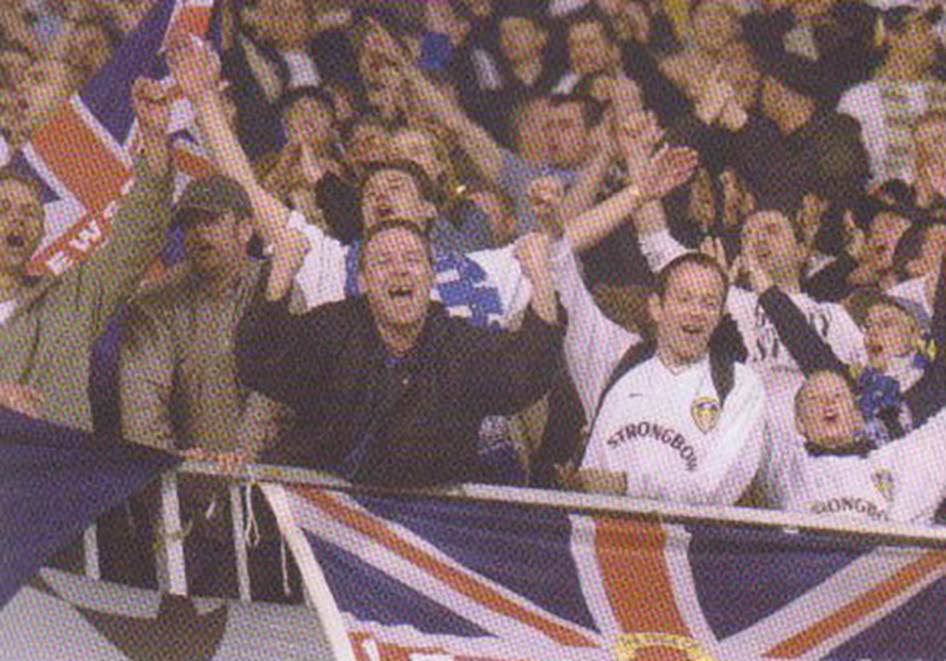 <![endif]> 
<![if !vml]>
<![endif]>
<![if !vml]>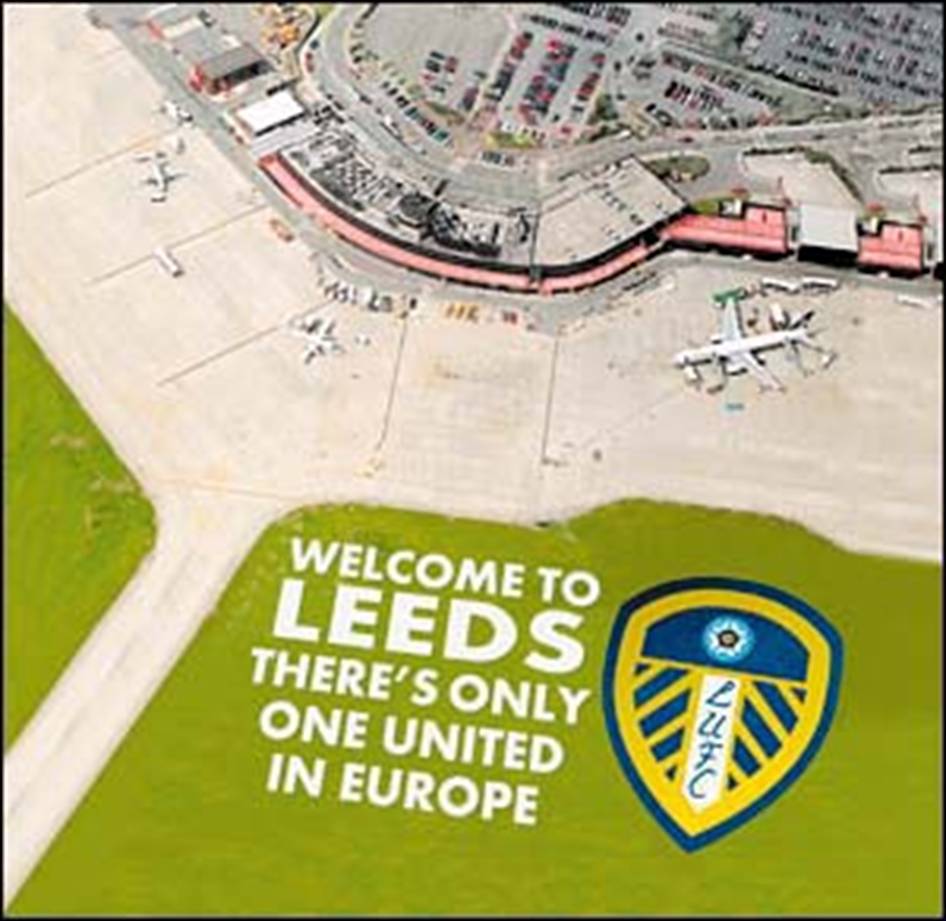 <![endif]> 
United were now the only British team left in the European Cup
Teams:
<![if !vml]>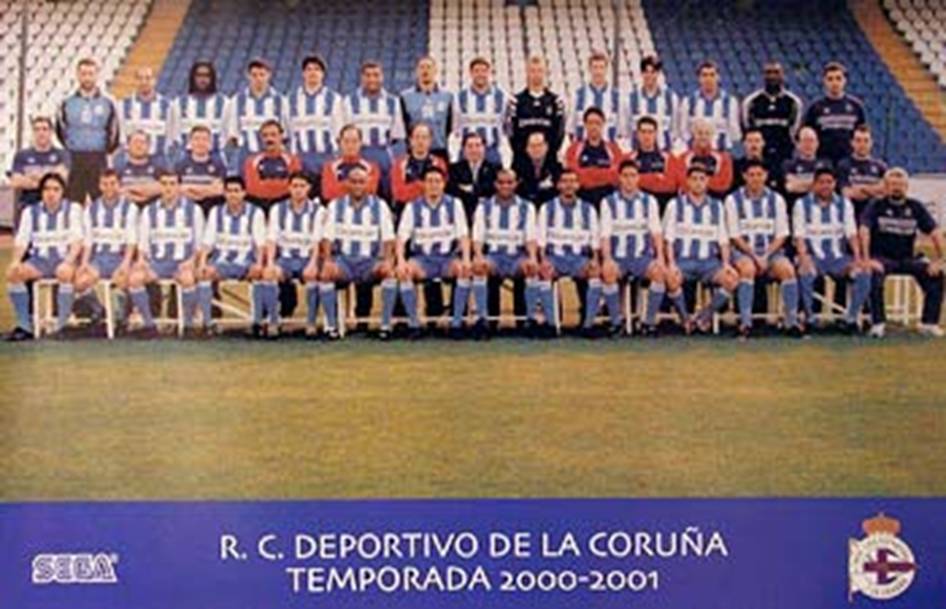 <![endif]>
Deportivo La Coruna 2000-01:
Back Row: Molina, Manuel Pablo, Emerson, Makaay, César, Mauro, Dani Mallo, Fernando, Kouba, Romero, Valerón, Naybet, Songo'o,
Sergio (Physio).
Middle Row: Suso (kitman), Segade (masseur), Ares (masseur), Richard Moar (Secretary),Francisco Melo (Asistant Coach),
Javier Irureta (Coach), Augusto César Lendoiro (President), Barros (Delegate), Franganillo (Fitness Trainer),
Sambade (Goalkeeper Coach), Carlos Lalín (Readaptador), Dr. Barral (Medico), Caramés (Physio), Llamas (Physio),
Front Row: Duscher, Fran, Pandiani, Bassir, Víctor, Hélder, Scaloni, Sampaio, Djalminha, Capdevila, Tristán, Turu Flores, Donato,
Javi Rego (Kitman).
<![if !vml]>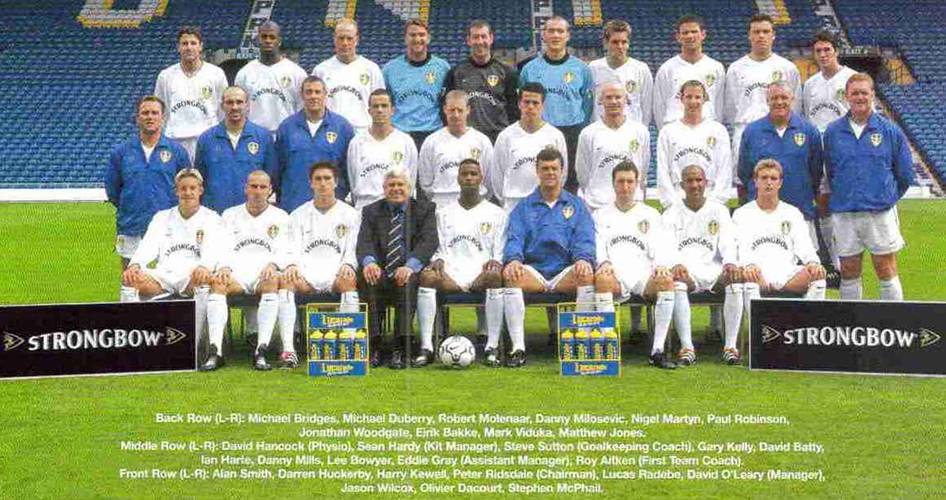 <![endif]>
Players:
<![if !vml]>
<![endif]>        <![if !vml]>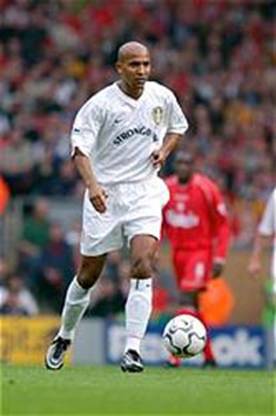 <![endif]>        <![if !vml]>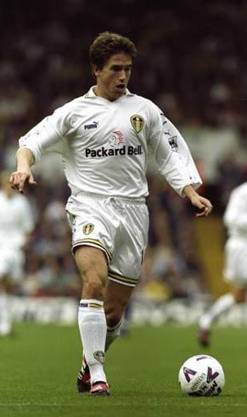 <![endif]>
Mark Viduka forced a spectacular save                                 Olivier Dacourt gave wholehearted effort        Harry Kewell skinned Manuel Pablo    
<![if !vml]>
<![endif]>    <![if !vml]>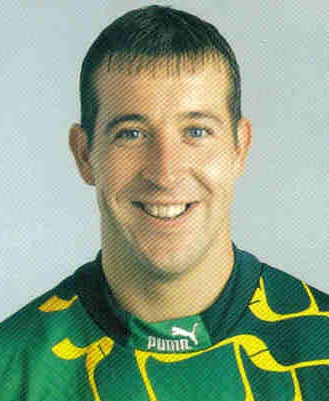 <![endif]>    <![if !vml]>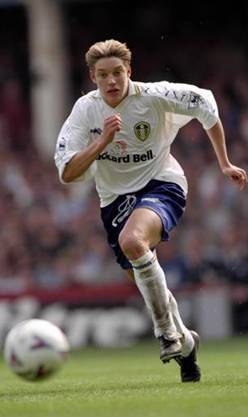 <![endif]>
Ian Harte made headed clearances                     Nigel Martyn made many fine saves                            Alan Smith got in a header
<![if !vml]>
<![endif]> <![if !vml]>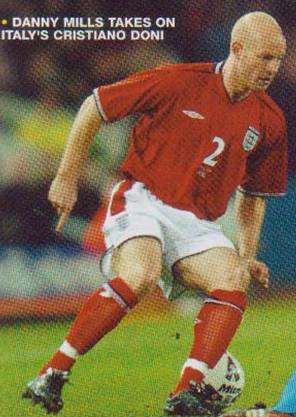 <![endif]> <![if !vml]>
<![endif]> <![if !vml]>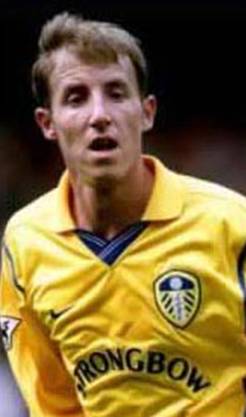 <![endif]>
Rio Ferdinand and Danny Mills were given a testing time                                    Dominic Matteo was in               Lee Bowyer made some good crosses
                                                                                                                                   central defence
<![if !vml]>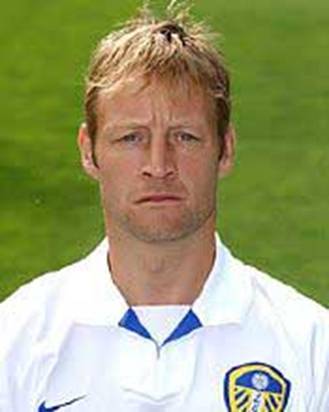 <![endif]> <![if !vml]>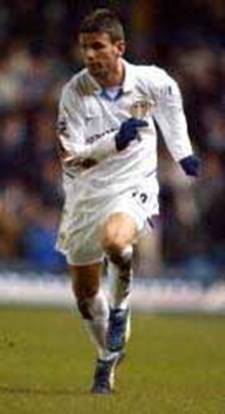 <![endif]>   <![if !vml]>
<![endif]>   <![if !vml]>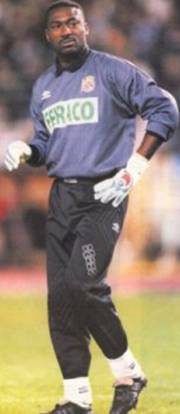 <![endif]>
David Batty was in midfield                                  Eirik Bakke came on as a substitute   Turu-Flores was a substitute    Goalkeeper Jacques
                                                                                                                                                                                                  Celestine Sono'o was
                                                                                                                                                                                                   unused on the bench
<![if !vml]>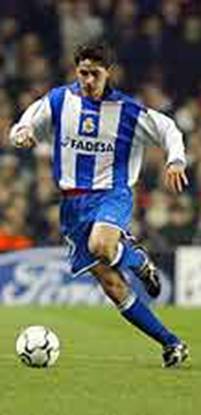 <![endif]>    <![if !vml]>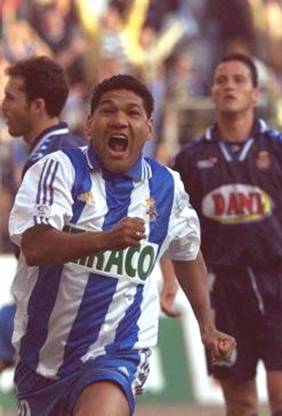 <![endif]>    <![if !vml]>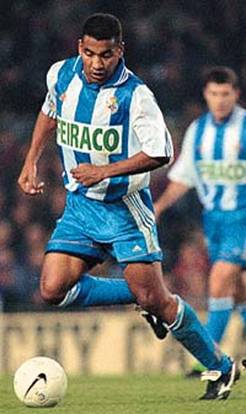 <![endif]>
Victor, Donato and Mauro Silva came into the Deportivo team