<![if !vml]>
<![endif]>
Date: Saturday, 17th April 1971.
Venue: Elland Road, Leeds.
Competition: First Division.
Score: Leeds United 1 West Bromwich Albion 2
Scorers: Leeds United: Clarke. West Bromwich Albion: Brown, Astle.
Attendance: 36,812.
Teams:
<![if !vml]>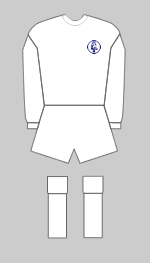 <![endif]> <![if !vml]>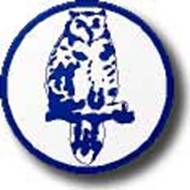 <![endif]>
Leeds United: Sprake; Reaney, Cooper; Bates (Davey), Charlton, Hunter; Bremner, Clarke, Jones, Giles, Gray.
<![if !vml]>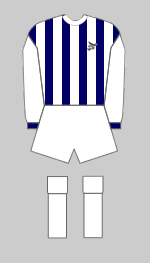 <![endif]><![if !vml]>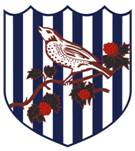 <![endif]>
West Bromwich Albion: Coombes; Hughes, Merrick; Lovett, Wile, Kaye; Suggett, Brown, Astle, Hope, Hartford.
Referee: Mr R. Tinkler (Boston).
Referees rarely find many, if indeed any, friends among football fans but one official incurred the wrath of Leeds United followers more than any other because of the incident in April 1971. His name was Ray Tinkler and his infamy resulted from a bewildering decision to over-rule a linesman who was flagging for a clear offside. It was a decision which led to West Bromwich Albion scoring in a crucial match at Elland Road. Sadly it was the signal for a pitch invasion by scores of United fans which held up the game for four minutes and after United had lost 2-1, manager Don Revie accused referee Tinkler of having undone nine months hard work with his decision.
United, who as the season reached its climax, were challenging Arsenal for the League championship, badly needed maximum points against lowly placed Albion. Defeat for United had been unthinkable, and in the final analysis this set-back proved to be a crippling blow. Revie's men who were First Division leaders, and had been for the best part of eight months, were not at their best in this game and went a goal down to Albion in the sixteenth minute when Tony Brown scored. But it was the Baggies second goal, twenty minutes from the end that caused all the trouble.
The move started near the half way line when Brown got away in midfield, with team-mate Colin Suggett clearly in an offside position. The linesman immediately raised his flag, but was over-ruled by the referee. United's defence was largely left up-field and Brown, after a moment or two of hesitation, raced away. When a few yards from goal and approached by goalkeeper Gary Sprake, he passed the ball to Jeff Astle, who was also in an offside position, and he knocked it in the net. United's players had stopped as the linesman's flag went up  and when the goal was allowed to stand, to a man, they passionately besieged the referee, who went through the motions of consulting the linesman but still refused to change his mind.
That set off an ugly invasion and the referee had to be ringed by players and police against potential attack from scores of angry protesters. Such was the high degree of ill-feeling in the crowd that many of those who unwisely ran on the pitch in protest were from the seats of the West Stand. And they had an ally in no lesser person than the United's chairman, Alderman Percy Woodward, who found it difficult to criticise them. The Lord Mayor of Leeds, Alderman Arthur Brown, himself a former professional referee for sixteen years, who was watching the match from the Elland Road directors' box, joined in the criticism of Tinkler. "I can find no defence for the referee" he said.
When the furore died down and the game restarted United, at 2-0 down, had a mountain to climb and though Allan Clarke pulled a goal back eight minutes from the end, the game finished in a 2-1 defeat for Leeds.
"I have never been so sick at heart", the United manager said afterwards, "The ref's decision on Suggett, the worst I have seen man and boy, was wrong and it wrecked nine months of hard work at our club. I regret the crowd scenes like anybody else but, by heaven, I can understand why they cut loose. Astle was also offside, in my opinion, when he took the pass from Brown to score." added Revie, who resurrected his view that top level football should have professional referees.
Billy Bremner was as gutted as anyone at the referee's decision, "Suggett was plain straight offside and the goal hung on that. We all stopped running. But the match got away from us" he said. Even Albion manager, Alan Ashman, had some sympathy for United " I would have been choked to have been beaten by an offside goal like that in any match, but these things happen and we just have to swallow them" he said.
The referee smiled as he left Elland Road after the game but not surprisingly defended his controversial decision. "I am completely sure that Suggett committed no offence. He was in an offside position and the linesman had flagged him, but he was not interfering with play" he explained. According to comments published in the Daily Sketch and attributed to the linesman, he saw the situation differently. "Suggett wasn't just a yard off-side, he was a good five yards and in my opinion must have been influencing play. He didn't touch the ball but he set off in support of Brown so there was a clear intention of interfering with the course of the game." added the linesman.
United had gone into this game after draws at Newcastle and Huddersfield and were confidently expected to overcome Albion's opposition. With title rivals Arsenal having a couple of games in hand, Revie's side badly needed victory against Albion. It was not to be.
As for the pitch invasion and the angry protests, of course, they achieved little other than to blacken the name of the club. The referee made a bad decision and a costly one. However, no amount of protest by fans was going to change it. Tinkler, however, was never to referee United at Elland Road again. And he was never forgiven by United fans who saw their side lose out and finish as runners-up to Arsenal by the one point and the same goal average, but the one goal would have swung it in United's favour. The decision went deeper than that. Because of the pitch invasion United were forced to play their first four home fixtures of the following season on neutral grounds, after the FA ordered the closure of Elland Road for those games. United drew two of those games. In that season, United finished second to Derby County, by one point, but with a far superior goal average.
<![if !vml]>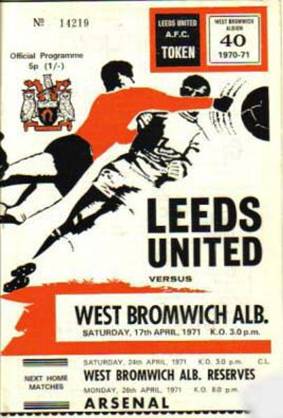 <![endif]>
Match Action:
<![if !vml]>
<![endif]>    
Mick Jones has a 'goal' disallowed for off-side.                                              
<![if !vml]>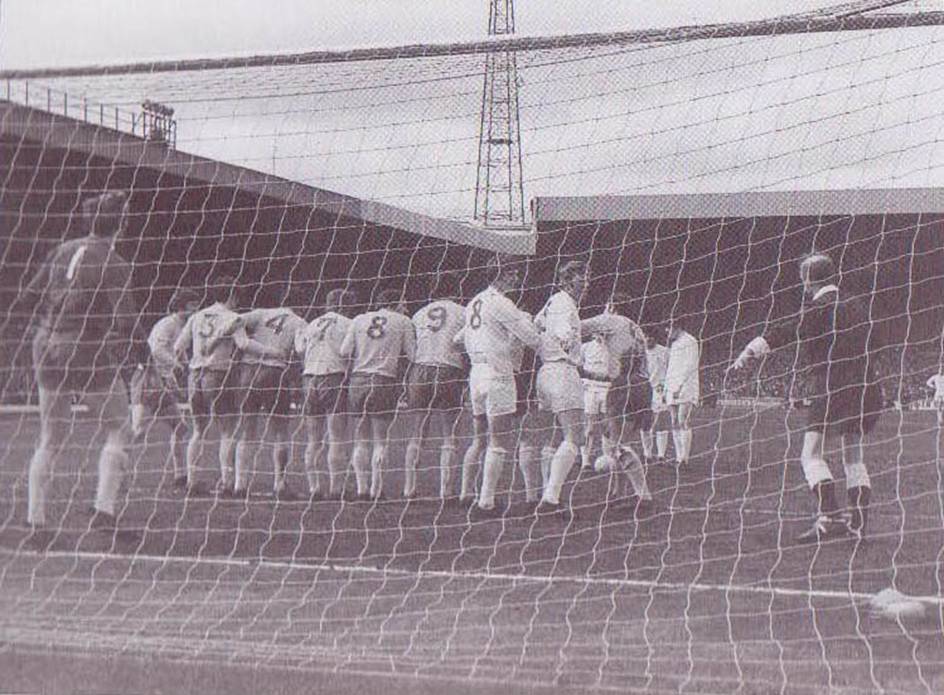 <![endif]>
Referee Tinkler was not happy with the West Bromwich Albion wall
<![if !vml]>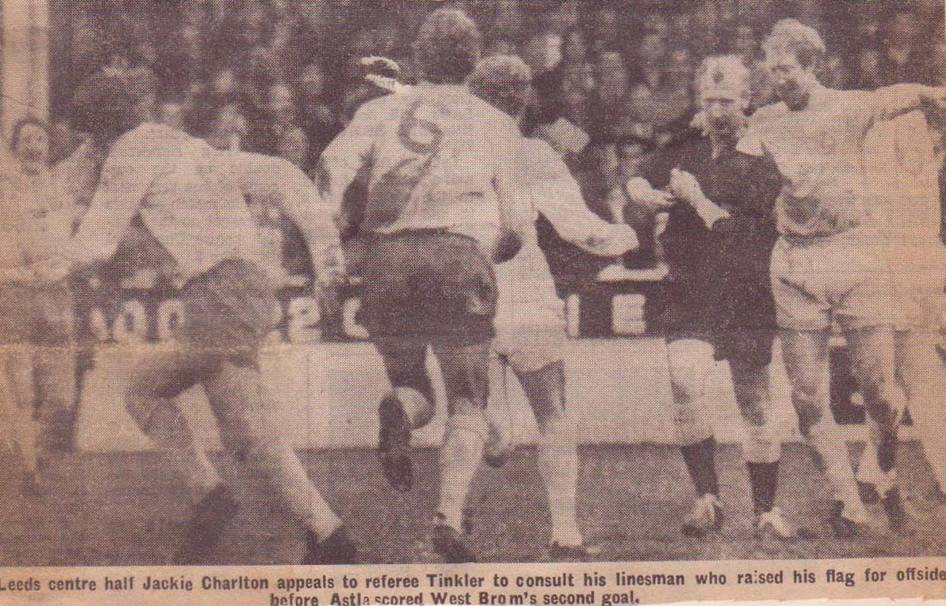 <![endif]> 
<![if !vml]>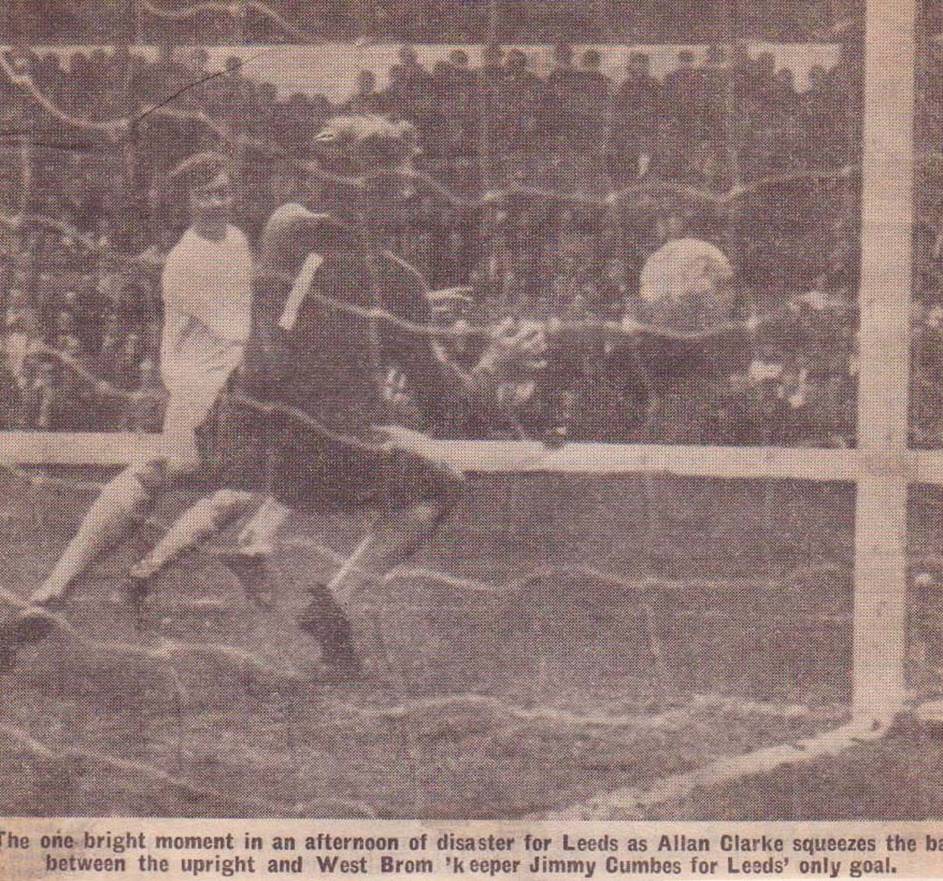 <![endif]>
<![if !vml]>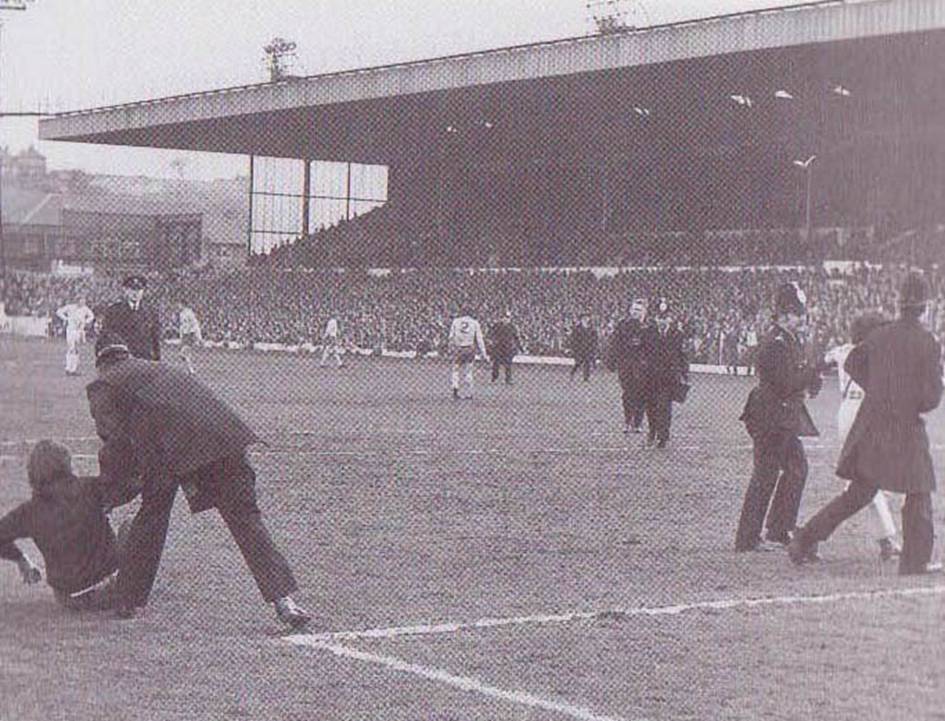 <![endif]>
<![if !vml]>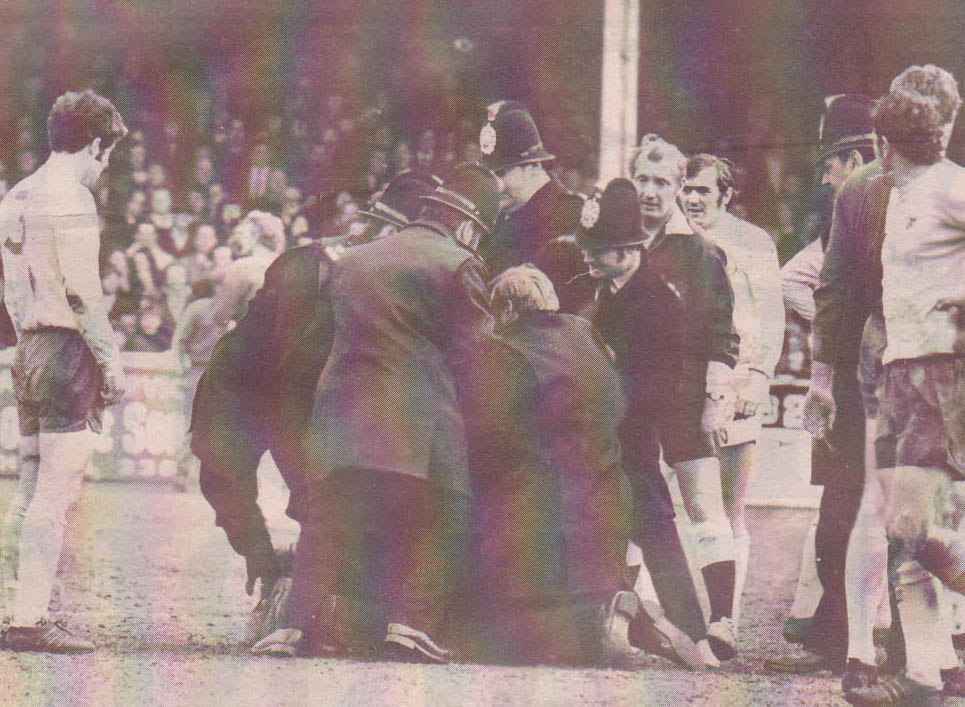 <![endif]> 
The Police move in to arrest the pitch-invaders
Players:
<![if !vml]>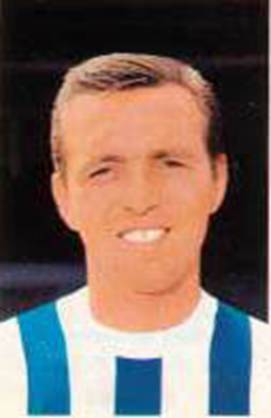 <![endif]>    <![if !vml]>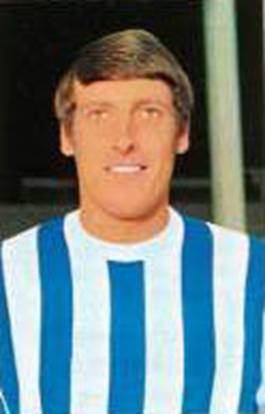 <![endif]>    <![if !vml]>
<![endif]>
Jeff Astle and Tony Brown, who both got on the score sheet, were also involved in the offside incident with Colin Suggett