<![if !vml]>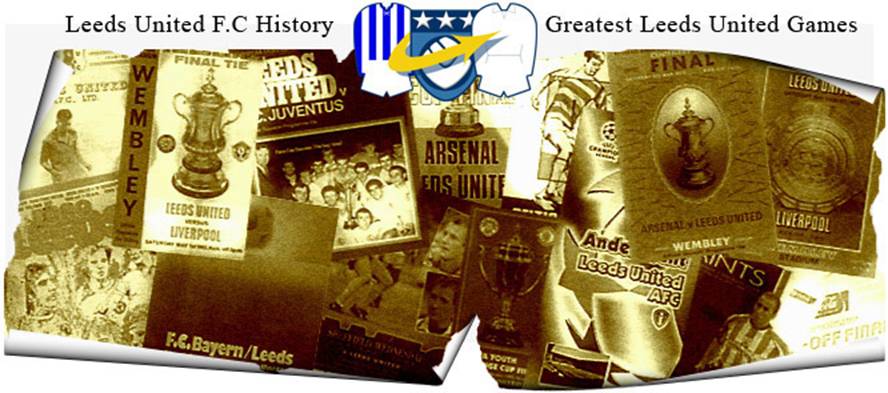 <![endif]>
Date: Sunday, 15th March 1987.
Venue: Springfield Park, Wigan.
Competition: FA Cup Sixth Round.
Score: Wigan Athletic 0 Leeds United 2.
Scorers: Wigan Athletic: Nil. Leeds United: Stiles, Adams.
Attendance: 12,479 (Receipt £40,577).
Teams:
<![if !vml]>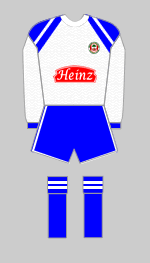 <![endif]><![if !vml]>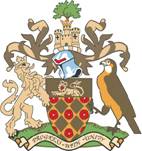 <![endif]>
Wigan Athletic: Tunks; Hamilton, Knowles; Hilditch, Cribley, Beesley; Lowe, Thompson, Campbell, Jewell (Butler), Griffiths. Unused Sub: Cook.
<![if !vml]>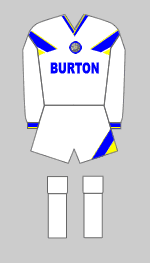 <![endif]><![if !vml]>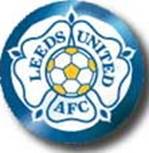 <![endif]>
Leeds United: Day; Aspin, Adams; Stiles, Ashurst, Rennie; Ritchie, Sheridan, Pearson, Edwards, Swan. Unused Subs: Buckley, Haddock.
Referee: B. Hill (Kettering).
Two brilliant long-range goals swept United into the FA Cup Semi-Finals for the first time in ten years as they won their big 'high noon' shootout at gale-lashed Wigan. United goal heroes were John Stiles and Micky Adams, but Mervyn Day was the man that really broke Wigan's heart with a cluster of fine saves. The FA, fearing that Wigan's compact Springfield Park with its limited capacity, could lead to problems with United's army of travelling fans, ordered the all-ticket game to be played on Sunday at .  To stop ticketless fans trekking across the Pennines, the match was screened live to thousands of supporters at the Town Hall and Queens Hall. United, already having to do without several Cup-tied players, were further hit by suspensions to FA Cup scoring specialist Ian Baird and skipper Brendan Ormsby, but reshuffled Leeds responded superbly to ruin the biggest day in Wigan's nine year history as a League club.
Third Division Wigan had several opportunities but seemed a little overawed by the occasion. They had a long unbeaten record at home in the League but were thwarted by Mervyn Day, who used his legs to keep out shots from Ian Griffiths and Chris Thompson.  Other chances were missed, the main culprit being ex-Bradford City striker Bobby Campbell, who lifted a volley from six yards over the bar and put a close-range header against a post and Chris Thompson also shot over from close range. Mervyn Day came to Leeds' rescue on other occasions.
However, it was no all one-way traffic, with Andy Ritchie and John Sheridan both going close before half-time.  United gradually began to exert themselves and John Stiles put them in front with his first goal of the season after fifty-eighth minutes. Wigan struggled to clear a corner from the left in the wind and Stiles curled a superb twenty-yard shot inside Roy Tunks' left-hand post.  After that there could only be one winner and United booked a Semi-Final showdown with Coventry City with a fine goal fittingly scored by former Coventry player Micky Adams, who after a dazzling run, ended with a spectacular seventy-fourth minute shot from twenty-five yards into the top left-hand corner of the net that wrapped up the tie.
Reports (Courtesy Mark Ledgard)
Wigan's Wembley dreams were shattered in a cruel catalogue of misfortune and missed chances which ended with Leeds powering in to the FA Cup Semi-Finals for the first time in ten years. Wind assisted goals from twenty-five yards by John Stiles, twenty-two year old son of Nobby Stiles, and Micky Adams were lessons in sharp-shooting for the heart-broken heroes from the Third Division. In the end justice was done in the football sense. But a workaholic Athletic made more and better openings in an absorbing quarter-final, despite the problems posed by a strong wind and dry bumpy pitch. Wigan should have booked their historic place in the first half but twice Mervyn Day flung his body and legs in the way to keep himself on course for a return to Wembley twelve years after his medal with West Ham United. John Stiles first met the veteran Wigan 'keeper when his father, Nobby, was manager of Preston North End. "He's a smashing bloke and I felt sorry for him when my goal went in," said John Stiles. "But of course I am delighted for us. I didn't have to whack the ball. I just directed it towards the bottom corner, and the wind did the rest." Clutching a bottle of uncorked champagne, Roy Tunks the Wigan assistant manager said, "We are not celebrating, but we are not going to go around the town with our heads down. We have put Wigan on the football map, but we paid heavily for our missed chances."
And from the YEP: Second half goals from John Stiles and Micky Adams blew Leeds United into the Semi-Final draw at Springfield Park in this encounter. Proving unflappable and using a cruel, strong swirling wind far more effectively, Leeds ended Wigan's dream with a solid performance in which every player provided a substantial contribution. The Third Division team engineered some gilt-edged chances but Leeds weathered Wigan's passionate opening and a first half in which the near gale conditions favoured Wigan to make the most of their turn with the wind at their backs in the final forty-five minutes. It was often an untidy game, well controlled but with plenty of stoppages, with Leeds punishing defensive slips by Wigan and in the end looking comfortable winners. In fact they played with such conviction that their four missing regulars, Brendan Ormsby, Ian Baird, Mark Aizlewood and Bobby McDonald were scarcely missed. But Wigan looked set to make the most of the biggest day in their history early on. It was then that the Leeds goalkeeper, Mervyn Day, made the first of two major contributions to carry Leeds into the last four. He blocked Paul Jewell's cross shot at the near post as Bobby Campbell surged in and then took the steam out of Wigan by blocking Ian Griffiths' fourteen yard drive with his legs inside the first ten minutes. Then, when he had the backing of the wind, he produced a series of huge second half goal-kicks which dropped into Wigan's penalty area, one producing a corner which led to the breakthrough goal. But before that Wigan had the heartache of seeing Bobby Campbell miss out twice when a goal seemed unstoppable. After twenty-four minutes the former Bradford City striker, under pressure from Neil Aspin, lifted Paul Jewell's short cross over the Leeds bar from six yards and seven minutes into the second half his fierce header from ten yards smacked the near upright, cannoned off Mervyn Day back onto Campbell's legs and back into the goalkeeper's grasp.
Seven minutes later John Stiles, with his first goal of the season, put Leeds on their way. Mervyn Day's long kick, which skidded off Beesley's head for a corner was complemented by John Sheridan's in-swinging centre and a second successive corner. Wigan could not clear and David Rennie rolled the ball back John Stiles, twenty-two yards out. Roy Tunks was unsighted and Stiles could not get any real weight into the shot, but his direction was perfect and he found the far corner of the net. Yet Wigan could still have forced a replay for in the space of the next ten minutes both Chris Thompson and Paul Jewell failed to hit the target with the Leeds goal gaping only six yards away. But Leeds kept a tight rein on the game generally with David Rennie, Paul Beesley and Barry Knowles all receiving cautions in the final twenty minutes. In the same period Micky Adams confirmed Leeds' right to a Semi-Final place with his second goal in successive games. Wigan dwelt on the ball dangerously forty yards out and Andy Ritchie nipped in to pinch it from David Hamilton and, after first trying to put Keith Edwards away, he gave Micky Adams a running chance. The full-back swayed impressively past two defenders to make room for himself and Wigan again suffered from twenty-two yards, this time with the ball flying into the net after a fierce right-footed drive.
<![if !vml]>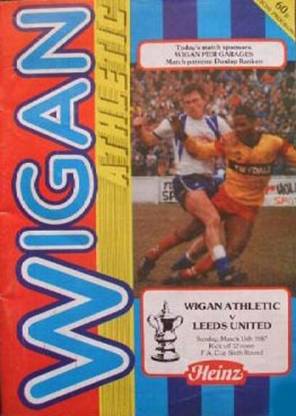 <![endif]> <![if !vml]>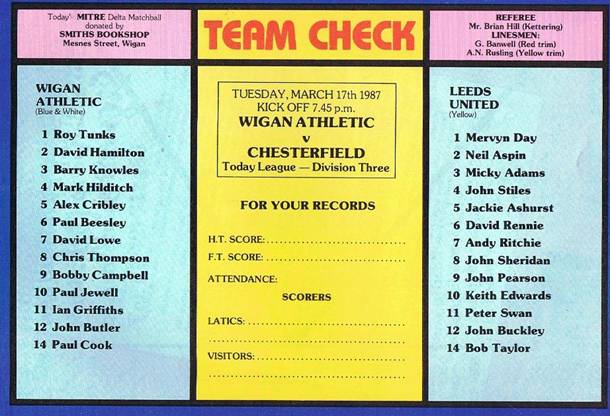 <![endif]>
Match Action:
<![if !vml]>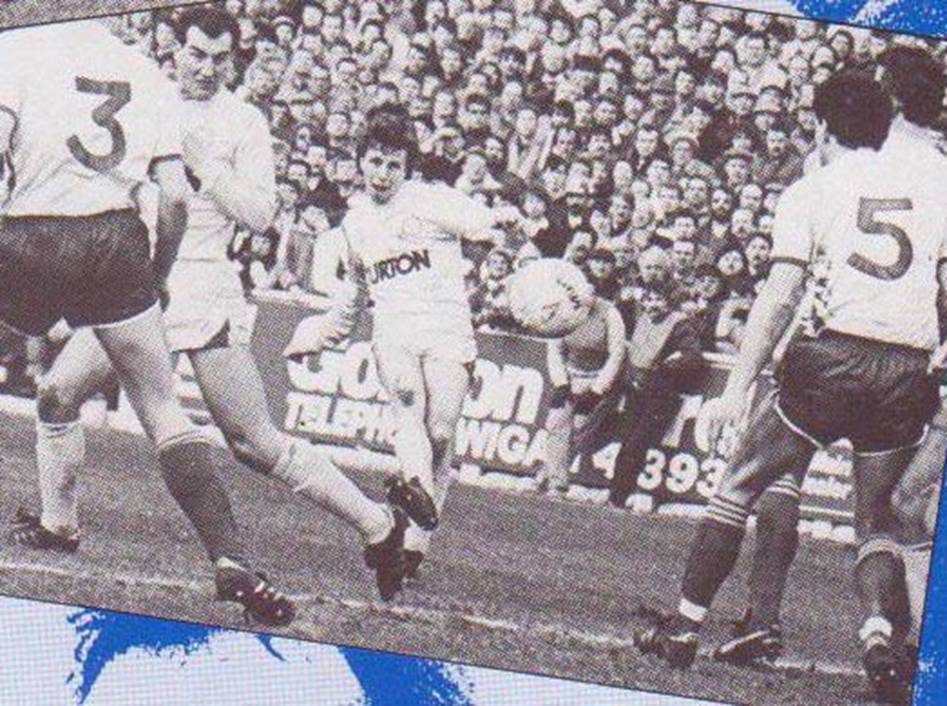 <![endif]>
John Stiles scores Leeds first goal
<![if !vml]>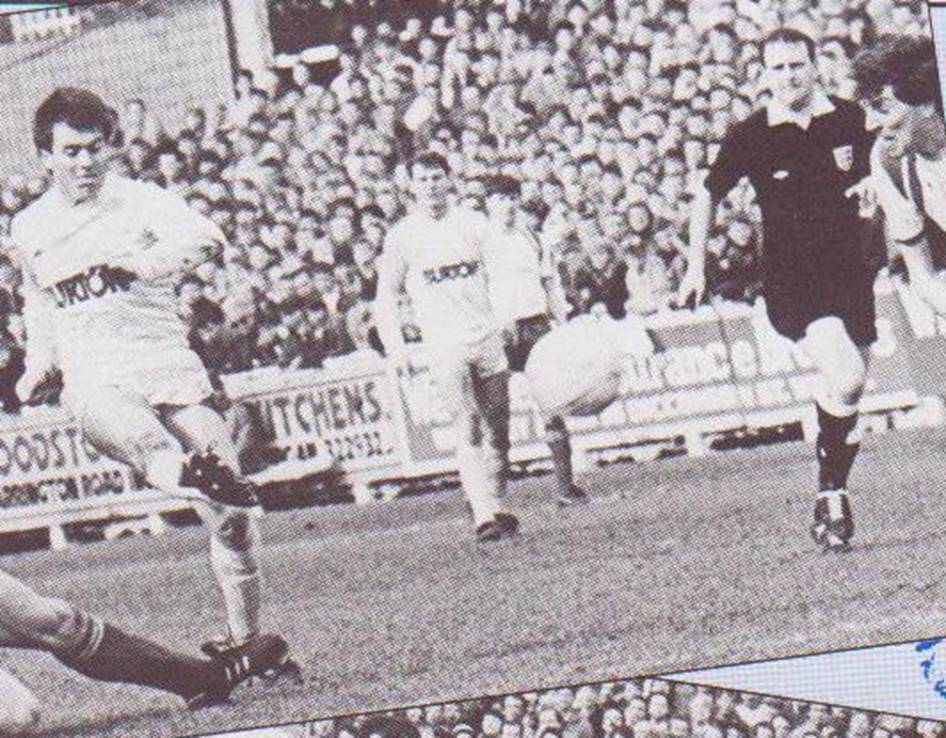 <![endif]>
Micky Adams gets the Leeds second goal
<![if !vml]>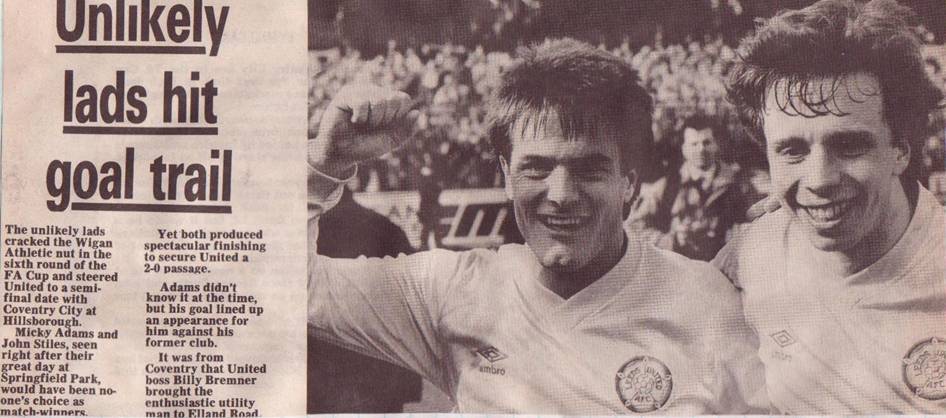 <![endif]>
<![if !vml]>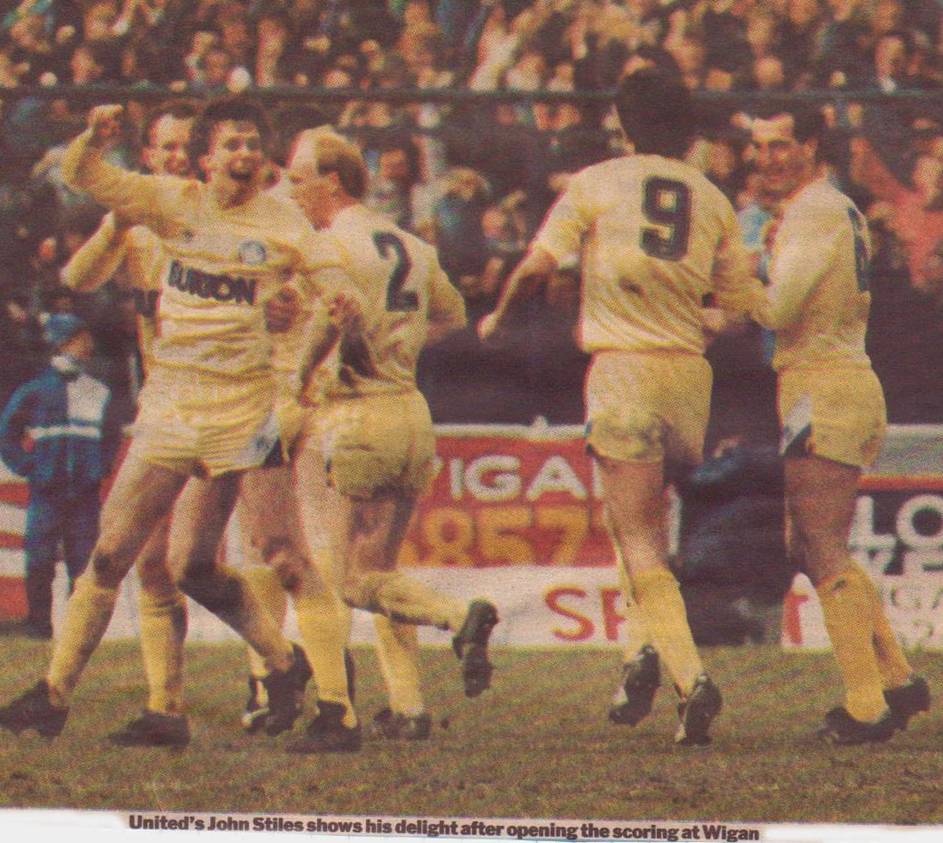 <![endif]>
<![if !vml]>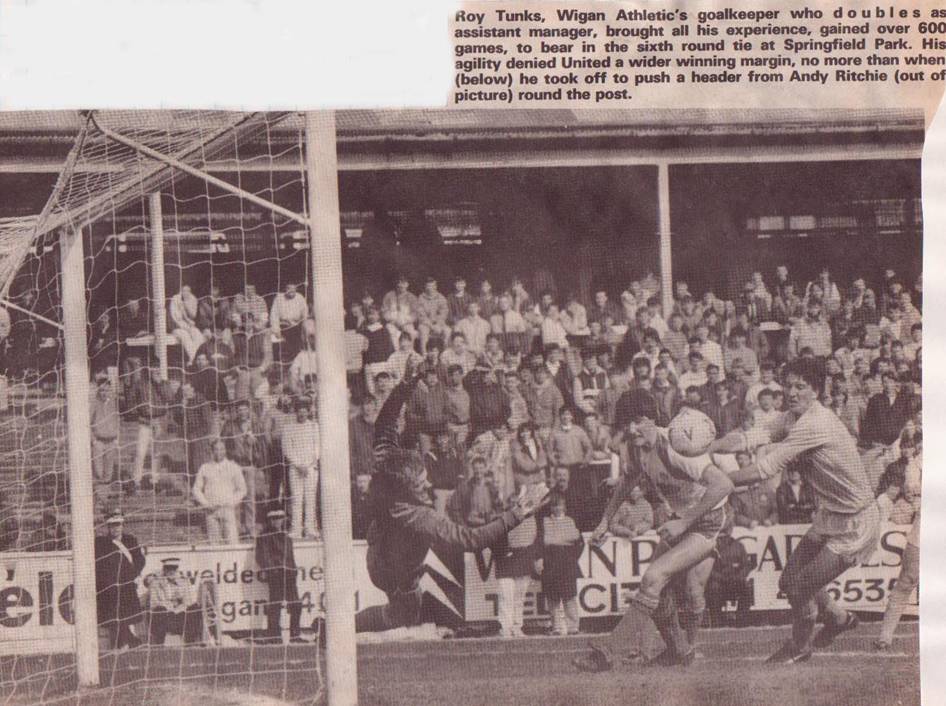 <![endif]>
<![if !vml]>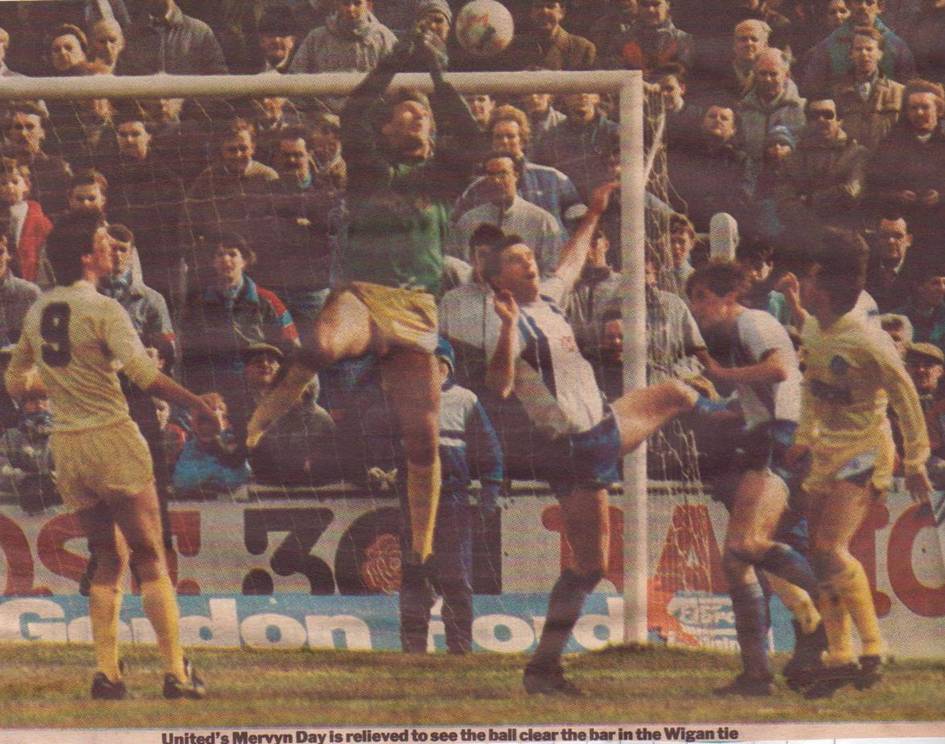 <![endif]> 
<![if !vml]>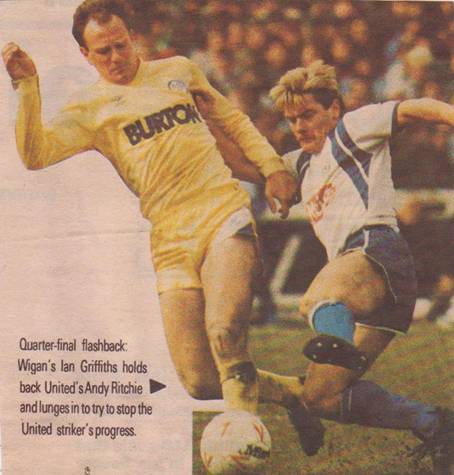 <![endif]>  <![if !vml]>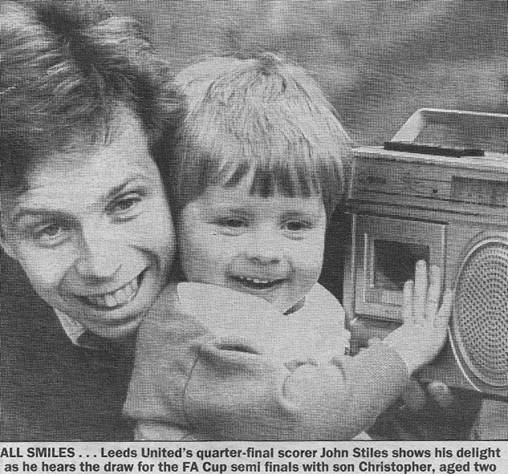 <![endif]>
                                                                                                             (Six Photos Courtesy Mark Ledgard)
<![if !vml]>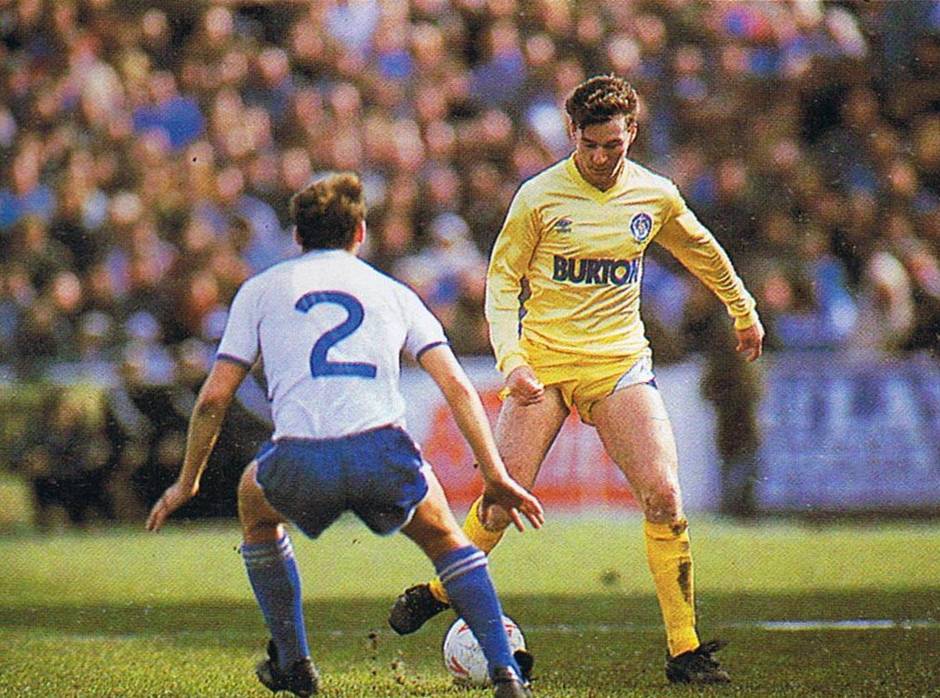 <![endif]>
John Sheridan is confronted by David Hamilton
<![if !vml]>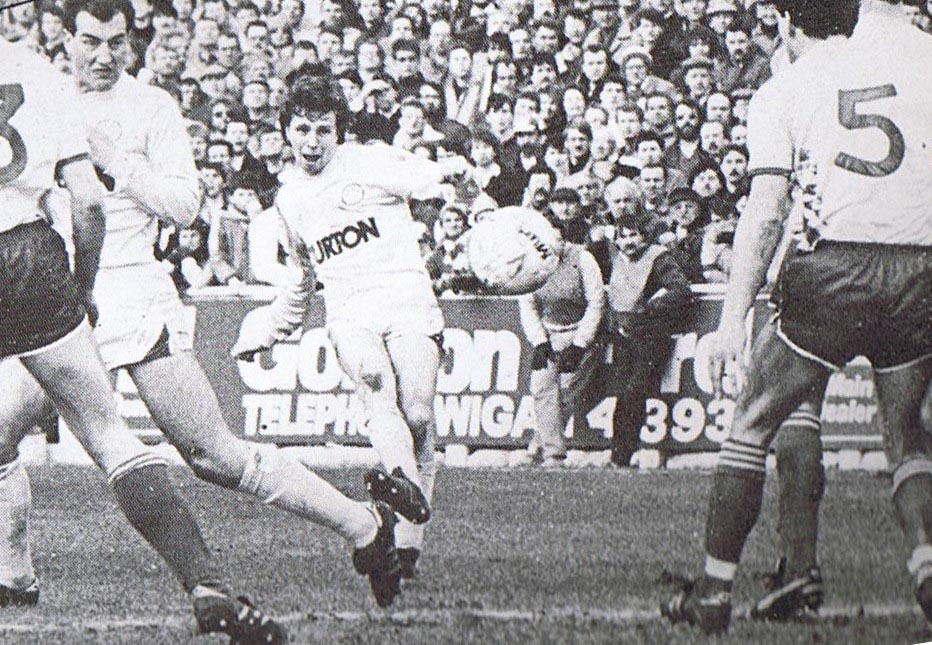 <![endif]>
John Stiles slots home United's first goal
<![if !vml]>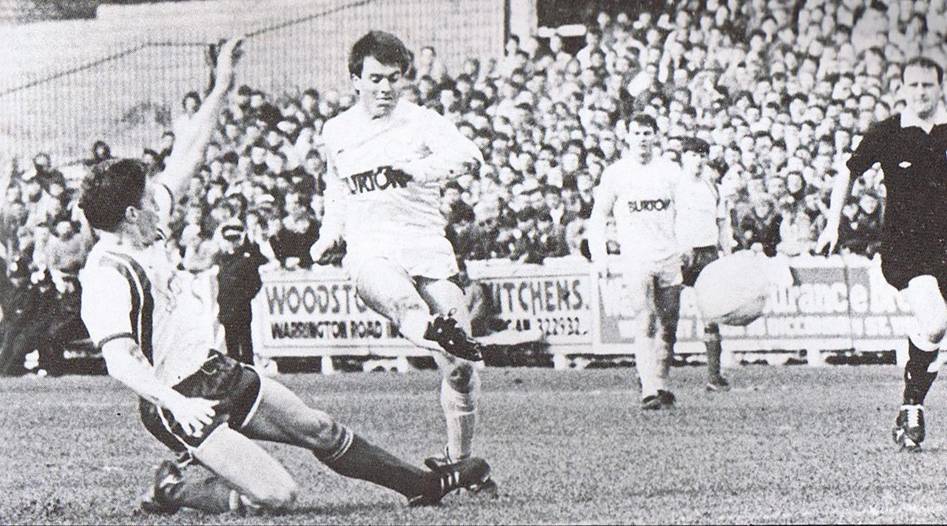 <![endif]>
Micky Adams scores United's second goal
<![if !vml]>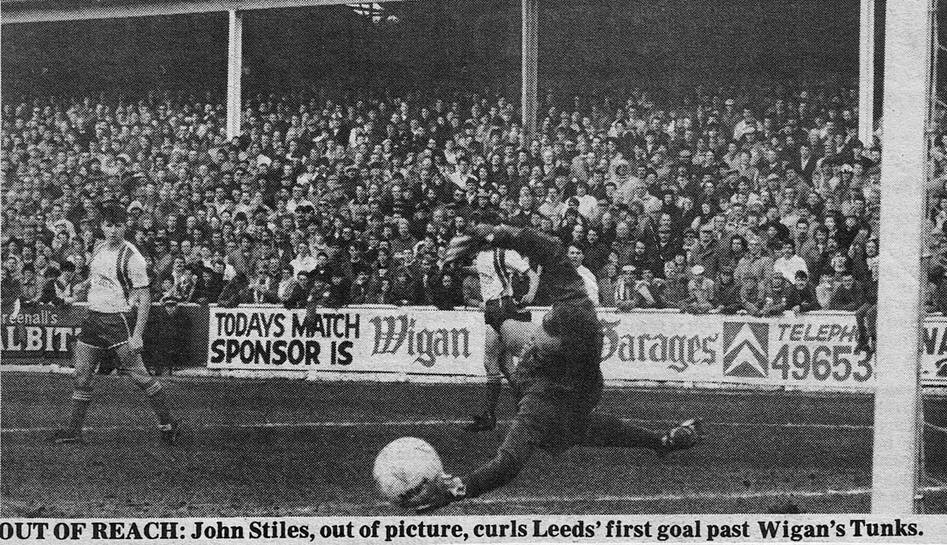 <![endif]>
<![if !vml]>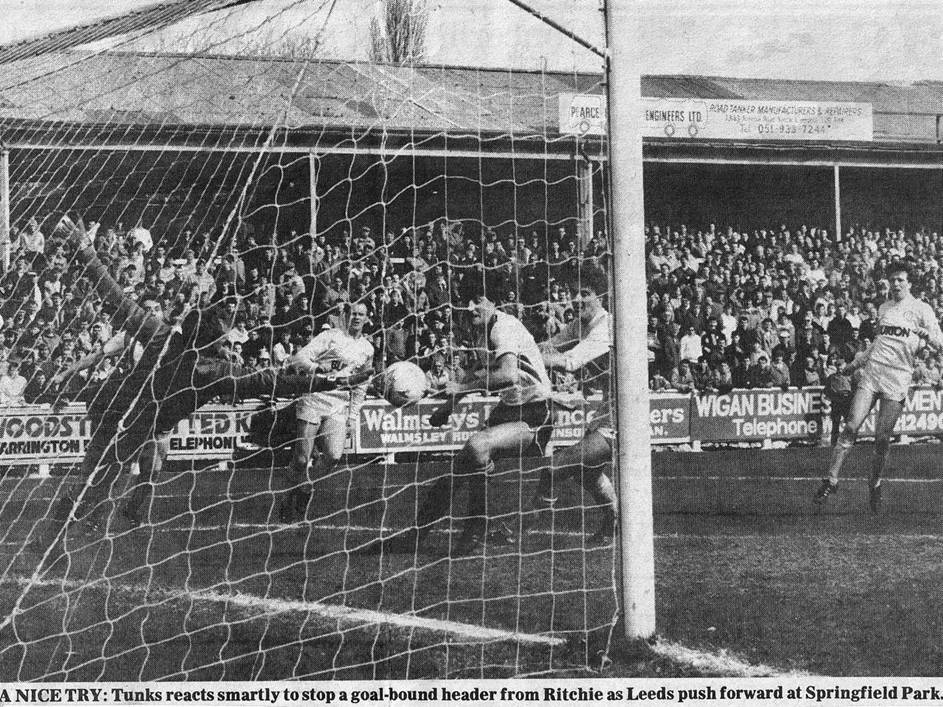 <![endif]> 
Teams:
<![if !vml]>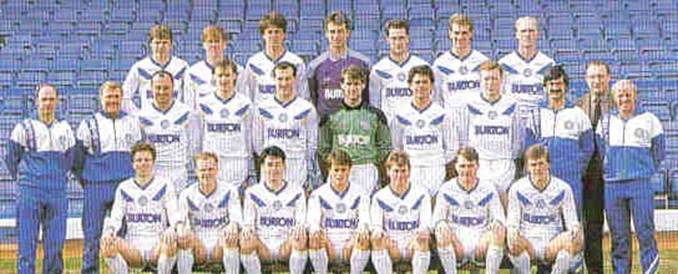 <![endif]>
Leeds United 1986-87:
Back Row; Jack Ashurst, Ian Baird, John Pearson, Mervyn Day, Mark Aizlewood, Peter Swan,
Neil Aspin.
Middle Row: Alan Sutton (Physio), Peter Gunby (Coach), Bobby McDonald, Peter Haddock,
David Rennie, Ronnie Sinclair, Nigel Thompson, Brendan Ormsby, Dave Bentley (Coach),
Dave Blakey (Chief Scout), Billy Bremner (Manager).
Front Row: John Stiles, Andy Ritchie, Bob Taylor, Micky Adams, Russell Doig, John Sheridan,
Keith Edwards.
 Players:
<![if !vml]>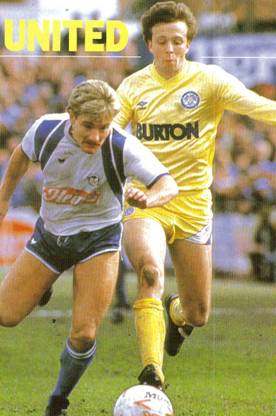 <![endif]> <![if !vml]>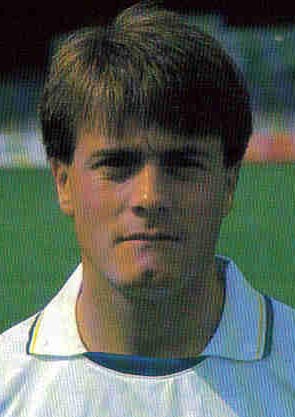 <![endif]>            <![if !vml]>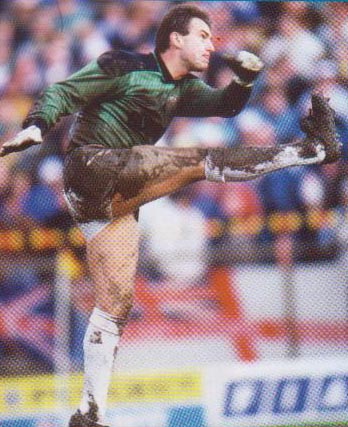 <![endif]>
The Leeds goals were scored by John Stiles and Micky Adams                      Mervyn Day twice saved Leeds and used his big kick with the wind
<![if !vml]>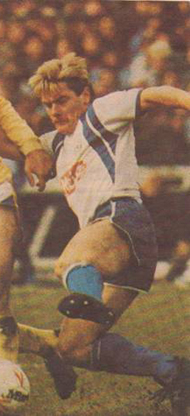 <![endif]>                      <![if !vml]>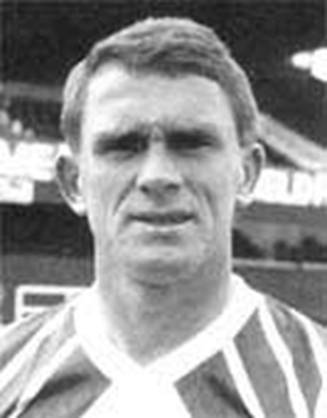 <![endif]>   <![if !vml]>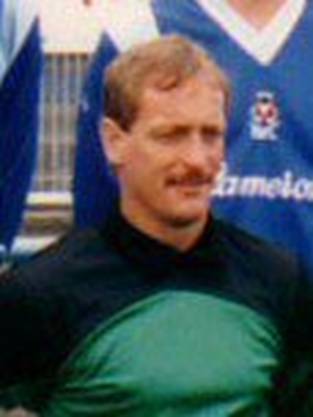 <![endif]>  
Eric Griffiths shot over from close range   Bobby Campbell headed against a post                   Roy Tunks was unsighted for Leeds' first goal
<![if !vml]>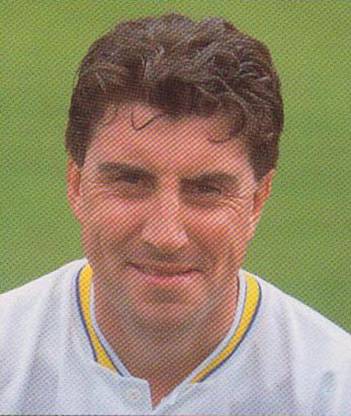 <![endif]> <![if !vml]>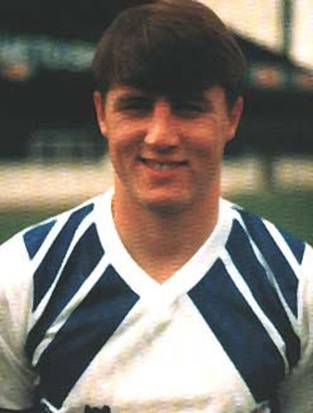 <![endif]> <![if !vml]>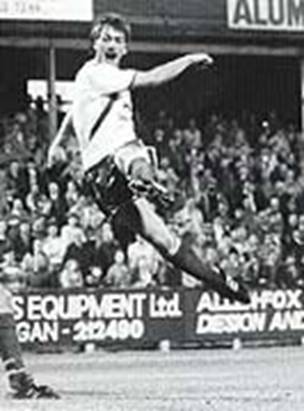 <![endif]>
Future United defender Paul Beesley, Paul Jewell and David Hilditch were all in the Wigan Athletic team.