<![if !vml]>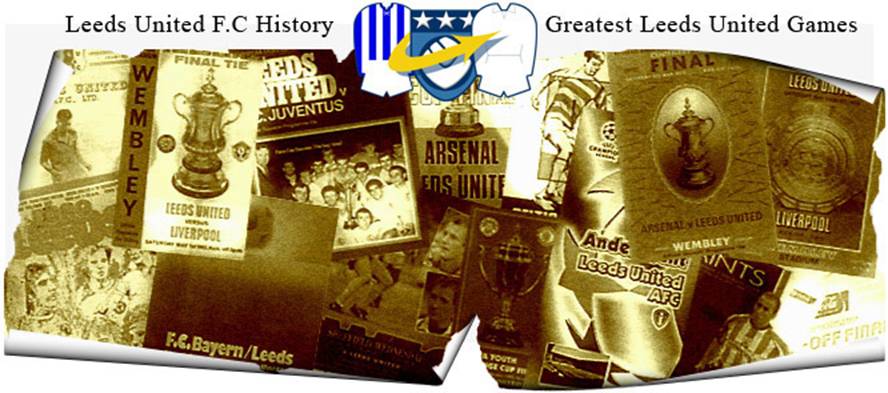 <![endif]>
Date: Saturday, 14th September 2002.
Venue: Elland Road, Leeds.
Competition: English Premier League.
Score: Leeds United 1 Manchester United 0
Scorers: Leeds United: Kewell. Manchester United: Nil.
Attendance: 39,622
Teams:
<![if !vml]>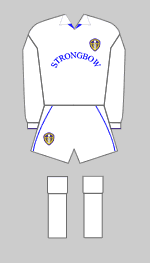 <![endif]><![if !vml]>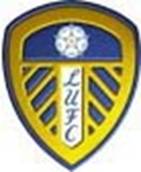 <![endif]>
Leeds United: Robinson; Mills, Woodgate, Matteo (Radebe), Harte; Bowyer, Dacourt, Barmby (Bakke); Smith, Viduka (McPhail), Kewell. Unused Subs: Kelly, Martyn.
<![if !vml]>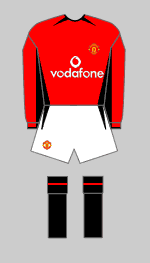 <![endif]><![if !vml]>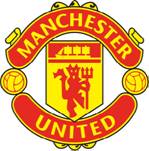 <![endif]>
Manchester United: Barthez; O'Shea, Ferdinand, Blanc, Silvestre; Beckham, P. Neville, Butt (Chadwick), Giggs; Van Nistelrooy (Forlan), Solskjaer. Unused Subs: Pugh, Roche, Ricardo.
Referee: Mr J.Winter (Newton Aycliffe).
This was a day that will live long in the memories of Leeds United fans. Leeds victories are rare commodities and to do it when the club's record signing returned wearing the red shirt of the arch-rivals made it all the sweeter. Ironic taunts of "You were just a stand-in for Woody" were quite prophetic after United youngster Jonathan Woodgate outshone the returning Rio Ferdinand by a country mile.
United had started the season in winning mode with two wins over Manchester City and West Bromwich Albion, but then slumped to unexpected defeats at the hands of Sunderland and Birmingham City. This was followed by a brilliant 2-0 victory at Newcastle United when manager Venables was able to field his first choice team for one of the few times in that injury riddled and debt ravaged season and United went into the clash sitting in third place and the luxury of a full-strength team.
Jonathan Woodgate was just one of many fine performers in the United side, his never-say-die attitude typified the spirit on display, and the single goal victory was more than deserved. The win said a lot about Leeds' character than even the 2-0 victory at Newcastle just three days previous had done. While United had relied on the counter-attacking approach at St James' Park they opted to take the game to Manchester in this game and, apart from a lean spell just prior to half-time, they did it well.
It was fitting that Harry Kewell should score the decisive goal that sent Elland Road into raptures midway through the second half. Kewell had looked a rejuvenated player under Terry Venables and clearly revelled in playing for a manager who believed that he had more to offer than just patrolling the left flank. The winning goal was created by another of United's unsung heroes, Ian Harte. The Republic of Ireland defender had his fair share of critics, but he too had looked an improved player under Venables. Olivier Dacourt was also showing a return to his best, while Alan Smith and Paul Robinson were in awesome form, and there was an unerring confidence running through the club at that time. It would be unfair to single out any one player, though, because once again it was a team effort added to Terry Venables' tactical nous rather than individual brilliance that carried Leeds to victory. In previous times they would have capitulated after spending the final twenty minutes of the first half under the cosh, but they simply re-grouped at half-time, listened wisely to Venables, and returned to dominate the second half.
The critics were already claiming that the Ferguson's Old Trafford Empire was crumbling, but they still had a squad capable of taking on all-comers. They did miss the injured Juan Sebastian Veron and several other stars, and Nicky Butt was no Roy Keane in the middle of the park! Rio Ferdinand, who had gained all the pre-match headlines also turned in one of his worst displays at Elland Road and was guilty of three major errors that could have proved costly. Maybe the barracking did get to him, but hostilities were nothing like as bad as predicted and by the time the clock ticked past the ninety minute mark most Leeds fans had forgotten he was even playing.
The England star had a disappointing afternoon by his high standards, but at least he could walk away knowing he had not reacted to the initial hostile atmosphere. Sadly the same could not be said for his international captain, David Beckham. His apparent elbow on Lee Bowyer was a disgraceful incident and the FA should have reviewed the incident again. Referee Jeff Winter, who seemed to revel in the limelight of a live TV game, frequently halted play for the slightest thing yet, unbelievably, only awarded a free-kick. He just allowed Beckham to escape without a single word of warning in respect of the incident. It was the only sour moment in the game, unless you count Butt's bizarre appeal for a penalty when he bounced off United centre-back Jonathan Woodgate. Those incidents came at a time when Manchester were heavily on top. They dominated the first half and should have been at least one goal to the good.
Paul Robinson denied Ruud Van Nistelrooy with a superb save after the Dutchman had weaved his way through the home defence, while Jonathan Woodgate and Ian Harte both made vital goal-line clearances. Van Nistelrooy was again thwarted by Paul Robinson at the start of the second half, but represented Manchester's last serious effort on goal and for such a quality side two clear cut chances was a poor return.
Leeds came our fighting again after the break and were finally rewarded on sixty-six minutes when Ian Harte's in-swinging right foot cross from the left was met by the head of an unmarked Harry Kewell and Elland Road erupted. It was a special moment for the Leeds faithful, they had waited since 1997 to see off the old enemy, and their response was to roar their side to victory.
The visitors did rally but lacked invention and the closest anyone came to scoring another goal was when Ferdinand generously teed up Harry Kewell, but the Aussie was unable to apply the finishing touch. Ironically, while Ferdinand's return was a major talking point, another former favourite was back at Elland Road. Ex-manager David O'Leary watched from the Sky-TV commentary box as Leeds recorded their first win against Manchester United in five years and could have been forgiven for wondering what might have been. After all, O'Leary tried and failed eight times against United's arch-rivals. Terry Venables had beaten them at the first attempt.
<![if !vml]>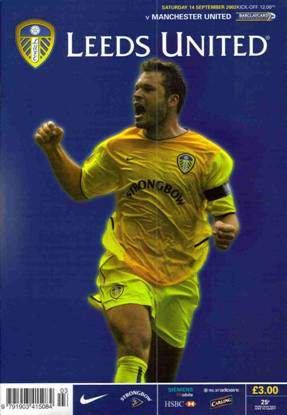 <![endif]> <![if !vml]>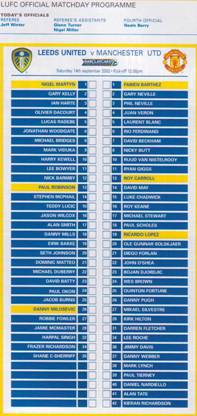 <![endif]>
Match Action:
<![if !vml]>
<![endif]> 
Harry Kewell climbs majestically to head the winner giving Barthez and the static Manchester defence no chance of stopping it
<![if !vml]>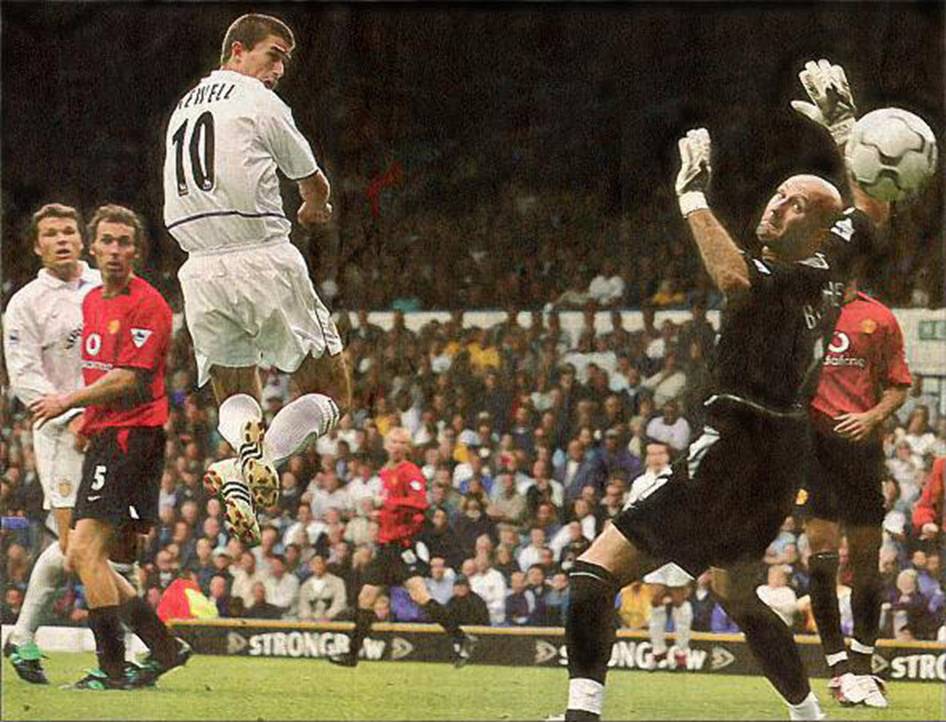 <![endif]>
<![if !vml]>
<![endif]> 
<![if !vml]>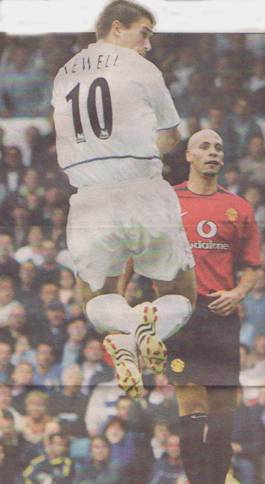 <![endif]>        <![if !vml]>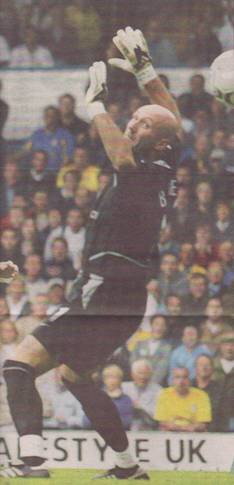 <![endif]>        <![if !vml]>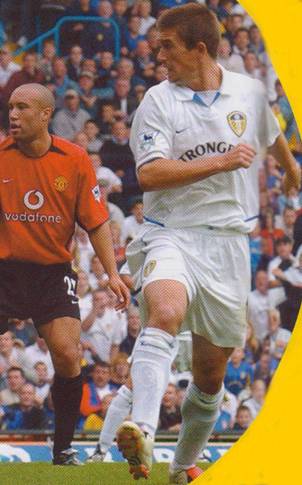 <![endif]>
<![if !vml]>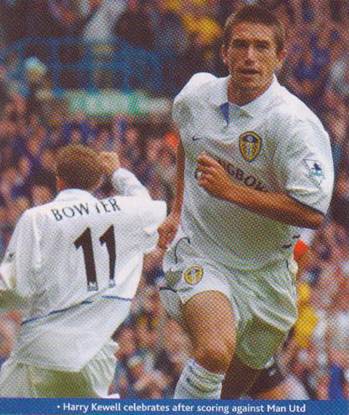 <![endif]> <![if !vml]>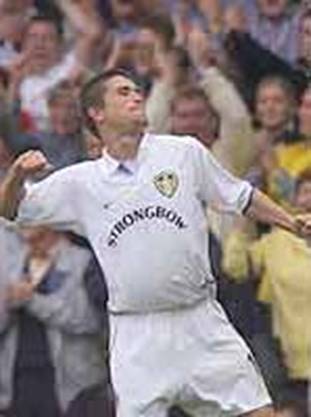 <![endif]> <![if !vml]>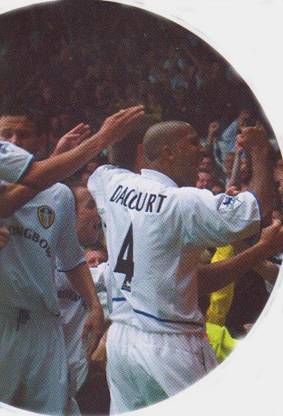 <![endif]>
<![if !vml]>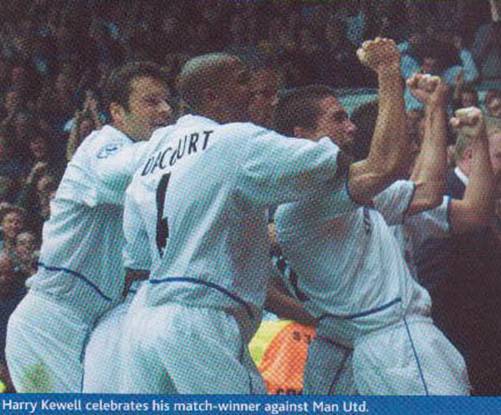 <![endif]> <![if !vml]>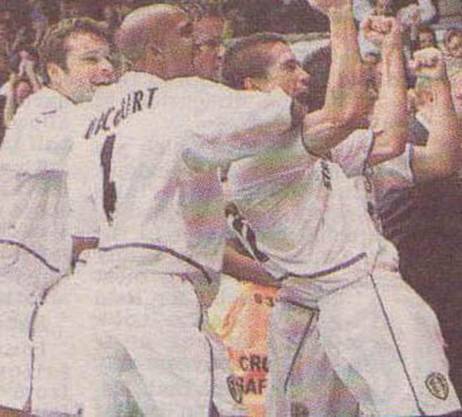 <![endif]>
Harry Kewell scores the only goal of the game and then he and his team-mates celebrate the fine strike
<![if !vml]>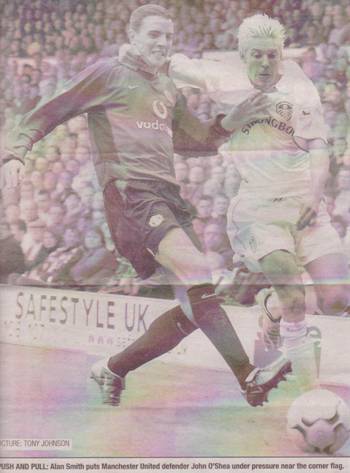 <![endif]>     <![if !vml]>
<![endif]>
<![if !vml]>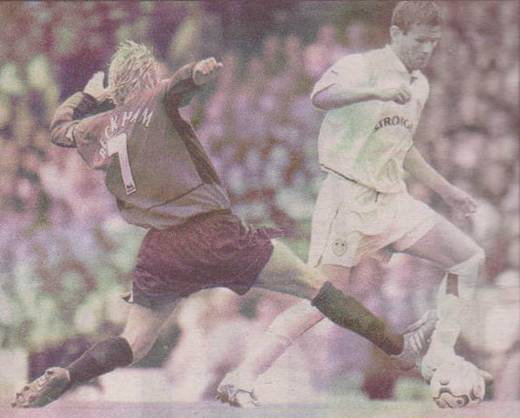 <![endif]>       <![if !vml]>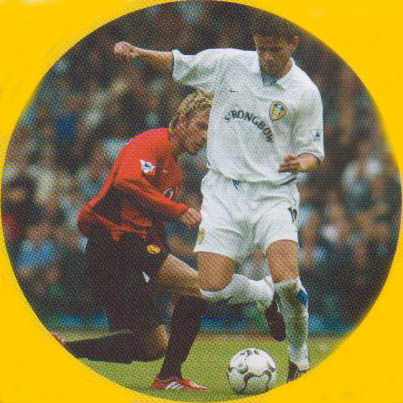 <![endif]>
Eirik Bakke beats David Beckham
<![if !vml]>
<![endif]> <![if !vml]>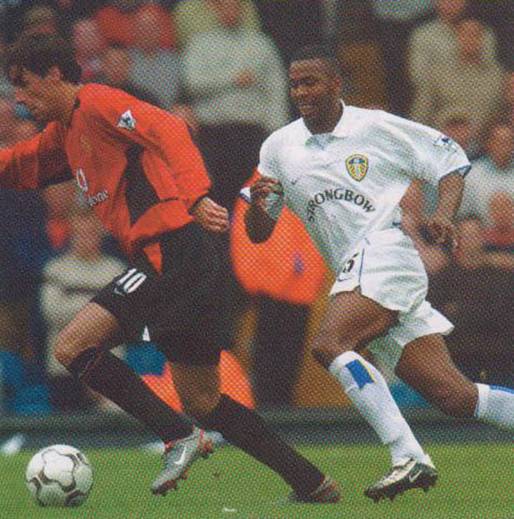 <![endif]> 
Jonathan Woodgate saves miraculously                                                 Ruud Van Nistelrooy is pursued by Lucas Radebe
<![if !vml]>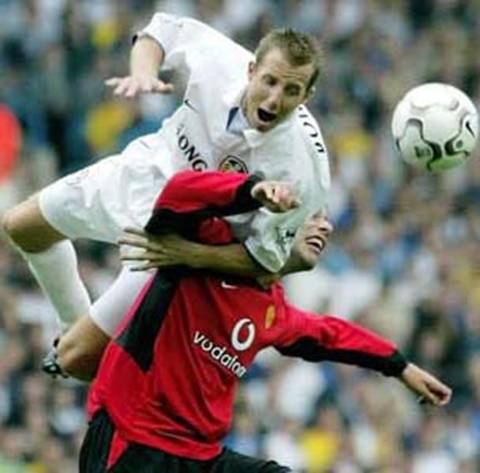 <![endif]>   <![if !vml]>
<![endif]>
Lee Bowyer beats Ruud Van Nistelrooy to a header                                     Mark Viduka holds off Nicky Butt                                                
<![if !vml]>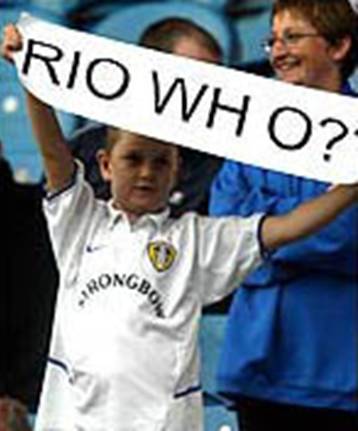 <![endif]> <![if !vml]>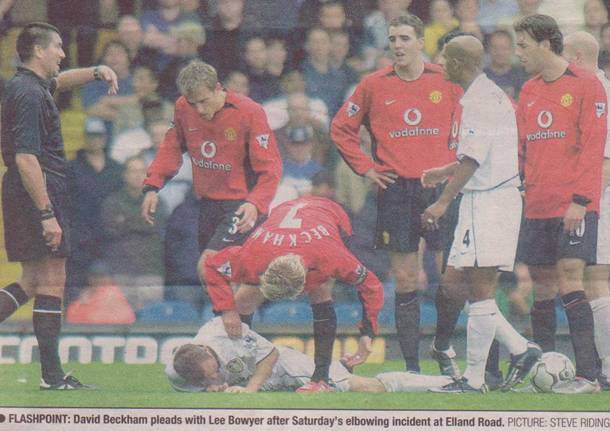 <![endif]>    
<![if !vml]>
<![endif]>    <![if !vml]>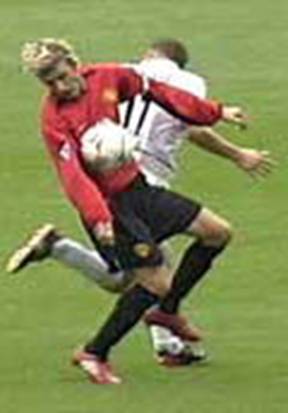 <![endif]>     <![if !vml]>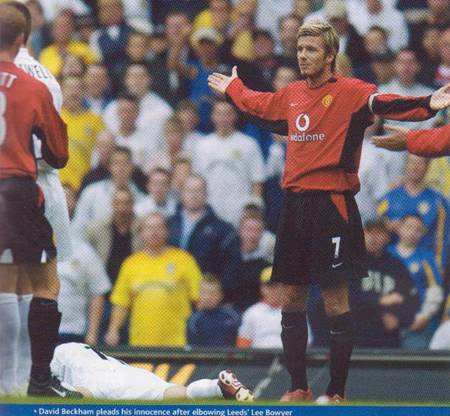 <![endif]>
The Beckham/Bowyer incident
Players:
<![if !vml]>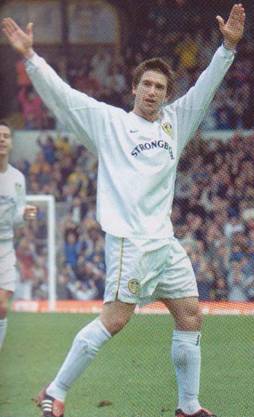 <![endif]>            <![if !vml]>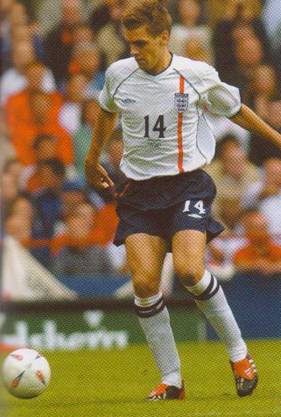 <![endif]>           <![if !vml]>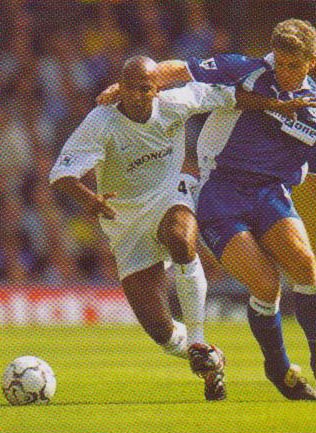 <![endif]> 
Harry Kewell scored a deserved winner          Jonathan Woodgate was superb                             Olivier Dacourt returned to his best           
<![if !vml]>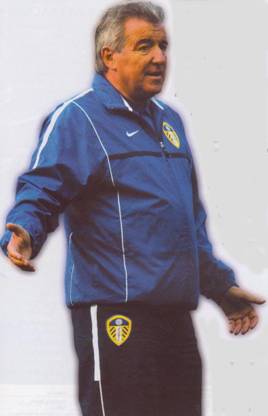 <![endif]> <![if !vml]>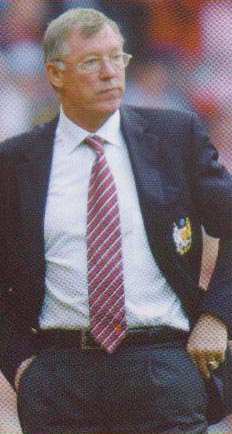 <![endif]>      <![if !vml]>

<![endif]> <![if !vml]>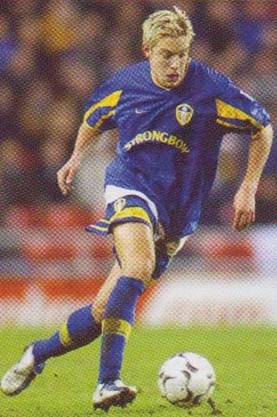 <![endif]>  
Terry Venables beat Alex Ferguson at the first attempt                                       Paul Robinson and Alan Smith were in fine form           
<![if !vml]>
<![endif]>     <![if !vml]>
<![endif]>     <![if !vml]>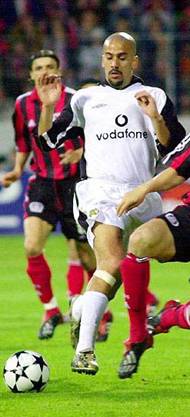 <![endif]>      <![if !vml]>
<![endif]>
Lee Bowyer appeared to get          Ian Harte crossed for                     Juan Sebastian Veron was          Fabien Barthez was in goal
an elbow                                           the winner                                       one of many missing stars
<![if !vml]>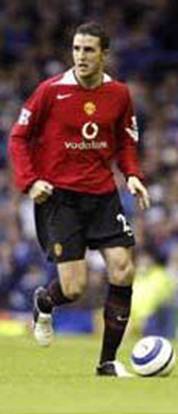 <![endif]> <![if !vml]>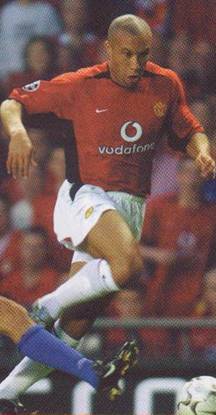 <![endif]> <![if !vml]>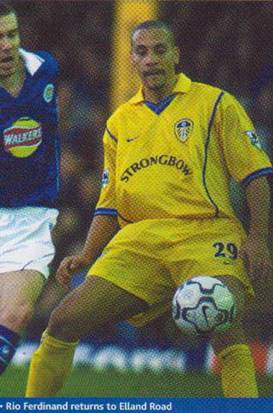 <![endif]> <![if !vml]>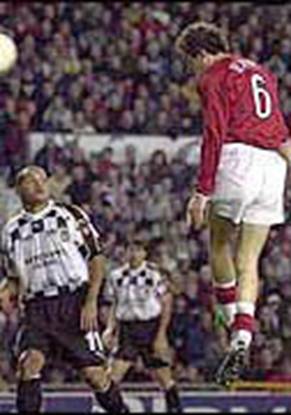 <![endif]>
John O'Shea and Mikael Silvestre were the full-backs                     Rio Ferdinand was paired in central defence with Laurent Blanc
<![if !vml]>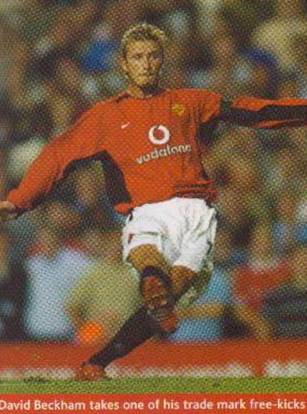 <![endif]> <![if !vml]>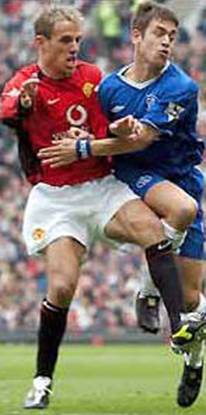 <![endif]> <![if !vml]>
<![endif]> <![if !vml]>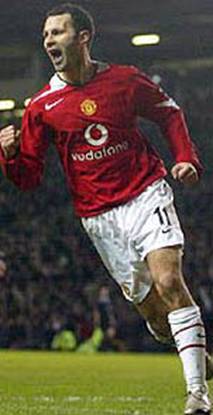 <![endif]> 
                The midfield comprised David Beckham, Phil Neville, Nicky Butt and Ryan Giggs
<![if !vml]>
<![endif]>    <![if !vml]>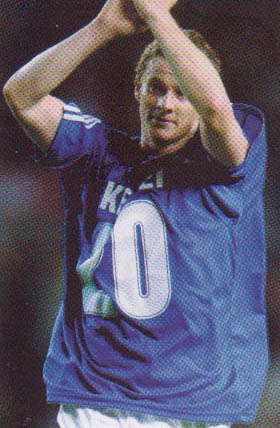 <![endif]>  <![if !vml]>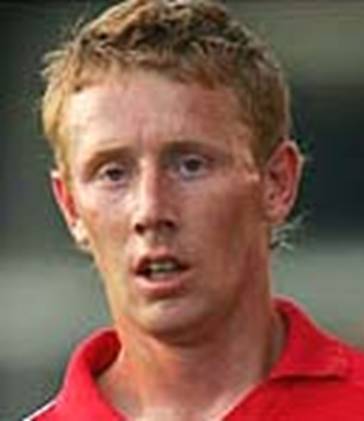 <![endif]>
Ruud Van Nistelrooy and Ole Gunnar Skolsjaer were the strikers                                          Lee Roche was an unused substitute
<![if !vml]>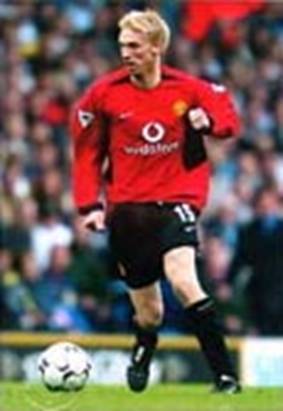 <![endif]>    <![if !vml]>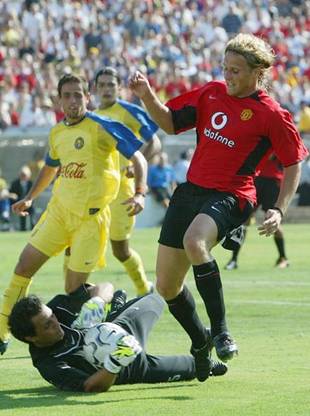 <![endif]>            <![if !vml]>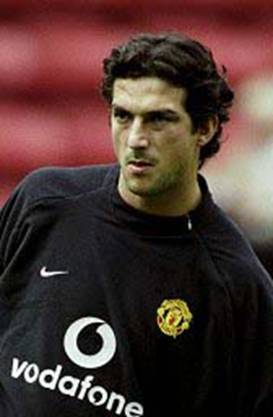 <![endif]>
  Luke Chadwick and Diego Forlan were used as substitutes                                                                 Goalkeeper Lopez Felipe Ricardo was unused
  <![if !vml]>
<![endif]>     <![if !vml]>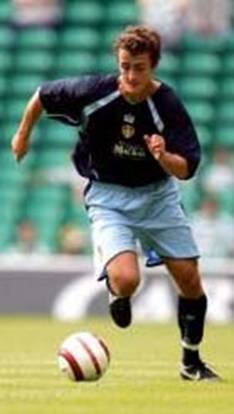 <![endif]> 
Danny Pugh was also unused substitutes.               Danny Pugh later played for Leeds.