<![if !vml]>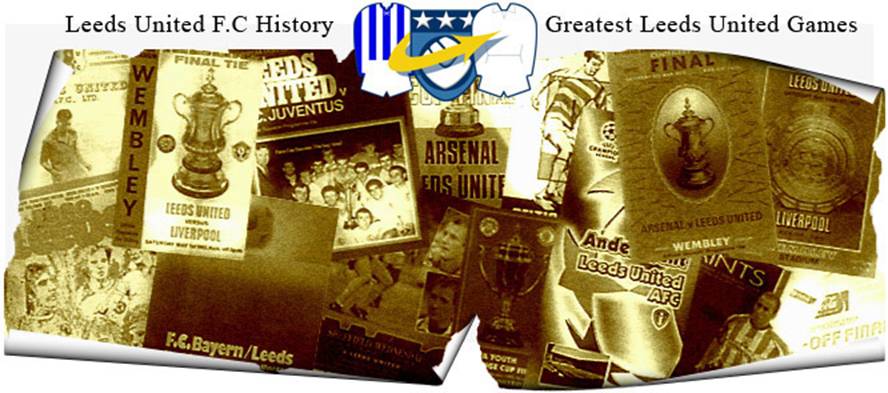 <![endif]>
Date: Tuesday, 14th September 1999.
Venue: Abe Lenstra Stadion, Heerenveen, Holland.
Competition: UEFA Cup, First Round, First Leg.
Score: Partizan Belgrade 1 Leeds United 3.
Scorers: Partizan Belgrade: Tomic. Leeds United: Bowyer (2), Radebe.
Attendance: 2,500.
Teams:
 <![if !vml]>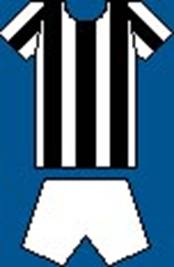 <![endif]><![if !vml]>

<![endif]>
Partizan Belgrade: Damjanac; Savic, Rasovic, Stanojevic, Krstajic; Trobok, Ivic (Stojakovic), Ilic (Gerasimovski), Tomic; Iliev (Pekovic), Kezman. Unused Subs; Duljaj, Vukovic, Pantic, Miskovic.
<![if !vml]>
<![endif]><![if !vml]>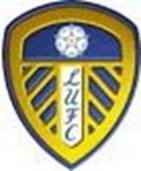 <![endif]>
Leeds United: Martyn; Mills, Woodgate, Radebe, Harte; Kelly, Batty, Hopkin, Bowyer, Kewell; Bridges (Smith).Unused Subs: Haaland, Huckerby, Bakke, Hiden, Hay, Robinson.                           
Referee: Herbert Fandel (Germany).
It took almost two weeks to confirm a venue for United's UEFA Cup opener against Partizan Belgrade. The European Union had severed all sporting links with war-torn Yugoslavia and there was never any real question of United being forced to make the trip. Eventually it was confirmed that the tie would take place at Heerenveen and United followers greeted the decision with delight. Leeds supporters outnumbered their "hosts" by two to one and they were rewarded with a tremendous performance. Partizan rocked Leeds by taking an early lead, but Lee Bowyer hit back by scoring twice with Lucas Radebe also finding the mark.
The excruciating tension going into the game, which had been jinxed since the pairing was made, soon evaporated as Gary Kelly shook the Partizan crossbar as early as the seventh minute after Michael Bridges had worked the opening and it was apparent that the Serbian defence was not impregnable. Lee Bowyer was unlucky to be flagged offside as a David Batty through ball had put him in the clear. Gary Kelly and Michael Bridges were both only slightly off target with glancing headers and it came as a total surprise when against the run of play Partizan took the lead.
After twenty minutes, Dorde Tomic found danger man Mateja Kezman, whose shot could only be parried by Nigel Martyn and Tomic put away the rebound. This set off the Red Flares by the Belgrade supporters, but their joy was short-lived as United drew level within five minutes. Ian Harte's searching corner was weakly punched clear by the flapping and indecisive keeper Nikola Damjanac and Lee Bowyer was able to volley an unstoppable left foot shot into the far corner from the edge of the area. Partizan immediately retaliated and just one minute later they were awarded a penalty as the badly exposed Lucas Radebe brought down Meteja Kezman as he was showing off his dazzling skills. Vuk Rasovic hit his shot well, but Nigel Martyn atoned for his earlier mistake with a fabulous save.
The missed penalty made the Yugoslavian heads droop and United were soon in total command and in the thirty-ninth minute there was a rare goal from Lucas Radebe, only his second in five years with the club, and it came in unusual and special circumstances. Up in support of the attack, Radebe found himself on his back in the area as Ian Harte's free-kick was flicked on by Jonathan Woodgate and, as it fell, Radebe produced an overhead kick to send the ball into the net.
Michael Bridges had a bizarre five minutes before the break. He injured his head as he turned the ball just wide from an Ian Harte corner. He received treatment and then got booked for returning to the action uninvited, as he came back sporting a massive head bandage. Parizan rallied somewhat in the second half and went close when Lucas Radebe headed a shot from Tomic off the line, while a Vladimir Ivic snapshot was easily gathered by Nigel Martyn, Jonathan Woodgate tidied up when Ivic threatened and a dipping shot from Goran Trobok was just over. The game was sealed in the eighty-second minute when the irrepressible Lee Bowyer took Nikola Damjanac by surprise with a shot that was more out of hope than anything else but the keeper only made a token effort and it nestled in the back of the net. There was no way back for Partizan and their team failed to live up to their reputation as one of the better teams in Europe and United took a two goal cushion into the return leg at Elland Road.
<![if !supportLineBreakNewLine]>
<![endif]>
<![if !vml]>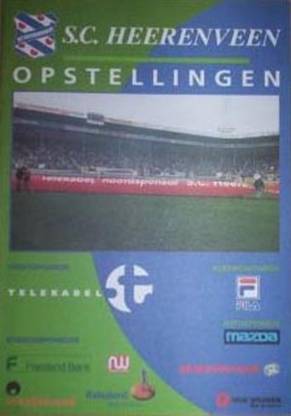 <![endif]>
Match Action:
<![if !vml]>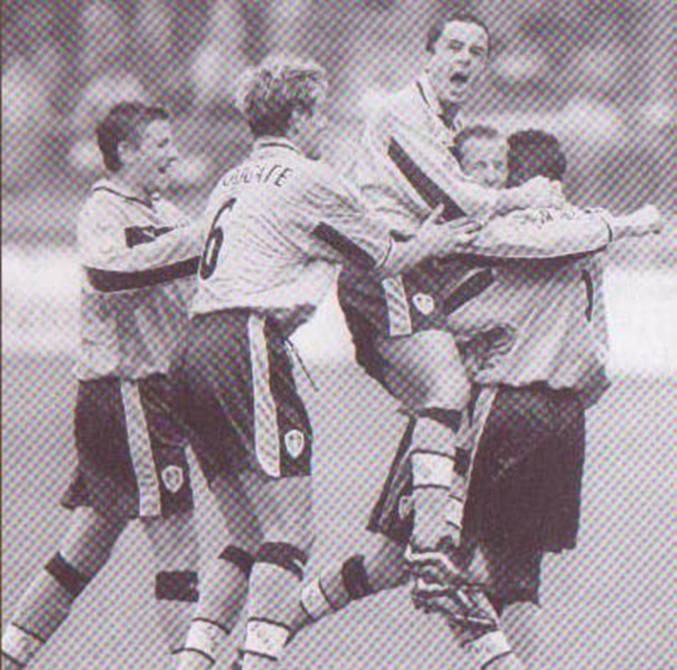 <![endif]> <![if !vml]>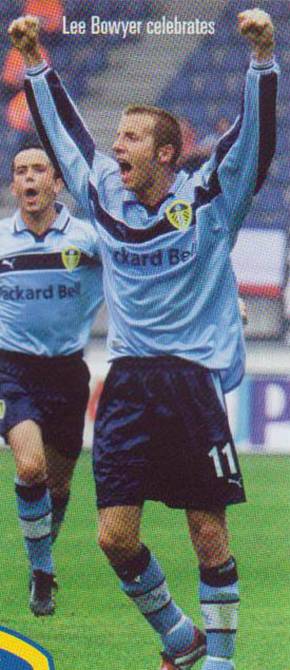 <![endif]>
Lee Bowyer is mobbed after getting the equalizer
<![if !vml]>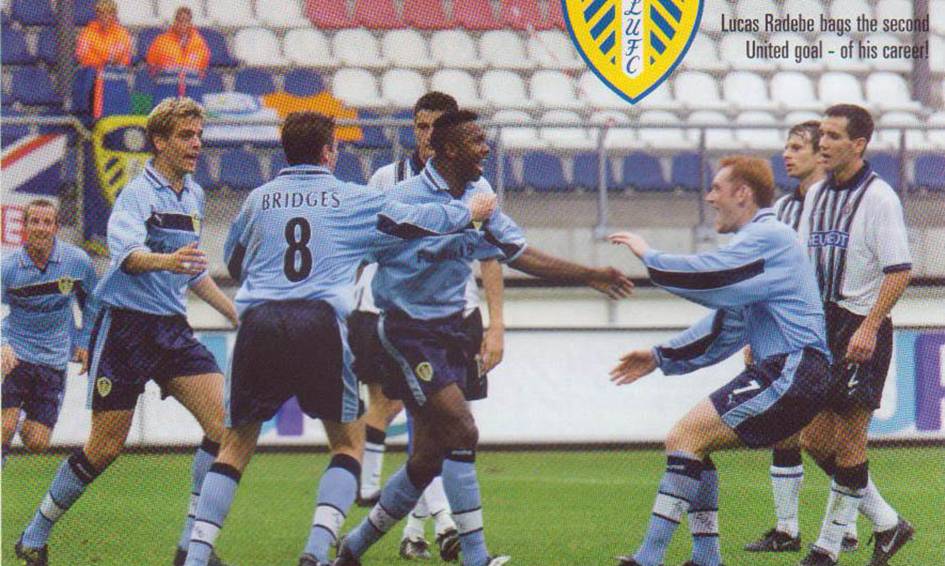 <![endif]> 
<![if !vml]>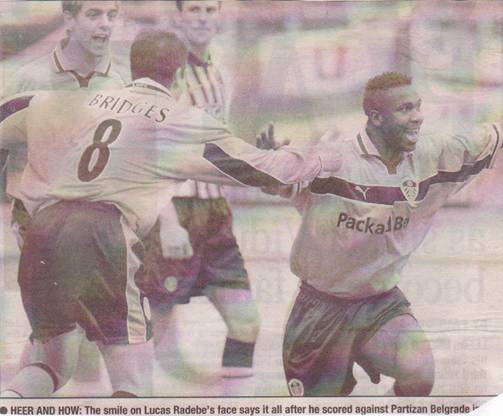 <![endif]>  <![if !vml]>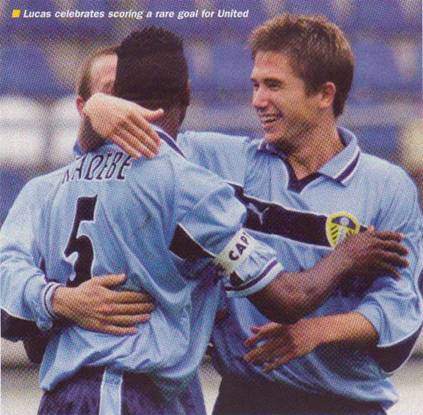 <![endif]>
<![if !vml]>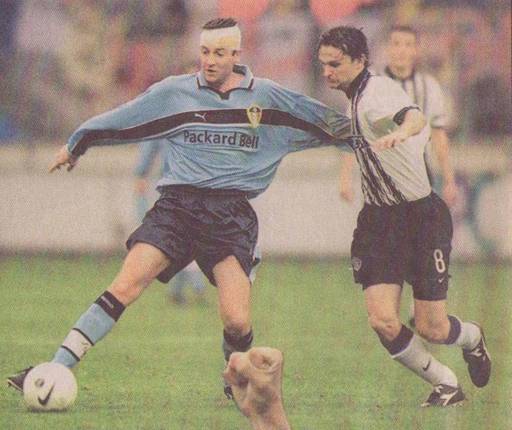 <![endif]>       <![if !vml]>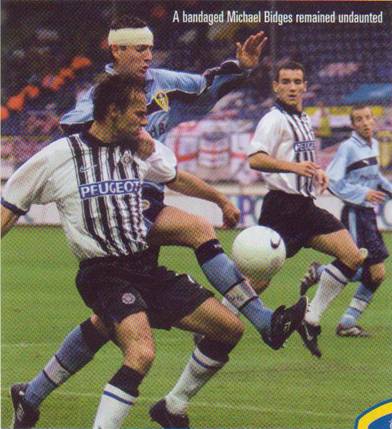 <![endif]>
A head bandaged Michael Bridges holds odd Goran Trobock
<![if !vml]>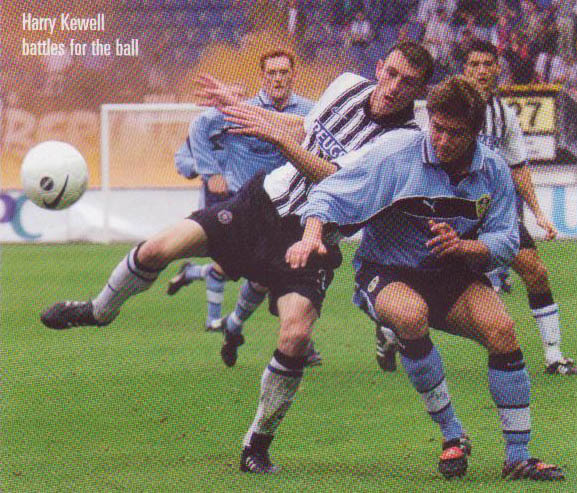 <![endif]>  <![if !vml]>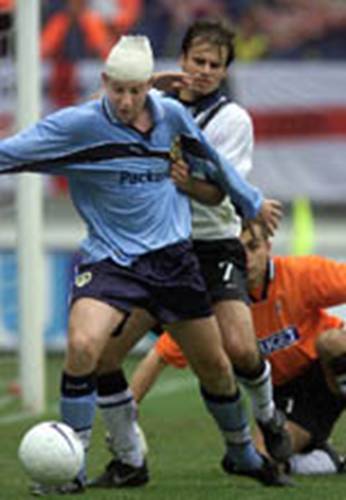 <![endif]>
<![if !vml]>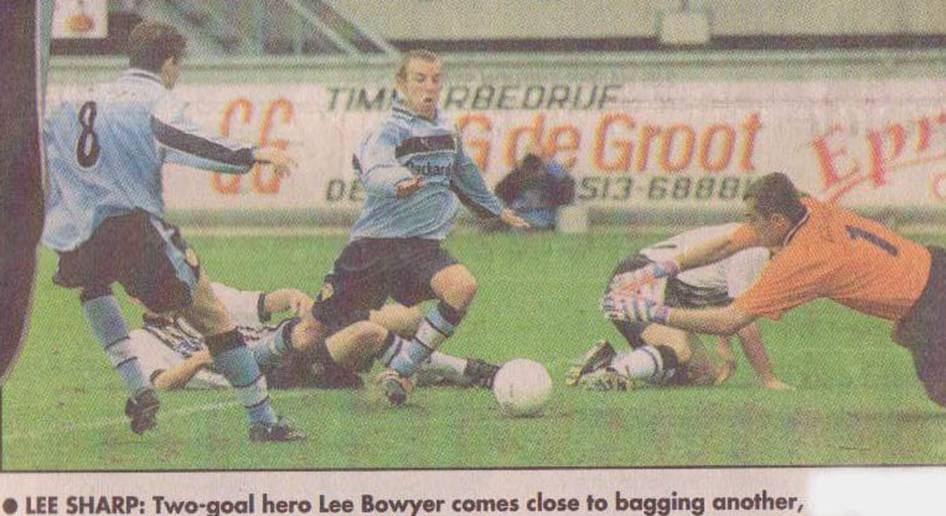 <![endif]> 
<![if !vml]>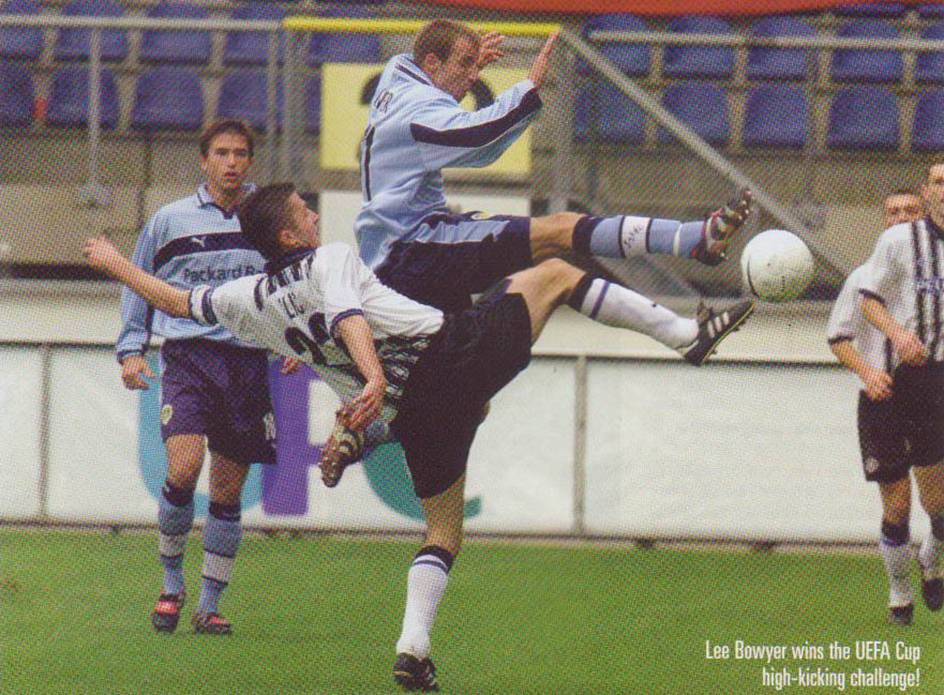 <![endif]> 
<![if !vml]>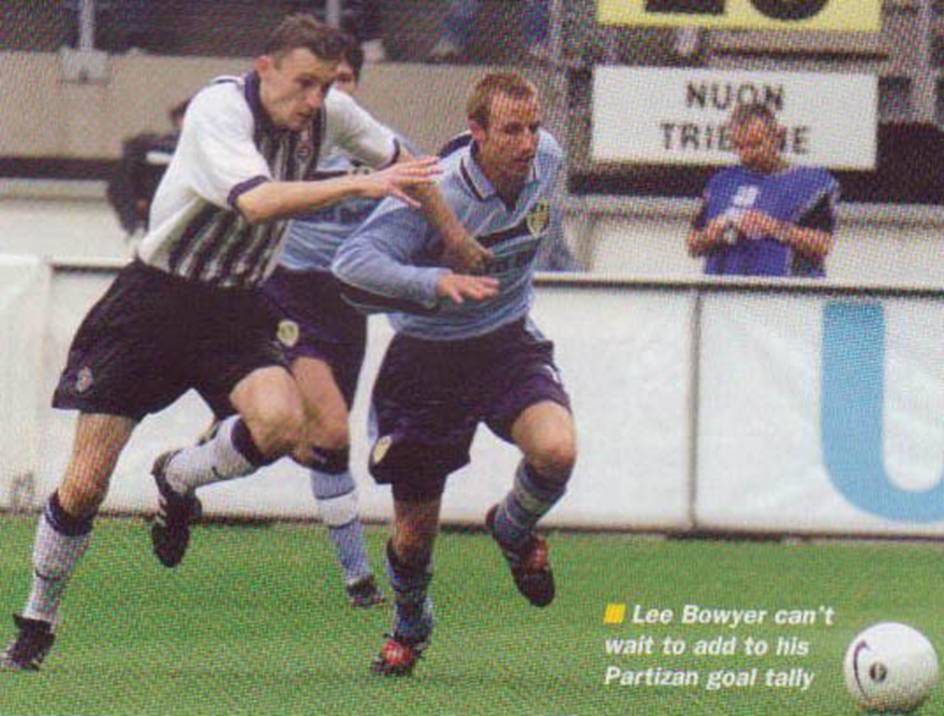 <![endif]>
<![if !vml]>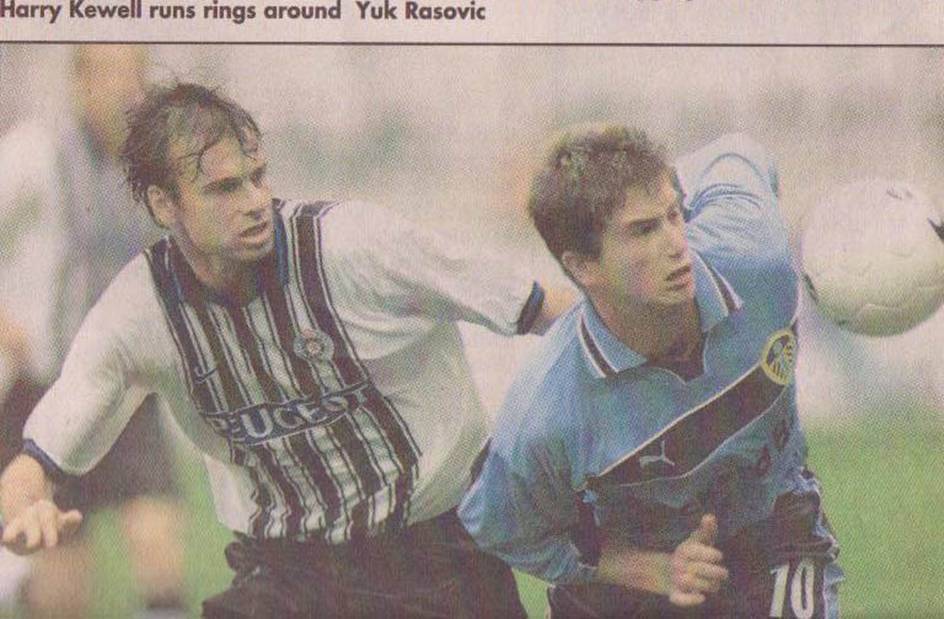 <![endif]> 
<![if !vml]>
<![endif]>   <![if !vml]>
<![endif]>
Substitute Alan Smith can't beat the Nikola Damjanac in the Partizan goal     Goalscorers Lucas Radebe and Lee Bowyer celebrate victory
Teams:
<![if !vml]>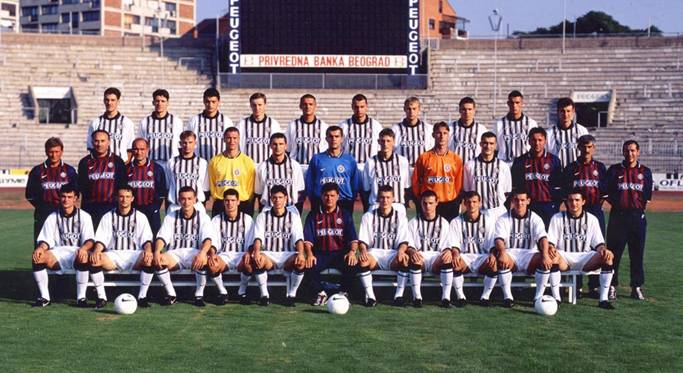 <![endif]>
Partizan Belgrade: Yugoslavian Champions 1999-2000
BackRow: Krstjic, Svetlicic, Ivic, Vukovic, Pazin, Bjekovic, Obradovic, Calija, Gerasimovski.
Middle Row: Radovic (Assistant Manager), Brankovic (Physio), Radakovic (Coach), Sabo,
Ljubanovic, Tesovic, Damjanac, Savic, Radisa Ilic, Stojanovski, Belojevic (Goalkeeper Coach),
Paunovic (Coach), Vucicevic (Economist).
Front Row: Marinkovic, Trobok, Iliev, Jeremic, Kezman, Tumbakovic (Manager), Sasa Ilic,
Duljaj, Rankovic, Rasovic, Stojisavljevic.
<![if !vml]>
<![endif]>
Leeds United: 1999-2000
Back Row: Robert Molenaar, Michael Bridges, Jonathan Woodgate, Nigel Martyn,
Michael Duberry, Paul Robinson, Eirik Bakke, Alf-Inge Haaland, David Hopkin.
Middle Row: Sean Hardy (Kit Manager), Bruno Ribeiro, Ian Harte, David Batty, Gary Kelly,
Danny Mills, Darren Huckerby, Eddie Gray (Assistant Manager), David Swift (Physio).
Front Row: Stephen McPhail, Alan Smith, Harry Kewell, Peter Ridsdale (Director), Lucas Radebe,
David O'Leary (Manager), Lee Bowyer, Matthew Jones, Martin Hiden.
Players:
<![if !vml]>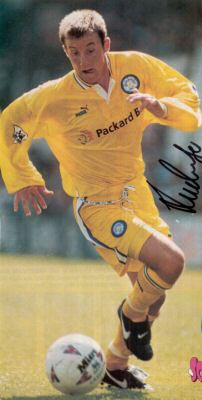 <![endif]> <![if !vml]>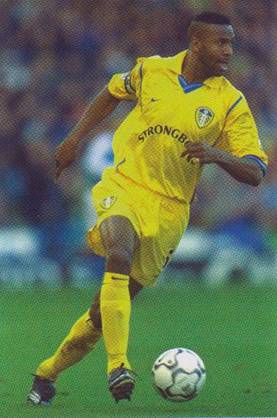 <![endif]>          <![if !vml]>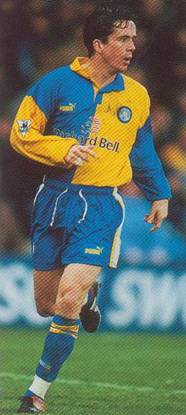 <![endif]> <![if !vml]>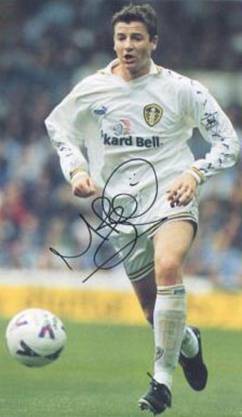 <![endif]>
Lee Bowyer (2) and Lucas Radebe scored the United goals                                   Gary Kelly and Michael Bridges were only slightly off target
                                                                                                                                     with glancing headers
<![if !vml]>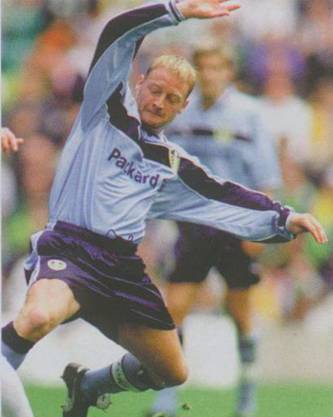 <![endif]>            <![if !vml]>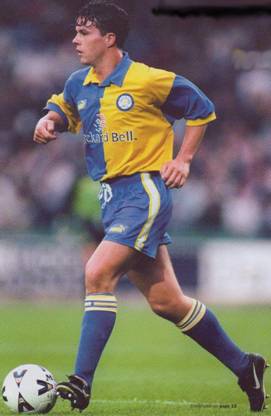 <![endif]> <![if !vml]>
<![endif]> 
David Batty put Bowyer through                                           Ian Harte and Jonathan Woodgate were involved in the lead up to the scond goal.
<![if !vml]>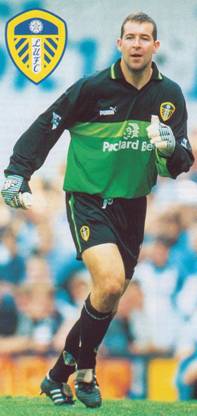 <![endif]>    <![if !vml]>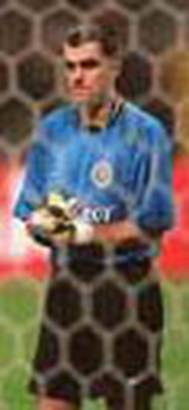 <![endif]>     <![if !vml]>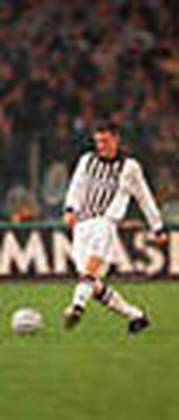 <![endif]>  <![if !vml]>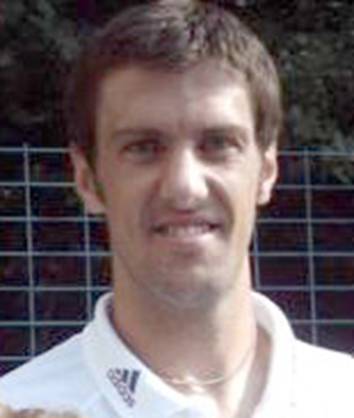 Nigel Martyn saved a penalty. Nikola Damjanac was in goal. Branko Savic and Mladen Krstajic were at full-back
<![if !vml]>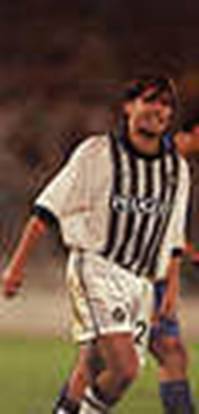 <![endif]> <![if !vml]>
<![endif]>  <![if !vml]>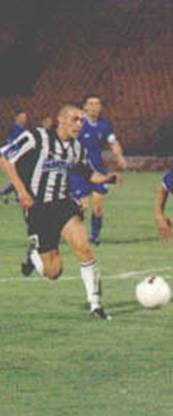 <![endif]> <![if !vml]>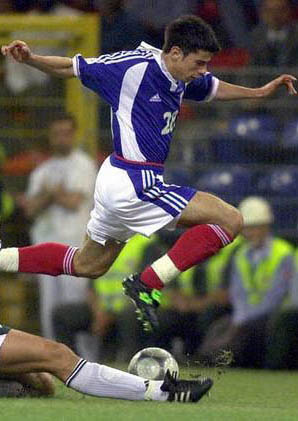 <![endif]>
Vuk Rasovic and Jovo Stanojevic were in central defence                              Ivica Iliev and Meteja Kezman were the strikers
<![if !vml]>
<![endif]> <![if !vml]>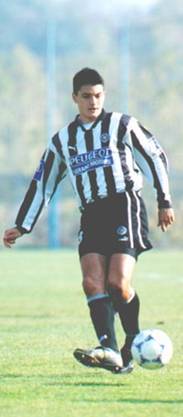 <![endif]> <![if !vml]>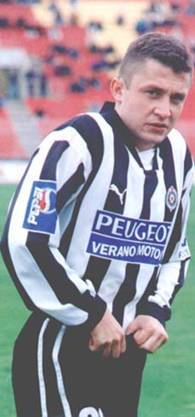 <![endif]> <![if !vml]>
<![endif]>
Goran Trobok, Vladimir Ivic, Sasa Ilic and Dorde Tomic were in midfield
<![if !vml]>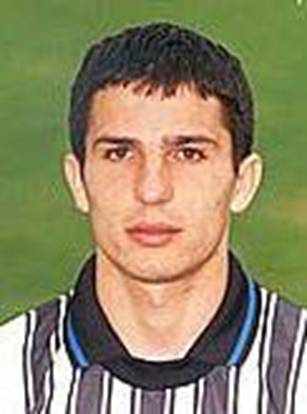 <![endif]>  <![if !vml]>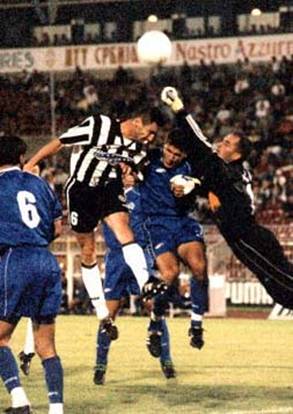 <![endif]>  <![if !vml]>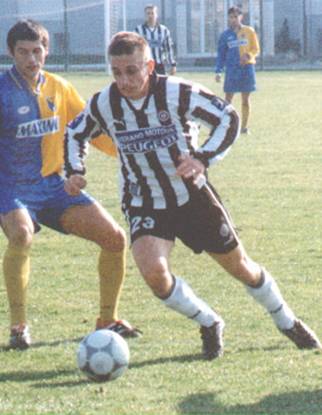 <![endif]>
                                        Nenad Stojakovic, Marjan Gerasimovski and Milorad Pekovic came on as substitutes