<![if !vml]>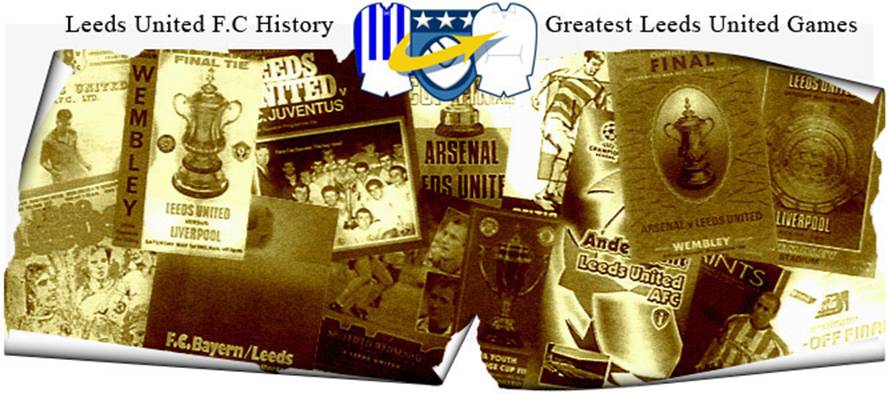 <![endif]>
Date: Sunday, 14th September 1997.
Venue: Ewood Park, Blackburn.
Competition: English Premier League.
Score: Blackburn Rovers 3 Leeds United 4
Scorers: Blackburn Rovers: Gallacher, Sutton (pen), Dahlin. Leeds United: Wallace (2), Molenaar, Hopkin.
Attendance: 21,956.
Teams:
<![if !vml]>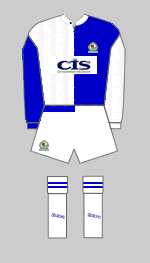 <![endif]><![if !vml]>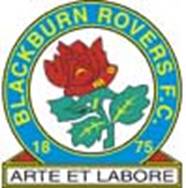 <![endif]>
Blackburn Rovers: Flowers; Valery (Andersson), Henchoz, Hendry, Kenna; Wilcox (Sherwood), Flitcroft, Bohinen (Duff); Gallacher, Sutton, Dahlin.
<![if !vml]>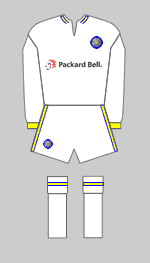 <![endif]><![if !vml]>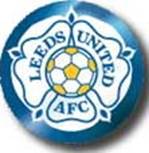 <![endif]>
Leeds United: Martyn; Kelly, Molenaar (Ribeiro), Wetherall, Halle, Robertson; Hopkin, Radebe, Kewell; Wallace, Hasselbaink (Lilley). Unused Subs: Haaland, Bowyer, Beeney.
Referee: Mr S.W. Dunn (Bristol).
Rod Wallace fights shy of publicity, preferring to let his boots do his talking for him, and they certainly did in an explosive seven goal thriller at Ewood Park. The little striker's double blast, a cracking volley from Robert Molenaar and skipper David Hopkin's first goal for the club, enabled United to end a goalless three game losing sequence in the most spectacular fashion. They sent Blackburn crashing to their first defeat of the season and prevented them from regaining top spot in the premiership, though the Lancashire side scored three themselves and did almost everything else except score a fourth.
The quicksilver Wallace, whose Press interviews are as rare as a blank sheet at Ewood Park, was so camera shy that he declined Sky TV's invitation to go on-screen to receive his richly deserved "Man-of-the Match" award. He had shown true goal-poaching instinct to put United into a fourth minute lead after Tim Flowers had failed to hold Gary Kelly's header from an excellent Harry Kewell cross. Then he brought the delighted United fans to their feet with his second after nineteen minutes, weaving his way along the edge of the penalty area and holding off a challenge from Lars Bohinen to hammer a superb eighteen yard shot into the top corner of the goal.
In between those strikes there had been three others. Robert Molenaar had put United two up with a fierce volley from Kelly's seventh minute corner-kick, but Kevin Gallacher's screamer after nine minutes and a Chris Sutton penalty in the sixteenth minute had squared the match at two each. Only five minutes after Wallace's second goal, Hopkin, thanks to fine approach work from Jimmy-Floyd Hasselbaink, found the time and space to settle himself and pick his spot before duly firing in his first goal for United.
United held a 4-2 advantage after just twenty-four minutes play, but their lead was cut again when Martin Dahlin swivelled neatly to hit a firm low angled drive past Nigel Martyn after thirty-four minutes, and the seven goals had made it a feast of entertainment for fans and television viewers alike.
However, an incident packed ninety minutes also saw seven bookings, six of them for United players, including young Australian midfielder Harry Kewell, who was sent off in the second half for a second yellow card offence. Bristol referee Steve Dunn blew for a string of fouls by United players, awarded a dubious penalty from which Sutton scored and turned down three other penalty claims when there seemed a more genuine case. Gunnar Halle was lucky to get away with a push on Martin Dahlin, as was Robert Molenaar, and Colin Hendry might have been punished when he brought down Rod Wallace.
George Graham had said that his men would not wilt in the face of a Blackburn side that had amassed more Premiership goals than any other side to date, and they certainly didn't. United showed all the determination of a side smarting from recent criticism. David Hopkin had said that he felt that United had the players to match Blackburn and this turned out to be an accurate assessment.
Rod Wallace looked like a player on fire and his display was first class, especially in the first half when his pace and skills were frequently in evidence, but there was another very promising display from the eighteen-year-old Harry Kewell, who seemed destined to become a top class player. It was a pity that he found himself sent off twelve minutes from the end for twice rolling the ball back at a free kick when Rovers attempted to gain a few yards. "The referee could have had a few words with him. That's in the spirit of the game, but to send him off like that is laughable." said Graham." Kewell is only a young lad and I don't think that the referee knew he had even booked him earlier".
Despite the efforts of Chris Sutton and Martin Dahlin, Rovers could not pull level again and United, packing their defence to cover the loss of Kewell, held out for their second win of the season.
<![if !vml]>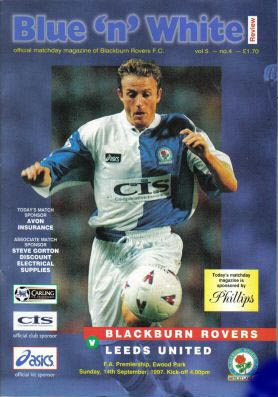 <![endif]>
Match Action:
<![if !vml]>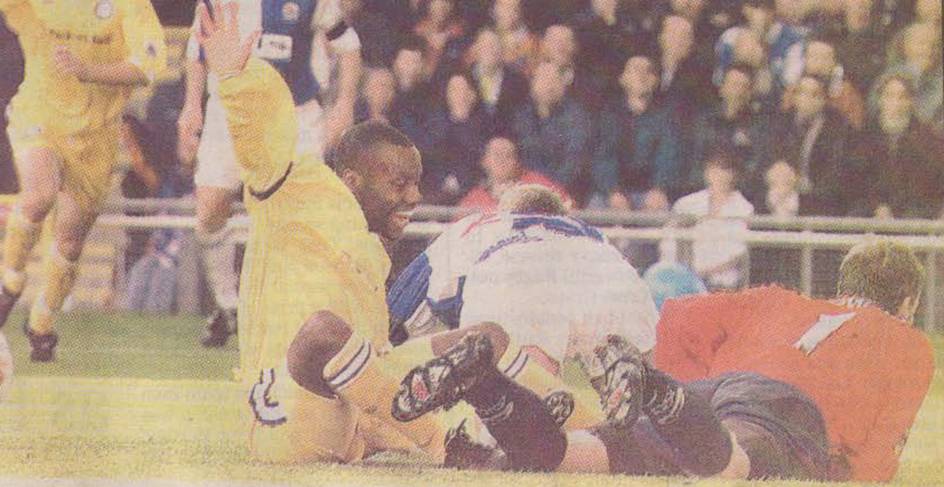 <![endif]>
Rod Wallace shows poaching skills to score United's first goal
<![if !vml]>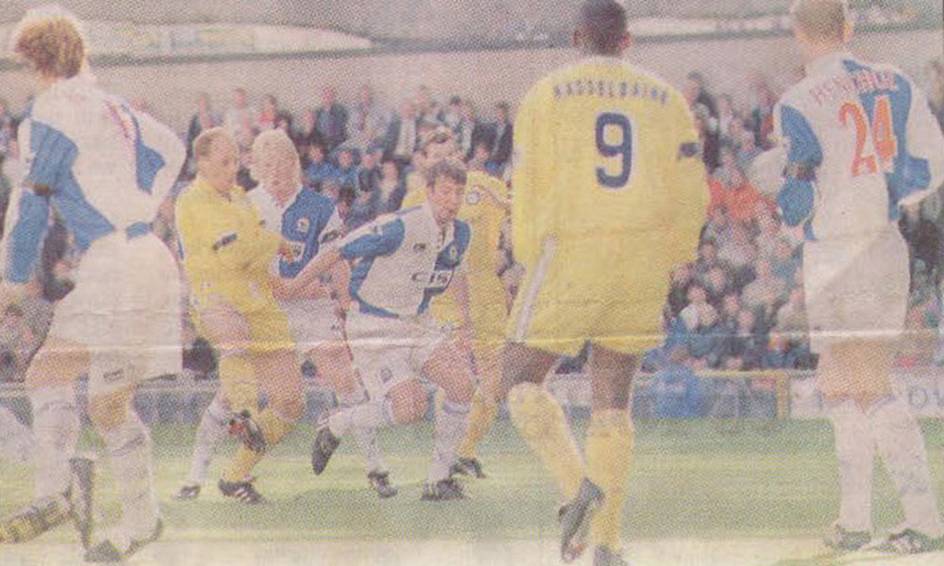 <![endif]>
Robert Molenaar gets the second goal
<![if !vml]>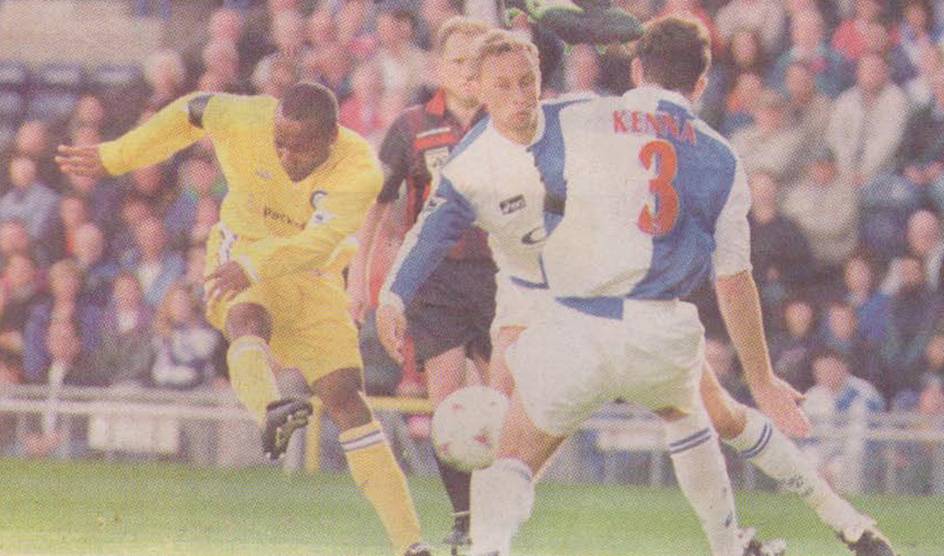 <![endif]>
Rod Wallace slots in his second and United's third goal
<![if !vml]>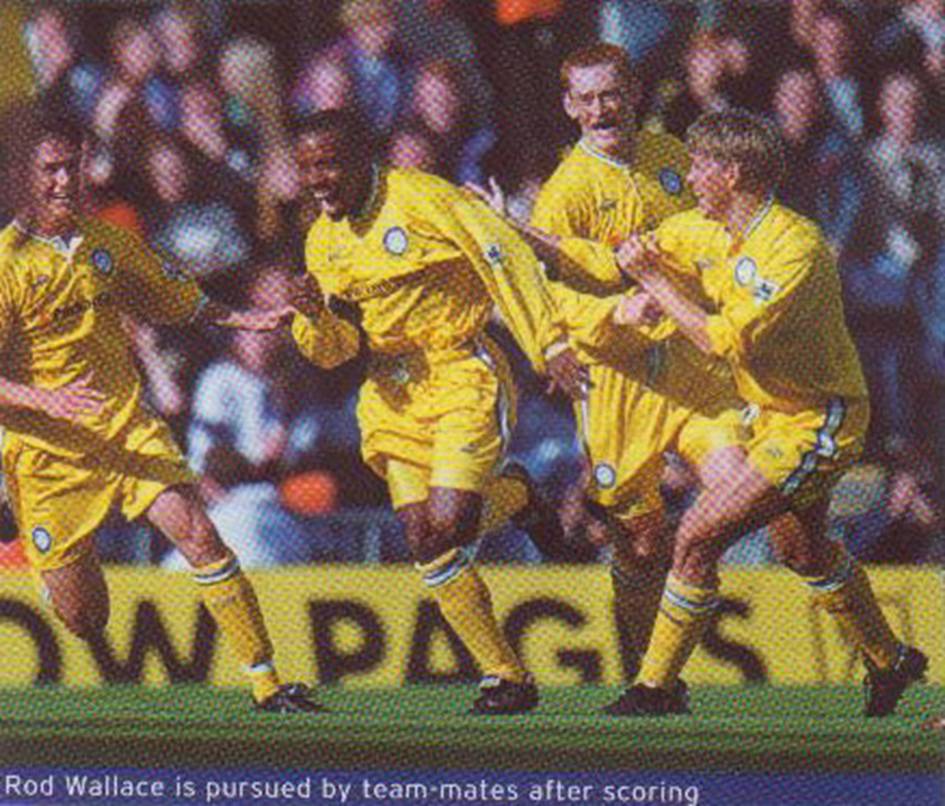 <![endif]>
<![if !vml]>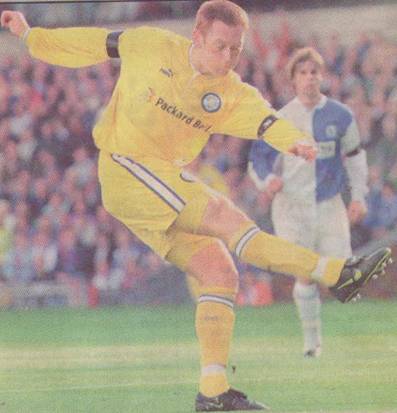 <![endif]> <![if !vml]>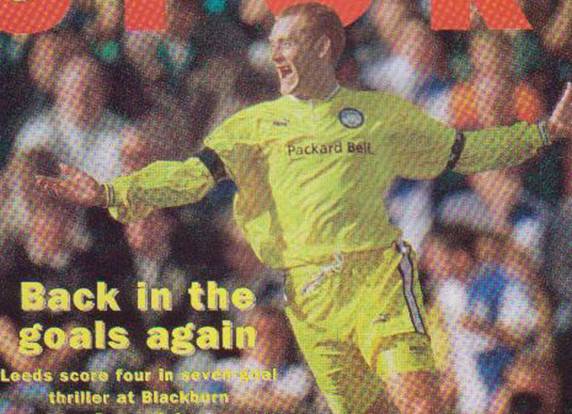 <![endif]>
David Hopkin gets the United fourth goal                                                   and celebrates
<![if !vml]>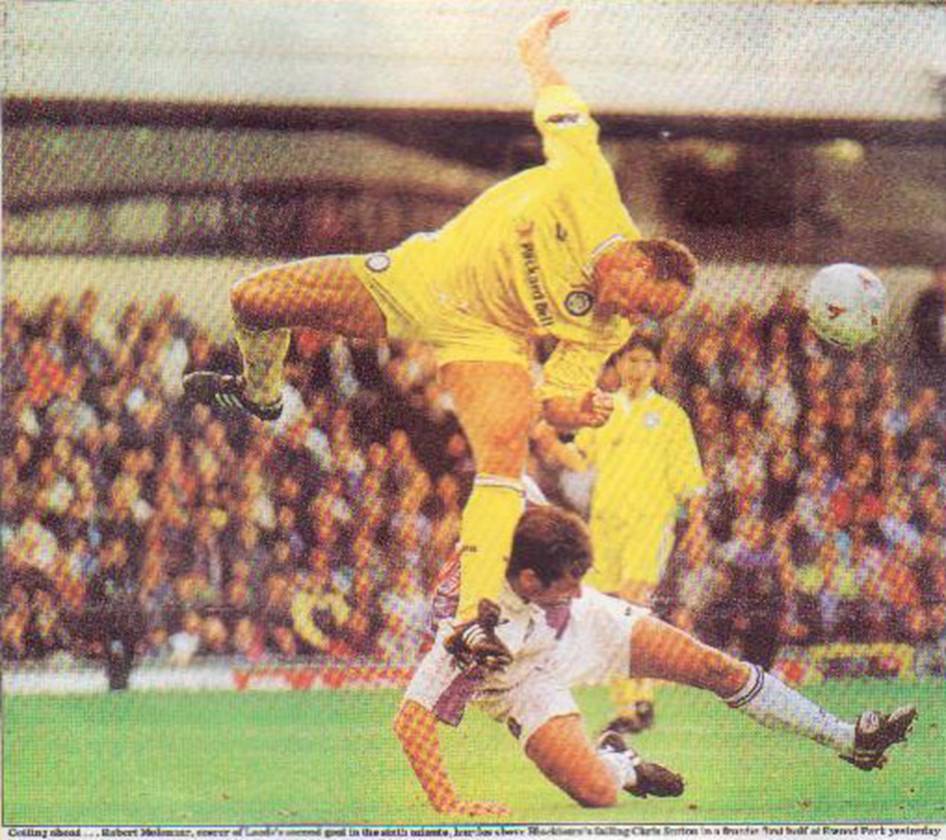 <![endif]>     
<![if !vml]>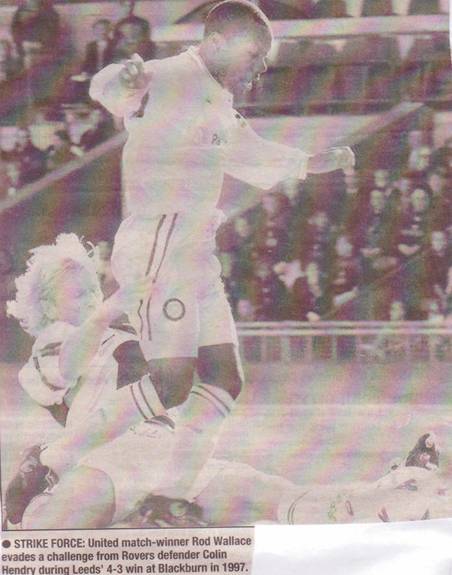 <![endif]> <![if !vml]>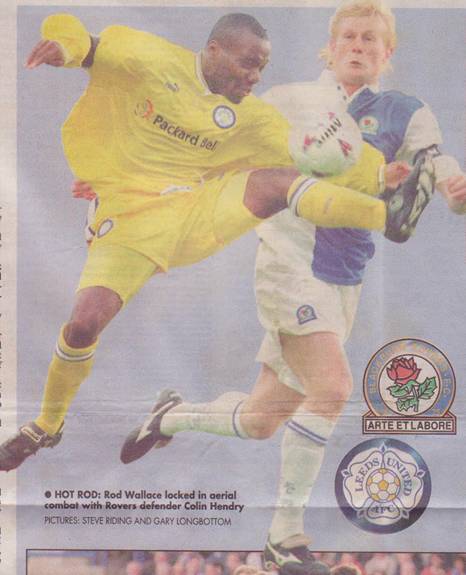 <![endif]> 
Players:
<![if !vml]>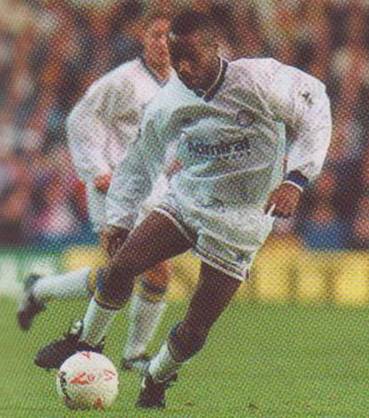 <![endif]>    <![if !vml]>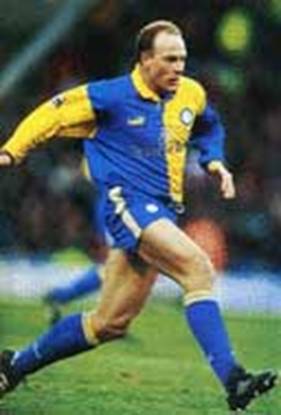 <![endif]>    <![if !vml]>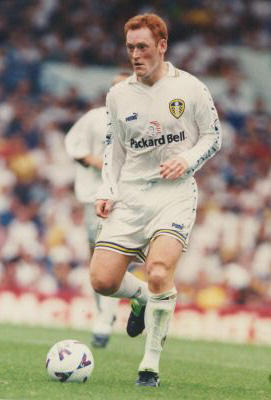 <![endif]>
                 Rod Wallace (2) Robert Molenaar and David Hopkins scored the Leeds goals
<![if !vml]>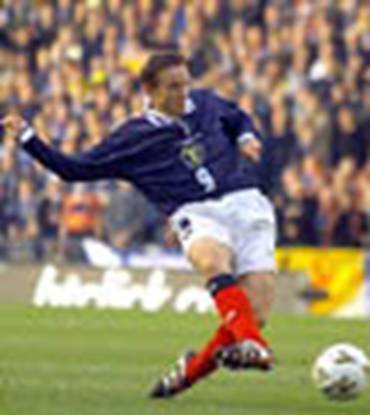 <![endif]>    <![if !vml]>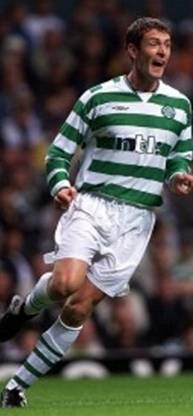 <![endif]>    <![if !vml]>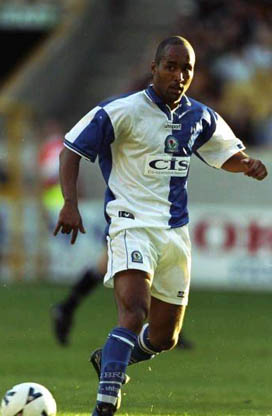 <![endif]>
                             Kevin Gallacher, Chris Sutton and Martin Dahlin replied for Blackburn
<![if !vml]>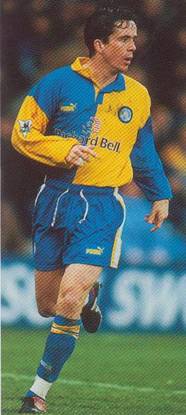 <![endif]>  <![if !vml]>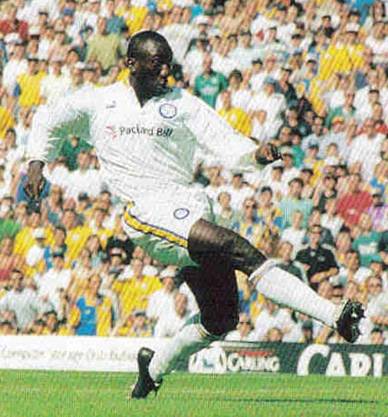 <![endif]>  <![if !vml]>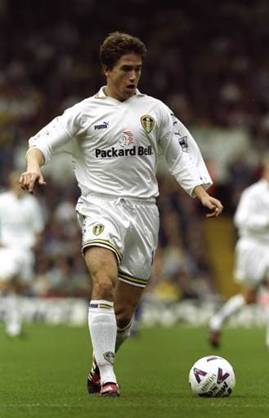 <![endif]>
Gary Kelly was involved in the first two goals, Jimmy-Floyd Hasselbaink was involved in the third, and Harry Kewell was unnecessarily sent-off
<![if !vml]>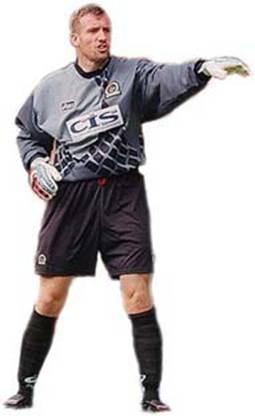 <![endif]>        <![if !vml]>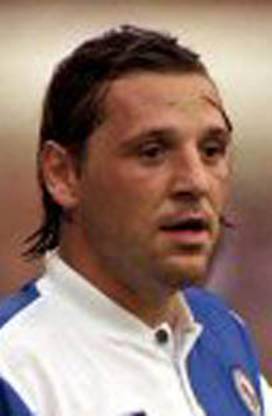 <![endif]> <![if !vml]>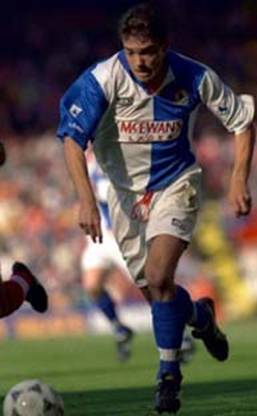 <![endif]> 
Tim Flowers was in goal for Rovers             Patrick Valery and Jeff Kenna were the full-backs                     
<![if !vml]>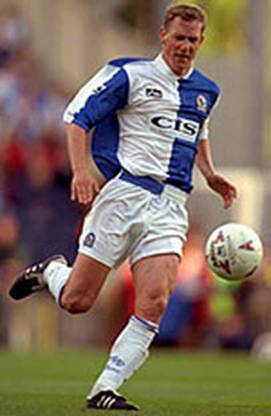 <![endif]> <![if !vml]>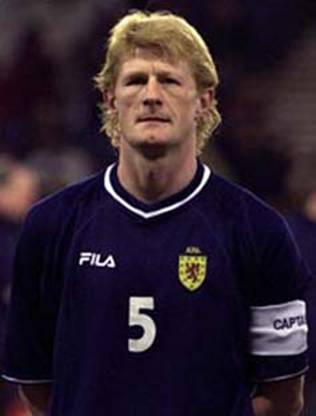 <![endif]> 
Stephane Henchoz and Colin Hendry were the centre-backs
<![if !vml]>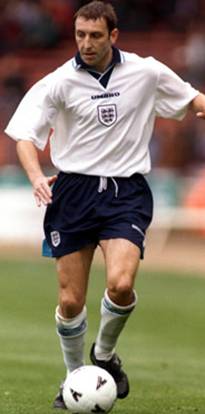 <![endif]>  <![if !vml]>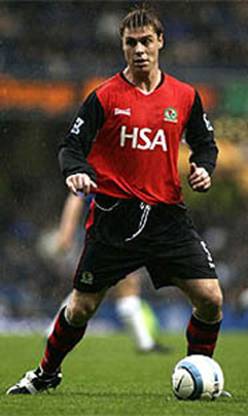 <![endif]>  <![if !vml]>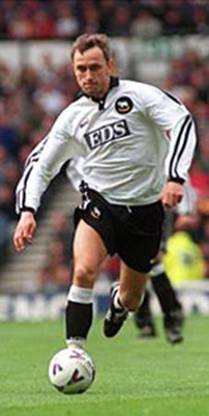 <![endif]>
Future United player, Jason Wilcox, Gary Flitcroft and Lars Bohinen were in midfield with Kevin
Gallacher, Chris Sutton and Martin Dahlin the strikers
<![if !vml]>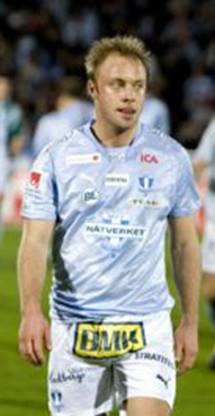 <![endif]>  <![if !vml]>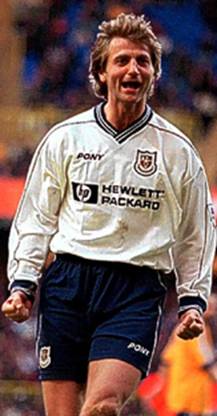 <![endif]>  <![if !vml]>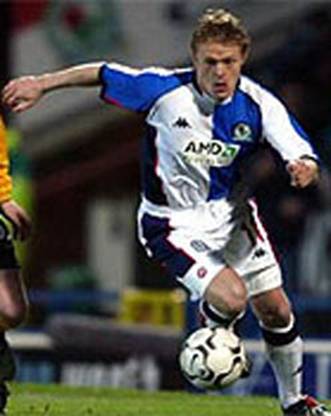 <![endif]>
Anders Andersson, Tim Sherwood and Damien Duff were the substitutes