<![if !vml]>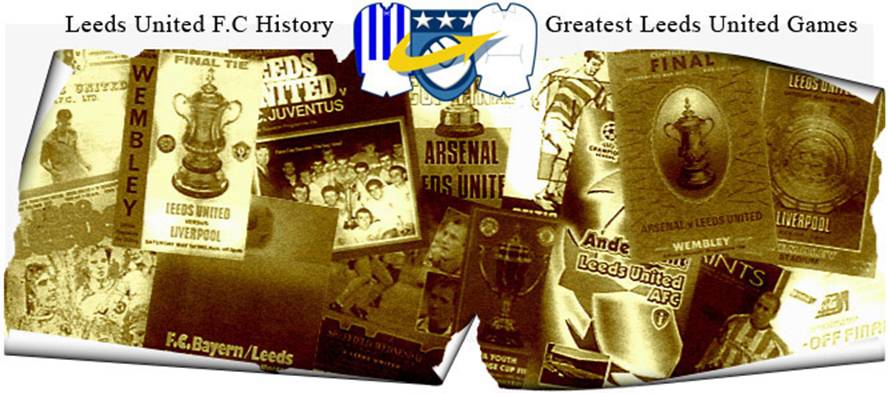 <![endif]>
Date: Thursday, 14th May 1987.
Venue: Elland Road, Leeds.
Competition: Second Division Playoff Semi-Final First Leg.
Score: Leeds United 1 Oldham Athletic 0.
Scorers: Leeds United: Edwards. Oldham Athletic: Nil.
Attendance: 29,472.                                                                                                       
Teams:
<![if !vml]>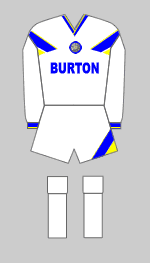 <![endif]><![if !vml]>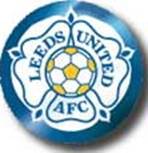 <![endif]>
Leeds United: Day; Aspin, McDonald; Aizlewood, Ashurst, Ormsby; Ritchie (Edwards), Sheridan, Pearson, Baird, Adams.
<![if !vml]>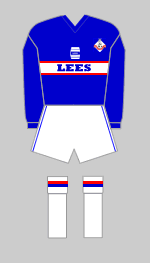 <![endif]><![if !vml]>
<![endif]>
Oldham Athletic: Goram; Irwin, Barlow: Henry, Linighan, Moore; Palmer, Cecere, Wright, Milligan, Williams.
Referee: Mr. G.M. Tyson (Sunderland)
Only a small percentage of Keith Edwards' two hundred and fifty-nine career goals were scored for Leeds United, but two of his most important strikes were in the famous white shirt. While a last-gasp equaliser in the Semi-Final of the FA Cup would be enough for most strikers to celebrate, even in defeat, it was Edwards' contribution to United's efforts in the inaugural play-offs that stands out the most. The Twenty-nine-year-old, who joined Leeds for £125,000 in the summer of 1986 after boasting a goal average of one every two games, may have struggled for a regular place in Billy Bremner's side, he was given the all-too familiar tag of being a "super-sub", but he scored two of the most vital goals in the club's history.

After five seasons of Second Division drudgery, United were handed a lifeline in 1986-87 when the Football League introduced the play-off system. Leeds secured a fourth place in the Division and were handed a two-legged Semi-Final clash against Oldham Athletic, who had finished eight points in front of Bremner's men in the final league table. Oldham manager Joe Royle described the system as grossly unfair and suggested that the introduction of play-offs made for the longest cup competition ever. "You play 46 games just to get to the semi-final," he seethed. But Royle, understandably bitter that his Oldham side were denied outright promotion, was right in his assertion that the season's work went out of the window when the Latics locked horns with Leeds over two legs.
It was United who drew first blood in the semi-final first leg at a packed Elland Road when Edwards, on as substitute, scored late in the game to give Leeds the advantage.
"It was great for me to score that night," recalled the goal-scorer. "Oldham were a good side, but there was a feeling that it was our year. I think Billy Bremner actually wanted to avoid Oldham in the play-offs, but we got them and won the first game at home 1-0. John Sheridan whipped in the free-kick from which I scored and, because it had been a bit of funny season for me, it was nice to get the goal in such an important game."
Oldham had lost to Leeds at Boundary Park the previous December, but the Lancastrians were a well-drilled outfit who had won over half of their league fixtures including a 2-0 triumph at Elland Road some six months earlier. Almost 30,000 crammed into Elland Road for that play-off Semi-Final first leg and, as nerves jangled, super-sub Keith Edwards popped up to give Leeds the advantage in the tie.
<![if !supportLineBreakNewLine]>
<![endif]>
The cynics didn't believe that was enough, particularly with Oldham being the proud owners of a plastic surface at their Boundary Park home. A near impeccable home record spoke volumes and with a team packed full of ex-Leeds players, Andy Linighan, Denis Irwin and Tommy Wright, Oldham remained firm favourites to progress.
Alternate Reports: (Courtesy Mark Ledgard)
Summary: A desperate diving header from substitute Keith Edwards gave Leeds a vital last-gasp advantage in a frenzied first leg of this promotion play-off Semi-Final. Elland Road exploded with relief in the last minute as Keith Edwards flung himself at John Sheridan's free kick to the near post. Nerves had jangled as loudly as the fiercely partisan crowd and it was twenty-six minutes before either side managed an attempt on goal. The opening sparring was edgy, scrappy and littered with fouls. Mark Aizlewood was booked for bringing down Gary Williams in the twelfth minute. Seconds later Mike Milligan was cautioned for following through on Neil Aspin. In a ferocious match, Referee George Tyson kept control with common sense, and in an ugly flare-up before half-time he allowed Oldham's Tommy Wright to escape punishment for an off-the-ball incident which saw Leeds' Ian Baird booked. But the football was almost non-existent, with Leeds frustrated by Oldham's off-side trap and the fear of being caught on the break. Those fears were almost realized in the sixty-fifth minute when Denis Irwin dribbled into the box but his shot went across the face of goal. Four minutes later, Ian Baird headed just wide for Leeds, before the all-important seventy-second minute substitution of Andy Ritchie for Keith Edwards.
And from YEP: Just when it seemed that Leeds United would have it all to do at Oldham on the Sunday lunchtime, Keith Edwards nipped in with what could have been their passport to the Final of the Second Division promotion play-offs.  His eighty-ninth minute winner in this first leg of the semi-finals came after a tension-packed game which had looked destined to be goalless for a long time. Even if Edwards had found it hard to repay Leeds' £120,000 investment with goals during the season, this game's dramatic header made up for much. He surged in on the near angle of the six-yard box to skim a header fiercely past Andy Goram from John Sheridan's inch-perfect free-kick from the right wing. It was the eighth goal by Edwards and the second successive match he had jumped from the substitutes' bench to win the game for Leeds, and the sigh of relief from most of the 29,472 crowd could probably have been heard in the centre of the City, three miles away. But through the anxious minutes that led up to what could now be a vital breakthrough in this contest, it was a game in which very few of the combatants reached their full potential. The two right backs, Neil Aspin and the formerly Leeds player Denis Irwin, often showed up well, but no one could really impose themselves on the action for long.
The tense side of the clash was illustrated by the confrontations between players with Sunderland referee George Tyson often lecturing them. Once when John Sheridan and Mike Milligan clashed there was a long talk for both the midfield men before Milligan nipped to the touchline to get a new shirt, as his had been torn beyond repair across the chest. There were three bookings; Mark Aizlewood was cautioned in the fifteenth minute after conceding two rapid free-kicks; Mike Milligan followed him in the next minute after a late tackle which brought an angry response from Neil Aspin and more words from the referee for both players; and seven minutes before the interval Ian Baird became the third player to be cautioned after a flying tackle on Denis Irwin, which saw complaints from Tommy Wright, another former Leeds player, who also earned a lecture from the referee. The game was twenty-seven minutes old before there was a telling shot on target and Andy Goram fingered away John Sheridan's bending twenty-five yard free kick away confidently. Just after the hour Denis Irwin produced Oldham's best attacking moment when he wriggled past three challenges down the inside right slot only to steer his low shot from twelve yards wide of the far post. But the closest the game came to a goal until Edwards struck was an eighty-sixth minute volley from eighteen yards by Jack Ashurst, again masterly saved by Andy Goram. It looked as though Oldham's well organized defence, which had caught Leeds in offside positions fifteen times, had put them in a strong position for the second leg and Oldham's manager Joe Royle said his side were upset by the final outcome.
<![if !vml]>
<![endif]> <![if !vml]>
<![endif]>
Match Action:
<![if !vml]>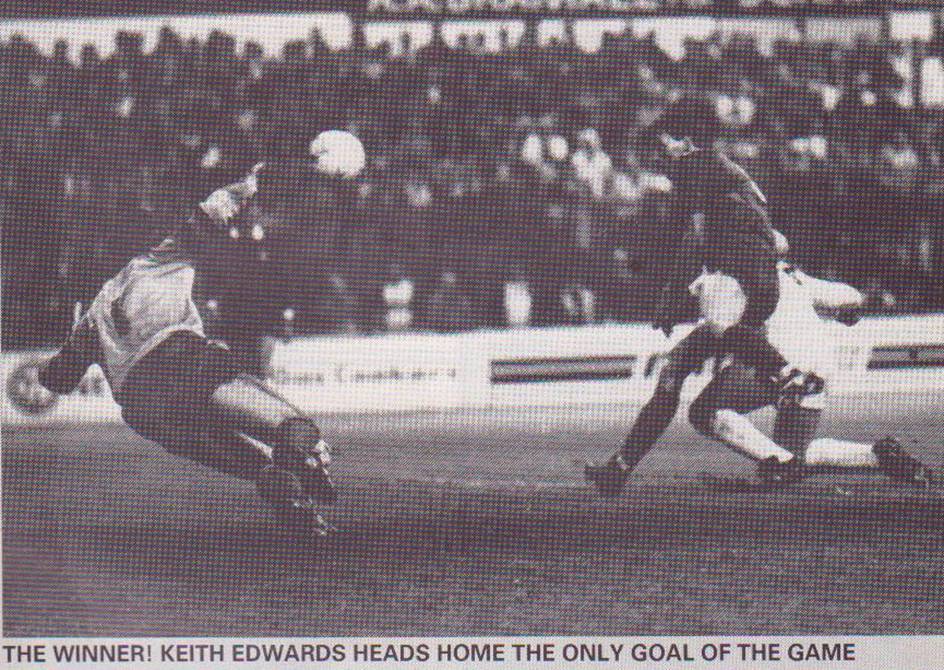 <![endif]> 
<![if !vml]>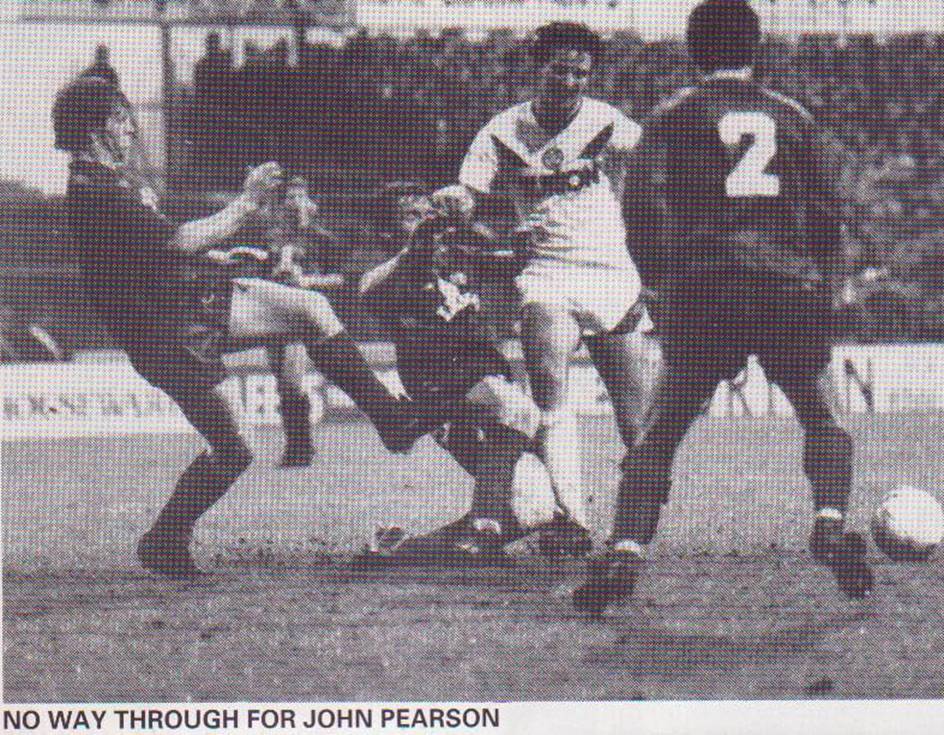 <![endif]>
<![if !vml]>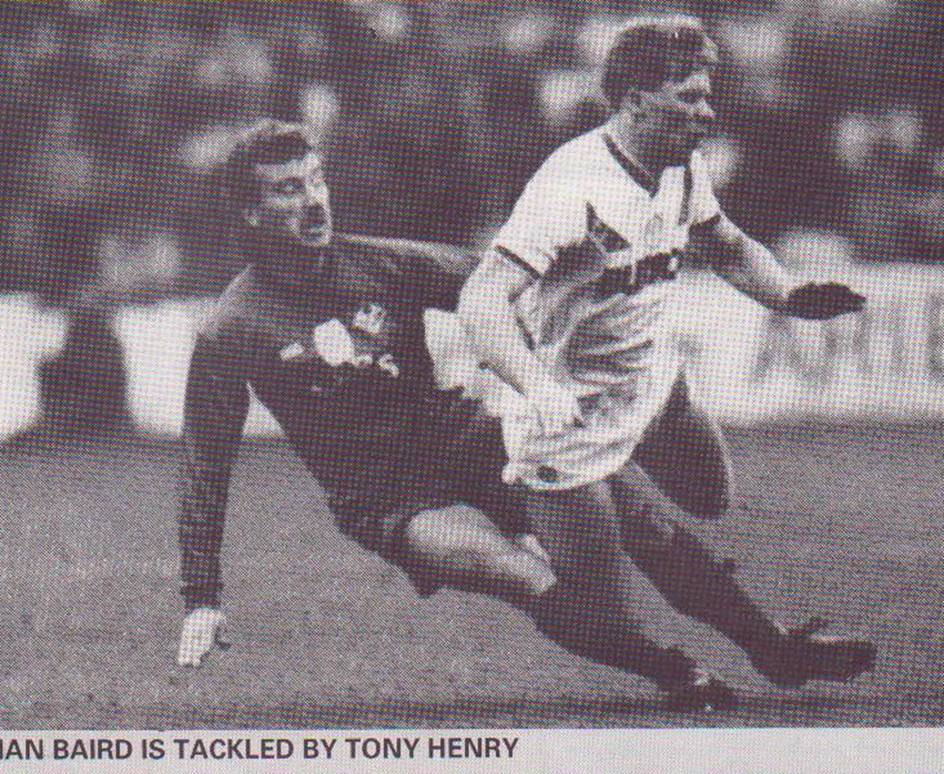 <![endif]>
<![if !vml]>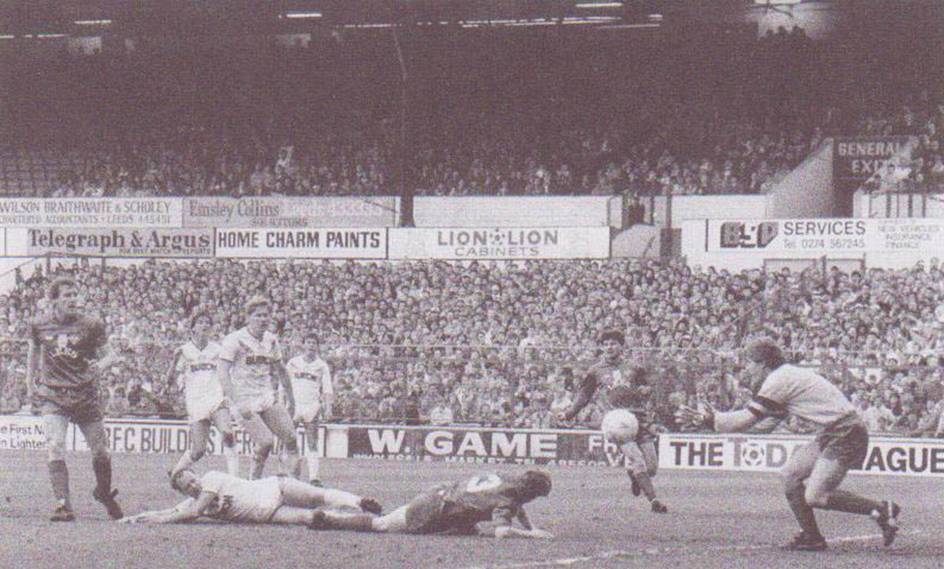 <![endif]>
Andy Ritchie goes close
<![if !vml]>
<![endif]>
Bobby McDonald heads clear
(Four items Courtesy Mark Ledgard)
<![if !vml]>
<![endif]>
Substitute Keith Edwards heads the vital match-winning goal for Leeds in the final minute at Elland Road
<![if !vml]>
<![endif]> 
<![if !vml]>
<![endif]>  <![if !vml]>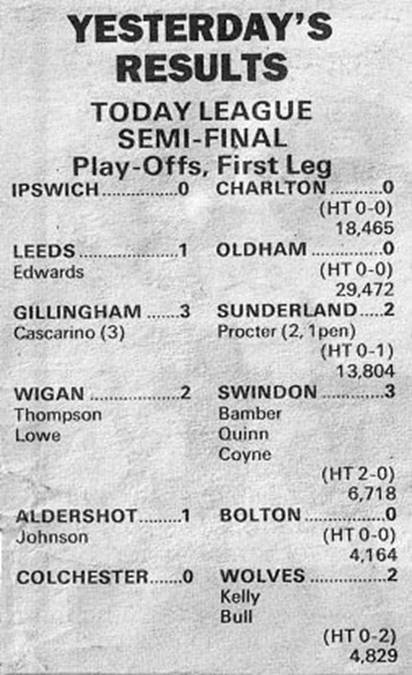 <![endif]>
Teams:
<![if !vml]>
<![endif]>
<![if !vml]>
<![endif]>
Leeds United 1986-87:
Back Row: Andy Ritchie, Neil Aspin, Ronnie Robinson, Mervyn Day, Ronnie Sinclair, Peter Swan,
Peter Haddock, David Rennie.
Middle Row: Geoff Ladley (Physio), David Bentley (Coach), Jack Ashurst, Bob Taylor, Brian Caswell,
Brendan Ormsby, Ian Baird, Peter Gunby (Coach), Billy Bremner (Manager).
Front Row: Nigel Thompson, John Stiles, John Sheridan, Ian Snodin, Tommy Wright, Russell Doig,
John Buckley.
Players:
<![if !vml]>
<![endif]> <![if !vml]>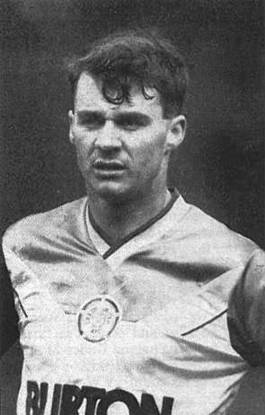 <![endif]>
Keith Edwards got the only goal of the match.                                    John Sheridan supplied the cross
<![if !vml]>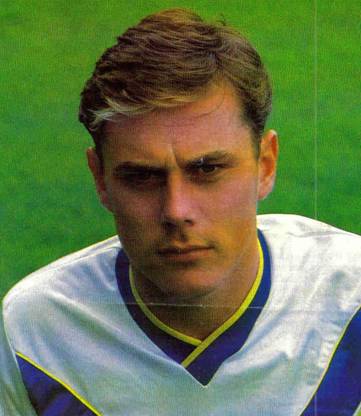 <![endif]> <![if !vml]>
<![endif]> <![if !vml]>
<![endif]>
 Oldham had three former Eddie Gray discoveries in their team.  Tommy Wright, Andy Linighan and Denis Irwin