<![if !vml]>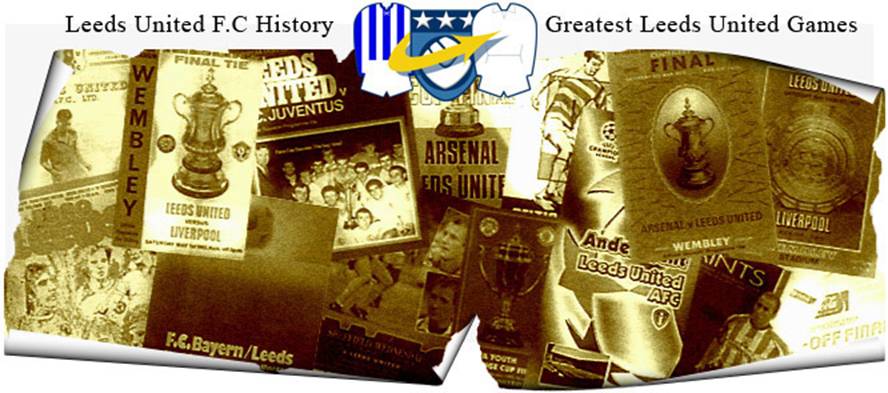 <![endif]>
Date: Wednesday, 14th March 2001.
Venue: Elland Road, Leeds.
Competition: ECL, 2nd Stage Group D: Match 6.
Score: Leeds United 3 SS Lazio 3.
Scorers: Leeds United: Bowyer, Wilcox, Viduka. SS Lazio: Ravanelli, Mihajlovic (2, 1 pen).
Attendance: 36,741.
Teams:
<![if !vml]>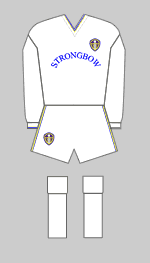 <![endif]><![if !vml]>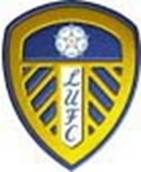 <![endif]>
Leeds United: Robinson; Kelly, Matteo, Mills, Harte; Bowyer, Burns, Wilcox, Maybury (Batty); Viduka (Hackworth), Kewell. Unused Subs: Woodgate, Dacourt, Hay, Martyn.†††††††††††††††††††††††††††
<![if !vml]>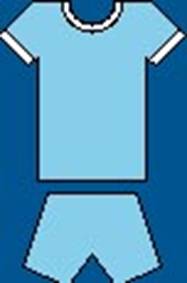 <![endif]><![if !vml]>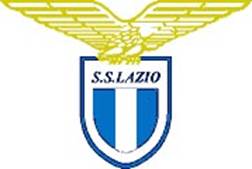 <![endif]>
SS Lazio: Marchegiani; Mihajlovic, Couto, Pesarasi, Colonnese; Nedved, Stankovic, Baronia, Castroman (Ruggiu); Ravanelli, Lopez (Salas). Unused Subs: Negro, Crespo, Pancaro, Luciani,Orlandoni.
Referee: Bernhard Brugger (Austria).
The Lazio visit to Elland Road had no bearing on anything and the two sides fielded under-strength teams as both had some heavy domestic league games coming up. Lazio left seven of their stars at home while United took the chance to give Harry Kewell a full game to ensure his match-fitness was up to scratch after long layoff, while Paul Robinson, Alan Maybury, Jason Wilcox, Jacob Burns, David Batty, Gary Kelly and Danny Mills were also in the squad for experience or to get match practice. The game turned out to be very exciting and ended in a thrilling 3-3 draw. Fabrizio Ravanelli gave Lazio the lead but Lee Bowyer equalised to make him joint leading scorer in the competition. Fabrizio Ravanelli then conned the referee into a penalty, with an exaggerated dive. Jason Wilcox equalised with a stunning volley from an Ian Harte pass, and Harte again delivered the cross for Mark Viduka to head United into the lead. Pavel Nedved caught Alan Maybury in an horrendous knee high challenge which was missed by the referee in the build up to Lazioís last minute equaliser. There were fears that the leg had been broken but fortunately this was not the case.
It was entertainment the United fans wanted and, even without many of the big names, it was served up in five-star style. There may have been no Lucas Radebe, Rio Ferdinand or Alan Smith for Leeds or any Alessandro Nesta, Simeone and Inzaghi for Lazio, but there was a goal-feast served up by both sides. With nothing at stake there were full appearances from fringe players Jacob Burns and Alan Maybury, while Tony Hackworth had a run for just short of half an hour, with Alan Maybury, in particular, impressing. The ascendancy see-sawed with whirling motion, but in the end the draw kept intact the United record of never having lost to an Italian club at Elland Road. At times the record seemed in doubt but the tormenting Harry Kewell, the constantly-moving Lee Bowyer and the rejuvenated Jason Wilcox gnawing away at them Lazio were never allowed to get out of sight.
In early exchanges both Harry Kewell and Lee Bowyer might have done better with shots from reasonable positions, but Emanuele Pesaresi was woefully off target for the Italians. Wily old campaigner Fabrizio Ravanelli proved to be a handful for Danny Mills and he showed his class in the twenty-first minute when he steered home a powerful header from an accurate Pavel Nedved cross from the right. United were level on twenty-seven minutes when Harry Kewell bravely got his head into a fifty-fifty challenge and Lee Bowyer delightfully clipped it into the far right corner leaving Luca Marchegiani stranded to become the joint leading goal-scorer in the championship with six goals.
However, within thirty seconds Lazio were back in front. Dominic Matteo wrapped his arms round Fabrizio Ravanelli in the box and Sinisa Mihajlovic scored with ease from the spot. The impressive Claudio Lopez cut inside Danny Mills and tested Paul Robinson low down and at the other end Lee Bowyer got in a fine header from Ian Harteís corner only for Luc Marchegiani to save well. Two minutes before the break and United were level again when the unmarked Jason Wilcox met Harteís corner on the volley for the sweetest of finishes for his first goal of the season. Roberto Baronio wasnít far off target with his long range shot as the second half got underway and then Lee Bowyer equaled his effort at the other end. Jason Wilcox was unlucky not to find a deflection with his well-struck volley and Harry Kewell scooped his shot over as Leeds sought to gain the initiative.
Another Ian Harte set-piece orchestrated a third goal for United after sixty-two minutes his strongly struck free-kick brought the bravest of headers between defenders from Mark Viduka for him to score his eighteenth goal of the season. Tony Hackworth was then given his chance as he replaced the big Aussie and he was soon receiving applause for his left wing cross which brought a fine header from Harry Kewell. A brilliant save from Paul Robinson preserved Unitedís lead as, in the seventy-third minute, a stunning free-kick from Sinisa Mihajlovic took a deflection off Lee Bowyer and was heading for the corner until the young keeper flung himself to his right to keep it out. There was not much he could do about substitute Marcelo Salasí shot three minutes from time, but luck was with him as it hit a post and rebounded back into his arms. Then deep into injury time, Salas was fouled and the deadly Sinisa Mihajlovic rifled the ball home from twenty-five yards to deny United a fine win.
<![if !vml]>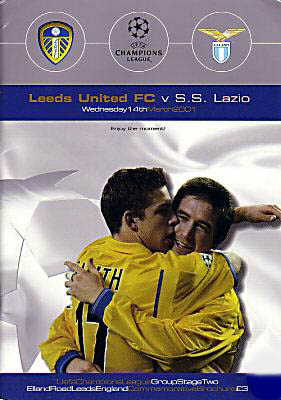 <![endif]>†<![if !vml]>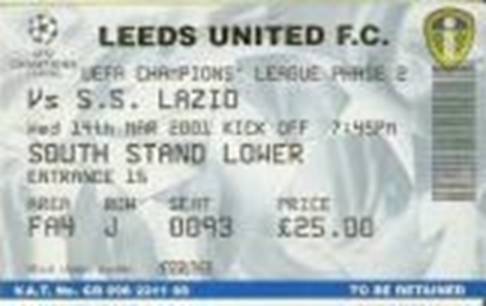 <![endif]>
Match Action:
<![if !vml]>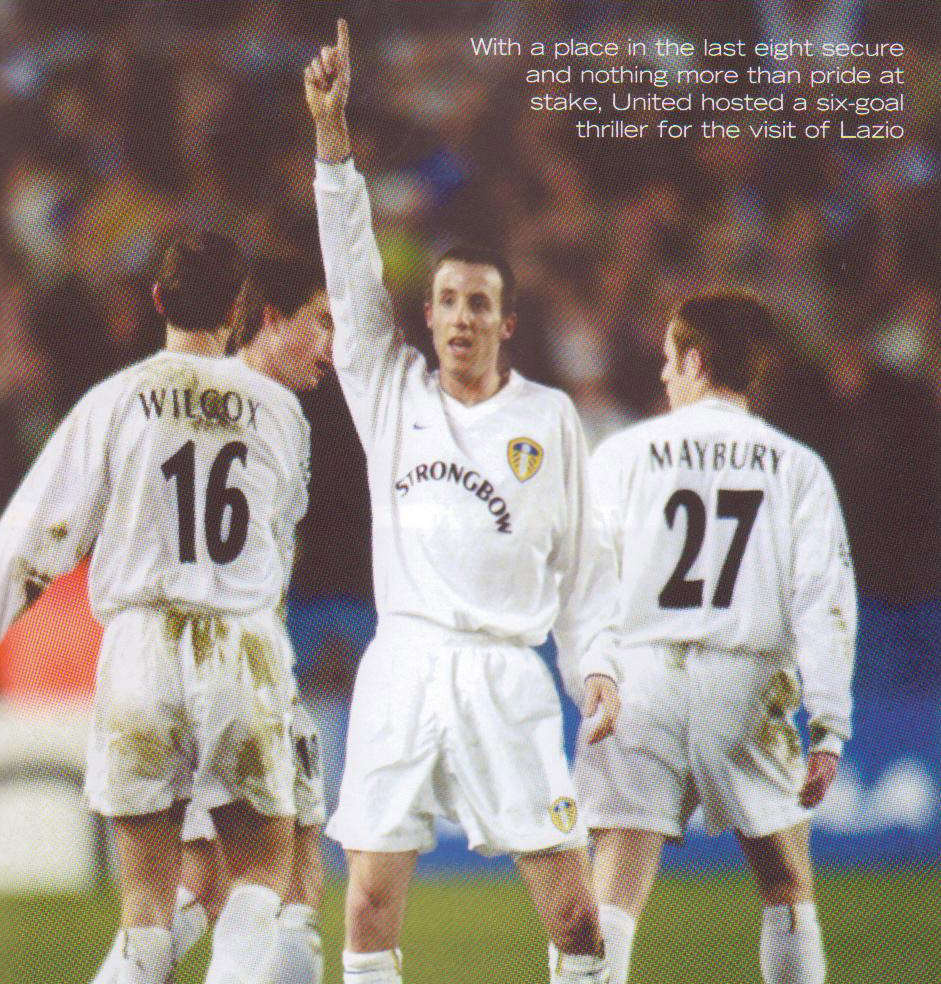 <![endif]>†
Lee Bowyer salutes his first goal surrounded by Jason Wilcox, Harry Kewell and Alan Maybury
<![if !vml]>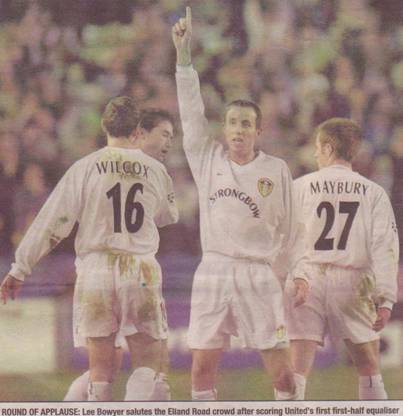 <![endif]>† <![if !vml]>
<![endif]>
<![if !vml]>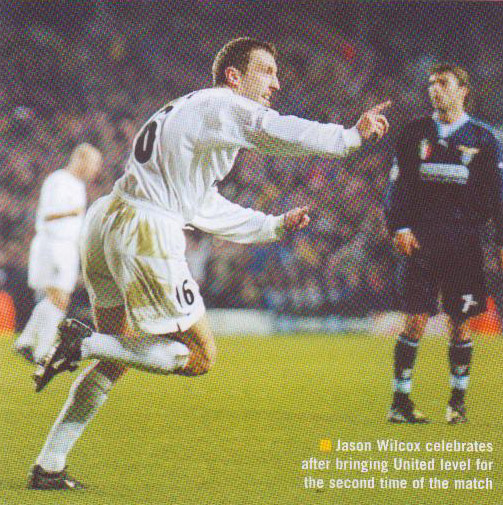 <![endif]>†<![if !vml]>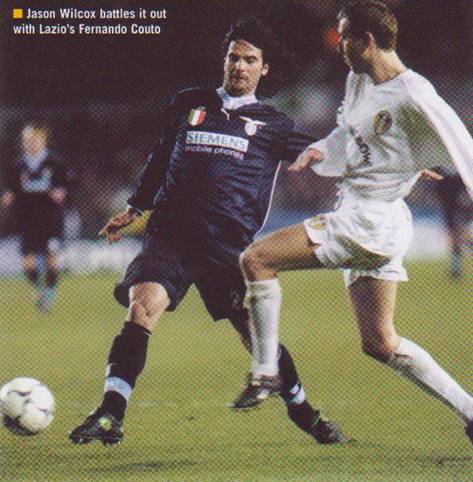 <![endif]>
<![if !vml]>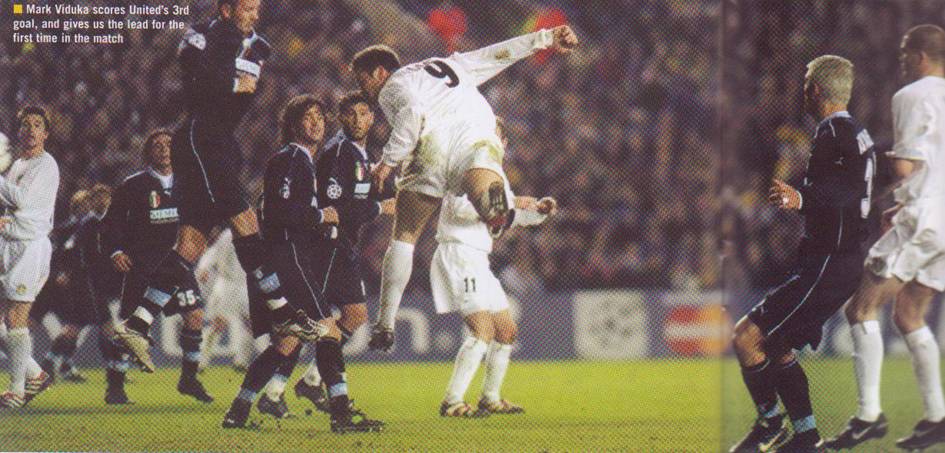 <![endif]>
<![if !vml]>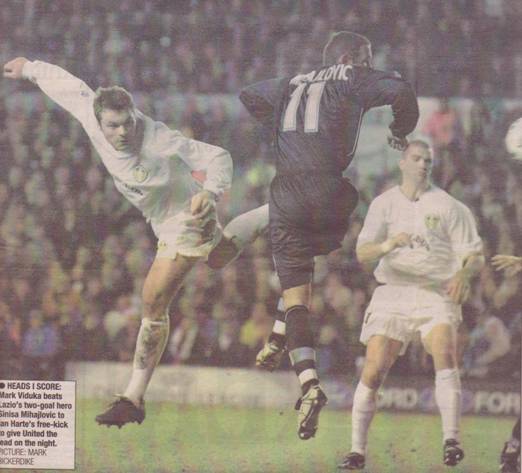 <![endif]>†<![if !vml]>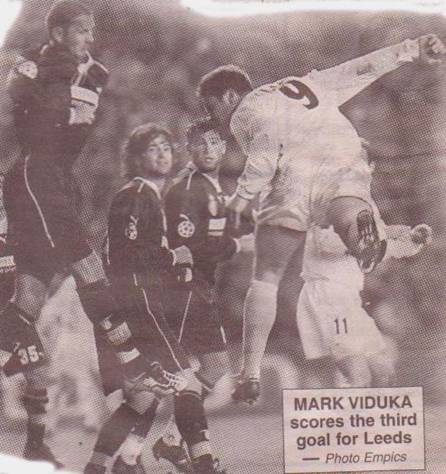 <![endif]>
<![if !vml]>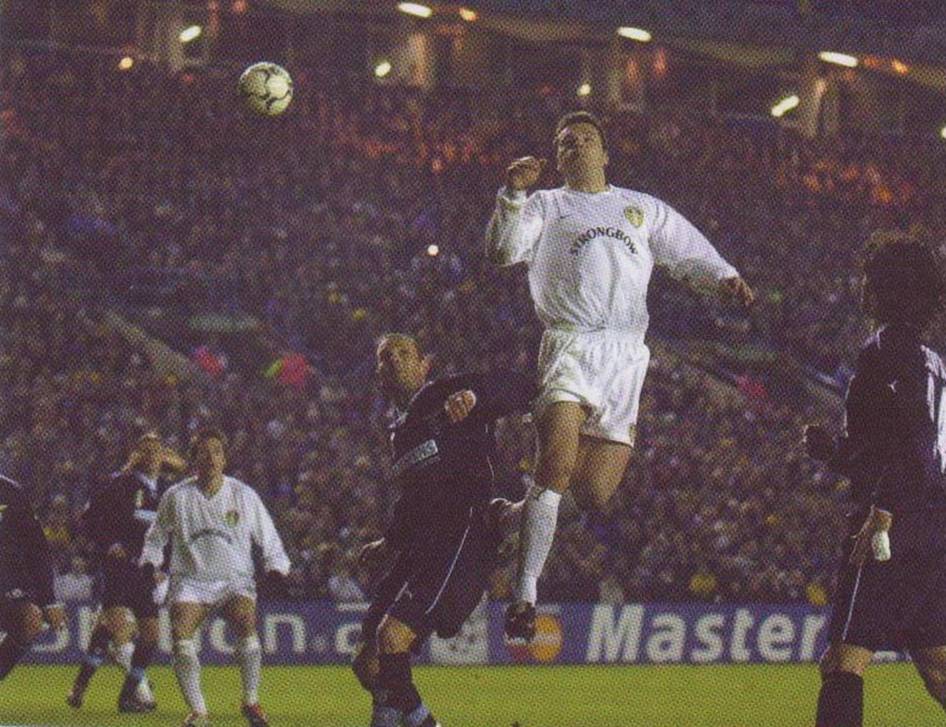 <![endif]>†
Mark Viduka climbs high to a header
<![if !vml]>
<![endif]>
Paul Robinson canít stop Sinisa Mihajlovicís penalty
<![if !vml]>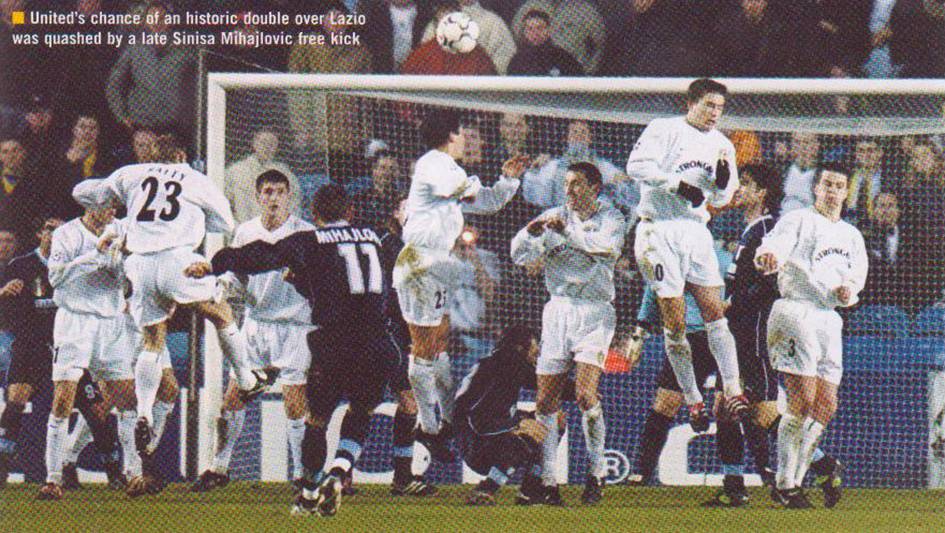 <![endif]>
<![if !vml]>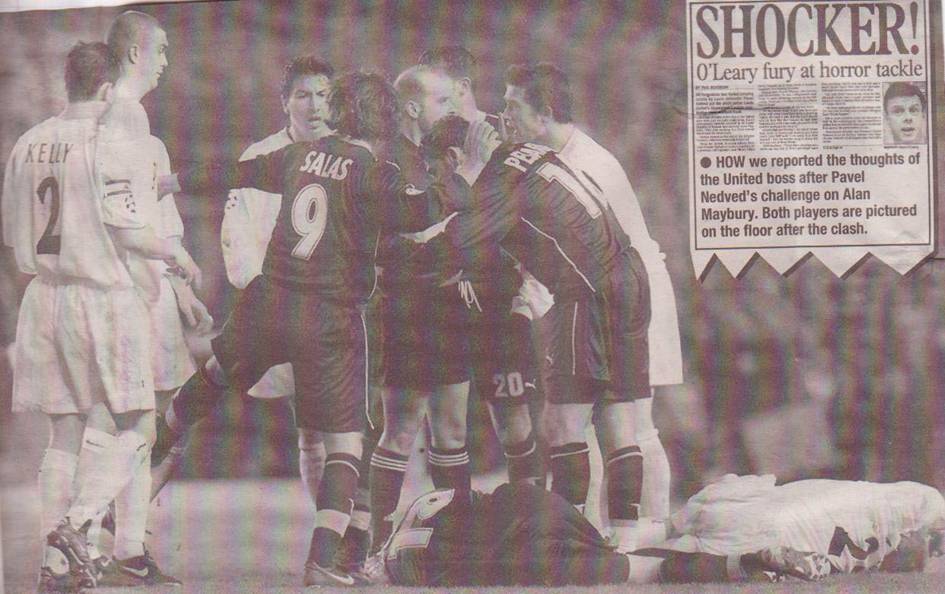 <![endif]>
<![if !vml]>
<![endif]>
<![if !vml]>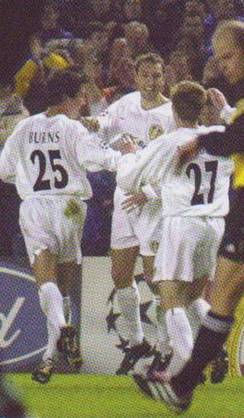 <![endif]>†<![if !vml]>

<![endif]>†<![if !vml]>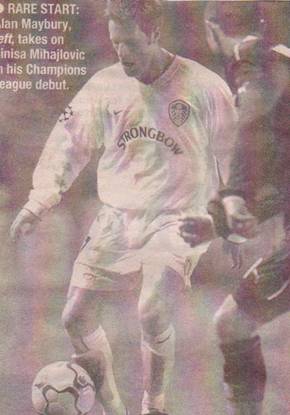 <![endif]>†<![if !vml]>
<![endif]>
Jacob Burns and Alan Maybury†††††††† Lee Bowyer salutes
congratulate Jason Wilcox††††††††††††††††† the crowd
Teams:
<![if !vml]>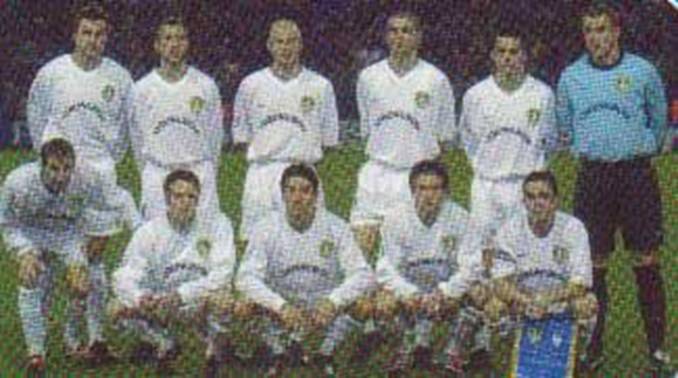 <![endif]>
Leeds United Team v Lazio at Elland Road 14-03-01
Back Row: Mark Viduka, Jason Wilcox, Danny Mills, Dominic Matteo, Ian Harte, Paul Robinson.
Front;Row: Lee Bowyer, Alan Maybury, Jacob Burns, Harry Kewell, Gary Kelly.
Players:
<![if !vml]>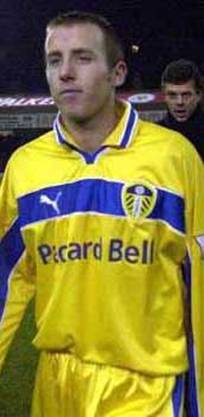 <![endif]>† <![if !vml]>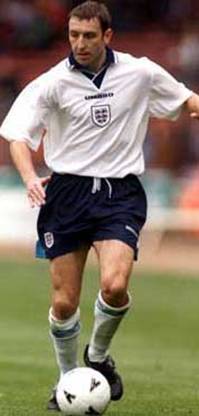 <![endif]>††<![if !vml]>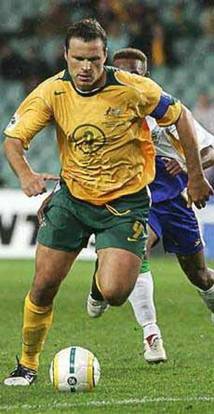 <![endif]>††††††††<![if !vml]>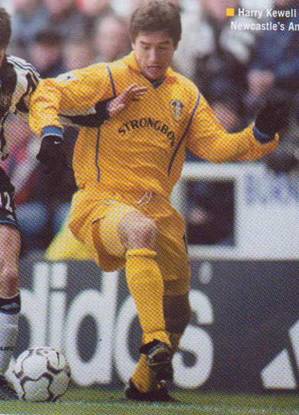 <![endif]>
Lee Bowyer, Jason Wilcox and Mark Viduka scored for Leeds†††††††††††††††††††††††††††††††††††††††††††††††††††††††††††††† Harry Kewell was in for a full game to
††††††††††††††††††††††††††††††††††††††††††††††††††††† ††††††††††††††††††††††††††††††††††††††††††††††††††††††††††††††††††††††††††††††††††††††††††††††††††††††††††††††††††regain match fitness
<![if !vml]>

<![endif]>†<![if !vml]>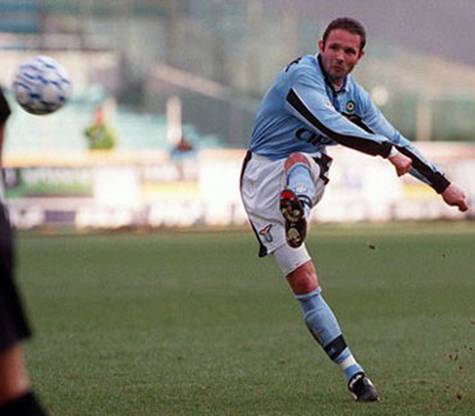 <![endif]>††††† <![if !vml]>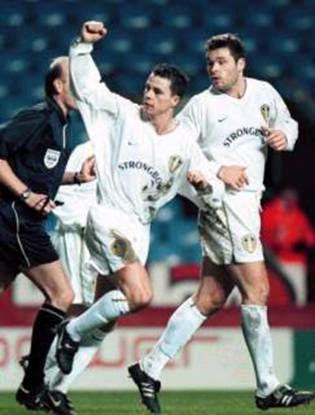 <![endif]>
Fabrizio Ravanelli and Sinisa Mihajlovic (2) (1 a penalty) scored for Lazio† †††††††††††††††††††††††††††††††††††††††Ian Harteís crosses made two of Unitedís goals
<![if !vml]>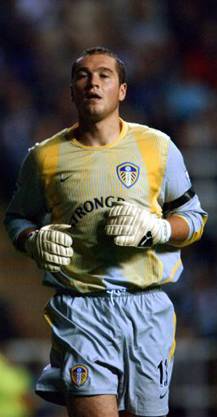 <![endif]>†<![if !vml]>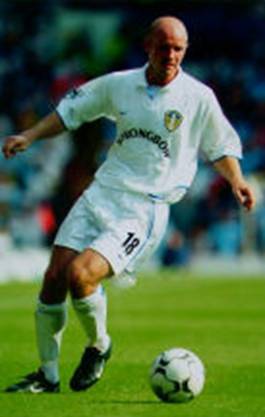 <![endif]>†<![if !vml]>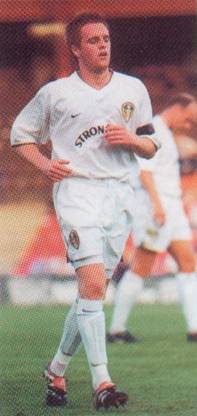 <![endif]>†<![if !vml]>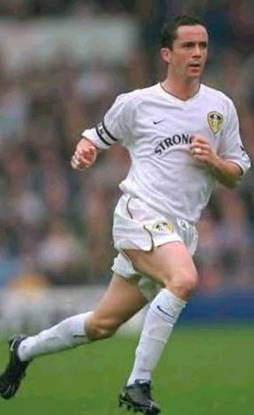 <![endif]>
Paul Robinson, Danny Mills, Alan Maybury, Gary Kelly,
<![if !vml]>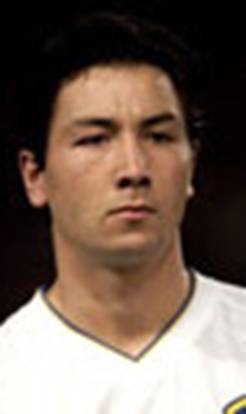 <![endif]>†<![if !vml]>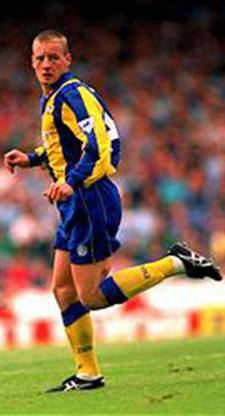 <![endif]>†<![if !vml]>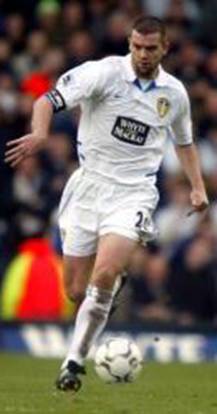 <![endif]>†<![if !vml]>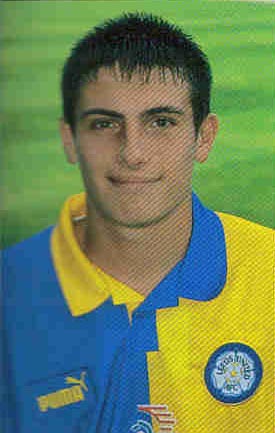 <![endif]>
†Jacob Burns and David Batty were all included to get match practice†††† Dominic Matteo conceded††††††††††† Tony Hackworth was on for
††††††††††††††††††††††††††††††††††††††††††††††††††††††††††††††††††††††††††††††††††††††††††††††††††††††††††††††††††††††† the penalty††††††††††††††††††††††††††††††††††††† half-an-hour†
<![if !vml]>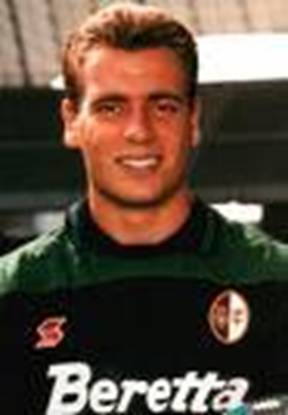 <![endif]>††††††† <![if !vml]>
<![endif]>††††††††††††††<![if !vml]>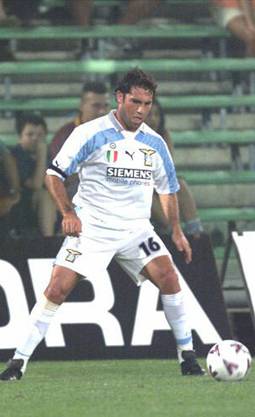 <![endif]>
Luca Marchegiani was in the Lazio goal† †††††††††††††Sinisa Mihajlovic came in at right-back†††††††††††††† Emanueuele Pesaresi was in central defence
<![if !vml]>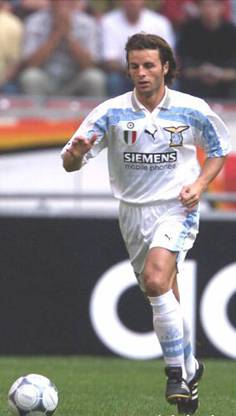 <![endif]>† <![if !vml]>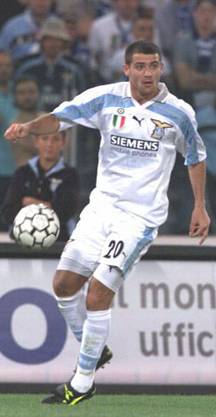 <![endif]>††<![if !vml]>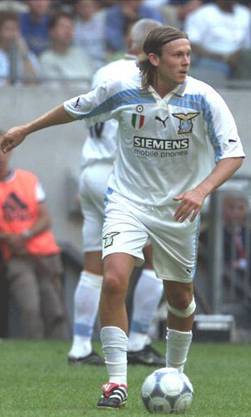 <![endif]>††<![if !vml]>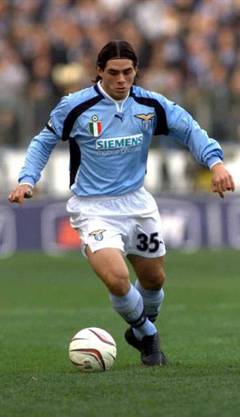 <![endif]>
Francesco Colonnese came in at left-back, while Dejan Stankovic, Roberto Baronio and Lucas Castroman came into the midfield
<![if !vml]>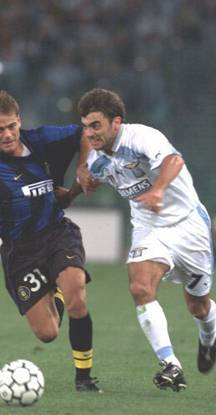 <![endif]>†<![if !vml]>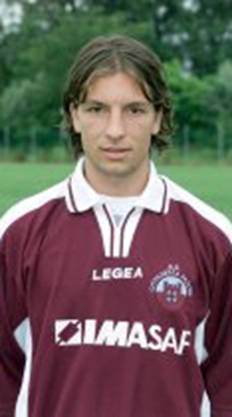 <![endif]>†<![if !vml]>
<![endif]>†<![if !vml]>

<![endif]>†<![if !vml]>

<![endif]>
Claudio Lopez started as a††††††††† Daniele Ruggiu came on as a††††††††††† Andrea Luciani, Paulo Orlandoni and Paolo Negri
striker††††††††††††††††††††††††††††††††††††††††††† substitute††††††††††††††††††††††††††††††††††††††††††† were all unused substitutes