<![if !vml]>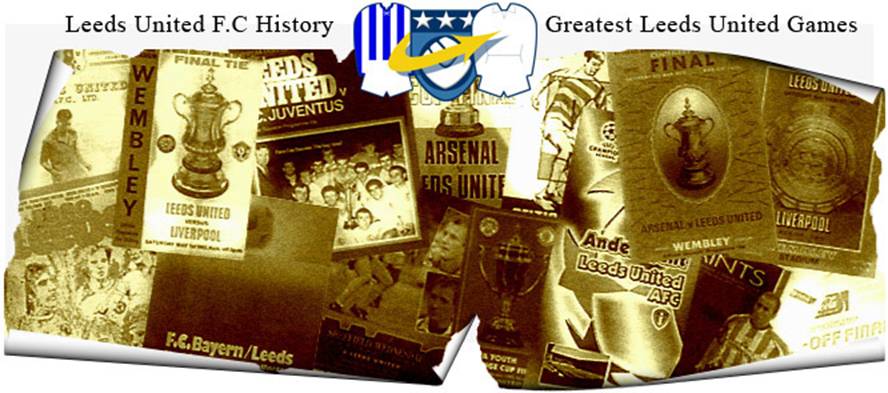 <![endif]>
Date: Saturday, 14th January 1950.
Venue: Elland Road, Leeds.
Competition: Second Division.
Score: Leeds United 3 Tottenham Hotspur 0
Scorers: Leeds United: Cochrane (2), Iggleden. Tottenham Hotspur: Nil.
Attendance: 50,476.
Teams:
<![if !vml]>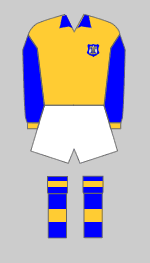 <![endif]><![if !vml]>

<![endif]>
Leeds United: Searson; Dunn, Milburn; Kerfoot, Charles, Burden; Cochrane, Iggleden, Browning, Dudley, Williams.
<![if !vml]>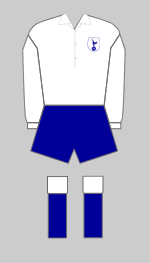 <![endif]><![if !vml]>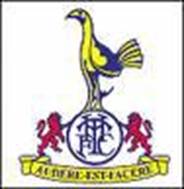 <![endif]>
Tottenham Hotspur: Ditchburn; Ramsey, Withers; Nicholson, Clarke, Burgess; Walters, Rees, Duquemin, Baily, Medley.
Referee: Unknown (Wolverhampton).
Tottenham Hotspurs came to Elland Road as runaway leaders of the Second Division of the Football League and enjoying an unbeaten run which stretched back twenty-two games. Leeds had started the season poorly but had started to get their act together and were on their own little run which had seen them undefeated for seven games, and only losing once in the previous twelve.
Few people outside Leeds would have given United a chance. Tottenham had triumphed quite easily earlier in the season at White Hart Lane when Bennett and Baily scored in a 2-0 victory in front of a huge 48,274 crowd and the Leeds team was virtually the same, with only Eric Kerfoot and Harold Williams not playing that day. Tommy Burden had played right half at White Hart Lane but switched to left half for the home game, with left half David McAdam and left-winger Peter Harrison making way, giving United a much better balanced team.
The Leeds fans packed Elland Road to the rafters to see this truly impressive Tottenham team which usually lined up Ted Ditchburn; Alf Ramsay, Charlie Withers/Arthur Willis; Billy Nicholson, Harry Clarke, Ron Burgess; Sonny Walters, Billy Rees/Les Bennett, Len Duquemin, Eddie Baily, Les Medley. Tottenham won the second Division that season with 61 points and the team was so good that they took the First Division by storm the following season easily winning it with 60 points to record their first Championship.
Managed by Arthur Rowe, the team had become famous for its push and run style of play and this was evident on the January day in 1950, but they were no match for the brilliant Leeds team.  With Davie Cochrane in dazzling form as he tore the much vaunted Spurs defence to pieces, scoring twice himself, while Ray Iggleden got the other as the 'Buckley Boys' handed the 'cocky' Spurs an unaccustomed hiding. Harold "Twinkletoes" Williams gave the normally impeccable Alf Ramsey a real teasing, while his Welsh International team mate John Charles and his trusty defensive comrades never gave the much feared Spurs attack a sniff. They sent their International Captain, Ronnie Burgess, and his not-so-hot Spurs, back to the capital with their tails between their legs.
United kept up their good form losing only four more times that season in the League, finishing an impressive fifth, just five points from promotion, while reaching an unprecedented sixth Round in the F.A. Cup before losing by the narrowest of margins to the eventual winners Arsenal at Highbury in another epic game.
<![if !vml]>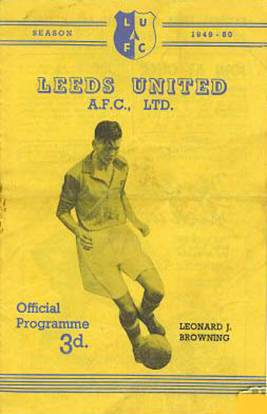 <![endif]>  <![if !vml]>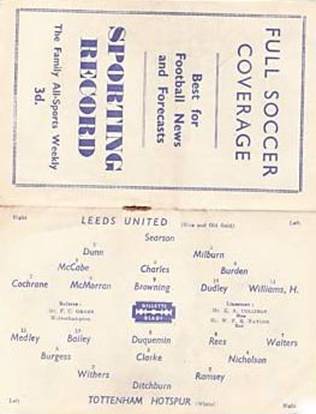 <![endif]>
Teams:
<![if !vml]>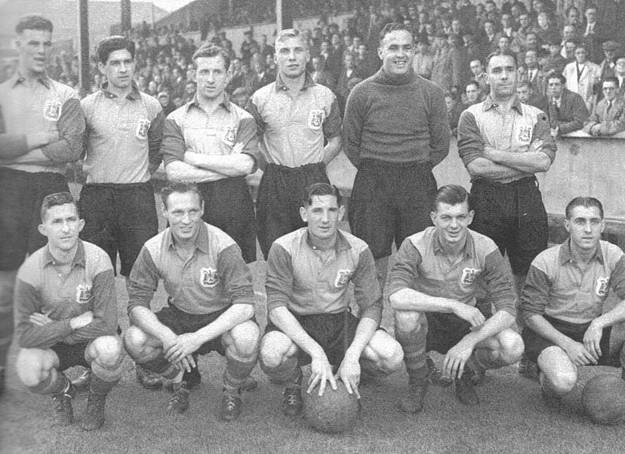 <![endif]>
This was the Leeds United team that trounced the mighty Tottenham Hotspur.
Back Row: John Charles (5), Eric Kerfoot (4), Jimmy Dunn (2), Frank Dudley (10),
Harold Searson (1), Jimm Milburn (3).
Front Row: David Cochrane (7), Ray Iggleden (8), Tommy Burden (6) (Captain),
Len Browning (9), Harold Williams (11).
<![if !vml]>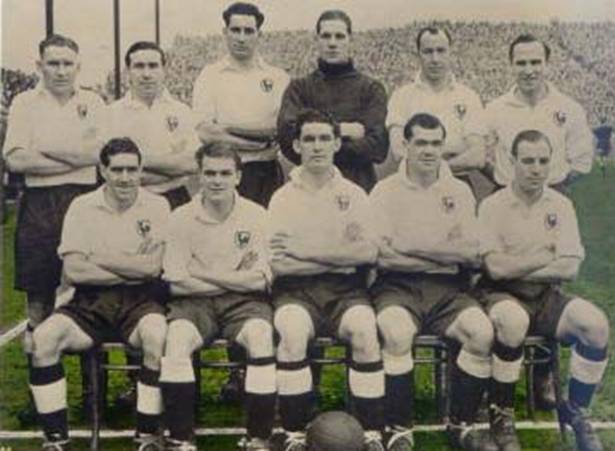 <![endif]>
This was the Tottenham Hotspur team photographed on the day.
Back Row: Harry Nicholson (4), Alf Ramsay (2), Harry Clarke (5), Ted Ditchburn (1),
Ron Burgess (6) Captain, Les Medley (11).
Front Row: Charlie Withers (3), Sonny Walters (7), Ron Rees (8), Len Duquemin (9),
Eddie Baily (10).
Players:
<![if !vml]>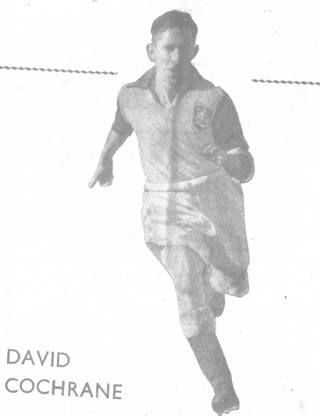 <![endif]>    <![if !vml]>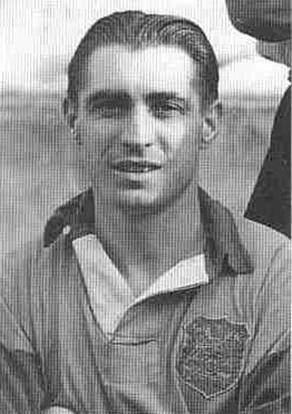 <![endif]>       <![if !vml]>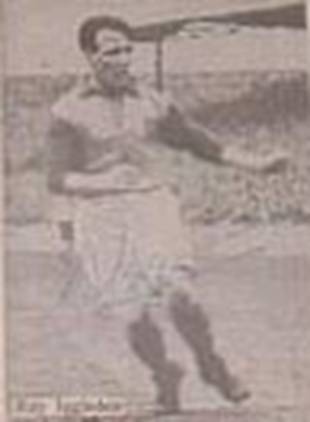 <![endif]>
Two goal David Cochrane was the right wing         Left Winger Harold 'Twinkletoes' Williams         Ray Iggleden got his name on the scoresheet.
tormentor of the mighty Spurs.                               who made England right-back Alf Ramsay's
                                                                                  afternoon a nightmare.
<![if !vml]>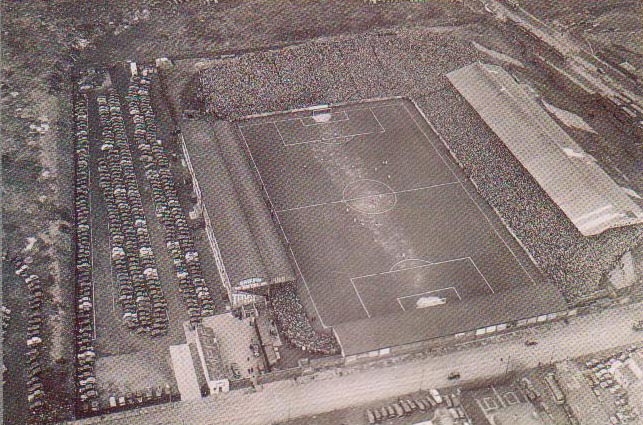 <![endif]> 
Elland Road packed to the rafters with 50,476 spectators.
<![if !vml]>

<![endif]>
The 3-0 victory was in revenge for a 2-0 defeat at White Hart Lane earlier in the season. Les
Bennett scores one of the Spurs goals past John Charles with keeper Harold Searson and
right-back Jimmy Dunn looking on.