<![if !vml]>
<![endif]>
Date: Friday, 13th April 2001.
Venue: Anfield, Liverpool.
Competition: English Premier League.
Score: Liverpool 1 Leeds United 2
Scorers: Liverpool: Gerrard. Leeds United: Ferdinand, Bowyer.
Attendance: 44,305.
Teams:
<![if !vml]>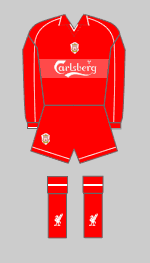 <![endif]><![if !vml]>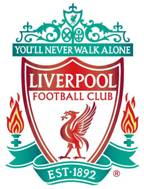 <![endif]>
Liverpool: Westerveld; Babbel, Hyypia, Henchoz, Carragher; Hamman (Heskey), Gerrard, Murphy (McAllister), Berger (Smicer); Owen, Fowler. Unused Subs: Vignal, Arphexad.
<![if !vml]>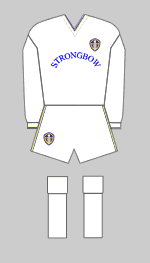 <![endif]><![if !vml]>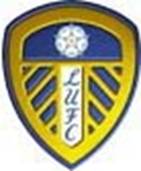 <![endif]>
Leeds United: Martyn; Mills, Ferdinand, Matteo, Harte; Bowyer, Batty, Dacourt, Kewell (Wilcox); Smith (Keane), Viduka. Unused Subs: Kelly, Bakke, Robinson.
Referee: Mr A. Wiley (Burntwood).
Leeds United threw down the gauntlet to the rest of the contenders for the top three with as good a display that there has been from any team in the EPL in the entire season. To go to Liverpool and outplay them by the length of the Mersey Tunnel was a fantastic achievement and on the evidence there was no limit on the heights that could be scaled by the team that was beginning to strike fear wherever they went.
Liverpool did complain of fatigue brought on by involvement on all fronts, but if they were tired before they were given this runaround then they would need a long term of recuperation to get over it. They simply had no answer to a buzzing, swarming, dominating Leeds, who did not have a weak spot and made it a long Good Friday for Gerard Houllier's men.
Alan Smith and Olivier Dacourt, who had been rested from the previous game with Southampton, returned to the starting line-up with Robbie Keane and Eirik Bakke dropping to the bench. United skipper Rio Ferdinand laid a wreath behind the Kop goal, before the kick-off, in recognition of the fifteenth anniversary of the Hillsborough disaster.
Straight away Ian Harte, Alan Smith and Danny Mills combined on the right and only a powerful header from Stephane Henchoz prevented contact by Mark Viduka, but from Ian Harte's deep corner United raced to a fourth minute lead, Rio Ferdinand burying his header into the near bottom corner, after a series of decoy runs had fooled the defence. Nigel Martyn then produced an acrobatic leap to turn Danny Murphy's well struck direct-free-kick for a corner and it had been a highly satisfactory start for Leeds.
Rio Ferdinand once again caused chaos in the home defence from Ian Harte's free-kick in the sixteenth minute and set up Alan Smith for an overhead kick which just cleared the bar. When Harry Kewell was bundled off the ball by Steven Gerrard, Ian Harte's free-kick was whipped off Alan Smith's head by Stephane Henchoz and the Liverpool defence were having to work overtime.
Liverpool finally got a shot in after twenty minutes, but it was a poor effort from Dietmar Hamman. Ten minutes later, though, Danny Murphy's left-wing corner wasn't cleared properly and Nigel Martyn was in the right place at the right time to collect from Michael Owen's purposeful volley. Alan Smith was getting a buffeting from the home defence and was picking up free-kicks at regular intervals as Leeds dominated. However, when Michael Owen briefly threatened again, David Batty was there to dispossess him.
United deservedly doubled their lead on thirty-three minutes when Harry Kewell tormented a retreating defence and slipped the ball through to an alert Lee Bowyer, whose chance looked to be slipping away when he lost his footing, but he recovered well enough to be left with the simplest of tap-ins with Liverpool apparently fast asleep.
Lee Bowyer's neat flick gave Danny Mills a shooting chance, and he was unlucky to see it bobble wide with Sander Westerveld floundering, but United had a very handy-looking interval lead and their fate was in their own hands.
Unpromisingly, Liverpool clawed one back within nine minutes of the restart, having introduced Gary McAllister and Vladimir Smicer for Danny Murphy and Patrik Berger. Michael Owen weighed up his chances on the left of the area and picked out Steven Gerrard, with his well-struck volley at the back post. Unfortunately for Steven Gerrard he later made a colossal error in the seventieth minute when, seeking retribution on David Batty for an earlier skirmish, with a late challenge leaving the referee with no option to give him a second yellow card and the consequent marching orders, despite David Batty's protests to referee Alan Wiley on the offender's behalf.
Mark Viduka had goalkeeper Sander Westerveld beaten all ends up with his shot from twelve yards, but it hit the outside of the post and bounced wide. The quick-breaking Dominic Matteo then got Mark Viduka in for a charge on goal and the big Aussie looked certain to score, but Sander Westerveld bravely dived at his feet to pull of a fine stop. Harry Kewell, who had been showing a blinding array of skills down the left blasted over from a good position but at the other end Robbie Fowler was guilty of a worse miss, shooting tamely wide with everything in his favour.
When Mark Viduka and Robbie Keane broke two-on-one in injury time, Viduka had the ball in the net only for the effort to be ruled out by a ludicrous offside flag. United had no sorrow in disappointing Liverpool and, as in the previous season, had left themselves with every chance of pipping them to the all-important third spot and potential Euro-riches.
O'Leary commented," Don't forget that Liverpool, with the size and quality of their squad, have two teams and I was delighted to have beaten the one they put out." While Gerard Houllier said, "If it had stayed eleven versus eleven I think we might have taken something from the game. I was proud of the way we came back after being completely outplayed in the first half."
<![if !vml]>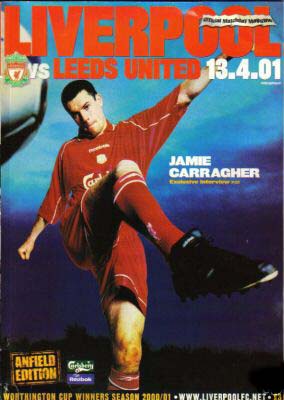 <![endif]>
Match Action:
<![if !vml]>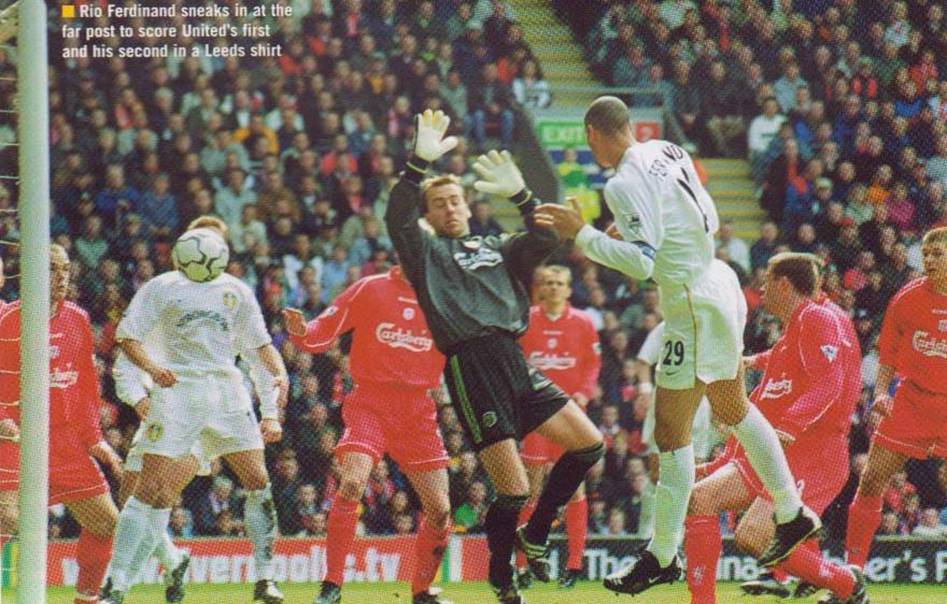 <![endif]>
<![if !vml]>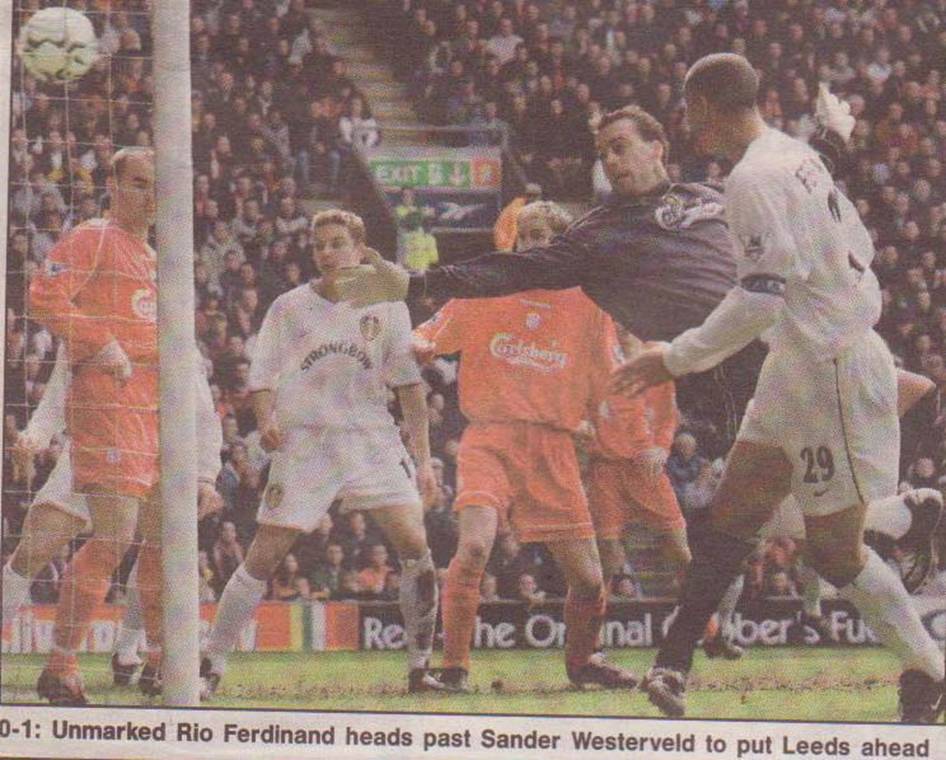 <![endif]>
<![if !vml]>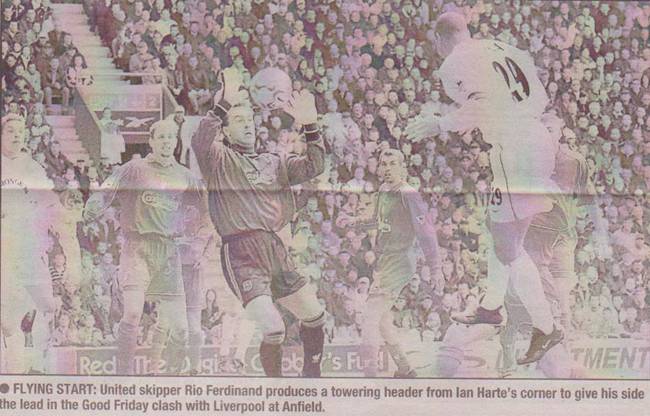 <![endif]> <![if !vml]>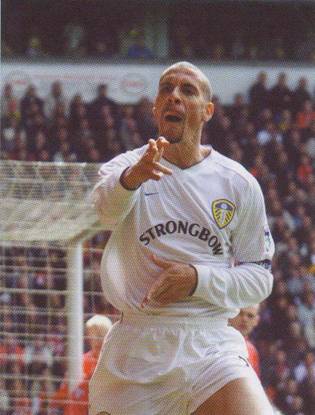 <![endif]> 
                                                                                                                                                                    Rio Ferdinand celebrates his goal
<![if !vml]>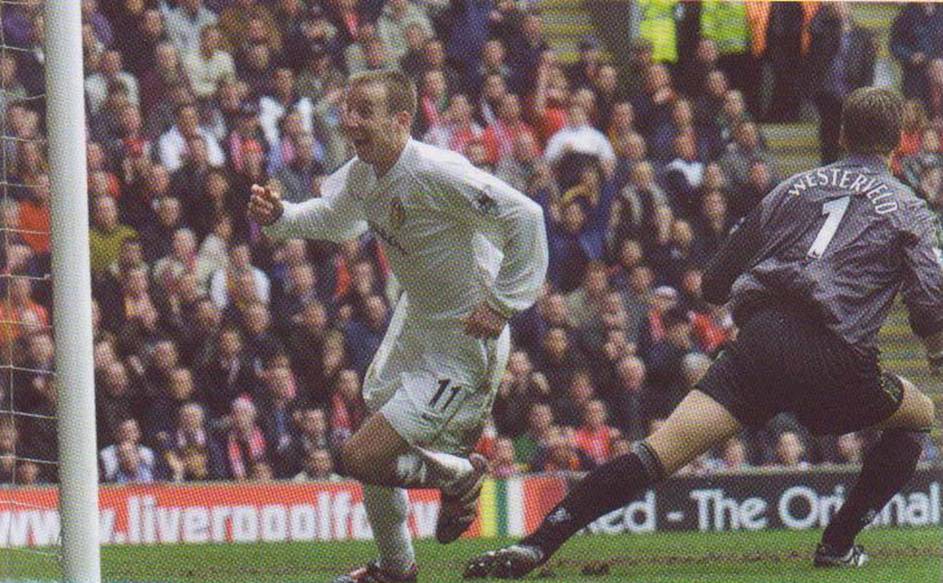 <![endif]>
Lee Bowyer follows up his shot into the Liverpool net to make sure of his goal
<![if !vml]>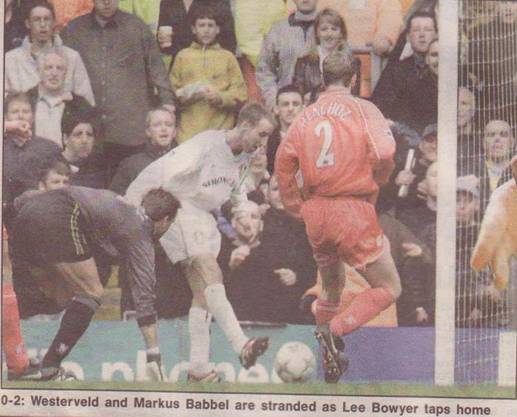 <![endif]>    <![if !vml]>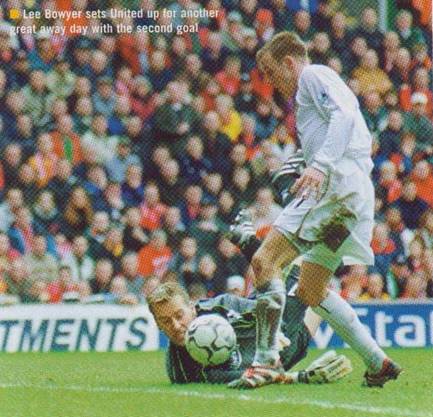 <![endif]>
<![if !vml]>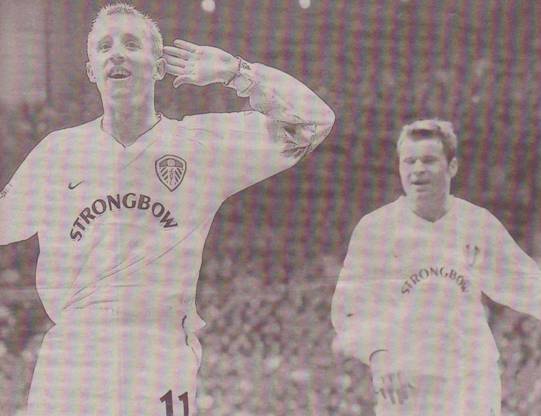 <![endif]>      <![if !vml]>
<![endif]>
Lee Bowyer listens for the Liverpool crowd's reaction to his goal                                  Lee Bowyer celebrates his goal with Mark Viduka
watched by Mark Viduka
<![if !vml]>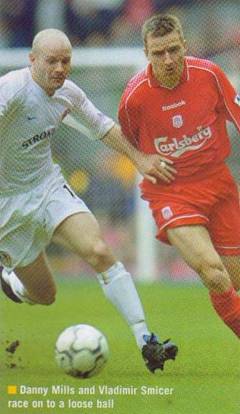 <![endif]>    <![if !vml]>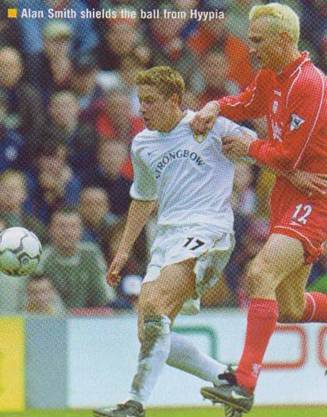 <![endif]>    <![if !vml]>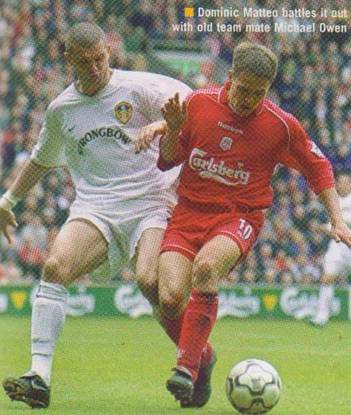 <![endif]>
<![if !vml]>
<![endif]>      <![if !vml]>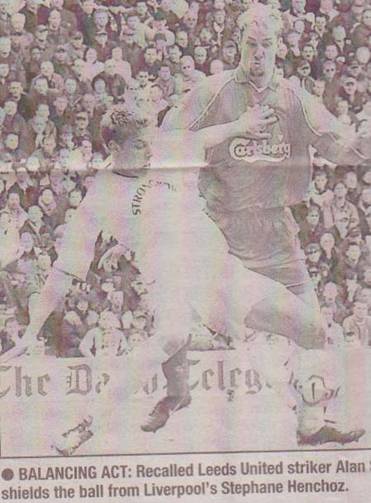 <![endif]>
Alan Smith gets in an overhead kick despite Sami Hyypia's attention
<![if !vml]>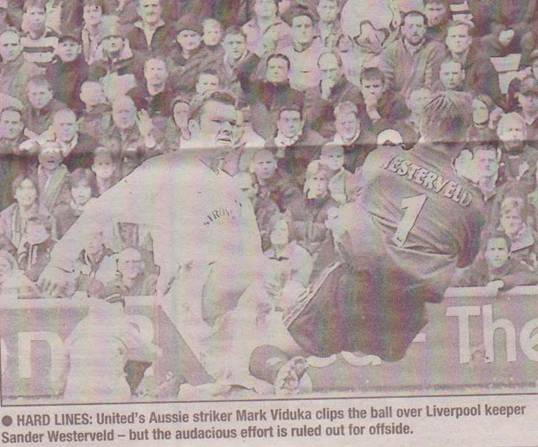 <![endif]>   <![if !vml]>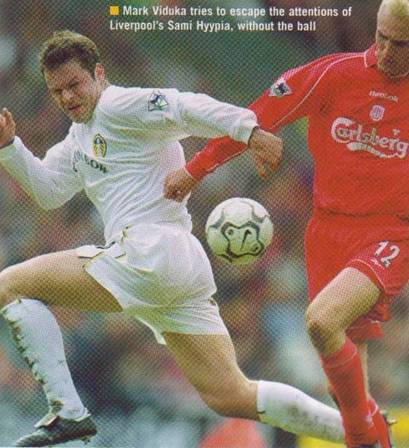 <![endif]>
Teams:
<![if !vml]>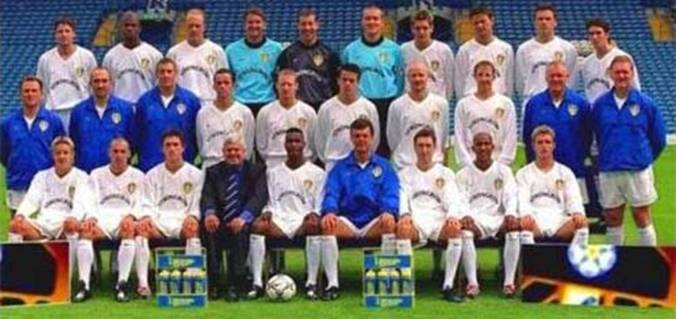 <![endif]>
Leeds United: 2000-01
Back Row: Michael Bridges, Michael Duberry, Robert Molenaar, Danny Milosevic, Nigel Martyn,
Paul Robinson, Jonathan Woodgate, Eirik Bakke, Mark Viduka, Matthew Jones.
Middle Row: Dave Hancock (Physio), Sean Hardy (Kit Manager),
Steve Sutton (Goalkeeping Coach), Gary Kelly, David Batty, Ian Harte, Danny Mills, Lee Bowyer,
Eddie Gray (Assistant Manager), Roy Aitken (Coach).
Front Row: Alan Smith, Darren Huckerby, Harry Kewell, Peter Ridsdale (Chairman),
Lucas Radebe, David O'Leary (Manager), Jason Wilcox, Olivier Dacourt, Stephen McPhail.
<![if !vml]>

<![endif]>
Liverpool: 2000-01
Back Row: Steve Staunton, Markus Babbel, Emile Heskey, Stephane Henchoz, Erik Meijer,
Jørgen Nielsen, Sander Westerveld, Pegguy Arphexad, Unknown, Titi Camara, Dieter Hamann,
Frodi Kippe, Dominic Matteo, Rigobert Song.
Middle Row: Five non-players, Richie Partridge, Alan Navarro, Vegard Heggem, Vladimir Smicer,
Stephen Wright, Patrik Berger, Djimi Traore, Gary McAllister, Igor Biscan, Bernard Diomede,
Five Coaching Staff.
Front Row: Steven Gerrard, Danny Murphy, Sami Hyypia, Jamie Redknapp, Assistant Manager,
Gerrard Houllier (Manager), Robbie Fowler, Nick Barmby, Jamie Carragher, Michael Owen.
Players:
<![if !vml]>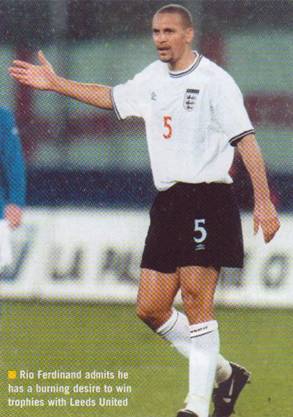 <![endif]> <![if !vml]>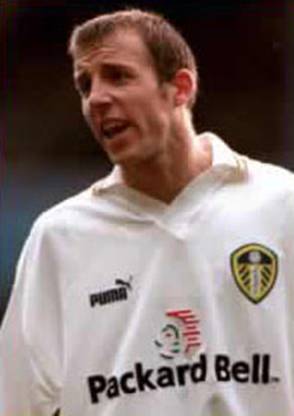 <![endif]>       <![if !vml]>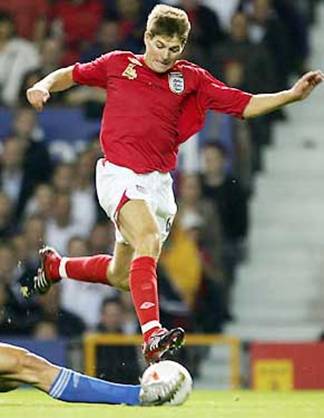 <![endif]> 
Rio Ferdinand and Lee Bowyer got the Leeds goals                                                                      Steven Gerrard replied for Liverpool
<![if !vml]>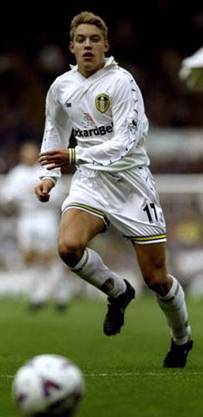 <![endif]> <![if !vml]>
<![endif]>   <![if !vml]>
<![endif]> <![if !vml]>
<![endif]>
Alan Smith and Olivier Dacourt returned to the Leeds line-up                        Robbie Keane and Eirik Bakke dropped to the bench
<![if !vml]>
<![endif]>  <![if !vml]>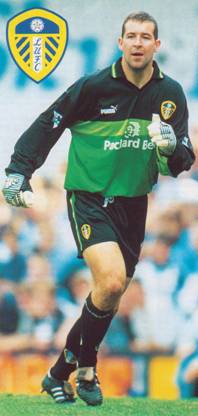 <![endif]>  <![if !vml]>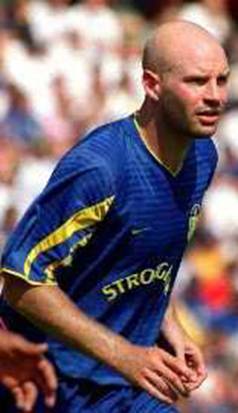 <![endif]>  <![if !vml]>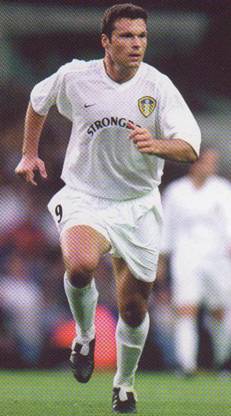 <![endif]>
An Ian Harte corner resulted in the              Nigel Martyn saved a               Danny Mills' shot bobbled wide        Mark Viduka had a late 'goal'
first goal                                                          Michael Owen volley                                                                             disallowed
<![if !vml]>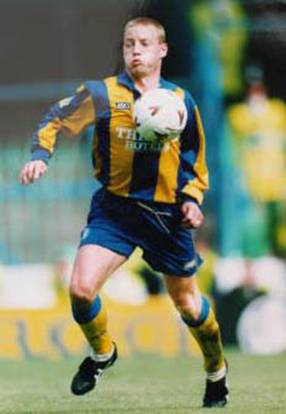 <![endif]>      <![if !vml]>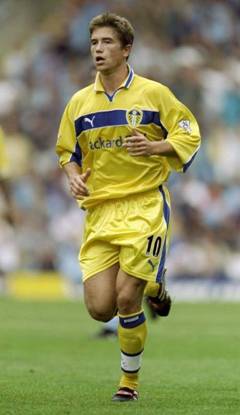 <![endif]>            <![if !vml]>
<![endif]>
    David Batty cleaned up effectively                Harry Kewell tormented the Liverpool         Former Liverpool player Dominic Matteo  
                                                                              defence and set up the second goal               made a quick break
<![if !vml]>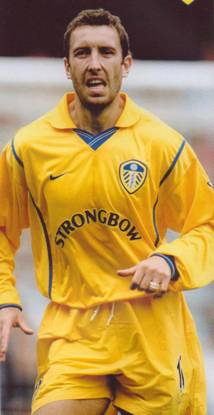 <![endif]>                      <![if !vml]>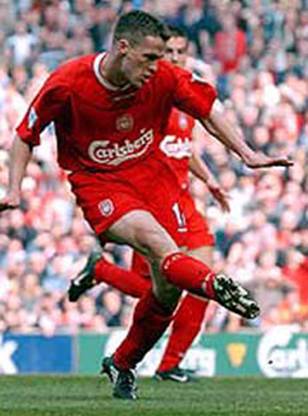 <![endif]>   <![if !vml]>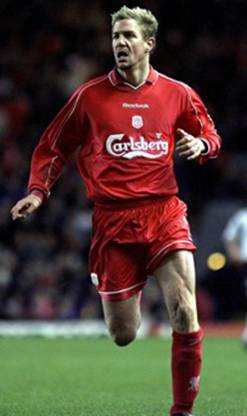 <![endif]>
Jason Wilcox came on as a substitute             Michael Owen and Stephane Henchoz were in the Liverpool line up