<![if !vml]>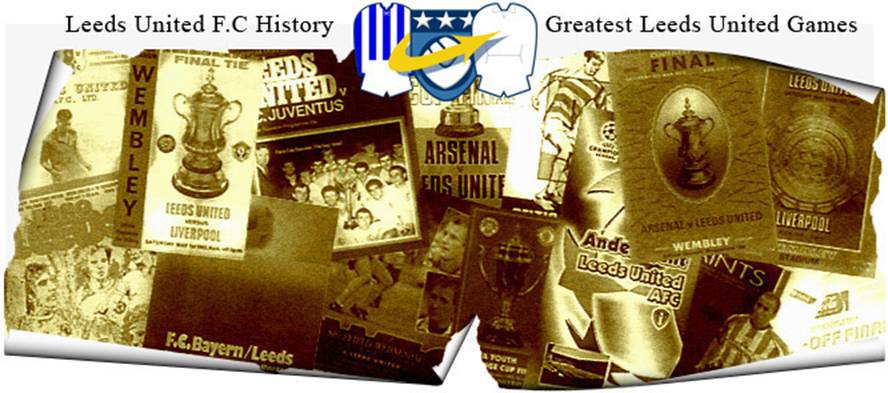 <![endif]>
Date: Saturday, 13th April 1991.
Venue: Elland Road, Leeds.
Competition: First Division.
Score: Leeds United 4 Liverpool 5
Scorers: Leeds United: Chapman (3), Shutt. Liverpool: Houghton, Molby (pen), Speedie, Barnes (2).
Attendance: 31,460.
Teams:
<![if !vml]>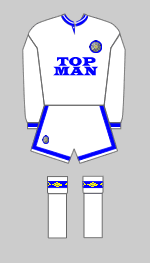 <![endif]><![if !vml]>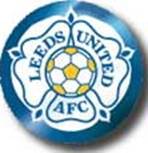 <![endif]>
Leeds United: Lukic; Sterland, Whitlow; Batty, Fairclough, Whyte; Strachan, Shutt, Chapman, McAllister, Speed. Unused Subs: Davison, Williams.
<![if !vml]>
<![endif]><![if !vml]>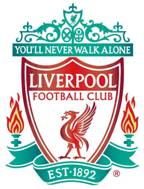 <![endif]>
Liverpool: Hooper; Hysen, Staunton; Nicol, Molby, Burrows; Beardsley, Houghton, Rush, Barnes, Speedie. Unused Subs: Rosenthal, Harkness.
Referee: Mr K. Redfern (Whitley Bay).
It's not often that a Leeds United defeat is featured as one of the most memorable matches, although the game in question, against Liverpool on April 13 1991, was a goal-ladened feast of entertainment. By already popular demand, there are several accounts of this extremely exciting and tense battle and United refusing to lie down, no matter what were the odds.
United and Liverpool were meeting at Elland Road for the first time in nine years and what a humdinger the contest, played in front of a crowd of 31,640 turned out to be. Nine goals, some stunning football and a staggering second half fight-back that featured a remarkable hat-trick from Lee Chapman, stamped this as the game that had everything. Except, that is, in United's case, there were no League points. Add to that the great spirit in which the game was played, outstanding ability, great vision, awareness, intelligence, bravery, arrogance and, yes, embarrassment were all in evidence in one of the most extraordinary matches I have seen.
United, in their first season back in the top flight, were more than holding their own. In fact they were in the top four at the time of this game. But Howard Wilkinson's men found themselves four goals down at half-time against a Liverpool side, whose pride had been wounded in recent weeks with talk of a so-called crisis at Anfield as their chances of retaining the League title faded. Like all United fans, especially those of us who had experienced the keen rivalry but huge respect each club had for the other, I had looked forward to this particular game but I was also keen to see the two front runners in the First Division scoring charts, Lee Chapman and Ian Rush in action on the same pitch. Chapman went into the game with twenty-four goals to his name, one ahead of Rush, and while Chapman added three more goals to his tally Rush, for once, was not on the score-sheet against United.
Liverpool went ahead after eleven minutes through Ray Houghton after the irrepressible John Barnes set him up at the far post, Jan Molby made it 2-0 with a sixteenth minute penalty when United keeper John Lukic had brought down Rush, and David Speedie added to Liverpool's score in the twenty-fifth minute. When Barnes scored Liverpool's fourth after twenty-seven minutes, United's embarrassment became acute. It was reasonable to assume that worse was to follow. But what happened?
United's admirable fighting qualities showed through on the resumption, with Chapman spearheading a revival. He struck in the sixty-eighth minute after Mike Hooper had been unable to hold a Gary McAllister shot and when Carl Shutt turned to fire in a low shot following Gary Speed's long throw-in to make it 4-2, hopes rose among United fans. Thirteen minutes were left but the match looked to be dead a minute later when Barnes scored from a back-heel from Rush. At 5-2 that really was it? Wasn't it? We'll, not quite.
But further goals for Chapman in the eighty-first and eighty-eighth minutes, both headers, gave Liverpool an anxious couple of minutes but they held out to win 5-4. At the end of the game United fans gave their team a standing ovation and not many teams who have just conceded five goals in a home game will have experienced that. Wilkinson summed things up succinctly when he said: "The difficult we can achieve, but miracles are harder and it would have been a miracle to win 6-5 after being four goals down."
Alternate version:
†
Elland Road has witnessed many remarkable matches over the years but few could match this goal-feast for sheer excitement. Unitedís return to the First Division had seen them up among the front-runners for most of the season without ever winning enough games to challenge the likes of Arsenal and Liverpool at the top. Second placed Liverpool produced some mesmerising football in the first half as they powered into a four goal lead with John Barnes the tormentor-in-chief.

Barnesí eleventh minute chip into the box picked out Ray Houghton, who finished clinically. Six minutes later Ian Rush was brought down by John Lukic and Jan Molby slotted home the ensuing penalty. United could not get hold of the ball and fell further behind when David Speedie forced home Barnesí twenty-fifth minute cross at the far post; and that man Barnes played in Rush to make it 4-0 after just twenty-seven minutes.

The team spirit and determination which had been the key part in the Second Division championship success still remained and United produced a brave, if unrewarded, second half fight-back, which brought the crowd to fever pitch. Central striker Lee Chapman was the focal point of the United attack and his prowess in the air gave Liverpool and uncomfortable second forty-five minutes. United had little option but to attack, but didnít get on the score-sheet until the sixty-eighth minute, when Chapman poked the ball in from close range. Nine minutes later Carl Shutt got on the end of Gary Speedís long throw and swivelled to shoot past Mike Hooper.

Within a minute Liverpool had checked Unitedís revival when Rushís back-heel sent Barnes towards goal for him to beat Lukic with an angled shot. United still refused to die and Chapman headers in the eighty-first and eighty-eighth minute completed the big strikerís hat-trick inside twenty minutes and whipped the crowd into a frenzy. Controversially he also had another header disallowed for a slight nudge on Hooper.
There was no questioning Liverpoolís right to maximum points but with another five minutes at their disposal Leeds might have won. Both teams left to a thunderous ovation after the crowd had been royally entertained. Liverpool went on to finish runners up to Arsenal, while Leeds finished a brilliant fourth in their return to top flight. Chapman completed the season with thirty-one goals in all competitions, the best return by any marksman in the First Division.

Special contribution : From Lee (MAMF on the forums) :

Leeds 4 Liverpool 5 1991

We were played off the park in the first half and went into the break 0-4 down to some well worked and skillful football by a fantastic Liverpool side containing the likes of Rush and Barnes.

Even though we were getting a trouncing we did not feel let down by the Leeds players for playing poorly, no, Liverpool were simply that good. Their passing and movement was simply fantastic to watch. The Leeds fans even clapped at the Liverpool goals as this exhibition match was like watching the Harlem globetrotters.

The same team that came out for the second half played a totally different game, in the first half the Leeds players were overawed but not for the second.

We shoved it up the ĎPool playing a good up and at them football game. We managed to claw back two goals but John Barnes was played in by Ian Rush to break our hearts and thoughts of any comeback at 2-5.

But nearly comeback we did, Lee Chapman grabbed a hat-trick and Carl Shutt got one as we battled back to 4-5 and also Lee Chapman went up for a ball with the Liverpool keeper Mike Hooper to head the ball into the net, the referee blew for a foul but having seen the goal on video numerous times it was clear to see that "Chappy" did not touch the keeper.

The Leeds players were cheered off the pitch, and it was the first time that I had ever seen a team applauded for getting beaten by a team who had put 5 past them. It was a super game, a one off game, played with skill and passion and for this reason, is the reason why that this game stands out for me as the best game that I have ever seen.

Lee Hession, Morley, Leeds.
<![if !supportLineBreakNewLine]>
<![endif]>
<![if !vml]>
<![endif]>
Match Action:
<![if !vml]>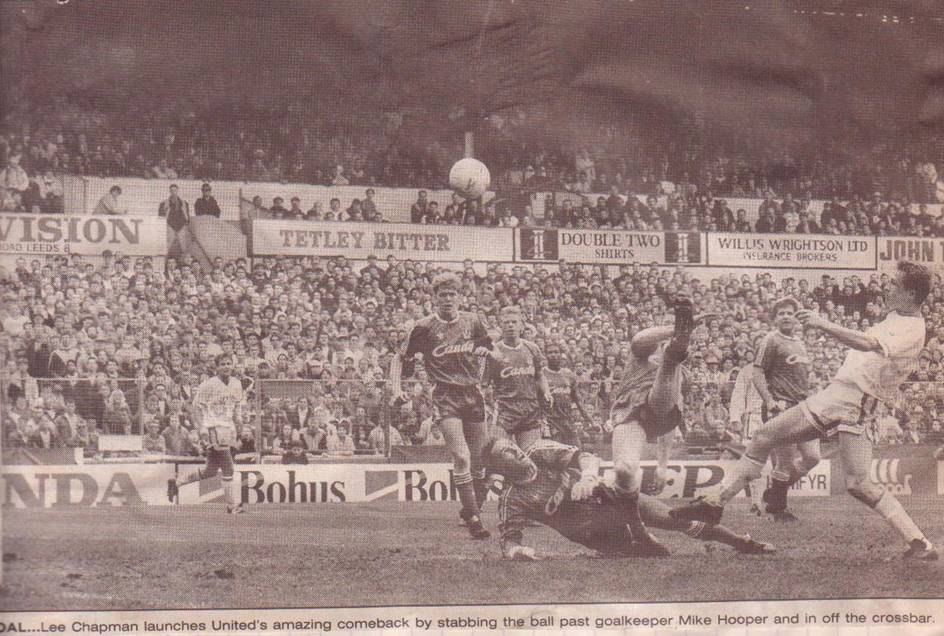 <![endif]>
<![if !vml]>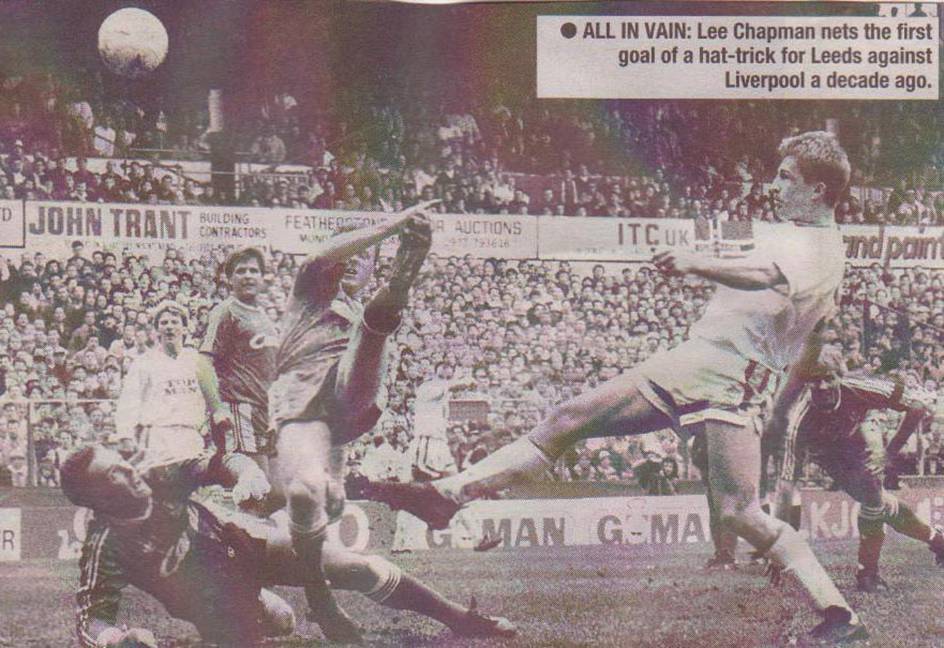 <![endif]>
<![if !vml]>

<![endif]>
<![if !vml]>
<![endif]>†
(Continued from above)
<![if !vml]>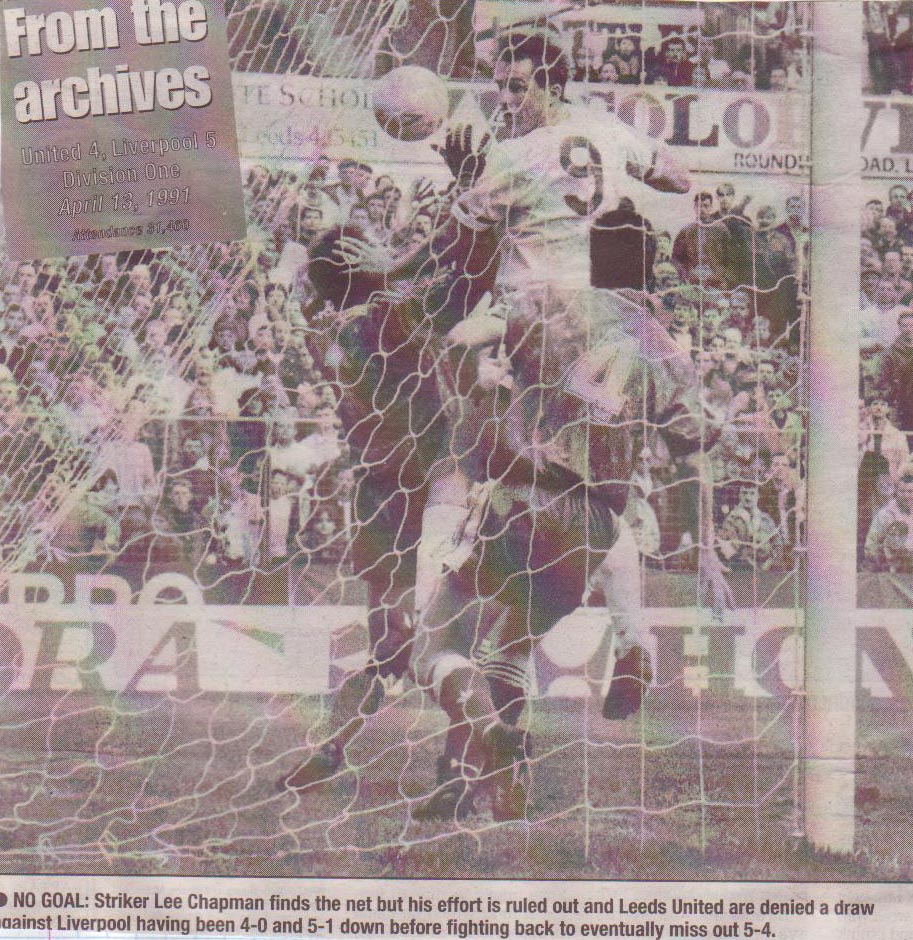 <![endif]>†
<![if !vml]>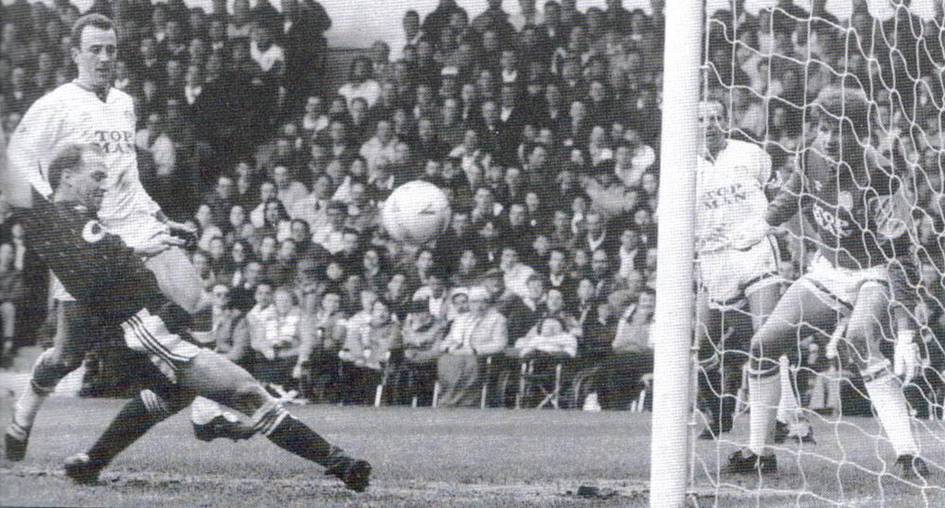 <![endif]>
David Speedie nets Liverpoolís third goal
<![if !vml]>
<![endif]>
Gordon Strachan crosses for Lee Chapman to score Unitedís fourth goal
<![if !vml]>
<![endif]>†<![if !vml]>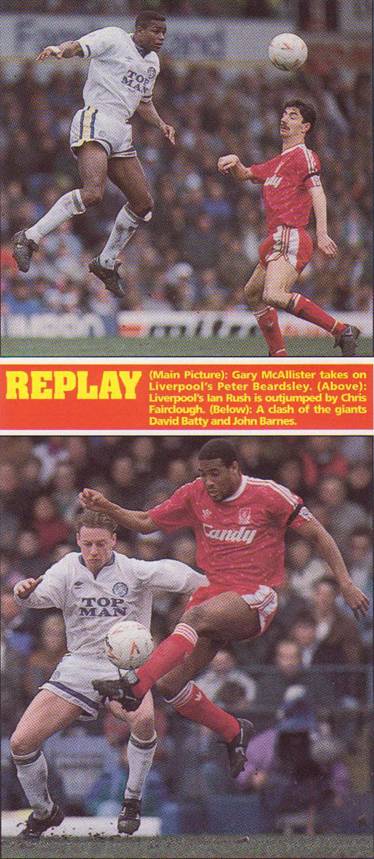 <![endif]>
<![if !vml]>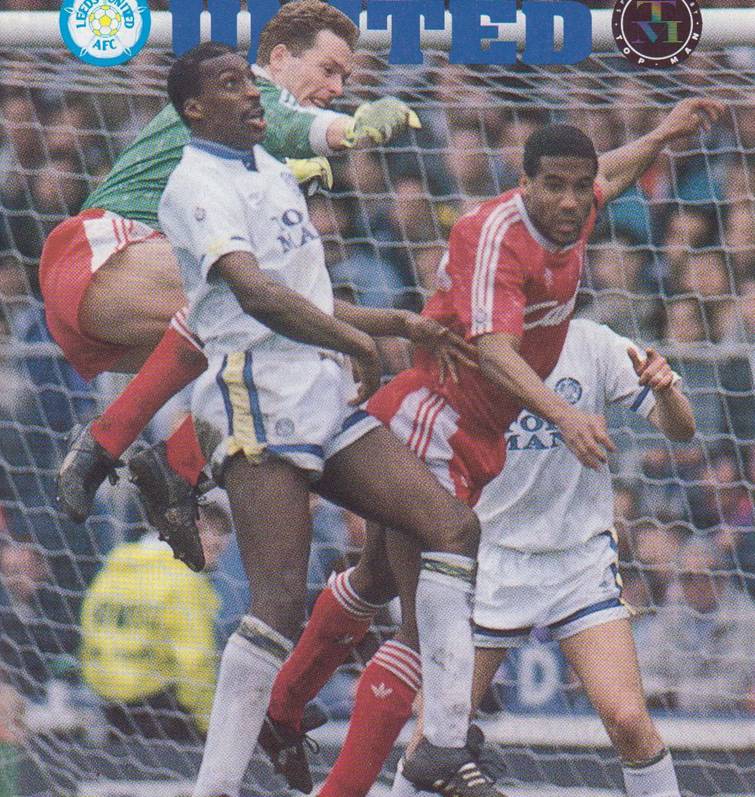 <![endif]>
Chris Whyte challenges Mike Hooper and John Barnes for a high ball
<![if !vml]>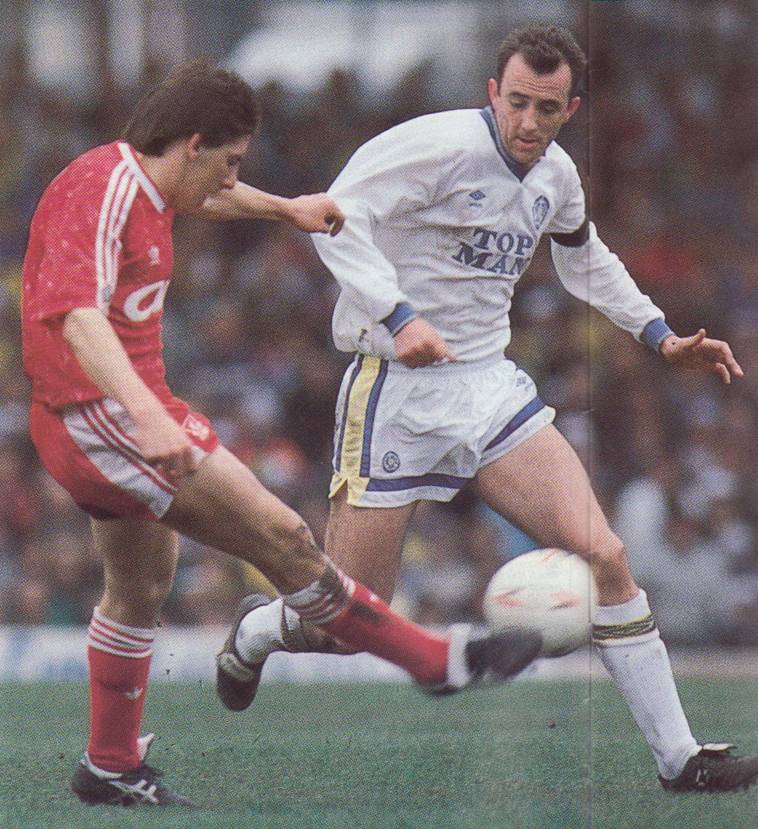 <![endif]>
Gary McAllister tries to close down Peter Beardsley
Teams:
<![if !vml]>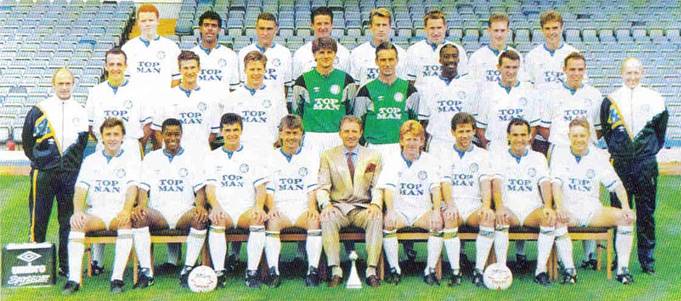 <![endif]>
Leeds United 1990-91:
Back Row: Chris OíDonnell, Chris Kamara, Vinnie Jones, John Pearson, Lee Chapman,
John McClelland, Peter Haddock, Andy Williams.
Middle Row: Alan Sutton (Physio), Gary McAllister, Simon Grayson, Dylan Kerr, John Lukic,
Mervyn Day, Chris Whyte, Mike Whitlow, Mel Sterland, Mick Hennigan (Coach).
Front Row: Bobby Davison, Chris Fairclough, Gary Speed, Glynn Snodin,
Howard Wilkinson (Manager), Gordon Strachan, Jim Beglin, Imre Varadi, David Batty.
<![if !vml]>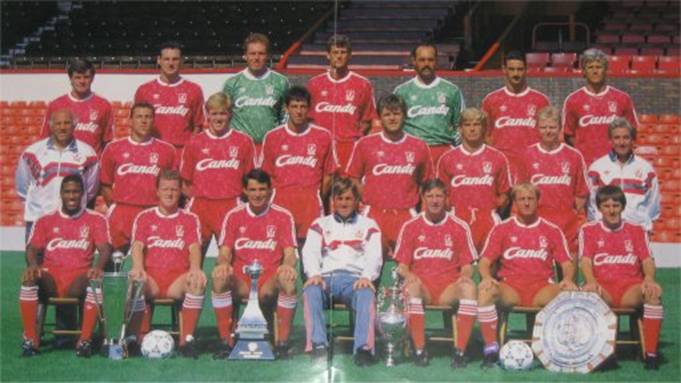 <![endif]>
Liverpool 1990-91:
Back Row: Ray Houghton, Alex Watson, Mike Hooper, Gary Gillespie, Bruce Grobbelaar,
Ian Rush, Glenn Hysen.
Middle Row: Ron Moran (Coach), Ronnie Rosenthal, Steve Staunton, Gary Ablett, Jan Molby,
Barry Venison, David Burrows, Roy Evans (Coach).
Front Row: John Barnes, Steve Nicol, Alan Hansen, Kenny Dalglish (Manager) Ronnie Whelan,
Steve McMahon, Peter Beardsley.
Players:
<![if !vml]>
<![endif]>†<![if !vml]>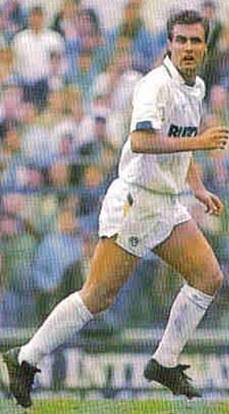 <![endif]>†<![if !vml]>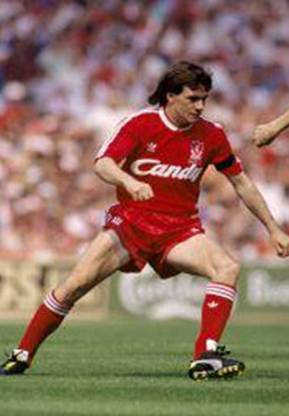 <![endif]>†<![if !vml]>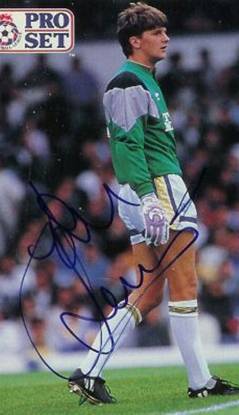 <![endif]>
Lee Chapman got a hat-trick and Carl Shutt scored the††††††††† †††††††††††††Ray Houghton got Liverpoolís first†††††††† †††††John Lukic brought down Ian
other Leeds goal†††††††††††††††††††††††††††††††††††††††††††††††††††††††††††††††††††††† ††††††††††††††††††††††††††††††††††††††††††††††††††††††††††††††††††††††††††††††††††††††††Rush for the penalty
<![if !vml]>

<![endif]>††† <![if !vml]>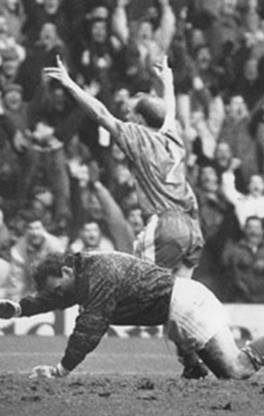 <![endif]>††††<![if !vml]>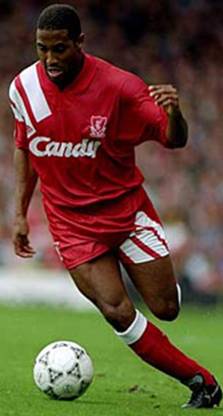 <![endif]>†††††††<![if !vml]>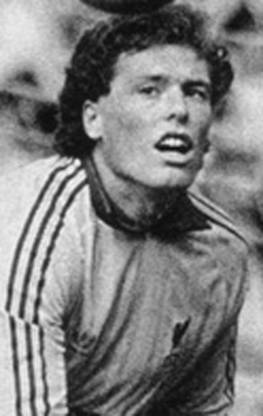 <![endif]>
and Jan Molby the†††††† †††††David Speedie got Liverpoolís third,†† †††††††while John Barnes got Liverpoolís††† ††Mike Hooper was in the Liverpool goal
second goal from the spot††††††††††††††††††† ††††††††††††††††††††††††††††††††††††††††††††††††††††last two goals
<![if !vml]>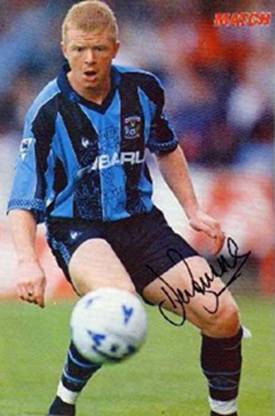 <![endif]>† <![if !vml]>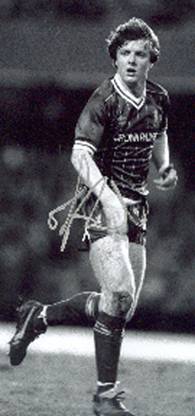 <![endif]>††<![if !vml]>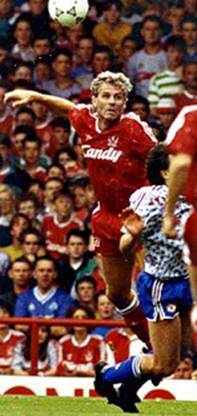 <![endif]>††<![if !vml]>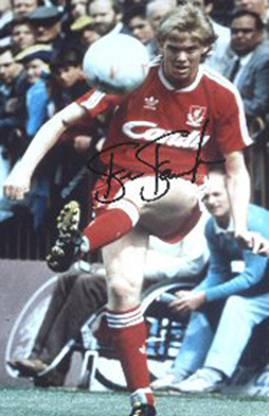 <![endif]>††
The Liverpool defence was David Burrows, Steve Nicol, Glenn Hysen and Steve Staunton.
<![if !vml]>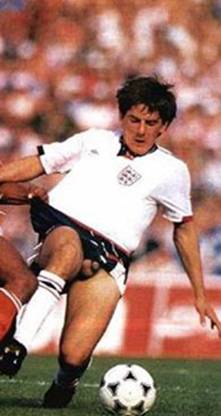 <![endif]>†<![if !vml]>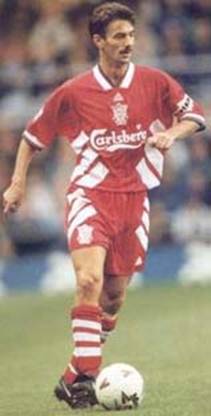 <![endif]>† <![if !vml]>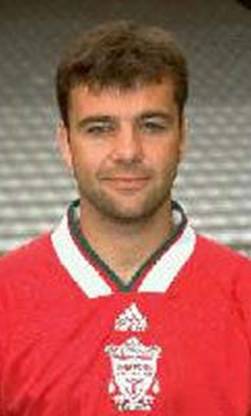 <![endif]>††<![if !vml]>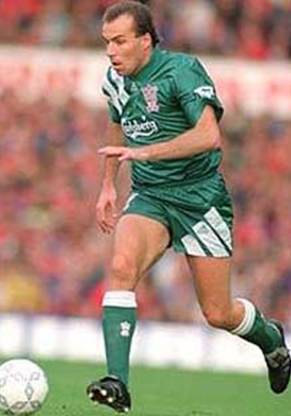 <![endif]>
Peter Beardsley and Ian Rush were not on the scoresheet††††††††† ††††††Steve Harkness and Ronnie Rosenthal were Liverpoolís unused substitutes