<![if !vml]>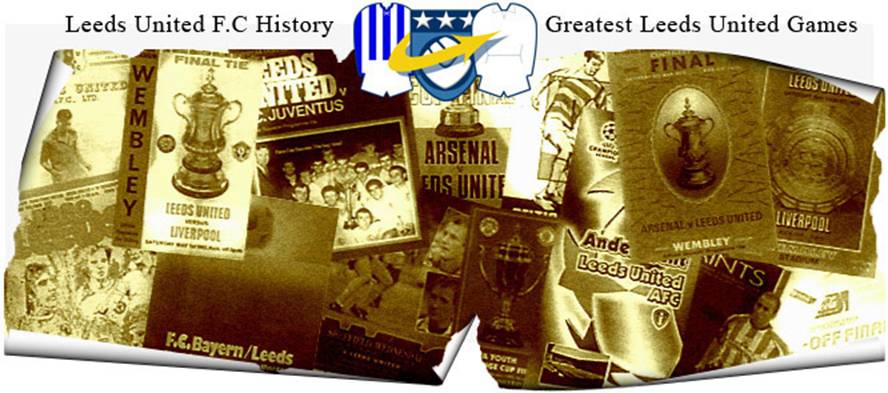 <![endif]>
Date: Saturday 13th April 1985.
Venue: Elland Road, Leeds.
Competition: Second Division.
Score: Leeds United 4 Crystal Palace 1.
Scorers: Leeds United: Baird, Sellars, Sheridan (2). Crystal Palace: Finnigan.
Attendance: 12,286.
Teams:
<![if !vml]>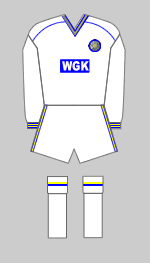 <![endif]><![if !vml]>
<![endif]>
Leeds United: Day, Irwin, Hamson; Sellars, Linighan, Aspin; Wright, Sheridan, Baird, Lorimer, Gray.
<![if !vml]>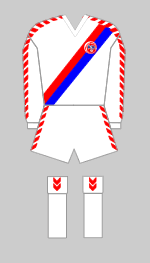 <![endif]><![if !vml]>
<![endif]>
Crystal Palace: Wood, Hughton, Sparrow; Finnegan, Droy, Cannon; Taylor, Murphy, Aylott, A.Gray (Irvine) Lindsay.
Referee: Mr. L. M. Robinson (Sutton Coalfield).
The size of the crowd when Crystal Palace visited Elland Road in 1985 spoke volumes about Leeds United's chances of promotion. A place in Division One was not beyond the grasp of Leeds, but an attendance of just 12,286 suggested the city at large believed the ambition was fanciful. Regardless of the scepticism, Eddie Gray was not about to let the season fizzle out quietly. United's Manager had called for his side to pull off a run of six straight victories during their remaining Second Division fixtures, and the response of his players was immediate as Palace were routed 4-1 on 13th April.
<![if !supportLineBreakNewLine]>
<![endif]>
The performance was far from vintage, but Leeds had reached the stage where substance carried value while style drifted into insignificance. Two goals from John Sheridan added sparkle to the result and renewed hope that Leeds, against expectation, were still part of the promotion scuffle. The win was part of a six-match unbeaten run, but the maximum haul of twelve points demanded by Gray failed to materialise, and a 1-0 defeat at Birmingham on the final day of the campaign left Leeds five points short of the top three.
<![if !supportLineBreakNewLine]>
<![endif]>
A strong, swirling wind at Elland Road prevented Leeds and Palace from properly finding their feet, but Sheridan's double ensured United left the field with a sense of optimism and satisfaction. United had opened the scoring in the twentieth minute when Ian Baird scored his first goal at Elland Road since a £50,000 move from Southampton, but the soft effort summed up a scrappy match. Peter Lorimer's downward header dropped to Baird, who miss-hit his shot towards Palace's goal. Goalkeeper George Wood looked to have the ball covered, but Baird's strike slipped off his legs and rolled over the line.
<![if !supportLineBreakNewLine]>
<![endif]>
Those who expected United to make the most of their fortune and dispatch Palace comfortably were disappointed, however, as the hosts toiled against Palace's defence.
It took until the sixty-first minute and a wonderful piece of skill from Sheridan, for Leeds to tie up the result with a second goal. Sheridan collected the ball by the corner flag and tricked his way past Henry Hughton and Tony Finnigan before curling a shot around Wood. The midfielder's effort rebounded off the inside of the post, but Scott Sellars ran in to snatch his seventh goal of the season from point-blank range.
<![if !supportLineBreakNewLine]>
<![endif]>
Sheridan began to dominate proceedings, and he laid on an opportunity for Tommy Wright, which Wood repelled, before finding the net himself. Wright's pass in the eighty-third minute gave Sheridan the time to beat Palace's keeper, and though Finnigan responded sixty seconds later after Mervyn Day parried an effort from Trevor Aylott, Sheridan sealed the win with a twenty-five-yard strike. Gray reiterated his target at full time, insisting: "There are five games left and we must aim to win all of them". But a 1-1 draw at Brighton seven days later left United with too much to do, and their challenge was doomed to failure.
Alternate Reports (Courtesy Mark Ledgard)
A quick summary:  Goals by Ian Baird and Scott Sellars softened up struggling Palace and John hit a late double to seal a fine home win. Ian Baird opened the scoring with a close range shot, after Peter Lorimer had headed down a left-wing centre from Frank Gray. It was Baird's first goal at Elland Road and it came at a time when Palace were growing in confidence. Leeds had to wait until the sixty-first minute for their second. Scott Sellars firing in after John Sheridan had struck a post. Sheridan then finished off a fine move started by himself and carried on by Scott Sellars and Tommy Wright. Tony Finnegan pulled a goal back a minute later, when goalkeeper Mervyn Day failed to hold a header from Trevor Aylott, but Leeds restored their advantage when John Sheridan netted with a twenty-five yarder.
And a more extensive report: Leeds United's promotion flame continues to flicker, but the manner of their victory emphasized why they are only outsiders. Before the inventive John Sheridan influenced matters, scoring twice in the last seven minutes, Leeds had struggled to make their extra class tell. Even with a First Division chance to rouse the passions, Eddie Gray's young side swapped the sublime for the indifferent at the swing of a boot. Rival manager Steve Coppell, who should guide his Palace side away from relegation, pin-pointed the Leeds make-up, "It is an unpredictable Second Division, and they are the most unpredictable side," he said. "They might destroy you but they always give you a chance." Leeds had made steady progress but a crowd of only 12,286 suggested few Elland Road followers expect them to find the consistency to win their remaining five games, a feat Eddie Gray regarded as essential for a fighting chance of promotion.
A low-key first half finished with Leeds one goal ahead and Ian Baird celebrating a miskick. Peter Lorimer headed Frank Gray's left wing cross down towards goal. Baird made contact and the goalkeeper George Wood, deceived by the ball's lack of pace, allowed it to creep in off his legs. Until then, Palace's approach play had given them heart. Trevor Aylott had the best chance of them all. Mervyn Day saving well after Denis Irwin's hesitancy had allowed the break. The young Republic of Ireland full-back, in fact, looked short of confidence in possession, his defending was as quietly efficient as ever, and Leeds suffered down the right as a result. Rain quickened a greasy surface in the second half and John Sheridan became an inspiration. There seemed little threat as he took possession near the left corner flag, but he thought otherwise, spurting between Henry Hughton and Tony Finnigan and cleverly curling his side-foot shot around George Wood and against the far post. Scott Sellars, named Yorkshire's young player of the month, arrived on cue to provide the final touch. Two up after sixty-one minutes Leeds finally made things happen. Palace introduced the winger, Alan Irvine, and threw Tony Finnigan forward, but it was Leeds that continued to press, Sheridan putting Tommy Wright clear, only for the striker to drive directly at the goalkeeper. Wright did better seven minutes from time, keeping possession under severe pressure before manufacturing a left wing cross which John Sheridan slid in. Palace immediately pulled back to 3-1. Tony Finnigan tapping in after Mervyn Day had parried a Trevor Aylott header. Sheridan, though, had the final word. A tentative clearance left him thirty-five yards from goal and facing a penalty area packed with bodies. Sheridan relished the responsibility, evading a challenge, switching to his right foot and crashing the ball into Wood's top left hand corner of the net from twenty-five yards out. No wonder that Eddie Gray could confidently state, "We are better equipped than last year. The boys are a bit more experienced and can make things happen." They just need it to happen on a more regular basis, that's all.
<![if !vml]>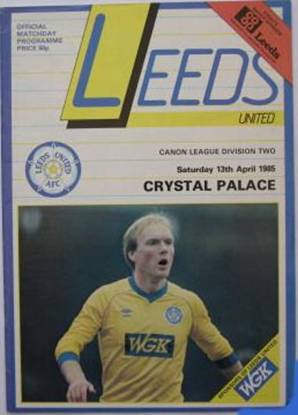 <![endif]>
Match Action:
<![if !vml]>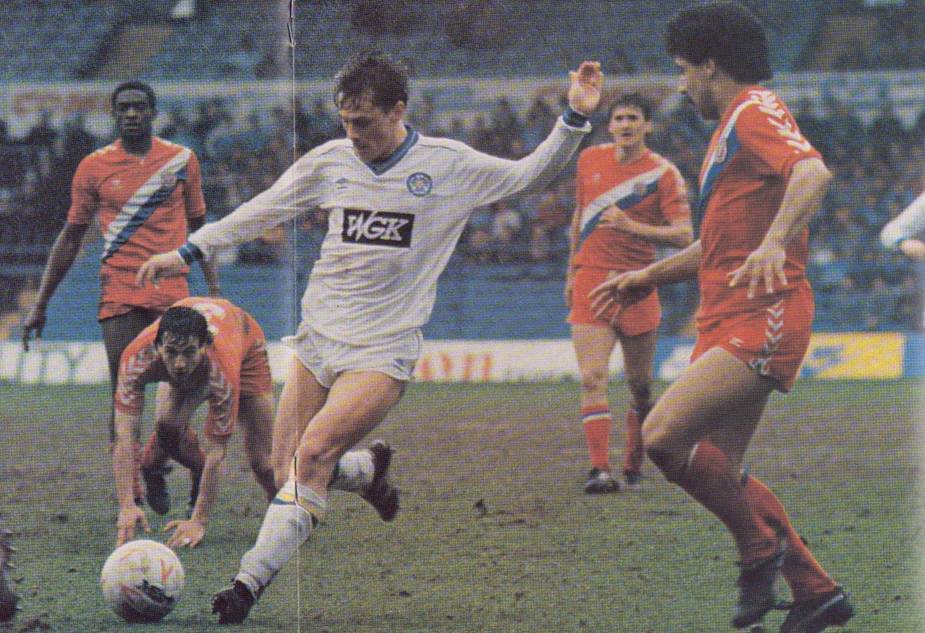 <![endif]>
Tommy Wright slices through the Crystal Palace defence
<![if !vml]>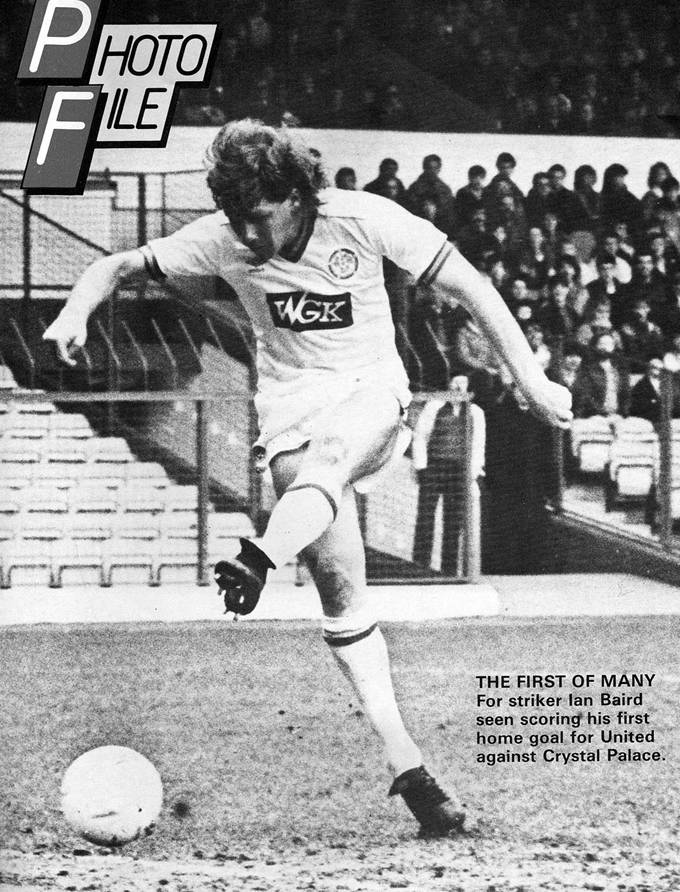 <![endif]>
(Courtesy Mark Ledgard)
Teams:
<![if !vml]>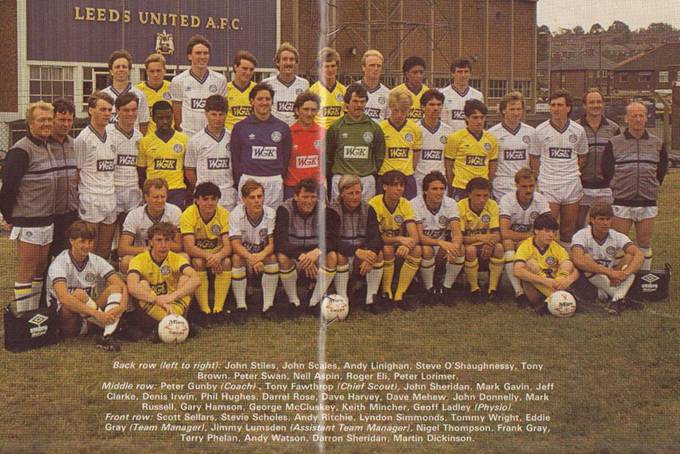 <![endif]>
<![if !vml]>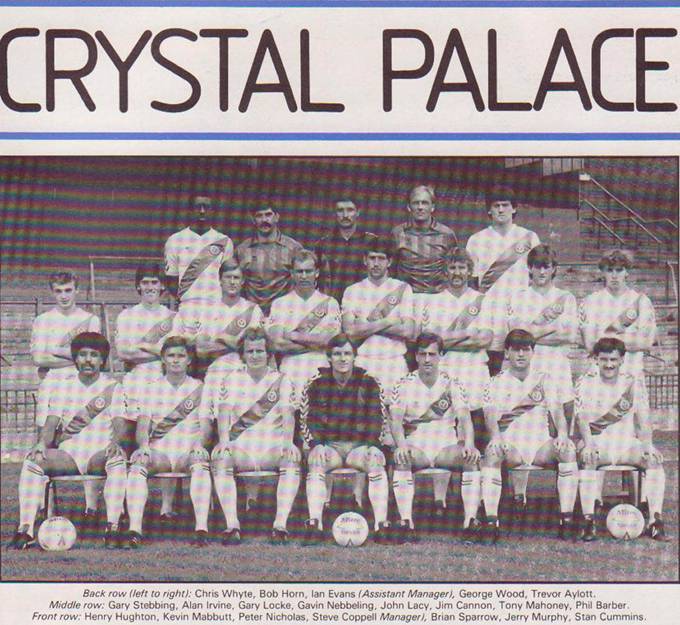 <![endif]>
Players:
<![if !vml]>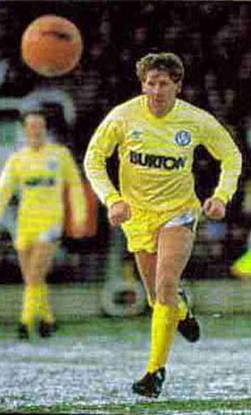 <![endif]>    <![if !vml]>
<![endif]>     <![if !vml]>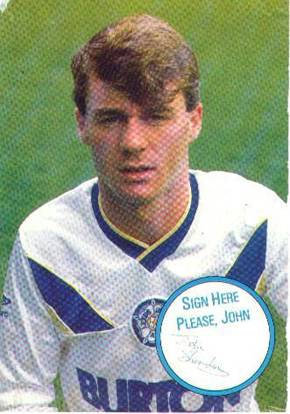 <![endif]> 
Ian Baird, Scott Sellars and John Sheridan (2) scored for Leeds
<![if !vml]>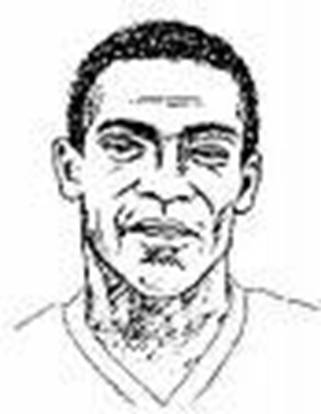 <![endif]> <![if !vml]>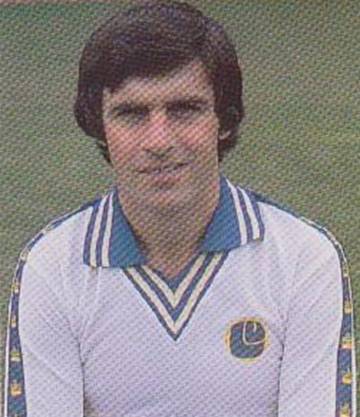 <![endif]> <![if !vml]>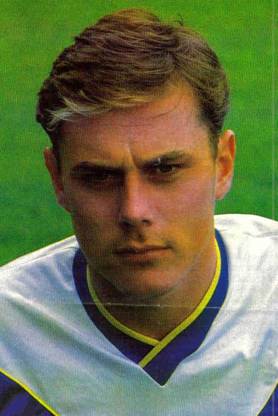 <![endif]> 
Tony Finnegan scored for Palace                           Peter Lorimer's header resulted in the first goal           Tommy Wright's shot was repelled
<![if !vml]>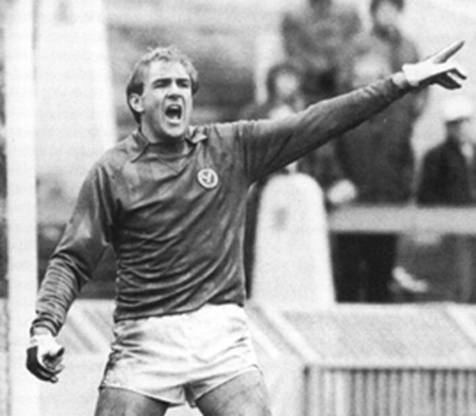 <![endif]>    <![if !vml]>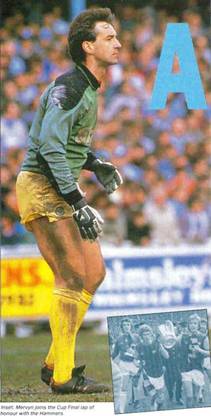 <![endif]> <![if !vml]>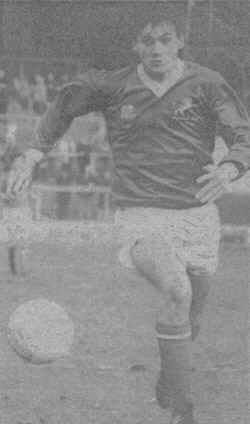 <![endif]>
George Wood was at fault with first Leeds goal                                      Mervyn Day parried a shot from striker Trevor Aylott
<![if !vml]>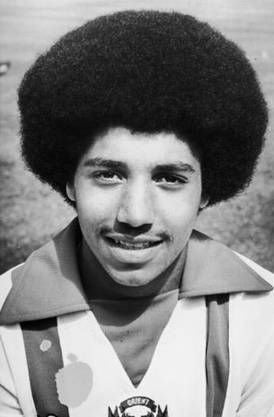 <![endif]>  <![if !vml]>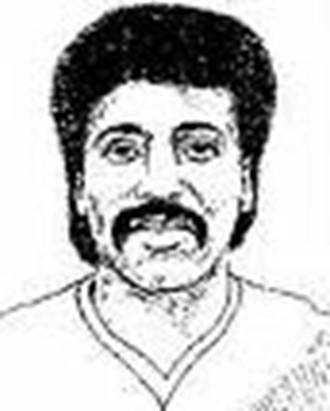 <![endif]>       <![if !vml]>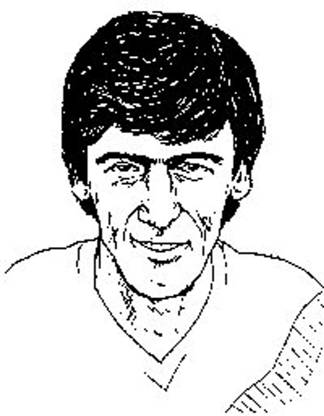 <![endif]>
Right Back Henry Hughton in younger life and as a caricature in later days                           Alan Irvine came on as a substitute
<![if !vml]>
<![endif]> <![if !vml]>
<![endif]>                      
Mickey Droy and Jim Cannon were in central defence                       
   <![if !vml]>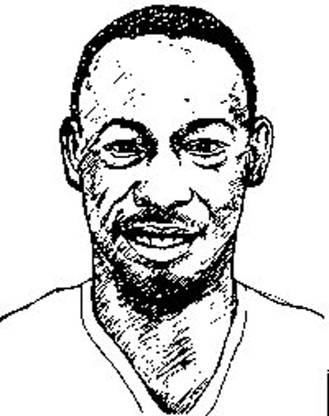 <![endif]> <![if !vml]>
<![endif]>
Andy Gray and Jerry Murphy were in midfield
<![if !vml]>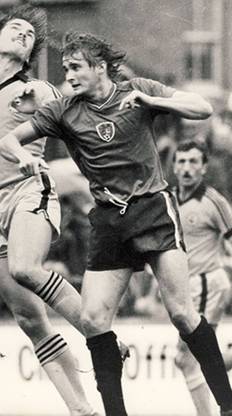 <![endif]>   <![if !vml]>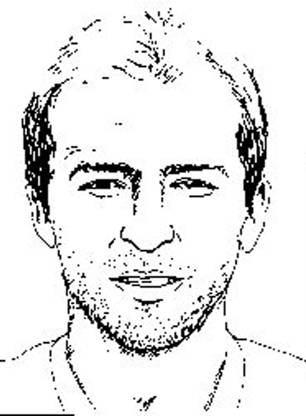 <![endif]>  <![if !vml]>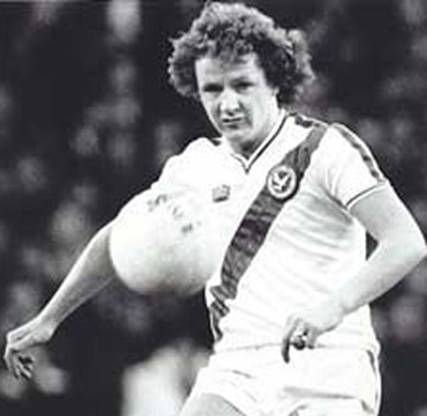 <![endif]>
Kevin Mabbutt, Gavin Nebbeling and Peter Nicholas were not in contention