<![if !vml]>
<![endif]>
Date: Saturday, 13th February 1971.
Venue: Layer Road, Colchester.
Competition: FA Cup Fourth Round.
Score: Colchester United 3 Leeds United 2
Scorers: Colchester United: Crawford (2), Simmons. Leeds United: Hunter, Giles.
Attendance: 16,000 (Receipts £10,500).
Teams:
<![if !vml]>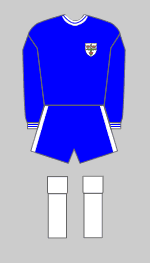 <![endif]><![if !vml]>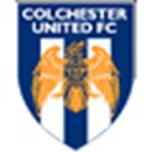 <![endif]>
Colchester United: Smith; Cram, Hall; Gilchrist, Garvey, Kurila; Lewis, Simmons, Mahon, Crawford, Gibbs. Unused Sub: Cook.
<![if !vml]>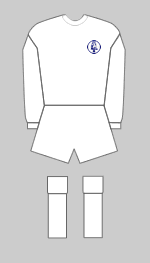 <![endif]><![if !vml]>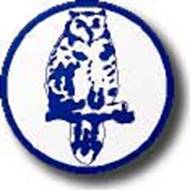 <![endif]>
Leeds United: Sprake; Reaney, Cooper; Bates, Charlton, Hunter; Lorimer, Clarke, Jones, Giles, Madeley. Unused Sub: Belfitt.
Referee: D. Lydon (Birmingham).
This date will go down as one of the blackest days in Leedsí history as Fourth Division minnows Colchester United pulled out one of the greatest FA Cup shocks by knocking out star-studded United in the fourth round.
Leeds, without Billy Bremner and Eddie Gray, never looked comfortable on the tight compact Layer Road ground against opponents who fought for every ball. Quicker and more decisive, Colchester made life hard for the Leeds defence to the point of embarrassment. They had promised they would attack and, roared on by their vociferous supporters, that was exactly what they did.
In defence, Norman Hunter found himself working overtime, trying to contain the blue-shirted marauders. Mick Bates could scarcely be faulted for his midfield efforts and Alan Clarke, playing against medical advice after having a temperature of 105 the previous evening, tried to get into scoring positions but without any luck.
Leading the Uís attack was thirty-four year old Ray Crawford, an England international during his days with Ipswich Town. He rolled back the years to give the Leeds back-line an awful roasting and it took just eighteen minutes to set lowly Colchester on the way to a place in the record books. Gary Sprake came out to pick off a free-kick from the left, but it sped past him and Crawford had the time and space to head the ball incisively past the Leeds keeper. Ten minutes later Ray Crawford rose above Paul Reaney to win aerial possession and, as Gary Sprake sped from his goal in an attempt to get possession of the ball, he was able to poke it past him, to get the second via a post.
Colchester went further ahead ten minutes after half-time when Dave Simmons scored the third after another mix up between Paul Reaney and Gary Sprake, as the ball bounced awkwardly for them. Unitedís fearsome defence was falling apart at the seams with Jack Charlton and Norman Hunter increasingly being caught out of position and not around for the aerial challenges.
An hour had gone before Norman Hunter threw United a lifeline by heading in a corner with Colchester starting to tire and for the first time, Leeds began to look like Leeds United. Unitedís confidence started to return as Johnny Giles got a second to pull Leeds back into the game. With seventeen minutes left for United to salvage a replay, a brilliant save by Graham Smith saw Colchester through for the shock of the round. Leeds had produced too little, too late.
<![if !vml]>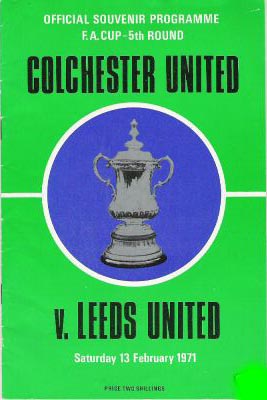 <![endif]>
Match Action:
<![if !vml]>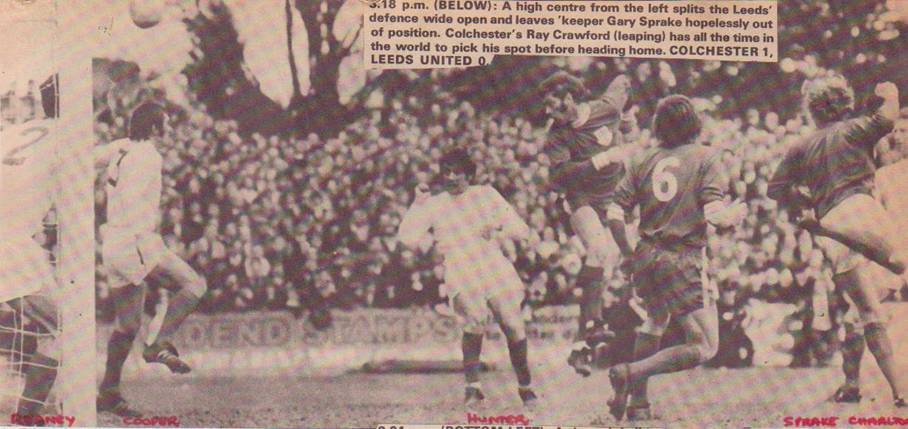 <![endif]>†
<![if !vml]>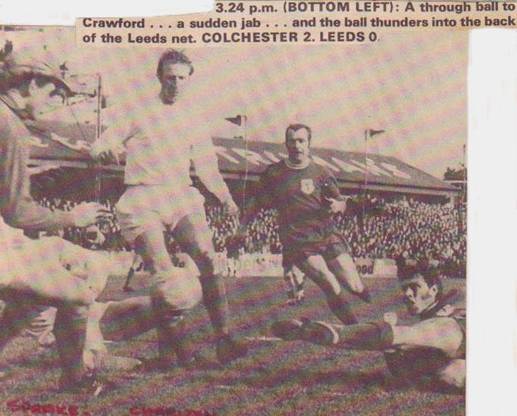 <![endif]>†† <![if !vml]>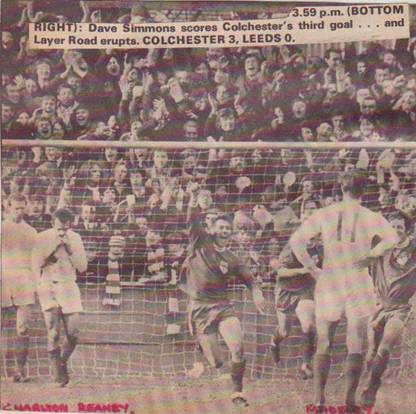 <![endif]>
<![if !vml]>
<![endif]>†
<![if !vml]>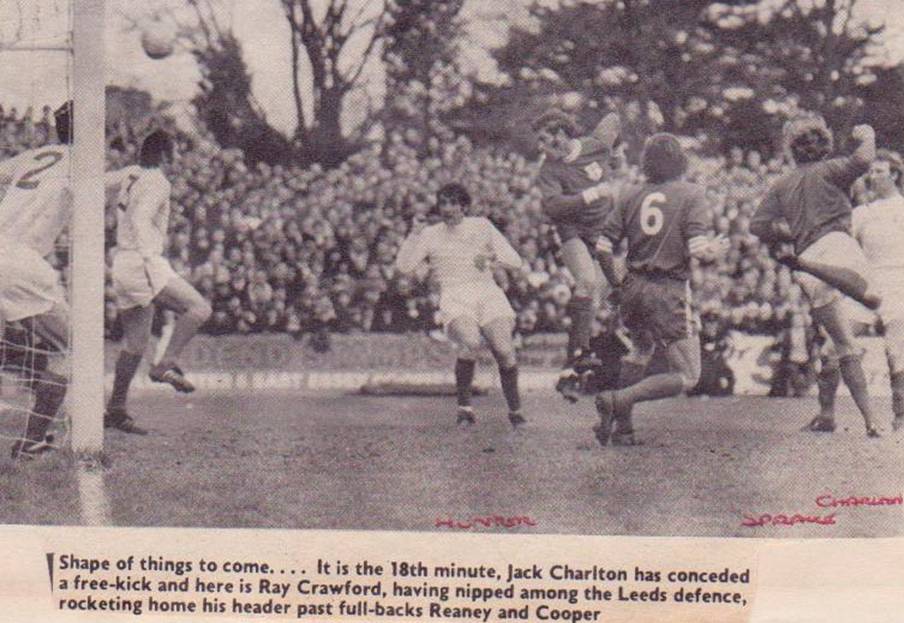 <![endif]>
<![if !vml]>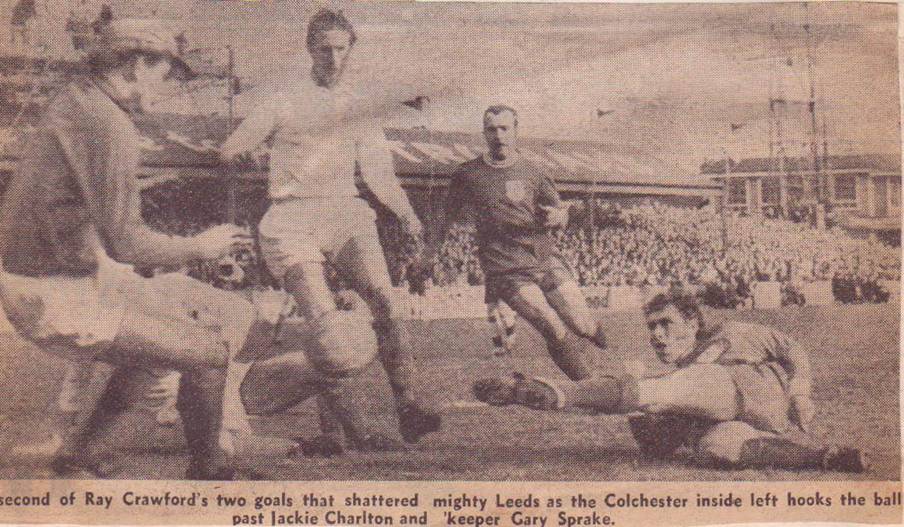 <![endif]>
<![if !vml]>
<![endif]>
<![if !vml]>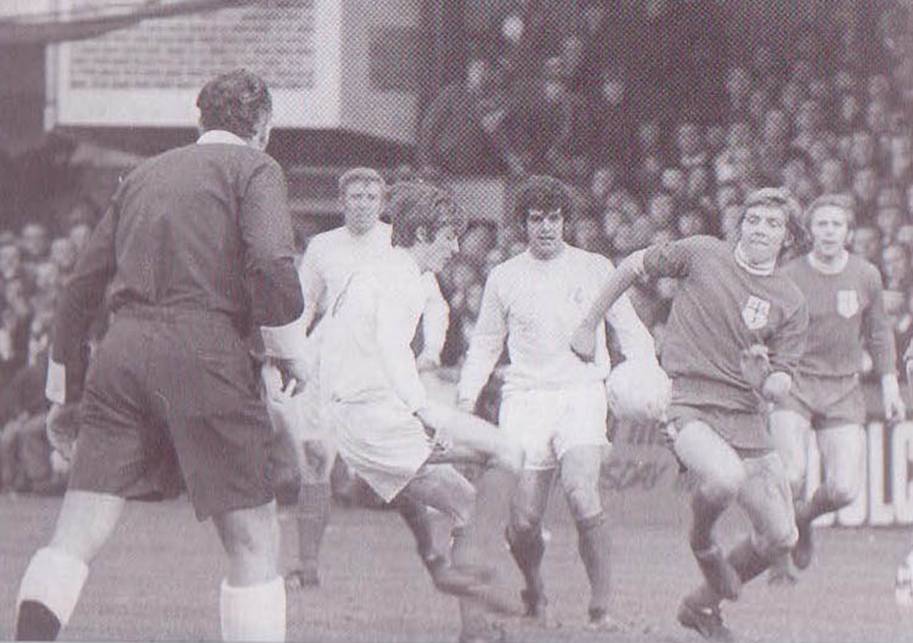 <![endif]>
Unwell Allan Clarke in a tussle watched by Mick Jones and Mick Bates
<![if !vml]>
<![endif]>
Norman Hunter heads the Leeds first goal after one hourís play
Teams:
<![if !vml]>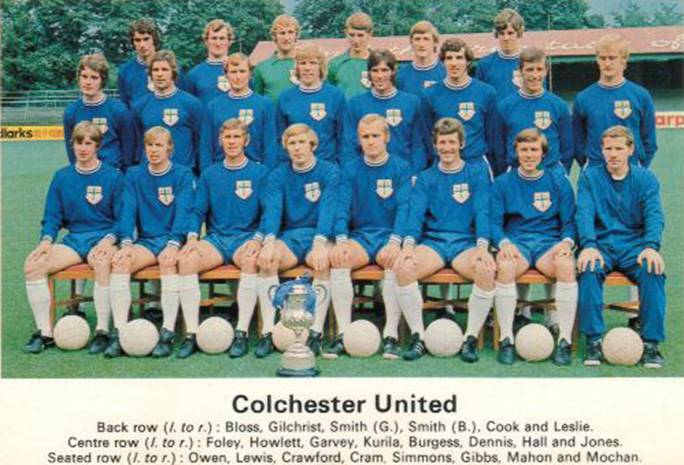 <![endif]>
<![if !vml]>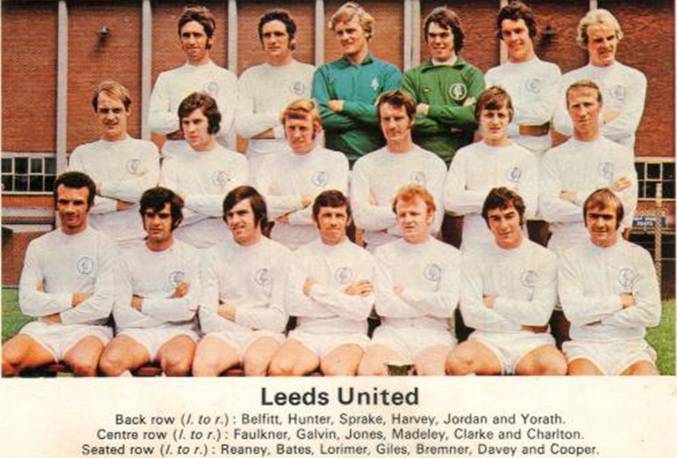 <![endif]>
Players:
<![if !vml]>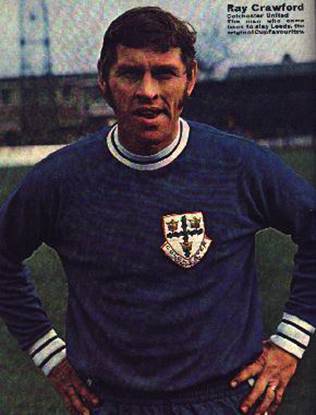 <![endif]>†††††††††††† <![if !vml]>

<![endif]>††††††††††††††††††††
Ray Crawford got the first two for Colchester and Dave Simmons the third.
<![if !vml]>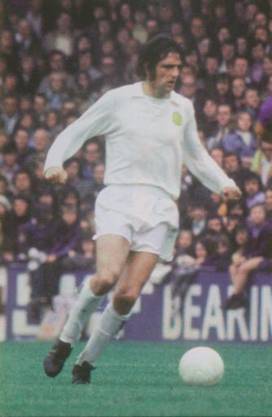 <![endif]>†† †<![if !vml]>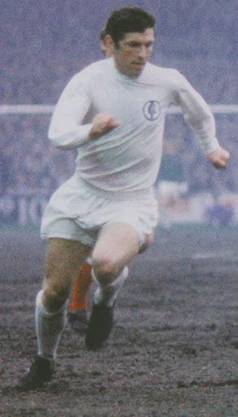 <![endif]>
Norman Hunter headed Leedsí first and Johnny Giles got the second
††††††††††