<![if !vml]>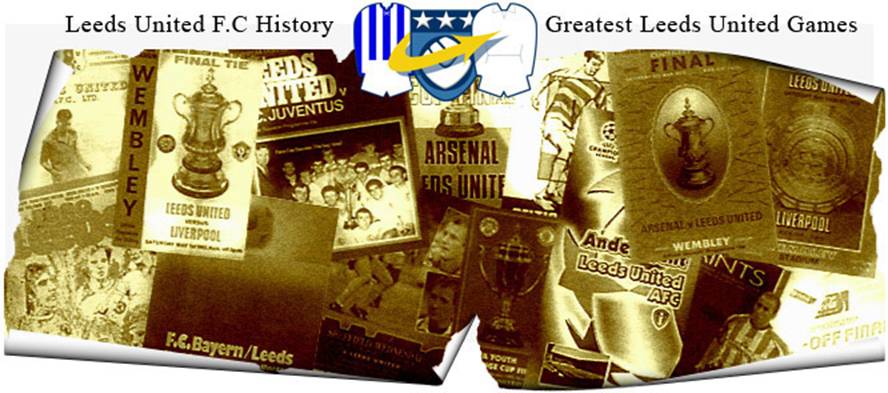 <![endif]>
Date: Thursday, 12th December 2002.
Venue: Elland Road, Leeds.
Competition: UEFA Cup Third Round Second Leg.
Score: Leeds United 1 Malaga 2
Scorers: Leeds United: Bakke. Malaga: Dely Valdes (2).
Attendance: 34,754.
Teams:
<![if !vml]>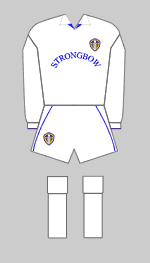 <![endif]><![if !vml]>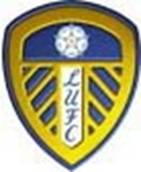 <![endif]>
Leeds United: Robinson; Mills, Woodgate, Duberry, Kelly; Bowyer, Okon, Bakke, Wilcox; Bridges (Fowler), Smith. Unused Subs: Harte, Radebe, McPhail, Johnson, Kilgallon, Martyn.
<![if !vml]>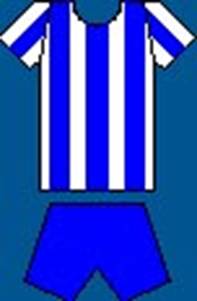 <![endif]>†<![if !vml]>

<![endif]>
Malaga: Contreras; Josemi, Sanz, Roteta, Valcarce; Gerardo, Romero, Musampa (Angel), Manu (Sandro); Dely Valdes (Litos), Silva. Unused Subs: Iznata, Lako, Koke, Arnau.
Referee: Massimo Busacca (Switzerland).
Unitedís miserable season plumbed new depths as they crashed out of the UEFA Cup, casting immediate doubt over the future of Manager Terry Venables. After holding Malaga goal-less in the away leg United must have started favourites to progress to the next round. There was heartbreak for Michael Bridges, who had been hoping for a long run after his two seasons of injury misery, fell in a crumpled heap with no Malaga player near him and was carried off. His career was effectively ended. Robbie Fowler took his place for the rest of the game. Worse was to follow as Malaga took the lead in the fourteenth minute with their first attack on goal, as their winger skipped past Danny Mills as if he was non-existent to cross for the striker to beat Paul Robinson from close range. Leeds needed to show aggression to get back in the game, but Lee Bowyer was lucky to only see yellow, after clearly stomping on the head of a grounded Malaga player. He was placed on a UEFA Report and was rightly suspended for the unforgivable act.
There were no innocent parties in the game and a show of weak refereeing only served to ignite an already explosive situation. Malaga were allowed to get away with murder, but United only had themselves to blame. There was an improved display in midfield from Lee Bowyer, Eirik Bakke, Paul Okon and Jason Wilcox but Danny Mills, Jonathan Woodgate, Gary Kelly and especially Michael Duberry were woeful in defence and could not cope with the Malaga front-runners. With Lee Bowyer and Jason Wilcox posing Unitedís biggest threat down the flanks, it was fitting that a fine Jason Wilcox run and centre picked out Robbie Fowler at the far post, who unselfishly played the ball into the path of Eirik Bakke, who volleyed the ball into the net on twenty-three minutes.
Leeds were clearly in the ascendancy and Malaga seemed content to disrupt Unitedís rhythm with a succession of petty fouls or theatrical tumbles, with private battles cropping up all over the pitch, and off the ball niggling reaching epidemic proportions. Malaga with the benefit of an away goal only required a draw to progress. It became increasingly obvious that United did not have the necessary craft to score again and it came as no surprise that Malaga scored ten minutes from time to put the tie well and truly out of Unitedís reach, as Jonathan Woodgate was turned inside out by the Malaga striker. United had meekly bowed out of the UEFA Cup.
When Peter Ridsdale sacked David O'Leary in the previous summer he famously noted that the UEFA Cup was no place for Leeds United. His views were given an added poignancy as Leeds crashed out of the competition at the hands of Spanish side Malaga. It had deprived the club of some much-needed revenue and left Terry Venables' future hanging by a thread. There would have been a Spanish inquisition into the 2-1 second-leg defeat, and Terry Venables would have concluded that a mixture of bad luck and bad football eventually put paid to United. There were boos at the final whistle, but they were muted compared to other weeks and even the most embittered United fan would have to have conceded that Terry Venables was hardly getting a fair crack of the whip at that time.
<![if !supportLineBreakNewLine]>
<![endif]>
The United boss had been talking before the game about how good it was to be getting some of his key players back to full fitness, but the Elland Road injury curse struck again before he had even settled into his seat in the dugout. Just five minutes had elapsed when Michael Bridges turned on the edge of the centre circle and, without an opposition player within five yards of him, collapsed in a crumpled heap. The former Sunderland striker, who had made his first start for over two years at Fulham on the previous Saturday, was likely to miss the rest of the season with a ruptured Achilles tendon and that could not bode well for the long-term future of a player who was being touted as a possible England star before the start of his lengthy injury heartache.
<![if !supportLineBreakNewLine]>
<![endif]>
There was more bad luck for Terry Venables when Massimo Busacca, the Swiss referee, proceeded to turn in one of the most ineffectual performances seen by an official at Elland Road in many a long year. From the moment they went ahead in the first half, Malaga proceeded to constantly niggle at United, breaking up the play with a succession of petty fouls, theatrical dives and incessant back-chat. A firmer referee would have nipped the Spanish side's gamesmanship in the bud, but instead they were allowed to ruin the game as a spectacle as Leeds struggled to achieve any kind of momentum in a fractured second half. But hard luck stories could only tell so much, and the fact remained that United were unable, over the course of two legs, to beat a mid-table Spanish side who freely admitted they expected to go out after the draw was made.
<![if !supportLineBreakNewLine]>
<![endif]>
Malaga had won because they were the better side for large periods of the game and had created far more chances than Leeds could muster in front of their own fans. Central midfield continued to be a major source of concern with Malaga, as Charlton and Fulham before them, driving massive holes through the heart of United's line-up. Eirik Bakke and Paul Okon, for all of their industry and endeavour, failed to offer enough protection to the back four or contribute anything in an attacking sense, and until that problem was addressed things were unlikely to improve dramatically.
<![if !supportLineBreakNewLine]>
<![endif]>
Congo international Kiki Musampa directed things as he drifted in from the left touchline, and United had no-one who could match his intelligent use of the ball and willingness to try the unexpected. Far too much of Leeds' play was predictable and one-dimensional and the home side were crying out for a playmaker to offer something out of the ordinary. Michael Bridges' injury was a bad enough start for Terry Venables, but things almost took an ugly turn for the worse minutes later as a Leeds fan leapt from the West Stand and attempted to physically remonstrate with the under-fire boss. The Elland Road stewards came to his rescue on that occasion, but there was to be no escape for his side as they fell behind to the first chance of the game after fourteen minutes.
†
The lively Kiki Musampa skipped past Danny Mills before cleverly cutting the ball back for Panamanian striker Julio Dely Valdes to prod past Paul Robinson from close range. Leeds desperately needed to show some fight to get back into the game, but Lee Bowyer displayed rather too much aggression when appearing to stamp on midfielder Gerardo's head after clattering into him from behind. The United midfielder was booked for the incident, but was somewhat lucky to avoid further punishment although that may come if UEFA study the incident later.
<![if !supportLineBreakNewLine]>
<![endif]>
The flashpoint did serve to fire Leeds up though and, with Lee Bowyer and Jason Wilcox beginning to pose a threat down their respective flanks, they deservedly drew level in the twenty-third minute. Jason Wilcox found himself in space on the left touchline and picked out Robbie Fowler at the far post. The substitute striker could have shot, but instead picked out the unmarked Eirik Bakke for the Norwegian to casually volley home his first goal of the season. United were suddenly in the ascendancy, but the Spaniards continued to pose a threat on the break and Paul Robinson had to be at his most alert to parry a snap shot from Uruguayan international Dario Silva.
<![if !supportLineBreakNewLine]>
<![endif]>
There may not have been a full house inside Elland Road, but the home fans were in good voice as Malaga's players tried to disrupt United's rhythm with a succession of petty fouls and theatrical tumbles. Private battles were cropping up all over the pitch but, thankfully, Paul Robinson remained alert among the mayhem as he saved well from Marcelo Romero, wearing a Compo-style woolly hat on his outing in Yorkshire, and the onrushing Manu. It was more of the same in the second half, and United almost made the perfect start when Lee Bowyer headed Alan Smith's cross narrowly wide.
<![if !supportLineBreakNewLine]>
<![endif]>
The Swiss referee was rapidly losing control of things with Malaga's off-the-ball niggling reaching epidemic proportions, and it was to United's credit that they kept their control under intense provocation. Manu was taken off before he could be sent off, but his side continued to pose a threat by more legitimate means as Kiki Musampa darted through the middle to force another smart stop from the in-form Paul Robinson. Leeds began to look more and more devoid of ideas as full-time approached with Malaga beginning to look the more likely scorers, and the final nail in the coffin was driven in by Dely Valdes ten minutes from the end. The Panamanian embarrassed Jonathan Woodgate in the box, turning him inside-out, and thrashed a left-footed half-volley beyond Paul Robinson into the far corner of the net.
<![if !vml]>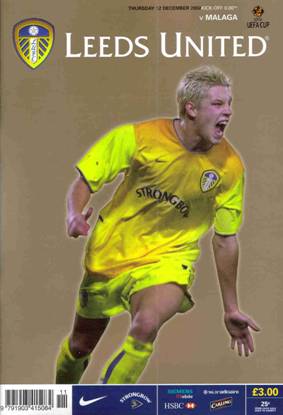 <![endif]>†<![if !vml]>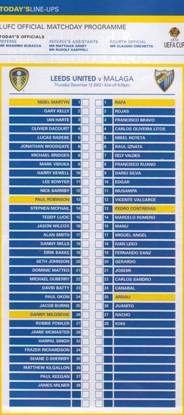 <![endif]>†
<![if !vml]>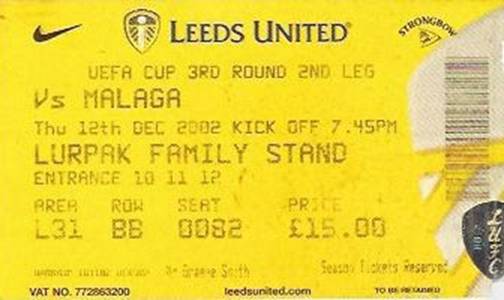 <![endif]>
Match Action:
<![if !vml]>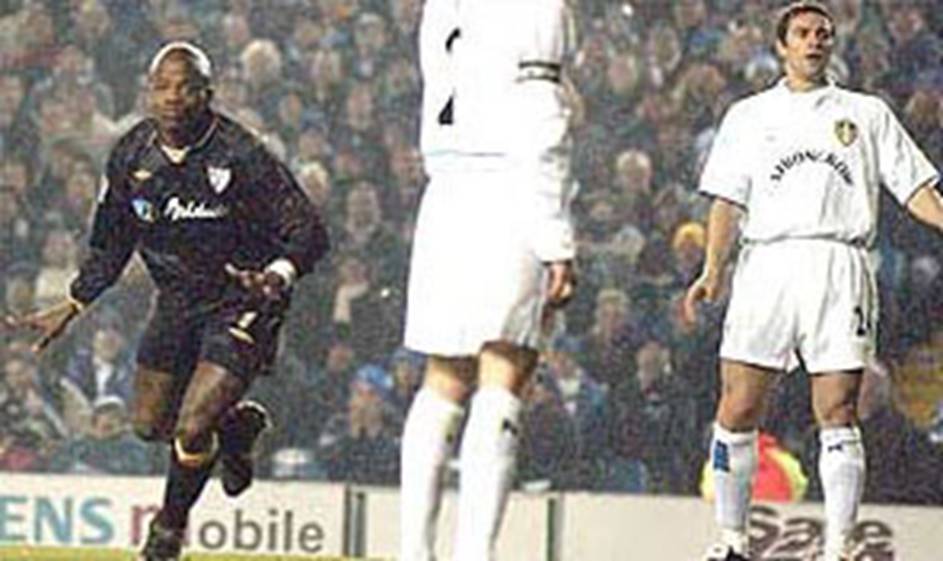 <![endif]>†
Dely Valdes scores the first goal as Gary Kelly and Paul Okon look on††††††††††††††††††††††††††††††††††††††††††††
<![if !vml]>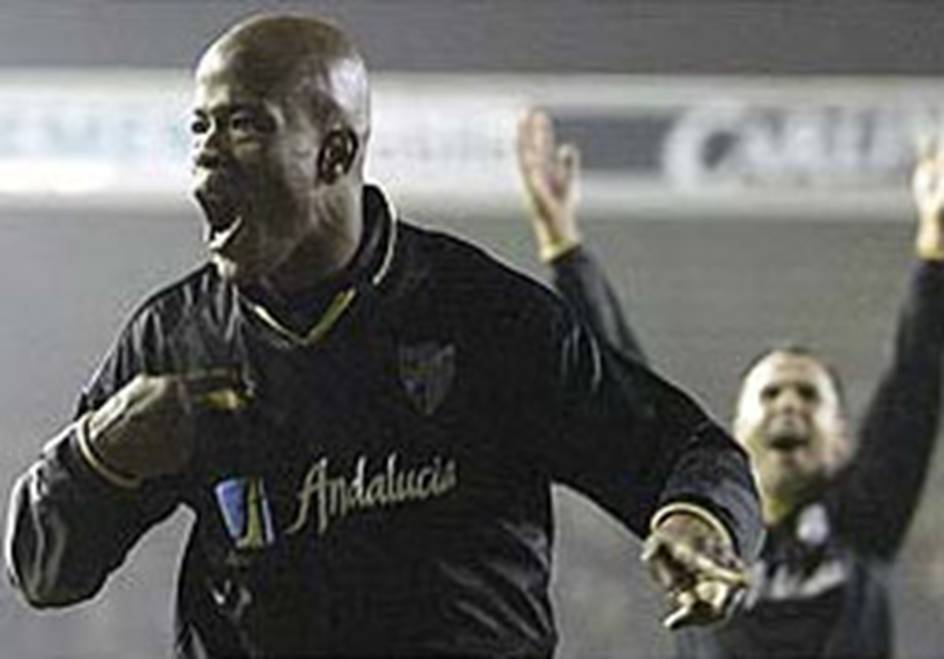 <![endif]>††††
Dely Valdes celebrates scoring
<![if !vml]>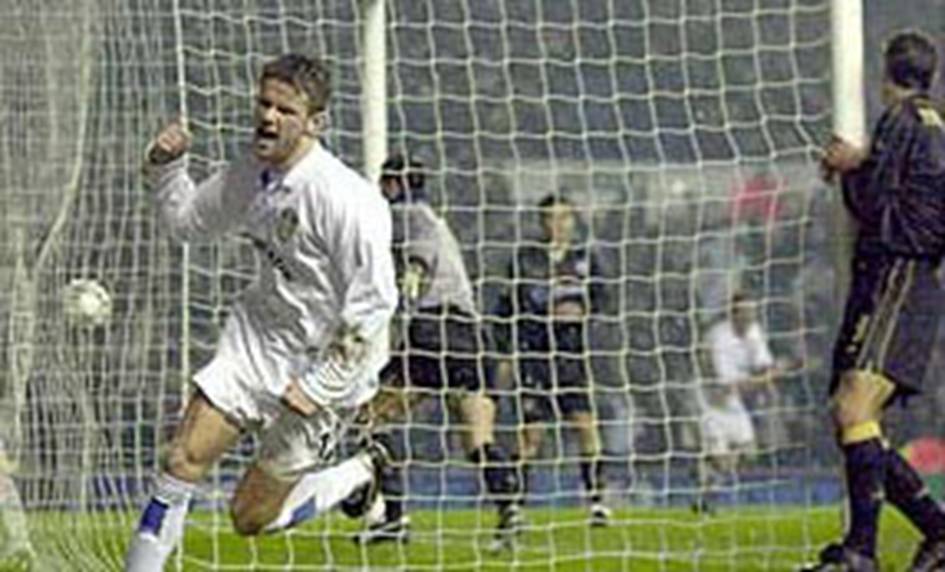 <![endif]>††††††
Eirik Bakke equalises
<![if !vml]>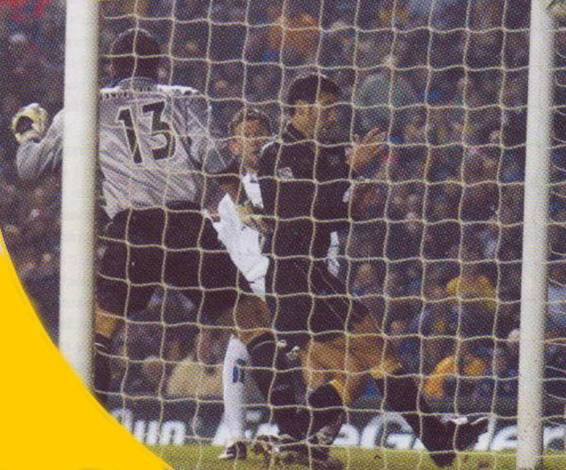 <![endif]>† <![if !vml]>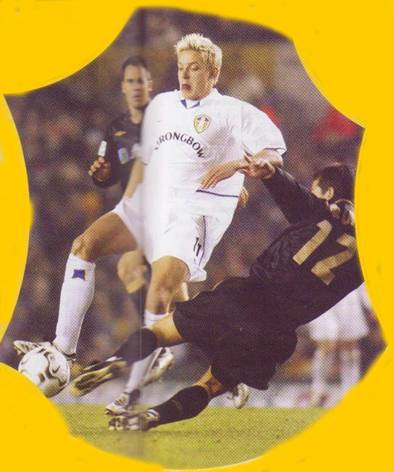 <![endif]>
Eirik Bakke scores†††††††††††††††††††††††† ††††††††††††††††††††††††††††††††††††††††††††††††††††††††††††††††††††††††††††††††††††††††Alan Smith battles Vincente Valcarce
<![if !vml]>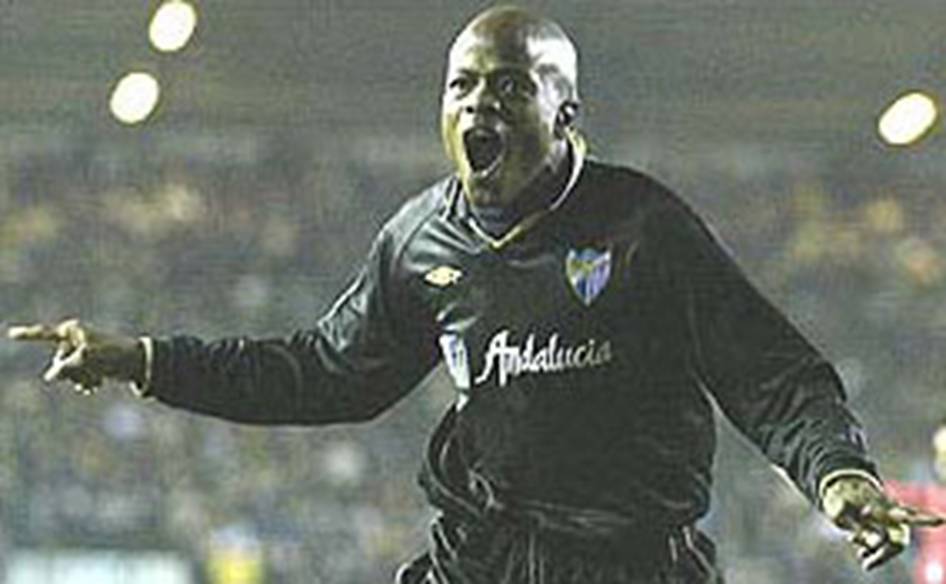 <![endif]>††††††
Dely Valdes salutes his winner†††††††††††††††††††††††††††††††††††††††††††††††††††††††††††††††††††††††††††††††††††††††††† †††††††††††††
<![if !vml]>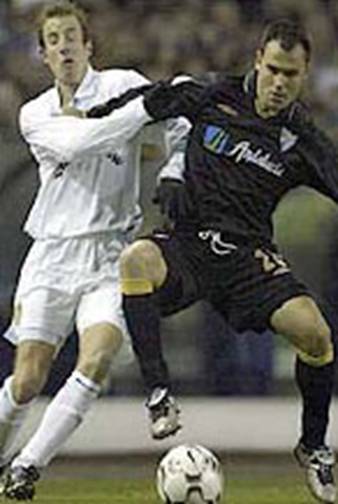 <![endif]>† <![if !vml]>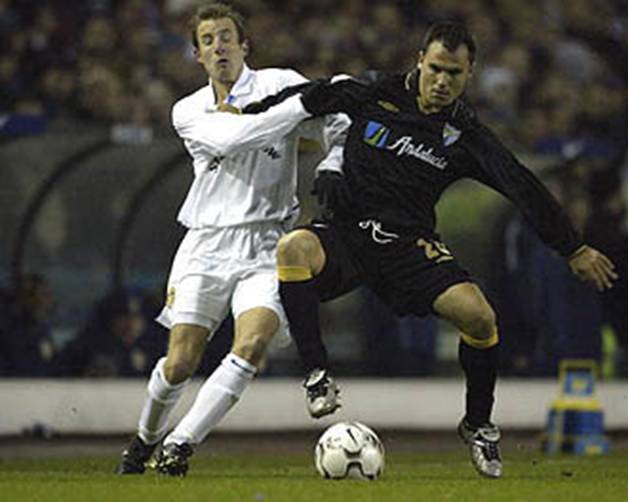 <![endif]>†
†††††††††††††††††††††††††††††††††††††† Lee Bowyer had a tough battle with Gerardo†††††††††††††††††††††††††††††††††††††††††††††††††††††††††††††††††††††††
<![if !vml]>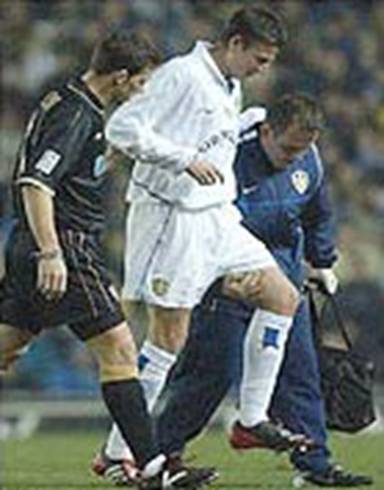 <![endif]>† <![if !vml]>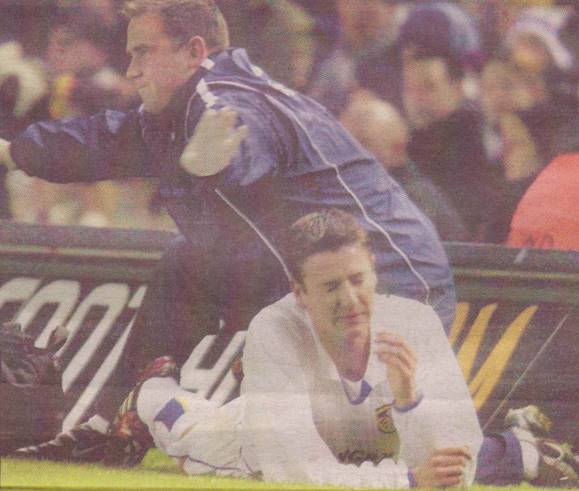 <![endif]>††
Michael Bridges limps off after David Hancock signals he is seriously hurt
<![if !vml]>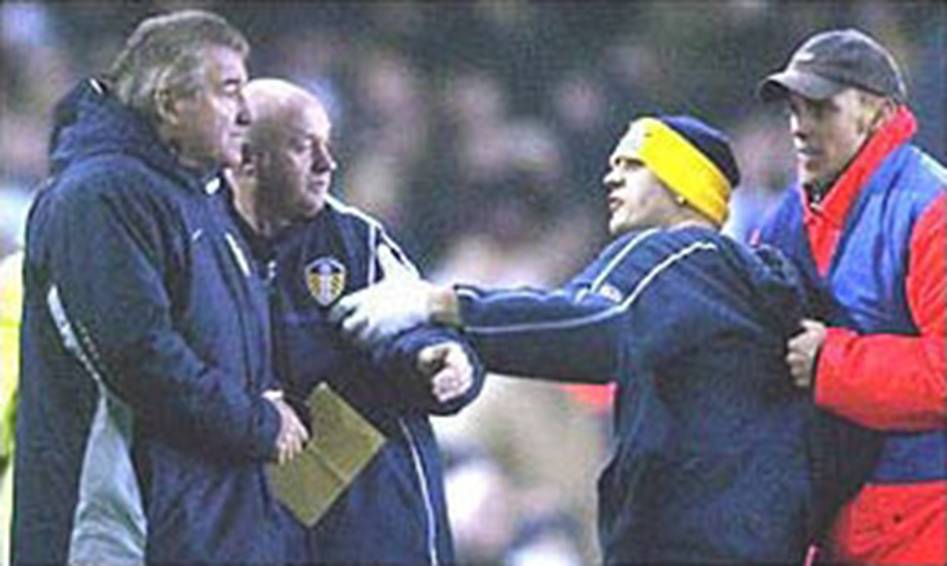 <![endif]>†
Terry Venables is confronted by a fan
<![if !vml]>
<![endif]>†<![if !vml]>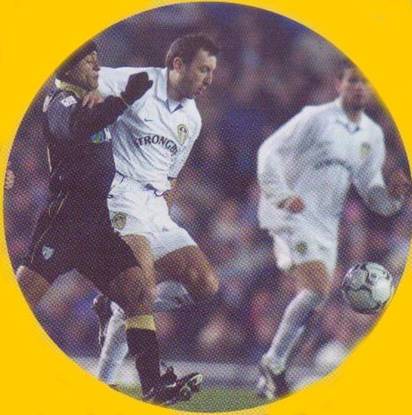 <![endif]>†<![if !vml]>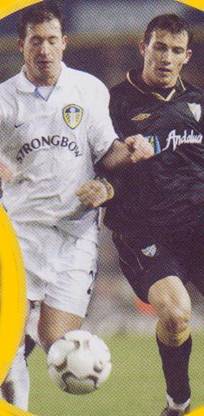 <![endif]>
Michael Bridgesí replacement Robbie Fowler†††††††† Jason Wilcox carried the attack to Malaga as he beat†††††††††††††† Robbie Fowler tested
gets his instructions from Terry Venables††††††††††††††† Marcelo Romero††††††††††††††††††††††††††††††††††††††††††††††††††††††††††††††††††††††††††† his fitness
and Brian Kidd
<![if !vml]>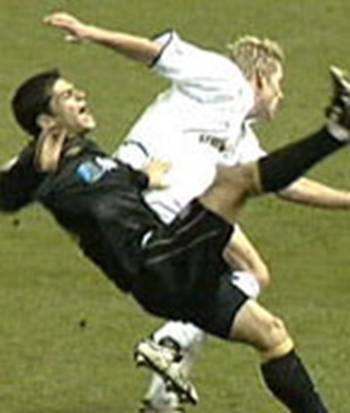 <![endif]>†<![if !vml]>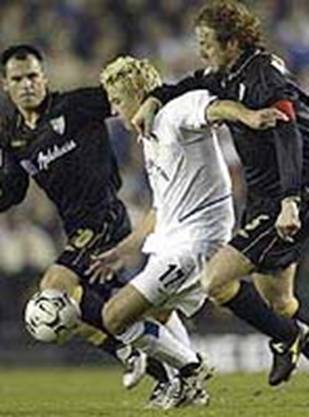 <![endif]>†<![if !vml]>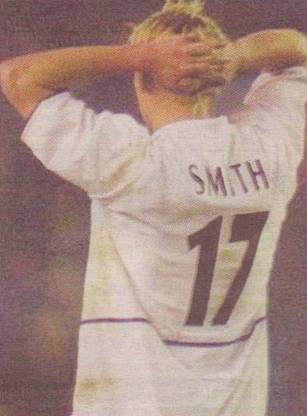 <![endif]>
Alan Smith tangles with Josemi†††††††††††††††††††††††††††††††††††† Alan Smith is surrounded by Gerardo††††††††††††††††† Alan Smith holds his head
†††††††††††††††††††††††††††††††††††††††††††††††††††††††††††††††††††††††††††††††††††††††† and Mikel Roteta
<![if !vml]>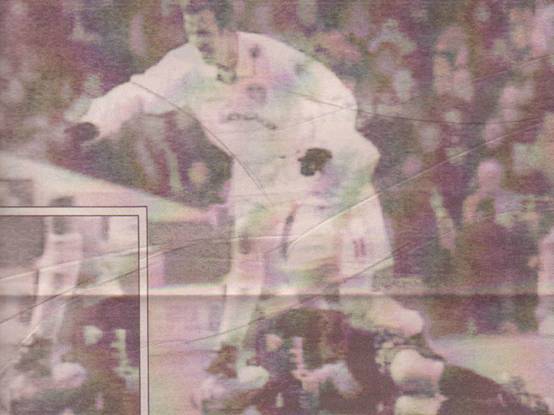 <![endif]>†† <![if !vml]>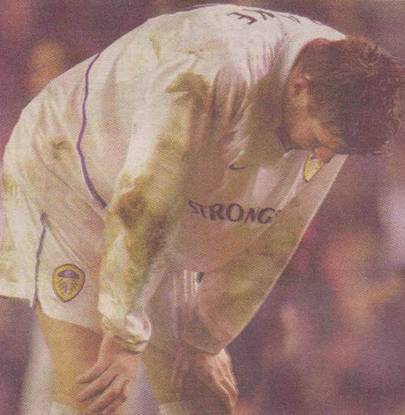 <![endif]>
Lee Bowyer stomps on the head of Malagaís Gerardo†††††††††††††††††††††††††††††††††††††††††††††††††††††† Eirik Bakke is despondent
<![if !vml]>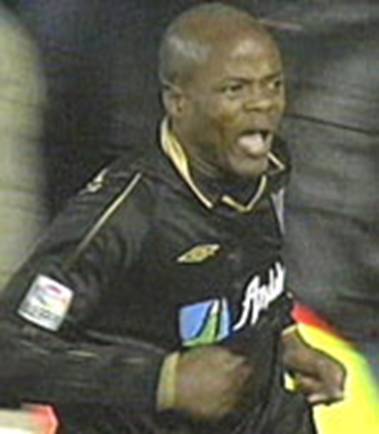 <![endif]>†††††††† <![if !vml]>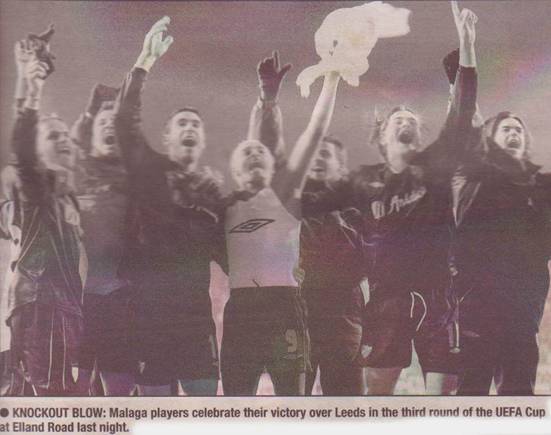 <![endif]>
Dely Valdes celebrates scoring
Players:
<![if !vml]>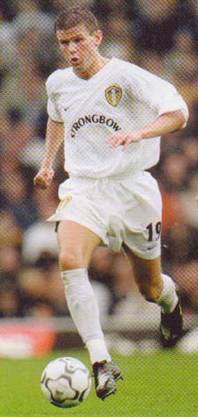 <![endif]>†<![if !vml]>
<![endif]>††† <![if !vml]>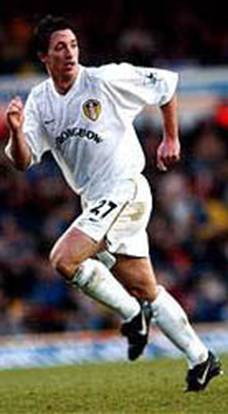 <![endif]>†<![if !vml]>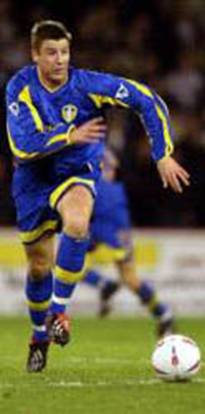 <![endif]>
Eirik Bakke scored for Leeds but Dely Valdes got two for Malaga†††††††††††††††††††††† Robbie Fowler came on for Michael Bridges, whose career was
††††††††††††††††††††††††††††† †††††††††††††††††††††††††††††††††††††††††††††††††††††††††††††††††††††††††††††††††††††††††††††††††††††††††virtually ended by his injury
<![if !vml]>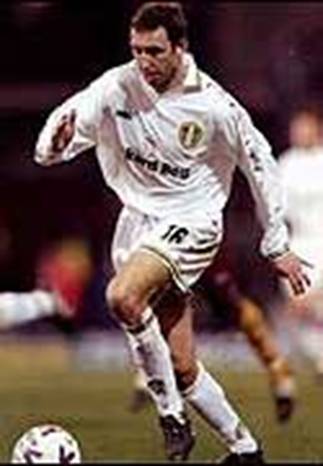 <![endif]>††† <![if !vml]>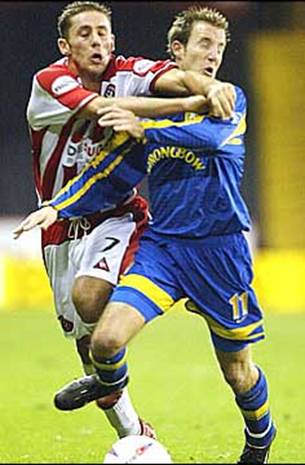 <![endif]>††††<![if !vml]>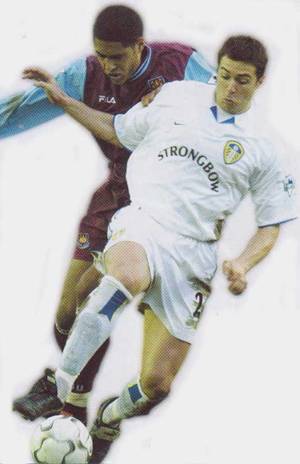 <![endif]>
†††††††††††††††††††††††††††††††††††† Jason Wilcox, Lee Bowyer and Paul Okon gave improved displays in midfield
<![if !vml]>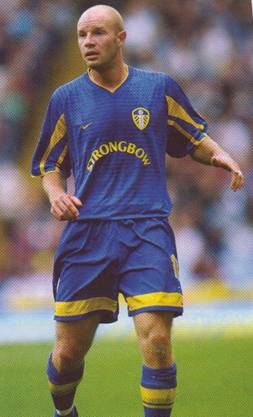 <![endif]>†<![if !vml]>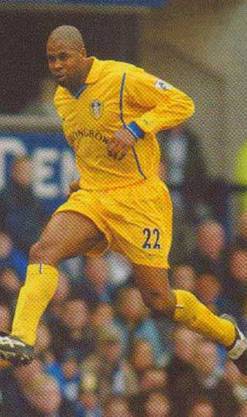 <![endif]>†<![if !vml]>

<![endif]>†<![if !vml]>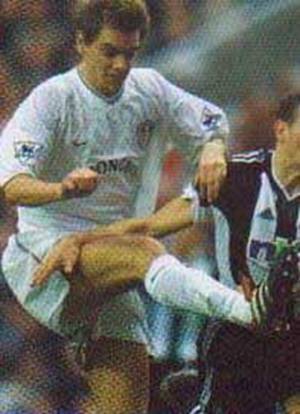 <![endif]>
†††††††††††††††††††††††††† Danny Mills, Michael Duberry, Gary Kelly and Jonathan Woodgate were guilty of some woeful defending
<![if !vml]>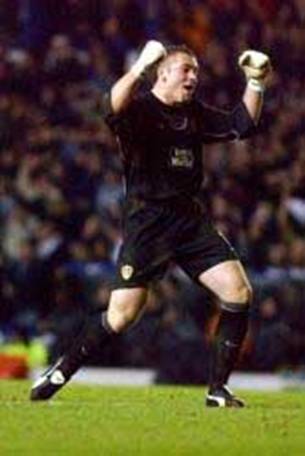 <![endif]>†††† <![if !vml]>
<![endif]>†††††††††††<![if !vml]>
<![endif]>
Paul Robinson made fine saves†††††††††††††††††††††††††† Alan Smith set up a chance for Lee Bowyer†††††† Francesc Arnau was an unused substitute
††††††††††††††††††††††††††††††††††††††††††††††††††††††††††††††††††
<![if !vml]>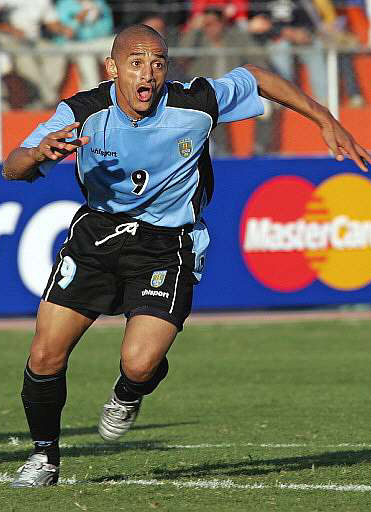 <![endif]>†† <![if !vml]>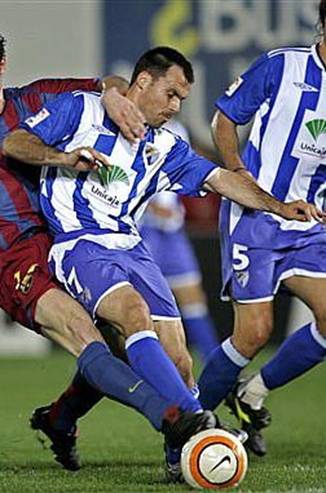 <![endif]>†
Malaga were strengthened by the return of Dario Silva and Gerardo Garcia Leon††††††††††††††††††††