<![if !vml]>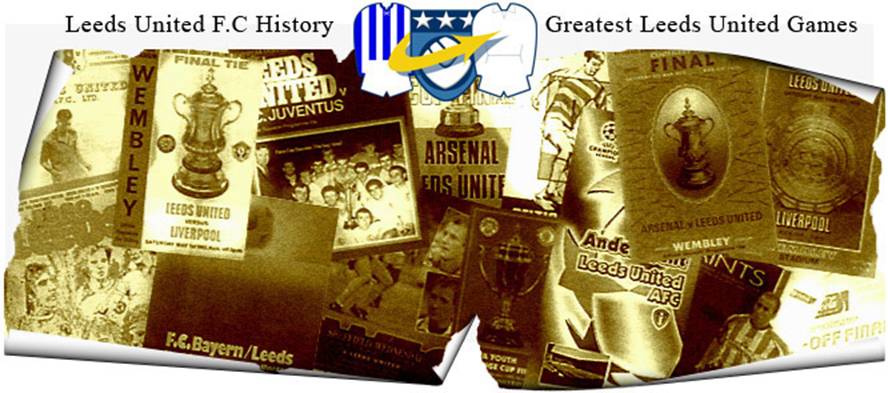 <![endif]>
Date: Sunday, 12th April 1987.
Venue: Hillsborough, Sheffield.
Competition: FA Cup Semi-Final.
Score: Coventry City 3 Leeds United 2
Scorers: Coventry City: Gynn, Houchen, Bennett. Leeds United: Rennie, Edwards.
Attendance: 51,372 (Receipts £350/400,000).
Teams:
<![if !vml]>
<![endif]><![if !vml]>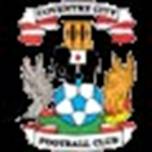 <![endif]>
Coventry City: Ogrizovic; Borrows, Downs; McGrath, Kilcline, Peake; Bennett, Phillips, Regis, Houchen, Pickering (Gynn). Unused Substitute: Sedgeley.
<![if !vml]>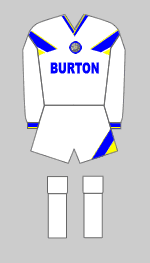 <![endif]><![if !vml]>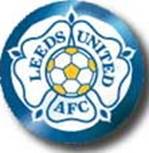 <![endif]>
Leeds United: Day; Aspin, Adams; Stiles (Haddock), Ashurst, Ormsby; Ritchie, Sheridan, Pearson (Edwards), Baird, Rennie.
Referee: R.G. Milford (Bristol).
Underdogs United came close to achieving their Wembley dream in one of the best-ever Semi-Finals packed with drama and goals. Unitedís appearance in a major semi-final for first time in ten years produced a tremendous duel in the Sunday sunshine with the eventual FA Cup winners, Coventry City, at Hillsborough, Sheffield. The game, televised by delayed telecast by ITV in the early afternoon, kicked off fifteen minutes late because an estimated six thousand fans were still waiting to get into the ground at , the scheduled starting time. The match proved to be worth the wait.
United, who had eliminated Telford United, Swindon Town, Queens Park Rangers and Wigan Athletic, made a blistering start. Showing great style they kept sweeping forward down both flanks and Steve Ogrizovic was already forced to save superbly from a header from John Pearson, who was out to impress on his former home ground. They forced a corner on the left and went a goal up after fourteen minutes when David Rennie lost his marker and with a tremendous, powerful header he met Mickey Adamsí corner-kick to leave the Coventry keeper helpless. Only two brilliant saves by Coventry goalkeeper Steve Ogrizovic prevented United from taking complete control and gradually the Sky Blues began to create chances as they probed the United defence, which included Neil Aspin, who had postponed his wedding to play.
Powerful Cyrille Regis was proving a handful but he missed three chances and Keith Houchen had a goal-bound shot blocked. Just when it seemed that United had ridden out the storm disaster struck with only twenty-two minutes between United and a Wembley appearance. The Leeds heroes were coping fairly easily with the Coventry attack when United skipper Brendan Ormsby made the error which was to tip the game Cityís way. Instead of hoofing a misdirected through ball clear, he opted to guide it over the dead-ball line but was robbed by the persistent David Bennett whose cross was cracked in from twelve yards by substitute Micky Gynn, who had only been on the pitch for seven minutes.
Ten minutes later the United defence was opened up again and Keith Houchen rounded Mervyn Day in style to give City the lead, to leave United seemingly dead and buried.. In a late gamble Billy Bremner sent on substitutes Peter Haddock and Keith Edwards fort John Stiles and John Pearson with just eight minutes left on the clock. A pulsating match reached fever pitch seven minutes from the end of normal time when substitute Keith Edwards, with virtually his first touch, headed in Unitedís equaliser from Andy Ritchieís cross, after he was fed by David Rennie. It was fitting that Andy Ritchie should figure in the goal as he had been Unitedís best player on the day, and after receiving the ball from David Rennie he still had to battle his way past a couple of defenders before getting in his precision cross.
The goal came after eighty-three minutes but the excitement did not end there, as Coventry emerged the stronger team in the extra session. The pace inevitably dropped in the extra period, but it was Coventry that won the game in the ninety-ninth minute when Dave Bennett shot home from close range after Mervyn Day had stopped a Keith Houchen effort with his legs. But United still fought hard and it needed another marvellous Steve Ogrizovic save to deny Keith Edwards a late equaliser. Underdogs Leeds had acquitted themselves superbly and their much-maligned supporters also made it a trouble-free game to remember, on a day when the club won back much of its self respect. While Coventry went on to lift the Cup at Wembley for the first time in their history, United suffered further agony missing out on promotion by losing a play-off battle with Charlton Athletic in the dying minutes of extra-time after once again leading.
Alternate Report by the YEP: (Courtesy Mark Ledgard)
Leeds United players hobbled off, some in tears, to a standing ovation from their own and Coventryís followers after an extra special FA Cup Semi-Final had been decided in extra-time at Hillsborough in this momentous match. If there had to be a winner, fittingly it came from the most precocious talent on view, Coventryís box of tricks Dave Bennett who nudged the winner in the ninety-eighth minute. But right to the last minute Leeds might have forced the game into a replay the following Wednesday, Steve Ogrizovic smothering Keith Edwardsí dash onto a Neil Aspin shot to complete Coventryís day. Yet none of the 51,372 spectators who composed the wall of sound inside the stadium would be able to forget this Titanic battle for the right to meet Tottenham Hotspur in the final that 16th May. For despite the odd flare-up and delaying tactics from Coventry in the physically exhausting final gasps of the game, the tie will go down as being among the best Semi-Finals in the history of the tournament.
It seemed for twenty minutes that Leeds had hoisted the Second Division banner so high that Coventry would not get a kick. Then Coventry hit back without finding the killer touch and the first half ended with Leeds ahead through David Rennieís first goal of the season but a realistic score-line might have been 4-3 in Coventryís favour. Cyrille Regis had squandered three golden close-in openings while Steve Ogrizovic had brilliantly turned aside fierce goal-bound attempts from John Pearson and Brendan Ormsby then Keith Houchen saw a powerful drive fly over the Leeds bar from twelve yards. The key to a second half in which Coventry scored twice by the seventy-eighth minute was the introduction of Micky Gynn, a mighty little man of immense speed. He got Coventryís equaliser and Ken Houchen, York Cityís former Cup hero, nipped in to put the First Division side ahead. But Billy Bremner, the Leeds Manager, had another ace to play and sent on Keith Edwards with eight minutes of normal time left and with his second touch he headed in the equaliser to send the game into extra-time. Then eight minutes into the first period of extra time Micky Adams Leedsí former Coventry defender, brought down the flying Dave Bennett on the right wing. Micky Gynn chipped a free kick to the far post, Cyrille Regis headed across the goal and Ken Houchen stabbed the ball towards the net. Mervyn Day got his foot to the ball but Dave Bennett forced in the rebound.
The best moment for Leeds had been when David Rennieís powerful near post header from ten yards flew into the net from Micky Adamsí fifteenth minute corner. Just after the hour Coventry had replaced the injured Nick Pickering with Micky Gynn and immediately their fortunes looked up. The substitute smacked in the equaliser from twelve yards when Brendan Ormsby had failed to stop Dave Bennett on the right wing goal line getting in a telling cross. Twelve minutes from the end of ordinary time Ken Houchen put Coventry ahead for the first time.
<![if !vml]>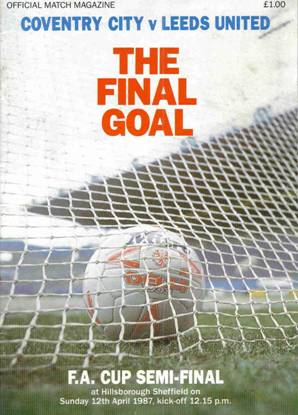 <![endif]>† <![if !vml]>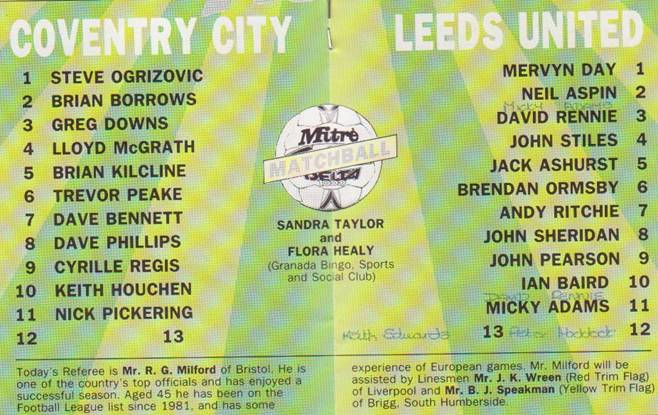 <![endif]>
<![if !vml]>
<![endif]>†<![if !vml]>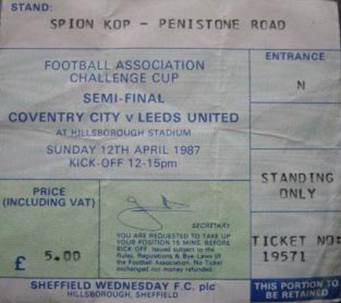 <![endif]>
Match Action:
<![if !vml]>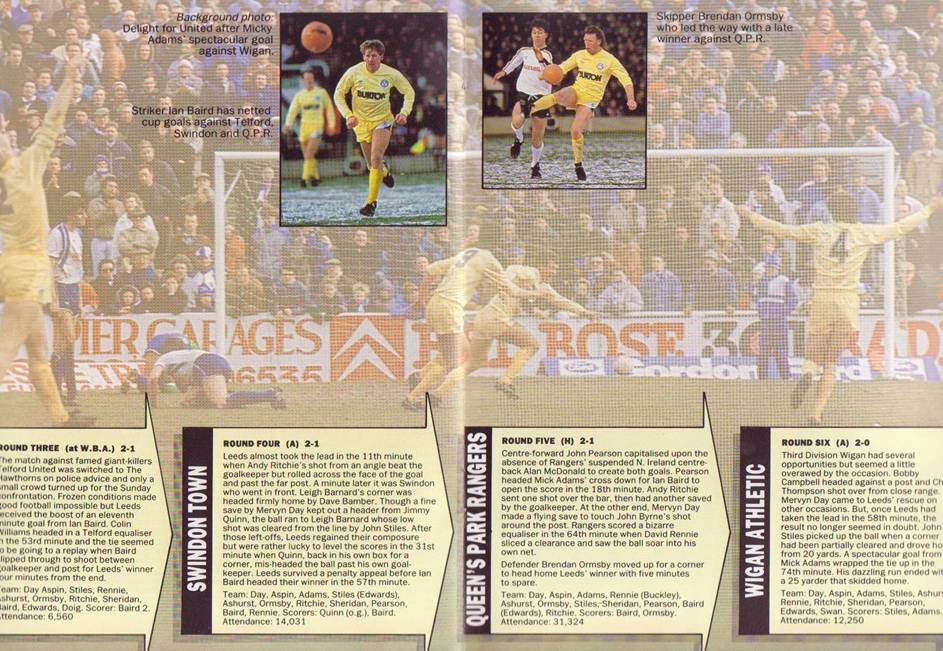 <![endif]>
<![if !vml]>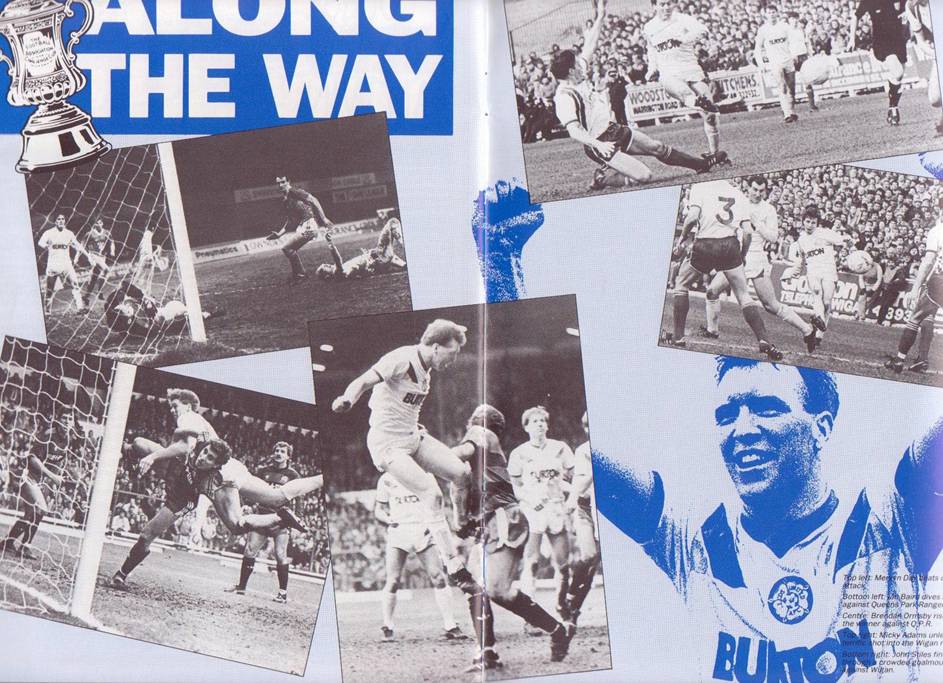 <![endif]>
<![if !vml]>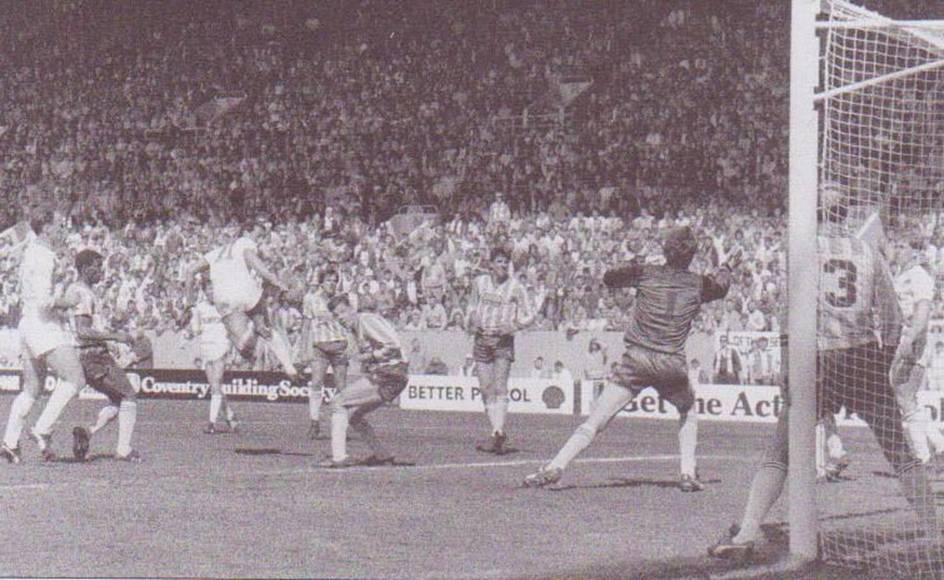 <![endif]>
David Rennie opens the scoring for Leeds
<![if !vml]>
<![endif]>
Micky Gynn equalises for Coventry
<![if !vml]>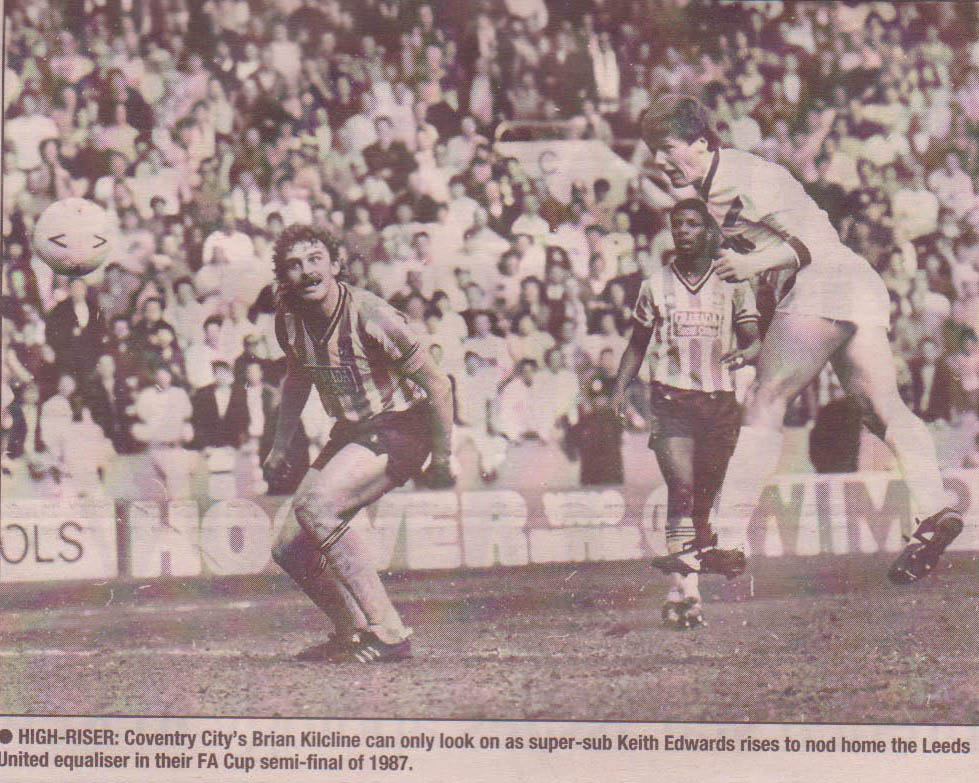 <![endif]>
<![if !vml]>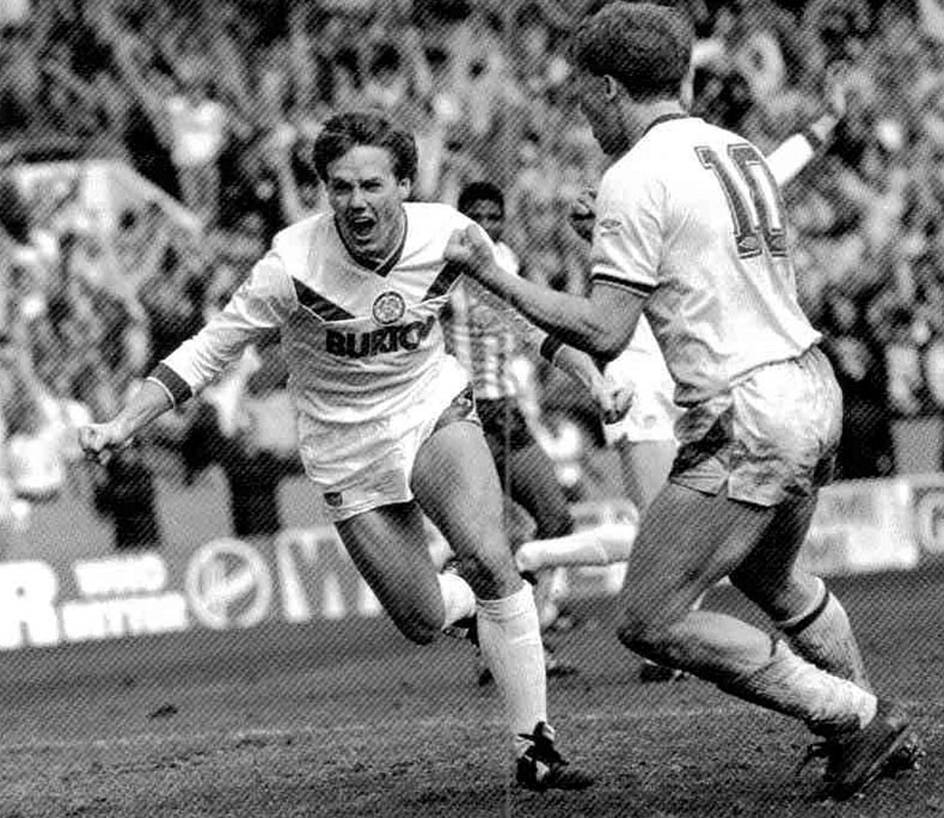 <![endif]>
Keith Edwards celebrates his goal with Ian Baird
<![if !vml]>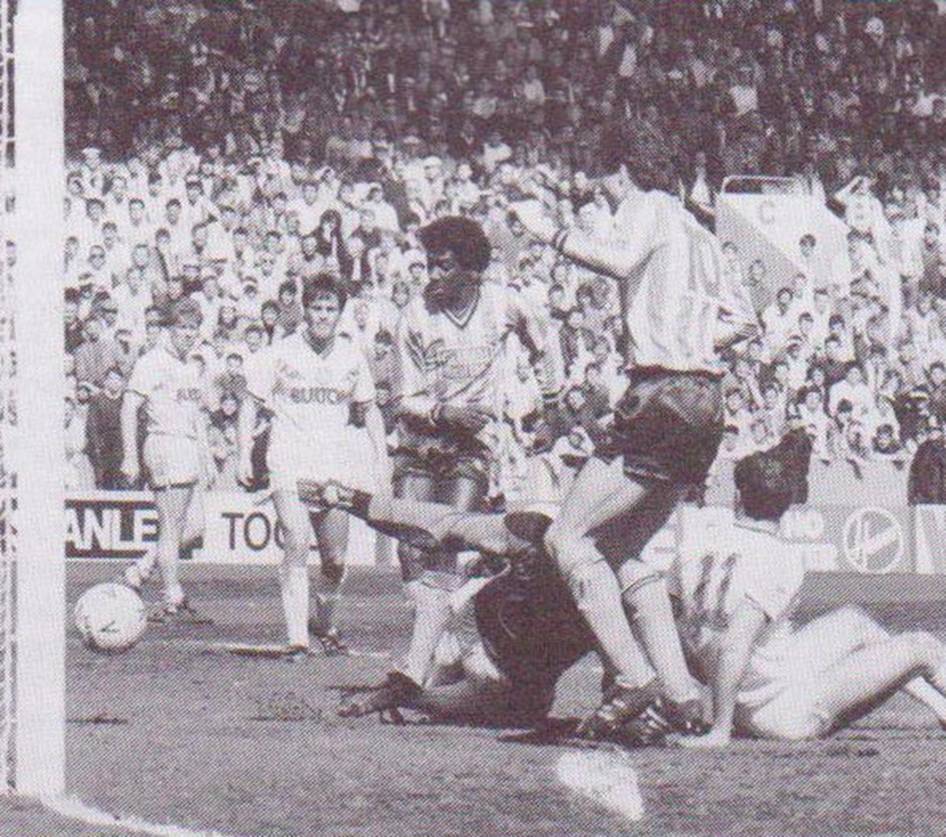 <![endif]>
Ian Baird, Micky Adams, Dave Rennie and Mervyn Day can only watch as Dave Bennett nets the winner.
<![if !vml]>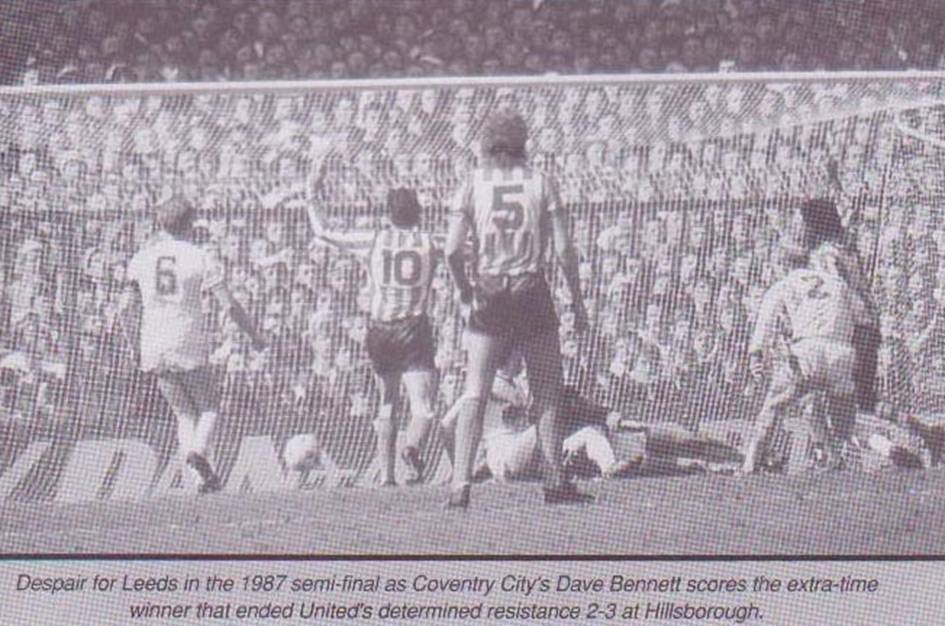 <![endif]>
Brendan Ormsby and Neil Aspin were also onlookers.
<![if !vml]>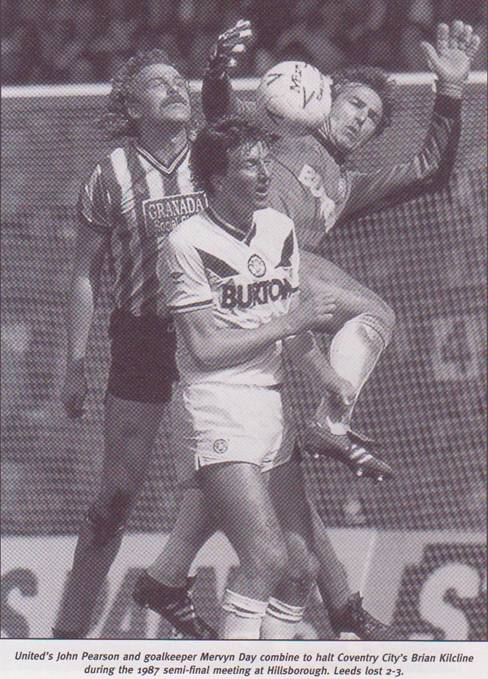 <![endif]>†<![if !vml]>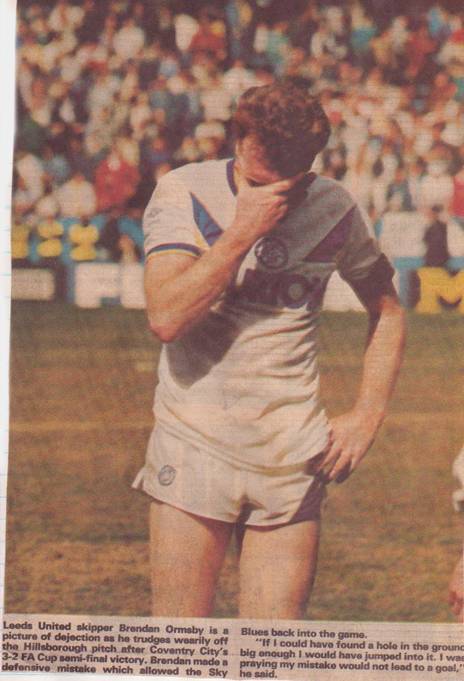 <![endif]>
(Six photos below courtesy Mark Ledgard)
<![if !vml]>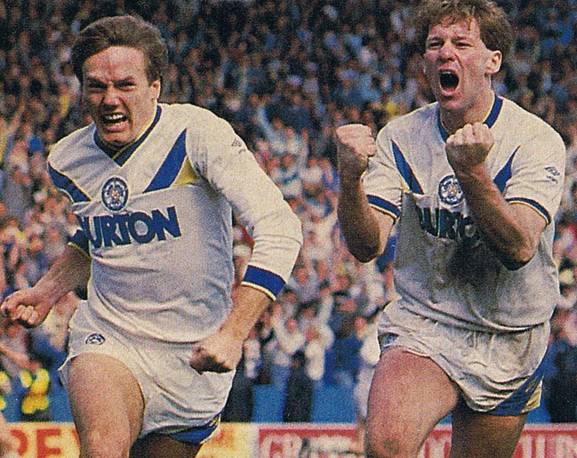 <![endif]>†<![if !vml]>
<![endif]>
Keith Edwards, the scorer, and Ian Baird celebrate Unitedís second goal
<![if !vml]>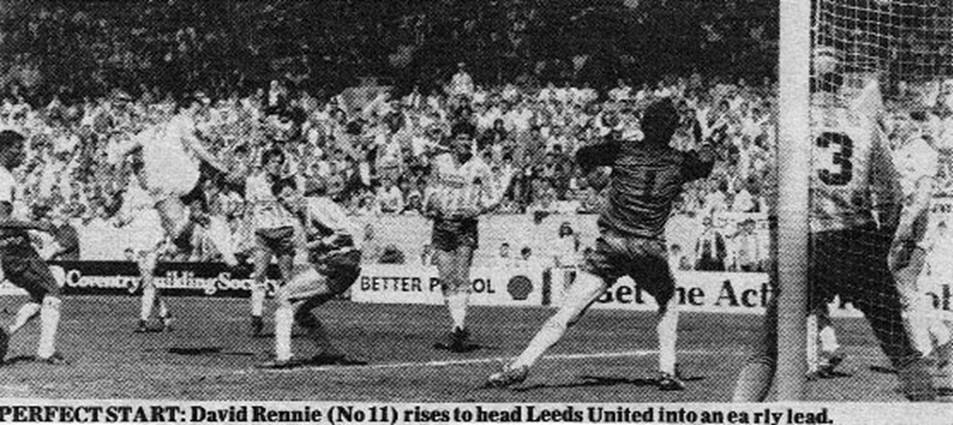 <![endif]>
<![if !vml]>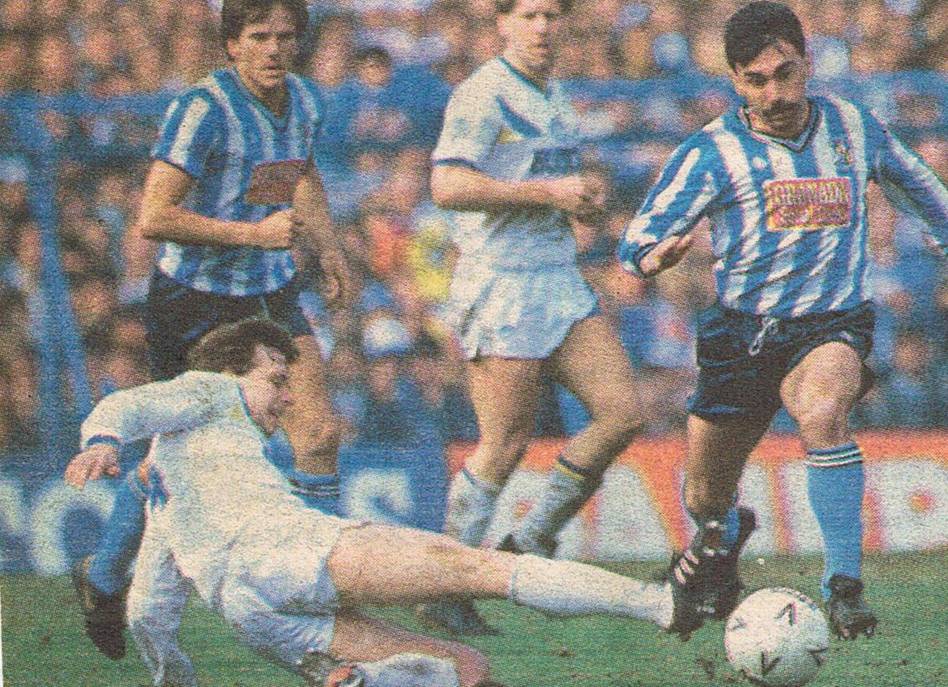 <![endif]>
John Stiles slides in to try and tackle Micky Gynn
<![if !vml]>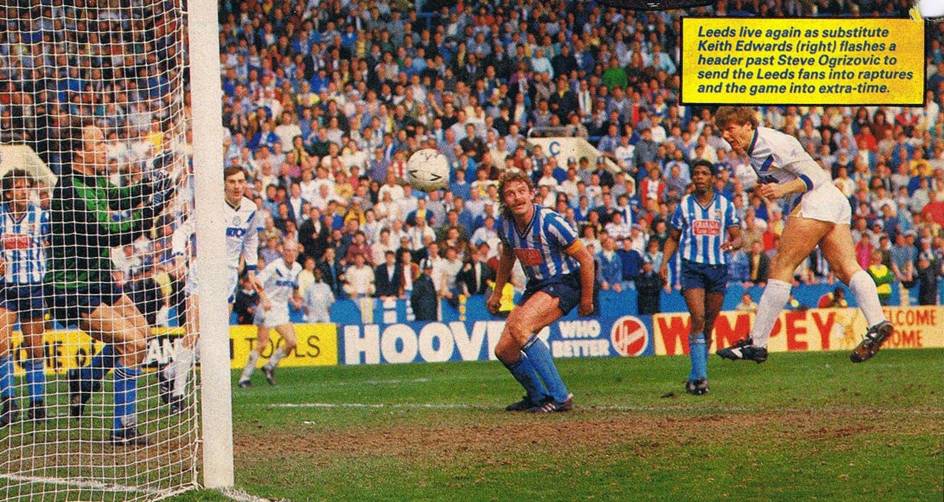 <![endif]>
<![if !vml]>
<![endif]>
Players:
<![if !vml]>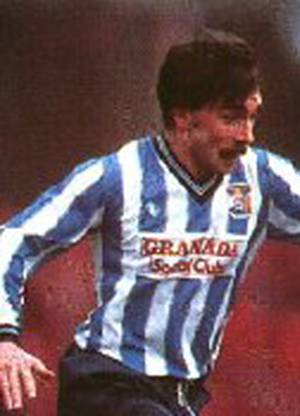 <![endif]>†<![if !vml]>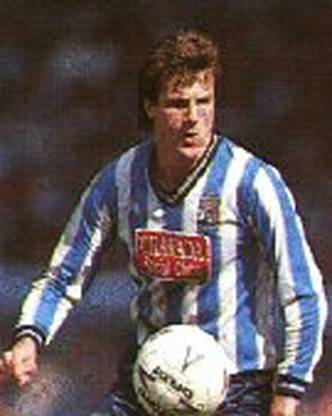 <![endif]>†<![if !vml]>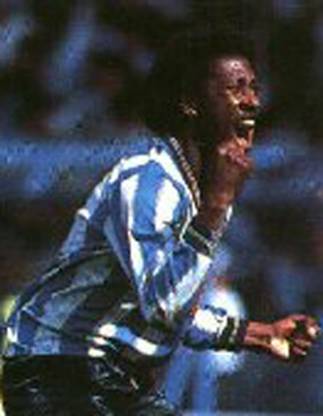 <![endif]>††††
Micky Gynn, Keith Houchen and Dave Bennett were the Coventry City goal-scorers††††††††††††††††††††††††††††††††††††
<![if !vml]>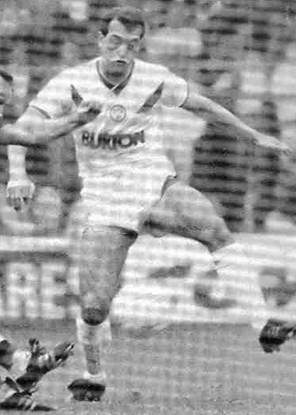 <![endif]>†<![if !vml]>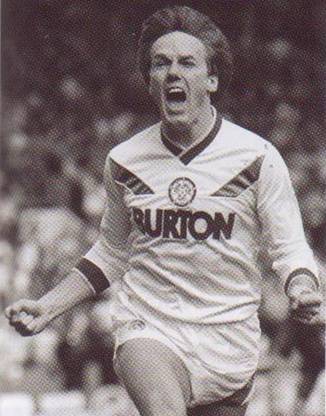 <![endif]>† <![if !vml]>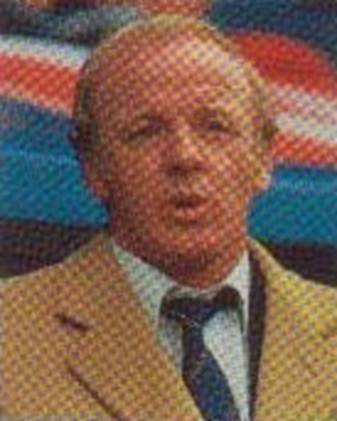 <![endif]>
David Rennie got the Leeds first goal†††††††† ††††Substitute Keith Edwards scored Unitedís second ††Billy Bremner was proud of his Leeds team
<![if !vml]>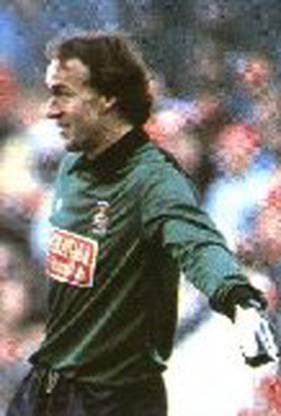 <![endif]>†<![if !vml]>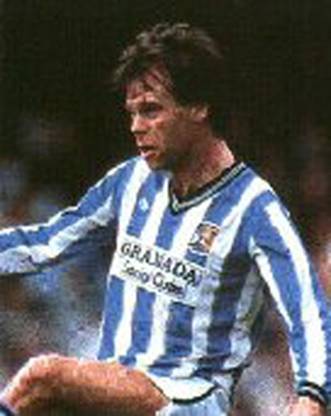 <![endif]>†<![if !vml]>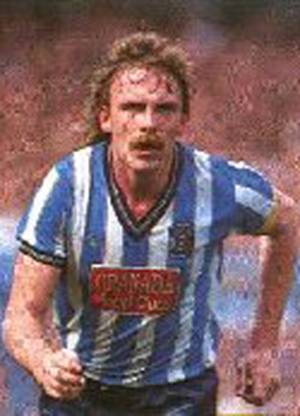 <![endif]>
Steve Ogrizovic made many fine saves††† †††Trevor Peake and Brian Kilcline were the central defenders
<![if !vml]>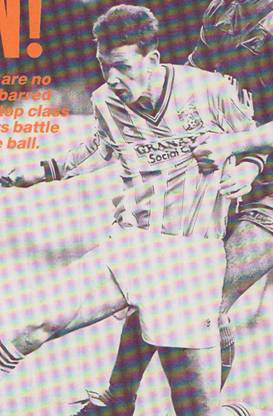 <![endif]>†<![if !vml]>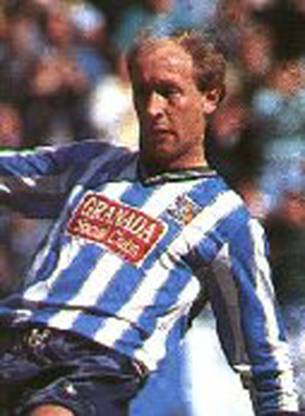 <![endif]>†† †<![if !vml]>
<![endif]>†
Brian Burrows and Greg Downs were Coventryís full-back pairing†††††††††††††† †††††††††††††††††††††††††David Phillips
<![if !vml]>
<![endif]>†††††††††††††††††††††††† <![if !vml]>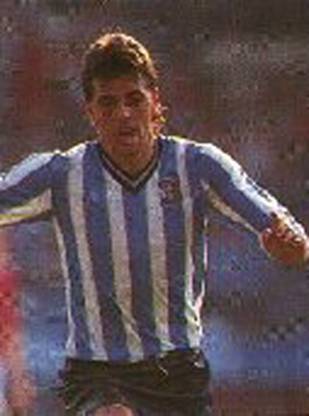 <![endif]>†<![if !vml]>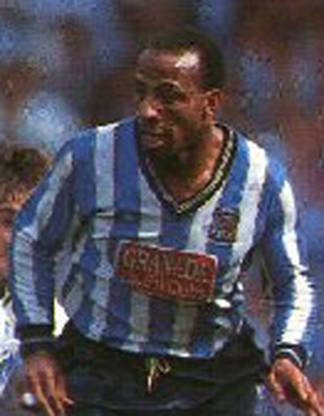 <![endif]>
and Lloyd McGrath were in midfield††††††††††††††††††††††††† Nick Pickering and Cyrille Regis were the strikers with Keith Houchen
with Dave Bennett and substitute Micky Gynn