<![if !vml]>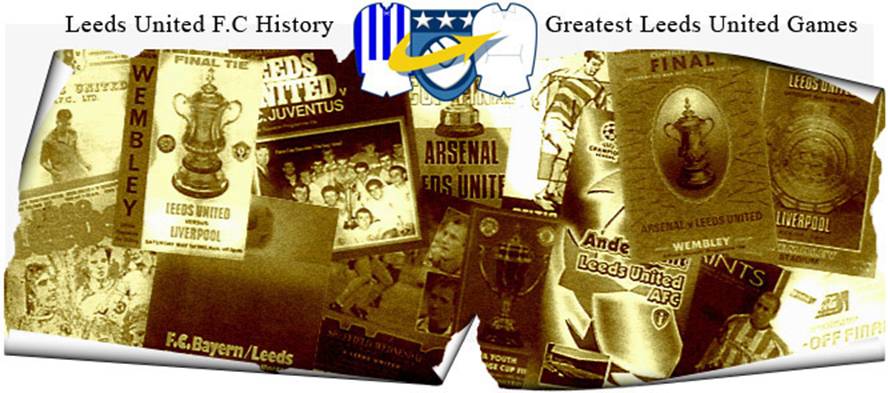 <![endif]>
Date: Saturday, 11th September 1994.
Venue: Elland Road, Leeds.
Competition: English Premier League.
Score: Leeds United 2 Manchester United 1
Scorers: Leeds United: Wetherall, Deane. Manchester United: Cantona (pen).
Attendance: 31,460.
Teams:
<![if !vml]>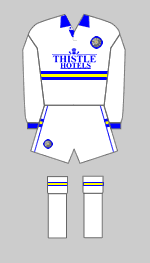 <![endif]><![if !vml]>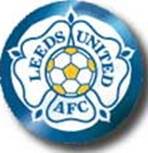 <![endif]>
Leeds United: Lukic; Kelly, N. Worthington; Palmer, Wetherall, White (Deane); Whelan, Rod Wallace, Masinga (Fairclough), McAllister, Speed. Unused Sub: Beeney.
<![if !vml]>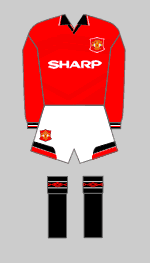 <![endif]><![if !vml]>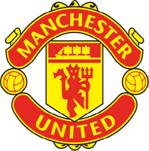 <![endif]>
Manchester United: Schmeichel; May, Bruce, Pallister, Irwin; McClair, Kanchelskis, Ince; Hughes (Butt), Cantona, Giggs (Sharpe). Unused Sub: Pilkington.
Referee: D. Elleray (Harrow).

Special Contribution: From AdiB of MOT forum.

This was the most memorable game I can remember because it was the first time in my life that we had actually beaten Manchester United. I hardly remembered the Championship winning season as I was too young and although we had beat them to the title we had not beaten our fiercest rivals since the last game of the 1979/1980 season where Parlane and Hird scored.

I didn't get to go to many games in the season as we couldn't normally afford to go on a regular basis also my mum would usually shout at my dad to spend more time with me and my brother James other than gallivanting to Elland Road and he had given up his season ticket at the end of a disappointing 92-93 campaign. I loved going to Leeds and had a bit of a lucky charm as I had not seen Leeds lose however most of the games that I went to were in the 92-93 season where we only lost once at home. I also saw the F.A Youth Cup final against our rivals from over the Pennines where the likes of Mark Tinkler, Jamie Forrester, Kevin Sharp and Noel Whelan overcame the likes of Phil and Gary Neville, Paul Scholes, David Beckham and Nicky Butt, all of which played for England. However my charm ran out in the following season as I saw us lose 2-0 to Manchester United in what was to cap off a miserable night for me and my Dad.

The next game I went to was the same fixture but in the following season and I remember it clearly. I was sat in the Kop as it had just had a makeover, my dad had somehow managed to get tickets through some colleagues at work that couldn't go and there we were near the front bang centre behind the goal watching Leeds match the reds early on.

You could tell how much this meant to us as there were people next to us shouting out god knows what and every time a certain Frenchman got the ball we all went boo as well as other stuff which was usually blurted out. On thirteen minutes we were down to ten men as Noel Whelan, who was a handful all game, had to receive treatment for a dislocated finger. We had a corner and were giving Eric Cantona (That certain Frenchman) some stick. It was whipped in by McAllister and was missed by players on both sides. It eventually found its way to David Wetherall who totally miss-hit the thing but Schmeichal the Manchester United keeper who had thwarted us on so many occasions in the past had gone the wrong way. The Ball went in and the whole place erupted, we all went mad. It was like we were all on ecstasy; we were jumping up and down waving our fists like hyper headless chickens screaming at the top of our voices. There were fans celebrating in arms on the pitch as Steve Bruce the Manchester United defender had bust his lip and was furious with something but we didn't care. There players were never in any danger, we were just celebrating like mad men with ourselves.

We were singing so loud on that game as the reds couldn't get into their stride, we kept going at them, McAllister and Speed were giving them hell, Deane was holding the ball up superbly and should have scored near the end of the half to increase our lead. How costly would it be? That's what some fans were saying at the interval as we knew we would be holding on and this could be the longest forty-five minutes of our lives.

But it wasn't, as the second half started, Noel Whelan who was by far the man of the match beat three or four Manchester United players and played the ball to Brian Deane who poked the ball home into the South Stand end to again… send us mad!

I think I smacked my fist into the lad in front of me, right at the back of the head, although I was only eight I was jumping around with some force. I apologised but he said it wasn't a problem as I think a few people were not in their usual seats after that one went in. We could tell that it was going to be our day but by god we were made to work for it. Forty-two minutes plus the usual Fergie time, Howard Wilkinson our manager was going mad on the sidelines but back came Manchester United. As time went on, they grew with more and more confidence then with twelve minutes left they got a disputed penalty when Brian Deane was adjudged to have fouled Paul Ince inside the box when it clearly was outside. To step up was Eric Cantona, all of Elland Road was in tune with a hiss of boo's. If John Lukic had of stopped it, there would have been the biggest cheer ever heard at Elland Road. We hated Cantona with a passion, despite scoring an unbelievable goal against Chelsea and helping us to the title, suspicion over his leaving and going to our rivals is a sin which can not be forgiven. Sadly he scored and you could here the groans and the cheers from their fans. We were clock watching for the remainder of the game as Lukic was called upon on a few occasions to keep them at bay.

We were all stood up booing and whistling when the ninety minutes were up and I swear down wars have been thought and won in lesser time than that. It felt like an eternity then David Ellery blew his whistle and there was this massive cheer and I mean massive! We were there jumping up and down, Strangers hugging each other, kissing each other. People were crying with tears of joy. Songs broke out and Marching on Together could be heard all round. We applauded our heroes and oh boy, what a game. When outside the ground the scenes were that of a carnival atmosphere. Leeds fans emptied and there were just beaming smiles on everyone's faces. There was a massive cue for the chip shop and the burger bars. Programmes were still being sold and everyone was not in a rush to get home but hang around, enjoy the party, get into a pub for a beer, get some food and make the mancs wait longer in the ground.

Fantastic Result!!!

Adrian Burke - Hebden Bridge
<![if !vml]>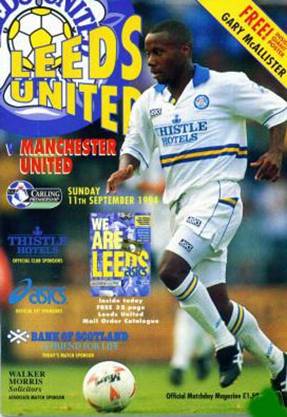 <![endif]>
Match Action:
<![if !vml]>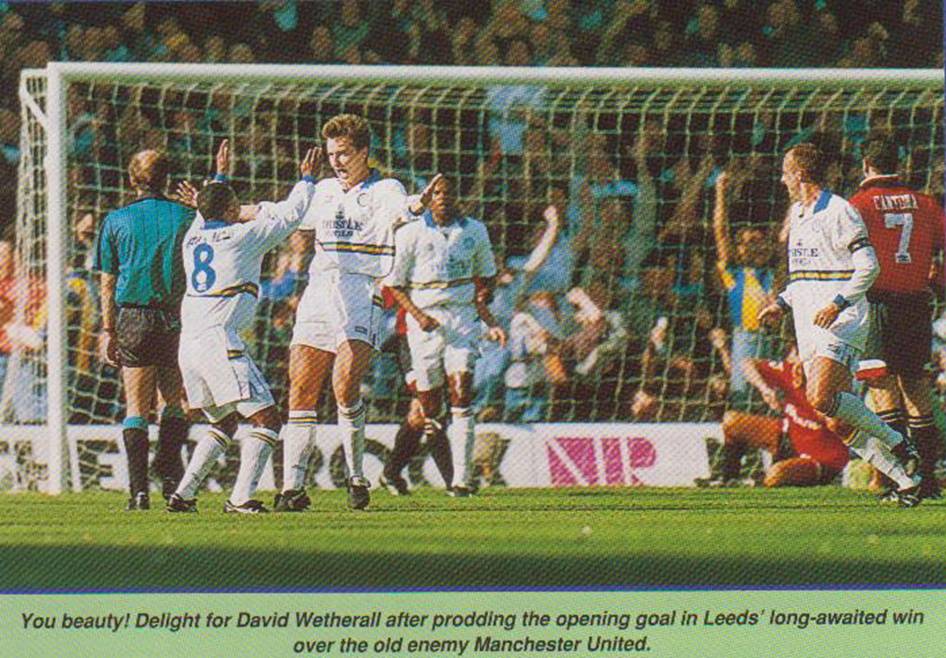 <![endif]>
<![if !vml]>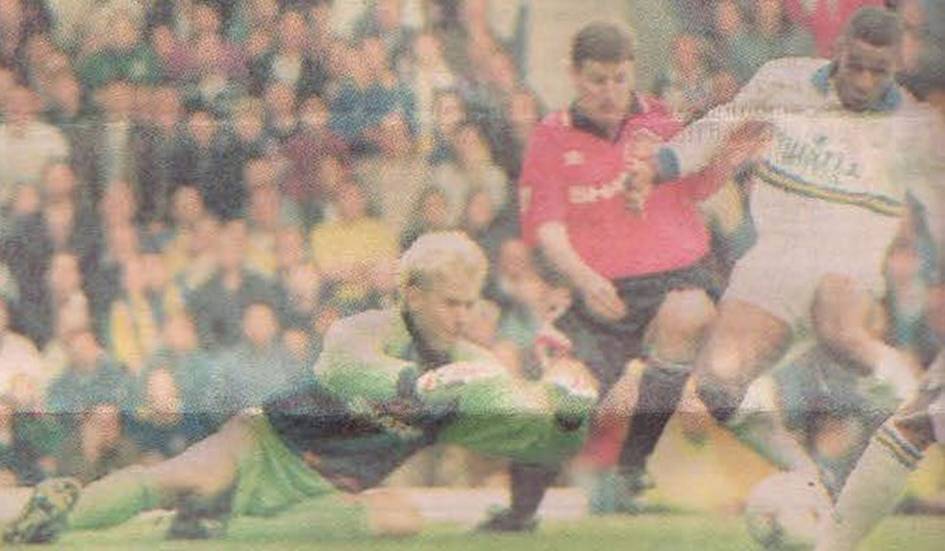 <![endif]> 
Brian Deane shoots past Peter Schmeichel
<![if !vml]>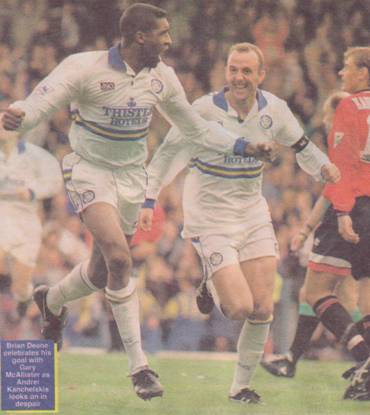 <![endif]>  <![if !vml]>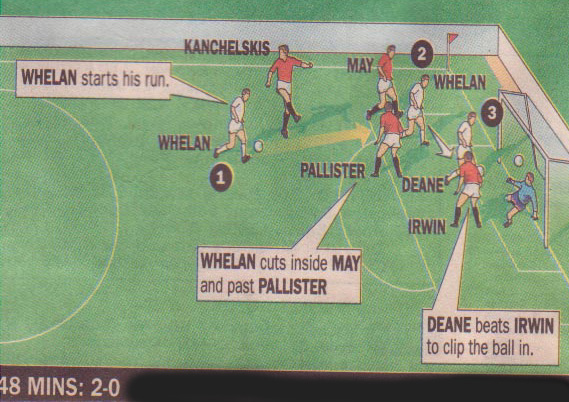 <![endif]>
and then celebrates after he had scored United's second goal
<![if !vml]>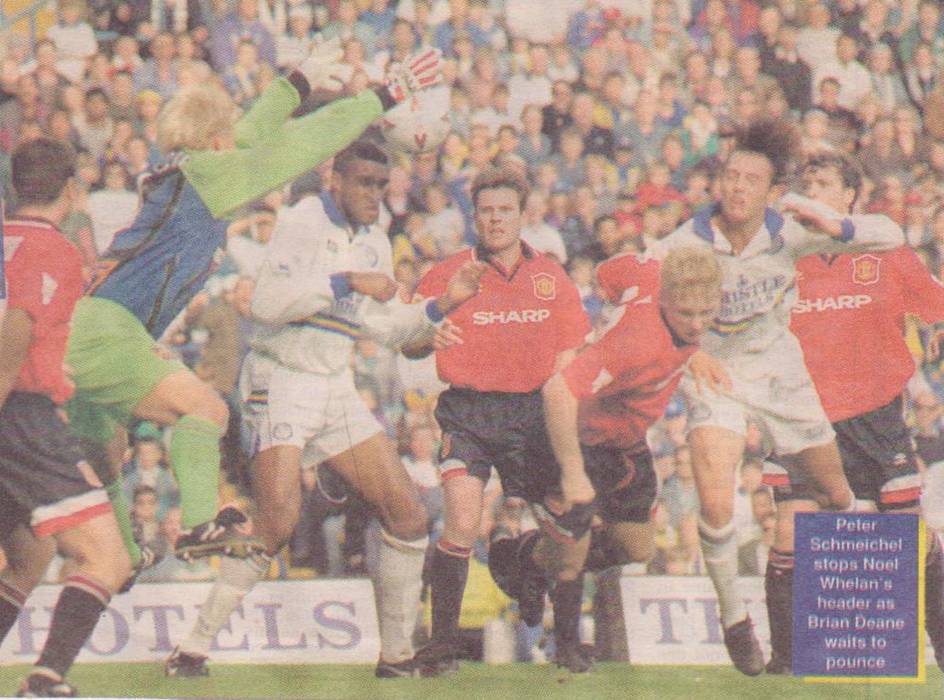 <![endif]>   
Peter Schmeichel saves a header from Noel Whelan
<![if !vml]>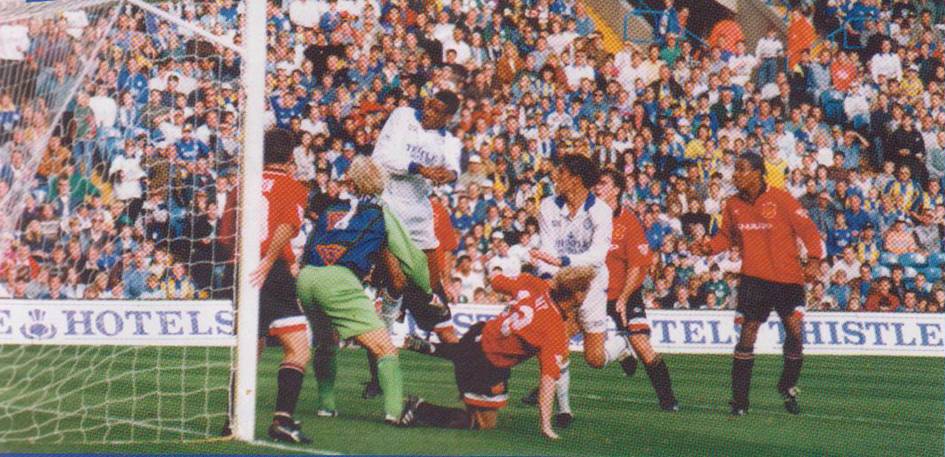 <![endif]>    
Brian Deane wins the header but is off target
<![if !vml]>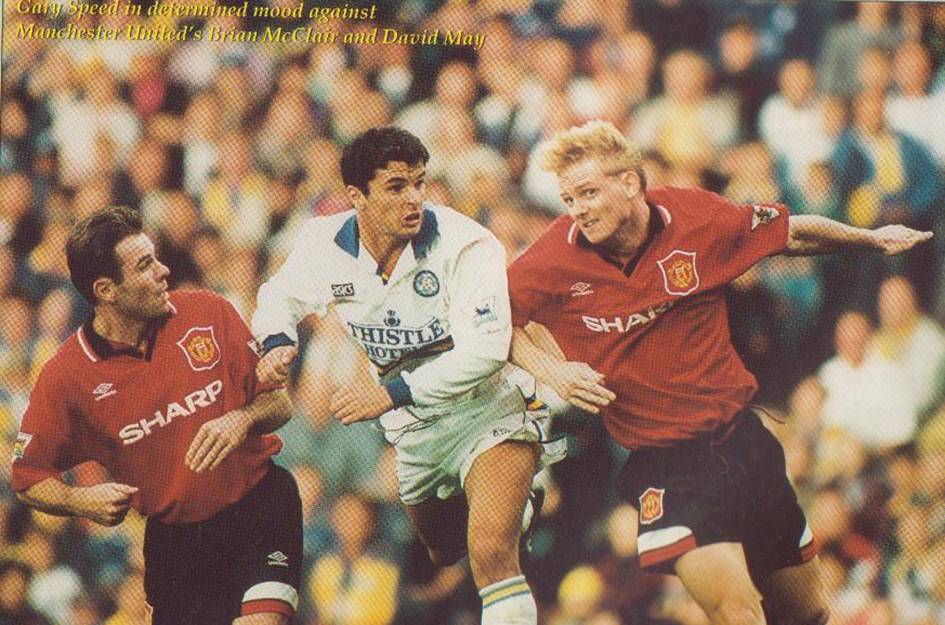 <![endif]>
<![if !vml]>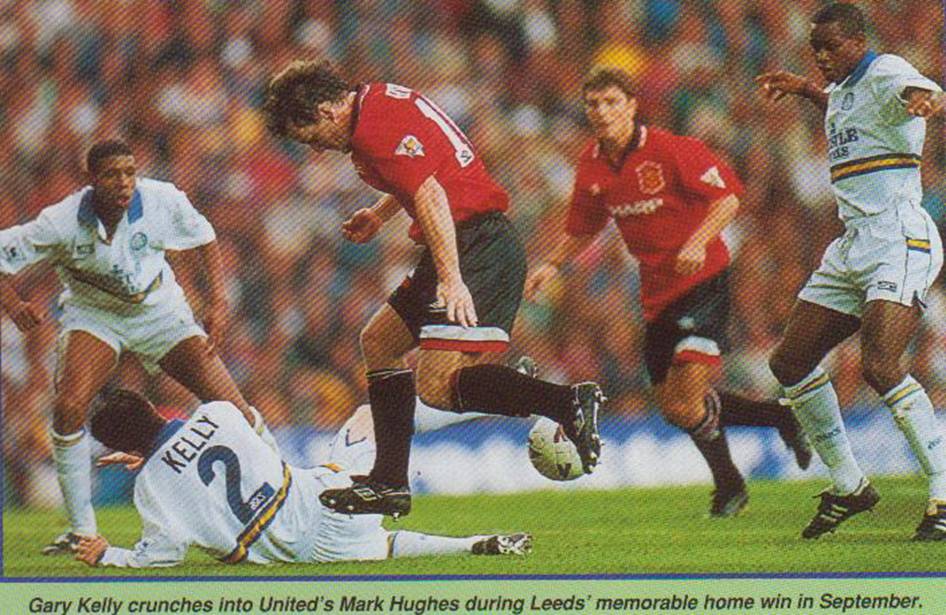 <![endif]> 
<![if !vml]>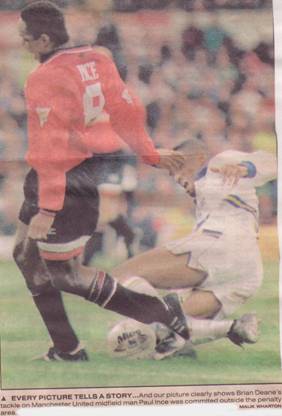 <![endif]>   <![if !vml]>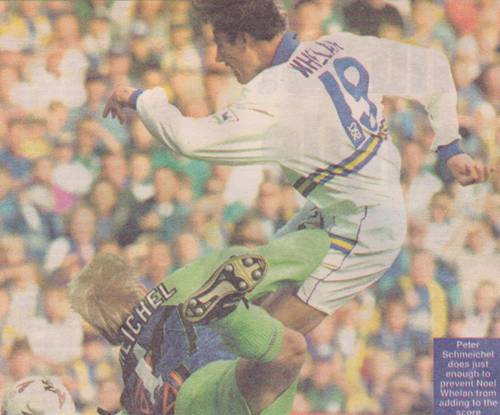 <![endif]>   <![if !vml]>

<![endif]>
The Penalty that was given against Brian Deane      Peter Schmeichel thwarts Noel Whelan          Rod Wallace congratulates David Wetherall
<![if !vml]>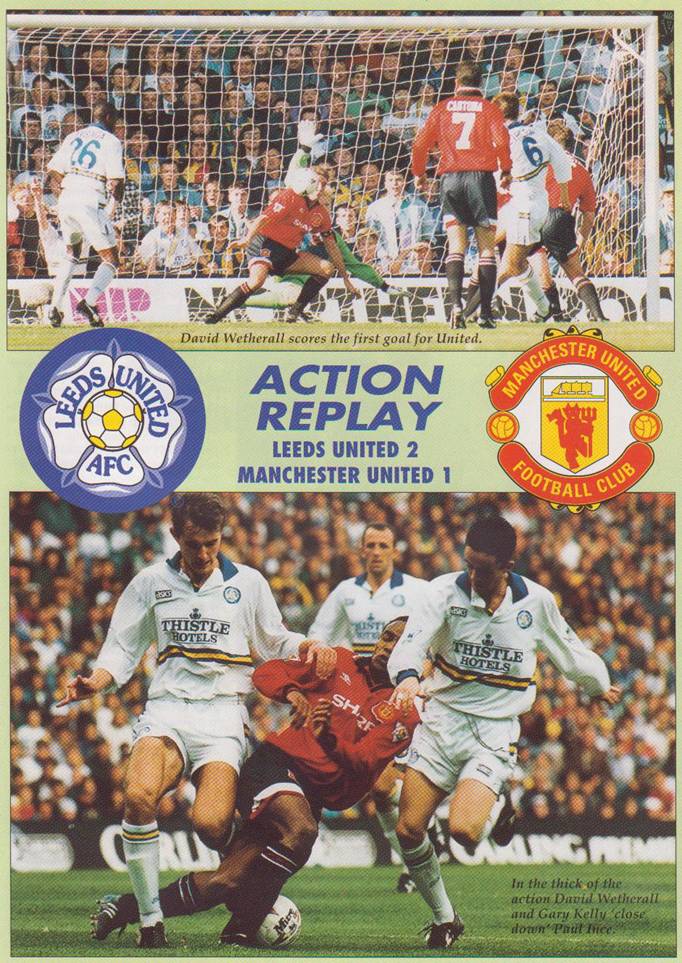 <![endif]>
<![if !vml]>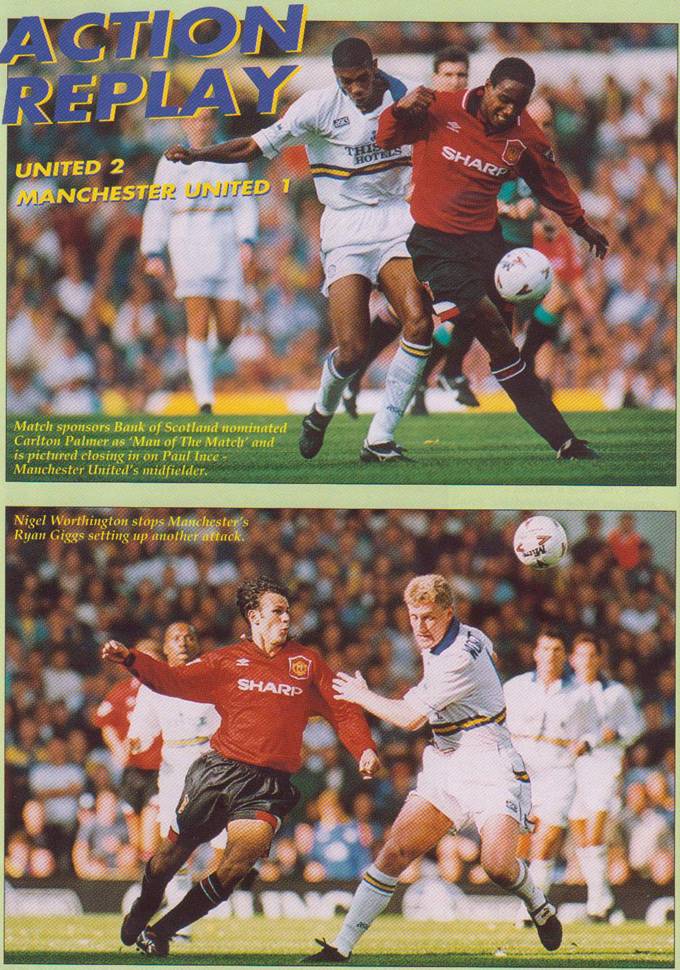 <![endif]>
Players:
<![if !vml]>
<![endif]> <![if !vml]>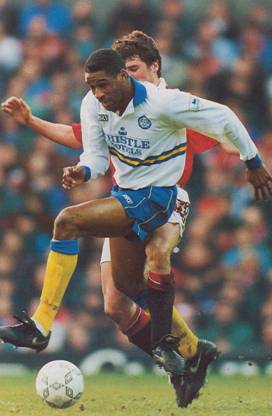 <![endif]>         <![if !vml]>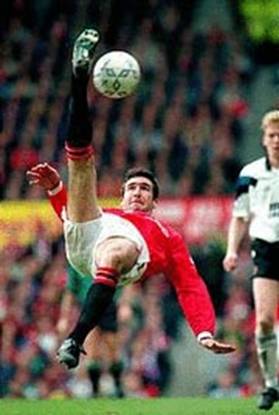 <![endif]>
David Wetherall and Brian Deane were the Leeds scorers                                                         Eric Cantona replied from the spot
<![if !vml]>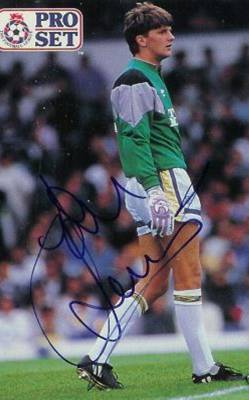 <![endif]>                          <![if !vml]>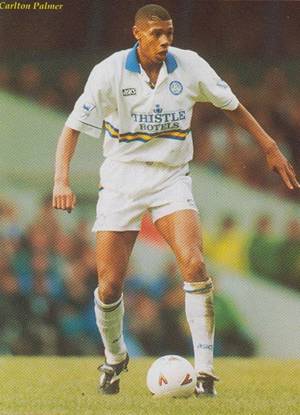 <![endif]> <![if !vml]>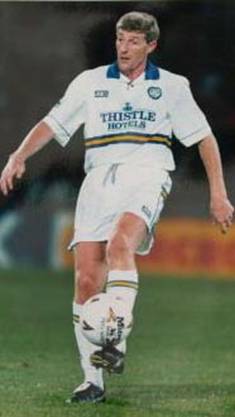 <![endif]> 
John Lukic had won back the goalkeeping role.         Carlton Palmer and Nigel Worthington had joined from Sheffield Wednesday.
<![if !vml]>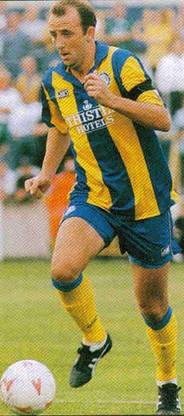 <![endif]> <![if !vml]>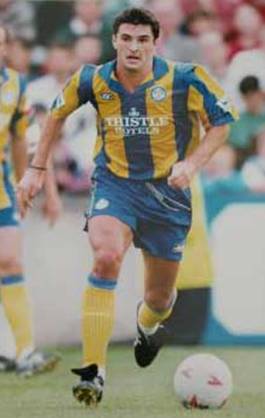 <![endif]>   <![if !vml]>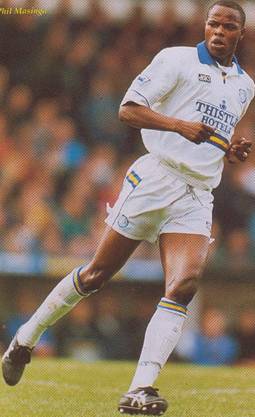 <![endif]>   <![if !vml]>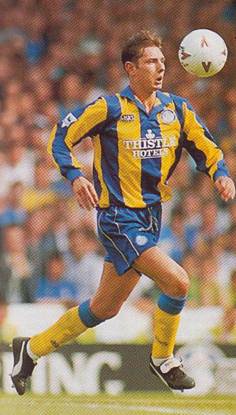 <![endif]>
Gary McAllister and Gary Speed were superb in midfield. Phil Masinga started as striker. Noel Whelan was the Leeds star performer and made the second goal.
<![if !vml]>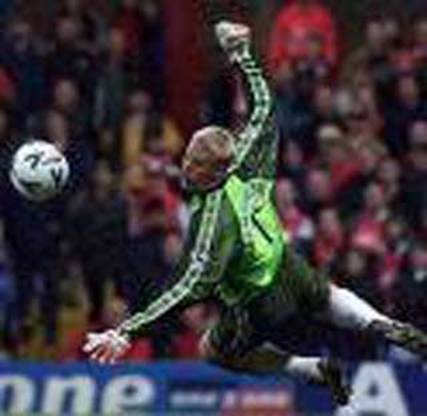 <![endif]>                <![if !vml]>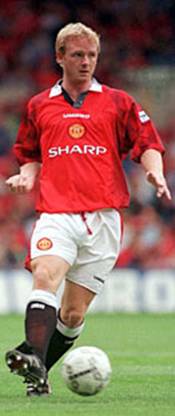 <![endif]> <![if !vml]>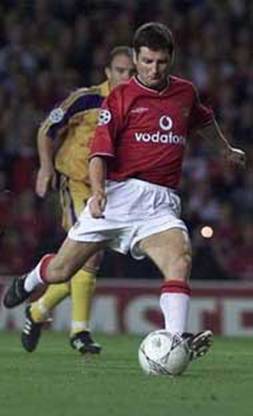 <![endif]>      
Peter Schmeichel kept goal                                                                              David May and Denis Irwin were at full-back 
<![if !vml]>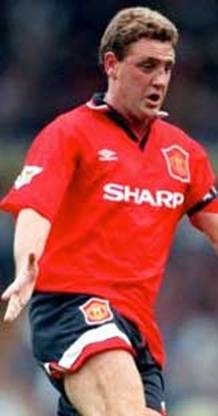 <![endif]> <![if !vml]>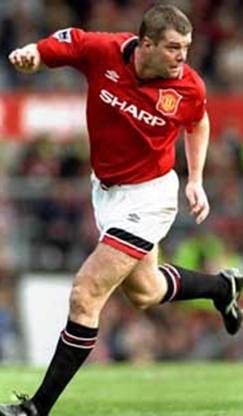 <![endif]>   <![if !vml]>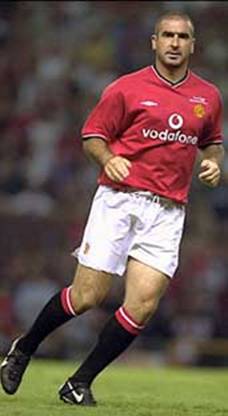 <![endif]> <![if !vml]>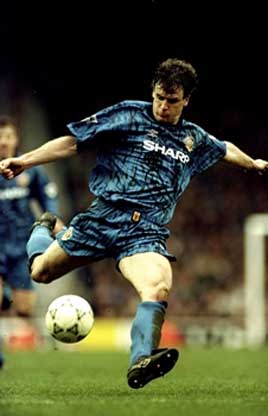 <![endif]>
Steve Bruce and Gary Pallister were in central defence                            Eric Cantona and Mark Hughes were the strikers
<![if !vml]>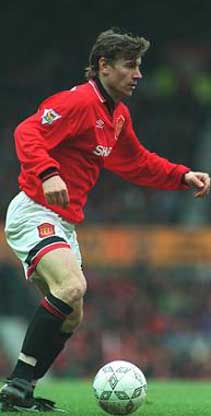 <![endif]>  <![if !vml]>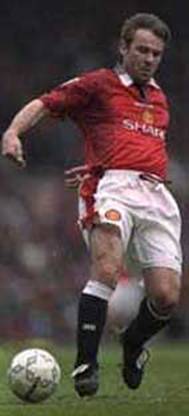 <![endif]>  <![if !vml]>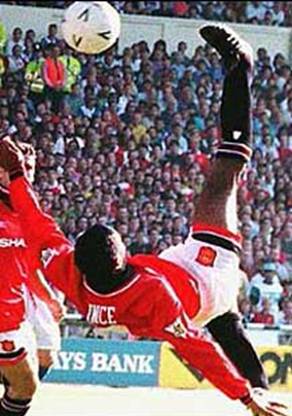 <![endif]>  <![if !vml]>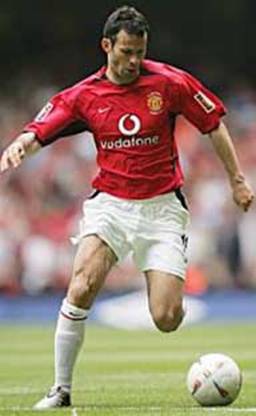 <![endif]>
Alexei Kanchelski, Brian McClair, Paul Ince and Ryan Giggs started in midfield
<![if !vml]>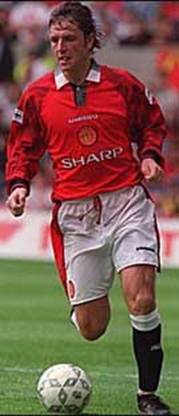 <![endif]> <![if !vml]>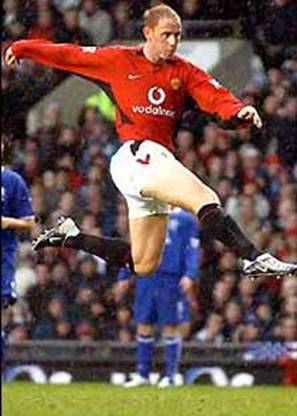 <![endif]>
Lee Sharpe and Nicky Butt were the substitutes