<![if !vml]>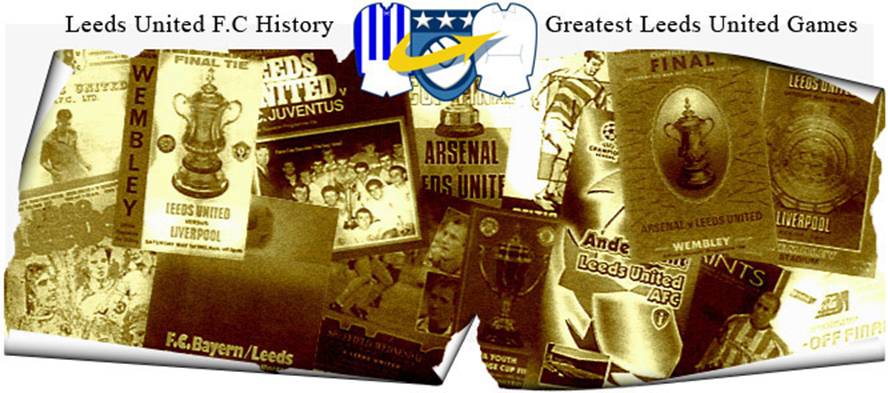 <![endif]>
Date: Wednesday, 11th September 1968.
Venue: Nep Stadium, Budapest.
Competition: Inter-Cities Fairs Cup Final Second Leg.
Score: Ferencvaros 0 Leeds United 0
Scorers: Ferencvaros: Nil. Leeds United: Nil.
Attendance: 76,000.
Teams:
<![if !vml]>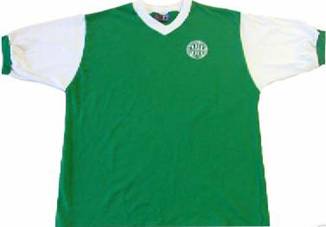 <![endif]><![if !vml]>

<![endif]>
Ferencvaros: Geczi; Novak, Pancsics; Havasi, Juhasz, Szucs; Szoke (Kraba), Varga, Albert, Rakosi, Katona.
<![if !vml]>
<![endif]><![if !vml]>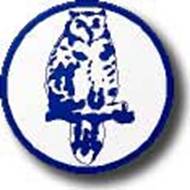 <![endif]>
Leeds United: Sprake; Reaney, Cooper; Bremner, Charlton, Hunter; O'Grady, Lorimer, Jones, Madeley, Hibbitt (Bates).
Referee: Gerhard Schulenberg (West Germany).
On a night of immense tension, United were subjected to their most rigorous European examination in the white-hot atmosphere of the Nep Stadium, before emerging heroically to become the first British winners of the Inter-Cities Fairs Cup. United were without the injured Johnny Giles and Eddie Gray, but had Mike O'Grady back after a long lay off, with Paul Madeley taking a more defensive role in midfield, while Terry Hibbitt was given the left wing role, but the accent was certainly on defence with Mick Jones, recovered from injury, a lone attacker. Ferencvaros showed only one change from their team from the first leg with Sandor Katona replacing Mate Fenyvesi.
A human barrier of white shirts was strung around the penalty area to keep the Magyars at bay for virtually the entire ninety minutes. Ferencvaros hopes of quickly wiping out United's slender advantage soon evaporated as the Leeds defence gave one of its greatest displays by throttling every promising attack the Hungarians could mount. It took twenty minutes for the first clear-cut chance to arrive. With Leeds packing their penalty area, it called for a piece of brilliance to create a chance, and after a jinking run had culminated in shot, it looked as though Gyula Rakosi had scored, but Terry Cooper produced an acrobatic overhead clearance on the line to keep United's advantage. A few minutes later he came to the rescue once more as a blocked a fierce shot from Florian Albert.  When the Hungarians did find a way through United's ten-man defence, Gary Sprake stood up extremely well to a barrage of testing shots and centres, pulling off one world-class save from Istvan Szoke which helped sap the home team's spirit, as he stood tall, proud and on the night totally unbeatable. United's attacks were rare, but they almost snatched a goal in the thirty-third minute when winger Mike O'Grady chipped in a free-kick which Mick Jones headed powerfully against the crossbar. This lone attack gave United encouragement, and twice soon afterwards they went close but were denied at the last gasp by goalkeeper Istvan Geczi.
It might not have been entrancing to watch, as a defensive exhibition, especially for the Hungarian supporters, but it was a fascinating display of how to contain your opponents who were determined to score against you. There were excellent performances from Terry Cooper, Paul Madeley and Norman Hunter. They were unbeatable. Ferencvaros persisted in trying to force their way down the centre of the park, playing right into United's strength of Norman Hunter, Paul Madeley and Terry Cooper and if it wasn't one of the three doing the stopping there was Jack Charlton winning everything in the air and behind them they found Gary Sprake in brilliant form. There was always the constant threat posed by the Hungarian forwards particularly Florian Albert and Zoltan Varga, but the capacity 75,000 crowd packed into the mighty Nep Stadium quickly sensed that the pattern of the game was going to be, all out attack by Ferencvaros, against a stubborn rearguard action by Leeds.
As the watch ticked down and the final fifteen minutes started to tick away Ferencvaros had taken off Szoke and replaced him with Kraba and Leeds brought on Mick Bates for Terry Hibbitt, but the Doncaster-born midfielder put away thoughts of attack and joined United's massed all-out defence. Ferencvaros created two more opportunities as Varga tried an overhead kick but the bounce evaded his team-mates and the Leeds defence, and, fortunately, the goal. Florian Albert hared for goal in a breakaway move as Sprake came out to meet the threat. Courageously, Sprake dived at Albert's feet to smother the ball. Leeds did not need that extra goal but it would have gone a long way to soothing manager Don Revie's nerves as he disclosed at the end of the game: " When we got into those final few minutes my heart nearly stopped beating. As the final whistle drew nearer every minute seemed like an hour."
Almost on the final whistle Gary Sprake, saved the game for Leeds as he topped all his previous heroics when he produced a save from outside this world from a Novak free-kick. Phil Brown of the Yorkshire Post described it: "His lithe leap and powerful punch sent the ball whirling away high around the post in what will be one of the saves of a lifetime however long he plays", while Geoffrey Green of the Times was equally amazed; " How Sprake even saw it, the ball, at that moment was miraculous, since there was a solid wall of ten white shirts in front of him" and it must have been a purely instinctive reaction from the Welshman as he would not have seen it until the very last few seconds.
Just as Dinamo Zagreb had frustrated Leeds the previous season, so United, learning quickly, had suffocated Ferencvaros into submission to earn their first tangible reward in Europe. United had become the first British team to capture the Inter-Cities Fairs Cup and joined the ranks of Manchester United Tottenham Hotspur and West Ham United as the only British European Trophy winners. By general consent, the final in Budapest had been one of the most exciting scoreless draws ever seen and Billy Bremner proudly received the trophy from Sir Stanley Rous and the Trophy joined the English League Cup Trophy on display at Elland Road, their second major trophy won in the season after such a succession of near-misses.
Billy Bremner later described his feelings as he received the trophy, "It was a moment to savour. For ten years one British team after another had been vainly trying to win this competition. It had always been looked upon as the toughest competition of them all in many ways, because the tournament seemed to spark off trouble and strife of one kind or another nearly every season. British clubs had travelled all over Europe in their efforts to lift this trophy and now, at last, it was Leeds United who had done it. If there was a particular hero in that team full of heroes it was probably Gary Sprake. He saved us from a certain goal when he dived to a tremendous free-kick, taken by Novak, from twenty yards out. Flying through the air, Gary had punched the ball clear with one hand while still in the air. The ball spun high and wide, round a post."  Apart from praising United's defensive achievements over the two legs, he was quick to compliment the Hungarian team, singling out Varga for particular praise, "The man who stood out in the Ferencvaros team was Varga. He twisted and turned like an eel as he tried to penetrate our defensive shield or tried to set up a scoring chance. When it came to shooting, though, he couldn't finish off. We kept Albert contained and he was unable to produce too many threats. I also think our players kept their cool remarkably well, despite quite a bit of rough handling at times, in a game that was tense, to say the least, from the starting whistle onwards."
Exactly a week later United started the defence of their new trophy as they travelled to Belgium to face Standard Liege!
<![if !vml]>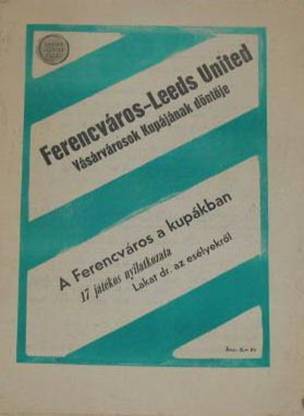 <![endif]>   <![if !vml]>
<![endif]>
Match Action:
<![if !vml]>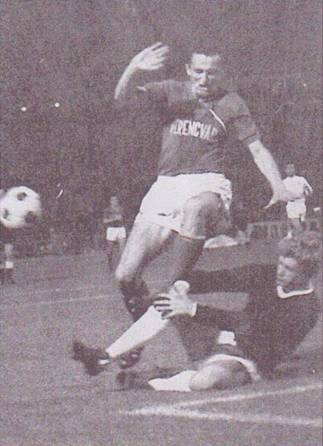 <![endif]> <![if !vml]>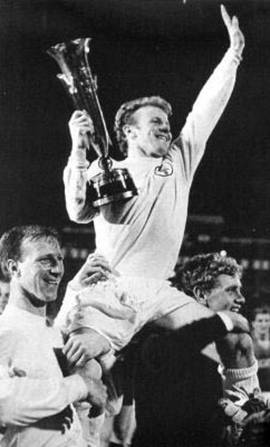 <![endif]> <![if !vml]>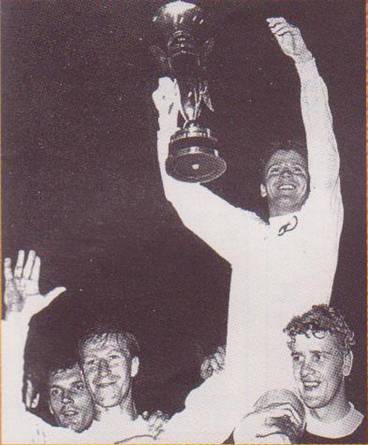 <![endif]>
Gary Sprake saves bravely                                      Billy Bremner with the Fairs Trophy        Paul Madeley, Jack Charlton and Gary Sprake
from Florian Albert                                                                                                                       celebrate  with Billy Bremner
<![if !vml]>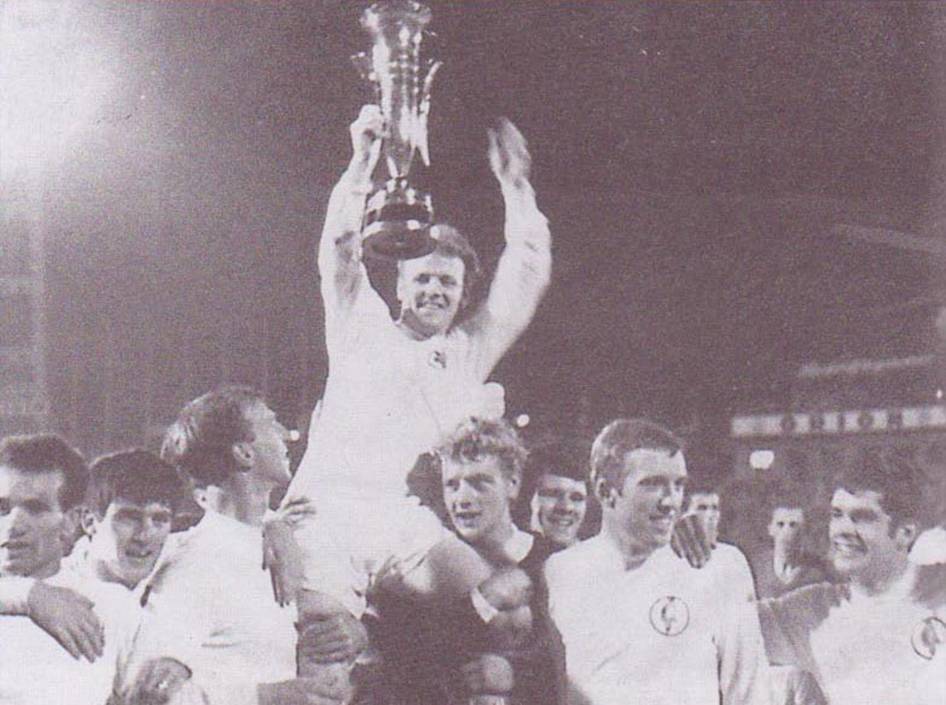 <![endif]>
Billy Bremner, with the Cup, Paul Reaney, Peter Lorimer, Jack Charlton, Gary Sprake, Mick Jones and Mick Bates celebrate
<![if !vml]>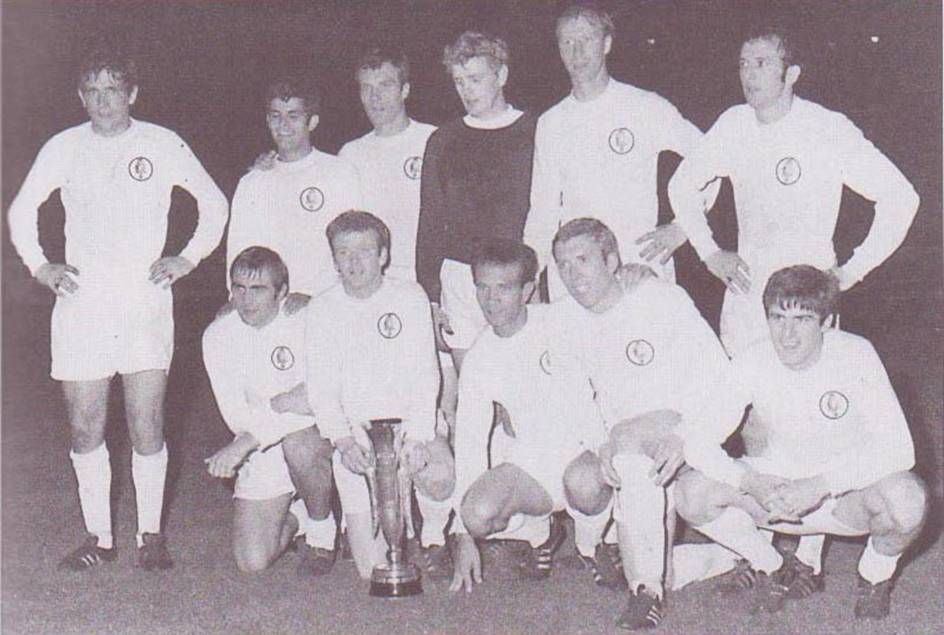 <![endif]>
The Leeds team with the trophy at the Nep Stadium:
Back Row: Norman Hunter, Mick Bates (on as substitute for Terry Hibbitt), Paul Madeley, Gary Sprake, Jack Charlton, Mike O'Grady.
Front Row: Terry Cooper, Billy Bremner, Paul Reaney, Mick Jones, Peter Lorimer.
<![if !vml]>
<![endif]>
Dressing Room celebrations at the Nep Stadium:
Back Row: Don Revie (Manager), Les Cocker (Trainer), Jack Charlton, Mick Bates, Terry Yorath, Paul Reaney, Terry Hibbitt,
David Harvey, Terry Cooper, Rod Belfitt.
Front Row: Peter Lorimer, Paul Madeley, Gary Sprake, Billy Bremner, Mick Jones, Norman Hunter, Mike O'Grady.
<![if !vml]>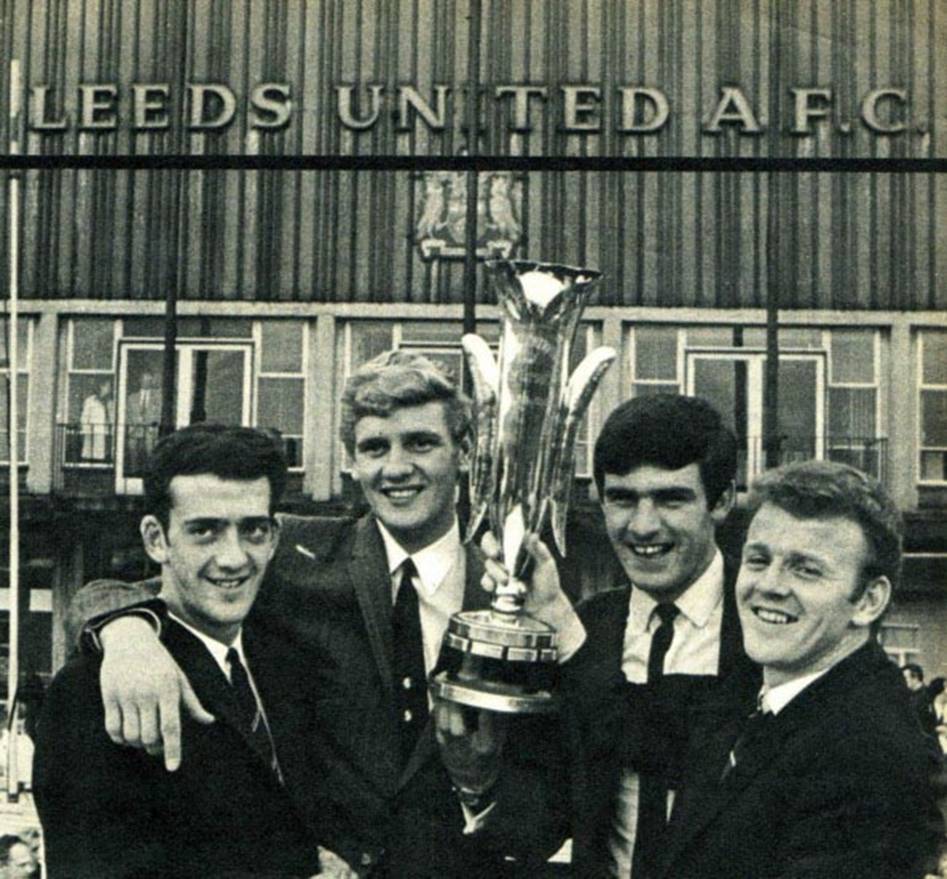 <![endif]>
Terry Hibbitt, Gary Sprake, Peter Lorimer and Billy Bremner show off the trophy outside Elland Road.
Teams:
<![if !vml]>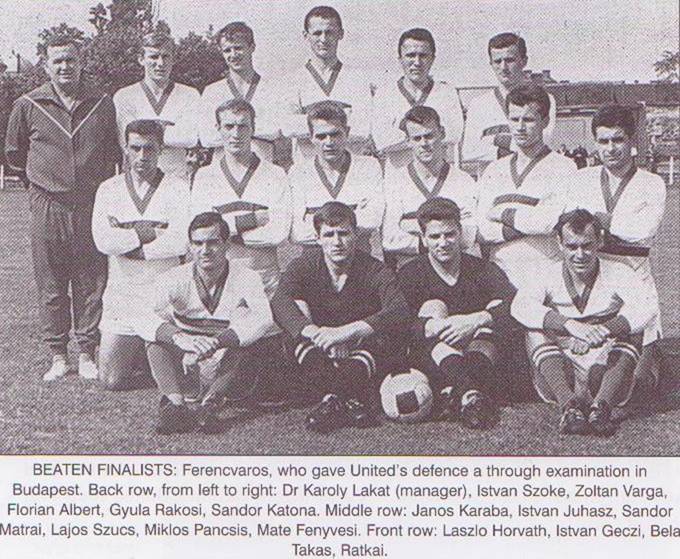 <![endif]>
<![if !vml]>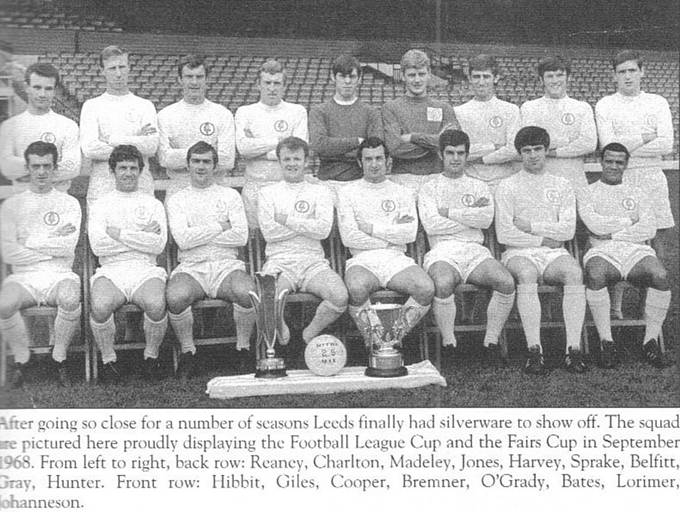 <![endif]>
Players:
<![if !vml]>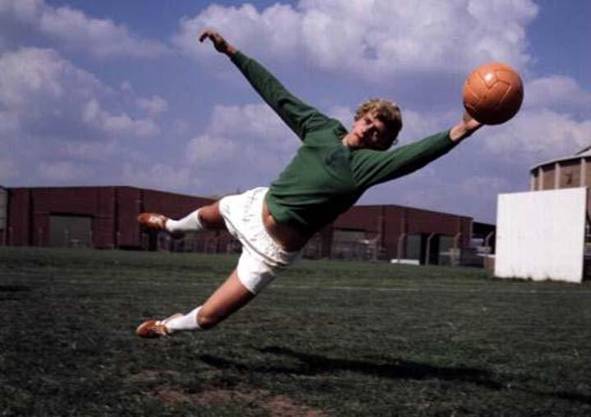 <![endif]>         <![if !vml]>
<![endif]>
Gary Sprake: Leeds United's 'Man of the Match'                                                                          Florian Albert: Ferencvaros danger man