<![if !vml]>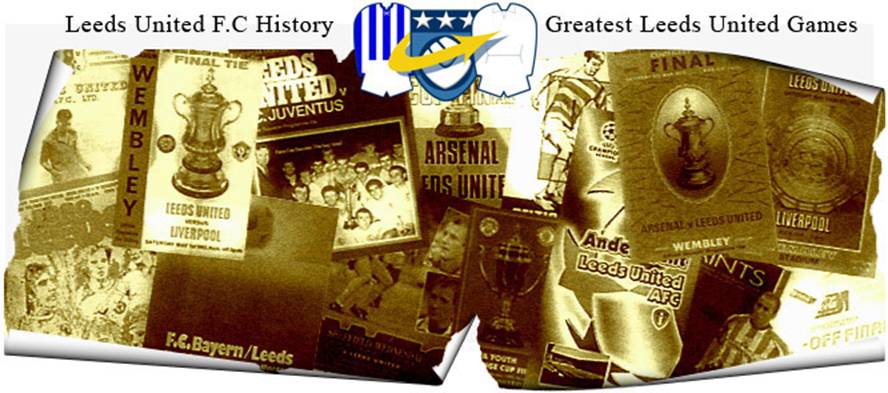 <![endif]>
Date: Saturday, 11th January 2003.
Venue: Maine Road, Manchester.
Competition: English Premier League.
Score: Manchester City 2 Leeds United 1
Scorers: Manchester City: Goater, Jensen. Leeds United: Kewell.
Attendance: 34,884.
Teams:
<![if !vml]>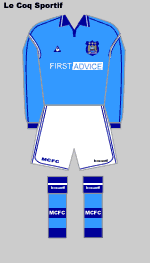 <![endif]> <![if !vml]>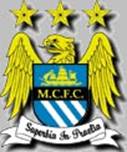 <![endif]>
Manchester City: Schmeichel; Dunne, Howey, Distin, Jihai; Berkovic (Benarbia), Foe, Horlock, Jensen; Goater (Wright-Phillips), Anelka. Unused Subs: Wiekens, Huckerby, Nash.
<![if !vml]>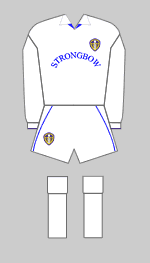 <![endif]><![if !vml]>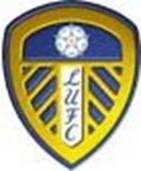 <![endif]>
Leeds United: Robinson; Kelly, Mills, Woodgate, Matteo; Smith (Milner), Bakke (Fowler), Okon, Wilcox; Viduka (Johnson), Kewell. Unused Subs: Lucic, Martyn.
Referee: Mr R. Styles (Waterlooville, Hampshire).
They say that absence makes the heart grow fonder, and as Leeds' run of six games without defeat came crashing to an end at Manchester City is was difficult to avoid thinking about what might have been. After a week of mystery and intrigue surrounding the revolving transfer door at Elland Road it was almost strange to see a football match breaking out at Maine Road. But football was Leeds United's business and, regardless of what others in the boardroom might think, the club's success would be judged on what did or didn't happen on the field of play. And, from that point of view, the 2-1 defeat to City gave a bleak view of what could lie ahead for the club unless Terry Venables was given the opportunity to make the signings he felt Leeds needed to progress.
<![if !supportLineBreakNewLine]>
<![endif]>
Goals from Shaun Goater and Niclas Jensen condemned United to a deserved defeat, but it was Israeli playmaker Eyal Berkovic that most graphically illustrated the twin deficiencies apparent in Terry Venables' side. Eyal Berkovic had always been something of an enigma, when he was good he was very good and when he was bad he was, well, awful. This game was one of his better days and United left Maine Road pointless because they lost the midfield battle to Berkovic and Cameroon international Marc-Vivien Foe. The Israeli was given far too much time and space in which to prompt City's attacking moves with pinpoint passes and intelligent running off the ball. He was instrumental in City's first goal in the twenty-ninth minute as he picked the ball up in midfield and casually bore down on the United area before releasing Shaun Goater with an inch-perfect pass that Jonathan Woodgate was unable to cut out. Shaun Goater did the rest, casually slotting the ball past Paul Robinson's right hand, but the move belonged to Eyal Berkovic.
<![if !supportLineBreakNewLine]>
<![endif]>
How United were crying out for someone to cancel him out by tracking his moves and putting in a couple of crunching challenges to unsettle a player with a known dislike for the more physical side of the game. Paul Okon did his best to provide cover to United's back four, but Leeds were in desperate need of a more driving, purposeful figure. Whisper it, but they lacked an Olivier Dacourt. At the other end, Leeds had no-one to do the attacking job that Eyal Berkovic was doing so well at the other end. Too often Harry Kewell and Mark Viduka found themselves isolated with little or no support from deep. Eirik Bakke made a couple of his trademark surging runs in the first half but, after the interval, there was a gaping hole behind the United frontline that City were able to dominate as they liked.
<![if !supportLineBreakNewLine]>
<![endif]>
The withdrawal of the hobbling Alan Smith on the hour mark did not help matters, but Leeds always looked to be lacking an attacking midfielder who could provide the killer pass or break ahead of the front two to form a goal-scoring threat of their own. Again whisper it, but they lacked a Lee Bowyer. Those two were gone of course, and it was of no use to anyone to wistfully wish for their return, but this defeat did provide a graphic illustration of how one-dimensional United's attacking play could become unless new additions are made in month, while the transfer window was open.
<![if !supportLineBreakNewLine]>
<![endif]>
Oppositions must feel that if they can shackle Mark Viduka and Harry Kewell then Leeds are going to struggle to create openings and the fact the Whites only had four shots all afternoon tells its own story. That is not to say that Leeds were never at the races, there was much more to be pleased about in this performance than in the away defeats at Spurs and Fulham, but once the visitors went behind they never really looked like clawing their way back onto level terms. Ironically, they could have found themselves ahead in the first place. City goalkeeper Peter Schmeichel needed all of his ability and experience to keep out Harry Kewell's twenty-yard drive once it had taken a wicked deflection off defender Steve Howey. But, just sixty seconds later, Shaun Goater had the ball in the net at the other end and City were able to kick on from there to avenge the 3-0 reverse at Elland Road on the opening day of the season.
<![if !supportLineBreakNewLine]>
<![endif]>
Marc-Vivien Foe and Shaun Goater both wasted good chances to extend City's lead at the start of the second half, but the home side did double their advantage in the fiftieth minute, and in some style. Nicolas Anelka, whose pace troubled the Leeds defence all day, set things in motion by twisting and turning his way past Danny Mills on the right touchline. He floated a long raking pass to the far left-hand corner of the United box, but there looked to be no immediate danger as left wing-back Niclas Jensen approached the dipping ball. Jensen had only scored once in his previous forty-one appearances for Kevin Keegan's side, but he doubled that tally in style as, without breaking stride or checking his approach, he unleashed a ferocious volley that rocketed past Paul Robinson into the far corner of the net, after fifty minutes. There were a number of great goals in the Premiership on that Saturday, but that was top of the pile and it is doubtful that a better goal would be scored all season.

Paul Robinson could do nothing more than admire the quality of the Danish international's strike and he showcased his own ability by producing two great late saves to keep out a free-kick from Kevin Horlock and a second thunderbolt from Jensen. Harry Kewell gave United's travelling support something to shout about in stoppage time as he latched onto Jonathan Woodgate's through ball and lashed a precision strike past Peter Schmeichel. But City's supporters were still singing the name of Leeds substitute Robbie Fowler at that stage, they clearly felt that the transfer merry-go-round was going to swing into action again later that week
<![if !vml]>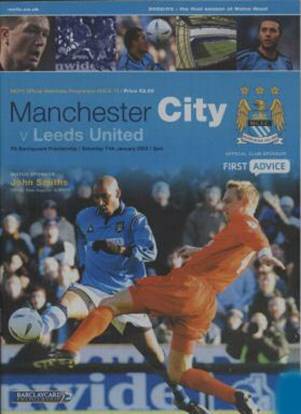 <![endif]>
Match Action:
| | |
| --- | --- |
| Shaun Goater opens the scoring for Manchester City | Shaun Goater celebrates his goal |
<![if !vml]>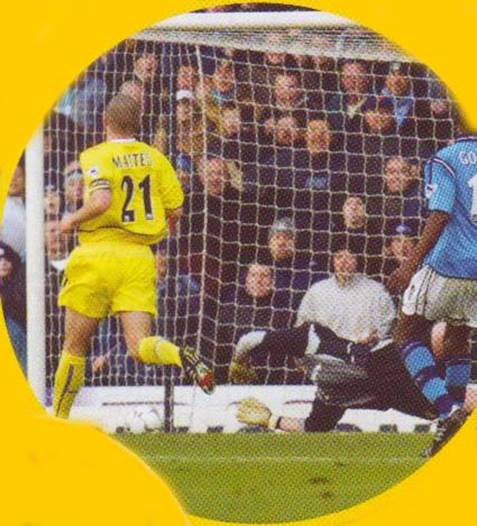 <![endif]> <![if !vml]>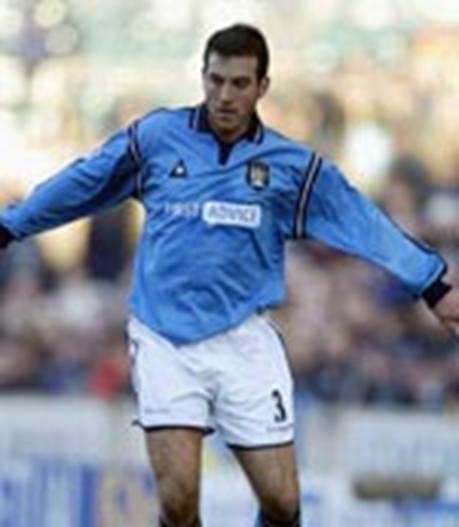 <![endif]>
Dominic Matteo can only watch as Shaun Goater scores                                 Niclas Jensen scored Manchester City's second goal
<![if !vml]>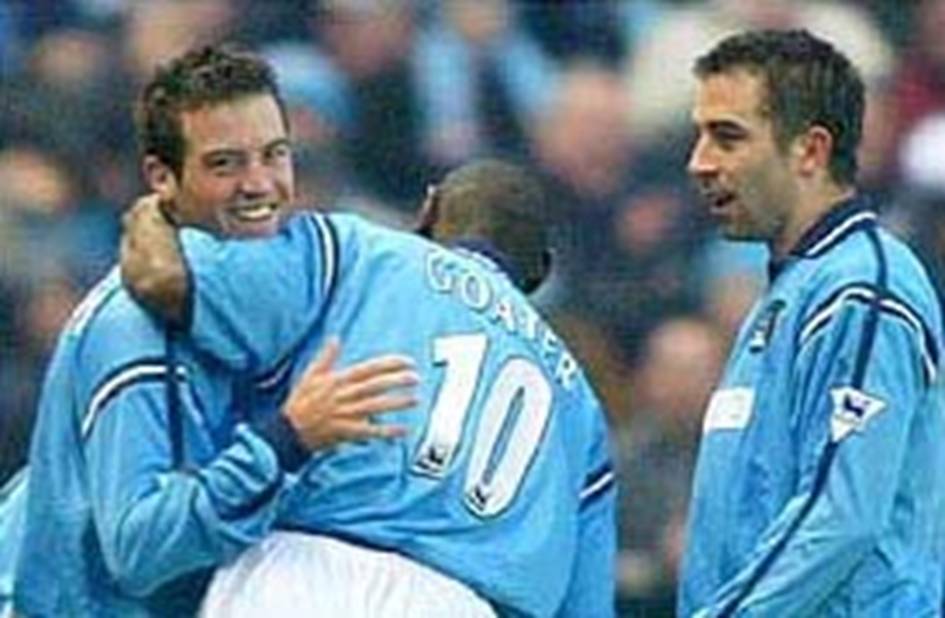 <![endif]> 
Niclas Jensen celebrates his goal with Shaun Goater and Kevin Horlock
<![if !vml]>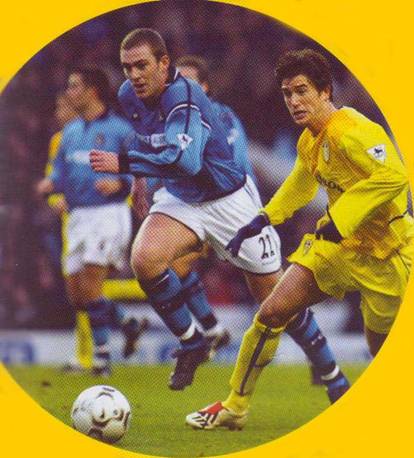 <![endif]>   <![if !vml]>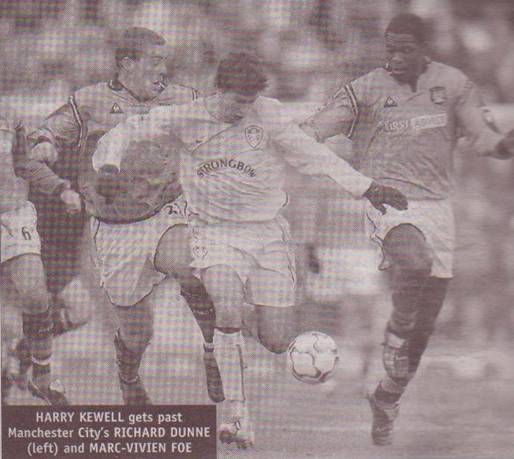 <![endif]>
Harry Kewell and Richard Dunne fight for the ball
<![if !vml]>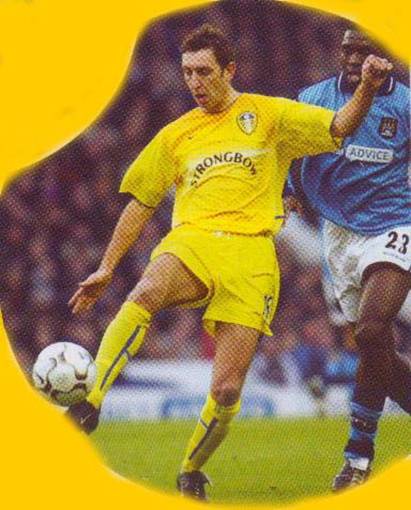 <![endif]>      <![if !vml]>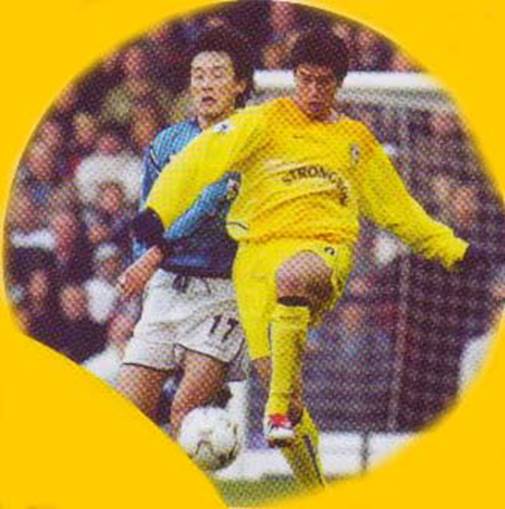 <![endif]>
Jason Wilcox holds off Marc-Vivien Foe                                          Harry Kewell shields the ball from Jihal Sun
<![if !vml]>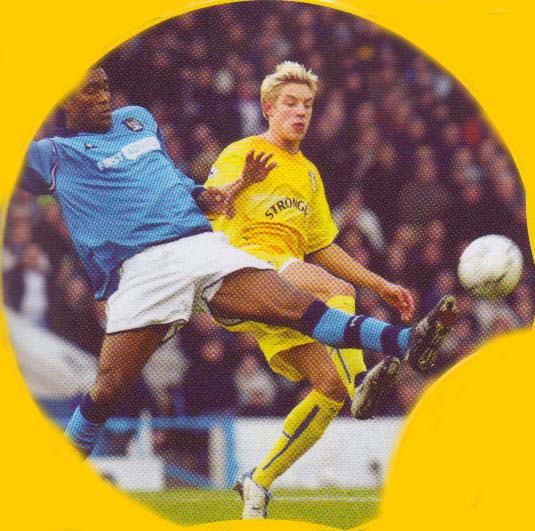 <![endif]>               <![if !vml]>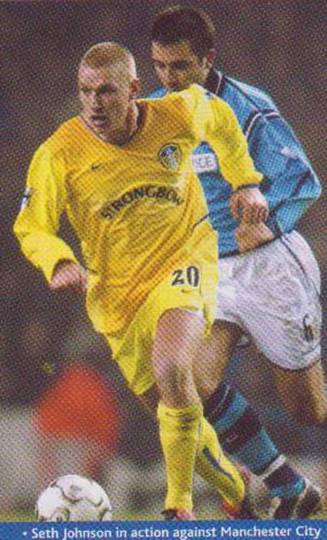 <![endif]>
Alan Smith challenges Sylvain Distin
Players:
<![if !vml]>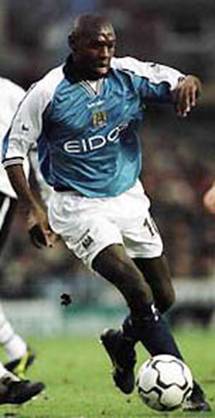 <![endif]> <![if !vml]>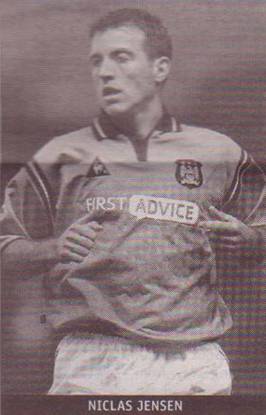 <![endif]>  <![if !vml]>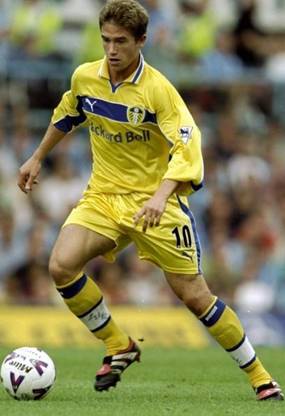 <![endif]> <![if !vml]>
<![endif]>
Shaun Goater and Niclas Jensen scored for Manchester City                       Harry Kewell pulled one back at the death.  Paul Robinson was well
                                                                                                                                                                                                      beaten by both goals
<![if !vml]>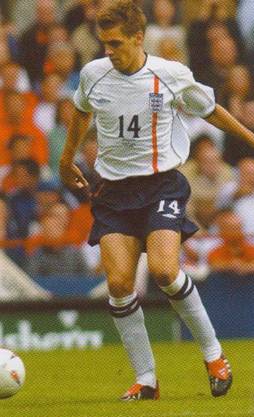 <![endif]> <![if !vml]>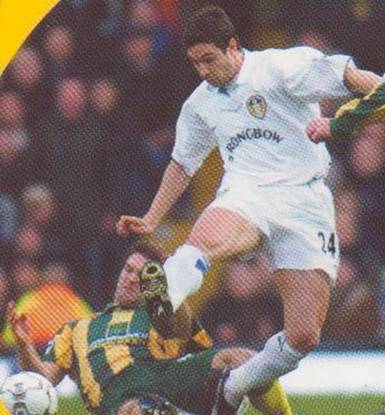 <![endif]> <![if !vml]>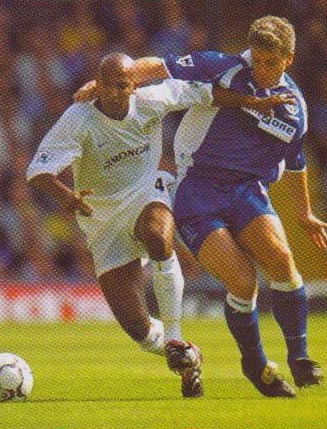 <![endif]> 
Jonathan Woodgate could not cut out      Paul Okon tried his best to cover the back four but United lacked an Olivier Dacourt
the pass for Shaun Goater's goal
<![if !vml]>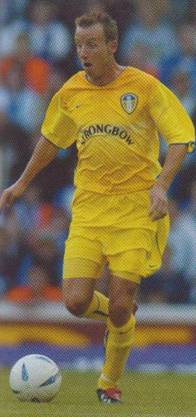 <![endif]>  <![if !vml]>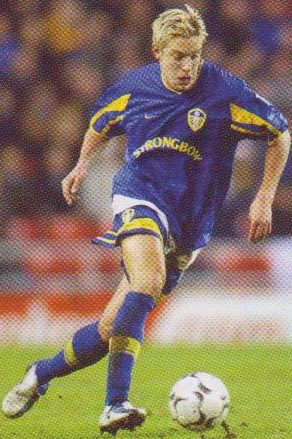 <![endif]>  <![if !vml]>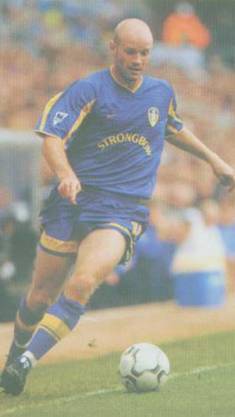 <![endif]>  <![if !vml]>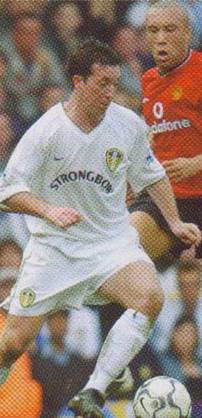 <![endif]>
United lacked a Lee Bowyer    Alan Smith hobbled off on the hour               Nicolas Anelka's pace worried         Manchester City fans were
                                                                                                                            Danny Mills                                       chanting Robbie Fowler's name
<![if !vml]>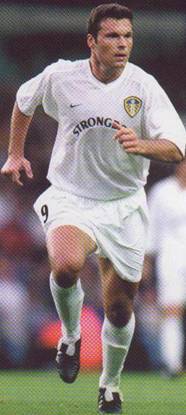 <![endif]> <![if !vml]>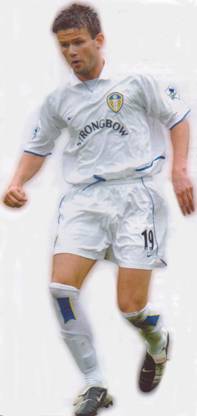 <![endif]> <![if !vml]>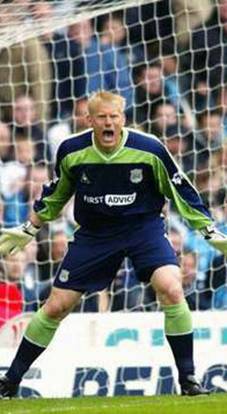 <![endif]> <![if !vml]>

<![endif]> <![if !vml]>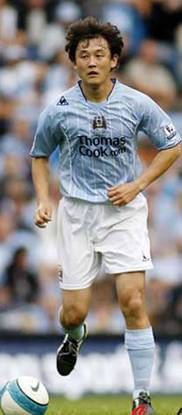 <![endif]>
Mark Viduka found               Eirik Bakke made                    Peter Schmeichel was in goal         Richard Dunne and Jihai Sun were the full-backs
himself isolated                      surging runs
<![if !vml]>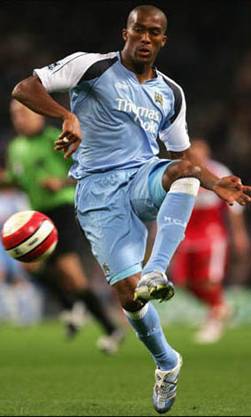 <![endif]> <![if !vml]>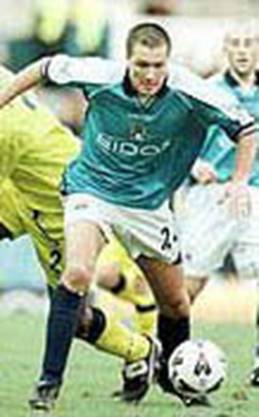 <![endif]>  <![if !vml]>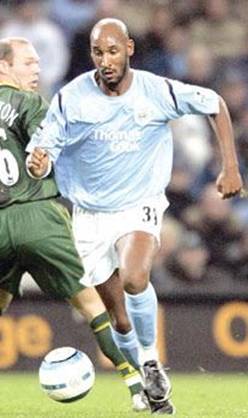 <![endif]> <![if !vml]>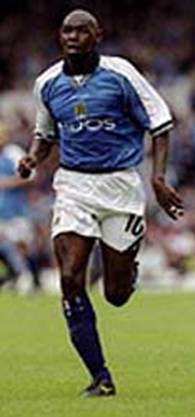 <![endif]>
Sylvain Distin and Steve Howey were the central defenders                                 Nicolas Anelka and Shaun Goater were the strikers
<![if !vml]>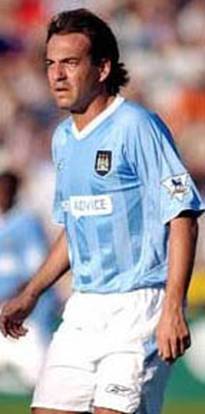 <![endif]> <![if !vml]>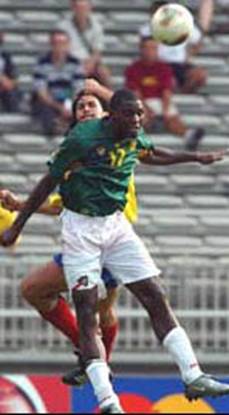 <![endif]> <![if !vml]>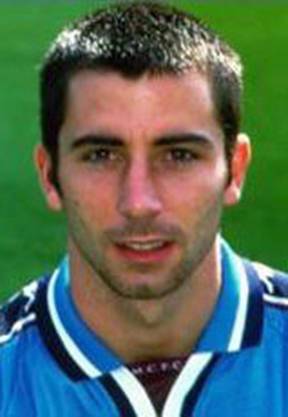 <![endif]> <![if !vml]>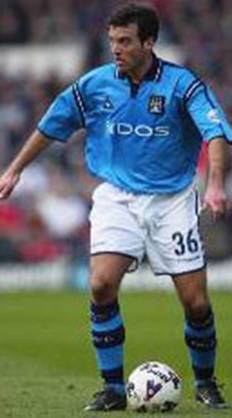 <![endif]>
                              Eyal Berkovic, Marc-Vivien Foe, Kevin Horlock and Niclas Jensen were in midfield
<![if !vml]>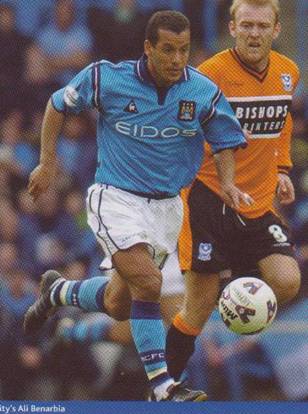 <![endif]> <![if !vml]>
<![endif]>
                      Ali Benarbia and Shaun Wright-Phillips were the used substitutes
<![if !vml]>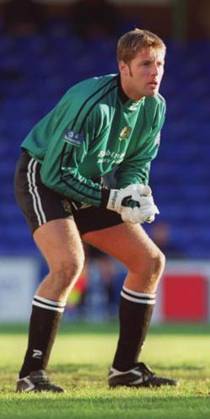 <![endif]> <![if !vml]>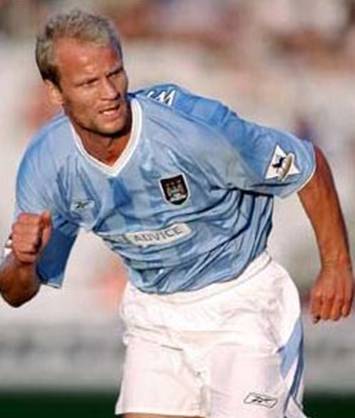 <![endif]> <![if !vml]>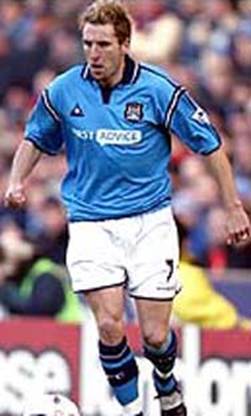 <![endif]>
                         Carlo Nash, Gerard Wiekens and Darren Huckerby were the unused substitutes