<![if !vml]>
<![endif]>
Date: Sunday, 11th January 1987.
Venue: The Hawthorns, West Bromwich.
Competition: FA Cup Third Round.
Score: Telford United 1 Leeds United 2.
Scorers: Telford United: Williams. Leeds United: Baird (2).
Attendance: 6,460 (Receipts £18,000).
Teams:
 <![if !vml]>
<![endif]> <![if !vml]>
<![endif]>
Telford United: Charlton; McGinty, Wiggins; Griffiths, Nelson, Hancock; Joseph, Williams, McKenna, Hogan, Alcock (Morgan). Unused Sub: Turner.
<![if !vml]>
<![endif]><![if !vml]>
<![endif]>
Leeds United: Day, Aspin, Stiles; Rennie, Ashurst, Ormsby; Ritchie, Sheridan, Baird, Edwards, Doig. Unused Subs: Swan, Thompson.
Referee: V. Callow (Solihull, Birmingham).
The match against famed giant killers Telford United was switched to the Hawthorns on the advice of the Shropshire Police who said they would not be able to cope with the crowd at the Non-Leaguers Bucks Head Ground and only a small crowd turned up for the Sunday confrontation. The police feared that they might have been over-run by the notorious section of hooligans that had attached itself to Leeds at the GM Vauxhall Conference club's small stadium. So the FA ordered the ground switch to The Hawthorns, prompting criticism in the Press that they had given in to the hooligans. Leeds' last visit to The Hawthorns the previous month had been an explosive affair with three Leeds players ordered off in a 3-0 League defeat. After the match there was trouble as a blaze was started and had to be tackled with fire-fighters to stop any serious damage. Nobody was taking chances this time. The FA decreed that the Telford game should go ahead at on a Sunday, thus reducing the number of Leeds followers who could get to the game. About three hundred police were on duty, yet only six thousand four hundred and sixty people braved the ice and snow to watch the match, which was given the go-ahead on the morning of the day.
Frozen conditions made good football impossible and made the game a lottery and neither side was able to settle on the white frost-ridden pitch which resembled a skating-rink rather than a football pitch as the tangerine coloured ball seemed to have a mind of its own. Two goals from Ian Baird, one four minutes from the end, put Leeds through from a game which both camps felt should not have gone ahead.
Leeds received the boost of an eleventh minute goal from Ian Baird, when his downward header from a John Stiles right wing cross spun away from goalkeeper Kevin Charlton to give United the lead. Telford posed plenty of problems for Leeds and scored when Colin Williams' looping header went over Mervyn Day for a Telford equalizer in the fifty-third minute and the tie seemed to be going to a replay as neither team created chances.
With just four minutes left Ian Baird ran onto a twenty-five yard John Sheridan pass to fire past Kevin Charlton from the edge of the box. Even at the end Telford could have snatched an equalizer to force a replay but substitute Tom Morgan shot over the bar from six yards.  
An alternate report:
The scaremongers had already been working overtime after the draw paired United with non-league minnows Telford United and, within days, the tie was switched to West Brom's Hawthorns ground. The reputation of United's fans had slumped to another low, following incidents at Bradford and Plymouth earlier in the season, and there were fears about the potential for trouble at the Third Round clash. The adverse publicity whipped the footballing public into a frenzy and in the days leading up to the match it was clear that no-one outside of Leeds wanted to see Bremner's men make progress.
The kick-off was moved back to Sunday lunchtime in a bid to prevent Leeds fans from travelling, and road blocks and additional security measures were implemented to prevent ticket-less fans attending. Quite how much Telford lost from the re-scheduling of the tie away from their Bucks Head ground was never made public.
<![if !supportLineBreakNewLine]>
<![endif]>
After all the hype surrounding the game the clash actually took place in conditions that were more suited to ice skating. Under normal circumstances the Cup-Tie would have been called off on the morning of the game, but with stringent security arrangements in order and pressure on the officials to get the game on, referee Vic Callow declared the pitch playable and Bremner's side faced yet another obstacle. The mid-morning sun never appeared to melt the ice, as predicted by the reluctant officials, and when the game kicked off the pitch was covered in a crusted layer of ice, making conditions near impossible.
<![if !supportLineBreakNewLine]>
<![endif]>
That said, it took Leeds just 12 minutes to get their noses in front against the GM Conference outfit. John Stiles whipped over a cross and Ian Baird rose to head home his first FA Cup goal. It was a strike which settled Leeds, but both sides struggled to adapt to the horrendous surface. Instead of improving, the pitch got steadily worse as the temperatures failed to rise and as Telford, conquerors of Fourth Division Burnley in the previous round, adopted a gung-ho approach and it was backs to the wall stuff for Leeds. When Colin Williams headed home a John Alcock cross just eight minutes into the second half, Telford had renewed hope and it took a great save from Mervyn Day and a goal-line clearance from David Rennie to keep Leeds level.
<![if !supportLineBreakNewLine]>
<![endif]>
United appeared happy to defend the 1-1 score-line in the hope of securing a replay and escaping the Hawthorns unscathed, but Ian Baird showed the ice dancing skills of Christopher Dean to settle the tie late on. A deflected pass from John Sheridan fell to Baird and the Leeds striker somehow kept his feet to control the ball, take it forward, and drill it beyond the reach of Telford keeper Kevin Charlton. It was a fine goal and was probably rough justice on gallant Telford, but there was no disguising the relief of the scorer, his team-mates or the travelling fans. "We had been on a hiding to nothing," said Baird. "We needed that win." It was a victory that set up a Fourth Round tie with Swindon and, while Leeds didn't know it, they were well and truly on the road to Wembley.
Alternate Reports: (Courtesy Mark Ledgard)
Summary: Giant-killers Telford came within five minutes of defying the FA Cup odds, which were stacked against them to the bitter end in this tie. The little Shropshire club bowed out with a catalogue of grievances after Leeds striker Ian Baird had struck an eighty-fifth minute winner. Telford manager Stan Storton could not conceal his disappointment after his side's brave attempt to topple the Second Division club. "It might look like another hard luck story for a Non-League side but it's not," he said. "They had settled for a draw until they scored their second goal against the run of play. This game shouldn't have been played but there was no way they were going to call it off. They would have moved mountains to get it played because of the security operation, but it was a lottery. The conditions were treacherous and I am only thankful no-one was seriously injured. I think we've had the rough end of the stick from the moment they moved the match away from Telford. I'm pretty sure we would have beaten them on our own pitch." Telford recovered superbly after goalkeeper Kevin Charlton had fumbled Ian Baird's header into the net, to give Leeds a twelfth minute lead. Colin Willams equalized with a fifty-second minute header from John Alcock's centre, and Leeds were thankful for a fine Mervyn Day save from Anton Joseph and a goal-line clearance by David Rennie from Ken McKenna. Even after Baird had beaten Charlton with a cross-shot at the near post to restore Leeds' advantage, Telford wasted a great chance to equalise when substitute Tom Morgan fired over an empty net in the last minute.
And from the YEP: Ian Baird with his second goal of the game five minutes from time, steered Leeds United through to the Fourth Round in this game. But Telford almost overcame the handicap of being driven from their own ground and made Leeds battle to the end. The FA had ordered West Bromwich Albion to stage the Third Round tie because of the notoriety of the hooligan minority who had latched on to Leeds. Yet the 6,560 crowd was one of the best behaved, the writer had shared in the last fifteen years. It was the first time he could remember, since the trouble hit the terraces that there was not even an obscene chant. It was highly questionable, however, that the match was played at all. Vic Callow, the Solihull referee, decided at an inspection that the pitch was fit. Yet when the high noon kick-off came it was not possible for the players to turn with any confidence on the frost-hit pitch which was ninety-eight per cent covered by a thin layer of snow. It made the match, for much of the time, a lottery.
But Mr Callow was one of the game's best performers, in fact, controlling it admirably and collecting the names of John Stiles and Anton Joseph along the way. But Leeds were able to rid themselves of the nightmare of their last appearance at 'The Hawthorns' a month previous, in a game in which three players were sent off, even though for most of this game Telford demonstrated how they had collected so many League club scalps in Cup football in recent seasons. The Non-League side even went within a whisker of forcing a replay in the last minute, when Brendan Ormsby lost his footing on the right wing of Leeds' penalty area, to let in Ken McKenna, whose low cross found Tom Morgan six yards out. But the substitute, under pressure from Neil Aspin, lifted the ball over the Leeds bar and Telford's last chance was gone. Telford found both Brendan Ormsby and Jack Ashurst rock-solid in the centre of the Leeds defence, but from the half hour the part-timers had pressed Leeds hard. They forced their equaliser seven minutes into the second half and it was not until the final ten minutes that Leeds were able to reassert themselves once more.
Leeds started the game well and after Andy Ritchie had had one shot held, Ian Baird headed them in front with his ninth goal of the season in the twelfth minute. John Stiles, Leeds' most influential player for most of the game, produced a high cross from the right from which Ian Baird dispatched a firm header from near the penalty spot, which burst through Kevin Charlton's grasp. Anton Joseph and Eddie Hogan prodded Telford to life but it was not until their fifty-second minute equaliser they got anything on target. Then, after Brendan Ormsby had missed his footing forty yards out, Colin Williams was able to shunt the ball via Ken McKenna to John Alcock on the left whose cross found Williams ten yards out. The former Scarborough striker got nicely between two defenders to loop a header over Mervyn Day with the goalkeeper seemingly unable to get any purchase on the pitch when he tried to leap for the ball. Then with five minutes left, Neil Aspin won a tight challenge with his head, cleared up field to Keith Edwards, who nudged the ball to John Sheridan. His twenty-five yard through pass took a deflection off a Telford defender, but still found Ian Baird, who raced down the inside right slot and held off a challenge by Mark Hancock, before firing low into the near corner of the net from close range. The ball sneaked in and Leeds sneaked through.
<![if !vml]>
<![endif]> <![if !vml]>
<![endif]> (Ticket Courtesy Mark Ledgard)
Match Action:
<![if !vml]>
<![endif]> 
Jack Ashurst and Brendan Ormsby to the rescue as Leeds defend                                                  
<![if !vml]>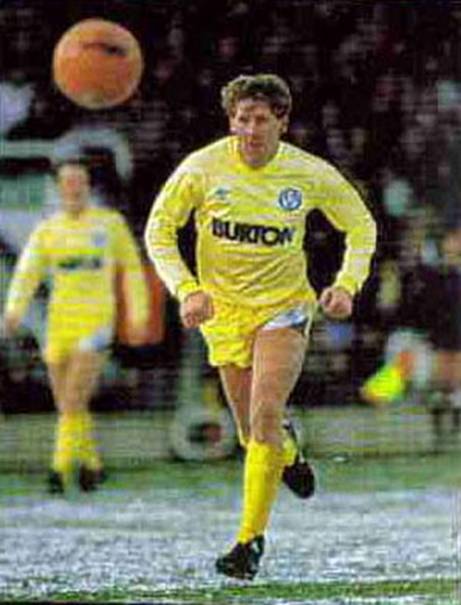 <![endif]>   <![if !vml]>
<![endif]>
Ian Baird on the attack                                                                                     (Picture Courtesy Mark Ledgard)
<![if !vml]>
<![endif]>
<![if !vml]>
<![endif]>
John Stiles flies into a tackle in midfield                                     (above two pictures Courtesy of Mark Ledgard)
Teams:
<![if !vml]>
<![endif]>
Telford United 1987-88:
Back Row: Lenny Lloyd, Harry Wiggins, Ian Crawley, Trevor Storton, Mark Harrison, Chris Brindley, Kevin Charlton, Steve Nelson,
Mark Hancock, Tommy Lloyd
Front Row: John McGinty, Paul Grainger, Tony Griffiths, Paul Nelson, Stan Storton, Andy Lee, Antone Joseph, Iain Sankey, John Stringer
<![if !vml]>
<![endif]>
Leeds United 1986-87:
Back Row: Andy Ritchie, Neil Aspin, Ronnie Robinson, Mervyn Day, Ronnie Sinclair, Peter Swan, Peter Haddock, David Rennie.
Middle Row: Geoff Ladley (Physio), Dave Bentley (Assistant Manager), Jack Ashurst, Bob Taylor, Brian Caswell, Brendan Ormsby,
Ian Baird, Peter Gunby (Coach), Billy Bremner (Manager).
Front Row: Nigel Thompson, John Stiles, John Sheridan, Ian Snodin, Tommy Wright, Russell Doig, John Buckley.
Players:
<![if !vml]>
<![endif]>    <![if !vml]>
<![endif]>     <![if !vml]>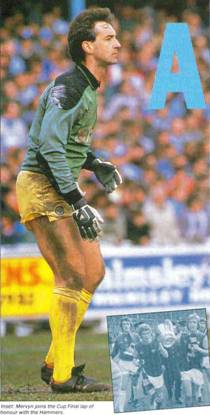 <![endif]>    <![if !vml]>
<![endif]>    
Ian Baird got both                   Colin Williams scored for Telford                  Mervyn Day made a great save    David Rennie kicked off                   
Leeds goals                                                                                                                                                                the line
<![if !vml]>
<![endif]>      <![if !vml]>
<![endif]>          <![if !vml]>
<![endif]>
John Stiles crossed for first goal                           John Sheridan's deflected pass         Brendan Ormsby lost his footing in the final minutes 
                                                                                 led to United's second goal