<![if !vml]>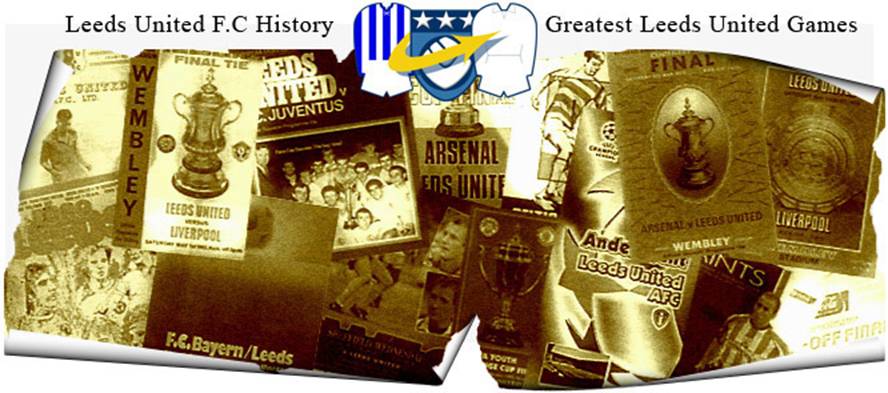 <![endif]>
Date: Wednesday, 10th March 1971.
Venue: Elland Road, Leeds.
Competition: Inter-Cities Fairs Cup, Fourth Round, First Leg.
Score: Leeds United 2 Vitoria Setubal 1.
Scorers: Leeds United: Lorimer, Giles (pen). Vitoria Setubal: Baptista.
Attendance: 27,143.
Teams:
<![if !vml]>
<![endif]> <![if !vml]>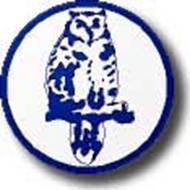 <![endif]>
Leeds United: Harvey; Davey (Yorath), Reaney; Bates, Charlton, Hunter; Lorimer, Belfitt, Jones (Jordan), Giles, Madeley.
<![if !vml]>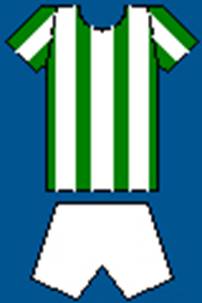 <![endif]><![if !vml]>

<![endif]>
Vitoria Setubal: Torres; Rebelo, Cardoso; Mendes, Carrico, Octavio; Wagner, Maria, Guerreiro, Baptista, Joao.
Referee: Gunther Mannig (East Germany).
After a three month break from the competition, United resumed their Fairs Cup campaign with a controversial clash with Prtuguese side Vitoria Setubal at Elland Road. The Portuguese club had been virtually unknown as a European force until they eliminated Liverpool in the previous year's Inter-Cities Fairs Cup. So Leeds knew it was going to be tough.
Setubal had several well-known stars in their ranks, including Jacinto Joao, who was acknowledged as Portugal's finest player of the time but, because he did not play for Benfica, his international appearances were restricted to just ten caps. Machado Octavio their defensive midfielder fared a little better getting twenty in his career. Vitor Manual Ferreira Baptista was somewhat of a George Best and while in his prime he was adored by many, he later died in poverty as a drug addict, but in his prime he, like Joao while a brilliant and exciting player, was overlooked in favour of Benfica players and gained just eleven caps.
Don Revie, still vitally concerned in the race for the Football League championship, encouraged his men to go out and play an attacking game. He hoped that by so doing United would build up a commanding lead, but the main thing in his mind was that the players should feel the pressure was off them for once. As it turned out, Leeds didn't manage to go on a scoring spree and had to be satisfied to take a 2-1 lead with them to Portugal.
He also warned his men to be aware of left-winger Jainto Joao, striker Vitor Baptista and midfield men Pereira Wagner and Machado Octavio. They also knew that Joaquim Torres, the Setubal keeper was a difficult man to beat. United , badly hit by flu were lacking Billy Bremner, Allan Clarke and Terry Cooper, with Mick Bates, Nigel Davey and Rod Belfitt taking their places. The Managers words regarding Vitor Baptista were soon ringing true, as he got a goal for Setubal as early as the second minute. His words about keeper Joaquim Torres proved correct also, as he was a real stumbling block to United's efforts to get among the goals to give themselves a reasonable lead to take into the second leg. He was beaten twice, by a Peter Lorimer special after nineteen minutes when he equalised with a rocket from twenty-two yards and by Johnny Giles from the spot with eighteen minutes to go, but he made many magnificent saves from Mick Jones on two occasions and from Joe Jordan, who replaced Mick Jones after sixty-nine minutes for his European debut, to keep Setubal in with a chance in the second leg.
There was a major eruption in the game in the seventy-fifth minute. East German referee, Gunter Mannig, gave a penalty for hand ball in the box against Carlos Cardoso and he soon found himself chased, pushed and jostled by the Setubal players. Manager Jose-Maria Pedroto and other members of the Setubal entourage were out of the dug-out in protest. "The penalty did not exist," stormed Pedroto afterwards, "But I did not agree with the way my players reacted." Missiles were thrown at the Setubal bench and police had to move in to calm things on and off the pitch. Eventually order was restored and Johnny Giles kept his cool to squeeze the ball past Joaquim Torres, even though the valiant goalkeeper got a hand to the Irishman's spot kick. United almost increased their lead with a last-minute header from Paul Madeley but the talk after the game was about the penalty rather than the slender margin of the United victory.
<![if !vml]>
<![endif]> <![if !vml]>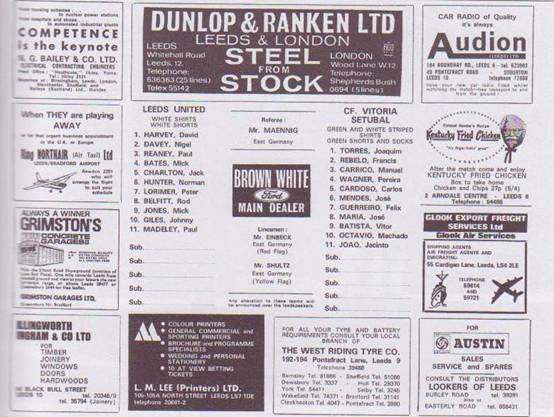 <![endif]>
Match Action:
<![if !vml]>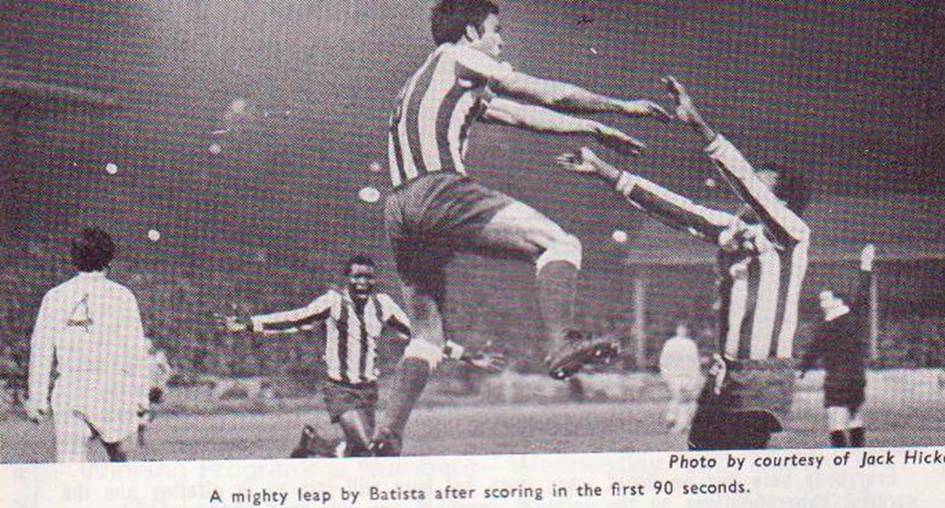 <![endif]>
<![if !vml]>
<![endif]>
Peter Lorimer scores Leeds' first goal from distance to equalise.
<![if !vml]>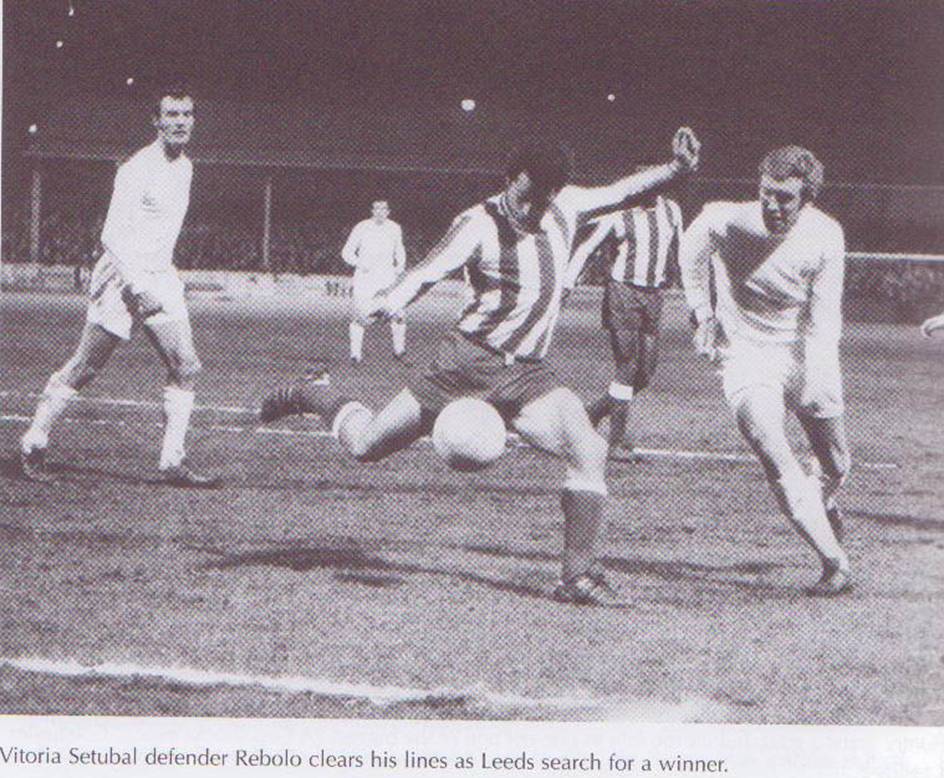 <![endif]> 
<![if !vml]>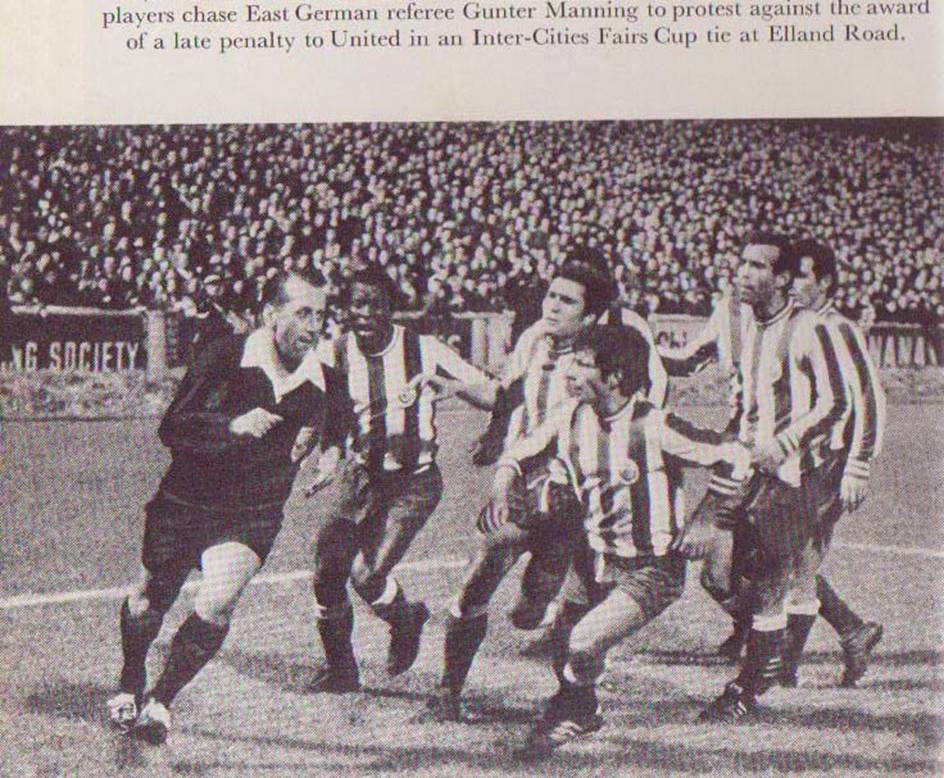 <![endif]>
<![if !vml]>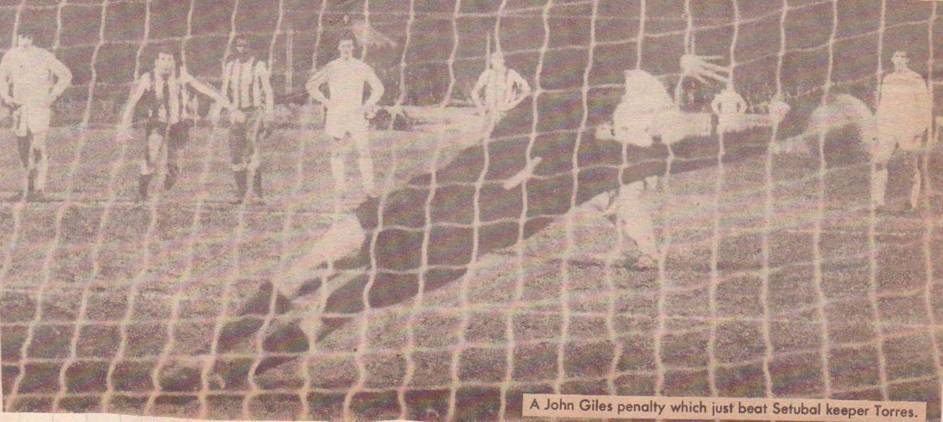 <![endif]>
Johnny Giles gets United's second from the spot to put them into the lead.
<![if !vml]>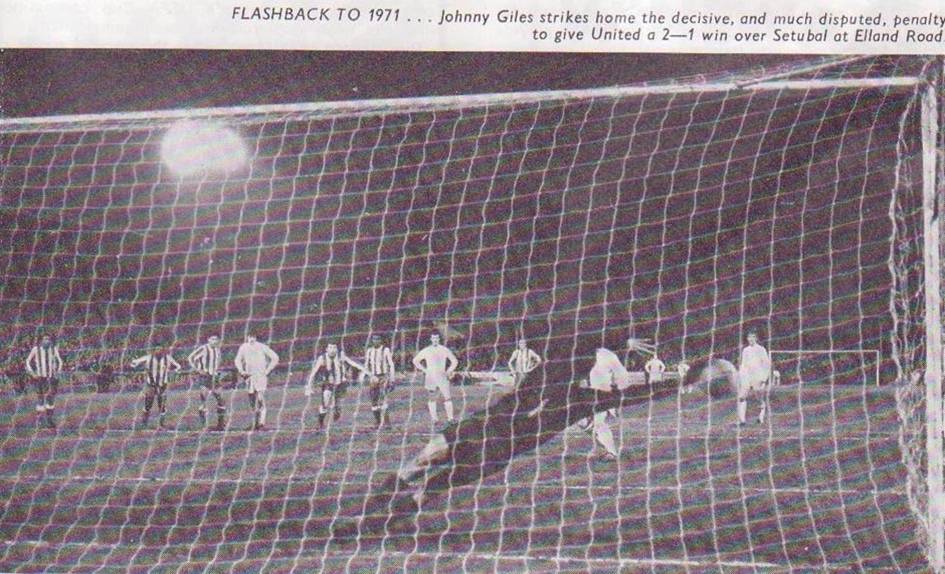 <![endif]>
Players:
Setubal's Stars
<![if !vml]>
<![endif]>
Jacinto Joao
<![if !vml]>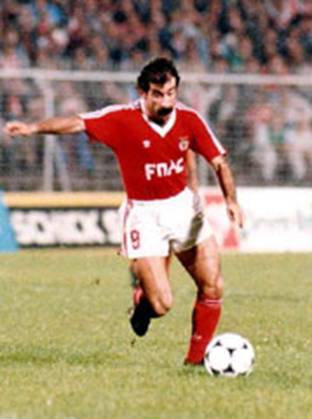 <![endif]> <![if !vml]>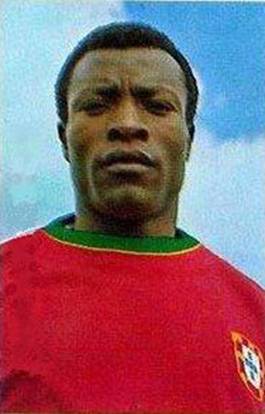 <![endif]>
Vitor Baptista                                                        Jose Maria