<![if !vml]>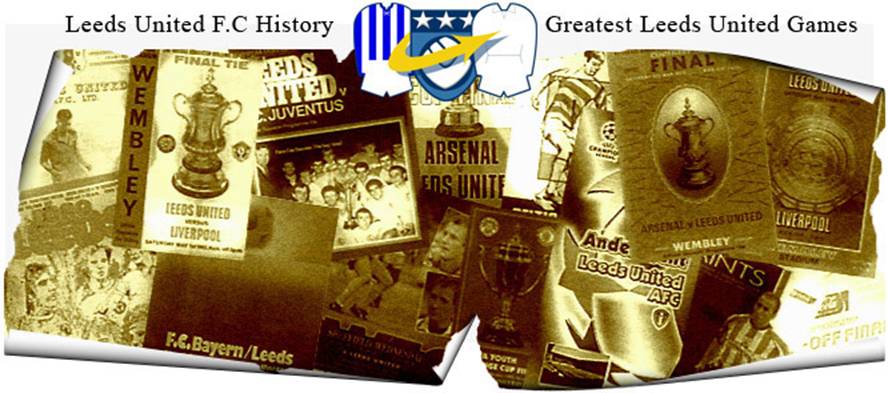 <![endif]>
Date: Saturday 10th January 1970
Venue: Stamford Bridge, London.
Competition: First Division.
Score: Chelsea 2 Leeds United 5
Scorers: Chelsea: Hollins, Osgood. Leeds United: Clarke, Cooper, Giles (pen), Lorimer, Jones.
Attendance: 57,221
Teams:
<![if !vml]>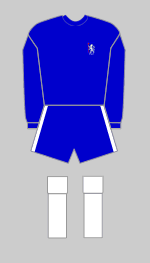 <![endif]> <![if !vml]>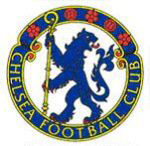 <![endif]>
Chelsea: Hughes; Webb, McCreadie; Hollins, Dempsey, R. Harris; Cooke, Hudson, Osgood, Hutchinson, Houseman.
<![if !vml]>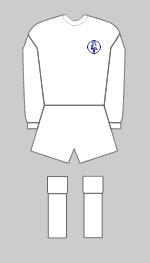 <![endif]> <![if !vml]>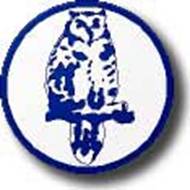 <![endif]>
Leeds United: Sprake; Reaney, Cooper; Bremner, Charlton, Hunter; Lorimer, Clarke (Bates), Jones, Giles, Madeley.
Referee: William J. Gow (Swansea).
Requested by David Stanforth, who said:
"1969-70 season: Chelsea 2 Leeds United 5. 2-1 down at half-time, Clarke injured and the Chelsea scum lording it over Leeds. Second half goals from Cooper, Giles, Lorimer and Jones sealed a great win. I was sitting on the halfway line looking over the cameraman's shoulder, it rained all morning up to about . It should be on your list."
The BBC chose the match as the "Match of the Day" and it became their "Match of the Season".
The FA Cup Final Replay between Chelsea and Leeds United at Old Trafford later in that season attracted an audience of 32 million people. It was at that time the highest ever TV audience in Britain for a football match. This League meeting did not attract quite that many, but the growing figures for "Match of the Day" were due in part to the awesome football such as that served up by Leeds in the second half at Stamford Bridge.
Things were not looking good for Leeds, when Allan Clarke, who had opened the scoring in the sixteenth minute, had to go off, in the thirty-sixth minute, with Mick Bates slotting seamlessly into the team. However, in the interim twenty minutes Chelsea had taken the lead as John Hollins, had equalised just before Clarke's departure, with a fine goal. It had looked that Leeds had gone 2-0 up, but, after Tommy Hughes had lost a Johnny Giles' cross, Mick Jones had the ball in the net, but for some obscure reason it was disallowed, and Allan Clarke, who had been injured in the melee leading up to the goal, had to go off with a badly bruised shin. Worse was to follow as Peter Osgood, scored another fine goal for the Pensioners, just five minutes later and both ian Hutchinson and Dave Webb had gone close before the half-time whistle.
From 2-1 down United piled on four goals past the Chelsea reserve keeper Tommy Hughes and drew rave reviews that put them in the frame for the treble of League, FA Cup and European Cup.
After the break Terry Cooper equalised with a curling shot, Johnny Giles stroked home a penalty, after a needless handball by John Dempsey, Peter Lorimer bundled in thefourth and Mick Jones completed a miserable afternoon for the Chelsea faithful.
Chelsea would have their revenge in the FA Cup Final, by which time Leeds had lost their Championship to Everton and been waylaid in the European Cup by Celtic. They finished the season empty handed.
It was a funny old season for results with Chelsea. In September, a Johnny Giles penalty and a Peter Lorimer special saw United triumph in front of 33,130 at Elland Road as United's season started to gather momentum after a draw-riddled start to the campaign. Four days later Chelsea returned to Elland Road for a Third Round League Cup encounter and, to the surprise of the United faithful in the 21,933 attendance, were held to a 1-1 draw, with Paul Madeley scoring for Leeds. In the replay a fortnight later the Leeds flag was lowered in defeat as Chelsea pleased their fans in a 38,485 crowd by prevailing 2-0. The 2-2 Wembley Final draw and 1-2 defeat in the Old Trafford Replay were still to be played.
But at the final whistle at Stamford Bridge they were justifiably proud of their brilliant display.
<![if !vml]>
<![endif]>
Match Action:
<![if !vml]>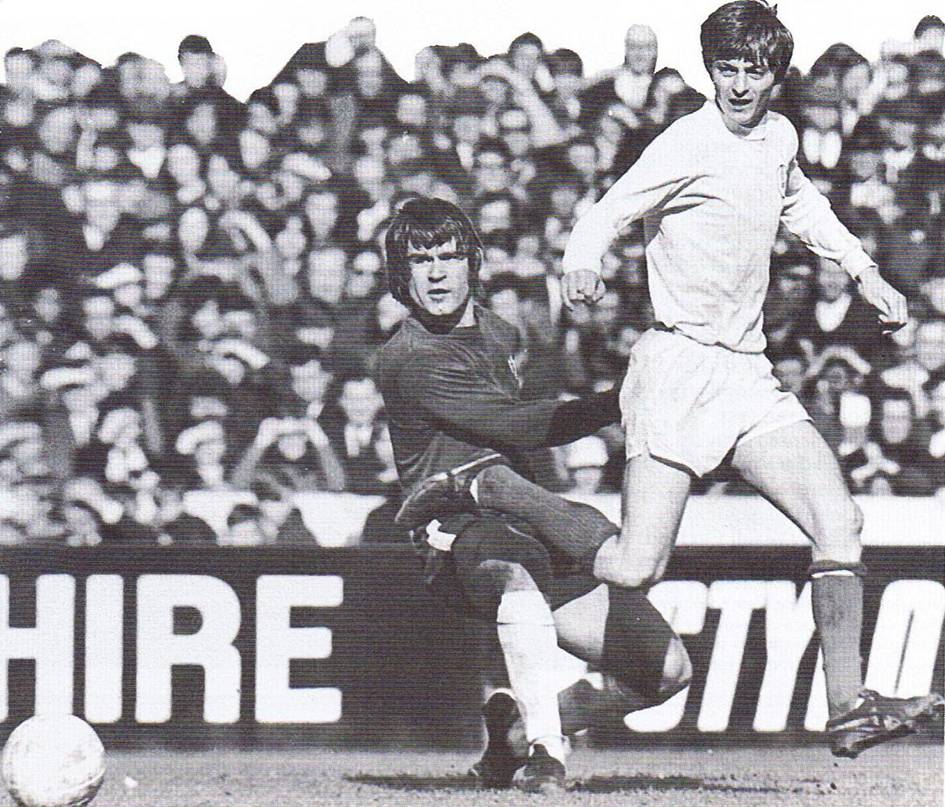 <![endif]>
Allan Clarke evades the challenge of David Webb (Photo courtesy of Mark Ledgard)
Teams:
<![if !vml]>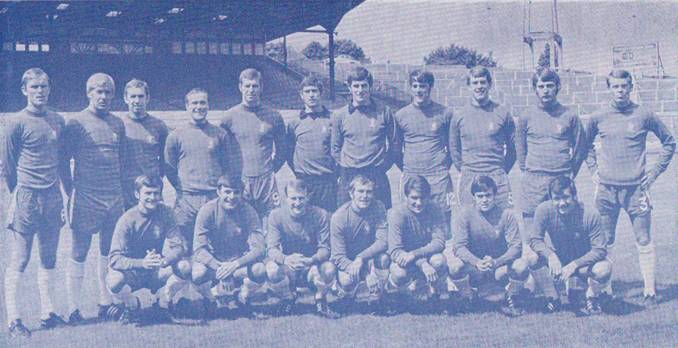 <![endif]>
Chelsea: 1969-70
Back Row: John Dempsey, Alan Birchenall, Marvin Hinton, Peter Osgood, Ron Harris,
Peter Bonetti, Tommy Hughes, Ian Hutchinson, Stewart Houston, Alan Hudson, Eddie McCreadie.
Front Row: John Hollins, Bobby Tambling, Peter Houseman, Tommy Baldwin, Charlie Cook,
Joe Fascione, John Boyle.
<![if !vml]>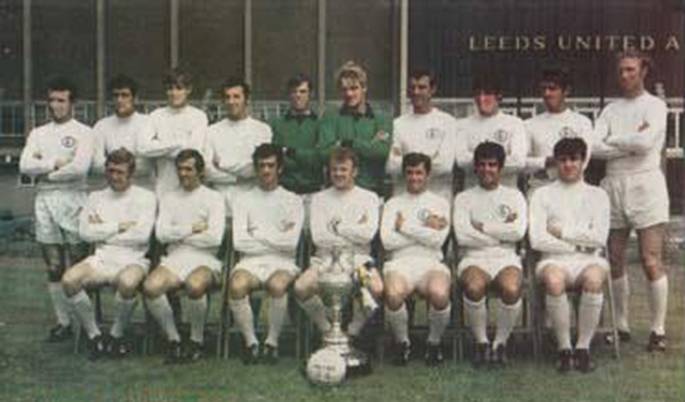 <![endif]>
Leeds United: 1969-70
Back Row: Paul Reaney, Norman Hunter, Alan Clarke, Mike O'Grady, David Harvey,
Gary Sprake, Paul Madeley, Eddie Gray, Jack Charlton.
Front Row: Mick Jones, Terry Cooper, Terry Hibbitt, Billy Bremner, Johnny Giles, Mick Bates,
Peter Lorimer.
Players:
<![if !vml]>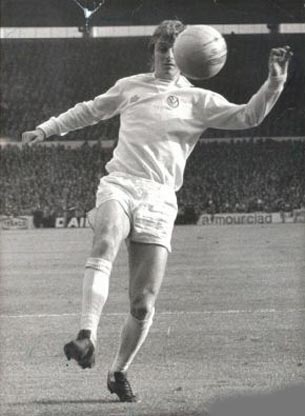 <![endif]> <![if !vml]>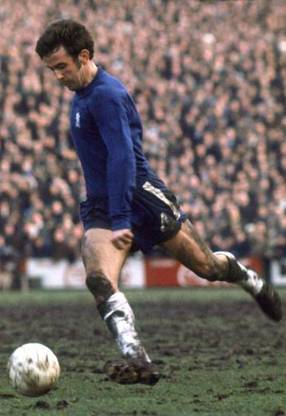 <![endif]> <![if !vml]>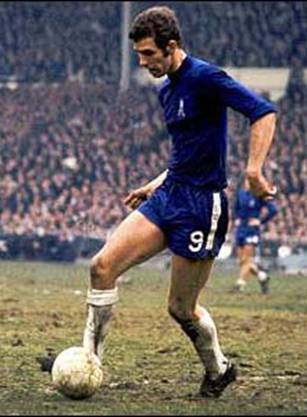 <![endif]>
Allan Clarke gave United the lead             John Hollins and Peter Osgood put Chelsea in front before half-time
<![if !vml]>
<![endif]> <![if !vml]>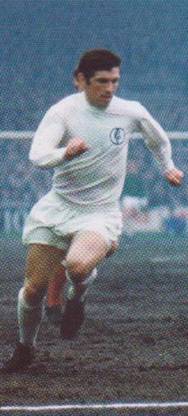 <![endif]> <![if !vml]>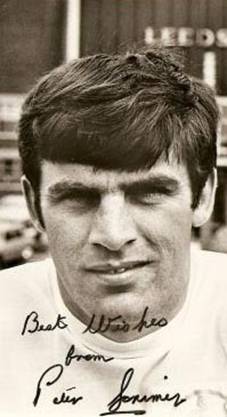 <![endif]> <![if !vml]>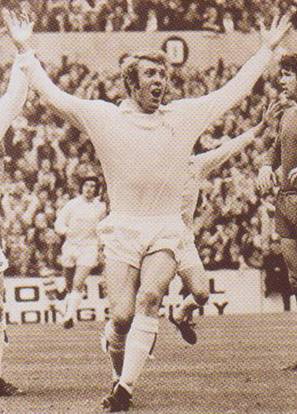 <![endif]>
Terry Cooper, Johnny Giles (Penalty), Peter Lorimer and Mick Jones got the second half goals to give United a deserved victory.