<![if !vml]>
<![endif]>
Date: Wednesday, 9th December 1970.
Venue: Letna Stadium, Prague, Czechoslovakia.
Competition: Inter-Cities Fairs Cup, Third Round, Second Leg.
Score: Sparta Prague 2 Leeds United 3.
Scorers: Sparta Prague: Barton, Urban. Leeds United: E. Gray, Clarke, Belfitt.
Attendance: 30,000.
Teams:
†<![if !vml]>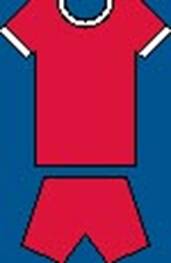 <![endif]>†<![if !vml]>

<![endif]>
Sparta Prague: Brabec; Melichar, Migas; Kessel, Urban, Chovanec; Vesely, Barton, Masek, Jurkanin, Vrana.
<![if !vml]>
<![endif]><![if !vml]>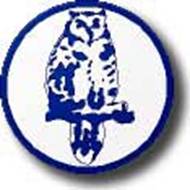 <![endif]>
Leeds United: Sprake (Harvey); Reaney, Cooper; Bremner, Madeley, Hunter (Yorath); Lorimer, Clarke, Belfitt, Bates, E. Gray.
Referee: Aureilio Angonese (Italy).
For the return leg United had Paul Reaney back at right back and Paul Madeley moved to centre-half to cover for Jack Charlton, while Mick Bates stood in for Johnny Giles and Rod Belfitt had recovered from his first leg injury to carry on in place of the injured Mick Jones. For Sparta Vladimir Brabec replaced Antonin Kramerius in goal, a decision which amazed United as the keeper had been one player who had kept his reputation intact at Elland Road, and Jaroslav Barton replaced Frantisek Gogh in attack. Although their side had no hope of going through, news of Unitedís brilliance had filtered through to the Czech capital and all 30,000 tickets were sold out inside two hours.
Once again United stood on no ceremony and just like they had done at Elland Road they swamped the Czech net with goals. Inside thirty-five minutes it was Sparta Prague 0 Leeds United 3. The ground was filled to capacity, and the fans who had jeered their team off at half-time were generous enough at the end to give United a tremendous ovation, one their display fully merited. Sparta too regained their stripes with a fighting come-back which saw them score twice in the second half, but theirs was a hopeless battle from the start.
The pattern was established when Leeds won a corner at the rate of almost one a minute, in the first seven minutes of the game. After twelve minutes they had translated their superiority into a goal. Sparta were attacking one minute then trailing the next, as Vaclav Vrana failed to control a bouncing ball Leeds took possession and raced away to launch a counter attack. Peter Lorimer made ground before crossing the ball to Eddie Gray on the edge of the penalty area and he made light work of side-footing the ball past Vladimir Brabec, who let it slip through his hands. By midway through the half United were toying with the opposition as they played possession football. The crowd decided they didnít like it and promptly began to whistle, whereupon United swept into action once more and slotted home two further goals in as many minutes.
The failure of Sparta to challenge with sufficient determination had been shown during the period that Leeds were content to pass the ball from player to player. It was emphasized when Allan Clarke made light of an attempted tackle, just after the half-hour, and drew the keeper before slipping the ball into the net. Then Terry Cooper bored forward to the edge of the penalty area, won the ball from a defender and set up a scoring† chance for Rod Belfitt, who gratefully accepted, shooting low and hard into the corner of the Sparta net.
Such was Unitedís dominance that Don Revie was able to withdraw Gary Sprake, who had been a virtual spectator and† Norman Hunterand send on David Harvey and Terry Yorath as replacements after the half-time break. It was still Leeds that controlled the game, but gradually Sparta began to show more spirit and after Bohumil Vesely and Josef Jurkanin had gone close, Jaroslav Barton finally put the ball past David Harvey, after sixty-five minutes play. It was an untidy goal, which resulted from a goalmouth melee, after Cooper had blocked a thirty-yard drive from Vaclav Migas, and Jaroslav Barton was lucky enough to stab out a foot and push the ball into the net through a tangle of legs. There were fewer than ten minutes left when Oldrich Urban made the score-line respectable by making it 2-3. However with an aggregate score of 9-2 Leeds had strolled into the quarter-finals of the competition.
<![if !vml]>
<![endif]>
Match Action:
<![if !vml]>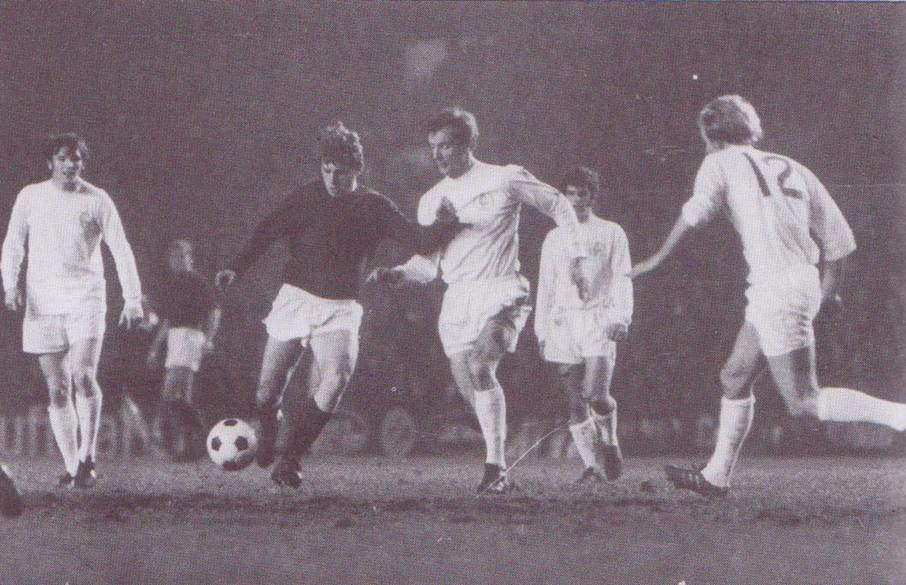 <![endif]>
Masek nips through the Leeds defence as Eddie Gray watches, Paul Madeley and Terry Yorath move in and Mick Bates looks on.
<![if !vml]>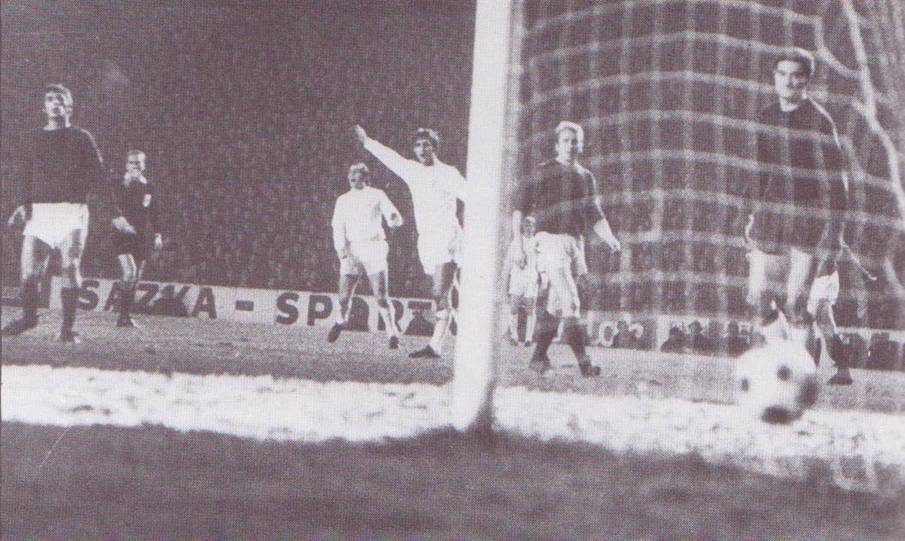 <![endif]>
Rod Belfitt scores Unitedís third goal in Prague
Team:
<![if !vml]>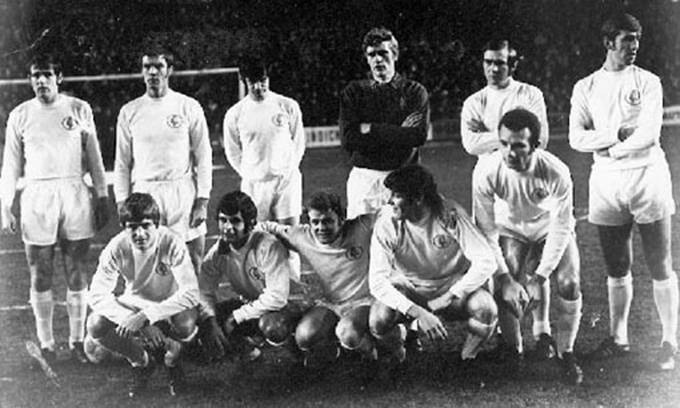 <![endif]>
The Leeds United team that took the pitch against Sparta Prague 9-12-1970:
Back Row: Norman Hunter, Paul Madeley, Peter Lorimer, Gary Sprake, Terry Cooper, Rod Belfitt.
Front Row: Allan Clarke, Mick Bates, Billy Bremner, Eddie Gray, Paul Reaney.
Players:
<![if !vml]>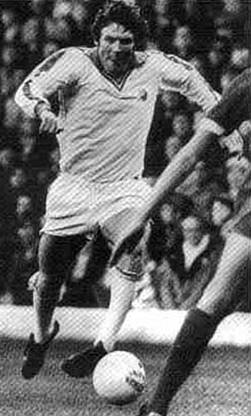 <![endif]>†<![if !vml]>
<![endif]>†<![if !vml]>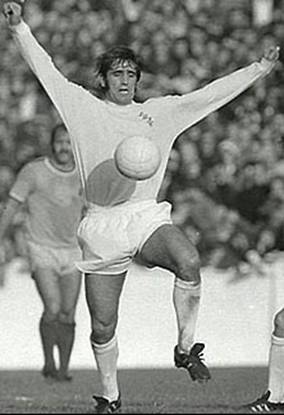 <![endif]>
†††††††††† Eddie Gray, Allan Clarke and Rod Belfitt scored the Unitedís goals in Prague.