<![if !vml]>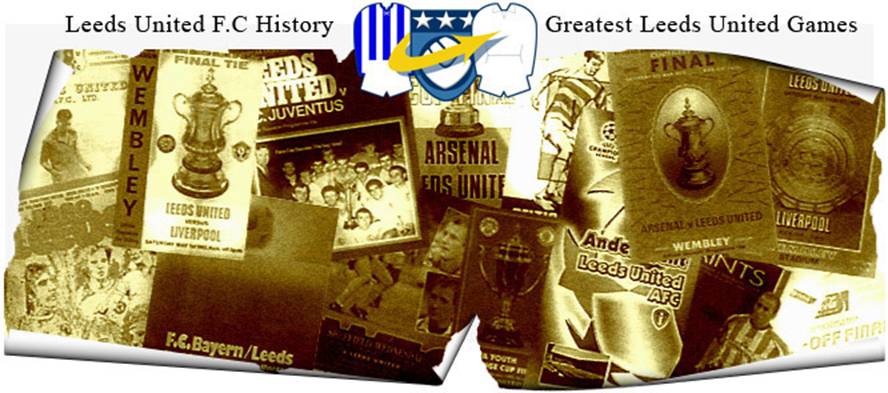 <![endif]>
Date: Wednesday, 9th November 2000.
Venue: San Siro Stadium, Milan, Italy.
Competition: ECL, Group H: Match 6.
Score: AC Milan 1 Leeds United 1.
Scorers: AC Milan: Serginho. Leeds United: Matteo.
Attendance: 52,289.
Teams:
 <![if !vml]>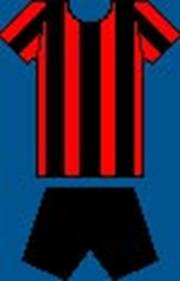 <![endif]> <![if !vml]>

<![endif]>
AC Milan: Dida; Chamot, Roque Junior, Maldini; Helveg; Albertini, Gattuso, Serginho, Leonardo (Boban); Bierhoff, Shevchenko. Unused Subs: Jose Maria, Ambrosini, Guly, Sala, Coco, Abbiatti.
<![if !vml]>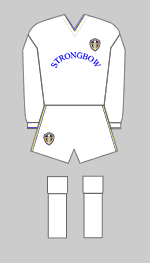 <![endif]><![if !vml]>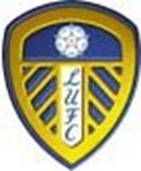 <![endif]>
Leeds United: Robinson; Kelly, Radebe, Mills, Harte; Bowyer, Bakke, Dacourt, Matteo; Smith, Viduka. Unused Subs: Jones, Hay, Burns, Maybury, Evans, Milosevic.                            
Referee: Kim Milton Nielsen (Denmark).
On a high, the battle-weary troops headed for the San Siro and the showdown with AC Milan. There was an unconfirmed rumour that Barcelona had offered Milan a £1.6 bonus if they could beat United and give themselves a chance of qualifying if they could beat Besiktas at the Nou Camp. They must have winced when Andriy Shevchenko missed from the spot and choked on their Paella when Dominic Matteo headed in a Lee Bowyer corner to give United the lead just on half time. It certainly silenced the 52,000 crowd and the Pizza, Lasagne and Chianti sales dipped remarkably as they sat through the half-time break in stunned disbelief! AC Milan equalised on sixty-eight minutes but resolute defence saw no change to the score-line and, although Barcelona won 5-0, it was of no consequence and United and AC Milan progressed to the next round at their expense. Real Madrid, Anderlecht and Lazio awaited them in Stage 2. Another Group of Death, with United again outsiders and praying for the return of their absent stars.
Leeds United marched into the second phase of the ECL with a resolute, focused and wholly determined performance against Italian aces AC Milan at the San Siro Stadium. United skipper Lucas Radebe made a timely return and had to be partnered by Danny Mills in central defence after Jonathan Woodgate failed a late fitness test on his damaged thigh muscle. With both Lucas Radebe and Danny Mills short on match practice they needed to be at their best in the face if quality strikers such as Oliver Bierhoff and Andriy Shevchenko. The odds were stacked against Leeds. Milan had never been beaten by an English team in European competition, with a record of six wins and four draws. They had scored in every European game at the San Siro since 1993. Leeds had never won in Italy in six attempts and had only scored in one of those games, against Juventus in the Fairs Cup Final thirty years previous. The odds were indeed heavily stacked against them in what was their biggest game in twenty five years.
The Milan pitch was hardly in keeping with its mythical standing as one of the world's greatest stadiums, it was an absolute disgrace, with bare patches, divots and ruts abounding but United had brought 6,000 fans with them and they were well in evidence as the teams took to the field. Lee Bowyer was clearly up for the challenge as he shouted words of encouragement to his teammates as Olivier Dacourt kicked off. Danny Mills got an early testing by Andriy Shevchenko but he remained cool and ushered the ball through to Paul Robinson. Then Lucas Radebe brought a Serginho run to a rapid halt with a telling tackle. Serginho again threatened and after jinking past Gary Kelly and Lee Bowyer he was brought down but Demetrio Albertini's free-kick flashed across the face of goal with no takers. In the twelfth minute Paulo Maldini crunched into Alan Smith, but Lee Bowyer's free-kick was a poor one and although Gennaro Gattuso needlessly conceded a corner, it came to nothing. It was the first of three consecutive corners as United gained in confidence and when Roque Junior gave away a free-kick on the left Lee Bowyer's effort was straight into Dida's hands.
Twenty-five minutes had gone and hardly a direct threat to either goal had occurred, but in the next minute United's world threatened to cave in and also for Gary Kelly as Serginho tried to shoot past him and the referee immediately pointed to the spot. Andriy Shevchenko's penalty smashed against Paul Robinson's right hand post and United could breathe again. On the half hour Danny Mills was adjudged to have pushed over Oliver Bierhoff but again Paul Robinson dealt admirably with Demetrio Albertini's well struck twenty-five yard free-kick. Alan Smith won a free-kick on the edge of the area but Dida was able to keep out a well taken Ian Harte free-kick. The hugely dangerous Serginho brought a flying save out of Paul Robinson when the ball was heading for the top corner but United hit back as Mark Viduka won a corner on the stroke of half-time. Lee Bowyer's corner from the right was spectacularly headed home at the near post by Dominic Matteo. It was a priceless goal and made United's chances of progressing much stronger.
Within a minute of the re-start Andriy Shevchenko, who was having a nightmare evening, ballooned his shot from a promising position and then when he set up Serginho, the Brazilian followed suit. Oliver Bierhoff nodded down for Gennaro Gattuso to volley but Paul Robinson again saved the day with a fine save. Robinson again showed his alertness when he saved a point-blank header from Oliver Birhoff but was also thankful to see a deflection from Lucas Radebe of a Serginho cross go wide. Then after sixty-five minutes it was Robinson again to the rescue as substitute Zvonimir Boban's perfect cross was headed bullet-like by Andriy Shevchenko only for the keeper to pull off another blinding save.
It was inevitable that Milan would get an equaliser and when it came it fell to the player who had caused United the most problems. The exquisite Serginho beat Gary Kelly on the outside before exploding an angled shot which arrowed into the far corner. Leeds replied with a header from Mark Viduka which Dida saved comfortably and a free-kick from Olivier Dacourt which sailed harmlessly over. Serginho once more beat Gary Kelly on the left but this time Paul Robinson positioned himself well as he tried a low shot just inside the near post. With two minutes to go Olivier Dacourt found his way into the referee's book for a foul on Andriy Shevchenko which automatically ruled him out of United's next European encounter. It turned out to be against Real Madrid, just a fortnight later as United embarked on another phase of their glorious escapade to defy the odds, pundits and opposition and get through another Group of death in facing Real Madrid, Lazio and Anderlecht.
<![if !vml]>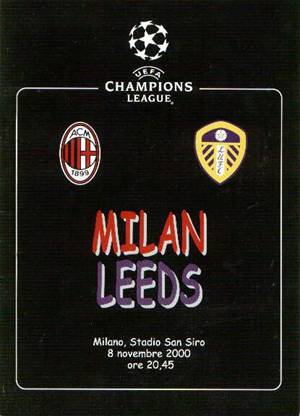 <![endif]> <![if !vml]>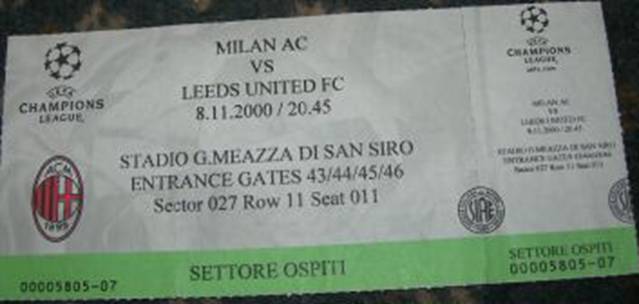 <![endif]>
Match Action:
<![if !vml]>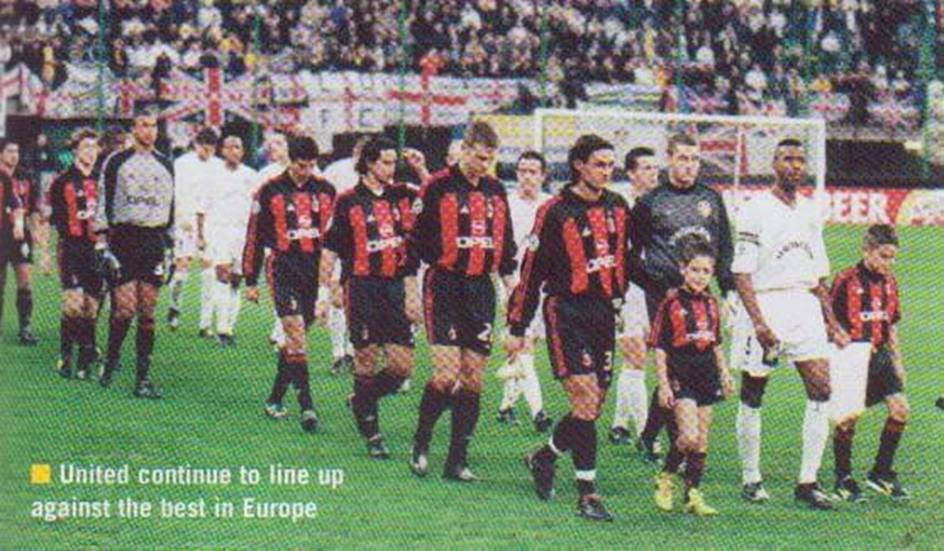 <![endif]> 
<![if !vml]>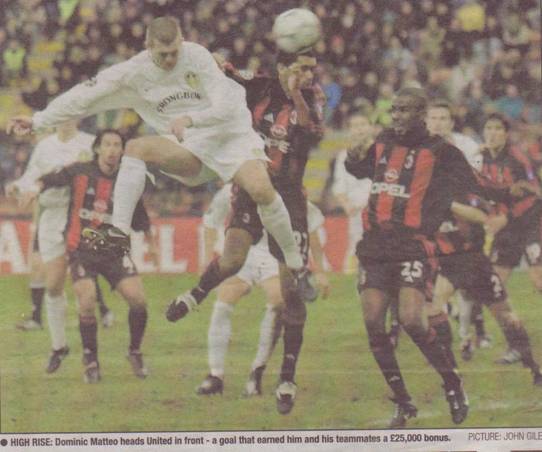 <![endif]> <![if !vml]>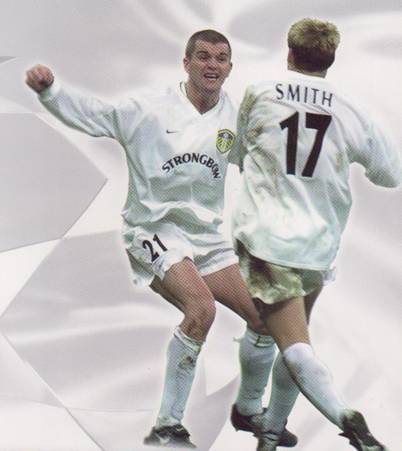 <![endif]>
                                                                                                                                            Alan Smith congratulates Dominic Matteo
<![if !vml]>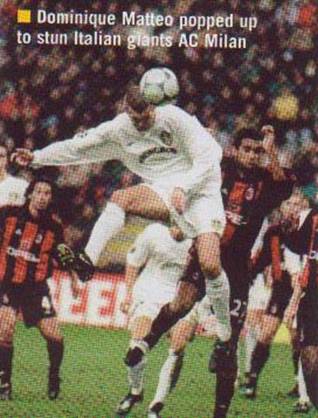 <![endif]>  <![if !vml]>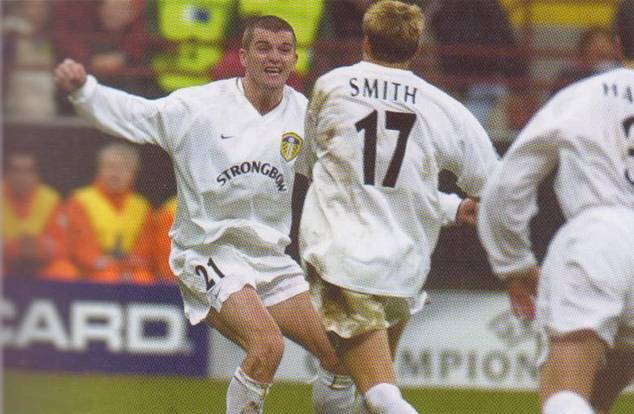 <![endif]>
                                                                     Dominic Matteo shows his delight after scoring as Alan Smith and Ian Harte rush to congratulate him
<![if !vml]>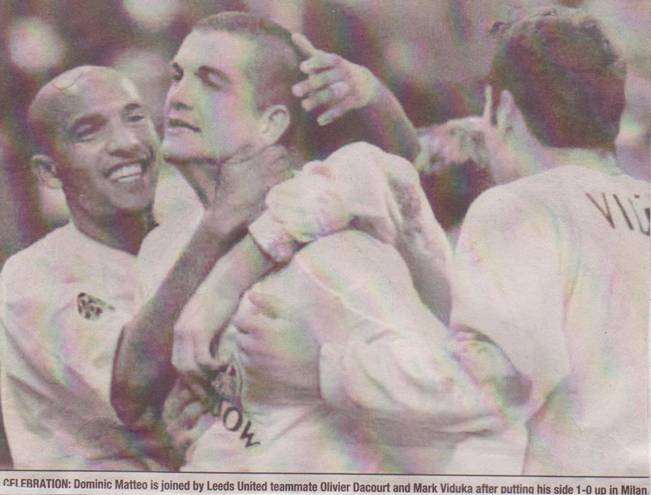 <![endif]> <![if !vml]>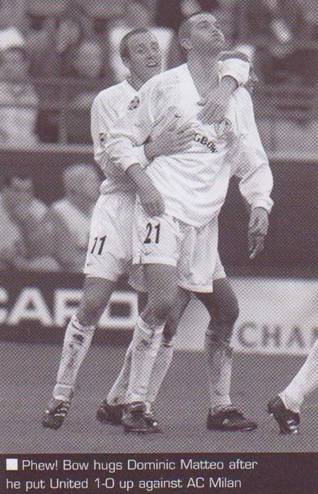 <![endif]>
<![if !vml]>
<![endif]>  <![if !vml]>
<![endif]>  <![if !vml]>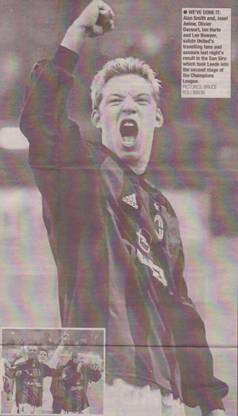 <![endif]>
Mark Viduka and Olivier Dacourt congratulate Dominic Matteo
<![if !vml]>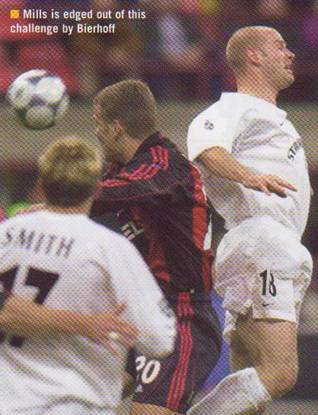 <![endif]>   <![if !vml]>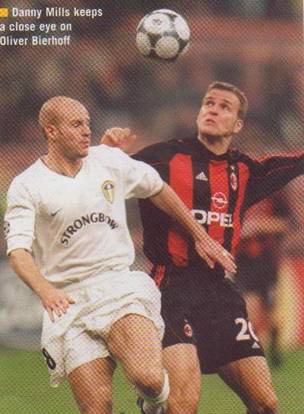 <![endif]>   <![if !vml]>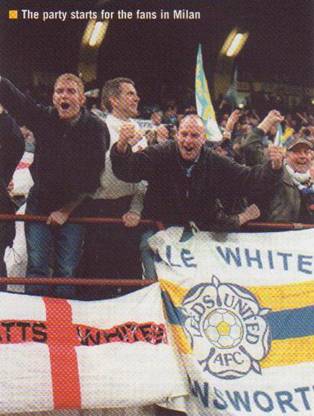 <![endif]>
<![if !vml]>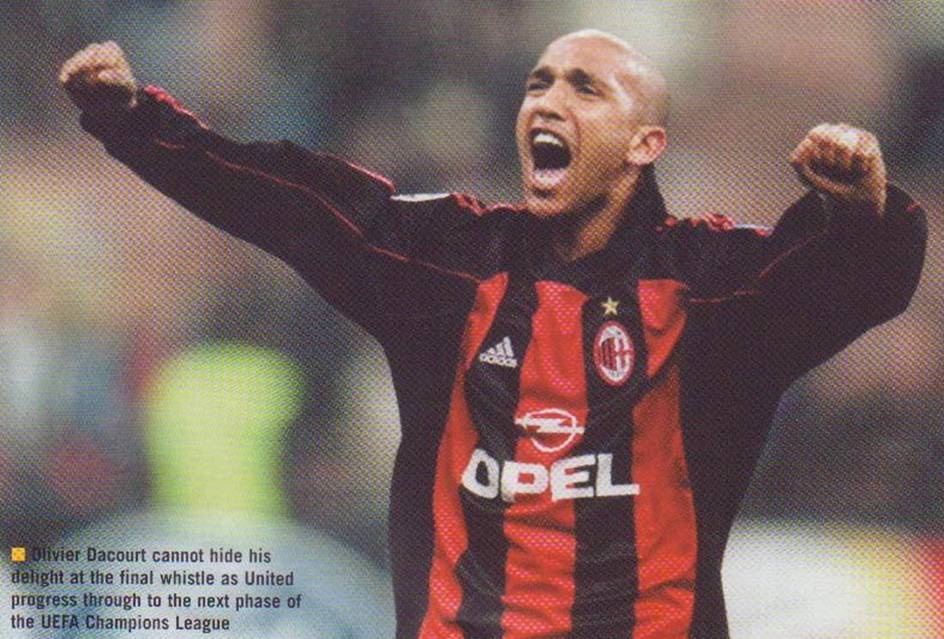 <![endif]> 
<![if !vml]>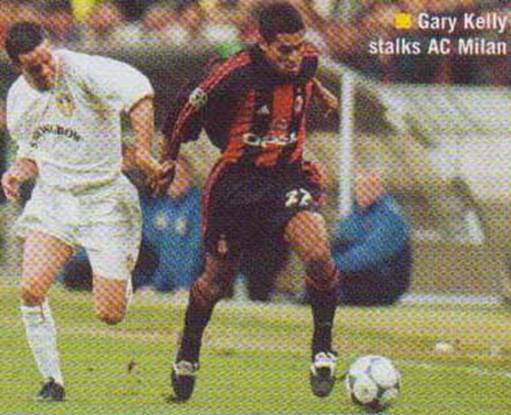 <![endif]> <![if !vml]>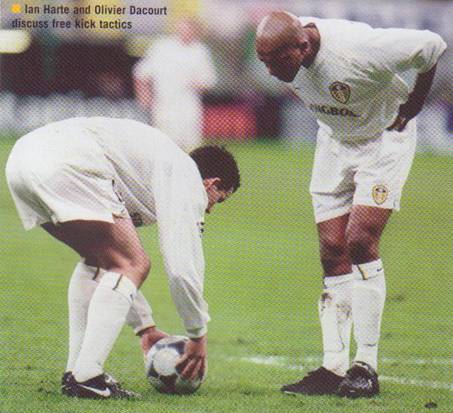 <![endif]>
<![if !vml]>
<![endif]> 
<![if !vml]>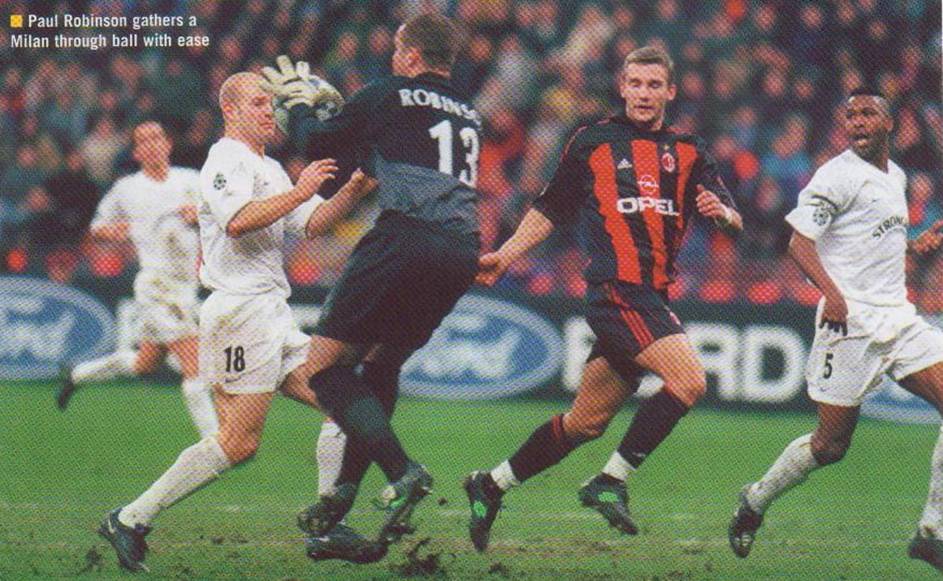 <![endif]> 
<![if !vml]>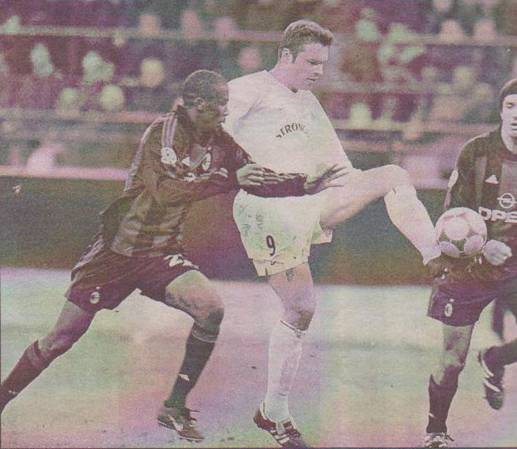 <![endif]>  <![if !vml]>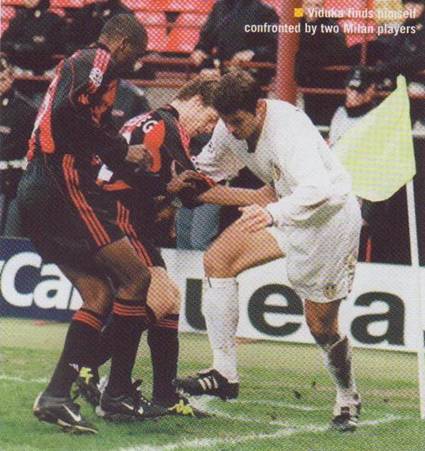 <![endif]>
Mark Viduka shows his delicate skills to beat Roque Junior
<![if !vml]>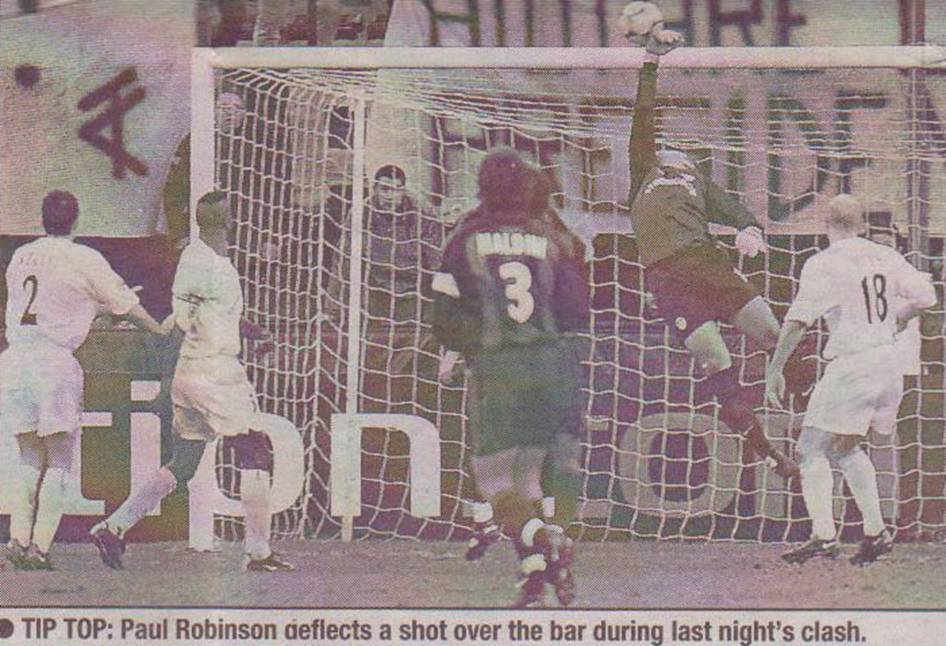 <![endif]> 
<![if !vml]>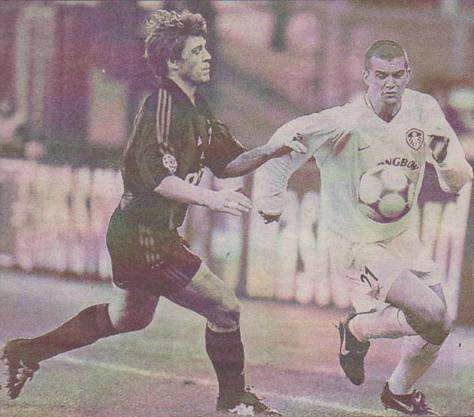 <![endif]> <![if !vml]>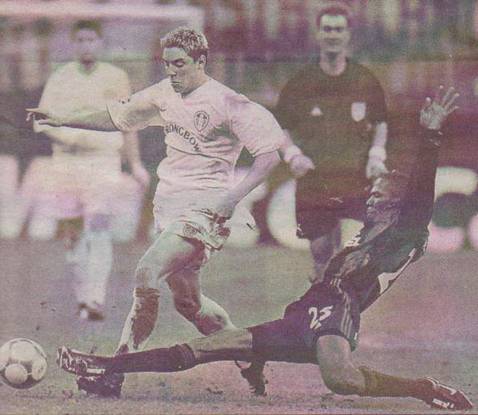 <![endif]>
Dominic Matteo gets past Thomas Helveg                                                  Alan Smith gets the better of Roque Junior
<![if !vml]>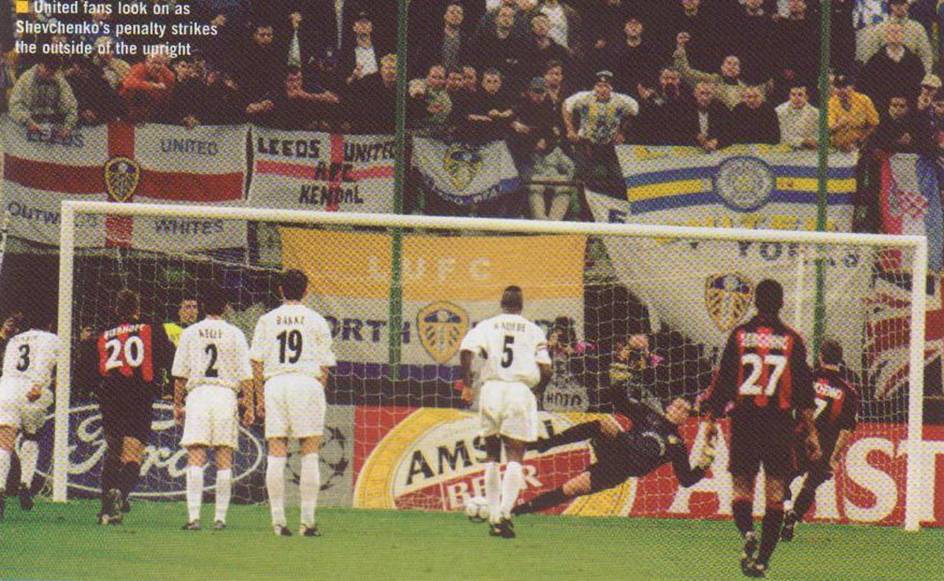 <![endif]>
<![if !vml]>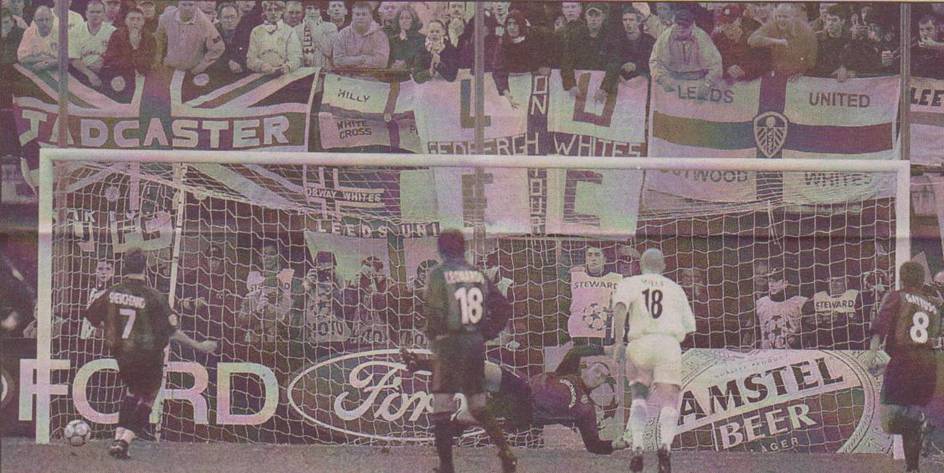 <![endif]>
Andriy Shevchenko misses from the spot
<![if !vml]>
<![endif]>
<![if !vml]>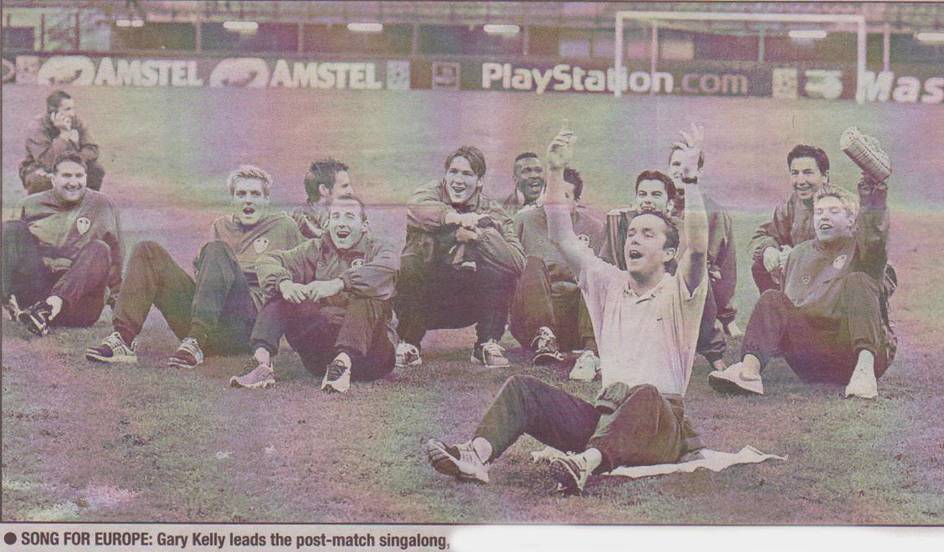 <![endif]>
Teams:
<![if !vml]>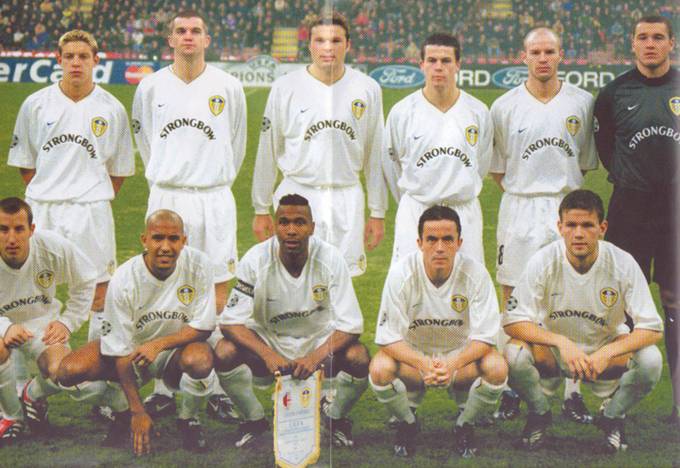 <![endif]>
LeedsUnited v AC Milan: 08-11-2000
Back Row: Alan Smith, Dominic Matteo, Mark Viduka, Ian Harte, Danny Mills, Paul Robinson.
Front Row: Lee Bowyer, Olivier Dacourt, Lucas Radebe, Gary Kelly, Eirik Bakke.
<![if !vml]>
<![endif]>
Leeds United line-up for the game at the San Siro v AC Milan 08-11-2000
Lucas Radebe, Paul Robinson, Ian Harte, Gary Kelly, Danny Mills, Lee Bowyer, Dominic Matteo,
Mark Viduka, Olivier Dacourt, Eirik Bakke, Alan Smith.
Players:
<![if !vml]>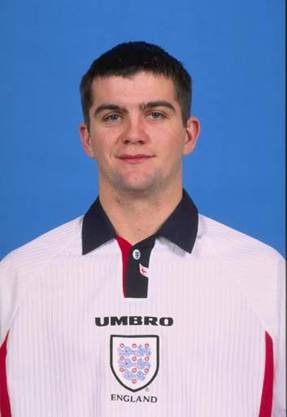 <![endif]> <![if !vml]>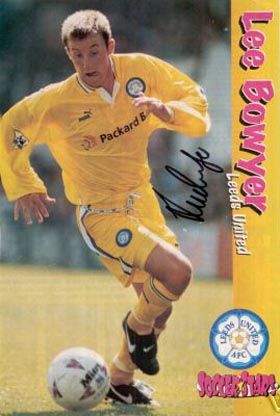 <![endif]>     <![if !vml]>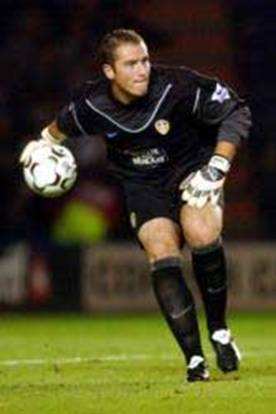 <![endif]> 
Dominic Matteo scored the all important goal from a Lee Bowyer corner                            Paul Robinson made a brilliant flying save
<![if !vml]>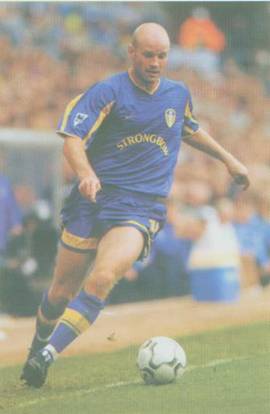 <![endif]>   <![if !vml]>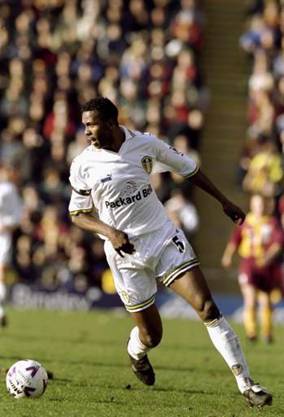 <![endif]>   <![if !vml]>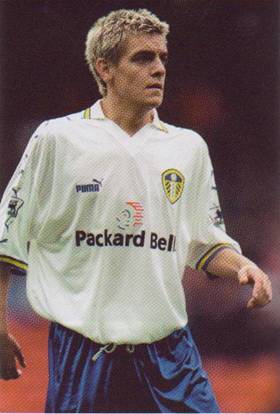 <![endif]> 
Danny Mills partnered Lucas Radebe in central defence after Jonathan Woodgate had to withdraw due to injury    
<![if !vml]>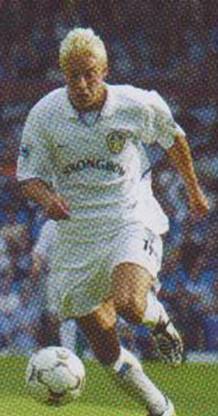 <![endif]>  <![if !vml]>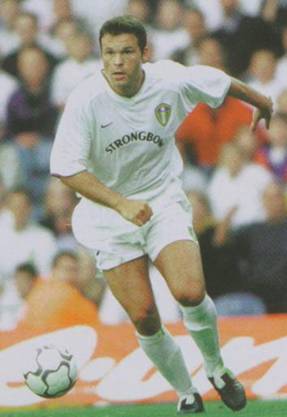 <![endif]>  <![if !vml]>
<![endif]>    <![if !vml]>
<![endif]>
Alan Smith took hard knocks        Mark Viduka went close with headers           Olivier Dacourt was booked   Gary Kelly found Serghino a handful 
<![if !vml]>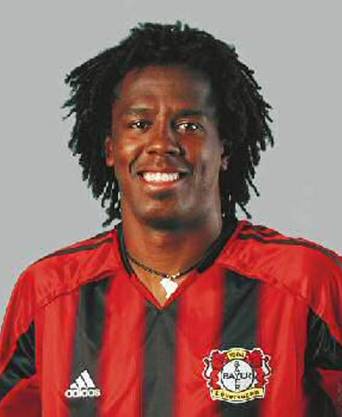 <![endif]>  <![if !vml]>

<![endif]>  <![if !vml]>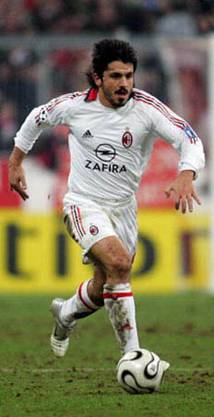 <![endif]> <![if !vml]>
<![endif]>
Future Leeds player Roque Junior played                   Serghino was the        Gennaro Gattuso and Leonardo came into the AC Milan midfield,
                                                                                        dangerman
<![if !vml]>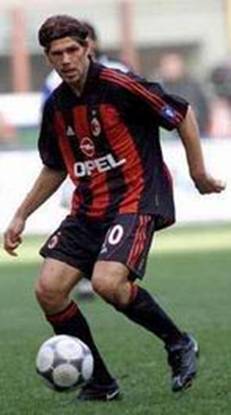 <![endif]>        <![if !vml]>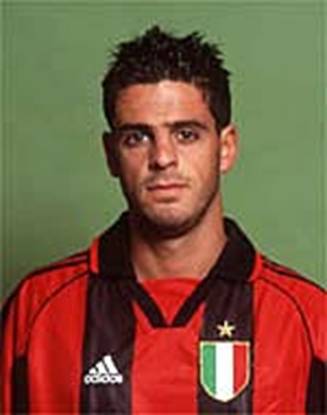 <![endif]>        <![if !vml]>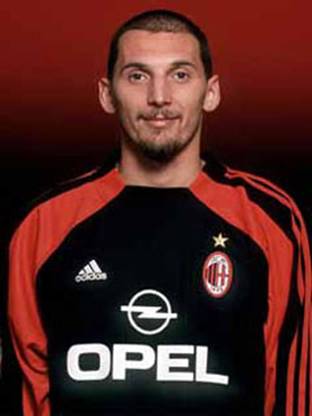 <![endif]>
while Zvonimir Boban came on as a substitute Luigi Sala was again an unused substitute          Along with goalkeeper Christian Abbiati,
<![if !vml]>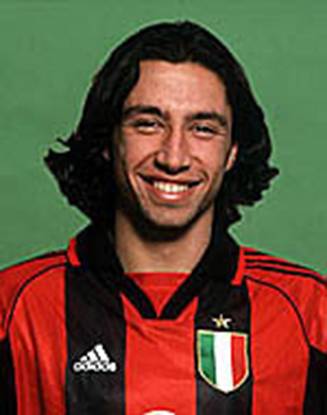 <![endif]>   <![if !vml]>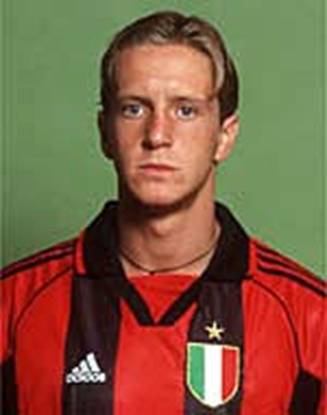 <![endif]>
Jose Mari and Massimo Ambrosini