<![if !vml]>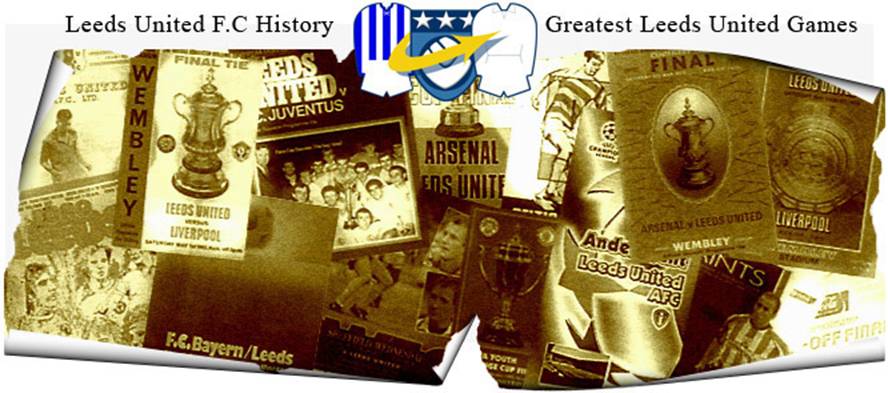 <![endif]>
Date: Sunday, 9th April 1995.
Venue: Anfield, Liverpool.
Competition: English Premier League.
Score: Liverpool 0 Leeds United 1
Scorers: Liverpool: Nil. Leeds United: Deane.
Attendance: 37,454.
Teams:
<![if !vml]>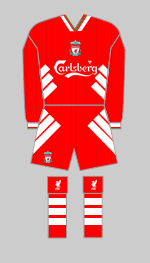 <![endif]><![if !vml]>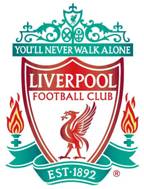 <![endif]>
Liverpool: James; Jones, Ruddock, Scales, Babb; McManaman, Redknapp, Barnes, Walters (Kennedy); Rush, Fowler. Unused Subs: Chamberlain, Thomas.
<![if !vml]>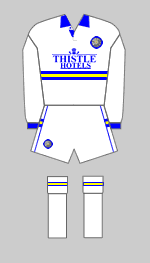 <![endif]><![if !vml]>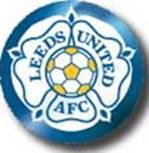 <![endif]>
Leeds United: Lukic; Kelly, Pemberton, Wetherall, Dorigo; Wallace, McAllister, Palmer, Speed; Yeboah, Deane. Unused Subs: Worthington, Whelan, Beeney.
Referee: K. Burge (Tonypandy, Mid-Glamorgan).
Brian Deane may not have had the amount of success with his home city club that he, and the supporters, might have expected but the striker earned himself the distinction of becoming the first Leeds United player to score a goal at Anfield in more than sixteen years. Whereas John Hawley's strike in November 1978 held Liverpool to a draw, Deane's twenty-ninth minute effort brought a long overdue victory for United at Anfield. Twenty-three years had passed since United were previously able to celebrate a League victory at Liverpool, when goals from Allan Clarke and Mick Jones did the trick, in January 1972.
However some of the gloss was taken off the memorable victory with the news that manager Howard Wilkinson was being head hunted by Turkish club Galatasaray and to try and prise him away from Elland Road they were dangling a £500,000 p.a. salary after tax. Wilkinson would not comment publicly but spoke forcefully about his future plans for United. "My biggest desire is to make sure that Tony Yeboah remains at the club. I would not need to sign anyone in the summer if Tony agrees to stay on here with us." He said. He was keen to stay at Elland Road where he felt he still had more to achieve and he was happy that the goals had started to flow since the arrival of Yeboah. "It is important from our point of view that Tony stays with us. I don't think he had a scoring chance at Liverpool but he still looked a very accomplished player. As I have said for the last eighteen months, the only thing we really needed was goals and his arrival has tended to improve that."
Yeboah had scored ten goals in the previous ten games, including a hat-trick in the previous match against Ipswich Town. He had also felt the full force of a Ruddock challenge but had shrugged it off and went on to play a part in the build up to Deane's goal, flicking the ball through for Gary Speed. The Welshman's shot then had hit a post and rebounded to Deane who hammered it in from seven yards. "However good a player may be you cannot rely on one person all the time to get the goals so it was important that Deane got one", the Manager said.
United had an outside chance of qualifying for Europe and they clearly had the bit between their teeth and kept up their recent good form and points' accumulation. It was particularly pleasing for John Lukic, who was dropped from the team after the 2-0 loss at Liverpool the previous season, but had kept a clean sheet this time, his seventeenth of the season. He, along with his fellow defenders, David Wetherall, John Pemberton, Tony Dorigo and Gary Kelly, had been formidable, while Gary McAllister, Gary Speed and Carlton Palmer were outstanding in midfield.
The clash with Liverpool kicked off a nine-day period in which United's late push for a UEFA Cup place faced its toughest challenge. The fixtures at Liverpool, a home clash with table-topping Blackburn Rovers and a visit to Newcastle United were regarded as a three-match make or break period in relation to European qualification. Wilkinson's men rose to the challenge. After drawing with Blackburn Rovers they beat Newcastle United, Aston Villa, Norwich City and Crystal Palace before drawing the last game of the season 1-1 at Tottenham Hotspur to finish fifth and clinch European qualification. Wilkinson's satisfaction was all the greater in the knowledge that Tony Yeboah with six and Brian Deane with three had notched nine of the fifteen goals United scored in their final eight games of the league campaign.
<![if !vml]>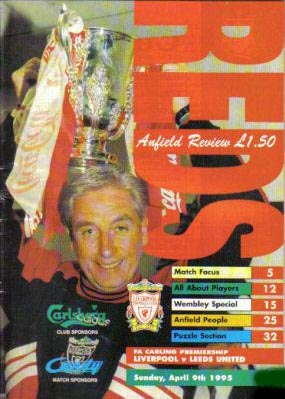 <![endif]>
Match Action:
<![if !vml]>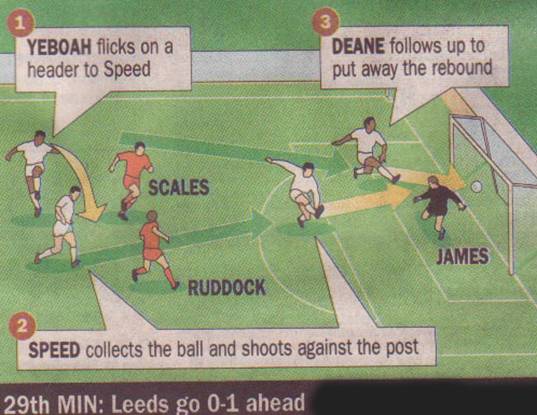 <![endif]> <![if !vml]>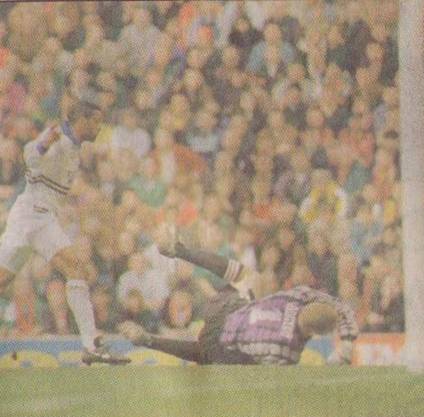 <![endif]>
                                                                                                                                        Brian Deane follows up to score
<![if !vml]>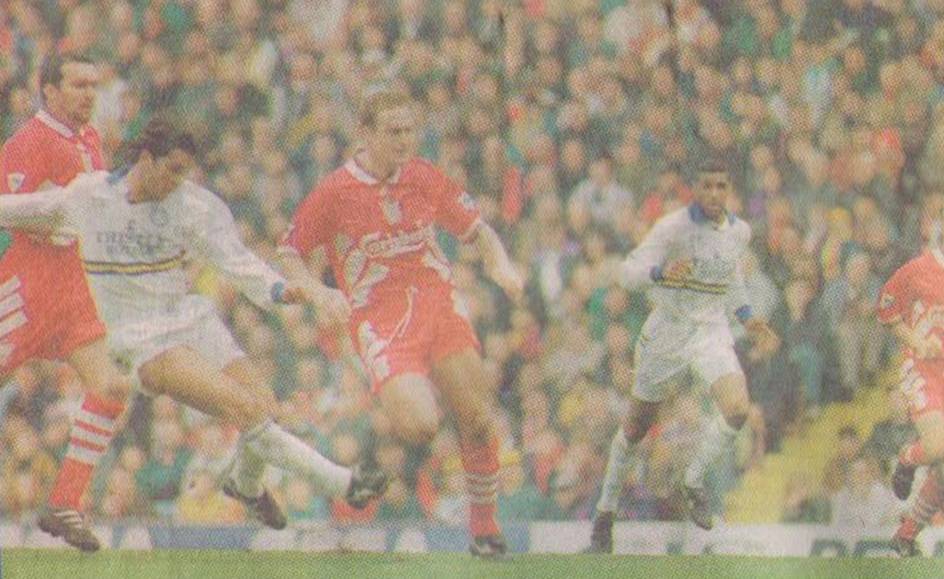 <![endif]>
 After Gary Speed's shot had hit the post
Teams:
<![if !vml]>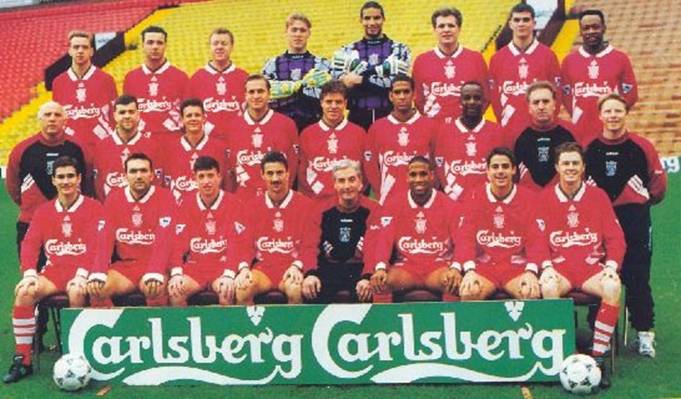 <![endif]>
Liverpool 1994-95:
Back Row: Rob Jones, Mark Kennedy, Steve Nicol, Michael Stensgaard, David James, Jan Molby,
Dominic Matteo, Mark Walters.
Middle Row: Ron Moran (Coach), Steve Harkness,Lee Jones, John Scales, Stig Inge Bjornebye,
Phil Babb, Michael Thomas, Doug Livermore (Coach), Sammy Lee (Coach).
Front Row: Nigel Clough, Neil Ruddock, Robbie Fowler, Ian Rush, Roy Evans (Manager),
John Barnes, Jamie Redknapp, Steve McManaman.
<![if !vml]>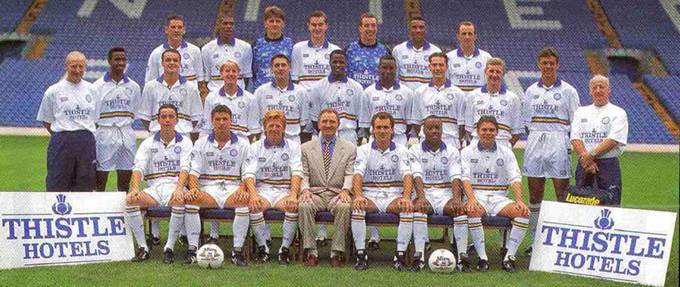 <![endif]>                                                                                       
Leeds United 1994-95:
Back Row: David White, Carlton Palmer, John Lukic, David Wetherall, Mark Beeney,
Brian Deane, Gary McAllister.
Middle Row: Mick Hennigan (Coach), Lucas Radebe, Mark Tinkler, Kevin Sharp,
John Pemberton, Philomen Masinga, Chris Fairclough, Noel Whelan, Nigel Worthington,
David O'Leary, Geoff Ladley (Physio).
Front Row: Gary Kelly, Gary Speed, Gordon Strachan, Howard Wilkinson (Manager),
Tony Dorigo, Rod Wallace, Jamie Forrester.
Players:
<![if !vml]>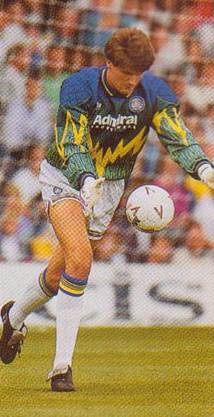 <![endif]>              <![if !vml]>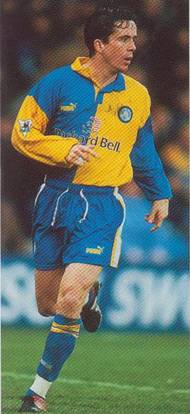 <![endif]> <![if !vml]>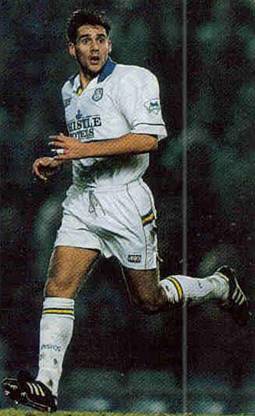 <![endif]> <![if !vml]>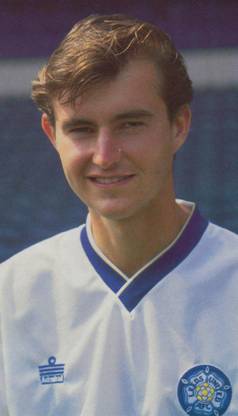 <![endif]>  
John Lukic kept another  clean sheet                                Gary Kelly, John Pemberton, David Wetherall and
<![if !vml]>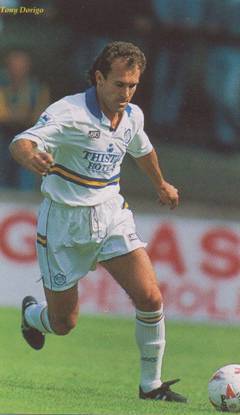 <![endif]>   <![if !vml]>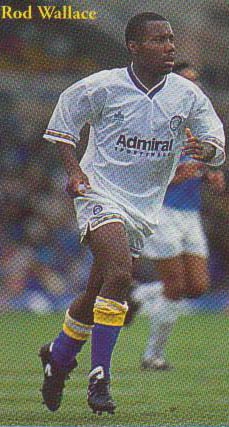 <![endif]> <![if !vml]>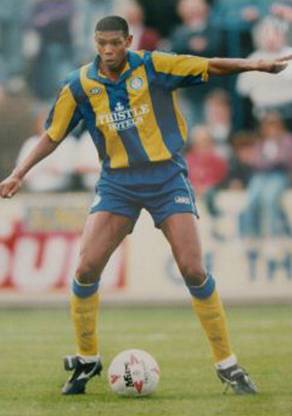 <![endif]> <![if !vml]>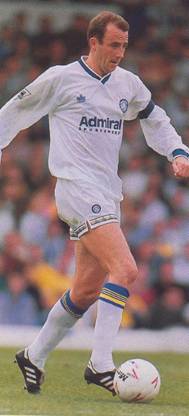 <![endif]> 
Tony Dorigo were a formidable defence                                           Rod Wallace, Carlton Palmer, Gary McAllister and
<![if !vml]>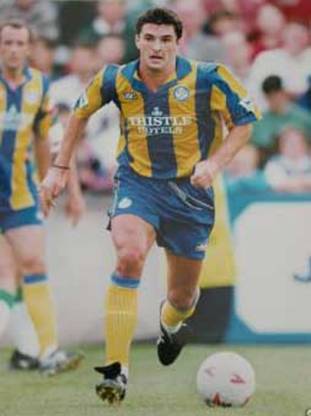 <![endif]>            <![if !vml]>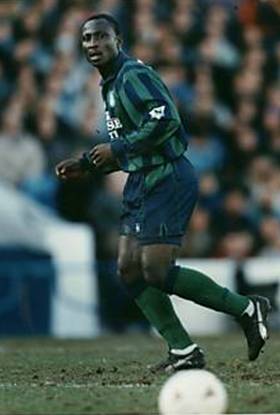 <![endif]> <![if !vml]>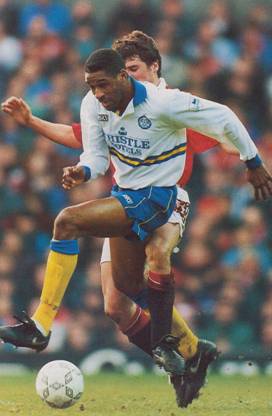 <![endif]>
Gary Speed formed an excellent midfield.                     As strikers, Tony Yeboah was always a threat and Brian Deane got the winner
<![if !vml]>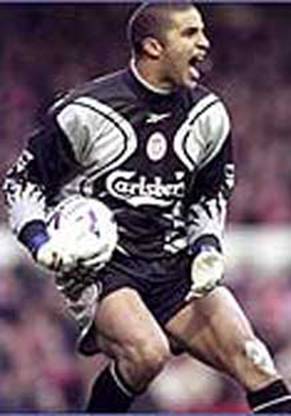 <![endif]>    <![if !vml]>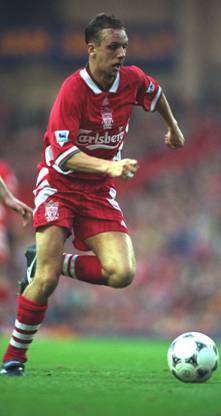 <![endif]> <![if !vml]>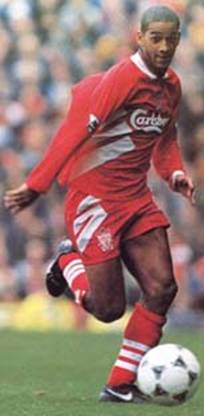 <![endif]>          <![if !vml]>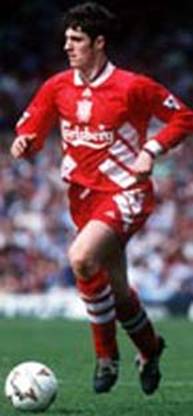 <![endif]>
David James guarded the Liverpool net.          Rob Jones and Phil Babb were the full-backs.                                    Mark Kennedy was the substitute
<![if !vml]>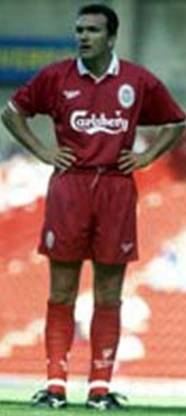 <![endif]> <![if !vml]>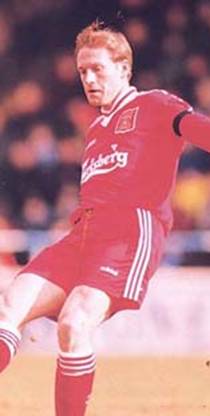 <![endif]>   <![if !vml]>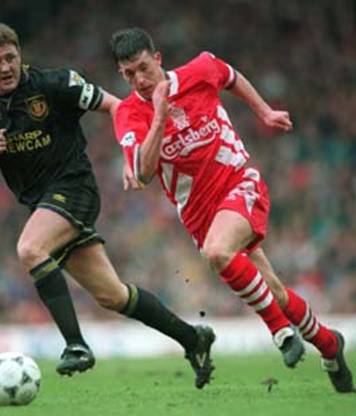 <![endif]> <![if !vml]>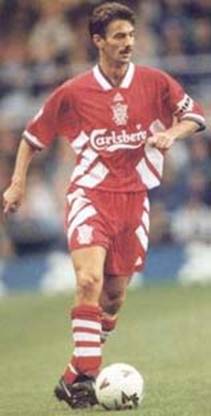 <![endif]>
Central defence was Neil Ruddock and ex-Leeds junior John Scales       Future Leeds players Leeds Robbie Fowler and Ian Rush were the strikers
<![if !vml]>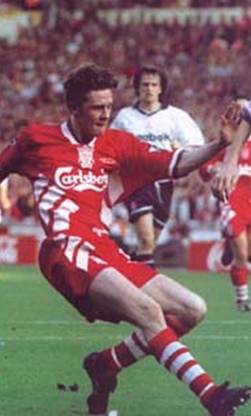 <![endif]> <![if !vml]>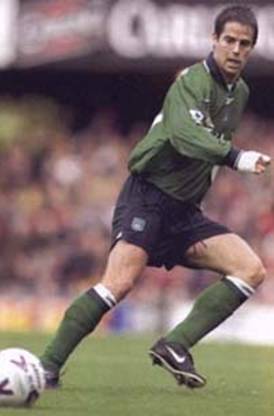 <![endif]> <![if !vml]>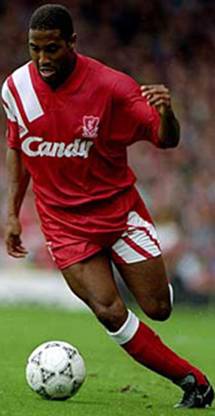 <![endif]> <![if !vml]>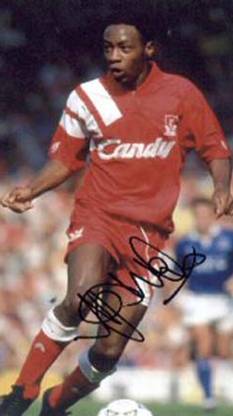 <![endif]>
Steve McManaman, Jamie Redknapp, John Barnes and Mark Walters were the strong Liverpool midfield