<![if !vml]>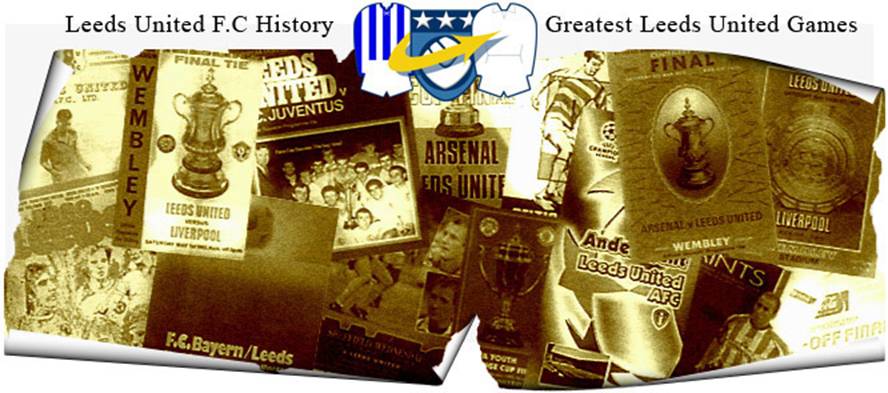 <![endif]>
Date: Wednesday, 9th February 1994.
Venue: Elland Road, Leeds.
Competition: FA Cup Fourth Round Replay.
Score: Leeds United 2 Oxford United 3.
Scorers: Leeds United: Strachan, White. Oxford United: Byrne, Allen, Magilton.
Attendance: 22,167.
Teams:
<![if !vml]>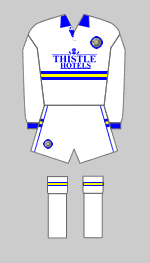 <![endif]><![if !vml]>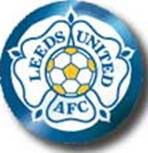 <![endif]>
Leeds United: Beeney; Kelly, Dorigo; Newsome, Fairclough, White; Strachan, Strandli (Wetherall), Deane (Forrester), McAllister, Speed. Unused Sub: Lukic
<![if !vml]>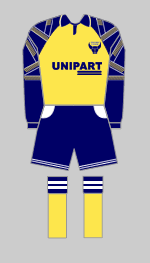 <![endif]><![if !vml]>
<![endif]>
Oxford United: Whitehead; Elliott, M. Ford (Lewis); Robinson, Rogan, R. Ford; Magilton, Beauchamp, Allen, Byrne (Cusack), Dyer.
Referee: D.R. Elleray (Harrow).
Leeds United joined the growing number of EPL sides on the FA Cup casualty list and were left to pick up the pieces of a disintegrating season after falling to a shock extra-time defeat by Oxford United in February 1994. Midfielder Jim Magilton scored the all important goal to give Oxford, then languishing in the bottom two of the First Division, their Fourth Round win, and a Fifth Round home clash with Chelsea.
United's sad exit from the competition left manager Howard Wilkinson fuming, and his two strikers, Brian Deane and Norwegian Frank Strandli, took the full force of his criticism. Wilkinson pulled both men off after sixty-nine minutes and sent on Jamie Forrester and David Wetherall in their place. "Our front two gave us nothing. When I changed things the game changed and we started to do a lot better," the United boss said.
United had earlier plumbed the depths and found themselves a goal down in the fifty-seventh minute after former Sunderland striker John Byrne cashed in on some sloppy defensive work, holding off Chris Fairclough and beating Mark Beeney in a manner that drew further criticism from the United manager. "It was a joke goal. The keeper had it in his hands and then he didn't have it in his hands," a stony-faced Wilkinson said. The warning signals were there for United but they went unheeded and four minutes later Oxford went 2-0 up when Chris Allen got the better of Gary Kelly to drill in an angled shot following an exchange of passes with John Byrne.
Gordon Strachan turned in a non-stop performance and though United, as a team, struggled to make any sort of impression. The little Scot breathed late life into his side when he rattled in a twenty-five yarder to make it 2-1 in the eighty-eighth minute. When David White knocked in the equalizer nearly two minutes into stoppage time to register his first goal for United since his move from Manchester City eight games earlier, United seemed to have found the antidote for their early affliction.
However, extra-time brought only grief when Jim Magilton got the winner in the second period, taking full advantage of a neat chip from Mike Ford to nip through and beat Mark Beeney with a great finish. "We committed suicide with some of our defending. We fell into every trap, snare and ambush Oxford set for us. I went through the wringer and we had only ourselves to blame for the defeat." Wilkinson said. Oxford manager Denis Smith was understandably proud of his side's triumph. "When I looked into the eyes of my players at the end of ninety minutes, I could see that they thought they had lost it, but once they had withstood the first five minutes of extra-time they were fine," he added.

<![if !vml]>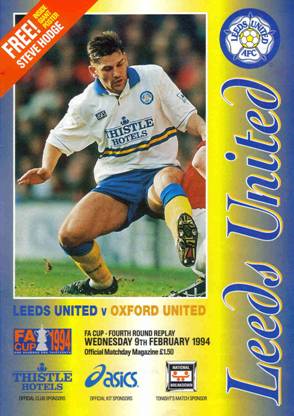 <![endif]> <![if !vml]>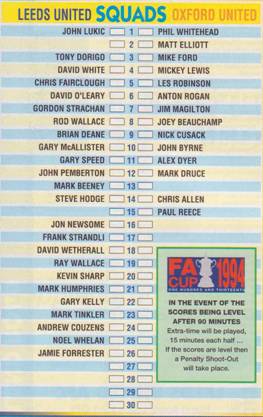 <![endif]> 
<![if !vml]>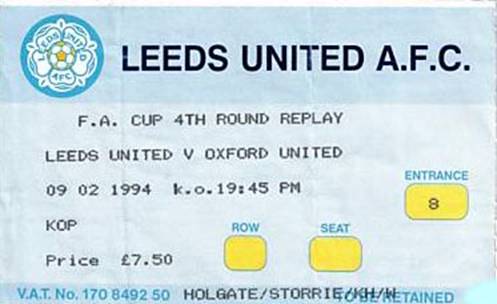 <![endif]> <![if !vml]>
<![endif]>
                                                                                                                                         (From the drawn game at Oxford 29-1-1994)
Match Action:
<![if !vml]>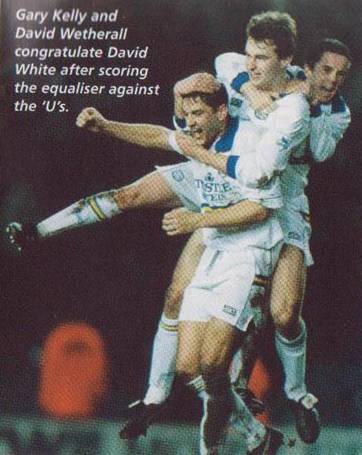 <![endif]> <![if !vml]>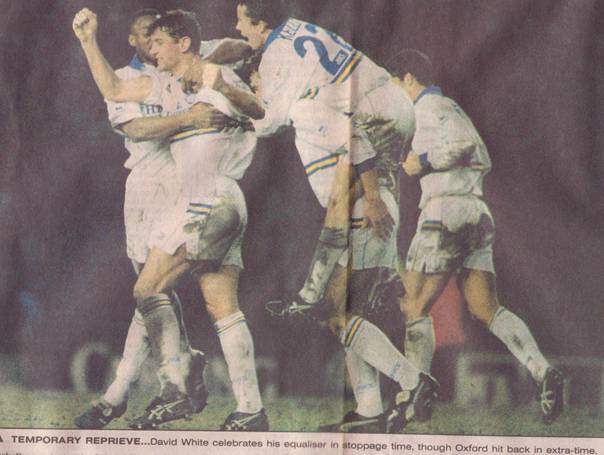 <![endif]>
Players:
<![if !vml]>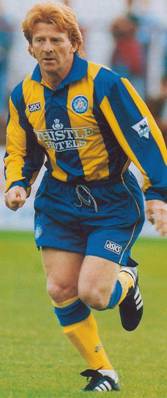 <![endif]> <![if !vml]>
<![endif]> <![if !vml]>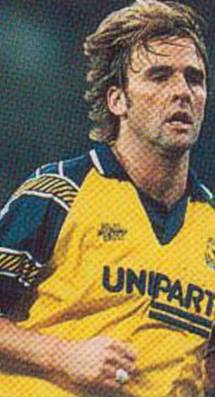 <![endif]> <![if !vml]>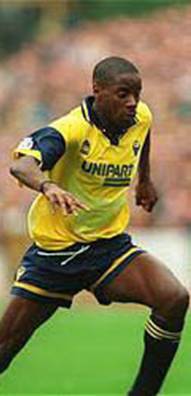 <![endif]> <![if !vml]>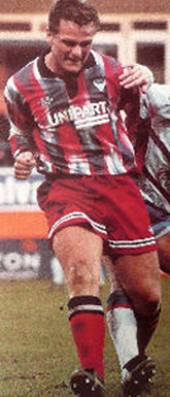 <![endif]>
Gordon Strachan and David White scored for Leeds                                John Byrne, Chris Allen and Jim Magilton scored for Oxford United
<![if !vml]>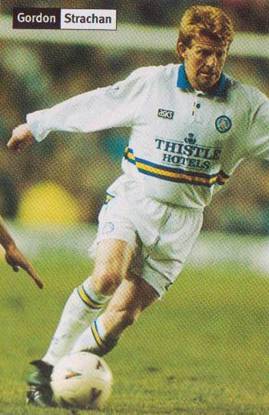 <![endif]>  <![if !vml]>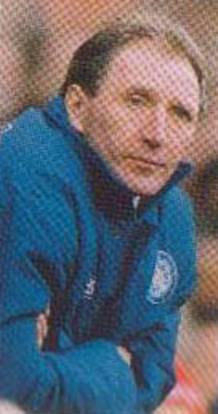 <![endif]>  <![if !vml]>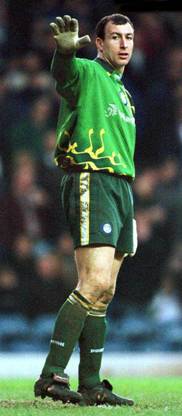 <![endif]> <![if !vml]>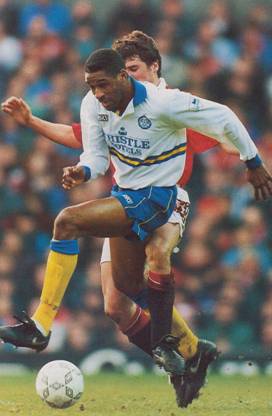 <![endif]>
Gordon Strachan was non-stop action.   Howard Wilkinson was disappointed.  Mark Beeney was              Brian Deane was ineffective
                                                                                                                                at fault several times
<![if !vml]>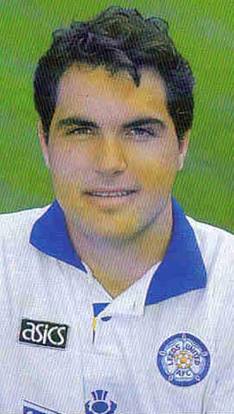 <![endif]>    <![if !vml]>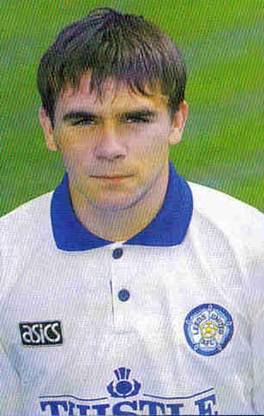 <![endif]> <![if !vml]>
<![endif]>              <![if !vml]>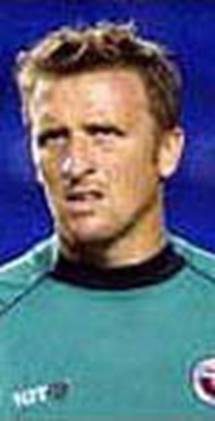 <![endif]>
Frank Strandli was criticised               Jamie Forrester and David Wetherall came on as substitutes                Phil Whitehead was the Oxford keeper
<![if !vml]>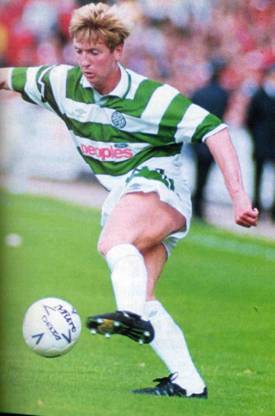 <![endif]> <![if !vml]>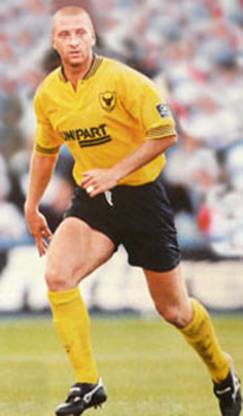 <![endif]> <![if !vml]>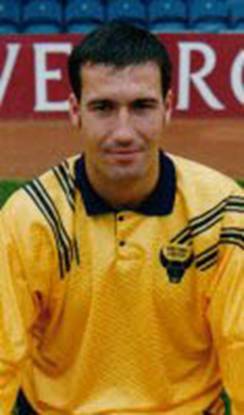 <![endif]> <![if !vml]>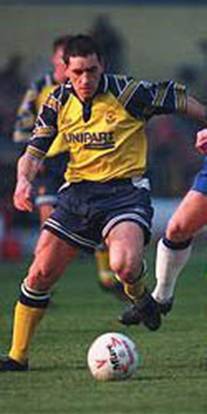 <![endif]>
Anton Rogan and Matt Elliott were the central defenders                                     Mickey Ford and Les Robinson were the Full-Backs
<![if !vml]>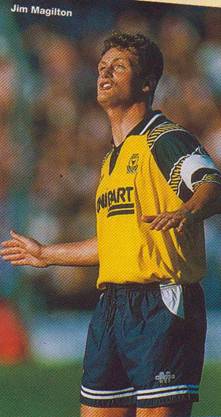 <![endif]> <![if !vml]>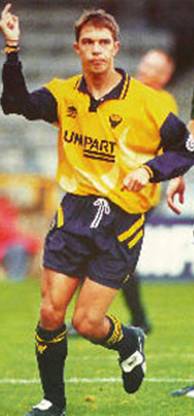 <![endif]> <![if !vml]>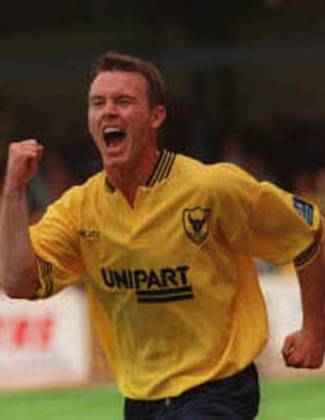 <![endif]> <![if !vml]>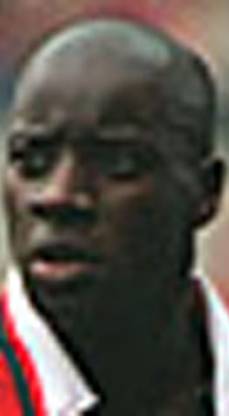 <![endif]>
Jim Magilton, Bobby Ford, Joey Beauchamp and Chris Allen were the Oxford midfield
<![if !vml]>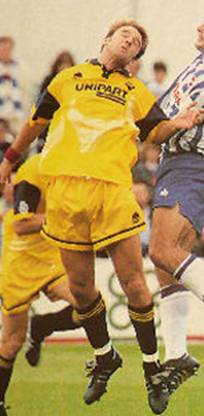 <![endif]> <![if !vml]>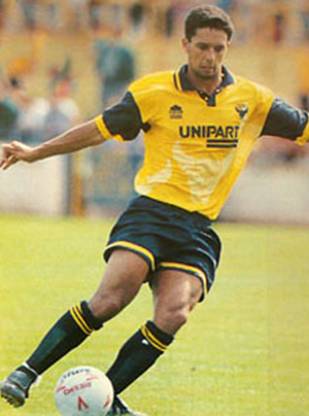 <![endif]>  <![if !vml]>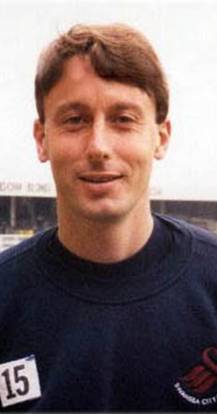 <![endif]> <![if !vml]>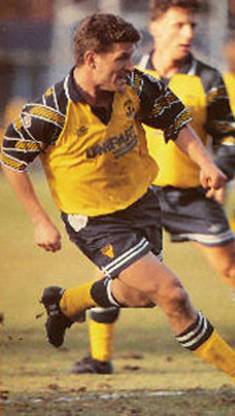 <![endif]>
John Byrne and Alex Dyer were the Oxford strikers                                             Nick Cusack and Micky Lewis were the substitutes