<![if !vml]>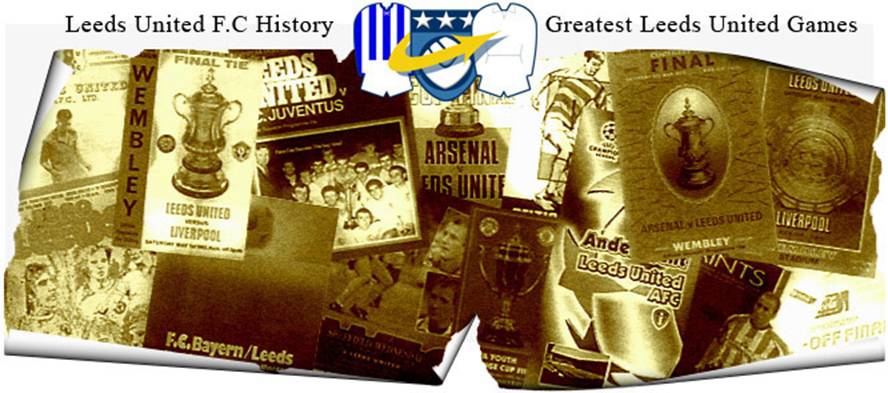 <![endif]>
Date: Saturday, 8th November 1997.
Venue: Elland Road, Leeds.
Competition: English Premier League.
Score: Leeds United 4 Derby County 3
Scorers: Leeds United: Wallace, Kewell, Hasselbaink (pen), Bowyer. Derby County: Sturridge (2), Asanovic (pen).
Attendance: 33,572.
Teams:
<![if !vml]>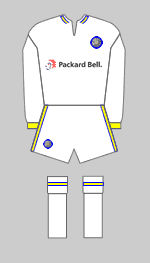 <![endif]><![if !vml]>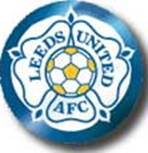 <![endif]>
Leeds United: Martyn; Maybury (Bowyer), Wetherall, Radebe, Robertson; Kelly, Haaland, Hopkin (Hasselbaink), Ribeiro; Wallace, Kewell. Unused Subs: Harte, Molenaar.                           
<![if !vml]>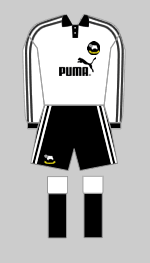 <![endif]><![if !vml]>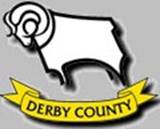 <![endif]>
Derby County: Poom; Rowett, C Powell, D Powell (Hunt); Sturridge, Asanovic (Trollope), Laursen, Carbon (Kozluk), Carsley, Dailly; Baiano.
Referee: Mr N.S. Barry (Scunthorpe).
Substitutes Lee Bowyer and Jimmy-Floyd Hasselbaink were the match winning heroes as United staged one of the most amazing fight-backs ever seen at Elland Road. It made for excellent viewing and for United fans the script of this Premiership thriller had the perfect ending with Bowyer smashing in a ninetieth minute winner from Hasselbaink's pass. Victory for United had seemed out of the question as they gifted Rams striker Dean Sturridge with two early goals and when Aljosa Asanovic hammered in a thirty-third minute penalty, United seemed dead and buried.
Goalkeeper Nigel Martyn demonstrated that he is, after all, only human by dropping a couple of clangers to help the Rams on their way. He would hardly have thanked David Robertson for a header towards his own goal that threatened to sneak in under the bar, but to avoid falling back over the line with it he pulled it down and Sturridge pounced from close range. That was in the fourth minute and seven minutes later the England international was guilty of another misjudgement when he raced to the edge of the penalty area but failed to clear a long kick downfield, allowing Dean Sturridge to get a boot in and then lob the ball into the net.
Jim Smith's side, a surprise package in the Premiership that season, must have thought that the season of goodwill had arrived early and when Robertson hauled down Dean Sturridge to give Derby a thirty-third minute penalty, from which Aljosa Asanovic put the Rams three up, it looked all over for United. However, George Graham's men were made of stern stuff. They regrouped and the fight-back was launched in the thirty-seventh minute when Rod Wallace diverted a Bruno Ribeiro shot past Derby keeper Mart Poom for his ninth goal of the season. Harry Kewell was only nineteen-years-old at the time and people were already describing him as the most exciting young forward Elland Road had seen in a long time and the Australian brought the fans to their feet just before half time when, from near the corner of the penalty area, he unleashed a stunning left foot volley which gave Mart Poom no chance as it zipped into the net.
Defender Alan Maybury, who was making his home debut, took a knock just before half-time and was replaced by Lee Bowyer after the break. David Wetherall frequently joined the attack when United pushed Derby back and twice saw efforts go wide. Rod Wallace had a rising shot well saved by Mart Poom, who also blocked an effort from Harry Kewell with his legs. United's team spirit and will to win shone through but it was the manager's timely substitution fifteen minutes from the end that gave the side that extra spark. Graham sent on Jimmy-Floyd Hasselbaink in place of skipper David Hopkin. "David was having an excellent game but I just wanted to try something different. Rather than have the game peter out at 3-2 I tried another forward and played Kewell just behind the front two, and it worked," he purred the delighted United boss.
Jimmy-Floyd Hasselbaink had fourteen minutes to stamp his mark on the game and he certainly did that. Although he had scarcely had time to get warmed up, he had no hesitation in taking the eighty-first minute penalty awarded to United after Christian Dailly had handled under pressure from David Wetherall. He trotted up and nonchalantly stroked the ball in from the spot. It was a measure of the confidence that abounded in that United side that there were never any thoughts of sitting back and settling for a draw. They reaped there reward in the dying seconds when Jimmy-Floyd Hasselbaink got round the back of the Derby defence and, from near the dead ball line, cut the ball back for the in-rushing Lee Bowyer to hammer a super left-foot shot past Mart Poom. The comeback had saved Nigel Martyn's blushes and manager George Graham was quick to point out, "We have a wonderful spirit both on and off the field and the lads were able to repay Nigel for his efforts on numerous other occasions by rescuing his day this time."
<![if !vml]>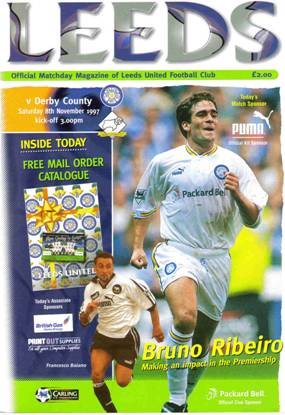 <![endif]>
Match Action:
<![if !vml]>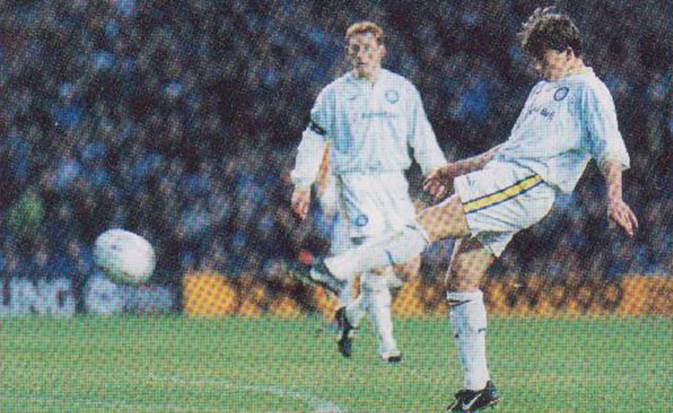 <![endif]>             <![if !vml]>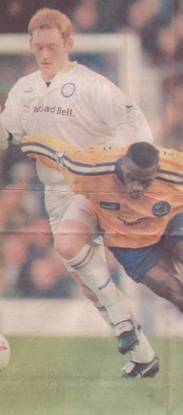 <![endif]>
Harry Kewell volleys home the second goal                                                                                                      David Hopkin beats Darryl Powell
<![if !vml]>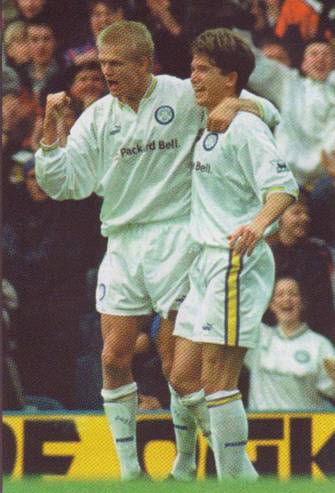 <![endif]> <![if !vml]>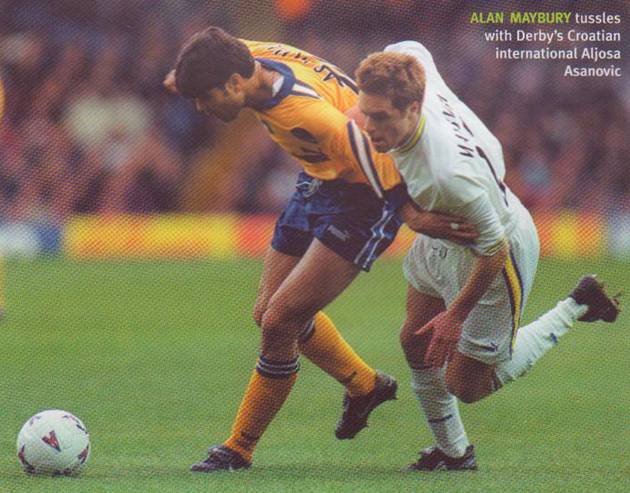 <![endif]>
Alf-Inge Haaland congratulates Harry Kewell on his goal
<![if !vml]>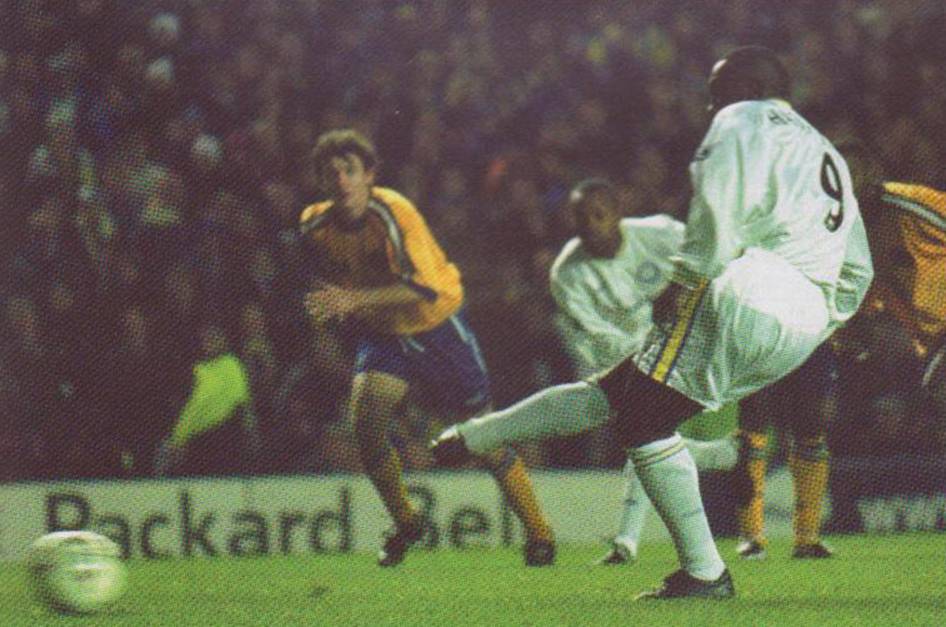 <![endif]>
Jimmy-Floyd Hasselbaink side-foots home the penalty for the Leeds third goal
<![if !vml]>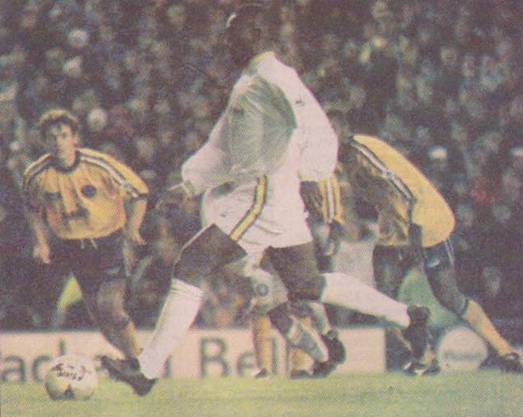 <![endif]>        <![if !vml]>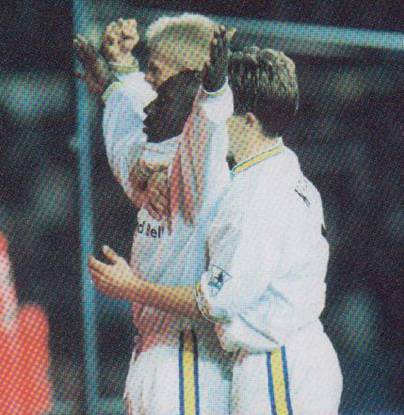 <![endif]>
Jimmy-Floyd Hasselbaink scores the third from the spot                                          Alf-Inge Haaland and Harry Kewell help him celebrate his goal
<![if !vml]>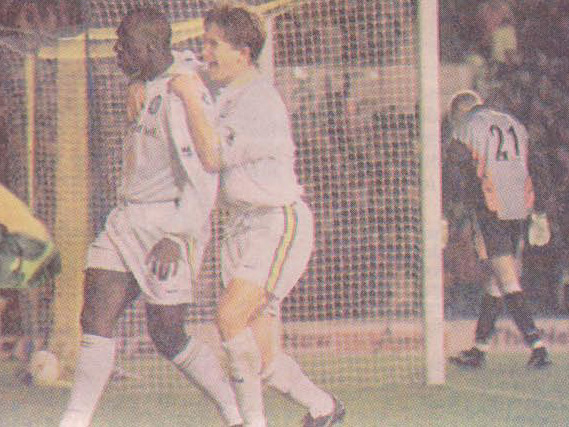 <![endif]>  <![if !vml]>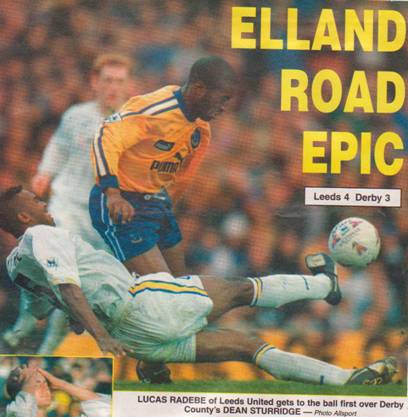 <![endif]>
Harry Kewell congratulates Jimmy-Floyd Hasselbaink                                                   Lucas Radebe thwarts Dean Sturridge
<![if !vml]>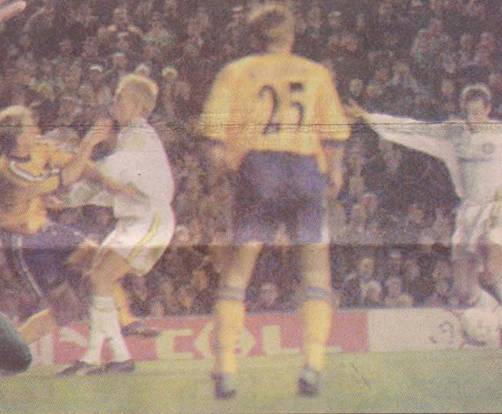 <![endif]> <![if !vml]>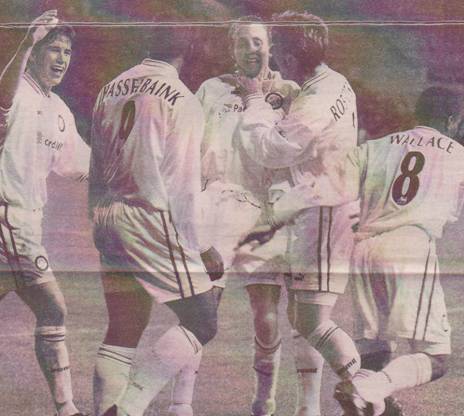 <![endif]>
Lee Bowyer scores the winning goal                            to the delight of Harry Kewell, Jimmy-Floyd Hasselbaink, David Robertson and Rod Wallace
<![if !vml]>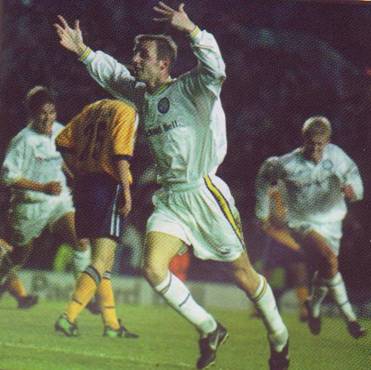 <![endif]> <![if !vml]>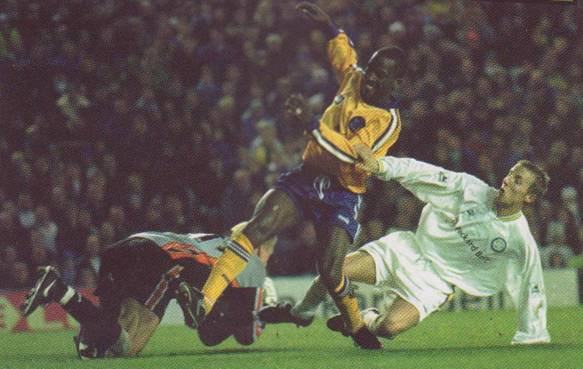 <![endif]>
Lee Bowyer celebrates his winning goal                            Lee Bowyer is thwarted by Mart Poom and Chris Powell
Players:
<![if !vml]>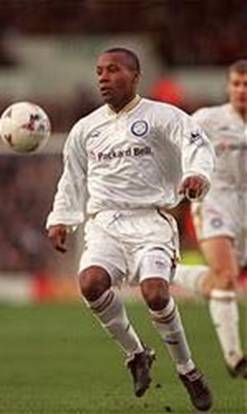 <![endif]> <![if !vml]>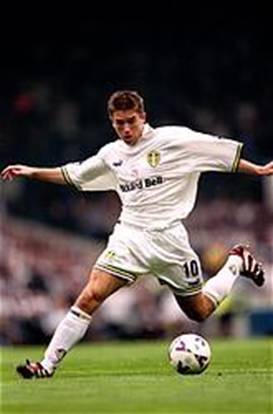 <![endif]> <![if !vml]>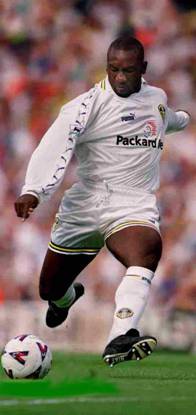 <![endif]> <![if !vml]>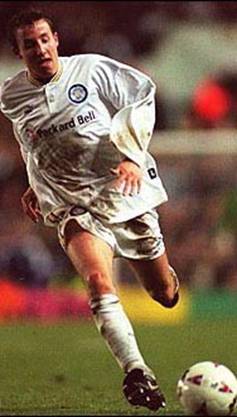 <![endif]>
           The United goals were scored by Rod Wallace, Harry Kewell, a Jimmy-Floyd Hasselbaink penalty and Lee Bowyer
<![if !vml]>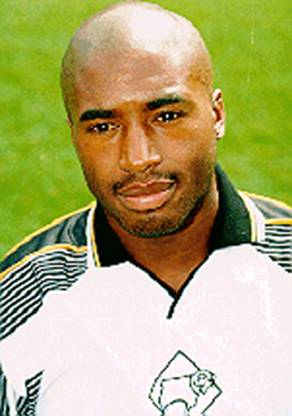 <![endif]> <![if !vml]>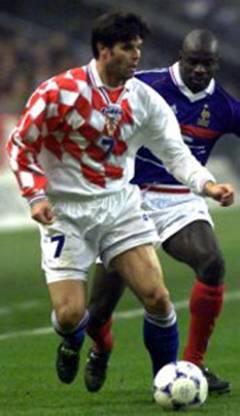 <![endif]>        <![if !vml]>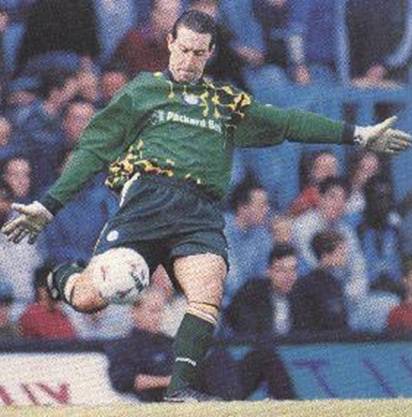 <![endif]>
Dean Sturridge (2) and an Aljosa Asanovic penalty were the Derby County goal scorers.    Nigel Martyn was at fault for the first two goals
<![if !vml]>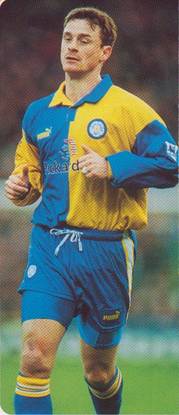 <![endif]>       <![if !vml]>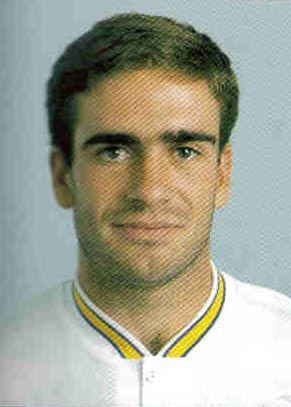 <![endif]>       <![if !vml]>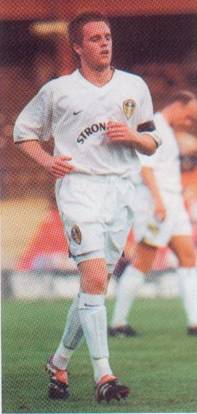 <![endif]>             <![if !vml]>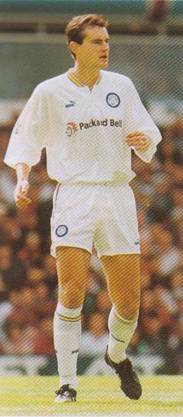 <![endif]>
David Robertson was not          Bruno Ribeiro shot was deflected for the              Home debutant Alan Maybury was    David Wetherall was
blameless either!                        first goal                                                                   injured and left the field at half-time     strong in defence  
<![if !vml]>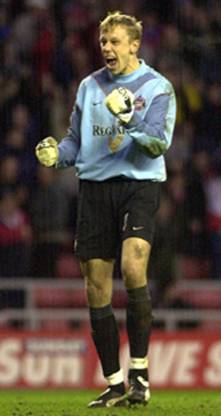 <![endif]>                <![if !vml]>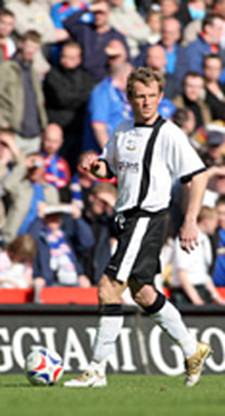 <![endif]> <![if !vml]>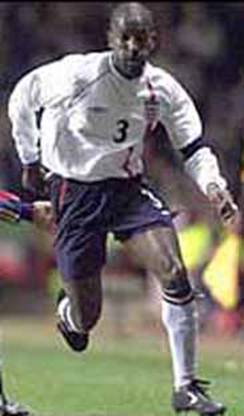 <![endif]>
Mart Poom was in the Derby goal               Gary Rowett and Chris Powell were the full-back pairing
<![if !vml]>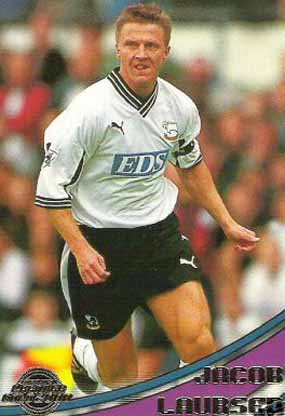 <![endif]>   <![if !vml]>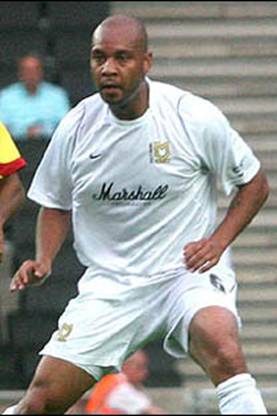 <![endif]>   <![if !vml]>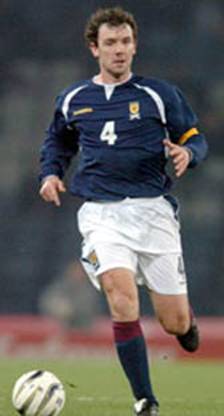 <![endif]>
There was a three man central defence of Jacob Laursen, Matt Carbon and Christian Dailly
<![if !vml]>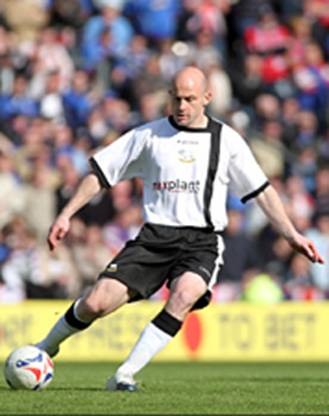 <![endif]> <![if !vml]>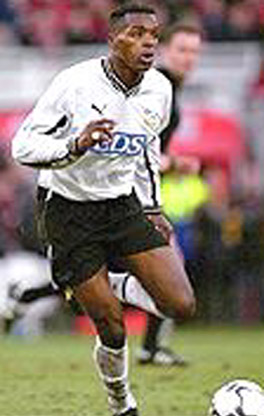 <![endif]>             <![if !vml]>
<![endif]>
Lee Carsley and Darryl Powell were in midfield with Dean Sturridge and Aljosa Asanovic               Francesco Baiano was the lone striker
<![if !vml]>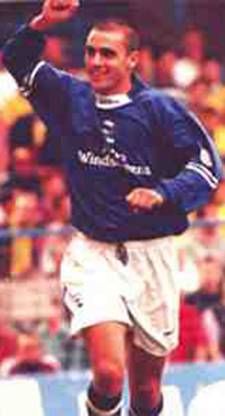 <![endif]>    <![if !vml]>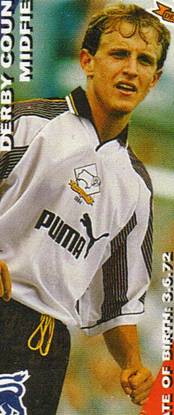 <![endif]>    <![if !vml]>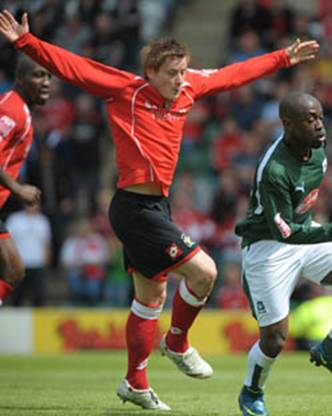 <![endif]>
Jonathan Hunt, Paul Trollope and Robert Kozluk came on as substitutes