<![if !vml]>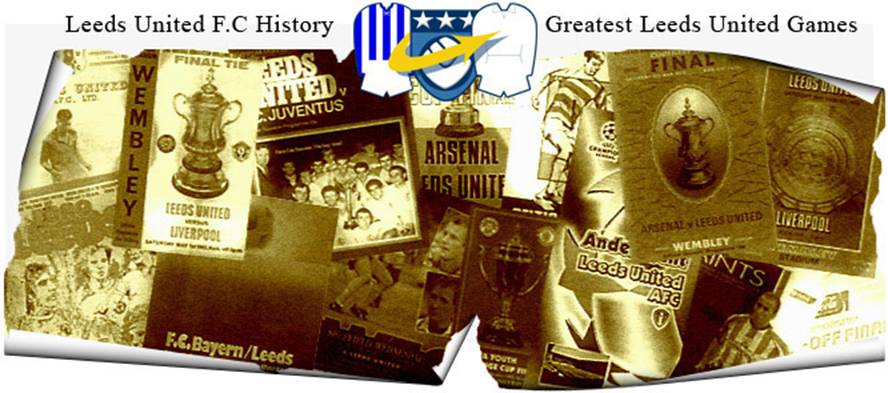 <![endif]>
Date: Saturday, 8th August 1992.
Venue: Wembley Stadium, London.
Competition: Charity Shield Trophy.
Score: Leeds United 4 Liverpool 3
Scorers: Leeds United: Cantona (3), Dorigo. Liverpool: Rush, Saunders, Strachan (og).
Attendance: 61,291.
Teams:
<![if !vml]>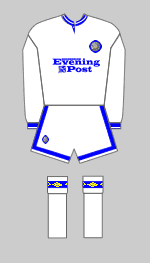 <![endif]><![if !vml]>
<![endif]>
Leeds United: Lukic; Newsome (Strachan), Dorigo; Batty, Fairclough, Whyte; Cantona, Rod Wallace, Chapman (Hodge), McAllister, Speed.
<![if !vml]>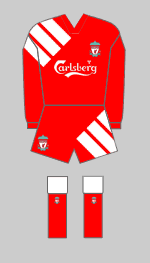 <![endif]><![if !vml]>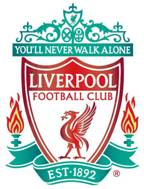 <![endif]>
Liverpool:  Grobbelaar; Tanner, Burrows; Marsh (Hutchison), Whelan, Wright; Saunders, Stewart, Rush, Rosenthal (Kozma), Walters.
Referee: Mr D. Elleray (Middlesex).
To help Leeds in their push for the 1991-92 Championship, manager Howard Wilkinson had snatched charismatic Frenchman Eric Cantona from under the noses of his old club Sheffield Wednesday. Although used sparingly in the thrilling run in, Cantona's class was obvious and, despite his reputation for being difficult to handle, he was seen as a key factor in United's title defence and European Cup campaign.
Cries of "Ooh-aah, Cantona." were echoing round Wembley after his hat-trick clinched a marvelous Charity Shield victory over Liverpool a week before the start of the season. It was the first time, other than the Mercantile Credit appearance in the mid nineteen-eighties, Leeds had played beneath the famous twin towers since 1974, when Liverpool beat them on penalties in the same Charity Shield Trophy.
Revenge was sweet for Leeds in a match full of attacking football. Liverpool played with only three outright defenders and Leeds revelled in the extra space and up front had the match-winner in Eric Cantona. He fired Leeds into a twenty-sixth minute lead with a shot that deflected past Bruce Grobbelaar off David Burrows, but the Reds were level eight minutes later when Ronnie Rosenthal's cross to the far post was headed in by Ian Rush.
United recaptured the lead just before the break with another deflected goal. This time Tony Dorigo saw his left-foot shot clip Ronnie Rosenthal before going in. Leeds looked dangerous in attack, but suspect in defence, and Liverpool drew level in the second-half with a well-placed snap-shot from Dean Saunders. However, United finished the stronger in the hot sun and Eric Cantona blasted them back in front thirteen minutes from the end with an excellent goal. Pulling away from his marker, he took the ball on his chest and drilled a fierce angled drive into the net.
The game was made safe two minutes from time when Bruce Grobbelaar misjudged a cross and Eric Cantona headed in his hat-trick goal. Howard Wilkinson, who opted not to play midfielder David Rocastle, his £2 million summer purchase from Arsenal, had sent on veteran Gordon Strachan, who scored an own-goal with virtually his first touch as the ball got stuck between his feet when he defended a corner on the right-hand post and saw the ball trickle over the line. But there was no denying Eric Cantona his Wembley glory and there was a nice touch at the end when skipper Gary McAllister invited Gordon Strachan to lift the Charity Shield and show it to United's delighted fans.
<![if !vml]>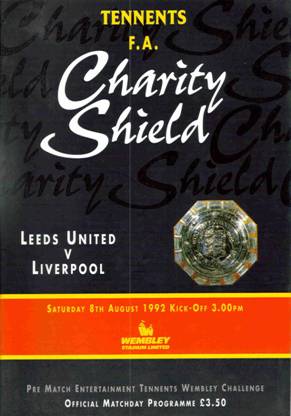 <![endif]>
Match Action:
<![if !vml]>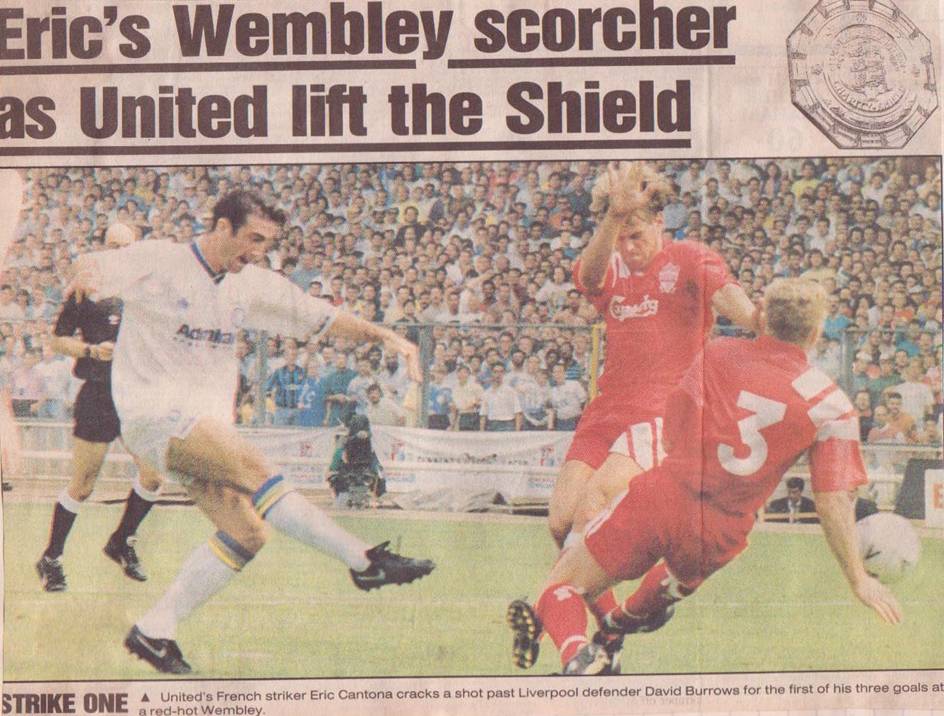 <![endif]>
<![if !vml]>

<![endif]>
<![if !vml]>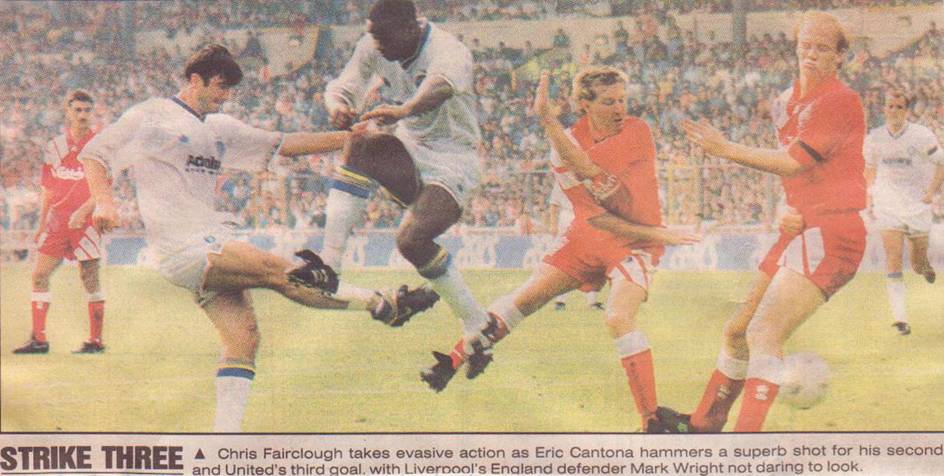 <![endif]>
<![if !vml]>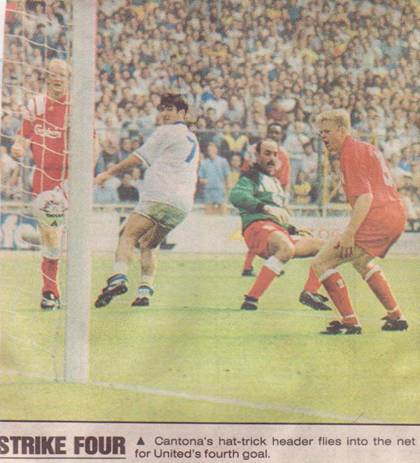 <![endif]> <![if !vml]>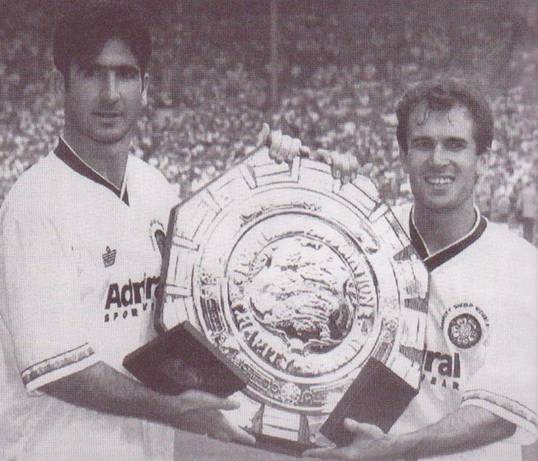 <![endif]>
                                                                                                          Eric Cantona and Tony Dorigo with Charity Shield
<![if !vml]>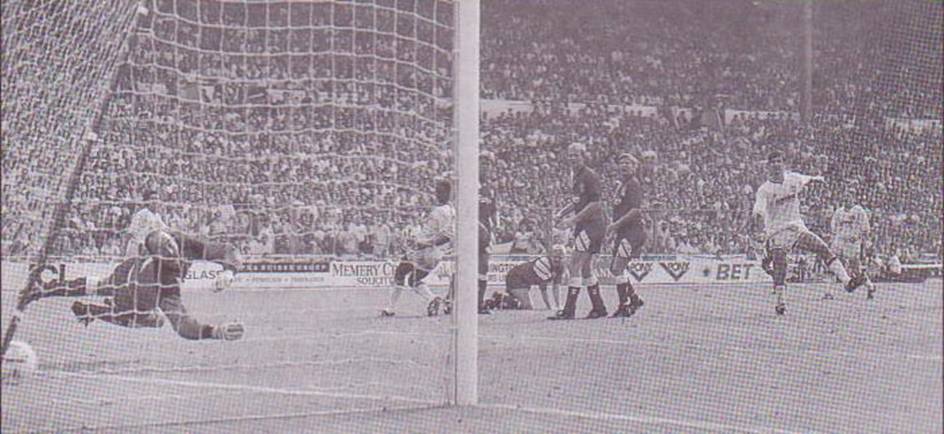 <![endif]>
Eric Cantona gets his second and Leeds' third goal
<![if !vml]>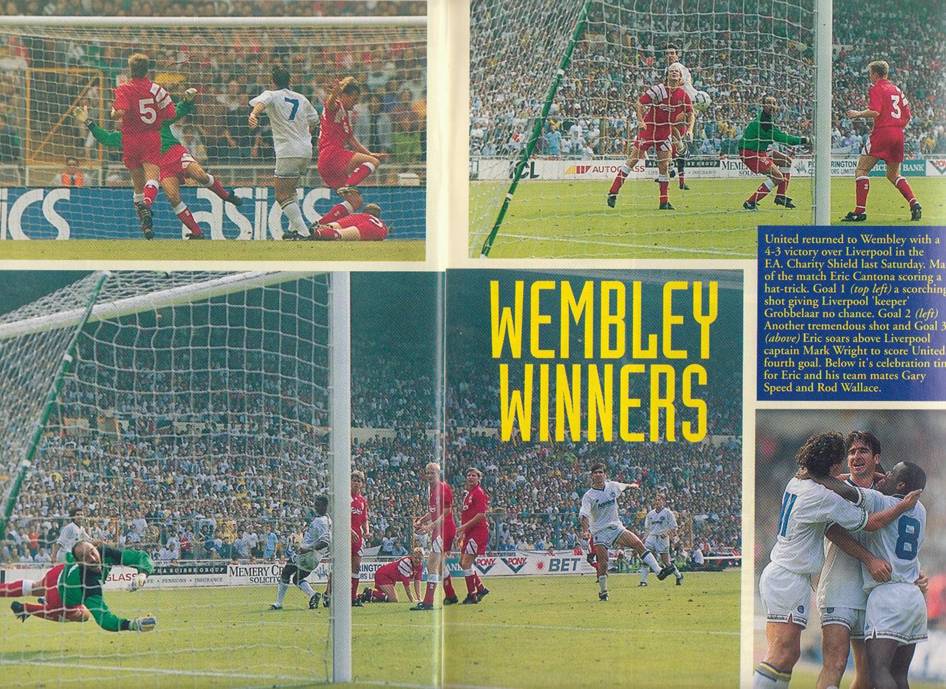 <![endif]>
<![if !vml]>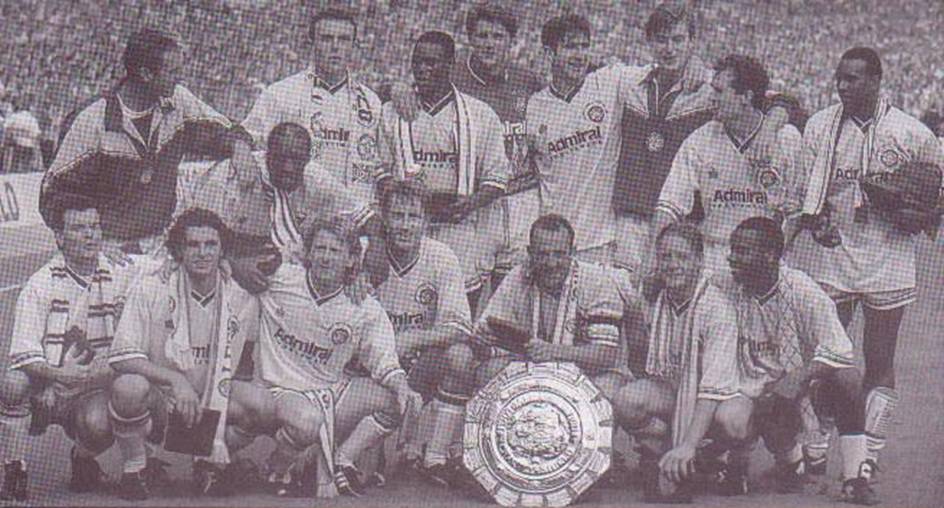 <![endif]> 
Leeds United 1992-93: Charity Shield Winners:                                                                           
Back Row: Mervyn Day, Chris Whyte, Jon Newsome, Chris Fairclough, John Lukic, Eric Cantona, David Wetherall, Tony Dorigo,
David Rocastle.
Front Row: Steve Hodge, Gary Speed, Gordon Strachan, Lee Chapman, Gary McAllister, David Batty, Rod Wallace.
Teams:
<![if !vml]>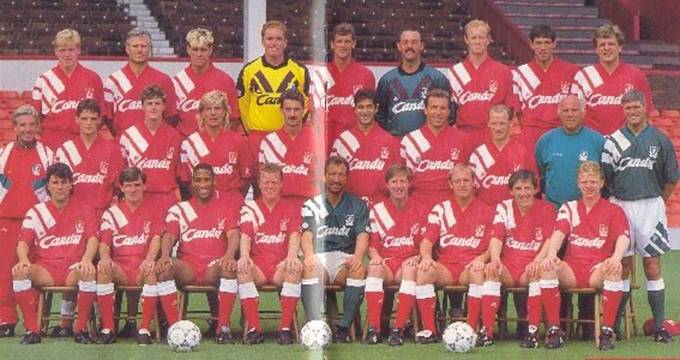 <![endif]>
Liverpool 1991-92:
Back Row: Steve Staunton, Glenn Hysen, Nick Tanner, Mike Hooper, Don Hutchison,
Bruce Grobbelaar, Mark Wright, Gary Ablett, Jan Molby.
Middle Row: Roy Evans (Coach), Mick Marsh, Steve McManaman, Barry Venison, Ian Rush,
Jimmy Carter, Ronnie Rosenthal, David Speedie, Ronnie Moran (Coach), Phil Boersma (Coach).
Front Row: Dean Saunders, Roy Houghton, John Barnes, Steve Nicol, Graeme Souness (Manager),
Ronnie Whelan, Steve McMahon, Peter Beardsley, David Burrows.
<![if !vml]>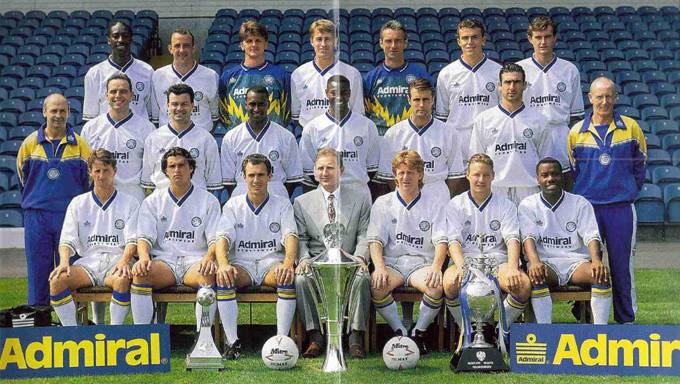 <![endif]>
Leeds United Tean 1992-93 with 1991-92 Football League Championship trophy
Back Row: Chris Whyte, Gary McAllister, John Lukic, Lee Chapman, Mervyn Day,
Jon Newsome, David Wetherall.
Middle Row: Alan Sutton (Physio), Mel Sterland, Steve Hodge, David Rocastle, Chris Fairclough,
Carl Shutt, Eric Cantona, Mick Hennighan (Coach).
Scott Sellars, Gary Speed, Tony Dorigo, Howard Wilkinson (Manager), Gordon Strachan,
David Batty, Rod Wallace.
Players:
<![if !vml]>

<![endif]> <![if !vml]>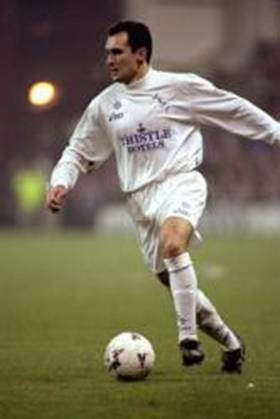 <![endif]>      <![if !vml]>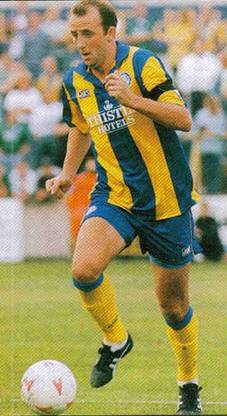 <![endif]>               <![if !vml]>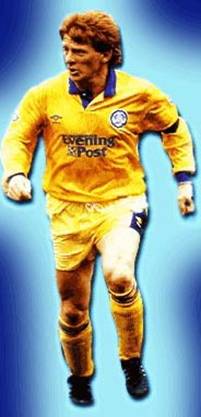 <![endif]> 
 Eric Cantona (3) and Tony Dorigo scored the Leeds goals                  Captain Gary McAllister                      Gordon Strachan scored an own goal 
<![if !vml]>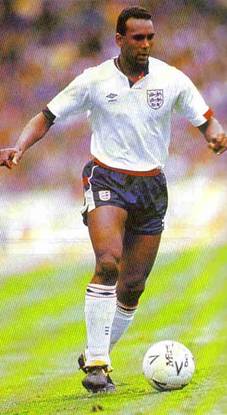 <![endif]>    <![if !vml]>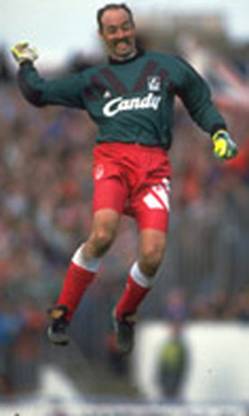 <![endif]>  <![if !vml]>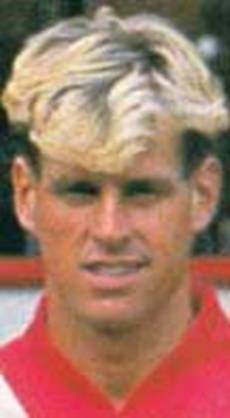 <![endif]> <![if !vml]>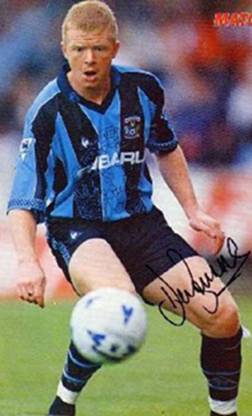 <![endif]>
David Rocastle did not play               Bruce Grobbelaar was in goal               Nick Tanner and David Burrows were the full-backs
<![if !vml]>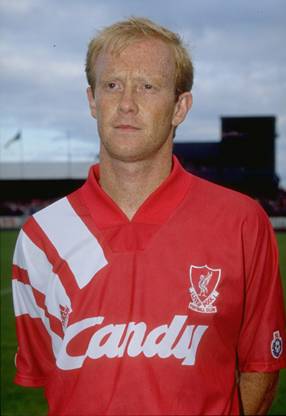 <![endif]> <![if !vml]>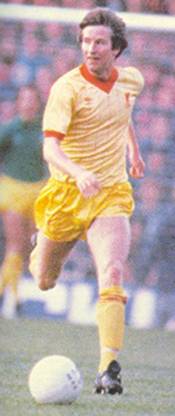 <![endif]>      <![if !vml]>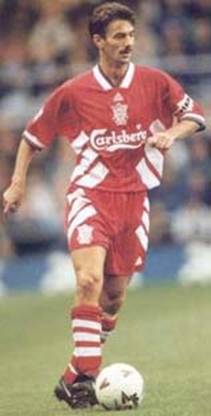 <![endif]> <![if !vml]>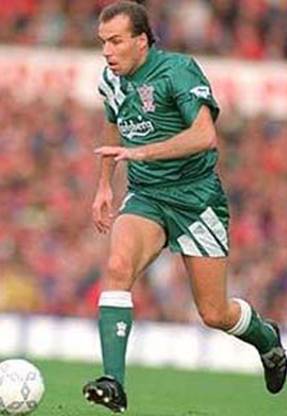 <![endif]>
Mark Wright and Ronnie Whelan were the centre-backs. Ian Rush and Ronny Rosenthal were the strikers
<![if !vml]>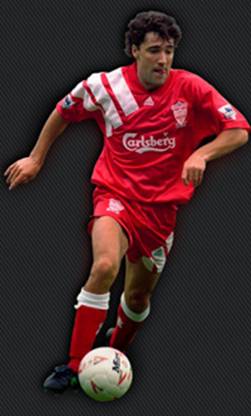 <![endif]> <![if !vml]>
<![endif]> <![if !vml]>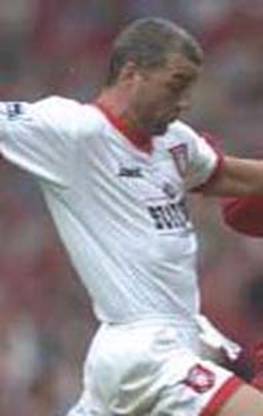 <![endif]> <![if !vml]>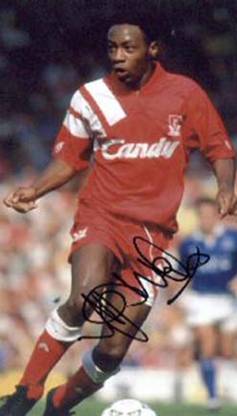 <![endif]> 
                         Dean Saunders, Mike Marsh, Paul Stewart and Mark Walters were in midfield                                    
<![if !vml]>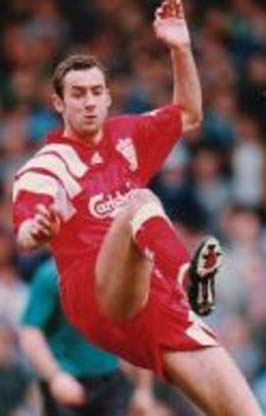 <![endif]> <![if !vml]>
<![endif]>
Don Hutchison and Istvan Kozma were the substitutes