<![if !vml]>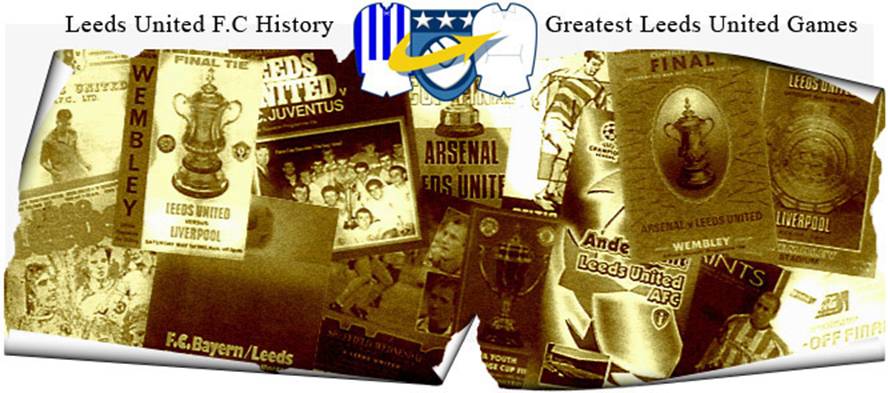 <![endif]>
Date: Saturday, 8th January 1983.
Venue: Elland Road, Leeds.
Competition: FA Cup Third Round.
Score: Leeds United 3 Preston North End 0
Scorers: Leeds United: Sheridan, Connor, Graham. Preston North End: Nil.
Attendance: 16,816.
Teams:
<![if !vml]>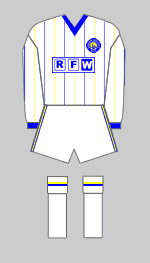 <![endif]> <![if !vml]>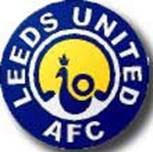 <![endif]>
Leeds United: Lukic; Aspin, E.Gray; Sheridan (Hird), Hart, Burns; McNab, Connor, Butterworth, Thomas, Graham.
<![if !vml]>
<![endif]><![if !vml]>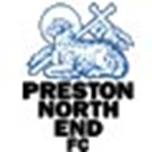 <![endif]>
Preston North End: Litchfield; O'Riordan, McAteer; Kelly Booth Gowling; Walsh, Bruce, Elliott, Naughton, Houston (Bell).
Referee: Mr N.Ashley (Nantwich, Cheshire).
Eddie Gray created a bit of history by becoming the first Leeds United Player-Manager to appear in an FA Cup tie. United, struggling for cash to help them rebuild a promotion side, needed a good Cup run as badly as Third Division visitors Preston North End. Gray had introduced several budding youngsters to the first team, but without a home win since October, United had slipped badly behind in the Second Division promotion race and hit the Wembley trail needing to boost flagging morale. The crowd was United's lowest for an FA Cup-tie at Elland Road for forty-four years and the stay-away fans missed a rare home win.
Eighteen-year-old midfielder John Sheridan, who had only broken into the side in the last few months, continually caught the eye as he linked up with Neil McNab, on loan from Brighton, who was on the right wing for one of the six games he managed for Leeds before he returned to Brighton at the end of the loan period. United had already missed several good chances before Aidan Butterworth robbed veteran centre-half Tommy Booth in the thirty-first minute to set up Sheridan, whose shot deflected off Alan Gowling on its way past the Preston keeper Peter Litchfield.
United dozed off after the interval and Preston almost caught them napping, John Lukic needing to be at his best to turn away a Stewart Houston shot. But the pressure was eased twelve minutes from time when a quick throw-in by Eddie Gray enabled Arthur Graham to whip over a cross for Terry Connorto celebrate his home returnafter a bout of appendicitis with a goal. Two minutes later the same three players combined for United's third. Eddie Gray slipped the ball through to Arthur Graham who exchanged passes with Terry Connor before finishing with a clean shot to take Leeds to a 3-0 FA Cup Third Round win at Elland Road. The impressive John Sheridan was given a good ovation, as he was rested with seven minutes to go, as United fans recognised they had a good player in the making.
Manager Eddie Gray said afterwards, "I think we were rather flattered by the score-line. We have been struggling to score recently, but once our second goal went in, all the tension went and we started to play.
United's win was their sixty-ninth in the competition proper, they had also featured in thirty-five draws and fifty-four games had ended in defeat. Only Burnley, Grimsby Town, Watford, Fulham, Cambridge, Barnsley, Brighton and Southend of the League teams at that time had not been previously encountered.
Alternate Report (Courtesy Mark Ledgard)
A touch of the new combination with a dash of the old provided a 1983 mixture of hope at Elland Road. For while the margin of Leeds United's first home win since 30th October 1982 was a nonsense and flaws in their display against Third Division strugglers Preston self-evident, the poise of John Sheridan and the steadying influence of Player-Manager Eddie Gray were signposts to a brighter future. "Sheridan showed some of the pedigree of the old Leeds. He used the ball sensibly and with a lot of thought which is nice to see in a young player." That was the verdict of the Preston Manager, Gordon Lee, and Eddie Gray was equally complimentary. "John is a smashing footballer," he said. "He shows so much composure that people forget that he is only eighteen. He has played a lot of games since he came into the side on 20th November. That's why we took him off when we were 3-0 up to give him a break." Sheridan's reward came after thirty-one minutes with his second goal for the club. His shot helped by a deflection off Alan Gowling, followed the persistent Aidan Butterworth robbing the experienced Tommy Booth, playing his first game for nine months, as the defender hesitated, expecting a free-kick. "Tommy's not as fit as he would like, and ninety-nine times out of a hundred he would have cleared that ball," said Lee. "It was just one of those things that happen in a Cup-tie."
Aspin too earned praise from Eddie Gray. The seventeen year old looked a different player to the one pressed into emergency service as a striker against Bolton. "He didn't put a foot wrong and he will be a great defender," said Gray. And while Gray himself would only admit to a "quiet" match, the evidence was still there that, when he is match-fit again, he will have a big say on the field. His quick throw set up Arthur Graham's centre for Terry Connor to score the second goal after seventy-eight minutes and two minutes later the Manager's through ball created the room for Arthur Graham to score after a one-two with Terry Connor. Those two goals, well taken as they were, glossed over the chapter of misses by Terry Connor, Aidan Butterworth and Gwyn Thomas and consigned to oblivion a real threat posed by Preston in the twenty minutes after the interval. Nevertheless, John Lukic had to be at his best to turn aside Graham Houston's drive in the fifty-fifth minute, while Willie Naughton, Andy McAteer and John Kelly all went near, punishing moments of defensive uncertainty. "We really needed to score in that good spell," said Lee. "Once the second goal went in, that was it."
Just how much that second goal will mean to Leeds was explained by Eddie Gray. "We have been under a lot of pressure at home when we have been only one goal ahead. You saw the difference today. We started bubbling, rolling the ball around and looking to score. I was delighted that Terry Connor scored. The goal will give him a big lift, necessity had demanded him being rushed back after his appendix operation. Our youngest players were our best and that looks good for the future. This was a game we just had to win in our financial situation so that we can make some money out of the next round. Preston had a great attitude and really made it difficult for us. I am just pleased that we made it."
<![if !vml]>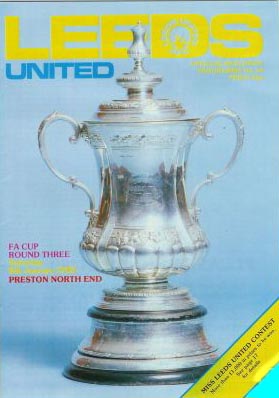 <![endif]>
Match Action:
<![if !vml]>
<![endif]>
(Two views of John Sheridan's goal Courtesy Mark Ledgard)
<![if !vml]>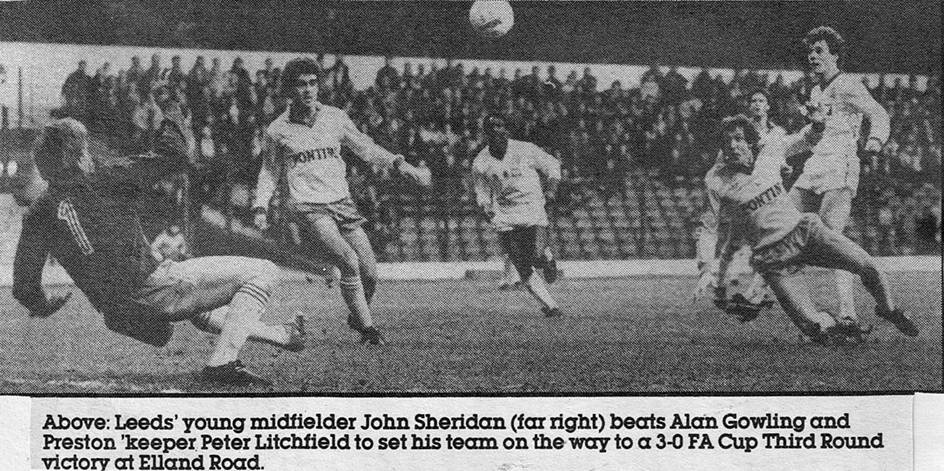 <![endif]>
<![if !vml]>

<![endif]>
Another view of John Sheridan scoring United's first goal
Teams:
<![if !vml]>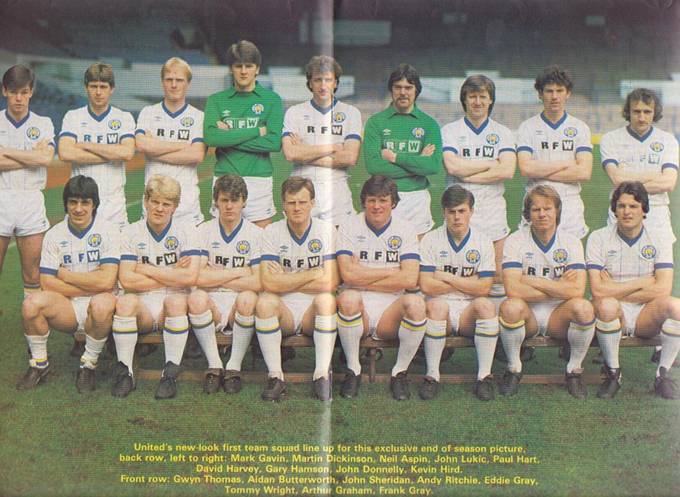 <![endif]>
<![if !vml]>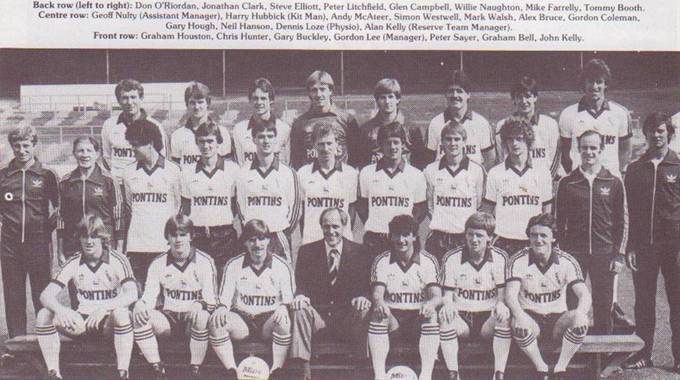 <![endif]>
Players:
<![if !vml]>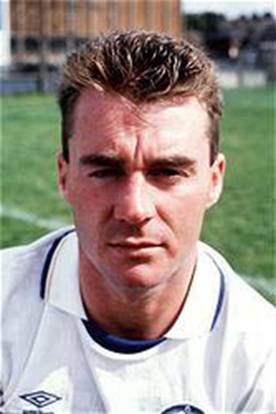 <![endif]> <![if !vml]>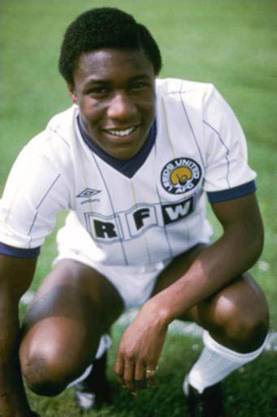 <![endif]> <![if !vml]>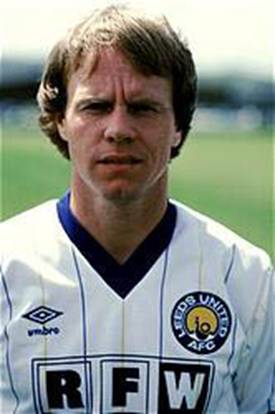 <![endif]>
                                John Sheridan, Terry Connor and Arthur Graham scored the goals for Leeds