<![if !vml]>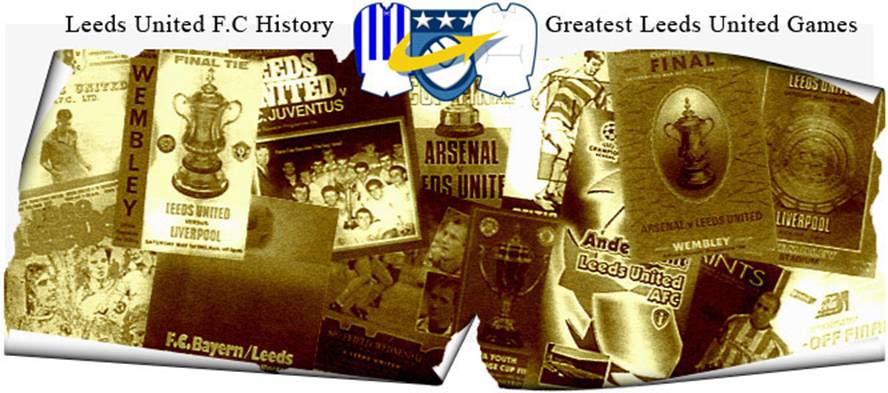 <![endif]>
Date: Wednesday, 7th August 1968.
Venue: Elland Road, Leeds.
Competition: Inter-Cities Fairs Cup Final First Leg.
Score: Leeds United 1 Ferencvaros 0
Scorers: Leeds United: Jones. Ferencvaros: Nil.
Attendance: 25,268.
Teams:
 <![if !vml]>
<![endif]> <![if !vml]>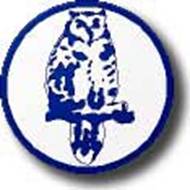 <![endif]>
Leeds United: Sprake; Reaney, Cooper; Bremner, Charlton, Hunter; Lorimer, Madeley, Jones (Belfitt), Giles (Greenhoff), Gray.
<![if !vml]>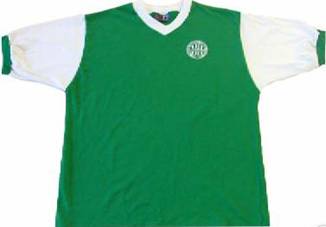 <![endif]><![if !vml]>

<![endif]>
Ferencvaros: Geczi; Novak, Pancsics; Havasi, Juhasz, Szucs; Szoke, Varga, Albert, Rakosi, Fenyvesi (Balint).
Referee: Rudolph Scheuber (Switzerland).
The decision to play the 196768 Final at the beginning of the 1968/69 season backfired on United financially. The First Leg at Elland Road was an anti-climax. Fewer than 26,000 turned up for a game staged in the middle of the annual Leeds holidays and coupled with the fact that it was being screened live on BBC TV, who had outbid ITV for the rights, only added to the reason why United were so poorly supported at the game. As usual Syd Owen had been checking up on the future opponents and was in Budapest watching Ferencvaros fight out a goal-less draw with MTK Budapest while United were warming up for the new season with a 2-1 win over Celtic in a high profile friendly at Parkhead in front of a crowd of 75,110. Unfortunately, for the Fairs Cup Final, United played in front of a crowd of less than one third of the massive Celtic attendance as increased admission prices could have deterred some fans as the gave up the chance to stand on the Kop for the first time with a new £200,000 roof over their heads. Club officials were hoping to have banked more money from the match. Televised live in the middle of the Leeds annual holidays it attracted a mere 25,268 spectators.
After battling through to their second successive Inter-Cities Fairs Cup Final, this time United were intent on getting their name inscribed on the trophy. They were able to field their acknowledged first choice team with the exception of winger Mike O'Grady and the game went ahead in the week prior to the opening games in the new season of 1968-69. Ferencvaros coach, Dr Karoly Lahat, sent his powerful team out at Elland Road with the classic European battle orders to defend in depth and to counter attack quickly. His men obeyed the instructions to the full stop, breaking United's rhythm with their hard tackling in a disjointed game of forty-five free-kicks, and hitting back with swift breaks.
The Hungarians had the first chance to score when an error by Jack Charlton, who was under no pressure, let in Istvan Szoke, but the midfielder squandered the chance. United let an even easier chance go begging minutes later. Goalkeeper Istvan Geczi badly miss-hit a free-kick and it went straight to Mick Jones near the edge of the penalty area. Jones quickly fed the ball inside to Peter Lorimer but the Scot's shot was well saved by the grateful Geczi. In another breakaway Mate Fenyvesi sprinted down the wing and crossed to the unmarked Istvan Szoke, clear in front of goal, but he took too long to control it and the chance was lost. Leeds began to send up half-back re-enforcements in the shape of Jack Charlton and Billy Bremner who added to Mick Jones' constant presence and it was from that source came United's goal.
Peter Lorimer made amends for his earlier lapse in the fortieth minute by swinging in a corner for Jack Charlton, standing virtually under the cross-bar, to nod down for Mick Jones to bundle the ball over the line, leaving the Hungarians complaining that Charlton had impeded their goalkeeper. Ferencvaros replied with some controlled football and their quick breaks almost brought success. First Florian Albert opened the United rearguard with Istvan Szoke putting the chance wide, then Gary Sprake pulled off the save of the match, with a twisting leap to his left and brilliantly taking the ball sideways in the air, to prevent Gyula Rakosi equalising.
Johnny Giles went off after sixty-five minutes suffering from concussion and blurred vision and was replaced by Jimmy Greenhoff, while Ferencvaros replaced Mate Fenyvesi with Laszlo Balint. Five minutes later it was Rod Belfitt replacing the brave Mick Jones, who had clashed with the Hungarian keeper. Jones was in full stride, going for a long ball down the middle and Geczi raced from his line in an attempt to intercept. Both players went down, inside the penalty area, but while Istvan Geczi got to his feet quick enough, Jones lay inert, and was finally carried from the field.
Mick Jones described the incident, "Against Ferencvaros I had to take some punishment. As the target-man I always expected a tough game, but the Hungarians were really cynical. I remember an incident with their goalkeeper Geczi when we both went for a fifty-fifty ball. As I went for the ball he came out and jumped up with his leg in the air and hit me straight in the middle. I thought he had broken me in two. Luckily I jack-knifed to take the blow instead of taking the hit straight in the stomach. Nowadays he would have been sent off but he got away with it. I was carried off."  Manager Revie was not too pleased about the incident or the Ferencvaros tactics in general saying, "They were body checking, deliberately handling the ball and obstructing, some of it was diabolically clever and well screened. Mick Jones has been lucky. He was kicked in the groin and it is sore, but it could have been worse."
Both teams missed scoring soon afterwards. First United should have doubled their lead but Jimmy Greenhoff shot weakly from inside the six-yard box. Then Gyula Rakosi was foiled by Gary Sprake's brilliance. In the end after ninety gruelling minutes, during which United lost star players Johnny Giles, with double vision, and Mick Jones, as a result of his collision with the Ferencvaros keeper, to injuries early in the second half and had to field two substitutes, the score-line showed a solitary goal advantage to United. Critics complained that there were not many thrills or highlights in the game and that United's lead would not be sufficient to win the Cup, especially as the second leg was in Budapest. However, that sort of situation is just made for Leeds United and manager Revie summed up the situation succinctly. "It will be tough, but we have faced this sort of thing before. We kept a clean sheet, and if we score over there, Ferencvaros have got to get three."
It was a brave public face, as Ferencvaros were rated as the finest team in Europe at the time.  He knew that although they had concentrated on a spoiling game at Elland Road that Florian Albert, the European Footballer of the year in 1967, for instance, was likely to be a far more dangerous proposition playing an attacking role in the Budapest game. Indeed, Ferencvaros were going to throw everything, as they sought first an equaliser and then the winner. The Hungarian inside-forwards, Zoltan Varga and Gyula Rakosi, had shown some dazzling footwork and inter-passing in the Elland Road match and they would be going flat out to punch holes in the United defence in the second encounter. The accent would be very much on attack, in that game. Leeds would have been in a much stronger position had a scoring effort from Billy Bremner got better treatment. Bremner always insisted that his header was handled by Dezso Novak as it was about to cross the line.
<![if !vml]>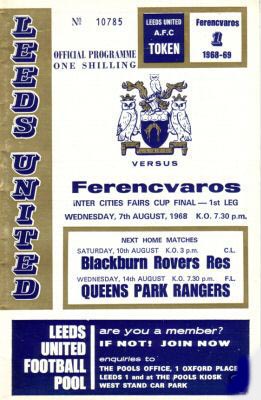 <![endif]>  <![if !vml]>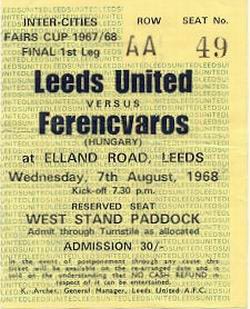 <![endif]>
Match Action:
<![if !vml]>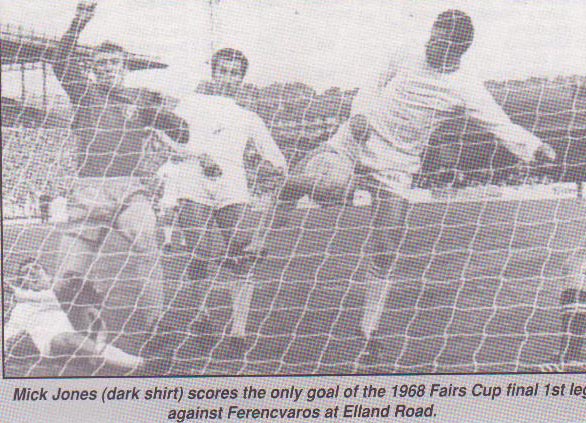 <![endif]>                    <![if !vml]>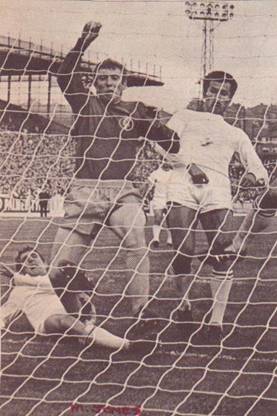 <![endif]>
<![if !vml]>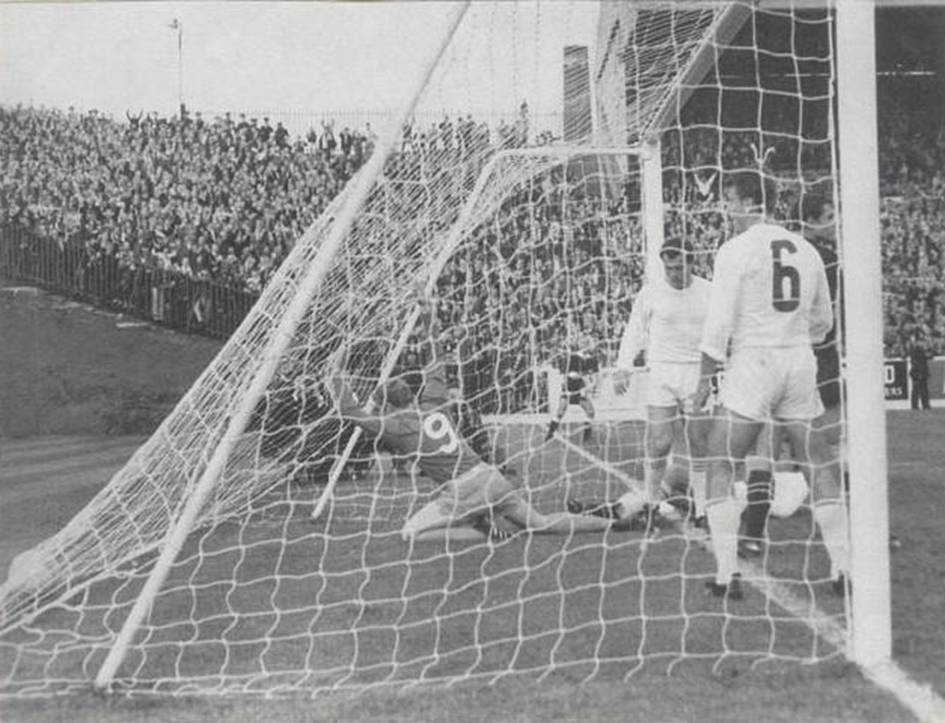 <![endif]> 
<![if !vml]>
<![endif]>
<![if !vml]>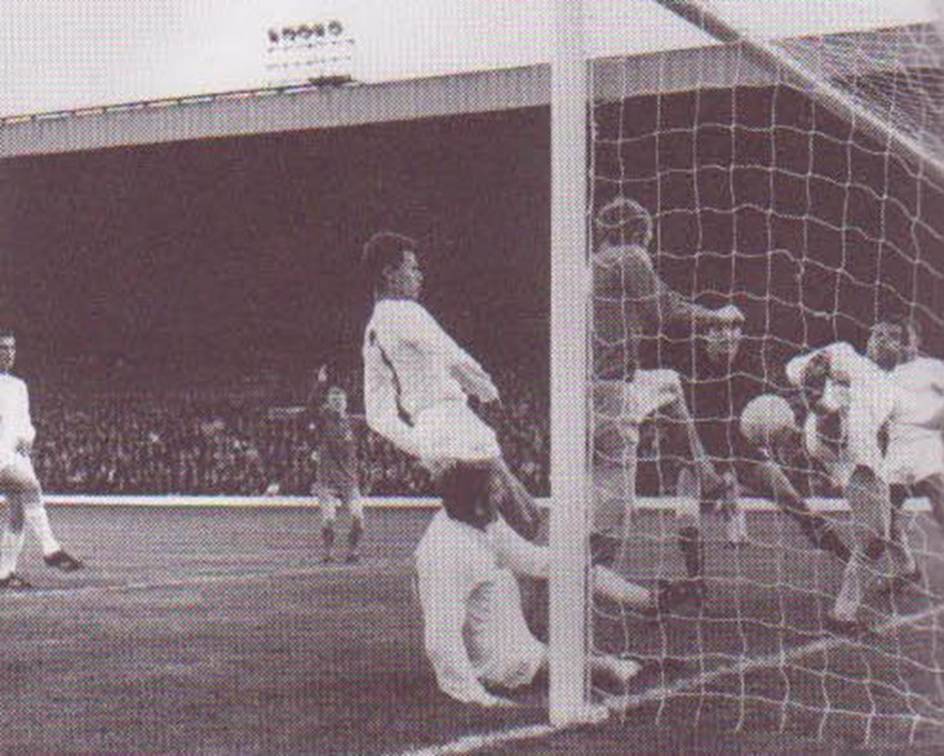 <![endif]>
<![if !vml]>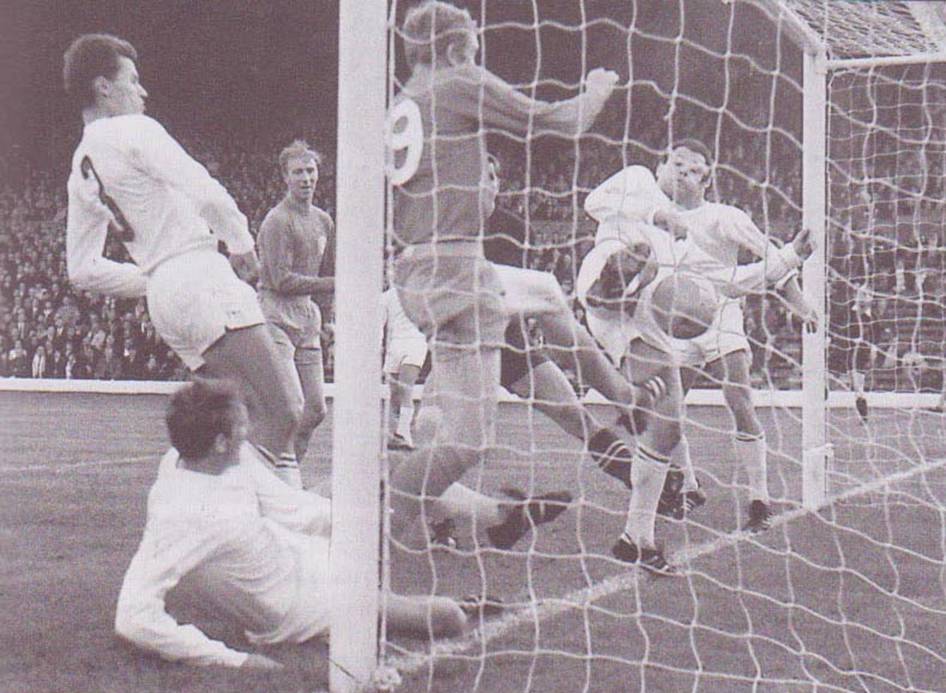 <![endif]> 
<![if !vml]>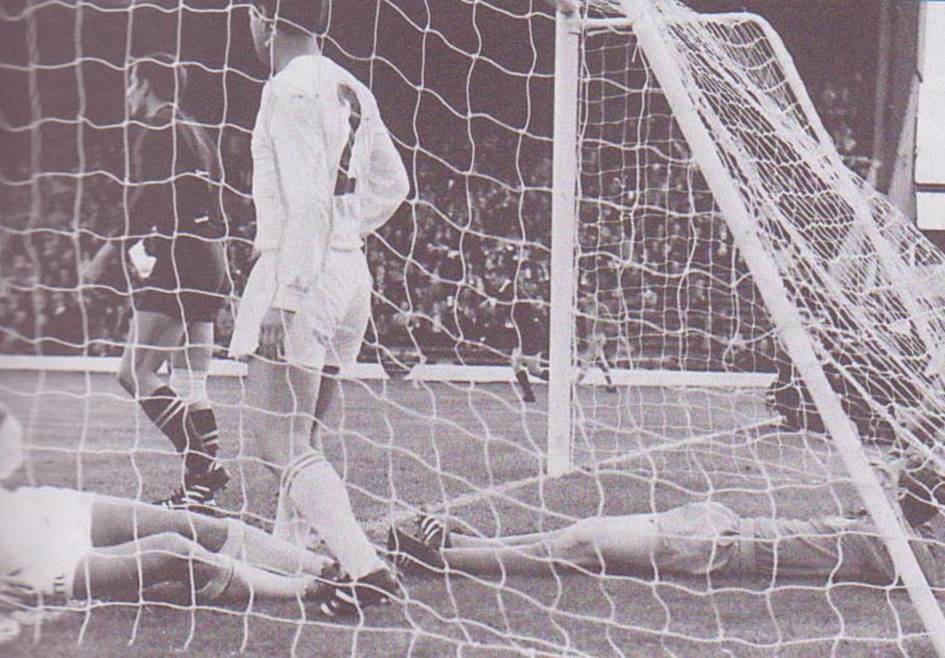 <![endif]>
Mick Jones' winning goal from all kinds of angles!
<![if !vml]>
<![endif]>
Big Jack Charlton climbs high to win a heading duel as Mick Jones and Billy Bremner look on
<![if !vml]>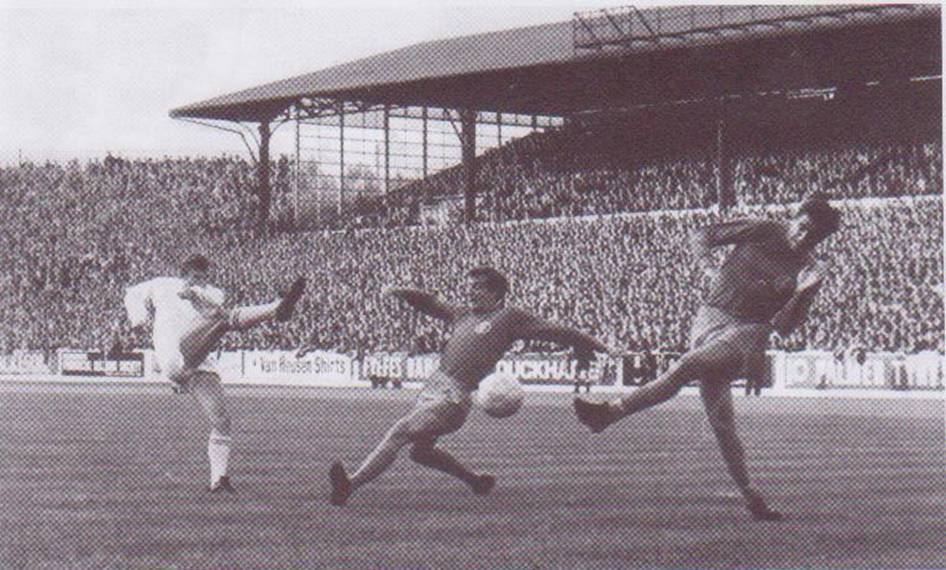 <![endif]>
Paul Madeley and Norman Hunter try to block Szoke's shot
<![if !vml]>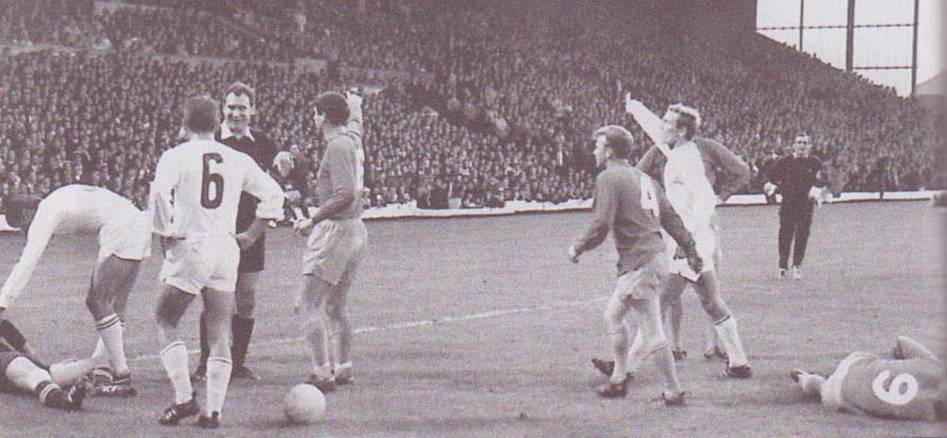 <![endif]> 
Mick Jones was injured in a challenge by the Ferencvaros keeper Geczi
<![if !vml]>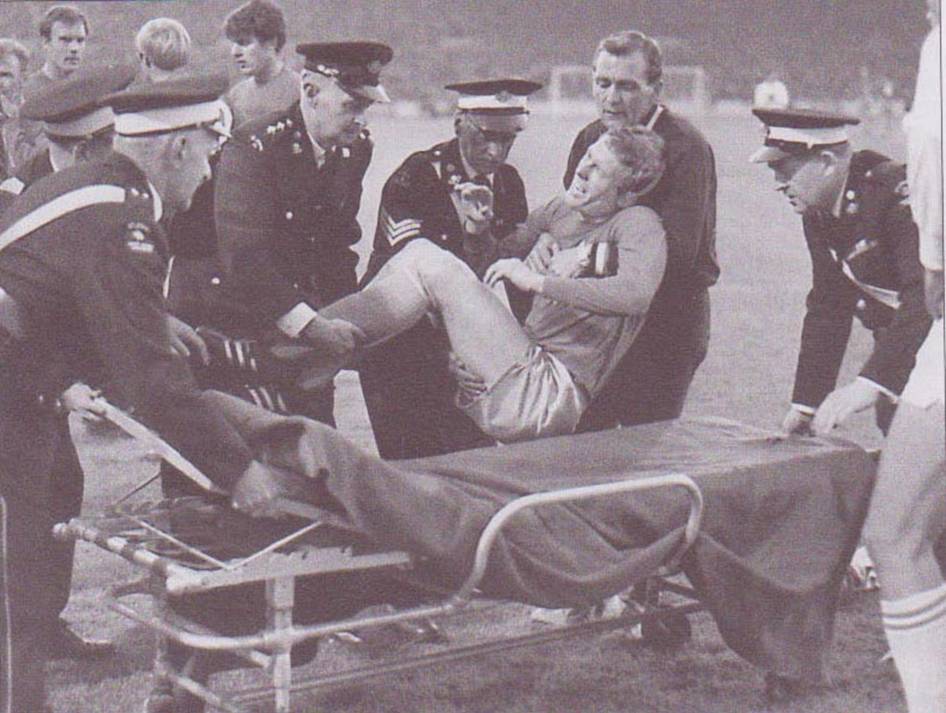 <![endif]>
…….he had to be carried off and played no further part in the game
Teams:
<![if !vml]>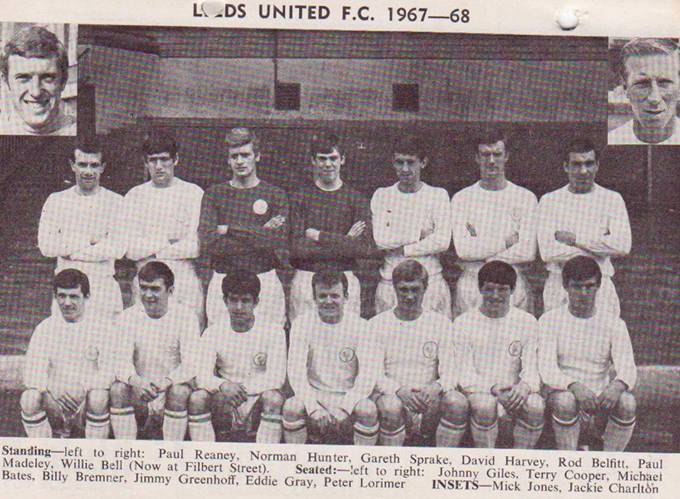 <![endif]>
<![if !vml]>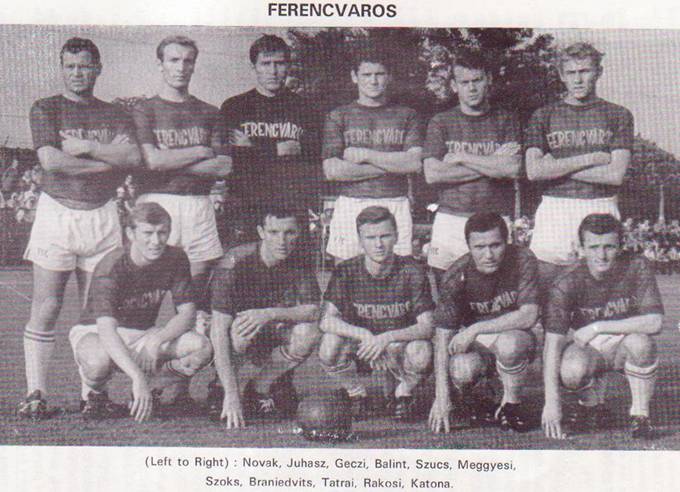 <![endif]>