<![if !vml]>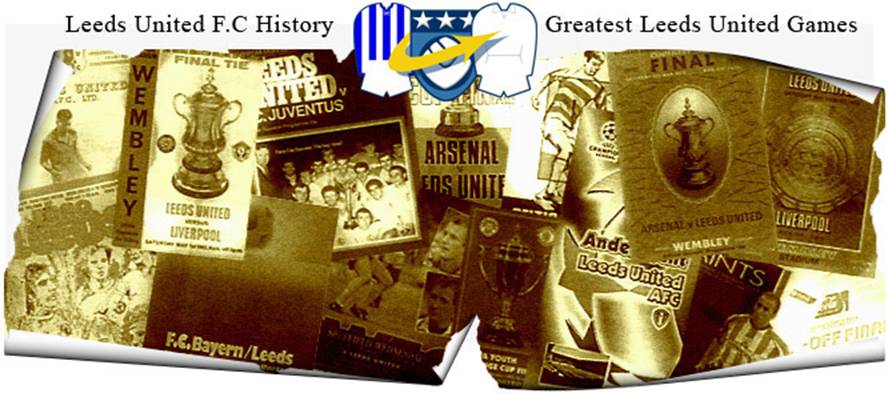 <![endif]>
Date: Saturday, 7th April 1973.
Venue: Maine Road, Manchester.
Competition: FA Cup Semi-Final.
Score: Leeds United 1 Wolverhampton Wanderers 0.
Scorers: Leeds United: Bremner. Wolverhampton Wanderers: Nil.
Attendance: 52,505 (Receipts £70,000).
Teams:
<![if !vml]>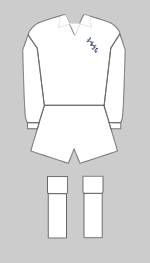 <![endif]><![if !vml]>

<![endif]>
Leeds United: Harvey; Reaney, Cherry; Bremner, Charlton (Jordan), Yorath; Lorimer, Clarke, Jones, Giles, Madeley.
<![if !vml]>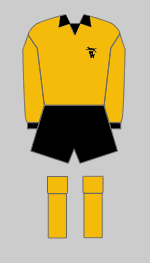 <![endif]><![if !vml]>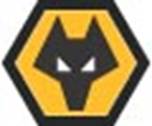 <![endif]>
Wolverhampton Wanderers: Parkes; Taylor, Parkin; Shaw, Munro, McAlle; Powell, Hibbitt (Bailey), Richards, Dougan, Wagstaffe.
Referee: P.Partrige (Middlesbrough).
There had been a marathon Third Round encounter with Norwich City, which saw a Peter Lorimer goal take the tie from Carrow Road to Elland Road, where a Johnny Giles goal saw United still in deadlock after extra-time. This took the tie to neutral territory at Villa Park Birmingham where United won at a canter 5-0 thanks to a hat-trick from Allan Clarke and other goals from Mick Jones and Peter Lorimer. The Fourth Round saw an unconvincing 2-1 win over Plymouth Argyle thanks to goals from Allan Clarke and Mick Bates, and again Allan Clarke was in scoring form with a brace in the 2-0 home win over West Bromwich Albion. A Peter Lorimer goal saw United edge through the Quarter-Final at the Baseball Ground against Derby County.
In a hard fought Semi-Final United finally triumphed by a Billy Bremner special over Wolves at Maine Road Manchester, as he once again scored the winning goal on the last stop before Wembley, a feat he achieved many times over the years.
United had a few regulars out and things were made worse when Jack Charlton had to go off in the first half, with Norman Hunter already out injured the pairing was Paul Madeley and Terry Yorath. Leeds were used to adapting and the two were superb. Gradually Leeds got on top and Billy Bremner scored the all-important goal, the third time he had scored a FA Cup Semi-Final winner.
Semi-Final superman Billy Bremner took United to the FA Cup Final for the fourth time in eight years. In three of those Semi-Finals it was Bremner that scored the vital winning goal on the last step to Wembley. His golden moment came after sixty-eight minutes of a tough, physical battle in which Wolves fought hard every inch of the way. A left-wing corner by Johnny Giles was headed out and Peter Lorimerís overhead kick clipped off the back of Mick Jonesí legs to Bremner, who gleefully whacked in a left-foot volley that flashed past goalkeeper Phil Parkes to spark jubilant celebrations on the pitch.
It was far from being a one-man show that put Cup-holders United back at Wembley again. It was a victory for teamwork and never-say- die spirit after Don Revieís resources had been stripped to the bone. Throughout the season United had been without broken leg victim Terry Cooper and for this crucial game, Revie was without Norman Hunter, Eddie Gray, Mick Bates and the up-and-coming new giant of a centre-half Gordon McQueen. Revieís answer was to call up old warhorse Jack Charlton, just one month away from hid thirty-eighth birthday, to play alongside Paul Madeley in the heart of Unitedís defence.
But even those plans were thrown into turmoil when Charlton limped off after pulling a muscle when he cut across to tackle winger Dave Wagstaffe in the thirty-second minute. On came a forward, young Joe Jordan, and Terry Yorath dropped back to link up with Paul Madeley, who was already in some discomfort with a shoulder injury. But patched up United just gritted their teeth and got on with the job. Peter Lorimer had a shot cleared off the line by Gerry Taylor and a goal-bound effort by that man Billy Bremner shot to safety off a defender.
Wolves, whose win in the last game of the previous season denied United the double, were disappointed not to create more chances against Unitedís makeshift centre of defence. The nearest they came was when Derek Dougan headed inches wide and a superb John Richards struck a post with David Harvey beaten. Shortly after the final whistle Unitedís fans were singing again when it was announced that Second Division Sunderland had toppled the previous seasonís beaten finalists Arsenal at Hillsbrough.
It was a Leeds v Sunderland Final, but one man destined not to play was Big Jack. Three weeks after the Semi-Final he made his farewell appearance for United at Southampton to complete a club record six hundred and twenty-nine League appearances. In the summer he was appointed Manager of Middlesbrough and went on to manage Sheffield Wednesday and Newcastle United and the Republic of Ireland.
<![if !vml]>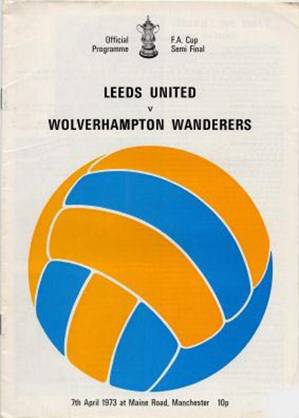 <![endif]>†<![if !vml]>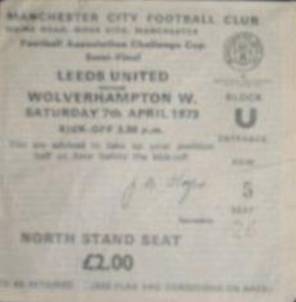 <![endif]>
Match Action:
<![if !vml]>
<![endif]>
Billy Bremner fires home the winning goal
<![if !vml]>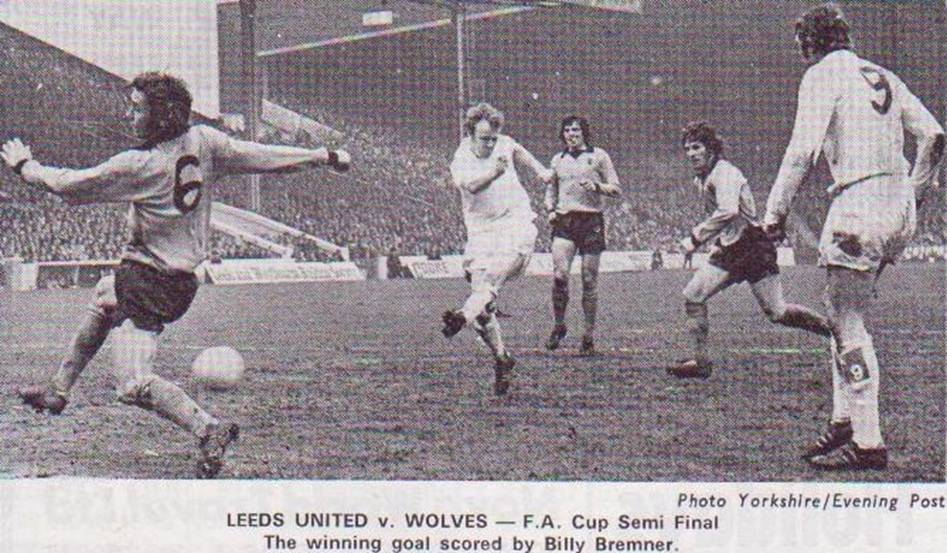 <![endif]>
<![if !vml]>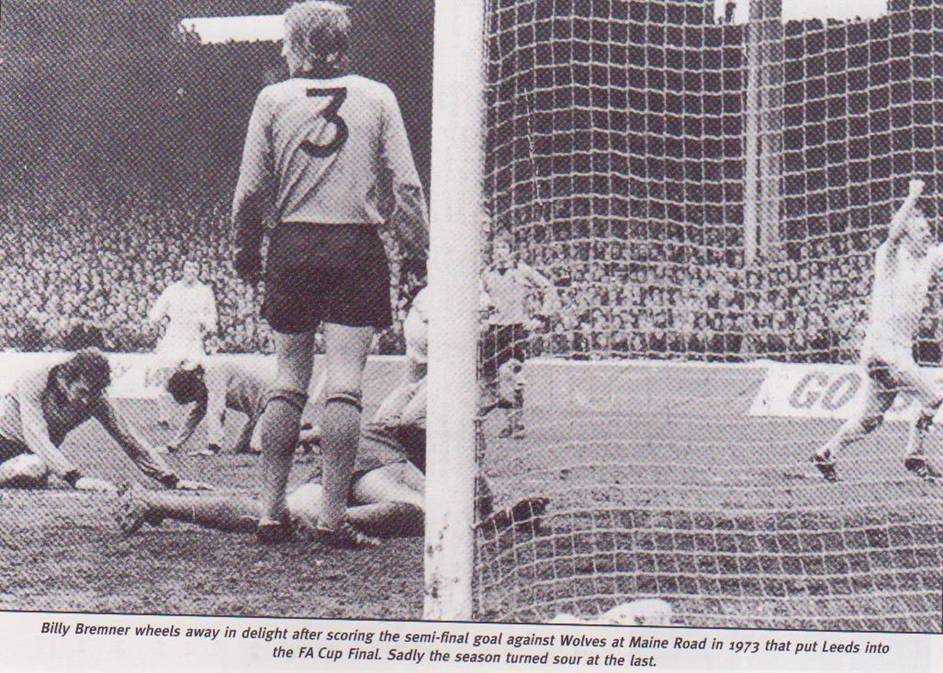 <![endif]>
<![if !vml]>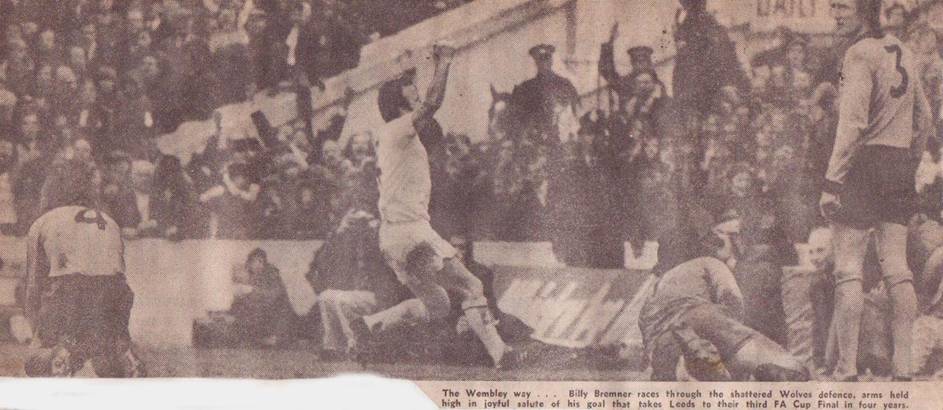 <![endif]>
<![if !vml]>
<![endif]>†
<![if !vml]>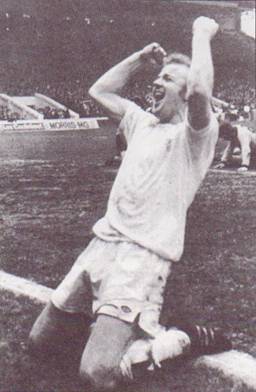 <![endif]>†<![if !vml]>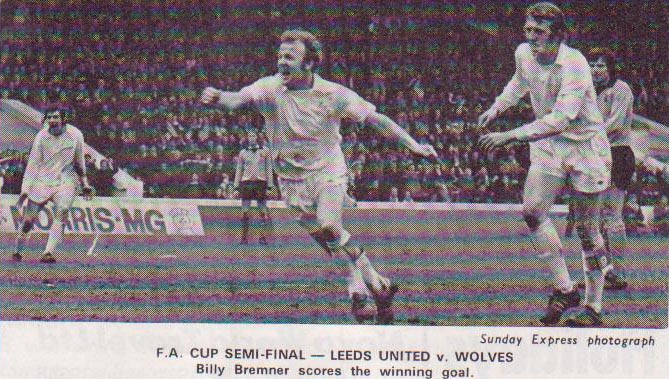 <![endif]>
†
<![if !vml]>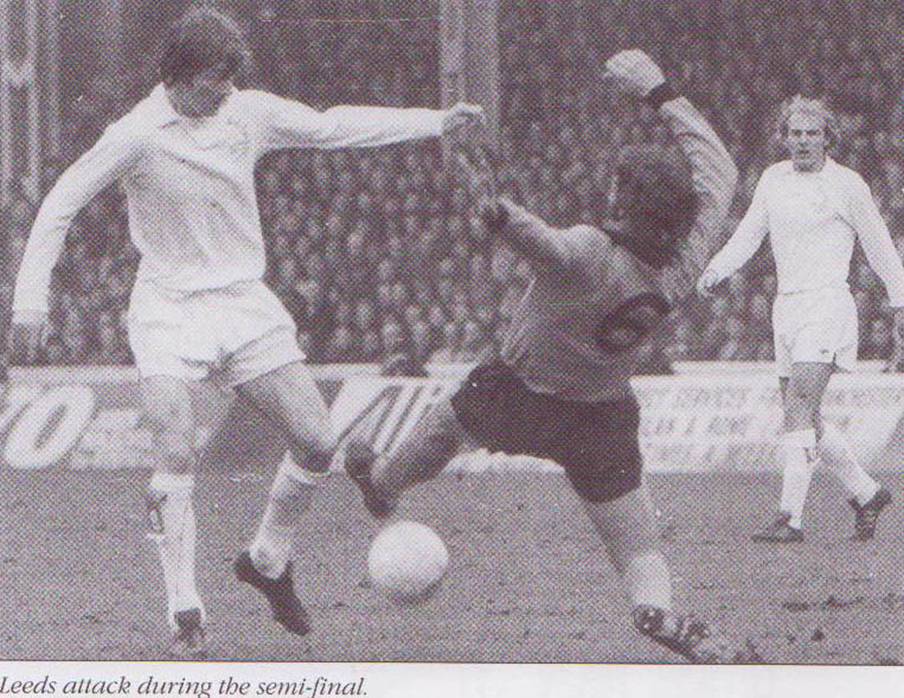 <![endif]>
<![if !vml]>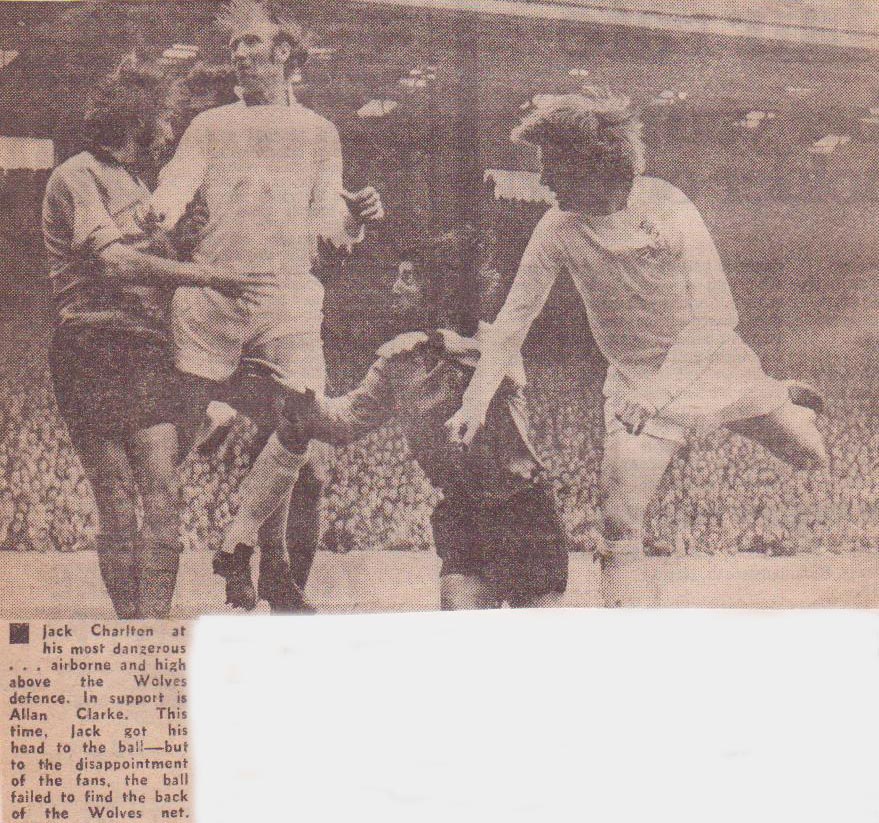 <![endif]>†
<![if !vml]>
<![endif]>
<![if !vml]>
<![endif]>†
<![if !vml]>
<![endif]>
In the Maine Road Dressing Room after the game: Allan Clarke, Paul Reaney, Terry Yorath, Trevor Cherry, Billy Bremner,
Mick Jones, Johnny Giles, Joe Jordan and Paul Madeley with David Harvey and Peter Lorimer sat on the floor.
Teams:
<![if !vml]>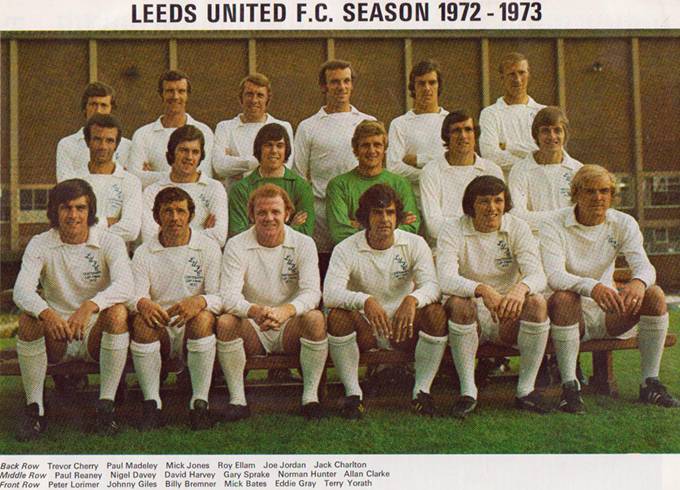 <![endif]>
<![if !vml]>
<![endif]>
Players:
<![if !vml]>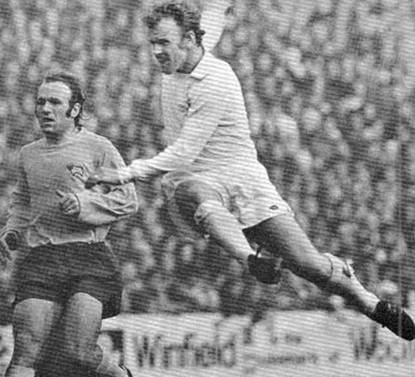 <![endif]>†<![if !vml]>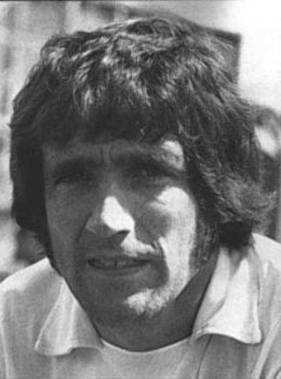 <![endif]>†<![if !vml]>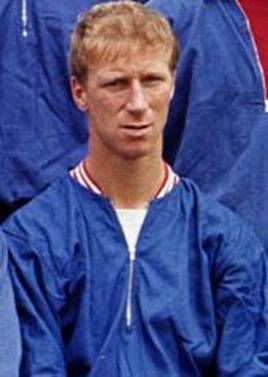 <![endif]>
Billy Bremner once again got the vital Semi-Final winning goal. Norman Hunter missed the game through injury. Jack Charlton limped off††
<![if !vml]>
<![endif]>†<![if !vml]>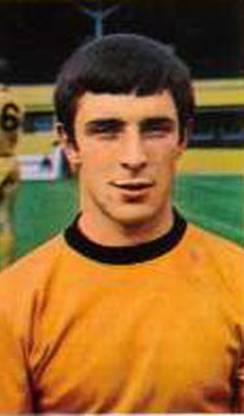 <![endif]>†<![if !vml]>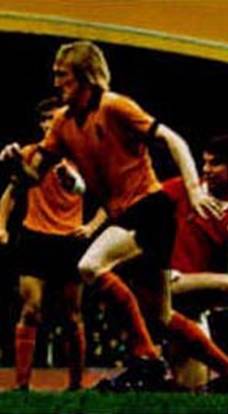 <![endif]>†<![if !vml]>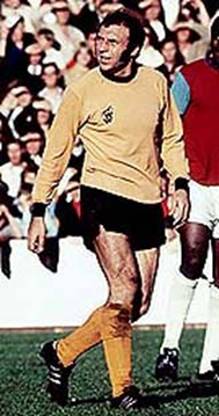 <![endif]>
Phil Parkes was in goal††††††††††††††††††††††† †††††††Gerry Taylor was at full back with Derek Parkin as his partner†††††††††††††† Mike Bailey was the substitute
††
<![if !vml]>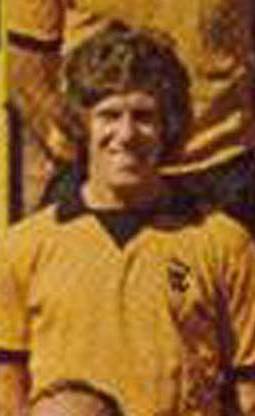 <![endif]>†<![if !vml]>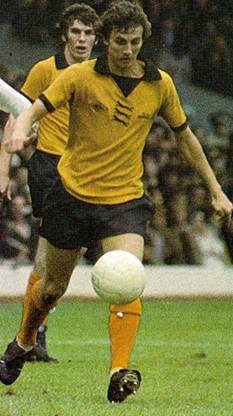 <![endif]>†<![if !vml]>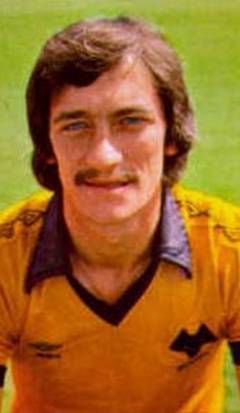 <![endif]>†<![if !vml]>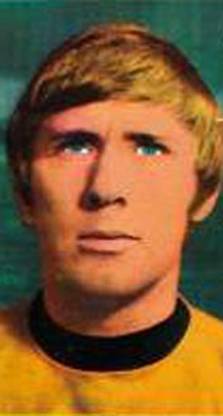 <![endif]>
The midfield was comprised of Bernard Shaw, Barry Powell, Kenny Hibbitt brother of ex-United star Terry Hibbitt and David Wagstaffe
<![if !vml]>

<![endif]>†<![if !vml]>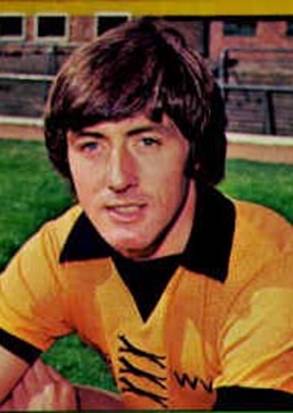 <![endif]>†† <![if !vml]>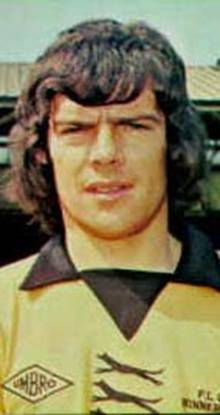 <![endif]>†<![if !vml]>
<![endif]>
Derek Dougan and John Richards were the strikers†††††††††††††††††††††††††††† Frank Munro and John McAlle were partners in central defence