<![if !vml]>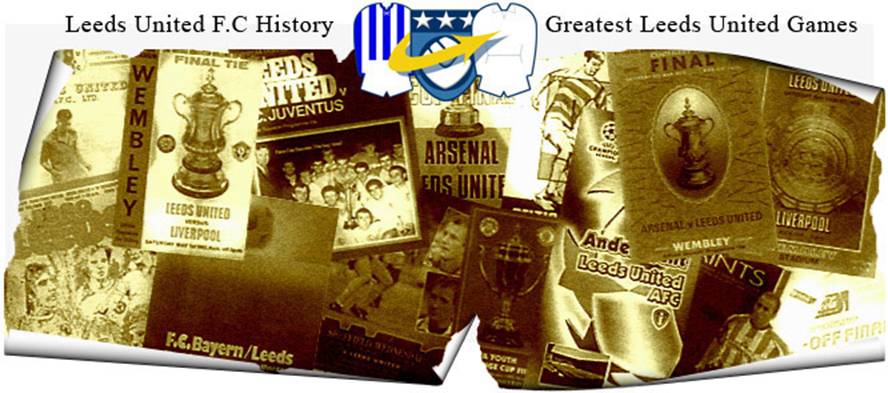 <![endif]>
Date: Saturday, 7th February 2004.
Venue: Villa Park, Birmingham.
Competition: English Premier League.
Score: Aston Villa 2 Leeds United 0.
Scorers: Aston Villa: Angel (pen), Johnsen. Leeds United: Nil.
Attendance: 39,171
Teams:
<![if !vml]>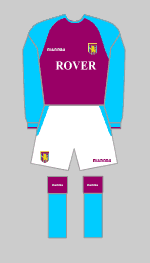 <![endif]><![if !vml]>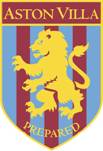 <![endif]>
Aston Villa: Sorensen; De La Cruz, Mellberg, Dublin (Johnsen), Samuel; Solano, Hendrie (Ridgewell), Hitzlsperger, Barry; Angel, Vassell (Crouch). Unused Subs: Allback, Postma.
<![if !vml]>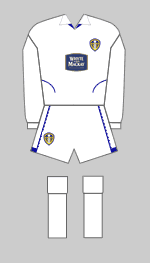 <![endif]><![if !vml]>
<![endif]>
Leeds United: Robinson; Kelly, Caldwell, Matteo, Domi; Pennant (Lennon), Bakke (Richardson), Johnson, Milner; Smith, Viduka. Unused Subs: Harte, McPhail, Carson.
Referee: Mr U. Rennie (Sheffield, Yorkshire).
The returning Didier Domi was cited as the unfortunate culprit at Aston Villa. On the stroke of half-time Domi was adjudged to have fouled Darius Vassell when through on goal, despite no appeals from anyone. Referee Uriah Rennie was twenty yards away from the incident and, as was clear to all present, there was no contact made. Steve Caldwell was the person nearest to the incident and he said, "I was closer than the referee and no way was that a penalty. The guy checked up, Didier touched the ball and Vassell went down. It was never a penalty in my opinion."

Leeds United had lost six League games in a row only twice before. If they lost against Wolves at Elland Road it would set an unwanted club record. Sorry statistics were growing just like the club's debt. Former manager David O'Leary, then in charge at Aston Villa, said he gained no pleasure from the financial and footballing decline. O'Leary had led Leeds to the European Cup Semi-Final in 2001 but was sacked just twelve months later after finishing fifth in the Premiership. The Irishman was almost apologetic after his side inflicted more pain on Leeds though he refused to accept that his judgement in the transfer market was in any way to blame for the club's rot.
Instead, O'Leary pointed an angry finger in the direction of former chairman Peter Ridsdale and former deputy-chairman Allan Leighton, the men who controlled purse-strings. "Let me tell you, the Leeds United manager at the time did not go in and tie up the chairman and demand that someone was signed," he said. "It didn't happen like that. They set the agenda. You would think that, with Allan Leighton overseeing Peter Ridsdale, we would have been all right. Did I negotiate a single contract? No. I nominated the players, they signed them. I have got the same agenda here at Aston Villa. I recommend, then it is up to the board. At Leeds, they structured all the money, not me. I would love to have someone answer a lot of questions," he added. "We had record gates, record sponsorships, cheques from the Champions League and the UEFA Cup semi-finals I am just amazed at where it has all gone."
<![if !supportLineBreakNewLine]>
<![endif]>
Leeds, whose debt was approaching £100m, had until that Friday to secure an agreement with creditors that would save the club from administration. They had a little longer to avoid relegation from the Premiership but that task could be even harder. O'Leary was adamant that Leeds were too good to go down. The majority of the players were those he gelled into a great side. "They can get out of it. I'm not just saying that, I believe it. When you look at the players out there, they have a lot with European experience. They have quality in Alan Smith and Mark Viduka up-front and a midfield that is not a relegation midfield. Something is not right for them to be where they are," he said. "I wasn't a fan when they were playing a 4-5-1 formation. For me, the 4-4-2 is the best system. They have got to win games now. With three points you have a chance. Draws are okay but time will start running out soon."
<![if !supportLineBreakNewLine]>
<![endif]>
Caretaker manager Eddie Gray made three changes to a side that performed so inadequately against Middlesbrough seven days previously. Young centre-back Matthew Kilgallon and left-back Ian Harte were dropped, while Michael Duberry was absent after suffering a rib injury in training on the Friday that could also keep him out for the rest of the month. There was a recall for Didier Domi, a debut for loan signing Steven Caldwell, and a return for Mark Viduka, who had been on compassionate leave nursing his sick father in Australia. All three deserved praise for their contributions in an encouraging performance all round. Yet grit and determination can only go so far. In the end, a team needs quality and inspiration to prosper in the top flight of English football. The quality is there but simply does not rear its head on a regular enough basis to make a real difference.
<![if !supportLineBreakNewLine]>
<![endif]>
Leeds had enough of the ball to come away with all three points but the final pass was too often misplaced. While Leeds displayed vigour and steel at the back, defenders could also be guilty of returning the ball to the opposition too easily. Referee Uriah Rennie awarded Villa a contentious penalty in first half stoppage time that effectively swung the game. Didier Domi slid across the penalty area to nick the ball off striker Darius Vassell but Rennie, who was surely too far away from the incident to have ruled with any degree of certainty, felt it was a foul. If so, why was Domi not dismissed as the last player between striker and goal?
<![if !supportLineBreakNewLine]>
<![endif]>
Juan Pablo Angel scored from the penalty and Leeds had been kicked in the teeth. Goalkeeper Paul Robinson, jeered by Villa supporters following the collapse of his summer move from Leeds, had produced a wonder save to tip Nolberto Salano's header onto the crossbar. Steve Caldwell headed off the line under pressure from Lee Hendrie. James Milner struck the bar for Leeds with a header and Hendrie hit the woodwork at the other end. It was all over for Leeds just before the hour mark when Eirik Bakke, under pressure from Ronnie Johnsen, headed into his own net when defending a free-kick. Although Mark Viduka hit the woodwork with a dipping volley and narrowly headed wide at a corner, Leeds slumped to a sixth consecutive league defeat. The last time that happened was in 1996 under Howard Wilkinson. They avoided a seventh defeat by drawing with Coventry City on the final day of the season.
<![if !vml]>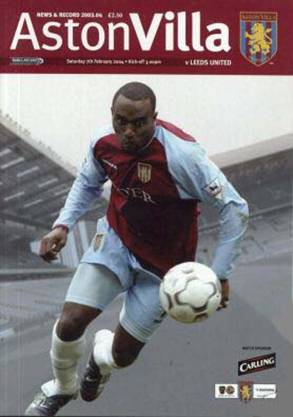 <![endif]>
Match Action:
<![if !vml]>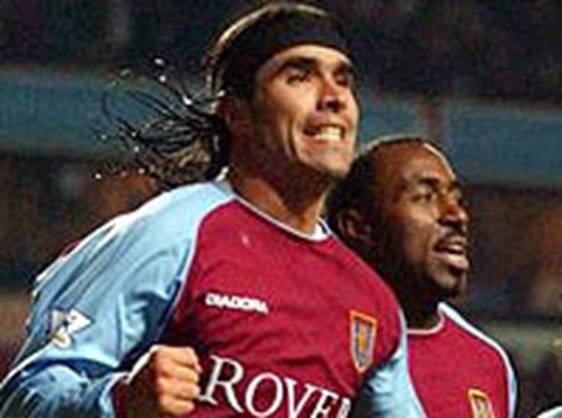 <![endif]>    <![if !vml]>
<![endif]> 
Juan Pablo Angel celebrates his success from the spot and Ronny Johnsen is delighted to get credited with the second
<![if !vml]>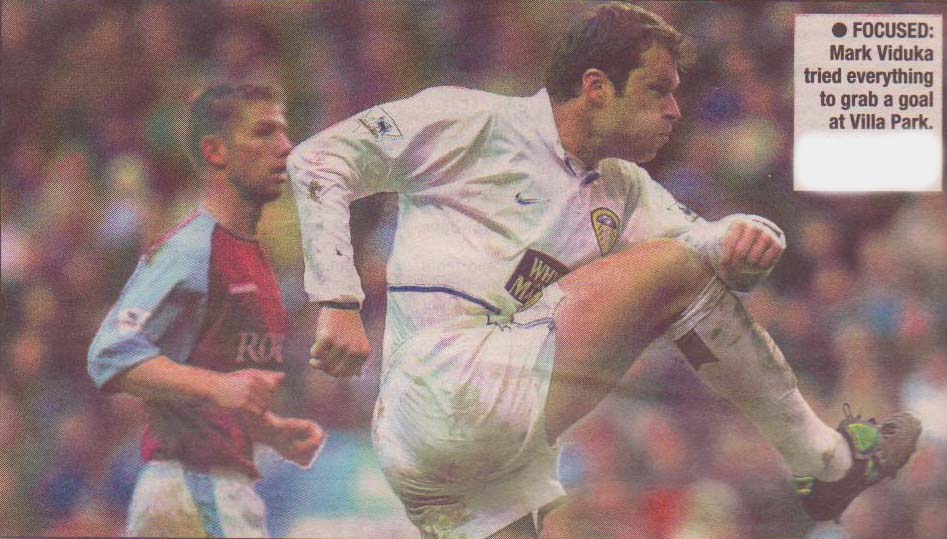 <![endif]>
<![if !vml]>
<![endif]>  <![if !vml]>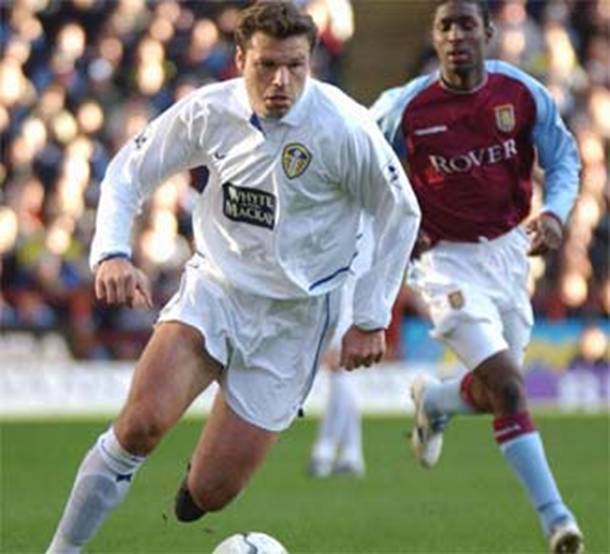 <![endif]>
Alan Smith wins a heading duel                                 Mark Viduka leaves Jlloyd Samuel in his wake
<![if !vml]>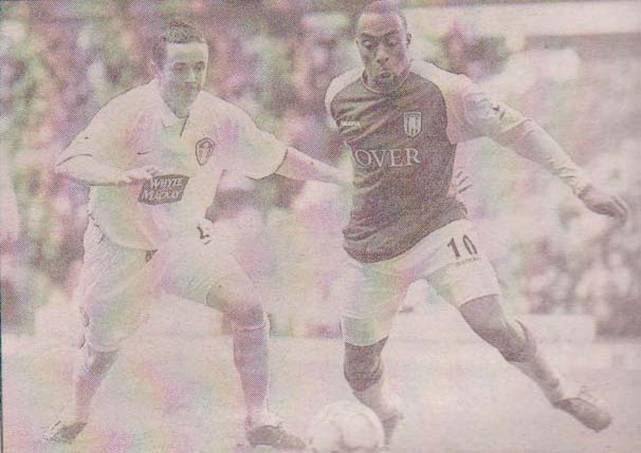 <![endif]>        <![if !vml]>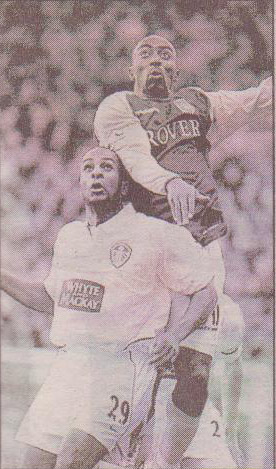 <![endif]>
Gary Kelly closes in on Darius Vassell                                                                                                       Darius Vassell gets the jump on Didier Domi
| | |
| --- | --- |
| Seth Johnson gets United moving despite Lee Hendrie | Olof Mellberg is all over Alan Smith |
<![if !vml]>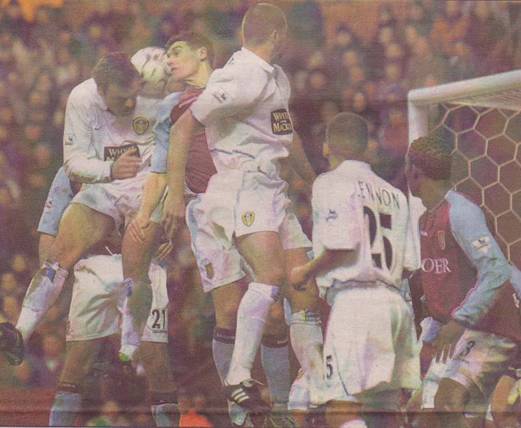 <![endif]>    <![if !vml]>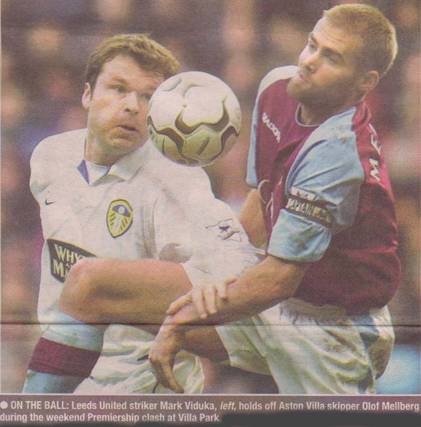 <![endif]> 
Mark Viduka gave it everything but could not score. He wins a header       
watched by Dominic Matteo and Aaron Lennon.
Players:
<![if !vml]>
<![endif]>  <![if !vml]>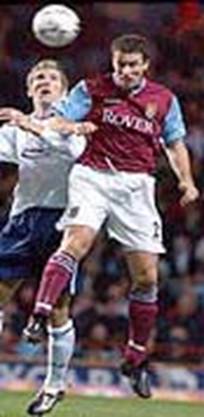 <![endif]>          <![if !vml]>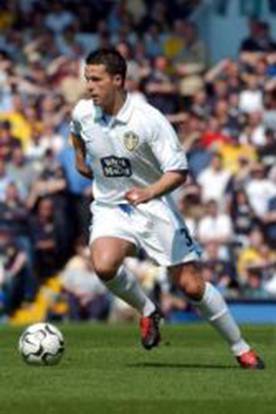 <![endif]>  <![if !vml]>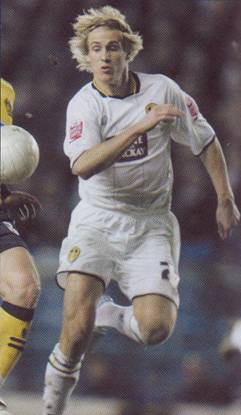 <![endif]> 
Juan Pablo Angel and Ronny Johnsen got the Villa goals                 Ian Harte and Matthew Kilgallon were dropped
<![if !vml]>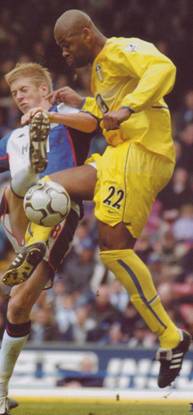 <![endif]>      <![if !vml]>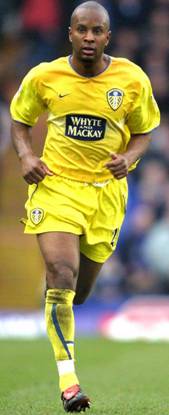 <![endif]>              <![if !vml]>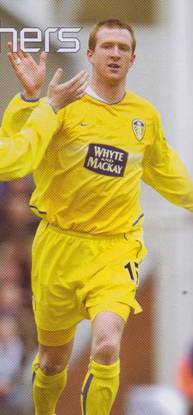 <![endif]>     <![if !vml]>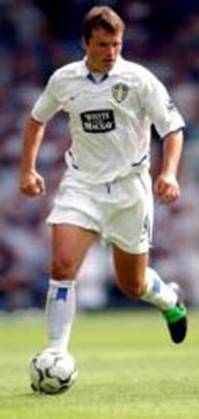 <![endif]>  
Michael Duberry was                  Didier Domi was recalled               Stephen Caldwell made his debut and Mark Viduka returned from leave
absent through injury
<![if !vml]>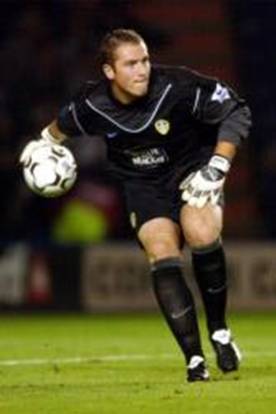 <![endif]>    <![if !vml]>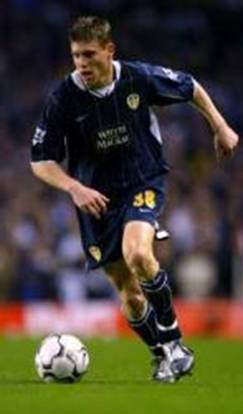 <![endif]>    <![if !vml]>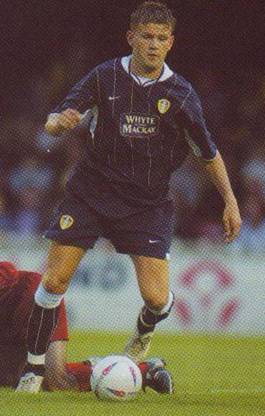 <![endif]> 
Paul Robinson was jeered                               James Milner hit the bar                       Erik Bakke assisted Villa with an own goal
<![if !vml]>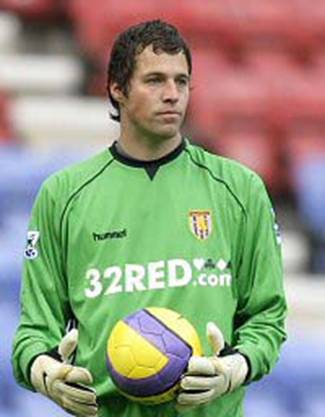 <![endif]>                 <![if !vml]>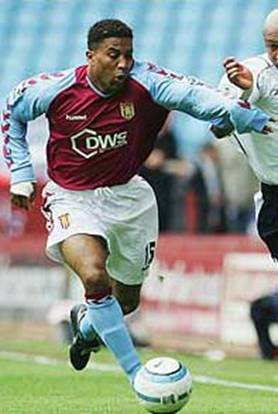 <![endif]>  <![if !vml]>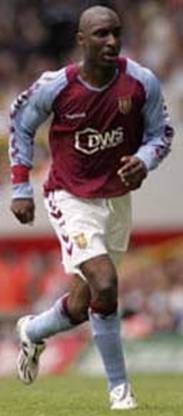 <![endif]>
Thomas Sorensen was in the Villa goal                                  Ulises De La Cruz and Jlloyd Samuel were the full-backs
<![if !vml]>
<![endif]> <![if !vml]>
<![endif]>   <![if !vml]>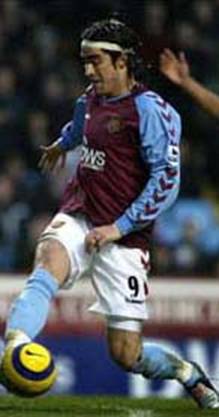 <![endif]> <![if !vml]>
<![endif]>
Olof Mellberg and Dion Dublin formed the central defence                               Juan Pablo Angel and Darius Vassell were the strikers
<![if !vml]>
<![endif]> <![if !vml]>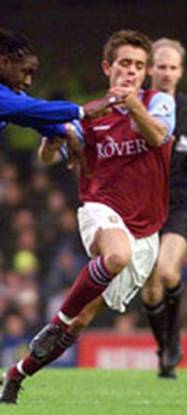 <![endif]> <![if !vml]>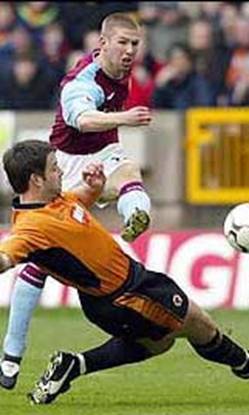 <![endif]> <![if !vml]>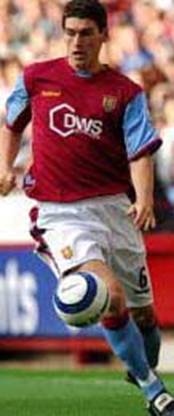 <![endif]>
Nolberto Solano, Lee Hendrie, Thomas Hitzlsperger and Gareth Barry were Villa's starting midfield
<![if !vml]>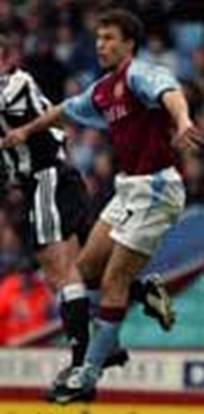 <![endif]>    <![if !vml]>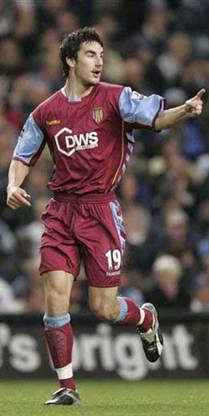 <![endif]>    <![if !vml]>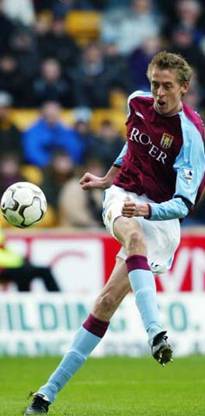 <![endif]> 
Ronny Johnsen, Liam Ridgewell, and Peter Crouch were used as substitutes
<![if !vml]>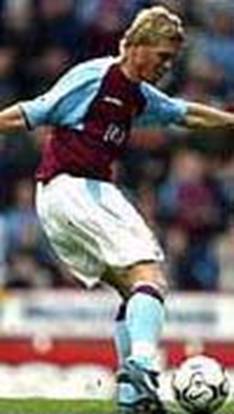 <![endif]>   <![if !vml]>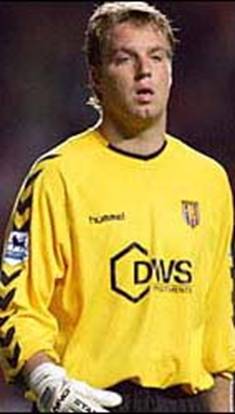 <![endif]>
Marcus Allback and Stefan Postma were the unused substitutes