<![if !vml]>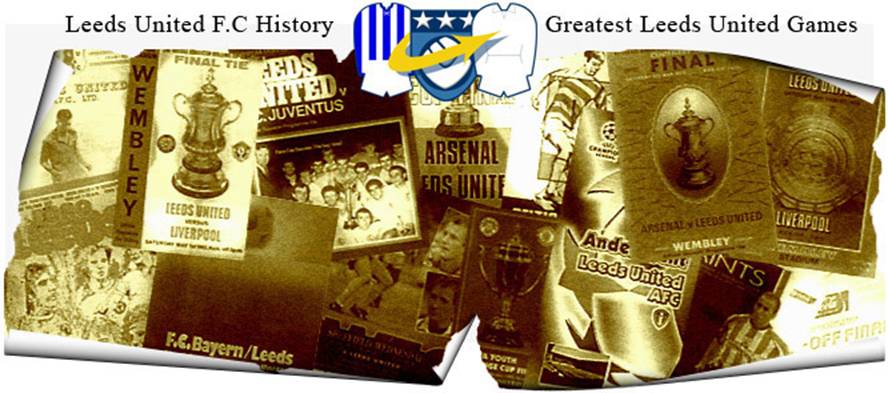 <![endif]>
Date: Sunday, 6th October 2002.
Venue: Villa Park, Birmingham.
Competition: English Premier League.
Score: Aston Villa 0 Leeds United 0.
Scorers: Aston Villa: Nil. Leeds United: Nil.
Attendance: 33,505.
Teams:
<![if !vml]>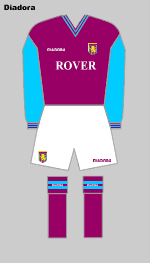 <![endif]><![if !vml]>
<![endif]>
Aston Villa: Enkelman; Mellberg, Johnsen (Leonhardsen, then Angel), Staunton, De La Cruz; Hendrie, Kinsella, Barry, Samuel; Vassell, Dublin. Unused Subs: Allback, Crouch, Postma.
<![if !vml]>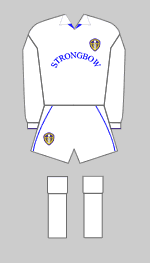 <![endif]><![if !vml]>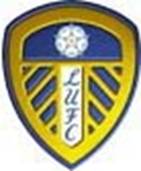 <![endif]>
Leeds United: Robinson; Mills, Woodgate, Matteo, Harte; Bowyer, Bakke, McPhail (Viduka), Barmby; Smith, Kewell. Unused Subs: Kelly, Lucic, McMaster, Martyn.
Referee: Mr M. Halsey (Bolton, Lancashire).
United boss Terry Venables left Villa Park with plenty of food for thought after watching his side held to a goalless draw. United had picked up a hard-fought point at Aston Villa, their first stalemate in eighteen outings, yet had lost further ground on the leading pack in the Premiership. The League table was still something of an irrelevance with all but Arsenal failing to find any consistency and the 0-0 draw gave Leeds their first point since the defeat of Manchester United the previous month. But it was another afternoon where Leeds failed to create enough chances against a side which had appeared a little vulnerable under pressure.
<![if !supportLineBreakNewLine]>
<![endif]>
The work rate couldn't be faulted and United's midfield huffed and puffed all afternoon without ever really seizing a grip on a game that could have been there for the taking. Lee Bowyer, Nick Barmby, Eirik Bakke and Stephen McPhail all grafted, but United lacked the extra spark required to go on and claim what would have been a good three points. Harry Kewell could have provided that spark and looked a real handful when going forward, but his raids were all too infrequent and Villa were rarely tested. Alan Smith paid the price for his growing reputation and was well shackled. Both Gareth Barry and Olof Mellberg resorted to strong-arm tactics to keep the livewire at bay. But it was Leeds who had the best two chances to win the game with Danny Mills and Bowyer both firing wide with only the keeper to beat.
<![if !supportLineBreakNewLine]>
<![endif]>
Terry Venables was pleased with the work rate of his side and understandably so, but there was a worrying lack of inspiration and the number of chances created must be preying on his mind. There's no doubt that Leeds were a well-organised outfit who would be very difficult to break down, but it was at the business end of the park where they fail to ask enough questions. They say it all starts at the back, though, and there's no doubt that United are one of the best defensive units in the Premiership.
<![if !supportLineBreakNewLine]>
<![endif]>
Danny Mills battled hard for everything while Ian Harte, who lost his place in the side after the 1-0 defeat at Blackburn Rovers, looked to be gaining in confidence again. Ian Harte's set-pieces were a threat to Villa throughout and he was unlucky to see Peter Enckelman read one cleverly curled free-kick to perfection. The centre-back pairing of Jonathan Woodgate and Dominic Matteo was certainly one of the best in the Premiership and the duo was again outstanding against a determined Villa side.
<![if !supportLineBreakNewLine]>
<![endif]>
The hosts enjoyed the better in terms of possession and they were at their most dangerous when attacking at pace down the flanks. Ulises de la Cruz and the outstanding Jlloyd Samuel were a constant danger and Dominic Matteo and Jonathan Woodgate were forced to make desperate clearances to avert the danger on numerous occasions. While Leeds opted to play the ball around, Villa went for a direct approach and Dion Dublin provided a good aerial threat with a number of high balls pumped deep. The Villa midfield simply worked to frustrate United and, for long periods, their tactics appeared to work with the home side enjoying a couple of spells of domination.
<![if !supportLineBreakNewLine]>
<![endif]>
Leeds did look a little too casual at times, but for all their efforts the home side were unable to create any serious chances to scare Terry Venables' side. Lee Hendrie wasted a number of half-chances from the edge of the box while Darius Vassell was also guilty of squandering two good opportunities in the first half. United's only real chance in the opening period, aside from Ian Harte's free-kick, came when Nick Barmby sent Danny Mills bearing down on goal but the England star screwed his shot wide.
<![if !supportLineBreakNewLine]>
<![endif]>
A 0-0 score-line was a fair reflection on what was a dull first-half, but United could have taken the lead just three minutes after the break when Harry Kewell fed Lee Bowyer. Bowyer was unable to apply the finishing touch, though, and Peter Enckelman watched the ball whiz the other side of the upright. That was really it from Leeds as an attacking force although Harry Kewell occasionally teased the Villa defence with some neat skill before possession was squandered in the danger area.
<![if !supportLineBreakNewLine]>
<![endif]>
In contrast, Villa pushed men forward in search of the winning goal, but they too failed to create any clear-cut opportunities and Dominic Matteo and Jonathan Woodgate were always on hand to keep them at bay. The final whistle was greeted with mixed emotions by the travelling support, who were left wondering whether it was a point gained or two lost. From a confidence point of view, though, the point was vital and Terry Venables left the ground with plenty to think about as he looks to mould his own United side.
<![if !vml]>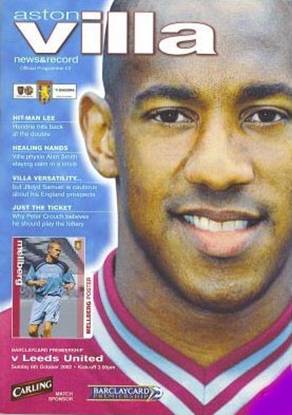 <![endif]> <![if !vml]>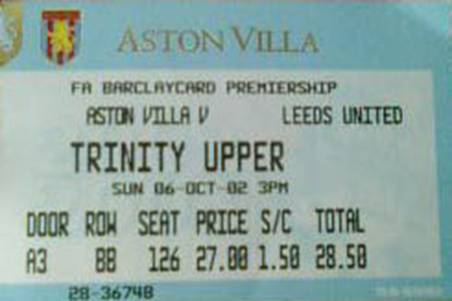 <![endif]>
Match Action:
<![if !vml]>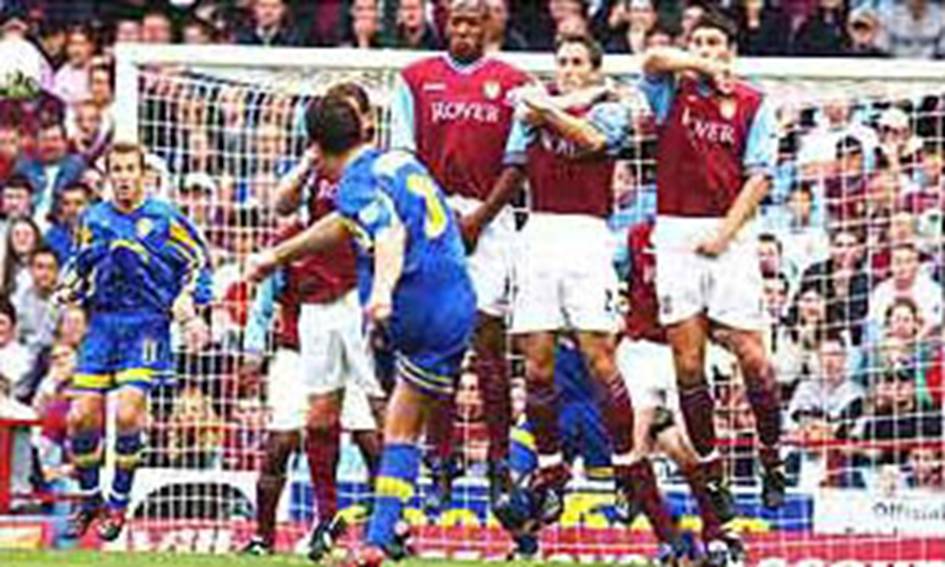 <![endif]>
Ian Harte swerves his shot round the Aston Villa defensive wall
<![if !vml]>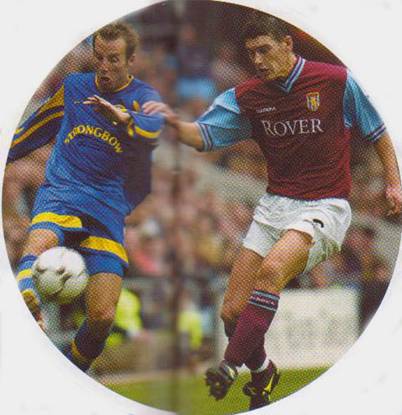 <![endif]>  <![if !vml]>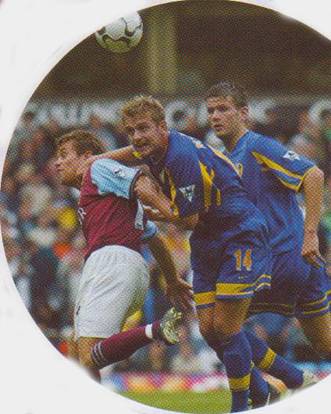 <![endif]> <![if !vml]>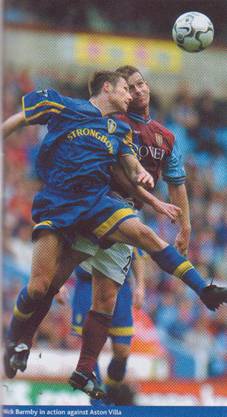 <![endif]>
Lee Bowyer beats Gareth Barry                                               Stephen McPhail beats Lee Hendrie to a           
                                                                                                        header as Eirik Bakke watches
<![if !vml]>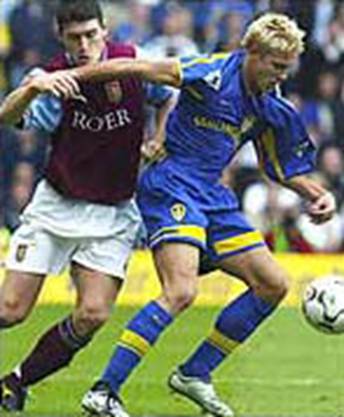 <![endif]> <![if !vml]>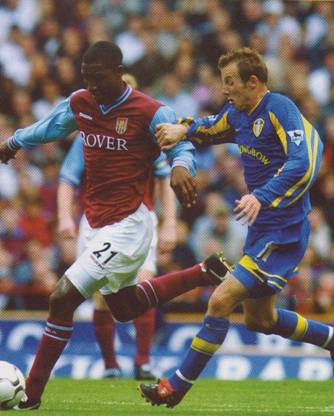 <![endif]> <![if !vml]>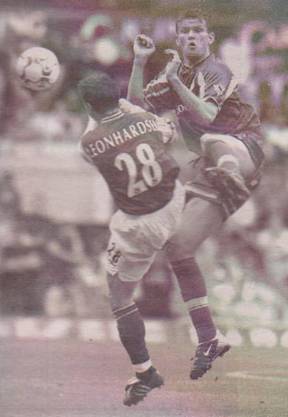 <![endif]>
 Alan Smith shields the ball from Gareth Barry          Lee Bowyer closes down Jlloyd Samuel                   Eirik Bakke and Oyvind Leonardson clash
<![if !vml]>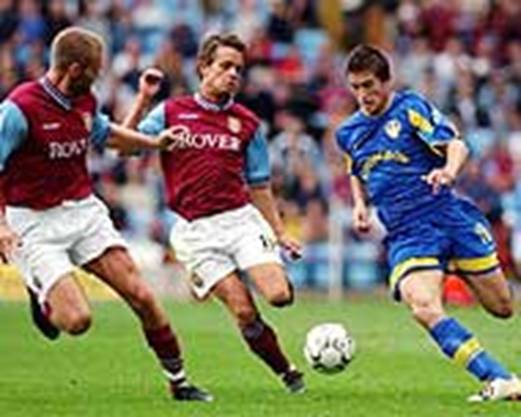 <![endif]>      <![if !vml]>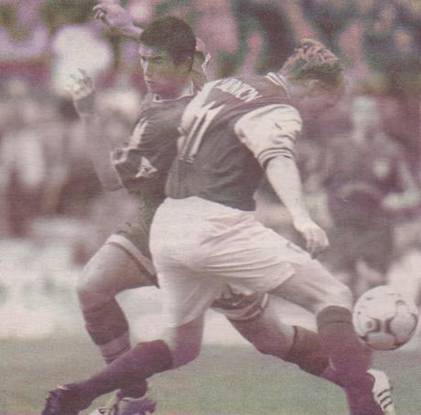 <![endif]>
Harry Kewell takes on Olof Mellberg and Lee Hendrie                                             Harry Kewell tries to round Steve Staunton
<![if !vml]>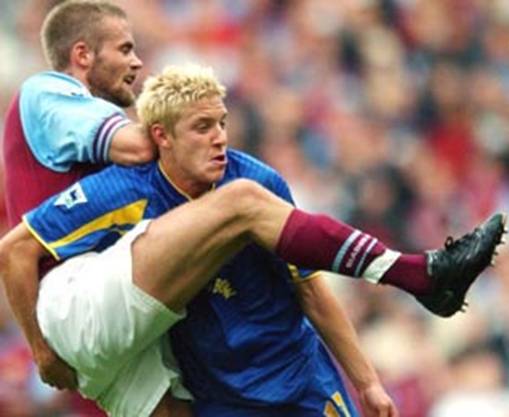 <![endif]>            <![if !vml]>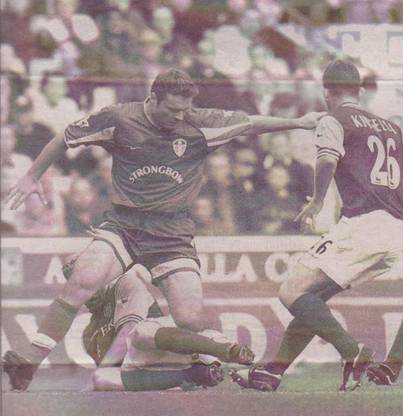 <![endif]>
Olof Mellberg and Alan Smith in a tangle                                                                     Mark Viduka tries to beat Steve Staunton and Mark Kinsella
<![if !vml]>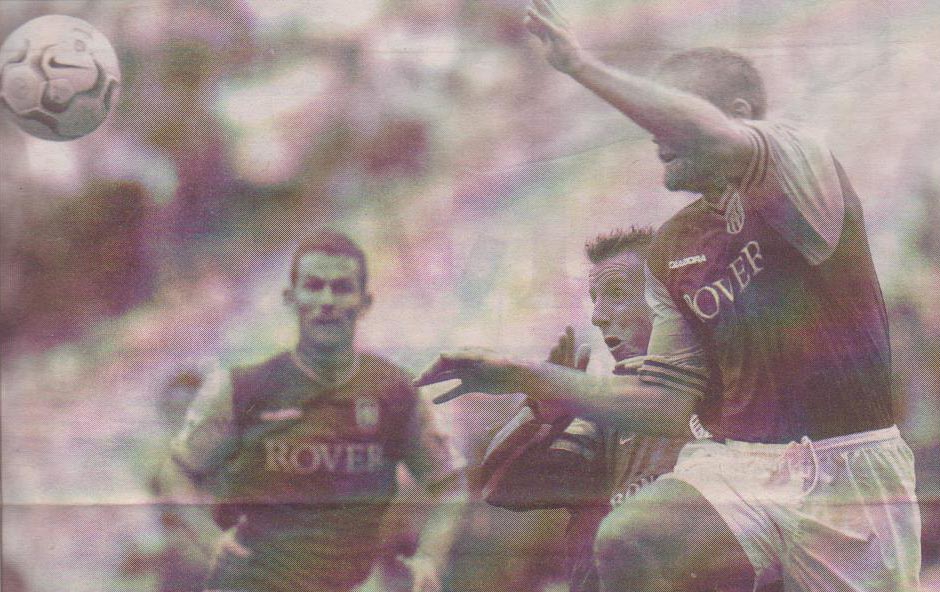 <![endif]> 
Lee Bowyer, Olof Mellberg and Mark Kinsella all have their eyes on the ball
<![if !vml]>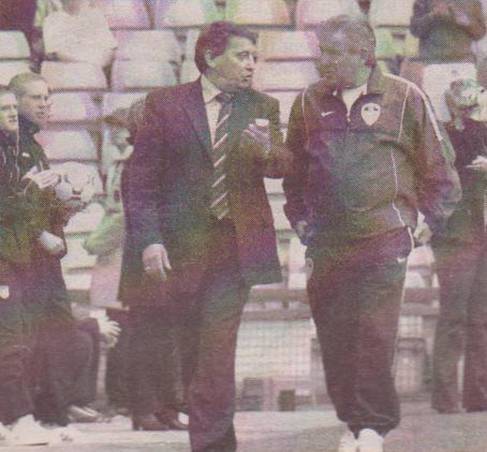 <![endif]>       <![if !vml]>
<![endif]>
Ex-England Bosses Terry Venables and Graham Taylor                                     Steve Staunton moves in on Alan Smith              
exchange pleasantries before the game
<![if !vml]>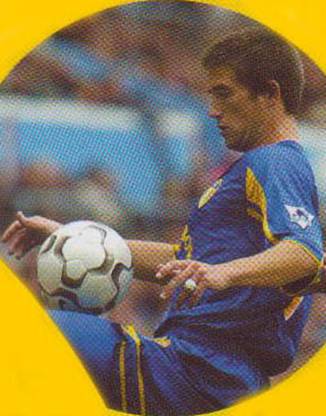 <![endif]> <![if !vml]>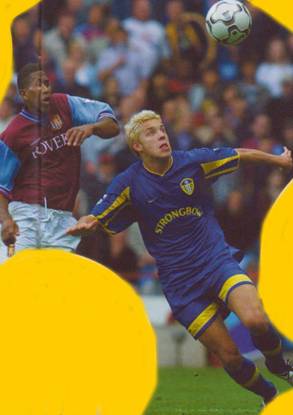 <![endif]> <![if !vml]>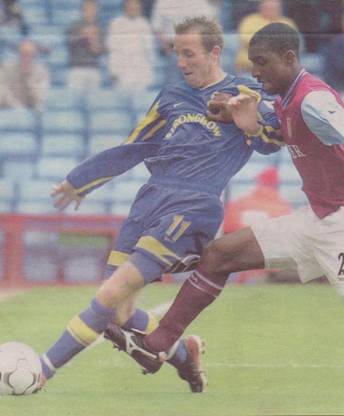 <![endif]>
Harry Kewell shows his ball skills Alan Smith beats Ulises De La Cruz to a header         Lee Bowyer holds off Jlloyd Samuel
Players:
<![if !vml]>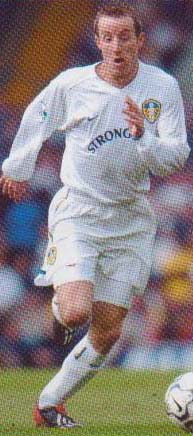 <![endif]> <![if !vml]>
<![endif]> <![if !vml]>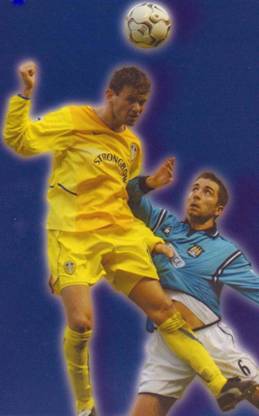 <![endif]> <![if !vml]>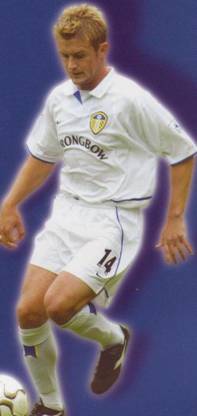 <![endif]>  
                                                               Lee Bowyer, Nicky Barmby, Eirik Bakke and Stephen McPhail all grafted
<![if !vml]>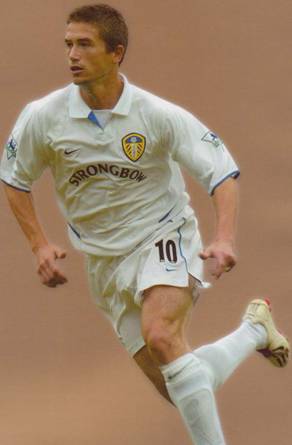 <![endif]> <![if !vml]>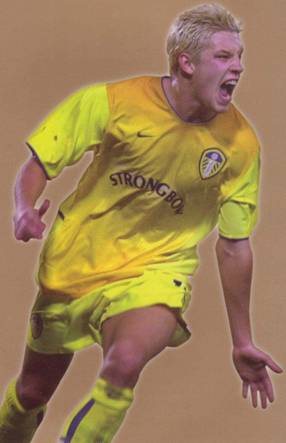 <![endif]> <![if !vml]>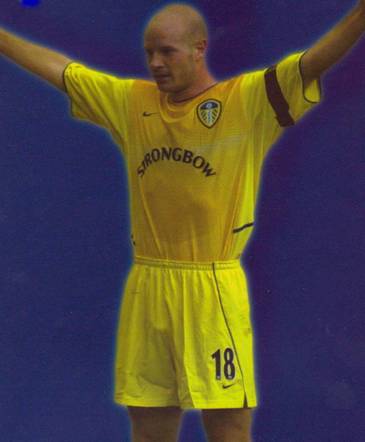 <![endif]> 
Harry Kewell provided a spark                        Alan Smith was well shackled                        Danny Mills fired wide                              
<![if !vml]>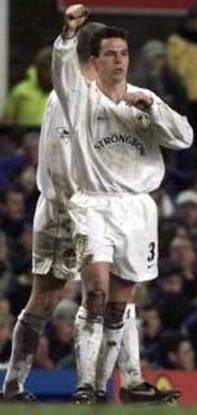 <![endif]> <![if !vml]>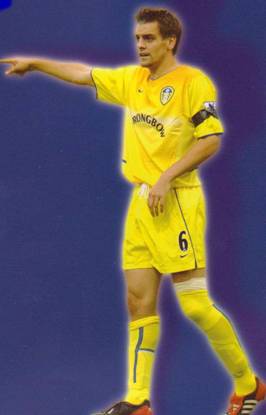 <![endif]> <![if !vml]>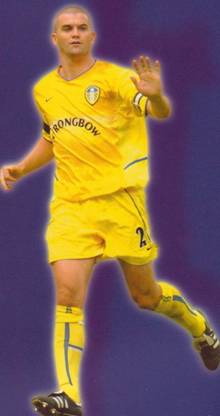 <![endif]>                    <![if !vml]>

<![endif]>  
Ian Harte's set pieces were   Jonathan Woodgate and Dominic Matteo: the best centre-back pairing                     Peter Enkelman was in goal
 a threat
<![if !vml]>
<![endif]> <![if !vml]>
<![endif]>   <![if !vml]>
<![endif]> <![if !vml]>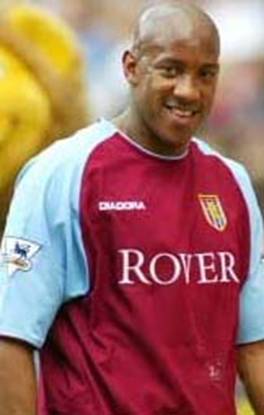 <![endif]>
Ulises De La Cruz and Steve Staunton were the full-backs                   Darius Vassell and Dion Dublin were the strikers
<![if !vml]>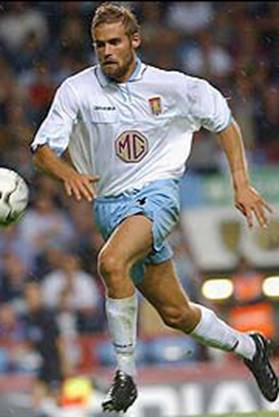 <![endif]> <![if !vml]>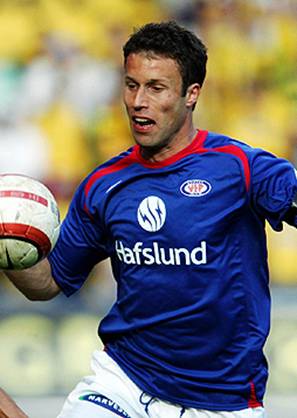 <![endif]>    <![if !vml]>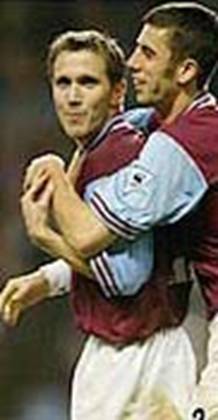 <![endif]> <![if !vml]>

<![endif]>
Olof Mellberg and Ronny Johnsen started as the centre backs                                   Oyvind Leonhardsen and Juan Pablo Angel were used substitutes
<![if !vml]>
<![endif]> <![if !vml]>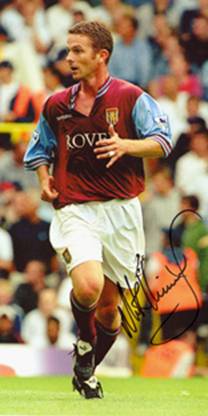 <![endif]> <![if !vml]>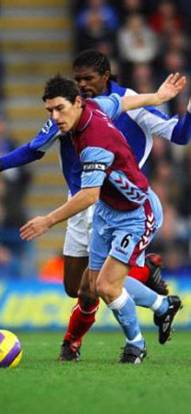 <![endif]> <![if !vml]>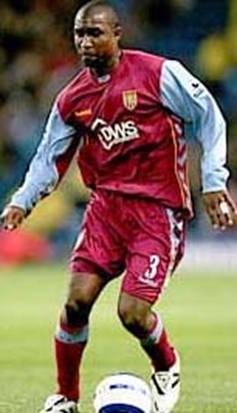 <![endif]>
                                                 Lee Hendrie, Mark Kinsella, Gareth Barry and Jlloyd Samuel were the Villa starting midfield
<![if !vml]>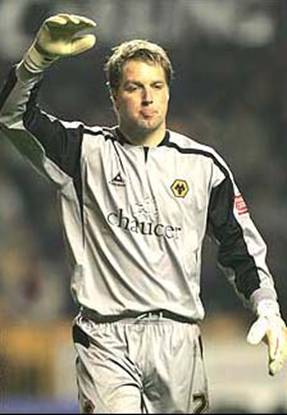 <![endif]> <![if !vml]>
<![endif]> <![if !vml]>

<![endif]> <![if !vml]>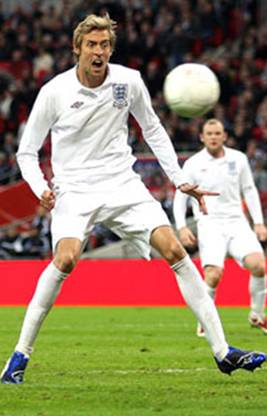 <![endif]>
                                          Stefan Postma, Mark Delaney, Marcus Allback and Peter Crouch were the unused Villa substitutes