<![if !vml]>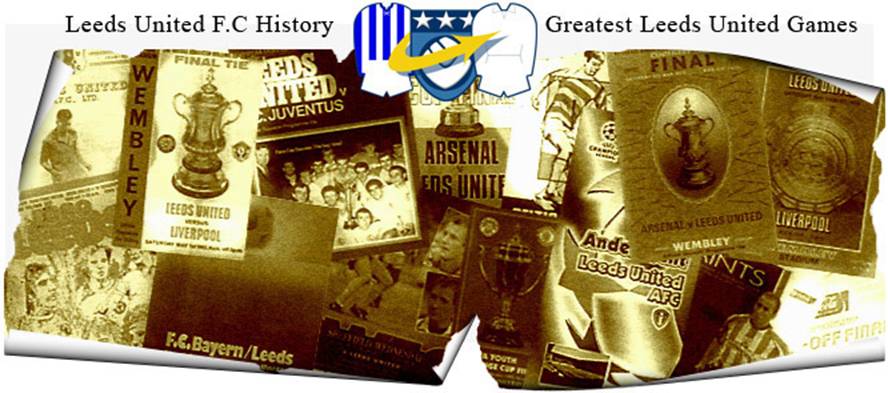 <![endif]>
Date: Saturday, 6th May 1972.
Venue: Wembley Stadium, London.
Competition: FA Cup Final.
Score: Arsenal 0 Leeds United 1
Scorers: Arsenal: Nil. Leeds United: Clarke.
Attendance: 100,000 (Receipts £191,917).
Teams:
<![if !vml]>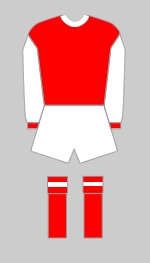 <![endif]><![if !vml]>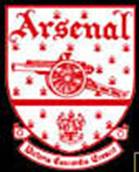 <![endif]>
Arsenal: Burnett; Rice, McNab; Storey, McLintock, Simpson; Armstrong, Ball, George, Radford (Kennedy), Graham.
<![if !vml]>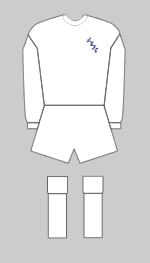 <![endif]><![if !vml]>
<![endif]>
Leeds United: Harvey; Reaney, Madeley; Bremner, Charlton, Hunter; Lorimer, Clarke, Jones, Giles, Gray.
Referee: D. Smith (Gloucester).
At about 4.10pm on the first Saturday in May 1972, the forehead of slim striker Allan Clarke arrowed the ball past Geoff Barnett's desperate dive and into the Arsenal net to take the FA Cup to Leeds for the first and, to date, the only time.
The game began sensationally when full-back Bob McNab was cautioned in the first minute. He was the first player to be booked in a Wembley Final. He was later joined by Norman Hunter and Charlie George, although it wasn't an overly physical game, much tamer than some of the previous encounters.
Neither United nor Arsenal took the slightest risk, which was hardly surprising in such an important game. Yet Revie's men were the more adventurous. Particularly in the second half when Mick Jones and 'Man of the Match' Allan Clarke began to look impressive.
In the fifty-third minute, Mick Jones took a pass from Peter Lorimer and forced his past Bob McNab's tackle to provide a perfect cross from the right bye-line towards his strike partner Allan Clarke. United's lean goal machine launched himself in a spectacular stooped dive to place a firm long-range header to the left of and past the diving Arsenal goalkeeper Geoff Burnett and low into the corner of the net. "The goalkeeper never had a chance," said Allan Clarke of his fifty-third minute winner. "I picked my place and it was well out of his reach." The classic goal settled a tight taut final, which contained four bookings. Billy Bremner and Norman Hunter for Leeds and the Arsenal pair Charlie George and Bob McNab, the latter seeing yellow in the first minute.
After taking the lead, United opened up with some fine attacking moves with Allan Clarke, who had rattled the crossbar with a first half header, a constant menace and Billy Bremner and Johnny Giles controlling the midfield.
Arsenal were restricted to a handful of chances by the magnificent Leeds defence, when Paul Reaney kicked an Alan Ball shot off the line, David Harvey pulled off a fine twisting save to keep out a deflected Frank McLintock shot and in the seventy-fifth minute Charlie George's shot hit the crossbar, but these were isolated incidents in a game mastered by Leeds. With the thirty-six-year-old Jack Charlton outstanding the superb back four formed an impenetrable barrier with the immaculate David Harvey in great form and fully justifying his preference over the fit-again Gary Sprake. The cast-iron defence enabled Billy Bremner and Johnny Giles to build a platform in midfield for United to launch a series of moves that had Arsenal at full stretch. The always dangerous Allan Clarke, who apart from his goal and striking the bar with another header, almost grabbed a second after a tremendous run, while Peter Lorimer thumped a shot against an upright and Eddie Gray also went close as United finished with a flourish.
United were dealt a painful blow in the eighty-eighth minute when Mick Jones dislocated an elbow, while chasing down a lost cause and he was still receiving treatment from Les Cocker when his collegues climbed to the Royal box to receive their winners' medals from the Queen. Norman Hunter made a return journey after collecting the bandaged Jones and led him up the steps, to collect his medal in a touching scene as Wembley was awash in a sea of white, old gold and blue. Later the brave United target-man said, "The injury was a complete accident. I put out my hand to break the fall, but it gave way under me."
Manager Don Revie, who joined the elite of FA Cup winning players and Managers, said. "I've waited and sweated years for this day." But Revie knew the job was only half done. There was little time for extravagant celebrations in the evening as United had a date with destiny at Molineux the following Monday night, where they just needed to avoid defeat against Wolves to clinch the double. Many observers felt United were hard done by having to play such a vital match just two days after an emotionally sapping Wembley FA Cup Final.
<![if !vml]>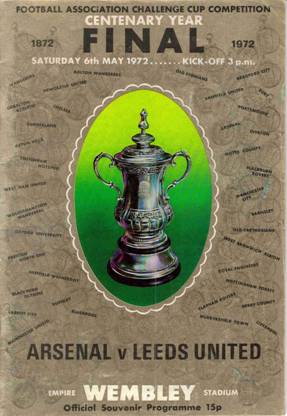 <![endif]>  <![if !vml]>
<![endif]> 
<![if !vml]>
<![endif]>
Match Action:
<![if !vml]>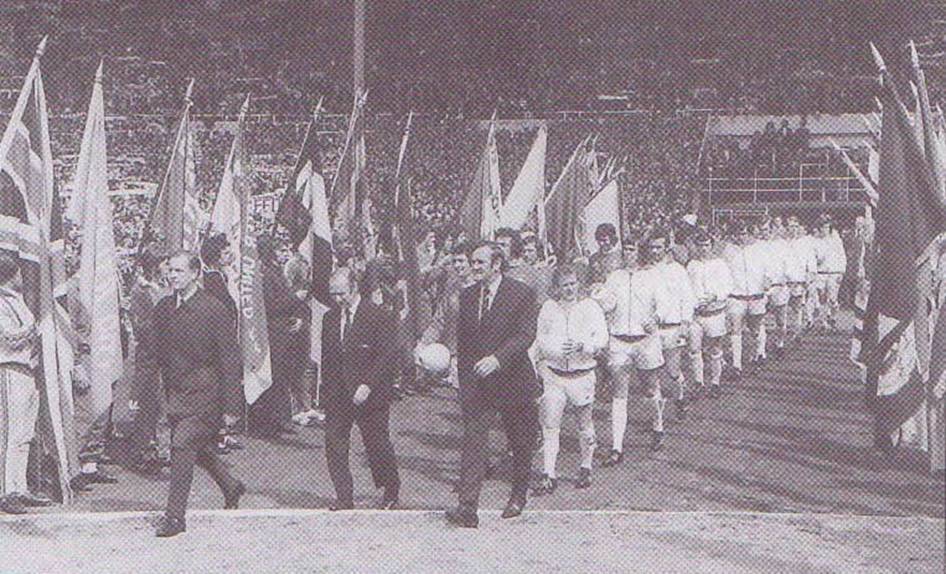 <![endif]> 
Bertie Mee and Don Revie lead their teams onto the Wembley arena
<![if !vml]>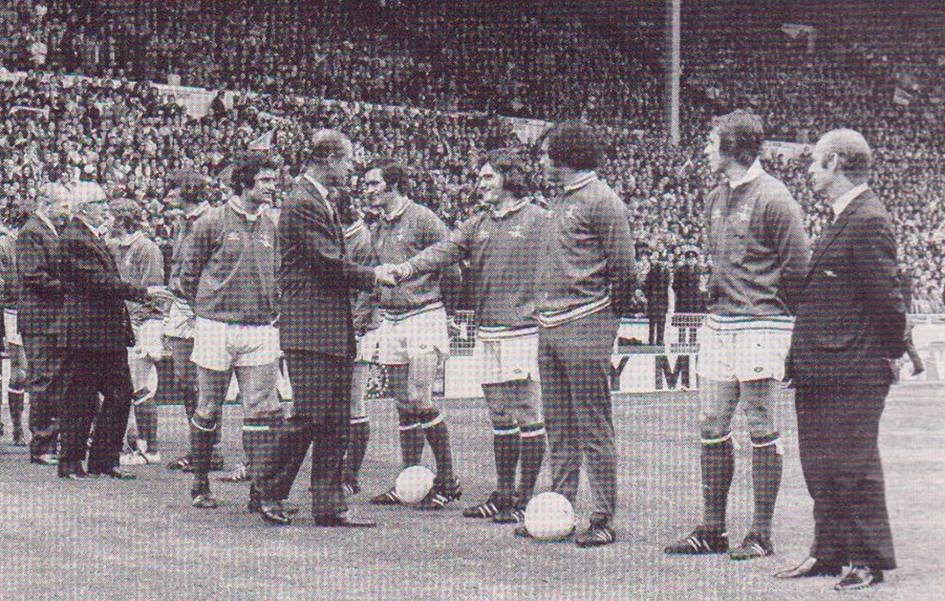 <![endif]>
The Duke of Edinburgh shakes hands with Arsenal's Pat Rice
<![if !vml]>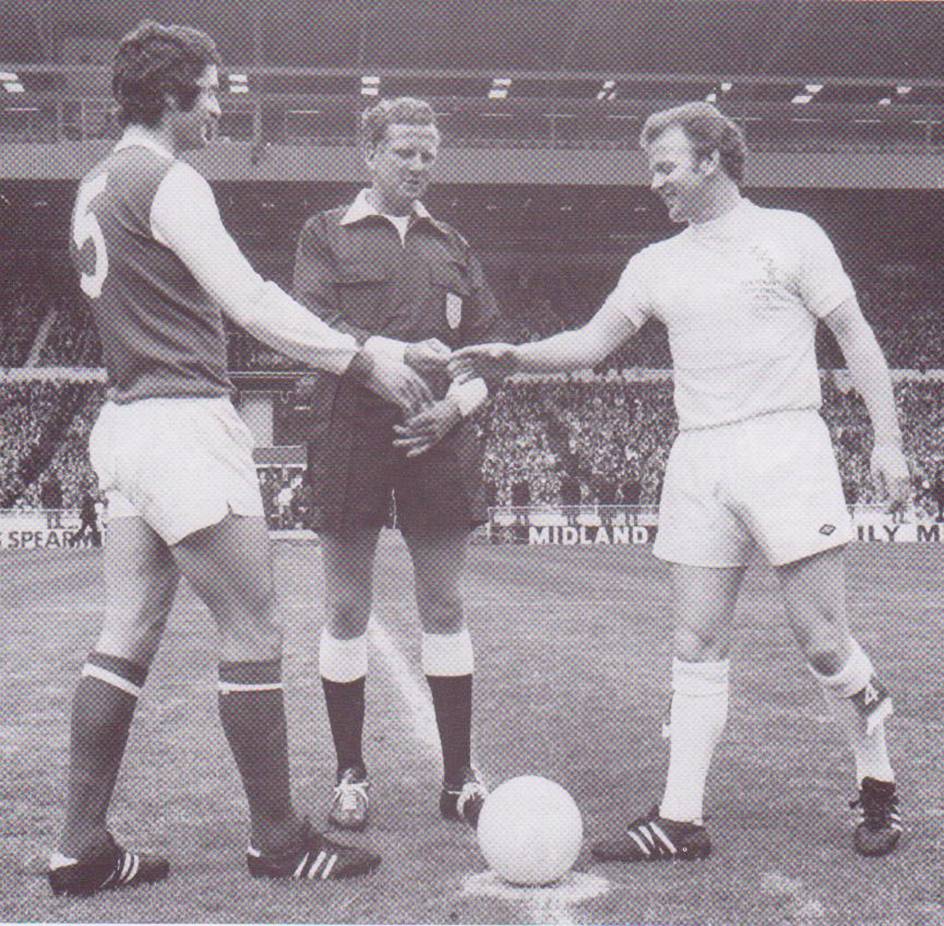 <![endif]>
Frank McLintock and Billy Bremner shake hands before the kick-off
<![if !vml]>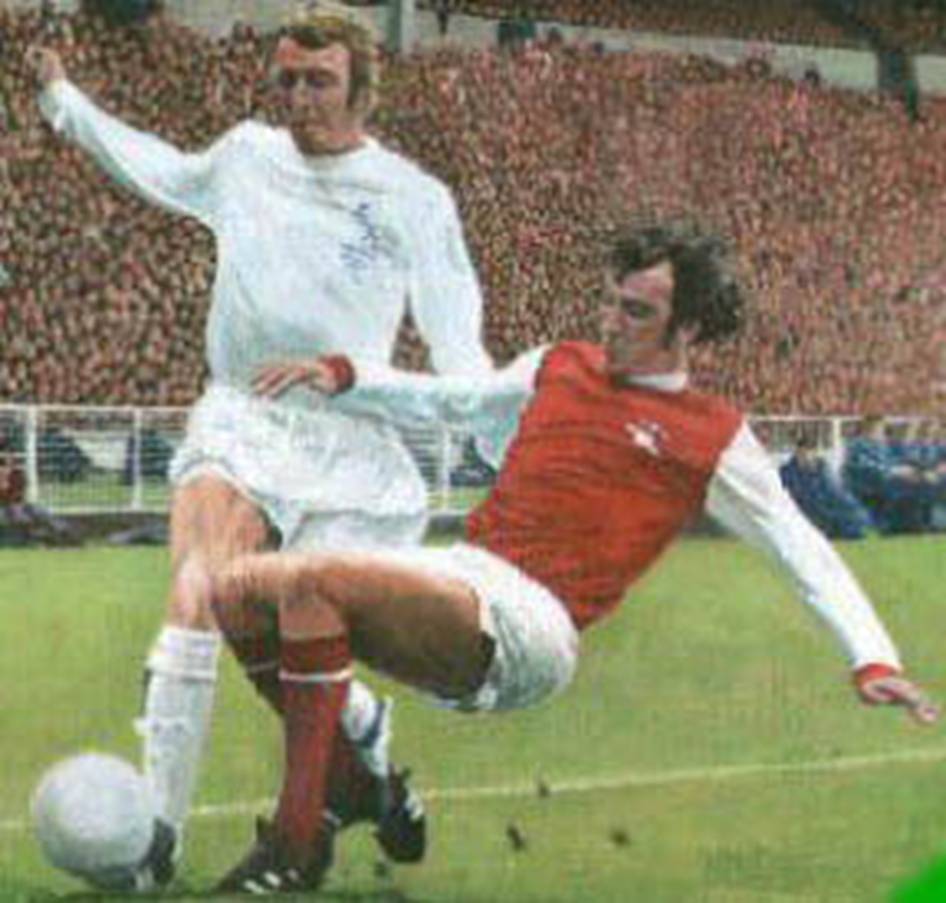 <![endif]> 
Mick Jones rounds Bob McNab to cross for Allan Clarke to score.     
<![if !vml]>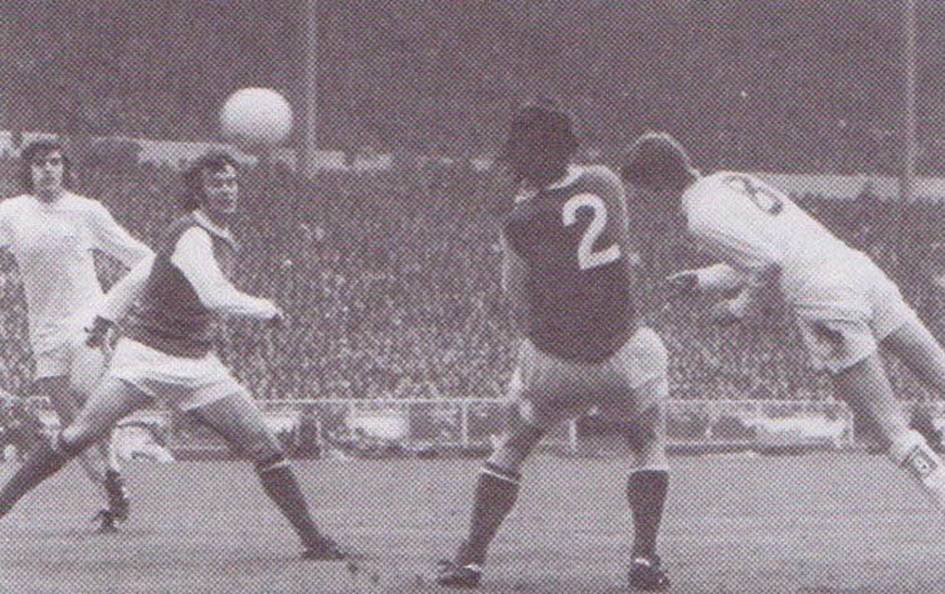 <![endif]>
Allan Clarke dives to head the winner.
<![if !vml]>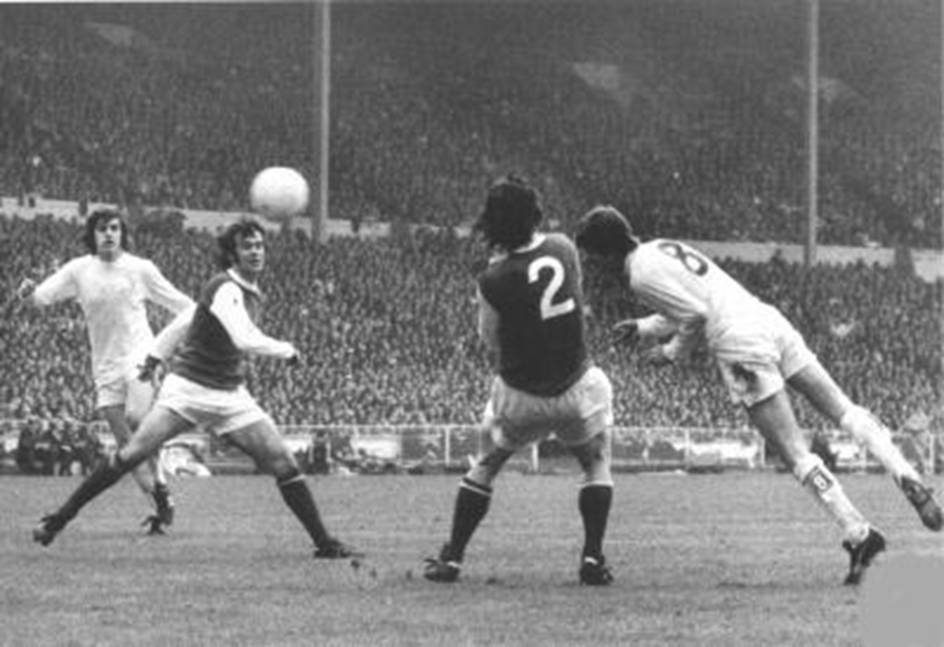 <![endif]>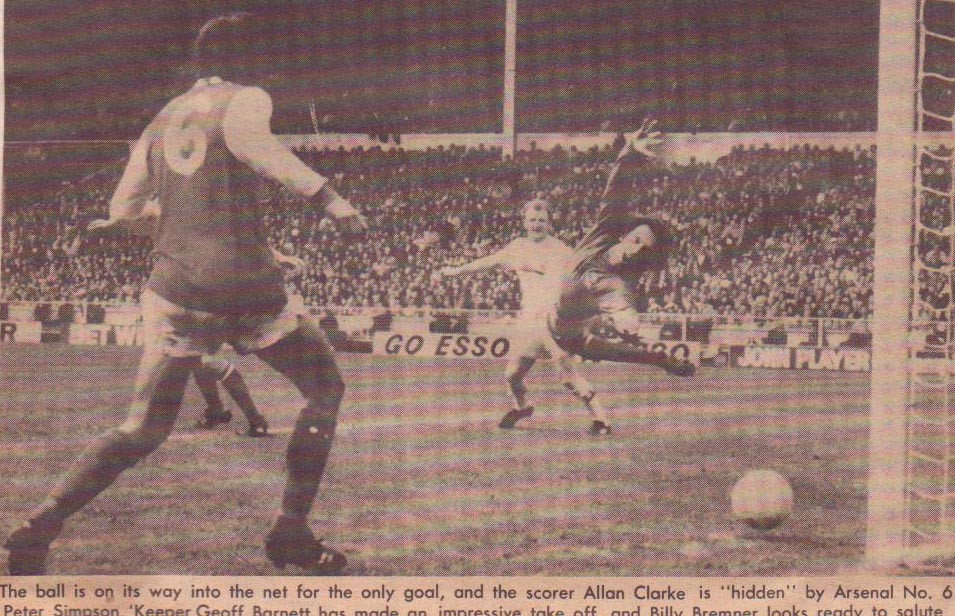 Geoff Barnett cannot stop Allan Clarke's header
Norman Hunter, Billy Bremner and Peter Lorimer watch with a flat out Allan Clarke as the ball enters the Arsenal net with Geoff Barnett beaten
<![if !vml]>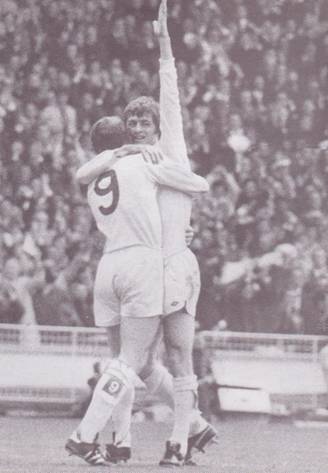 <![endif]> <![if !vml]>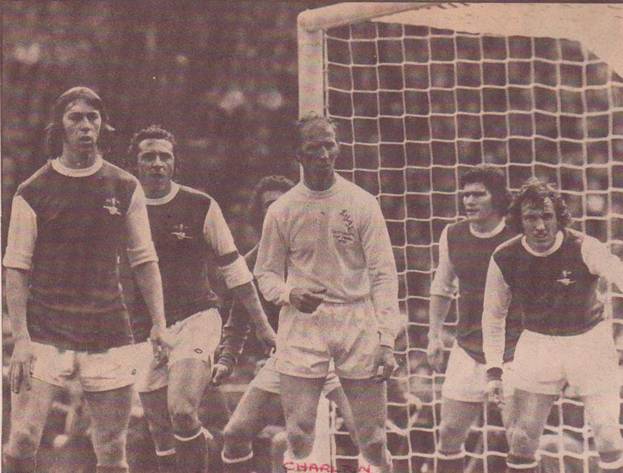 <![endif]>
Allan Clarke and Mick Jones celebrate                  Charlie George, John Radford, Geoff Barnett, Pat Rice and Bob McNab keep
                                                                                    watch on Jack Charlton
<![if !vml]>
<![endif]>
Allan Clarke is foiled by goalkeeper Geoff Barnett following a corner
<![if !vml]>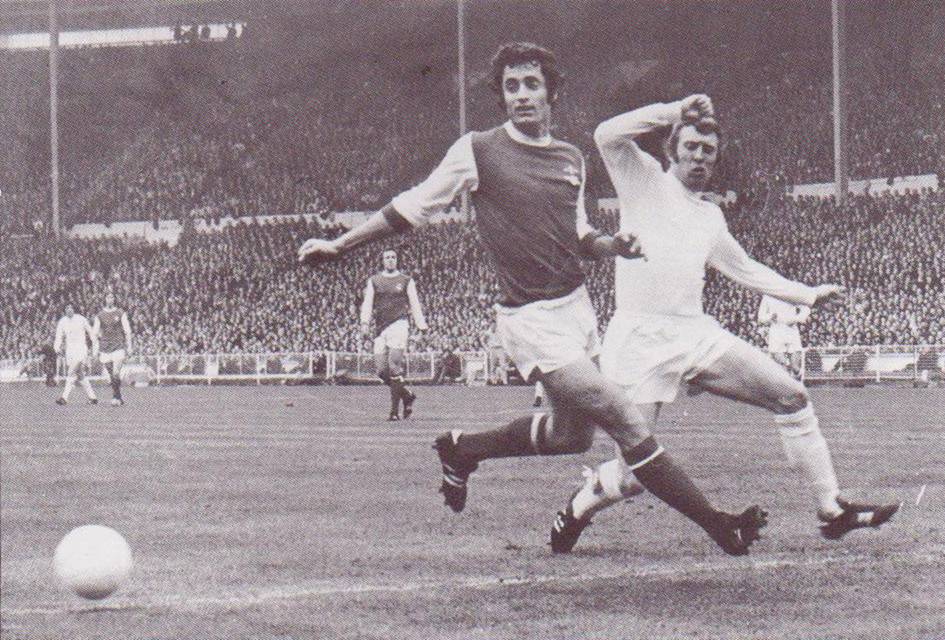 <![endif]>
Mick Jones and Arsenal skipper Frank McLintock tussle for a loose ball
<![if !vml]>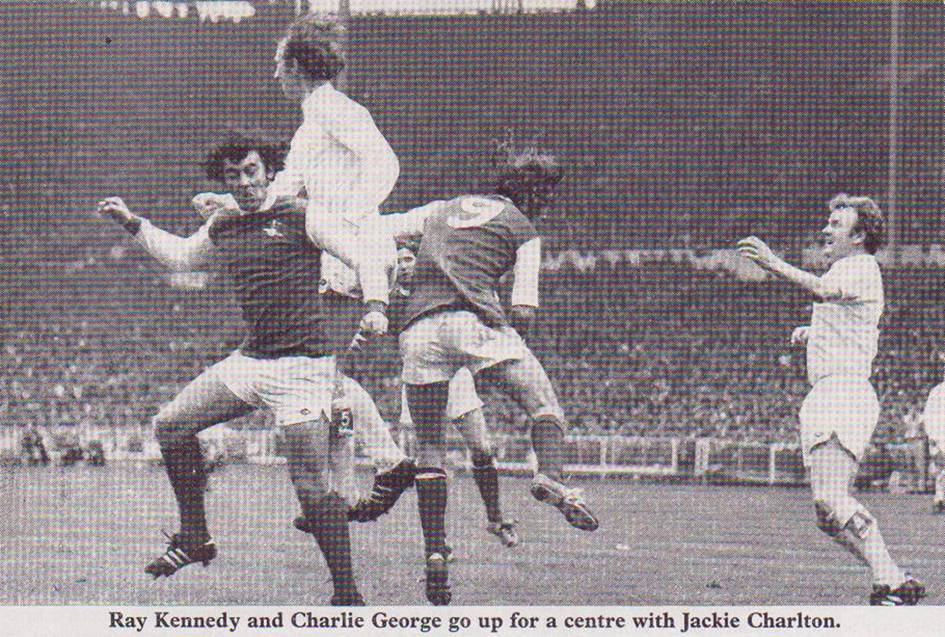 <![endif]>
<![if !vml]>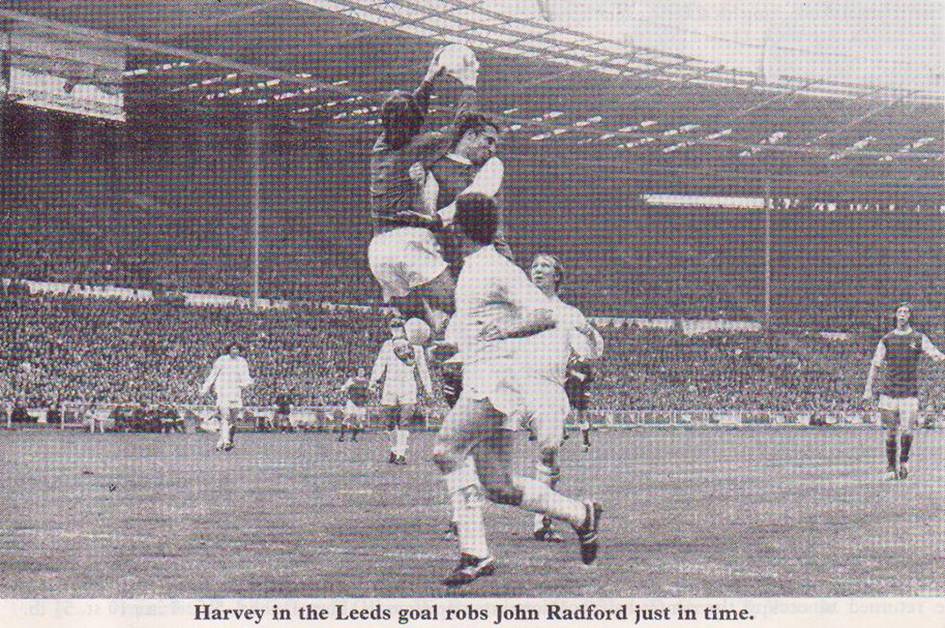 <![endif]>
<![if !vml]>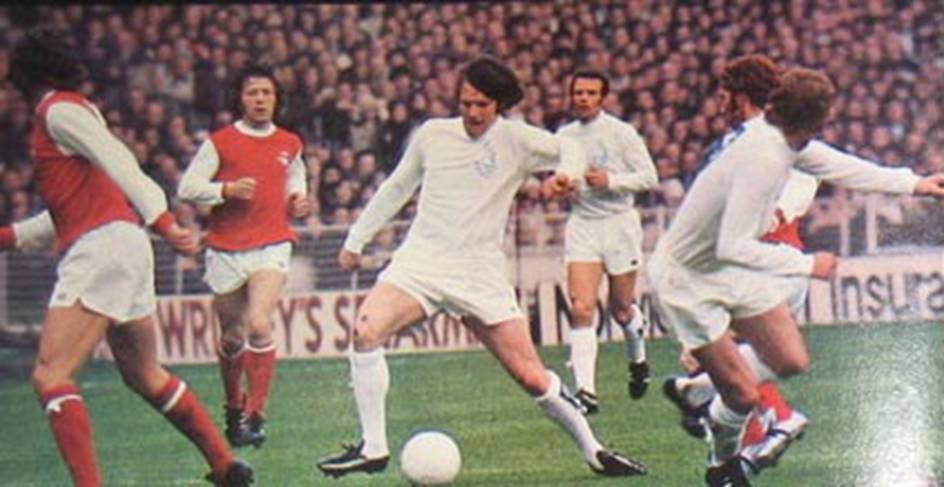 <![endif]>
Eddie Gray takes on the Arsenal defence as Paul Reaney and Mick Jones look on 
<![if !vml]>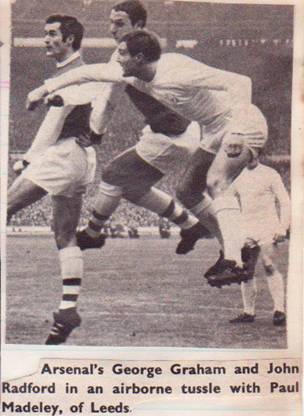 <![endif]><![if !vml]>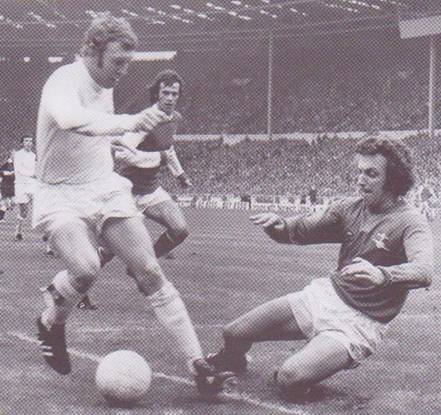 <![endif]> <![if !vml]>
<![endif]>
                                                                            Mick Jones tries to round Geoff Barnett but collides with him.
<![if !vml]>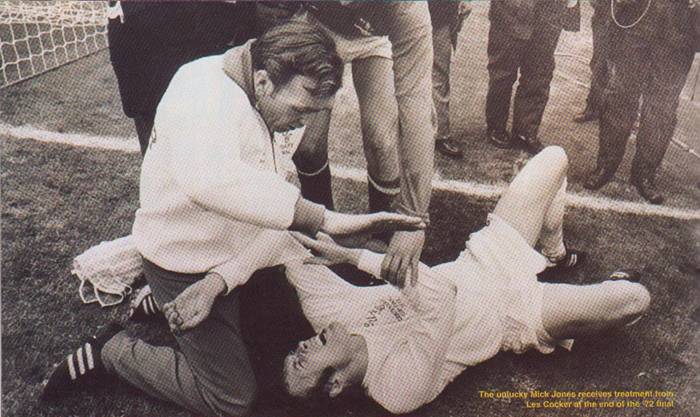 <![endif]>        <![if !vml]>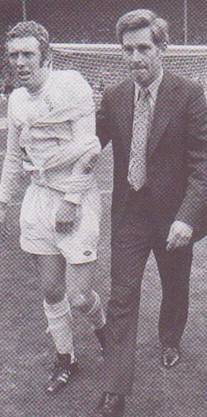 <![endif]>
<![if !vml]>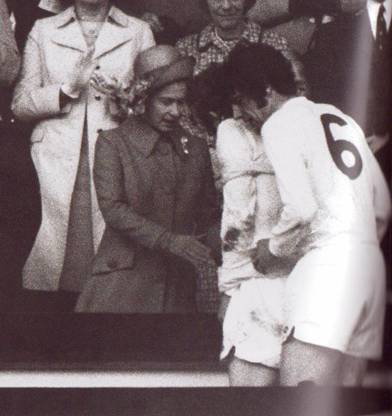 <![endif]>  <![if !vml]>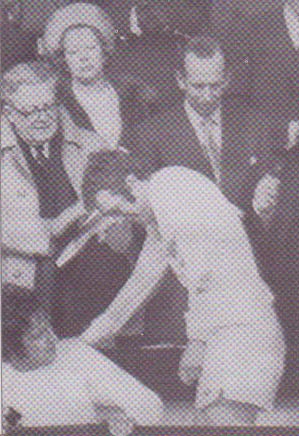 <![endif]>  <![if !vml]>
<![endif]> 
The injured Mick Jones insists on receiving his medal from the Queen and is helped by Norman Hunter    Billy Bremner with the FA Cup
<![if !vml]>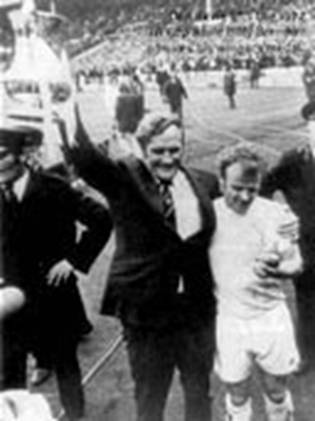 <![endif]>  <![if !vml]>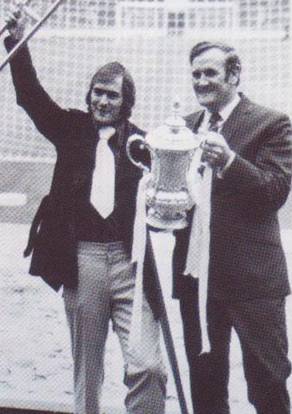 <![endif]>  <![if !vml]>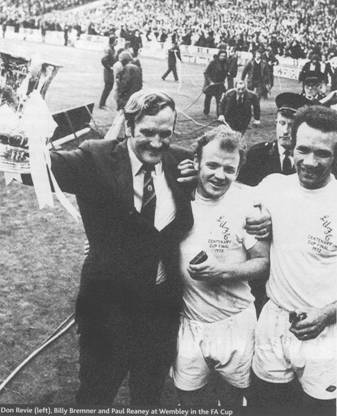 <![endif]>
 Don Revie and Billy Bremner show off the Cup   Don Revie and the injured Terry Cooper       Don Revie with Billy Bremner and Paul Reaney
<![if !vml]>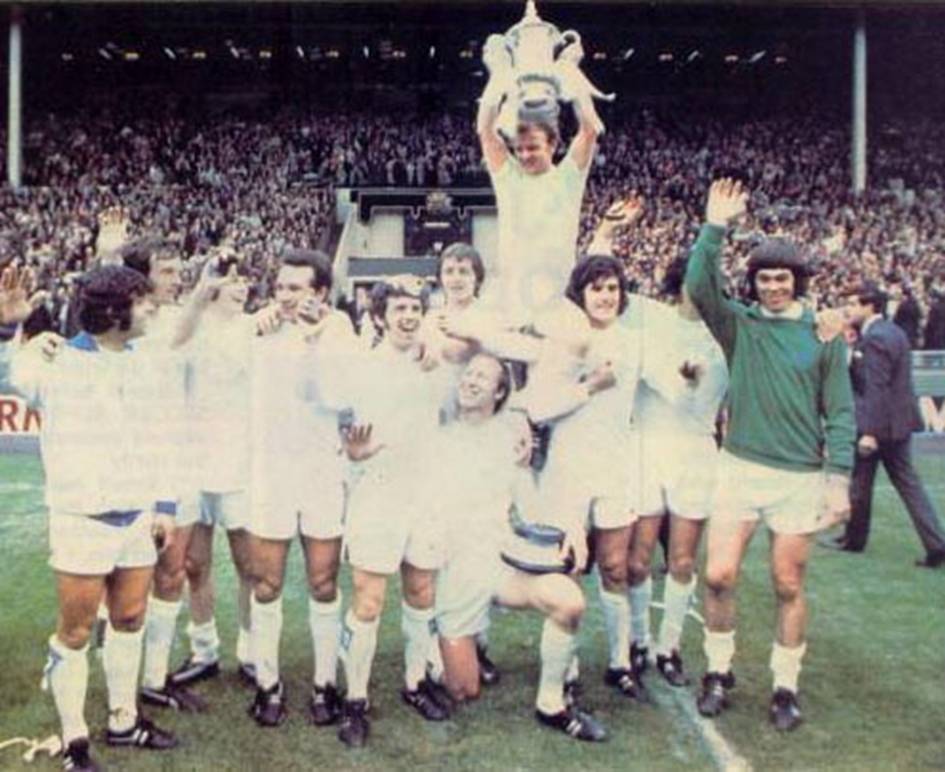 <![endif]> 
United celebrate with the Cup. Mick Bates, Paul Madeley, Eddie Gray, Paul Reaney, Johnny Giles, Allan Clarke, Jack Charlton,
Billy Bremner, Peter Lorimer, Norman Hunter and David Harvey. Mick Jones absent due to injury.
<![if !vml]>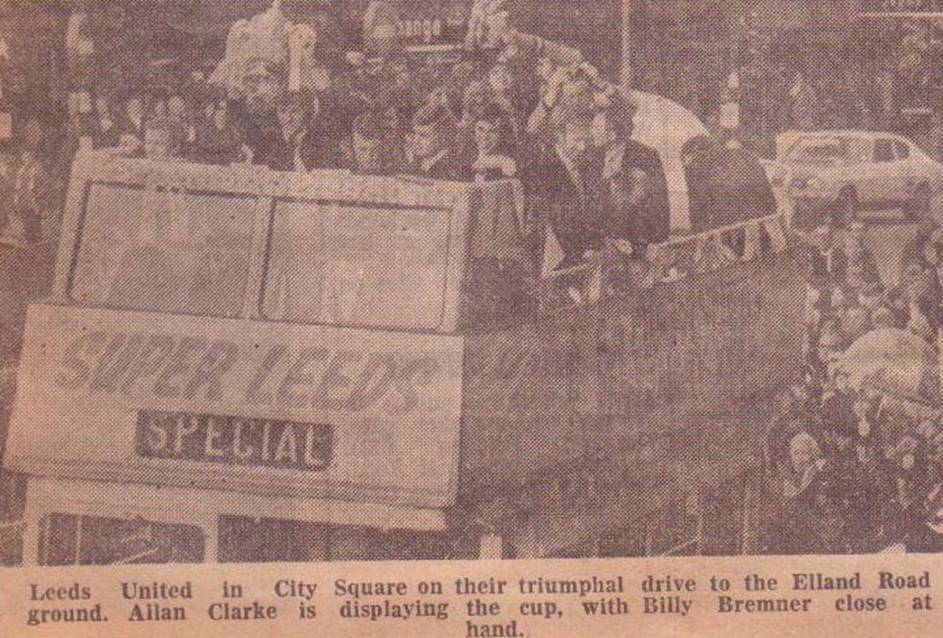 <![endif]>
Teams:
<![if !vml]>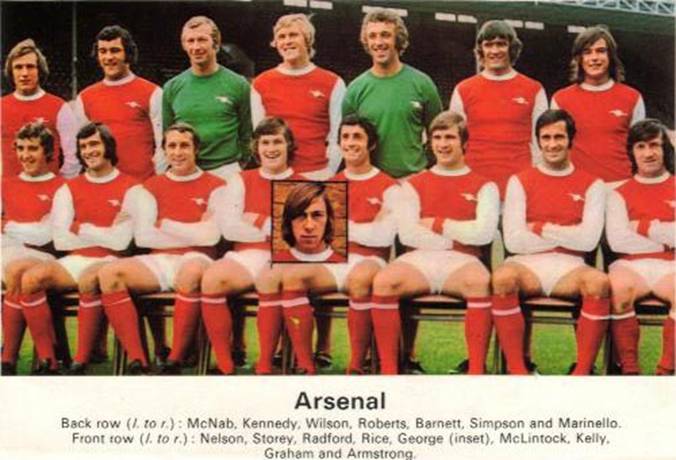 <![endif]>
<![if !vml]>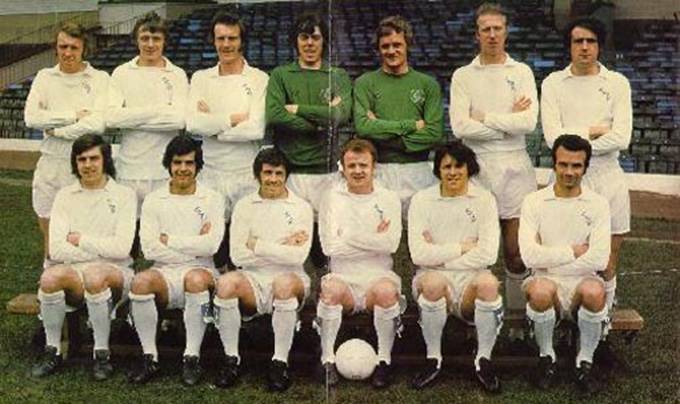 <![endif]>
Leeds United FA Cup Squad 1971-72:
Back row: Mick Jones, Allan Clarke, Paul Madeley, David Harvey, Gary Sprake,
Jack Charlton, Norman Hunter.
Front Row: Peter Lorimer, Mick Bates, Johnny Giles, Billy Bremner, Eddie Gray,
Paul Reaney.
Team Photographs from the Wembley programme:
<![if !vml]>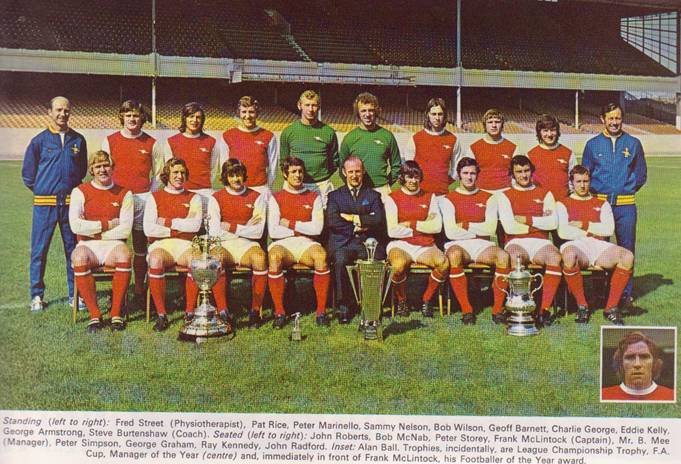 <![endif]>
<![if !vml]>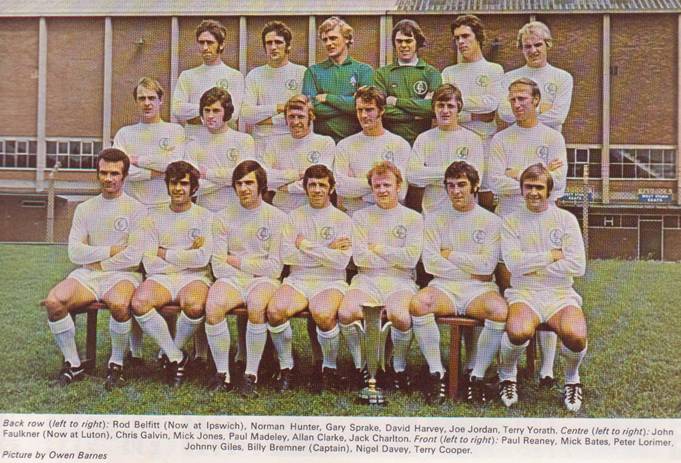 <![endif]>
Leeds United FA Cup Winners 1971-72 with Trophy:
<![if !vml]>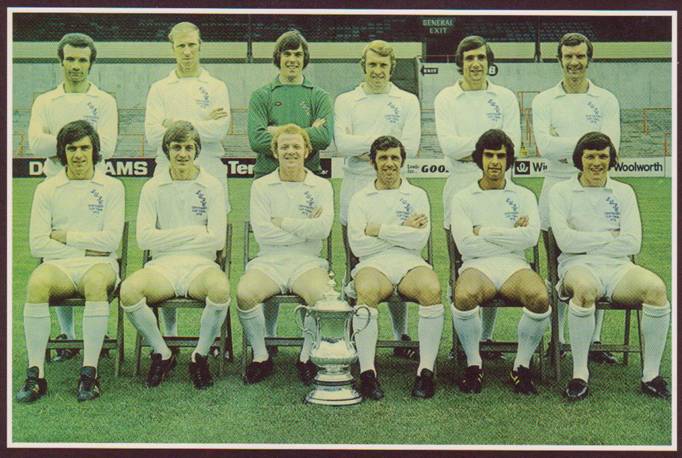 <![endif]>
Back Row: Paul Reaney, Jack Charlton, David Harvey, Mick Jones, Norman Hunter, Paul Madeley.
Front Row: Peter Lorimer, Allan Clarke, Billy Bremner, Johnny Giles, Mick Bates, Eddie Gray.