<![if !vml]>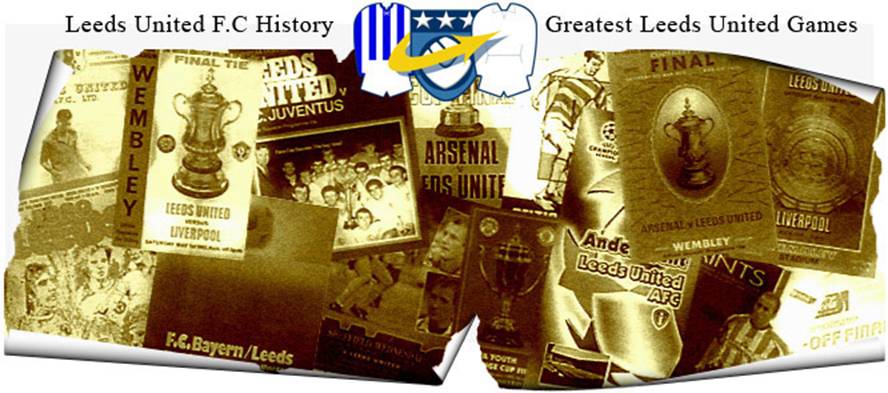 <![endif]>
Date: Tuesday, 6th March 2001.
Venue: Estadio Santiago Bernabéu, Madrid, Spain.
Competition: ECL, 2nd Stage Group D: Match 5.
Score: Real Madrid 3 Leeds United 2.
Scorers: Real Madrid: Raul (2), Figo. Leeds United: Smith, Viduka.
Attendance: 45,500.
Teams:
<![if !vml]>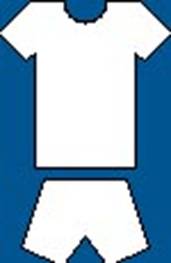 <![endif]><![if !vml]>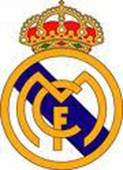 <![endif]>
Real Madrid: Cesar; Geremi, Hierro, Karanka, Solari; Makelele (Savio), Celades, McManaman, Figo (Rivera); Morientes (Minitis), Raul. Unused Subs: Salgado, Guti, Tote, Casillas.
<![if !vml]>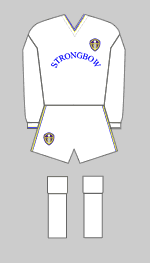 <![endif]><![if !vml]>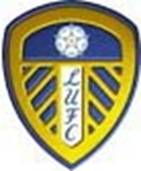 <![endif]>
Leeds United: Martyn; Harte, Ferdinand, Radebe (Kelly), Matteo; Batty, Bakke (Wilcox), Dacourt, Kewell; Smith, Viduka.Unused Subs: Burns, Maybury, Robinson.
Referee: Ryszard Wojcik (Poland).
After being robbed by the referee in their EPL game with Manchester United, one could have understood if United felt hard done by, due to Barber's inadequacies, but it was nothing in comparison to the ludicrous decision they had to endure at the Bernabeu a few days later! Mark Viduka had got behind the Real Madrid defence to cross for Alan Smith to gleefully open the scoring after only six minutes. Then in the next minute a Luis Figo cross was blatantly handled into the net by Raul, and like the other famous "Hand of God" incident it only served to lower that person's esteem and show the world that he was a cheat and a fraud. To the referees credit, after seeing a TV replay, he apologised to Leeds in their dressing room, but the damage had been done and Raul should have owned up to his cheating and not have deceived the referee. Fortunately, unlike the Manchester incident, it had no lasting effect on the future of LUFC. However Raul, after first admitting his cheating, later changed his mind and stuck to his lie. The Spanish press were on the side of LUFC and were totally embarrassed by the bad sportsmanship, so much so, that the UEFA imposed a £7,500 fine on Raul, but in true UEFA fashion subsequently withdrew it!
United gave an excellent display of fine attacking football and Real realised that they were now playing the "First Team"  unlike the "Reserves" that had been a pushover at Elland Road. After being forced to accept the referee's decision on the equaliser, they had another bit of misfortune just before half time when Nigel Martyn appeared to have a Luis Figo low cross well covered, only to see it hit a divot and bounce over his body! Still United bounced back and a fine Mark Viduka downward header ten minutes into the second half gave them a well deserved equaliser. A draw would have been a fair result but Raul headed home a Luis Figo cross on the hour to give Real victory rather than an equaliser.
Again United rode into Europe in cavalier spirit and determined to acquit themselves with distinction and once again they achieved their ambition and let nobody down. Indeed this game proved that they could more than hold their own with the best and have no fears no matter who should be the opposition. They started out with intent with David Batty combining well with Mark Viduka to send Olivier Dacourt on his way but the Frenchman could not get in a shot on goal, but he was quickly back in defence to frustrate a Steve McManaman-inspired attack. They raced into a spectacular sixth minute lead, with Mark Viduka embarking on an excellent solo run down the right before crossing precisely to the suspiciously off-side-looking Alan Smith who coolly placed the ball past Cesar.
The lead lasted just one minute before Luis Figo sent over a free-kick from the left for Raul to push the ball into the net with his hand to the accompaniment of fierce Leeds protests. It had been a tremendous start and Leeds should have gone ahead when Harry Kewell defied all the odds to get over a cross from the left for the unmarked Alan Smith to power in a point-blank header but he could not direct it wide of Cesar when he knew he should have scored. Olivier Dacourt blazed over the top as Leeds came again and Real knew they were in for the most severe of examinations.
Raul raced thirty yards through challenges to unleash a drive which Nigel Martyn spilled but Lucas Radebe was on hand to tidy up. Steve McManaman was the next to try his luck but he was well over the top from a Geremi pull-back. Santiago Solari nutmegged Ian Harte and he followed up by firing in a fierce drive, which just flashed past the post. Harry Kewell admonished Ferdinand as the big defender went for an Ian Harte corner but only succeeded in blocking what would have been a perfect volley opportunity for the Aussie winger. Kewell then turned Geremi inside out before whipping over a cross which Cesar did well to keep out at the near post, and Mark Viduka caused all sorts of problems from another Ian Harte corner before Fernando Hierro hastily booted it clear. Eirik Bakke floored Raul twenty-five yards out, but Fernando Hierro's well placed free-kick was not strong enough to trouble Nigel Martyn. Then Mark Viduka turned inside Santiago Solari and got in a left foot shot which brought Cesar to his knees and Leeds were looking the more dangerous and hungry of the two teams.
Four minutes from the break Figo seemed very lucky to give Real the lead with an angled shot from the right which looked innocuous until it took a wicked bounce off the greasy surface and flew into the far corner past a stunned Nigel Martyn. Raul was desperately close with a glancing header as Leeds tried to regroup and the night which had started so promisingly was suddenly as disconcerting as the driving rain. Then the face of the match again changed dramatically as United equalized after fifty-four minutes when Ian Harte's left wing corner was headed home powerfully by the unmarked Mark Viduka. United were starting to get back on top and appeared menacing and their determination was typified by Lucas Radebe with a skilful and perfectly-timed tackle on  Fernando Morientes, who was lurking with intent. Yet they soon fell behind again in the fifty-ninth minute as Raul rose above David Batty to nod home Luis Figo's pin-point cross.
United lost their skipper Lucas Radebe shortly afterwards as he went down in agony with an injury to his right knee sustained when he fell awkwardly as he was making a clearance from a Geremi cross. Gary Kelly came on at right back, with Harte switching to left back and Dominic Matteo being paired with Rio Ferdinand in central defence. United then had an excellent move featuring Harry Kewell, Alan Smith and Mark Viduka. The big Aussie found time to measure his shot from the edge of the box but, unluckily, it hit the angle of the bar and post and then flew over. A minute later he was through again this time from an Alan Smith pass but he shot wide. Luis Figo was guilty of a similar miss at the other end after being put through by Geremi. Near the end Alan Smith went down in the area but without reward as Leeds moved onwards and upwards into the lucrative quarter-final stage.
<![if !vml]>
<![endif]> <![if !vml]>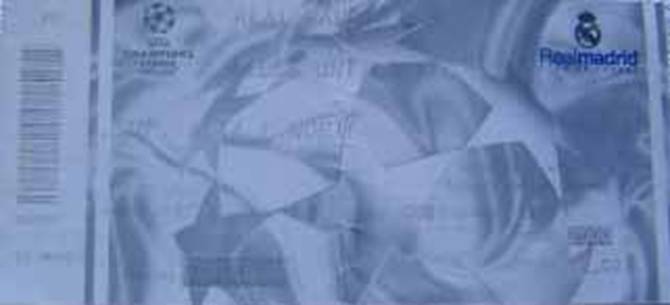 <![endif]>
Match Action:
<![if !vml]>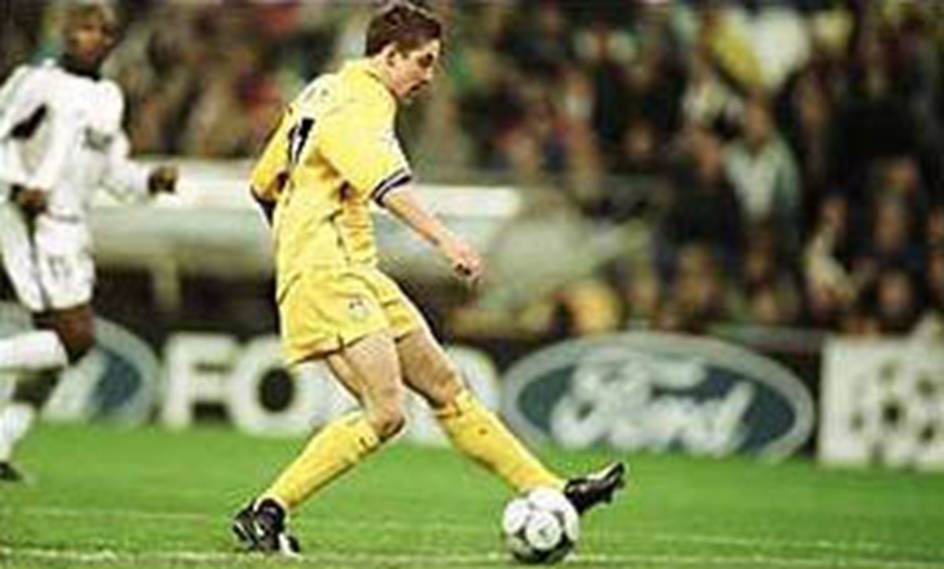 <![endif]>
Alan Smith shoots to score the first goal
<![if !vml]>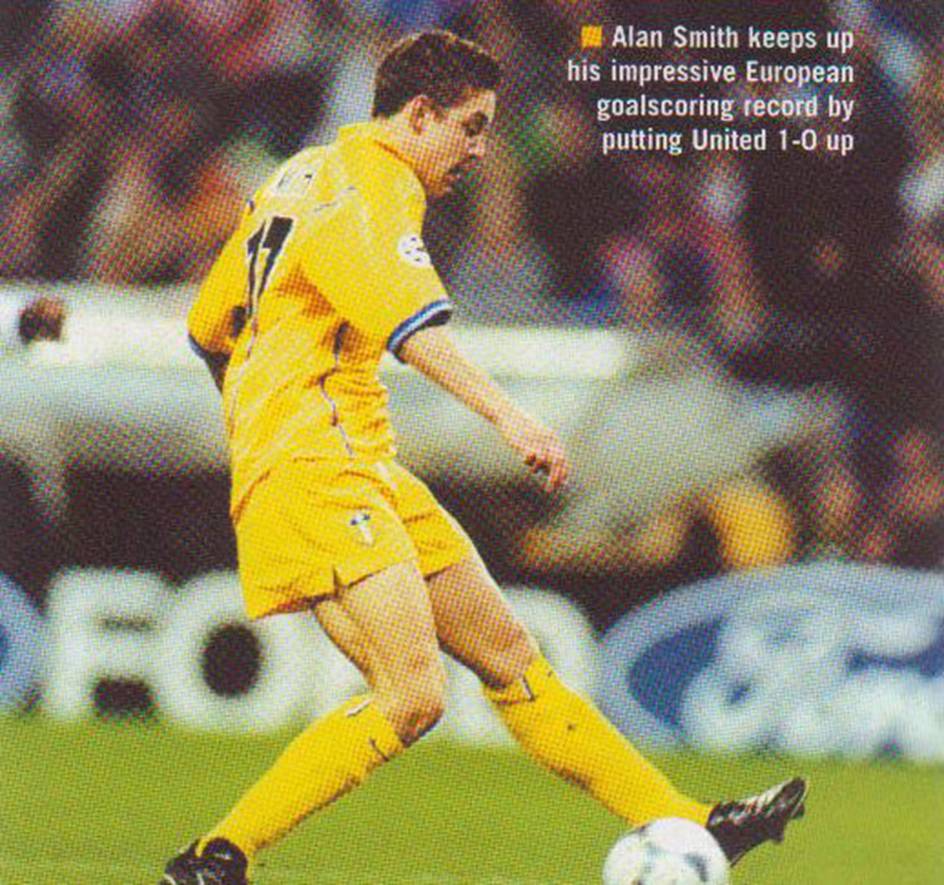 <![endif]>
<![if !vml]>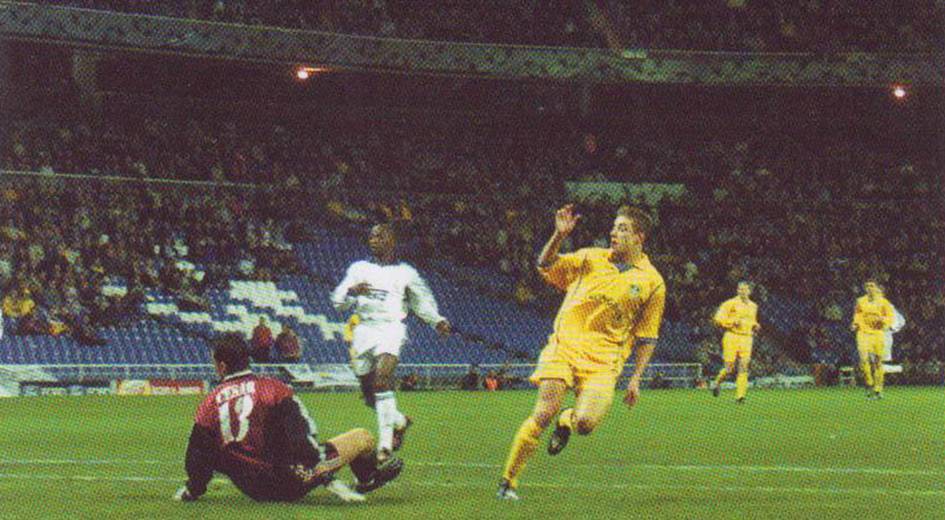 <![endif]>
Alan Smith watches the first goal go into the net
<![if !vml]>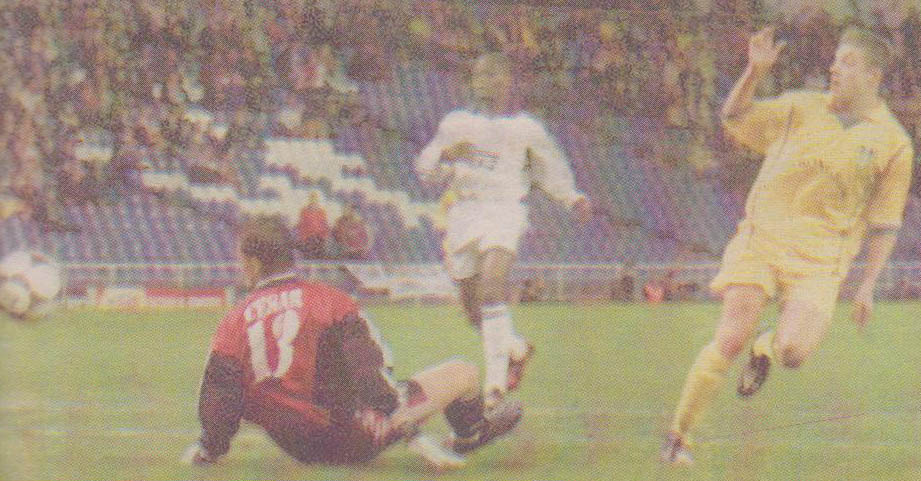 <![endif]>
Alan Smith beats Cesar to open the scoring
<![if !vml]>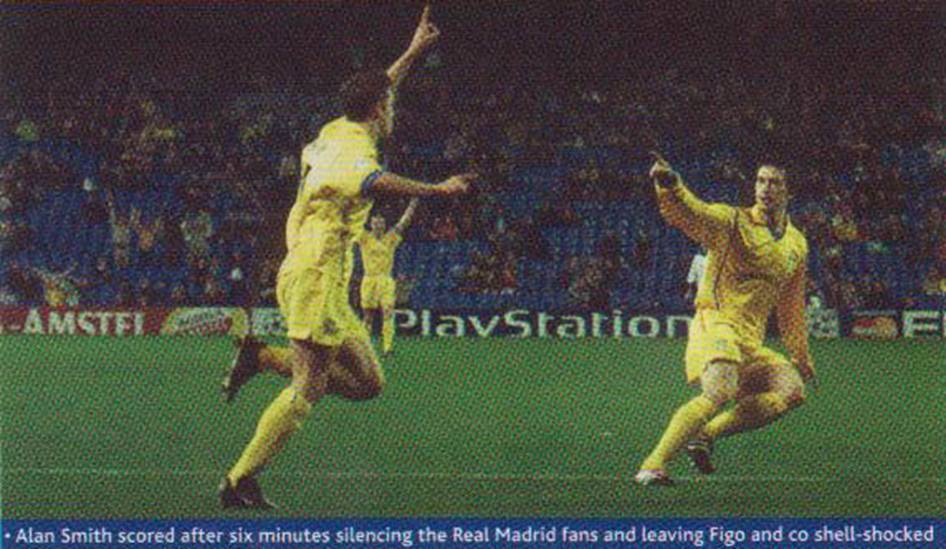 <![endif]>
<![if !vml]>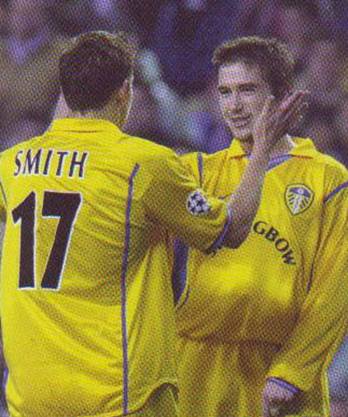 <![endif]>       <![if !vml]>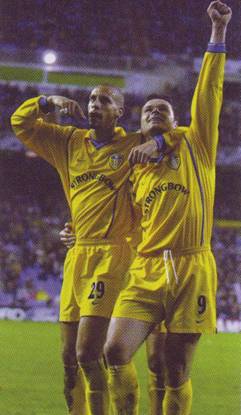 <![endif]>       <![if !vml]>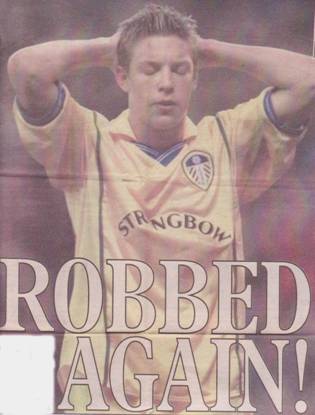 <![endif]>
Harry Kewell congratulates Alan Smith                       Rio Ferdinand and Mark Viduka celebrate   Alan Smith is dejected at the finish
<![if !vml]>
<![endif]> <![if !vml]>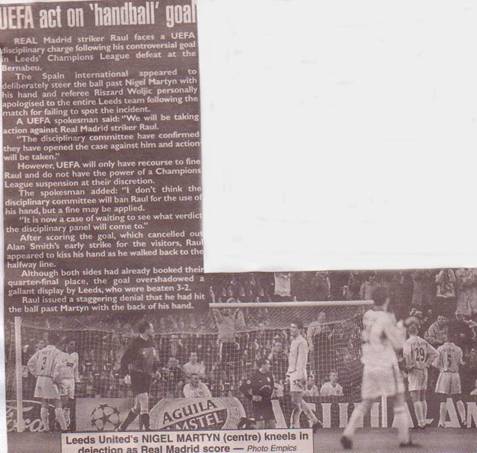 <![endif]>
<![if !vml]>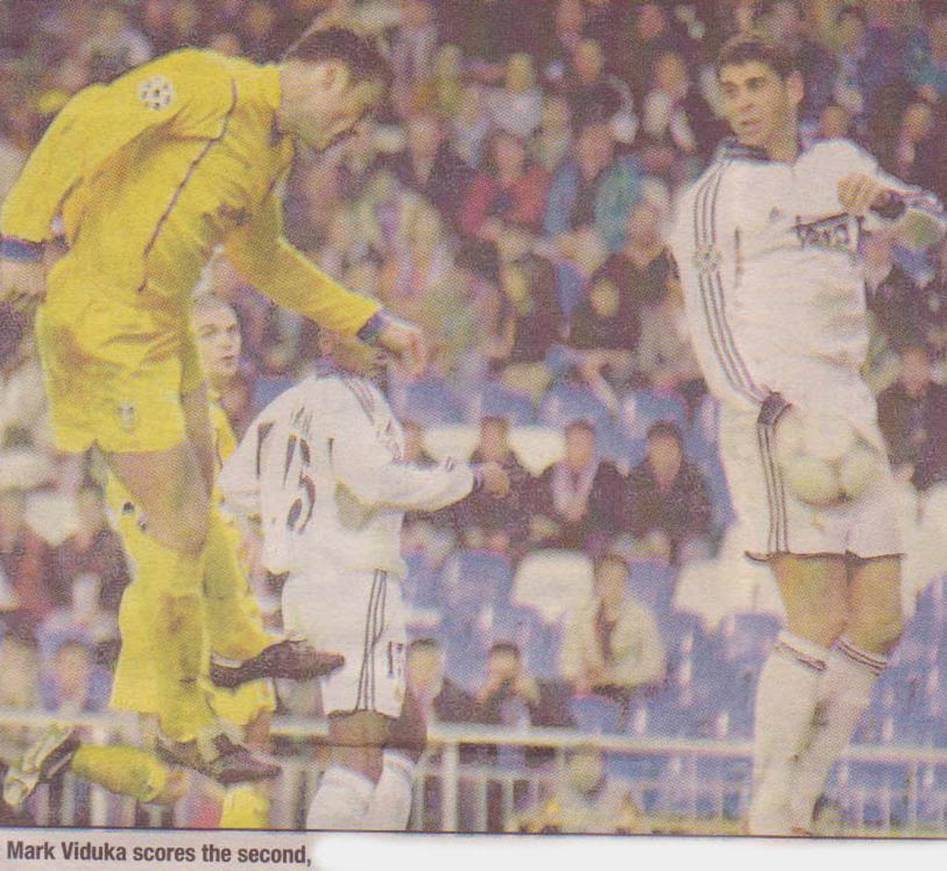 <![endif]>
<![if !vml]>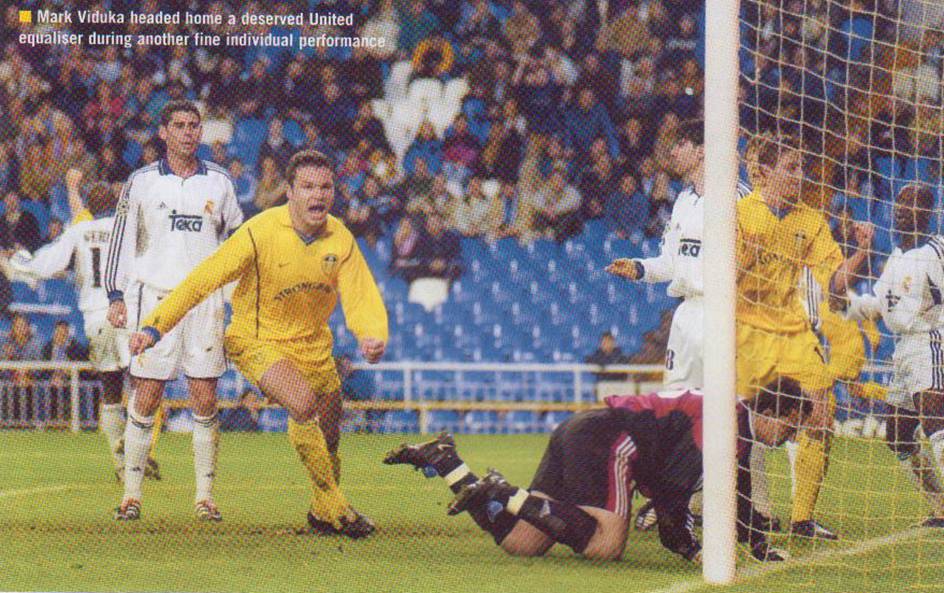 <![endif]>
<![if !vml]>
<![endif]> 
Mark Viduka turns away after scoring the second goal
<![if !vml]>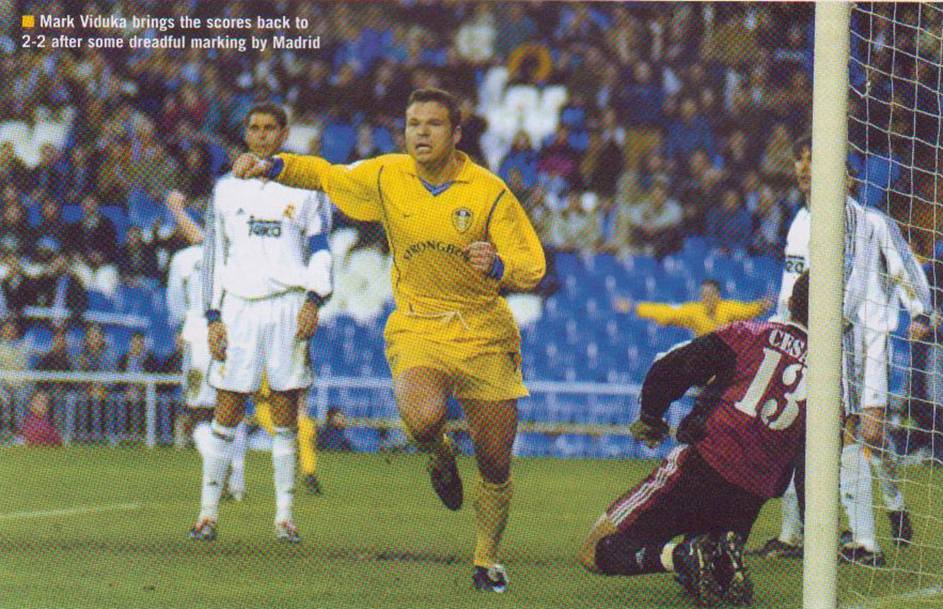 <![endif]>
<![if !vml]>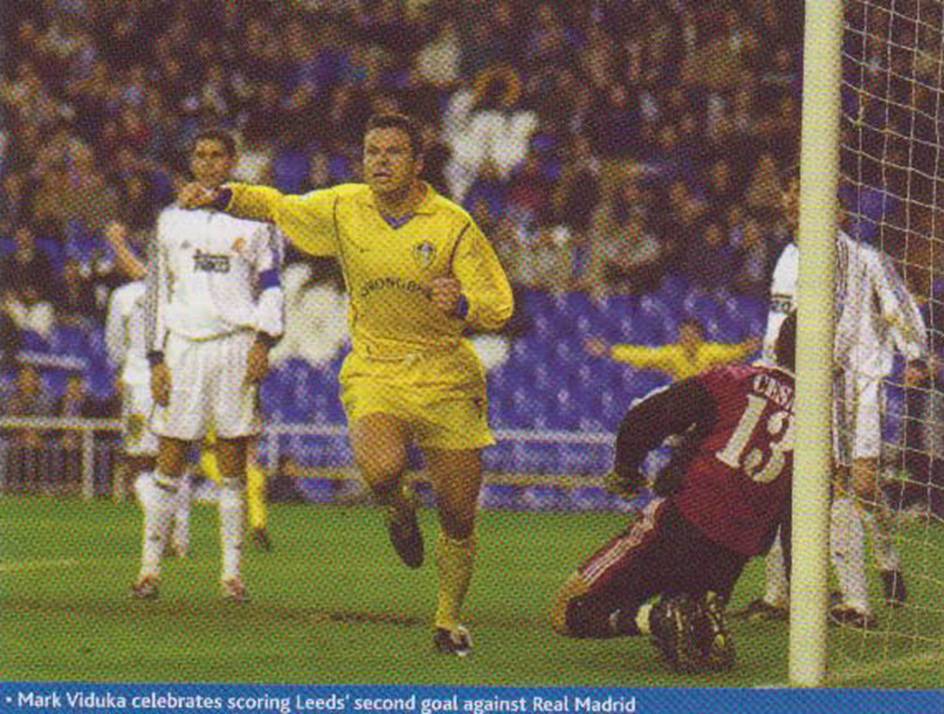 <![endif]>
<![if !vml]>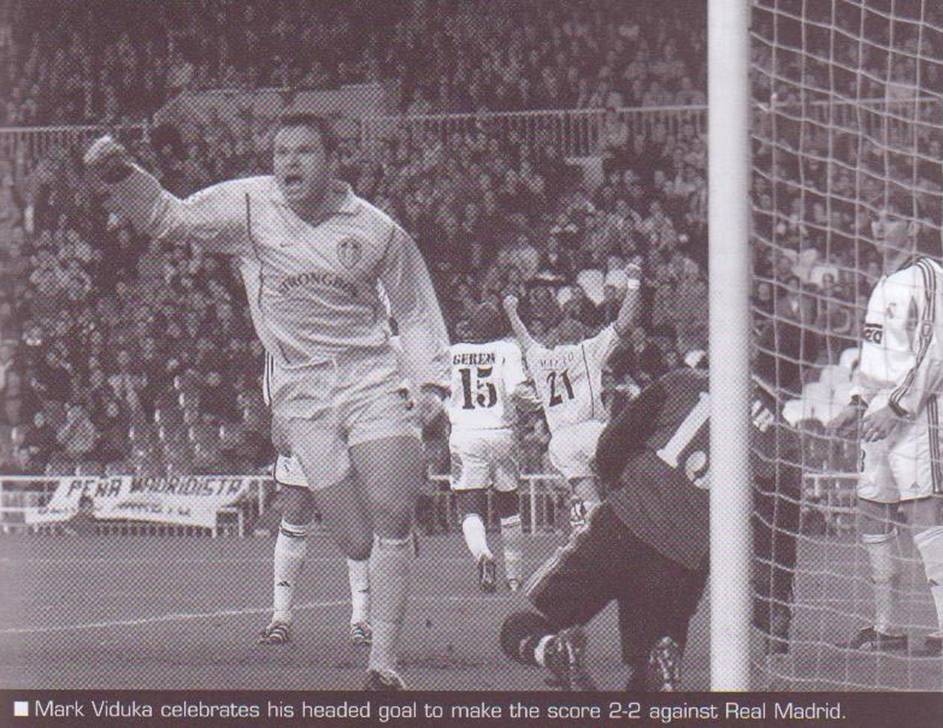 <![endif]>
<![if !vml]>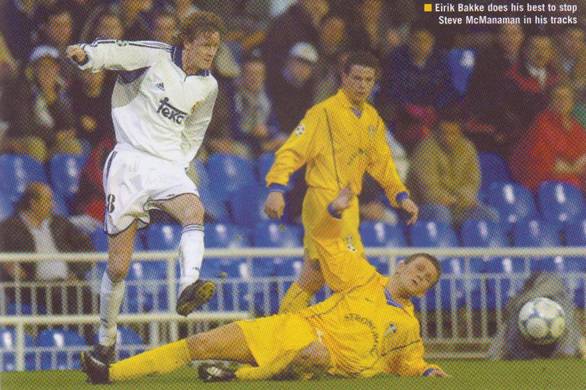 <![endif]> <![if !vml]>
<![endif]>
<![if !vml]>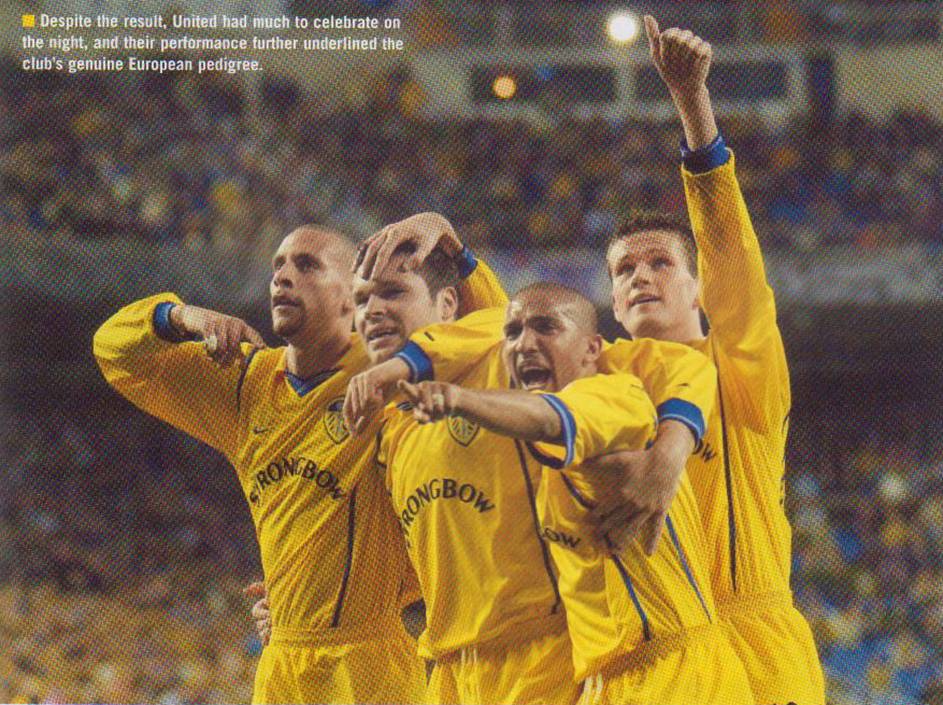 <![endif]> 
<![if !vml]>
<![endif]> 
<![if !vml]>
<![endif]>   <![if !vml]>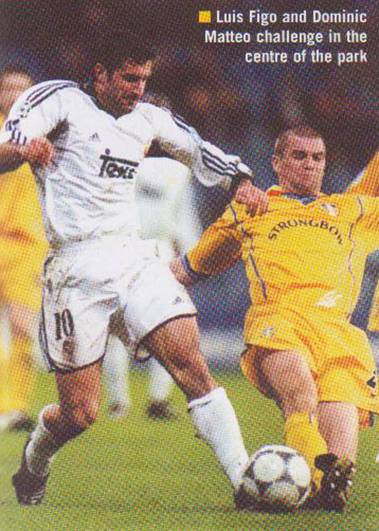 <![endif]>
<![if !vml]>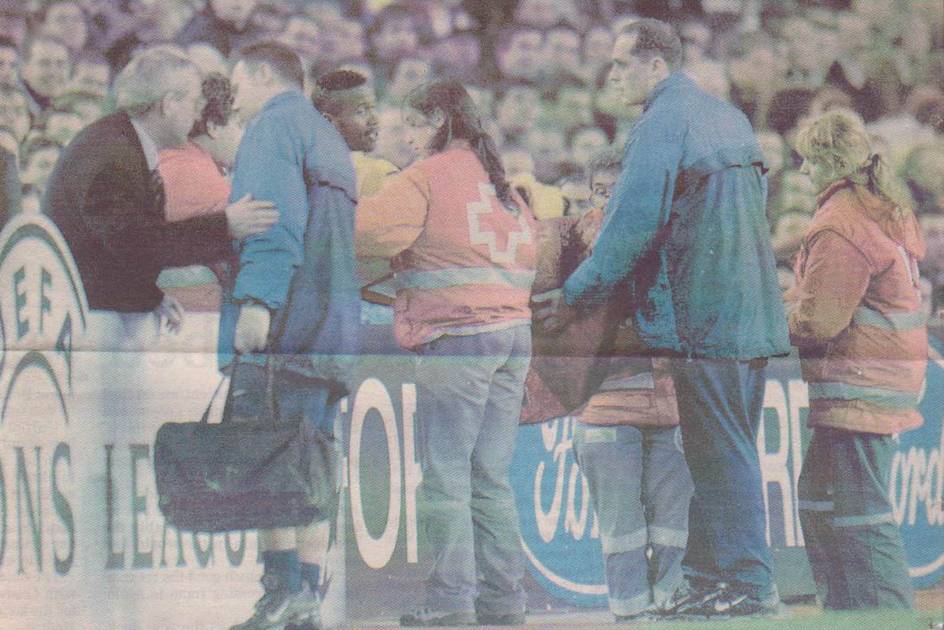 <![endif]> 
Lucas Radebe is carried off on a stretcher
<![if !vml]>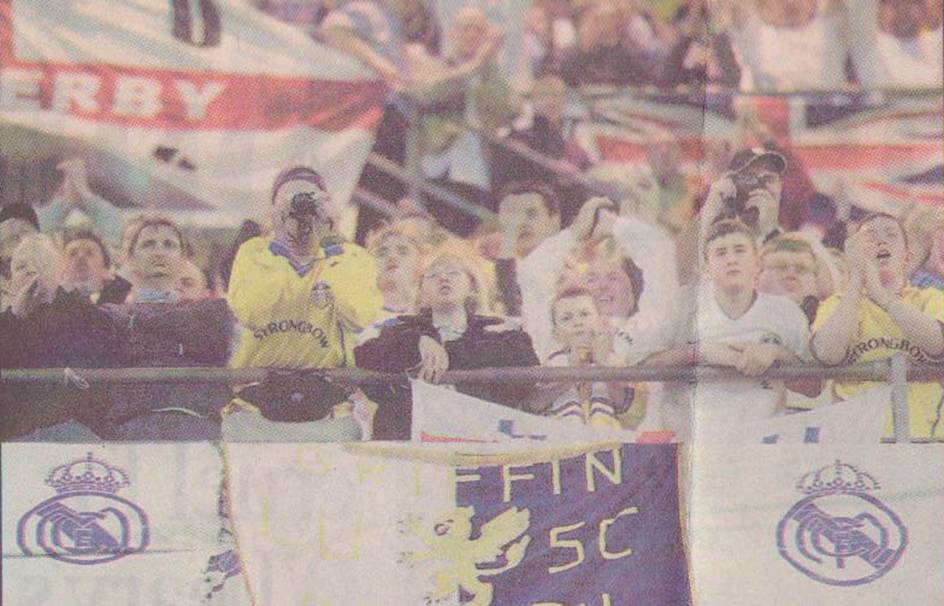 <![endif]> 
United fans at the Bernabeu
Teams:
<![if !vml]>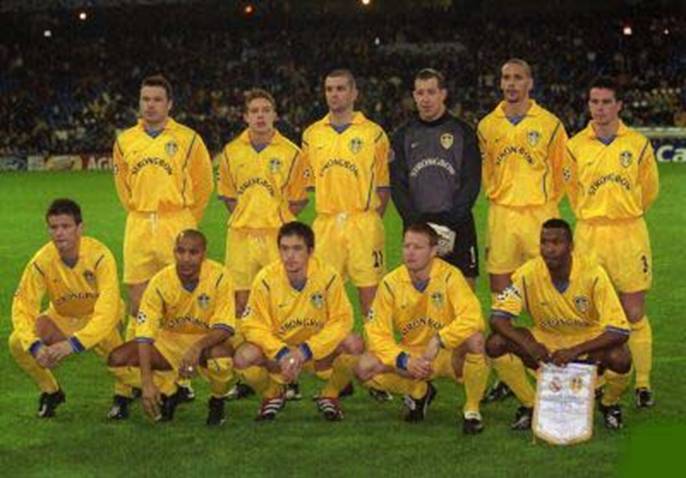 <![endif]>
Leeds United Team at Real Madrid 6-3-01
Back Row: Mark Viduka, Alan Smith, Dominic Matteo, Nigel Martyn, Rio Ferdinand, Ian Harte.
Front Row: Eirik Bakke, Olivier Dacourt, Harry Kewell, David Batty, Lucas Radebe.
<![if !vml]>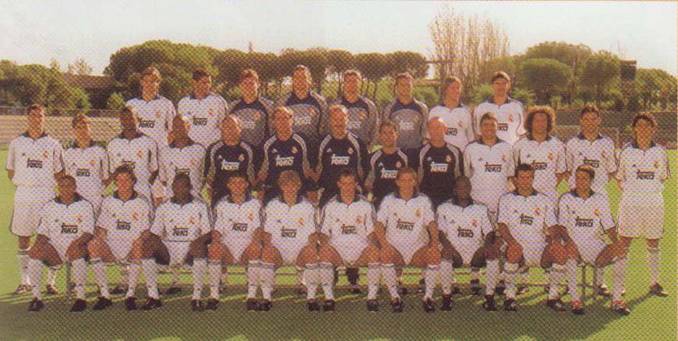 <![endif]>
Real Madrid 2000-01
Players:
<![if !vml]>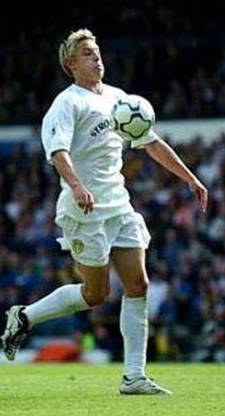 <![endif]> <![if !vml]>
<![endif]>  <![if !vml]>
<![endif]> <![if !vml]>
<![endif]>
                Alan Smith and Mark Viduka scored for Leeds                                                        Raul claimed two and Luis Figo scored for Real Madrid
<![if !vml]>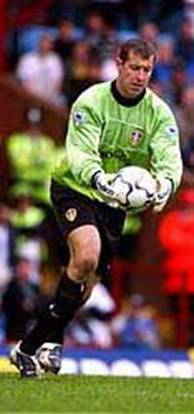 <![endif]> <![if !vml]>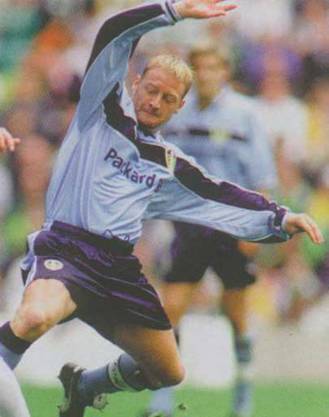 <![endif]> <![if !vml]>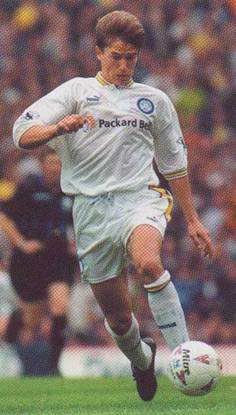 <![endif]> <![if !vml]>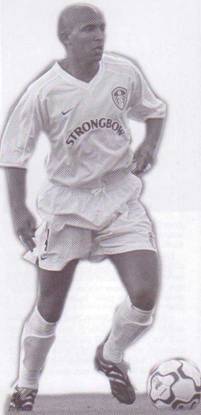 <![endif]>
Nigel Martyn was unlucky      David Batty combined well with Mark Viduka      Harry Kewell set up easy chance      Olivier Dacourt blazed over
for Figo's goal                                                                                                             for Alan Smith
| | | | |
| --- | --- | --- | --- |
| Lucas Radebe was stretchered off | Eirik Bakke floored Raul | Ian Harte was nutmegged | Gary Kelly was at right-back |
<![if !vml]>
<![endif]> <![if !vml]>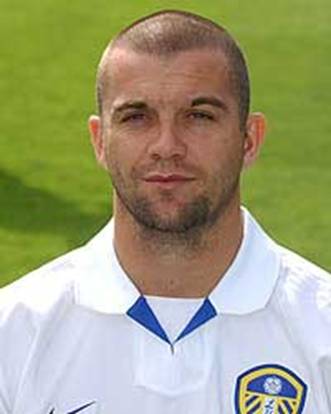 <![endif]>            <![if !vml]>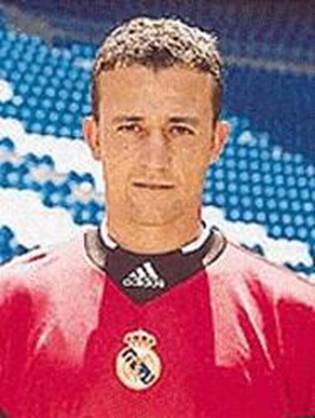 <![endif]>
Rio Ferdinand was paired with Dominic Matteo in central defence                                                    Cesar came in as goalkeeper for Real      
<![if !vml]>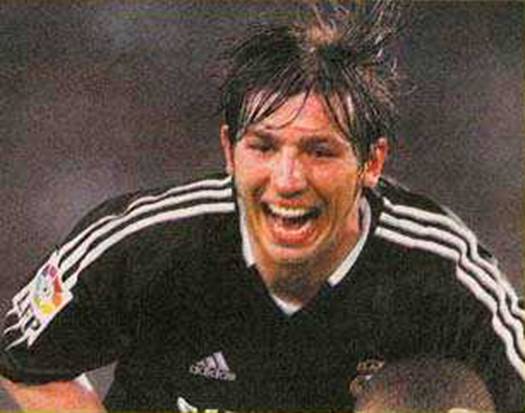 <![endif]>   <![if !vml]>
<![endif]>   <![if !vml]>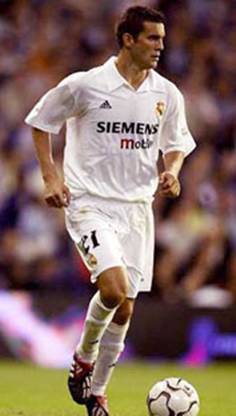 <![endif]> 
Albert Celedes started in midfield                                                                               Fernando Morientes came          Santiago Solari was at left-back
                                                                                                                                       in as striker
<![if !vml]>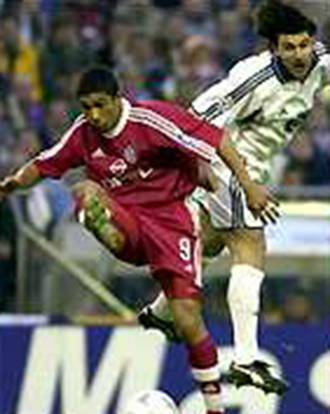 <![endif]>  <![if !vml]>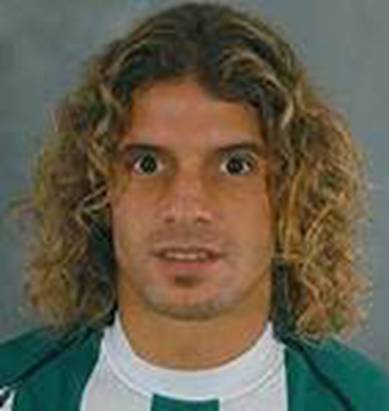 <![endif]>  <![if !vml]>
<![endif]>
Aitor Karanka came into central defence                 Alberto Rivera came on as a substitute                                Jorge Tote was an unused substitute