<![if !vml]>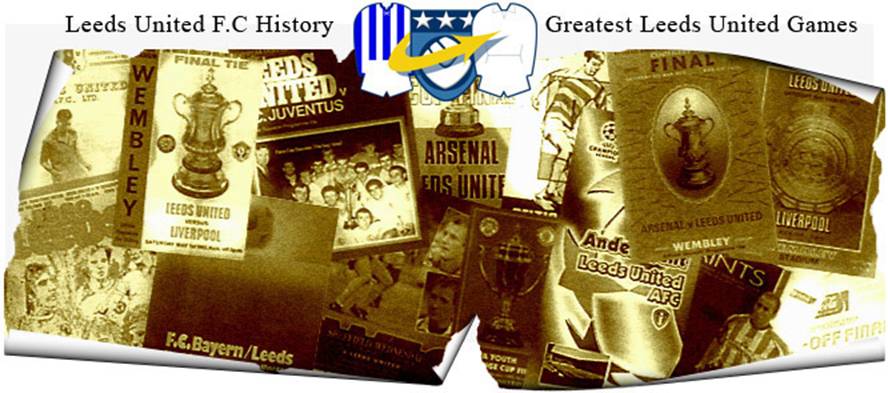 <![endif]>
Date: Wednesday, 5th March 1975.
Venue: Elland Road, Leeds.
Competition: European Cup Third Round First Leg.
Score: Leeds United 3 Anderlecht 0.
Scorers: Leeds United: Jordan, McQueen, Lorimer. Anderlecht: Nil.
Attendance: 43,195.
Teams:
<![if !vml]>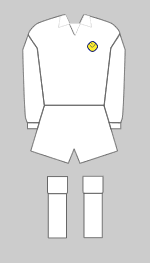 <![endif]><![if !vml]>
<![endif]>
Leeds United: Stewart; Madeley, F. Gray; Bremner (Yorath), McQueen, Hunter; Lorimer, Clarke, Jordan, Giles, E. Gray.
<![if !vml]>
<![endif]><![if !vml]>
<![endif]>
Anderlecht: Ruiter; Van Binst, Broos; Van Den Daele, Thissen, Dockx; Verheyen, Van Der Elst, Coeck, Van Himst, Rensenbrink.  .
Referee: Rudi Glockner (East Germany).
When United resumed their European Cup campaign in early March, the crack Belgian side Anderlecht were United's opponents in the Third Round. Their line-up included notable internationals such as Francois Van Der Elst, Paul Van Himst and Robbie Rensenbrink. However, United just brushed them aside. Manager Jimmy Armfield gave a European debut to goalkeeper David Stewart as regular No.1 had been injured in a car accident the previous month. It was touch and go whether the game should have gone ahead but East German referee Rudi Glockner started the match on time and the Belgians were soon chasing shadows.
The match was nearly postponed due to a blanket of fog which had settled over the pitch just prior to the kick-off. Conditions hardly improved during the course of the match and when Joe Jordan opened the scoring in the tenth minute, the crowd were chanting, "All we are saying is…who scored that goal?" The Public Address announcer duly obliged! 
Joe Jordan had given United the lead when he collected a superb through ball from Norman Hunter and smashed a low shot past startled goalkeeper Jan Ruiter. From what could be seen United looked to be in the ascendancy so the crowd held its breathe as the fog grew thicker and at one point before half-time, the players were taken from the pitch until the visibility improved. After eighteen agonising minutes play was resumed and United further increased their lead three minutes before half-time with a goal from Gordon McQueen. Joe Jordan had headed on a Johnny Giles free-kick and Gordon McQueen's downward header easily beat Jan Ruiter.
With Leeds in command, Jimmy Armfield made the surprising move of substituting Billy Bremner. It was the first time in his career, and one of the rare occasions, when Billy Bremner was substituted for reasons other than injury. He came off to be replaced by Terry Yorath eighteen minutes from time, but he was still back for the next leg in Brussels, as well as the next League game with Ipswich.
Anderlecht continued to adopt a defensive posture, making good use of the offside trap, but Ludo Coeck missed a great chance to score near the end after being set up by Robbie Rosenbrink in a rare attack. United though, were showing no signs of taking their foot off the accelerator and immediately took the game back to the Belgians. Eddie Gray had a shot blocked and Peter Lorimer, who had only been declared fit shortly before the kick-off, picked up the pieces to make it 3-0 a minute from time to virtually assure United's place in the Semi-Finals. "It was one of the most crucial goals we have scored this season," said Jimmy Armfield, " Anderlecht didn't score at Elland Road but they could still cause us plenty of trouble next week."
<![if !vml]>
<![endif]>   <![if !vml]>
<![endif]>
Match Action:
<![if !vml]>
<![endif]>
<![if !vml]>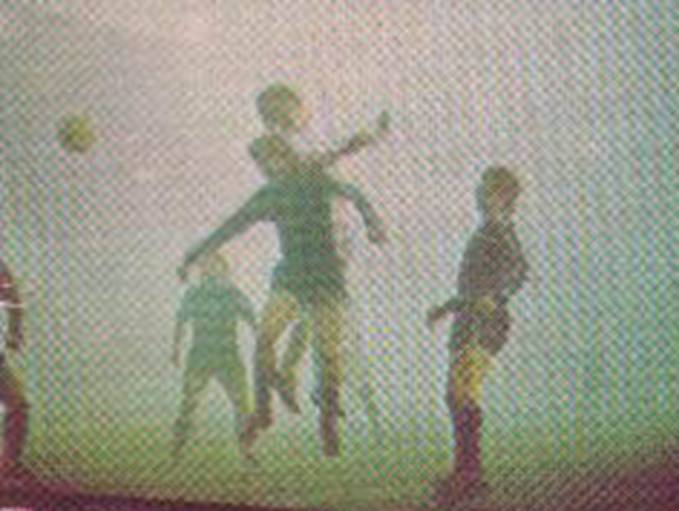 <![endif]> <![if !vml]>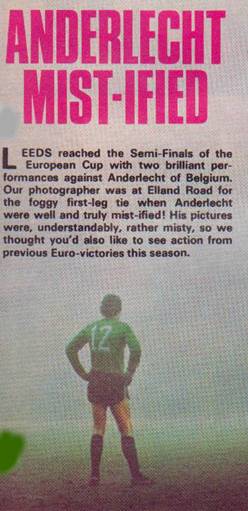 <![endif]>
Gordon McQueen climbs high to head the second goal
Players:
<![if !vml]>
<![endif]>      <![if !vml]>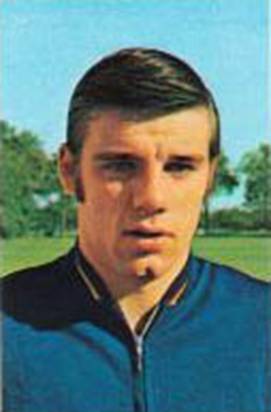 <![endif]>       <![if !vml]>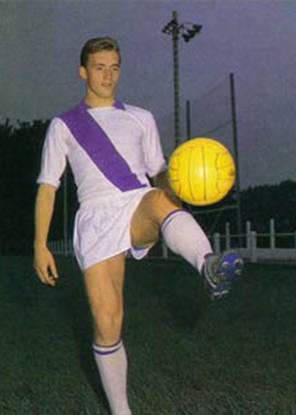 <![endif]> 
Franky Van Der Elst                                                           Jean Thissen                                                    Paul Van Himst
<![if !vml]>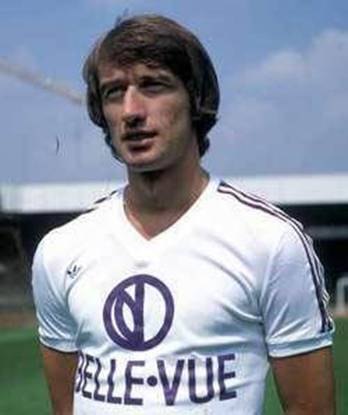 <![endif]> <![if !vml]>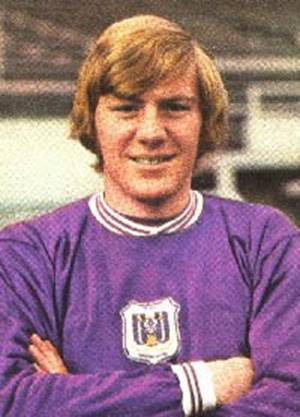 <![endif]> <![if !vml]>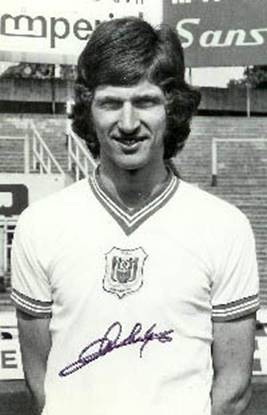 <![endif]>
Robbie Rensenbrink                                                      Hugo Broos                                                        Ludo Coeck
<![if !vml]>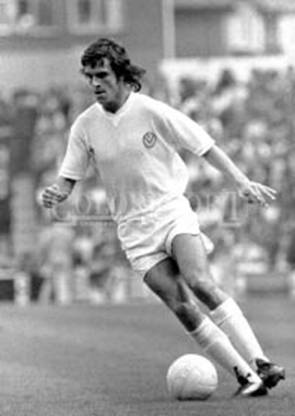 <![endif]> <![if !vml]>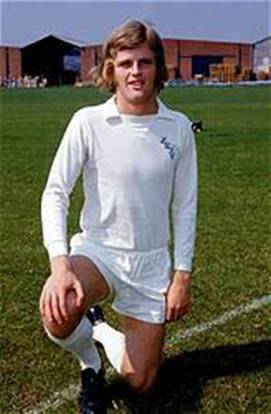 <![endif]> <![if !vml]>
<![endif]>
Joe Jordan, Gordon McQueen and Peter Lorimer scored the Leeds goals
<![if !vml]>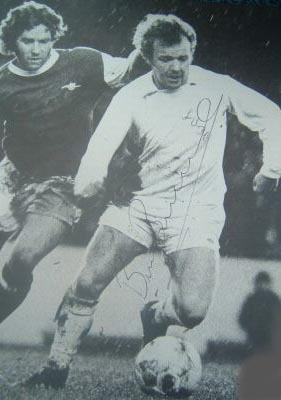 <![endif]> <![if !vml]>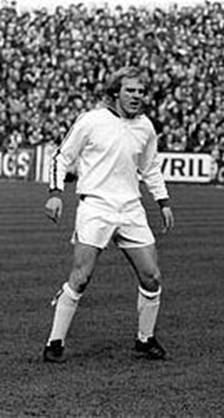 <![endif]>
Billy Bremner was substituted for Terry Yorath with eighteen minutes to go