<![if !vml]>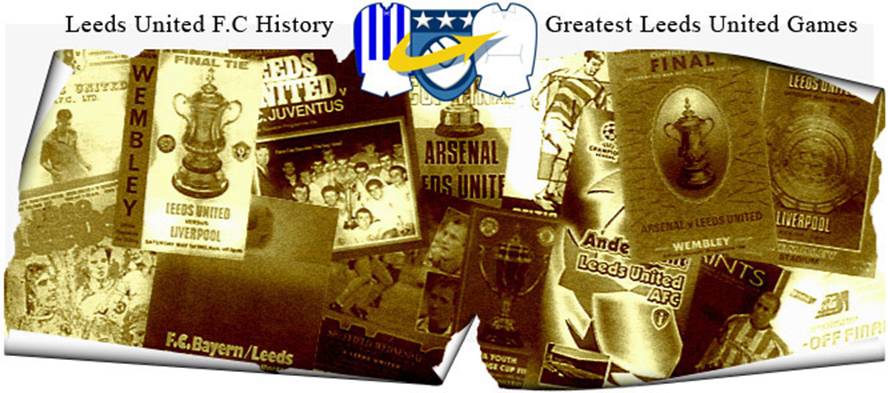 <![endif]>
Date: Thursday, 4th November 1999.
Venue: Lokomotiv Stadium, Moscow, Russia.
Competition: UEFA Cup, Second Round, Second Leg.
Score: Lokomotiv Moscow 0 Leeds United 3.
Scorers: Lokomotiv Moscow: Nil. Leeds United: Harte (pen), Bridges (2).
Attendance: 18,500.
Teams:
 <![if !vml]>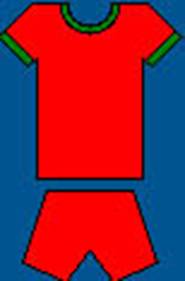 <![endif]><![if !vml]>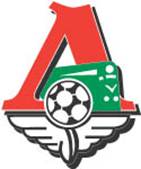 <![endif]>
Lokomotiv Moscow: Nigmatoulline; Tchougainov, Arifoulline (Kharlatchev), Pachinine, Lavrek; Hovhannisyan (Semenenko), Solomatine, Lozkov, Sarkisian; Smertin, Boulykine (Pimenov). Unused Subs: Maminov, Neretine.
<![if !vml]>
<![endif]><![if !vml]>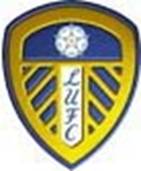 <![endif]>
Leeds United: Martyn; Kelly, Woodgate, Radebe, Harte; Batty, Bowyer (Haaland), Bakke, McPhail (Hopkin), Kewell (Huckerby); Bridges. Unused Subs: Smith, Mills, Duberry, Robinson.                            
Referee: Alain Sars (France).
There was never going to be a way back for Lokomotiv Moscow after their 4-1 drubbing at Elland Road and those who cautioned against assuming anything different were very much wrong as United proved that they were a terrific side by comprehensively beating the Russians on their home pitch. United packed the midfield and left Michael Bridges as a lone striker, and after weathering an early storm from the home side they then scored three goals to go into the interval having doubled their starting advantage to assure a very easy passage into the next round.
In a frenzied start Dmitri Loskov set up Albert Sarkisian with a fabulous opening in the very first minute but he was too eager to swing his leg and the chance went begging. Then Dmitri Boulykine blasted yards over when clean through and it was obvious that it was going to be United's night. Lee Bowyer brought some relief and forced Ruslan Nigmatoulline to make a hurried clearance. David Batty hauled down Dmitri Loskov on the edge of the area, but the man who had scored such a fine strike from a free-kick in the Elland Road leg hammered his shot straight into the wall.
Harry Kewell was in great form and led them a merry dance down the left. Lee Bowyer should have done better from one of his crosses but shot tamely at the keeper. At the other end the impressive Dmitri Loskov sent Albert Sarkisian away but Nigel Martyn smothered his shot. United had weathered the storm and  their first chance came when Andrei Lavrek handled twenty-five yards out but Ian Harte's free-kick lacked power and direction and flew harmlessly wide. They did not have to wait much longer to get on the score-sheet as in the fifteenth minute Harry Kewell was upended by Igor Tchougainov in the box and Ian Harte stroked home smoothly left-footed from the spot. Thirteen minutes later it was 2-0 as Harte crossed from the left and Lee Bowyer headed back across the goal for Michael Bridges to smash it into the roof of the net.
Lucas Radebe was booked for a foul on Andrei Solomatine and this ruled him out of the first leg of the Third Round, but United went still further ahead deep into time added at the end of the first half when Erik Bakke spotted Michael Bridges on the break and chipped a glorious pass right into his stride and Bridges calmly toe-poked it wide of the keeper to make it 3-0 on the night. In the second half the home goal had a miracle escape when a Harry Kewell shot was too hard for the keeper to handle but after several attempts the defence was able to clear it. After Darren Huckerby had come on for Harry Kewell, he was in similar form and waltzed past three defenders to lay on a hat-trick opportunity for Michael Bridges, but the striker snatched at his left-footed shot and the ball flew over the bar. David Batty thought he had scored one of his rare goals as he had the ball in the net in injury time but unfortunately he had strayed off-side from Bridges' pass, which saved Lokomotiv any further humiliation, as Leeds went through with a 7-1 aggregate win.
<![if !vml]>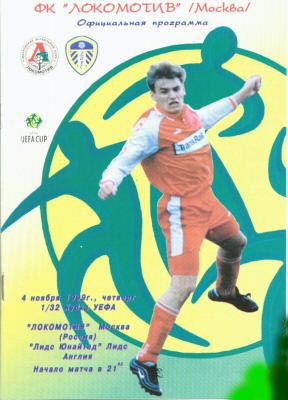 <![endif]>        <![if !vml]>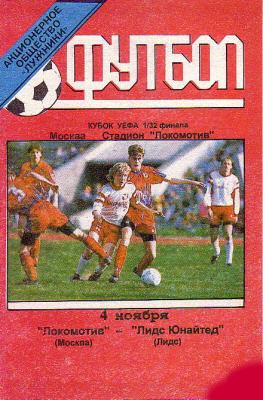 <![endif]> <![if !vml]>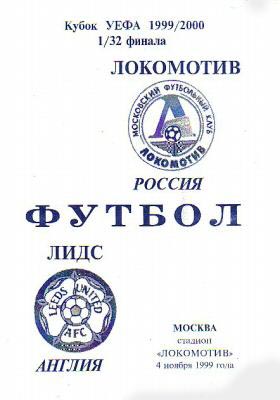 <![endif]>
<![if !vml]>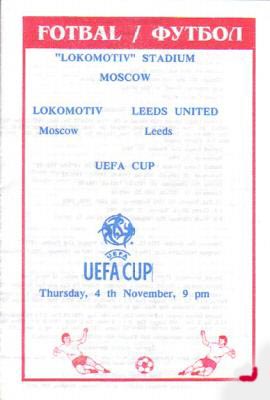 <![endif]> <![if !vml]>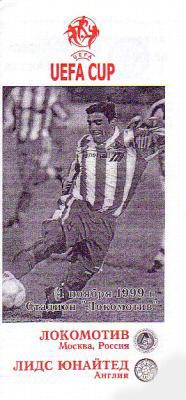 <![endif]> <![if !vml]>

<![endif]>
Match Action:
<![if !vml]>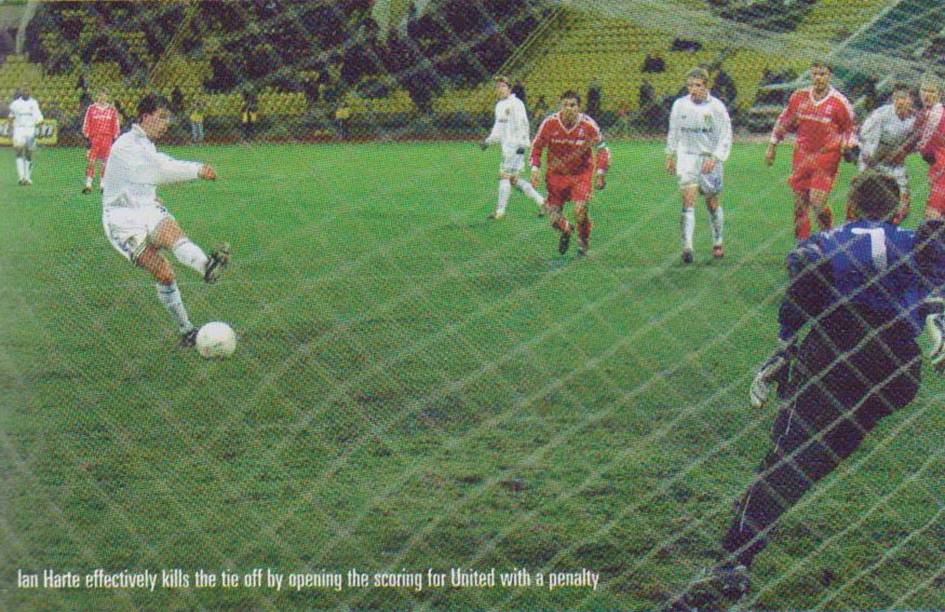 <![endif]> 
<![if !vml]>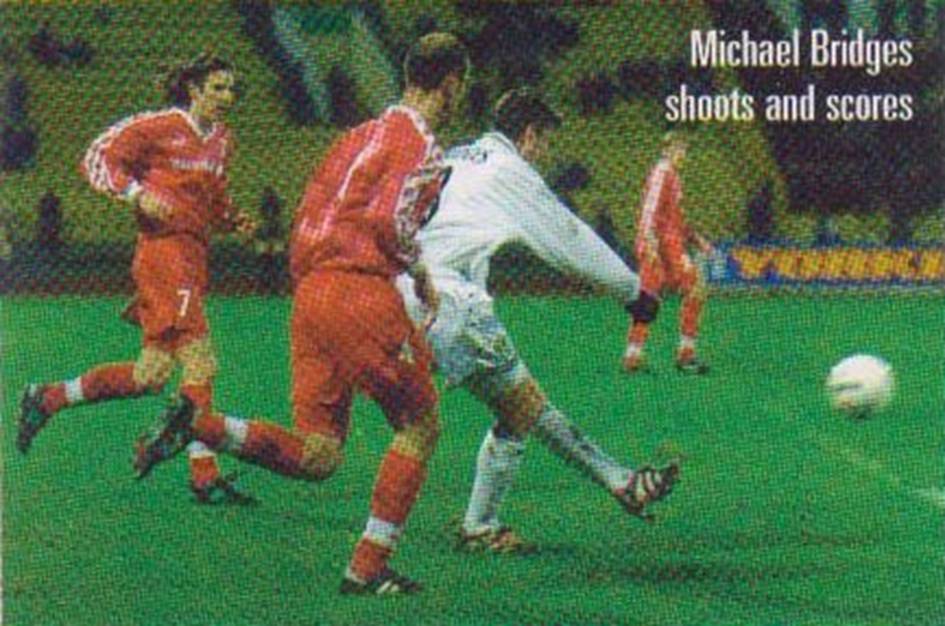 <![endif]> 
<![if !vml]>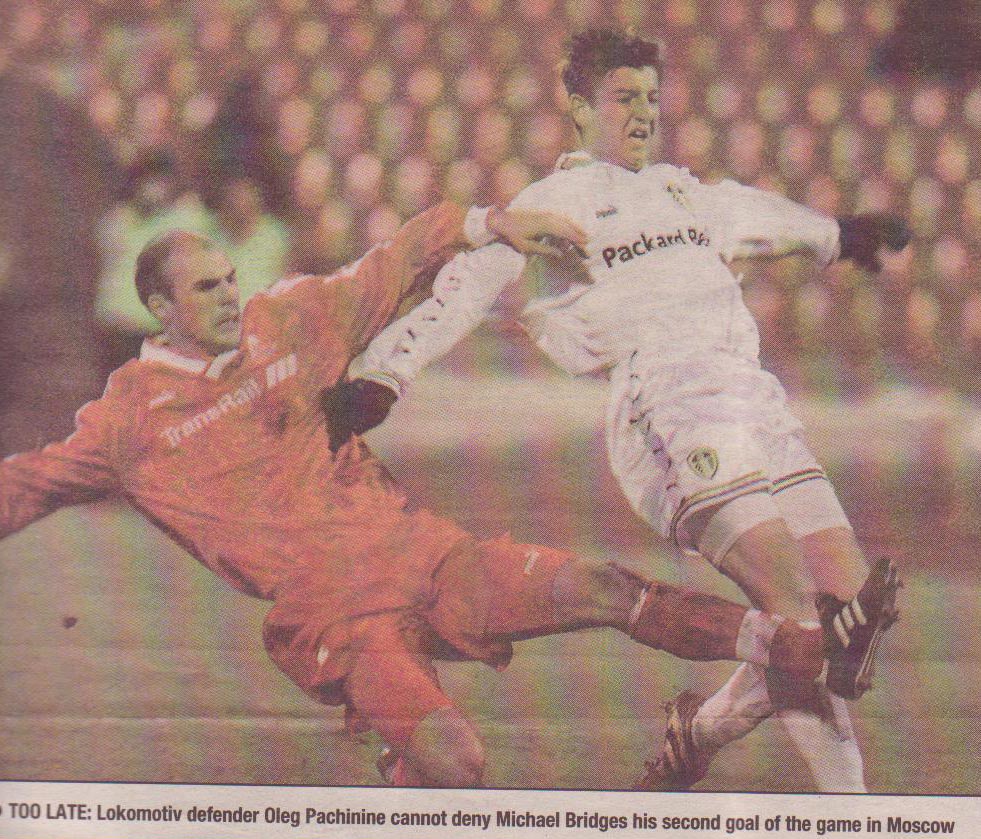 <![endif]>
<![if !vml]>
<![endif]>  <![if !vml]>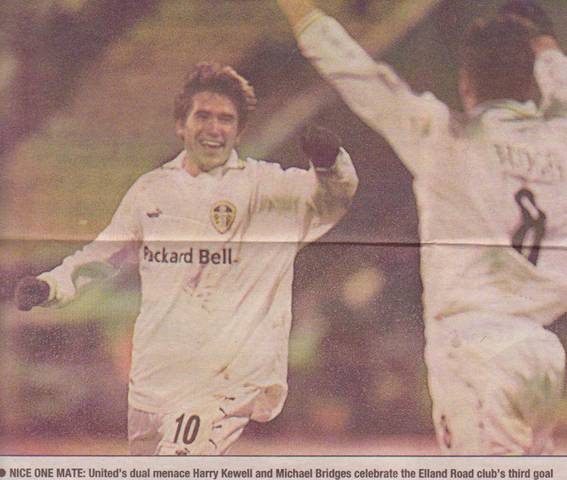 Michael Bridges celebrates his second goal
<![if !vml]>
<![endif]> 
<![if !vml]>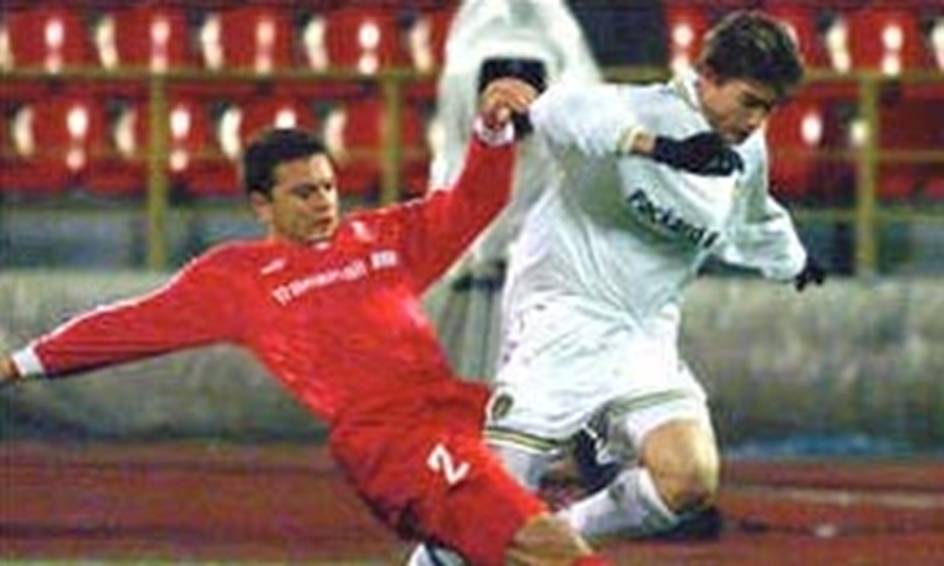 <![endif]> 
Harry Kewell is tackled by Egor Tchougainov
<![if !vml]>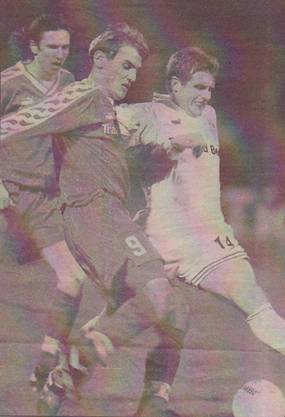 <![endif]>     <![if !vml]>
<![endif]>  <![if !vml]>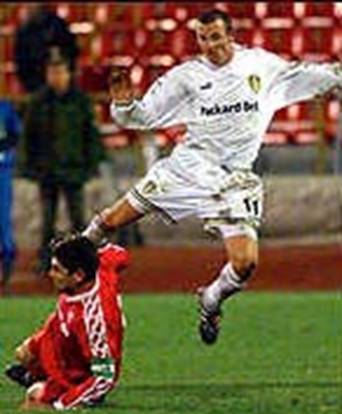 <![endif]>
Stephen McPhail tussles with Dmitri Boulykin Lucas Radebe beats Egor Tchougainov             Lee Bowyer hurdles a defender
<![if !vml]>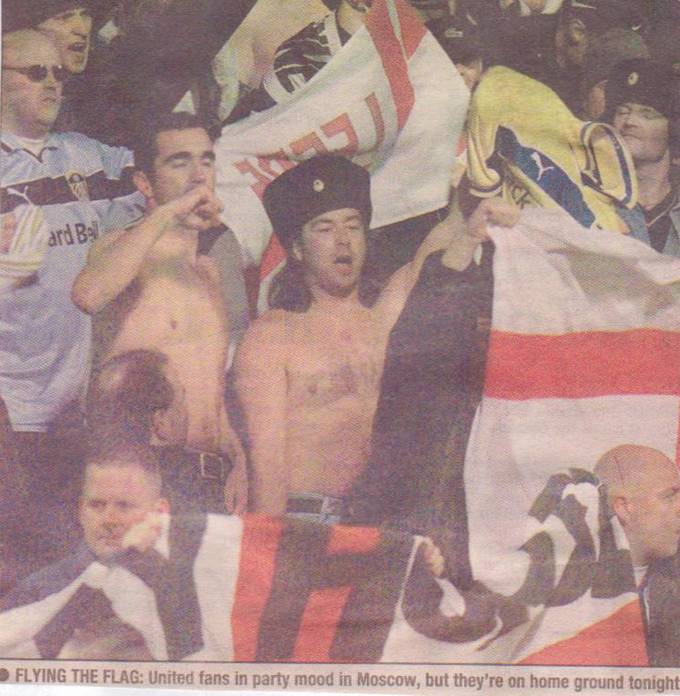 <![endif]>
Players:
<![if !vml]>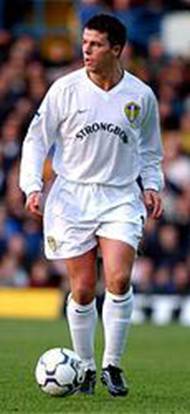 <![endif]> <![if !vml]>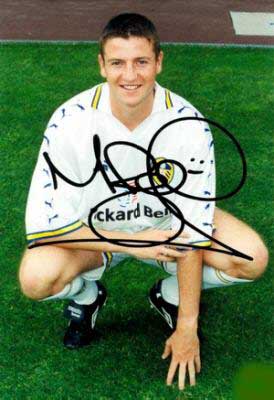 <![endif]>     <![if !vml]>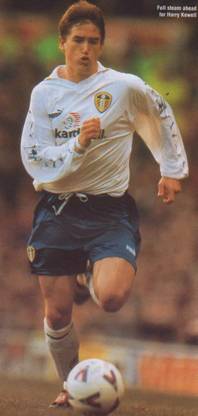 <![endif]>   <![if !vml]>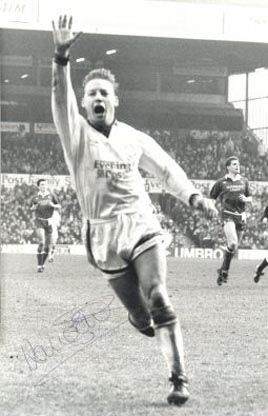 <![endif]>
Ian Harte (penalty) and Michael Bridges (2) were the United                         Harry Kewell upended               David Batty had a goal disallowed
goal-scorers                                                                                                          for penalty                                  for off-side
<![if !vml]>
<![endif]>   <![if !vml]>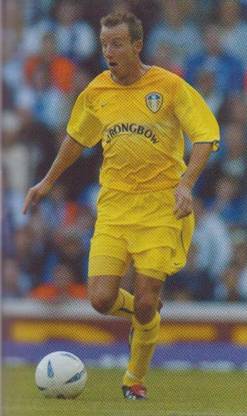 <![endif]>   <![if !vml]>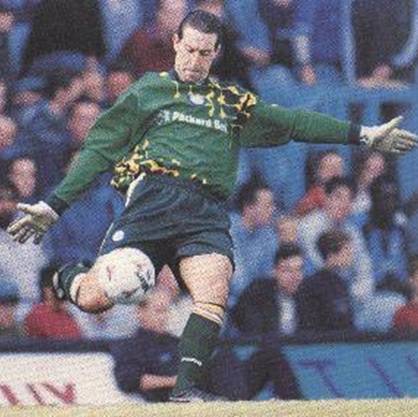 <![endif]>
Lucas Radebe was booked and missed             Lee Bowyer had chances.                                     Nigel Martyn smothered a shot
the next game.
<![if !vml]>
<![endif]>      <![if !vml]>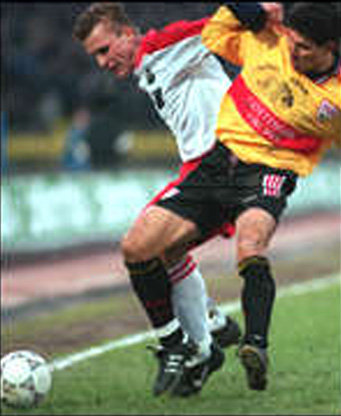 <![endif]>      <![if !vml]>
<![endif]> 
Darren Huckerby laid on             Andrei Solomatin played in the second game                  Ruslan Pimenov came on as substitute
the third goal.