<![if !vml]>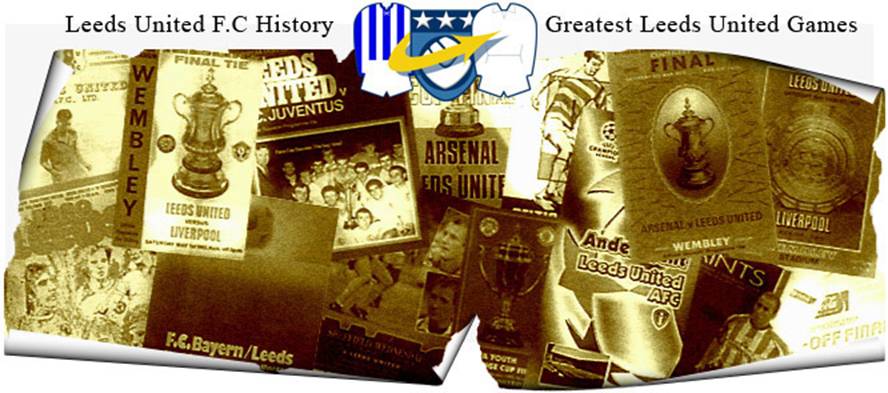 <![endif]>
Date: Wednesday, 4th November 1970.
Venue: Rudolf Harbig Stadion, Dresden, East Germany.
Competition: Inter-Cities Fairs Cup, Second Round, Second Leg.
Score: Dynamo Dresden 2 Leeds United 1.
Scorers: Dynamo Dresden: Hemp, Kreische. Leeds United: Jones.
Attendance: 35,000.
Teams:
 <![if !vml]>
<![endif]><![if !vml]>
<![endif]>
Dynamo Dresden: Kallenbach; Ganzera, Dorner; Sammer, Haustein, Ziegler; Hemp, Kreische, Riedel (Geyer), Richter, Sachse (Heidler).
<![if !vml]>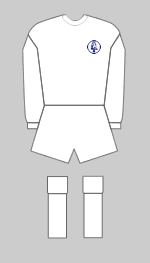 <![endif]><![if !vml]>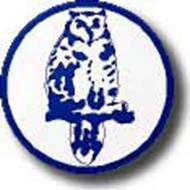 <![endif]>
Leeds United: Sprake; Davey, Madeley; Bremner, Charlton, Hunter; Lorimer, Clarke, Jones, Giles, Bates.
Referee: Ferdinand Marschall (Austria).
Things did not go to plan for United in the journey to Dresden. The flight from Yeadon was due to leave at 10am but because of delays they travelled to Manchester and finally got airborne four hours late and arrived at Templehof Airport in Berlin shortly before 5pm.The United party then boarded a coach for the drive to Dresden, but just outside the approach to the City the rear near side tyre burst and the journey had to be completed, twelve hours behind schedule, in a fleet of taxis.
For once luck ran United's way in the second leg in Dresden. It was a close call as United had to rely upon the ruling which said that goals scored away counted double, in the event of an overall tie. The return game was dramatic in many ways, and the record crowd of 35,000 certainly got their money's worth. Three players, Johnny Giles, Allan Clarke Clarke and Frank Richter were booked, and Mick Bates and Eduard Geyer received their marching orders, as tempers erupted under the tensions imposed upon the contestants by the closeness of the battle.
Dynamo, the team that had concentrated upon defence at Elland Road, went for a quick goal in the return match and they scored one inside the first fifteen minutes when Meinhard Hemp put the ball past Gary Sprake. Manager Don Revie had forecast that this would be a hard match, physically, and events confirmed his judgement. There was not a player who shirked a full blooded tackle, or a man who drew back in the bid to wrest the advantage for his team and there was plenty of exciting, attacking football, also, after the equalizer from Hemp.
In the first half-hour the referee awarded seventeen free-kicks, and by the time it was all over, he had awarded more than fifty, which was true testimony to the all-out physical endeavour of players, and their determination not to concede an inch of territory.
As early as the fourth minute, United almost increased their slender lead, when Peter Lorimer whipped in a vicious shot which skimmed the Dynamo crossbar. However, Dynamo then hit back, to embark on a series of raids which ended in Meinhard Hemp's goal. Dieter Riedel fairly flew down the middle, passed the ball to Uwe Ziegler, who slid it to Hemp on the right wing. Meinhard Hemp lashed in a shot which Gary Sprake appeared to have covered, but the Leeds keeper lost his footing in the heavily-saw-dusted goalmouth, and as he slipped the ball bounced from him and over the line. Leeds were level just on the half-hour, when Peter Lorimer sent in a cross from the edge of the box, and Jack Charlton brought the ball down with his chest for Mick Jones to connect and crash the ball past Manfred Kallenbach.
Dresden, roared on by the crowd, were giving United plenty of trouble, but Norrman Hunter was at his brilliant best at the back. Just when United seemed to have got the measure of the home side, the game erupted ten minutes into the second half when Jack Charlton and home forward Frank Richter both went down in the Leeds penalty box. The Dresden player stayed down and the German fans howled for a penalty. Bottles were hurled by the crowd into the penalty area and skipper Klaus Stammer ran to the touchline and appealed for calm.
Dresden continued to look dangerous but United held on to their overall 2-1 overall advantage until the sixty-third minute, and then it was Dieter Riedel again starting a move which brought Dynamo a second goal. He sent in a precision centre from the right, and Hans-Jurgen Kreische soared into the air to head the ball down past Gary Sprake and into the net. Hans-Jurgen Kreische almost did the trick again a few minutes later, but this time he hooked the ball over the bar, and Leeds breathed again.
Twenty minutes from time it was Leeds forcing the pace once more with Norman Hunter slamming in a fierce twenty-five-yard shot which brought a tremendous save from Manfred Kallenbach. Then within minutes, Allan Clarke went close when he shot just over the bar. With fifteen minutes to go, Dynamo were still in front on the night by 2-1 and they replaced the exhausted Dieter Riedel with Eduard Geyer, who was on the field for no more than five minutes.
A tackle by Allan Clarke brought down Gerd Heidler, and then there followed a fracas near the Leeds penalty area. When tempers had cooled sufficiently for the game to recommence, each team was a man short. Eduard Geyer and Mick Bates were back in their respective dressing rooms. Dynamo at last took their free-kick, and it was an extremely fierce drive which Gary Sprake punched clear for a corner. As the game came to a close Leeds held on grimly for an aggregate tie. When the final whistle went they were able to ignore the many spectators who rushed onto the field to vent their frustration, and they reached the relative calm of their dressing room well satisfied with the result, which put them through to the third round of the competition.
<![if !vml]>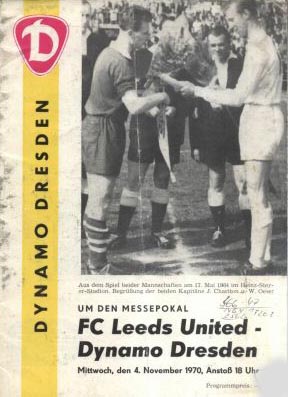 <![endif]> <![if !vml]>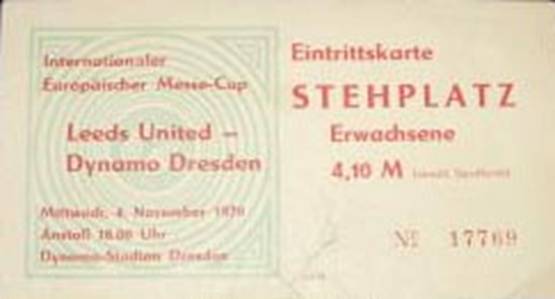 <![endif]>
Teams:
<![if !vml]>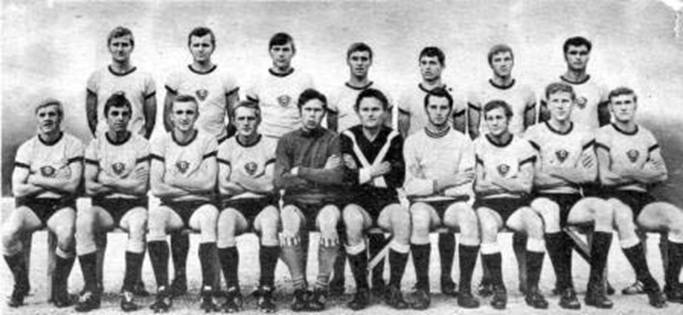 <![endif]>
SG Dynamo Dresden 1970-71: 
Back row: Kreische, Ganzera, Rau, Ziegler, Richter, Doerner, Haustein.
Front row: Hemp, Sachse, Wätzlich, Riedel, Meyer, Kallenbach, Heidler, K. Sammer, Geyer
<![if !vml]>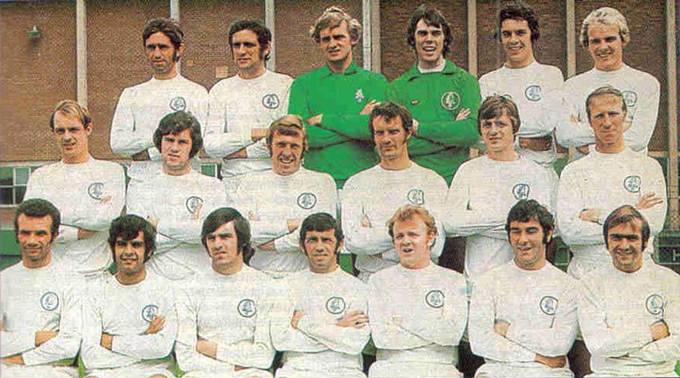 <![endif]>
LeedsUnited 1970-71:                                                                                                      
Back Row: Rod Belfitt, Norman Hunter, Gary Sprake, David Harvey, Joe Jordan, Terry Yorath.     
Middle Row: John Faulkner, Chris Galvin, Mick Jones, Paul Madeley, Allan Clarke, Jack Charlton.
Front Row: Paul Reaney, Mick Bates, Peter Lorimer, Johnny Giles, Billy Bremner, Nigel Davey,
Terry Cooper.
Players:
<![if !vml]>

<![endif]>                    <![if !vml]>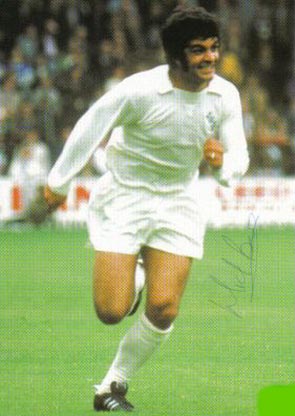 <![endif]>    
Dresden's Eduard Geyer and Leeds' Mick Bates were given their marching orders   
<![if !vml]>
<![endif]> <![if !vml]>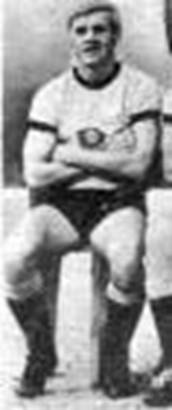 <![endif]>                            <![if !vml]>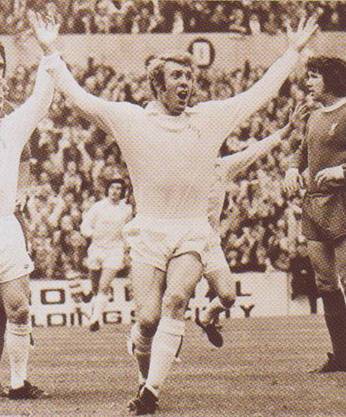 <![endif]>
   Hans-Jurgen Kreische and Meinhard Hemp scored for Dynamo Dresden                    Mick Jones got the vital goal for United