<![if !vml]>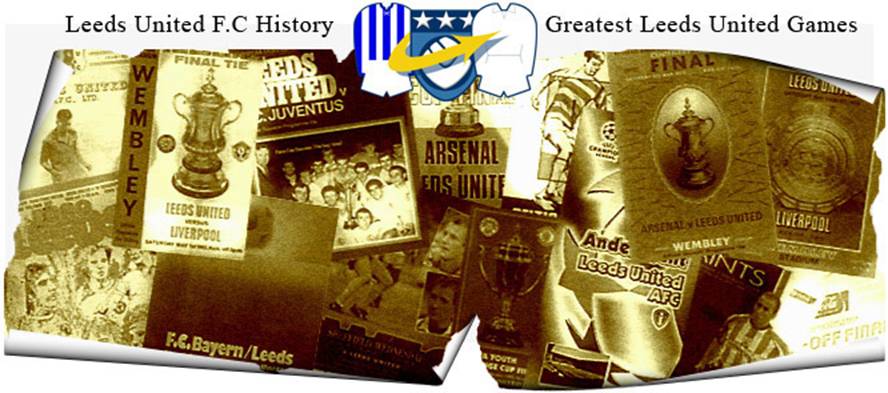 <![endif]>
Date: Sunday, 4th May 2003.
Venue: Highbury, North London.
Competition: English Premier League.
Score: Arsenal 2 Leeds United 3
Scorers: Arsenal: Henry, Bergkamp. Leeds United: Kewell, Harte, Viduka.
Attendance: 38,127.
Teams:
<![if !vml]>
<![endif]> <![if !vml]>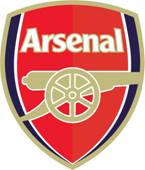 <![endif]>
Arsenal: Seaman; Toure (Kanu), Luzhny, Keown, Cole; Gilberto, Parlour, Pires (Van Bronkhorst), Wiltord (Pennant); Bergkamp, Henry. Unused Subs: Stepanovs, Taylor.
<![if !vml]>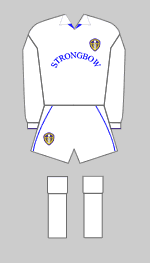 <![endif]><![if !vml]>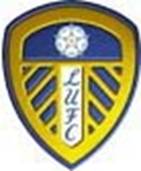 <![endif]>
Leeds United: Robinson; Mills, Radebe, Duberry, Harte; Kelly, Matteo, Bakke, Wilcox; Kewell (Johnson), Viduka. Unused Subs: Bravo, Barmby, Milner, Martyn.
Referee: A. Wiley (Burntwood, Staffordshire).
Mark Viduka had scored one hundred and thirty-six goals in his professional career but none had been as important as the eighty-eighth minute strike that gave Leeds a scintillating 3-2 win at Arsenal. In purely financial terms the goal was worth £25m as it ensured United's EPL survival and finally banished any fears of a drop into the Nationwide League graveyard. And in a football sense, the strike was worth its weight in gold as it proved that, despite an intensely disappointing campaign, Leeds could still mix it with the very best.
The word classic is often overused when describing football matches, but this was a classic in every sense of the word. With everything to play for, Leeds and Arsenal slugged it out in an end-to-end encounter that conjured up visions of two heavyweight boxers trading crushing blows from the first bell to the last.There were times in the second half when Arsenal, needing to win to keep any hopes of a second successive championship alive, looked to have twelve or thirteen players on the pitch such was the immense pressure they were exerting on the Leeds backline. But the United's defenders, so pilloried for an error-strewn performance against Blackburn Rovers the previous weekend, stood firm in the face of relentless Arsenal attacking to allow Mark Viduka to apply the coup de grace as full-time approached.
The Australian had been instrumental in United's successful battle against the drop and his winner made it thirteen goals in his last nine league outings and an incredible ten in seven under caretaker boss Peter Reid. With Leeds hanging on for the draw that would still have left them needing a win in their final fixture to be sure of survival, Mark Viduka received Dominic Matteo's intelligent through ball on the right flank. Many strikers would have lashed a shot first time but the Aussie showed great composure to casually ease inside Oleg Luzhny and work the ball on to his left foot. There was still plenty to do at that stage, but with seemingly effortless poise Viduka bent a wonderful curler beyond David Seaman to spark scenes of jubilation amongst the travelling supporters. The goal was fitting reward for another display of one hundred per cent commitment with Mark Viduka often foraging alone but rarely conceding possession despite the persistent attentions of Oleg Luzhny or Martin Keown.
With Alan Smith suspended following his recent sending off at Southampton, Harry Kewell was pushed forward to partner Viduka and if the latter was the man of the moment in the closing stages, his compatriot dominated the early exchanges. Arsenal had made something of an habit of blowing teams away in the opening twenty minutes at Highbury and sure enough, the early stages were extremely one-sided again on this occasion. But, instead of the hosts flying out of the traps, it was Leeds who had their opponents on the back foot from the first whistle. They had to survive an early scare, Brazilian Gilberto Silva rocking the United crossbar, but then went on to enjoy twenty minutes of almost total domination.
Harry Kewell's form has summed up United's season, at times inspirational, more often than not innocuous, but on his day there are few players who can match his skill and vision. Highbury has seen its fair share of memorable goals in recent seasons, but none have been better than Kewell's sensational fifth minute opener. The Aussie barely broke stride as he let a long ball from Jason Wilcox drop over his shoulder and right into his path before unleashing a venomous half-volley that flew into the far corner, before David Seaman could move. Arsenal's home may have become known as "The Library" because of a perceived lack of atmosphere in recent years, but Harry Kewell's strike had every member of the crowd momentarily silenced for a very different reason.
He should have doubled United's lead just eight minutes later after being set free by Mark Viduka but, after rounding David Seaman, he found himself too wide to be able to find the net from such an acute angle. The twenty-four year-old enjoyed a twelve year head-start on Martin Keown and, for much of the game that was glaringly apparent as the former England defender had no answer to Kewell's blistering pace and trickery. This was Harry Kewell at his very best, swerving from side to side and even managing to out-Henry Thierry Henry, but United's problems that season did not stem from events in the attacking half of the field.
Only Arsenal had outscored Leeds on the road but only Fulham, Sunderland and West Ham had conceded more and, going on this game, few would have given Lucas Radebe and Michael Duberry much hope against the most potent attacking line-up in the League. As it was they were absolutely superb, winning virtually everything in the air and throwing themselves into countless blocks in and around the penalty area. Lucas Radebe's performance was particularly impressive given that he has been beset by knee problems all season and with fellow invalid Dominic Matteo equally eye-catching at the heart of midfield, United's patched up duo finally dispelled any notion that the players had no stomach for a fight.
That's not to say there weren't any scares along the way though, as Arsenal showed sporadic glimpses of the form that saw them crush United at Elland Road earlier in the season. Thierry Henry, who received the PFA Player of the Year award before the kick-off, scored one and hit the post twice as he underlined why many neutral observers feel he is the best striker in the world at the moment. His twenty-ninth minute leveller had more than a stroke of fortune about it, the Frenchman heading home after Paul Robinson had turned Ray Parlour's raking drive on to the crossbar, but Henry's pace was a constant threat all afternoon.
Ray Parlour went close himself shortly before half-time but Ian Harte put Leeds back in front four minutes after the interval with a goal from a free-kick for the third year running at Highbury, although this one owed more than a little to a deflection off Ashley Cole. Arsenal levelled again when Robert Pires got on the wrong side of Danny Mills and Dennis Bergkamp was left with a routine finish from six yards and, when Henry rapped an exquisite curler against the foot of the post late on, Leeds looked to be on the ropes.But there was to be one final twist on an afternoon of high drama with Mark Viduka's great late show. An upshot of the result was that Leeds had beaten Arsenal to hand the title to their greatest rivals Manchester United for the second time in four years. But it was hard to find a Leeds fan that cared much about that at the final whistle. Arsenal were not to lose another League game for more than a season.
An alternative report
The circumstances were slightly different, but the stakes were the same. When Leeds travelled to Highbury, both clubs had it all to play for. United needed the win to secure their Premiership status with one game remaining while Arsenal needed the win to stay in the title race. The clash was billed as one of the biggest in United's history and the enthralling ninety minutes that followed was nothing short of a classic. Rarely does a game live up to its billing, but few who watched the Highbury showdown would argue that it was a great game in every sense of the word.

It started on a high note when Harry Kewell set the tone with a wonderful bullet-like shot from outside the area to give Peter Reid's upstarts the lead. Arsenal were stunned and thousands of watching Manchester United fans, knowing a Leeds win would clinch the title for the Reds, were in delirium. However, Arsenal were level within minutes when Thierry Henry forced the ball home after Paul Robinson pushed a Ray Parlour shot onto the bar. With parity restored it was time for Arsenal to dominate. The home fans roared, the away fans mopped their brows and bit their fingernails.

Four minutes after the break it was game on again. Ian Harte's third Highbury free-kick in as many years left David Seaman with no chance. But Arsenal levelled again when Robert Pires got on the wrong side of Danny Mills and Dennis Bergkamp was left with a routine finish. Henry rapped the post and as the clock ticked down Arsenal were in control. The title was at stake and it seemed Leeds would have to wait another week to try and secure their Premiership safety against Aston Villa.

Then the game was turned on its head. Dominic Matteo lofted a seemingly harmless ball up-field and Mark Viduka brought it under control. There was no one in the middle and no danger. But Mark Viduka was in a rich vein of form. Without support, he eased past Oleg Luzhny and unleashed a rocket of a shot to secure the points. It was a stunning strike and one which was worth an estimated £25m to cash-strapped Leeds. The travelling fans were in ecstasy and the watching Manchester United fans danced around the pubs and clubs. The Gunners faithful looked on in disbelief. This wasn't supposed to happen, had Leeds not read the script? It was an unbelievable victory by a side written off by all and sundry and United's Premiership safety was secured, for another twelve months at least.
<![if !vml]>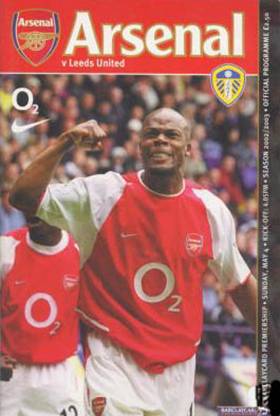 <![endif]> <![if !vml]>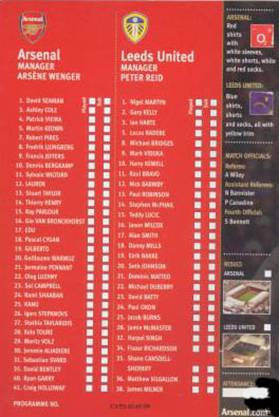 <![endif]>
Match Action:
| | |
| --- | --- |
| Harry Kewell scores a brilliant first goal | Mark Viduka congratulates Harry Kewell |
<![if !vml]>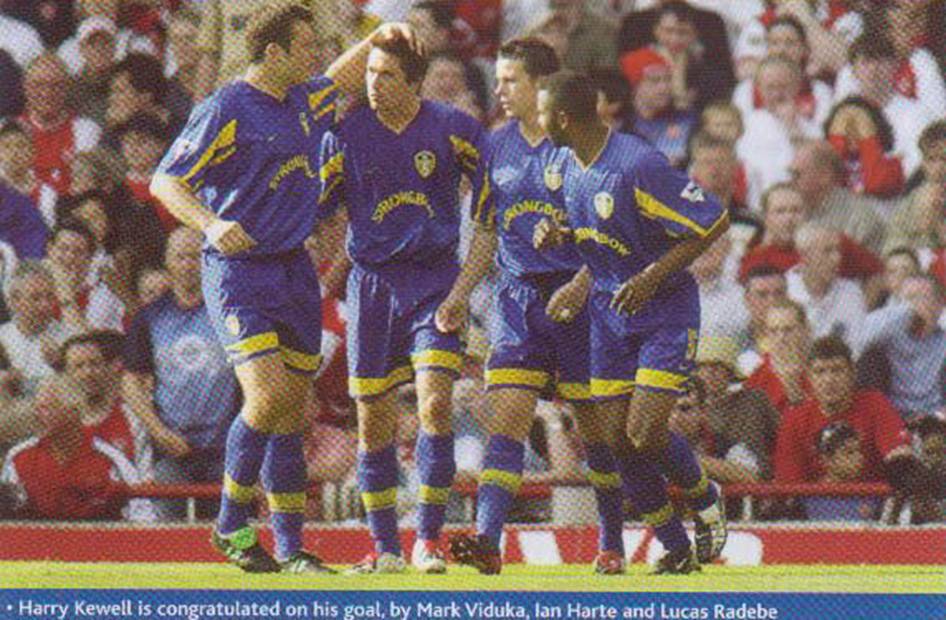 <![endif]>
<![if !vml]>
<![endif]>          <![if !vml]>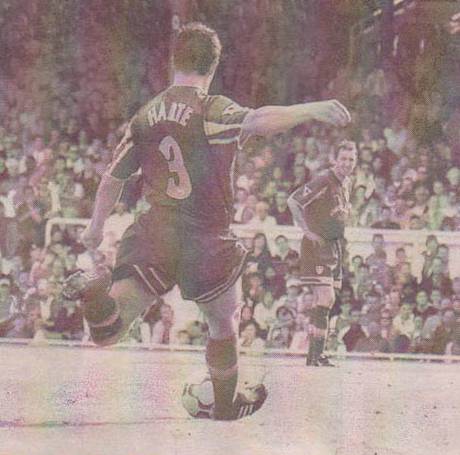 <![endif]>  
Harry Kewell and Ian Harte talk tactics                                                      Ian Harte launches the free-kick which beat David Seaman for the second
<![if !vml]>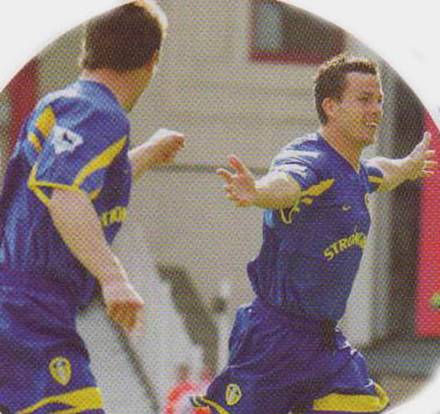 <![endif]>          <![if !vml]>
<![endif]>
Harry Kewell congratulates Ian Harte                                                         Harry Kewell rounds David Seaman but was just wide
<![if !vml]>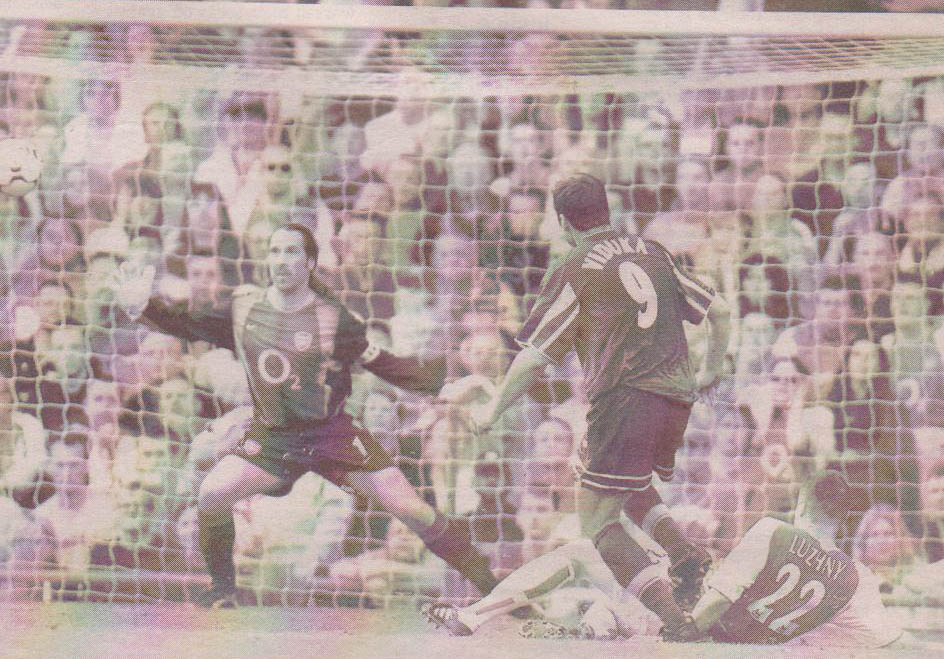 <![endif]>
Mark Viduka beats David Seaman to get the third and winning goal
<![if !vml]>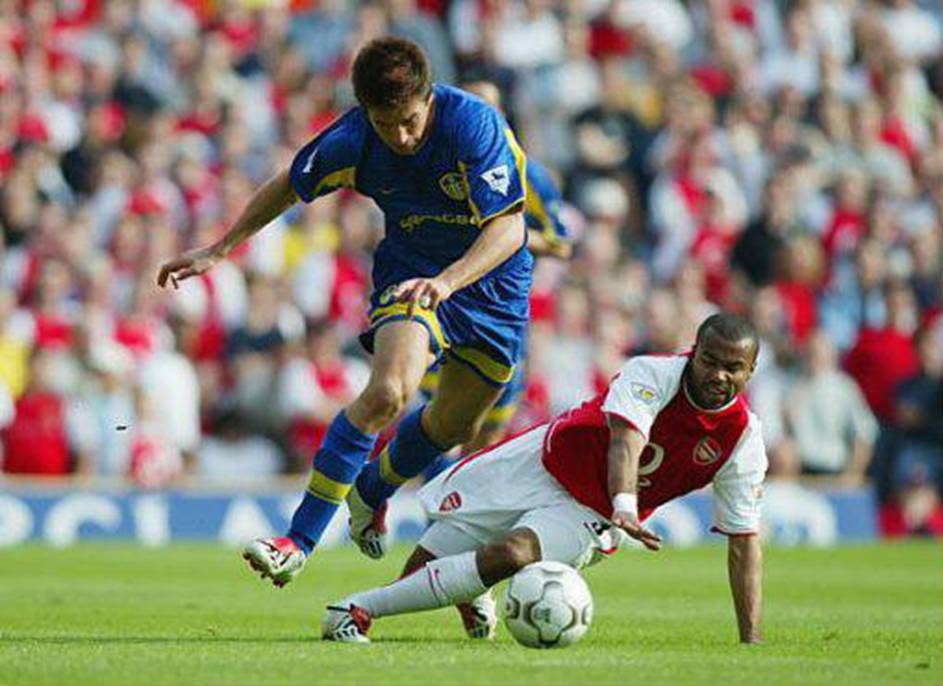 <![endif]> 
Harry Kewell easily beats Ashley Cole
<![if !vml]>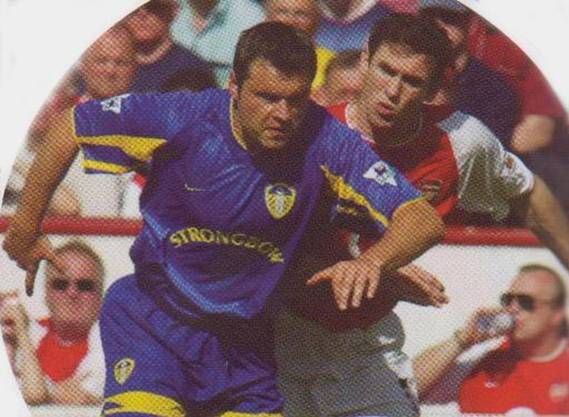 <![endif]>               <![if !vml]>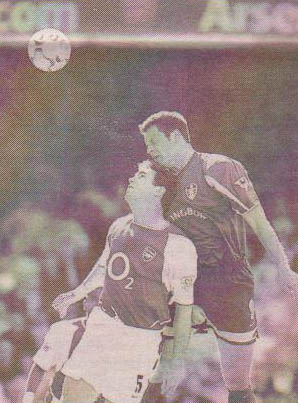 <![endif]>
Mark Viduka wins another battle with Martin Keown                                                                     Mark Viduka again gets the better of
                                                                                                                                                             Martin Keown this time in the air
<![if !vml]>
<![endif]>    <![if !vml]>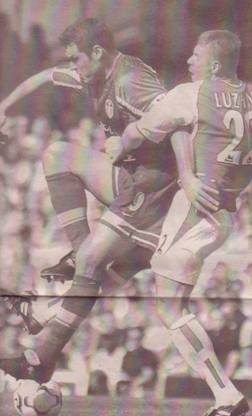 <![endif]>    <![if !vml]>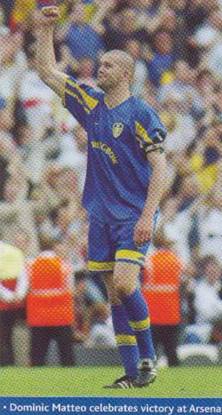 <![endif]> 
Oleg Luzhny and Mark Viduka in a wrestle for possession                Oleg Luzhny again wrestles with
                                                                                                                 Mark Viduka
<![if !vml]>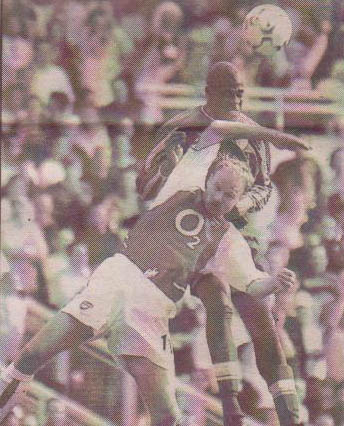 <![endif]>    <![if !vml]>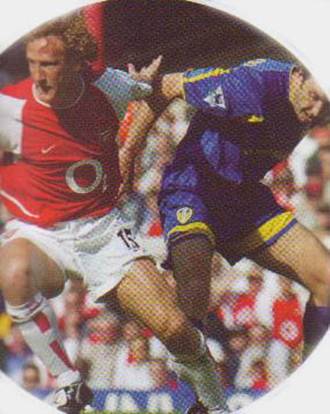 <![endif]>     <![if !vml]>
<![endif]>
Michael Duberry climbs high to beat Dennis               Jason Wilcox battles with Ray Parlour                         Safe at last!
Bergkamp in the air                                                                                  
<![if !vml]>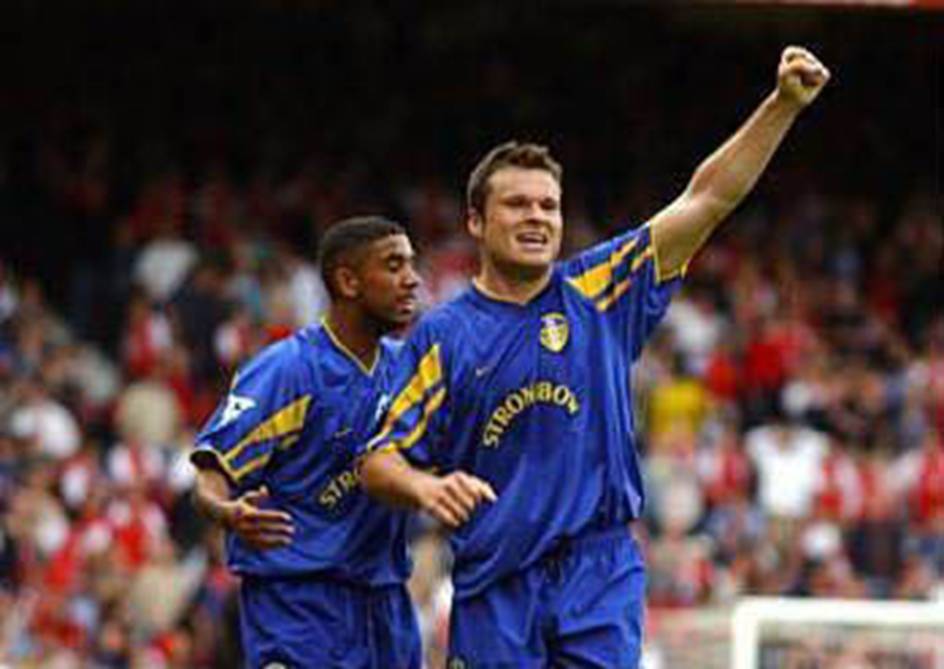 <![endif]> 
Mark Viduka and Simon Johnson salute the fans
<![if !vml]>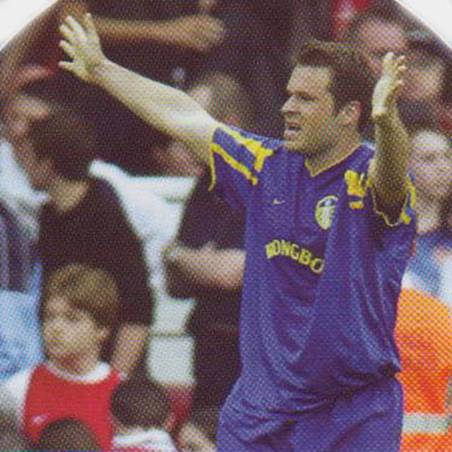 <![endif]>    <![if !vml]>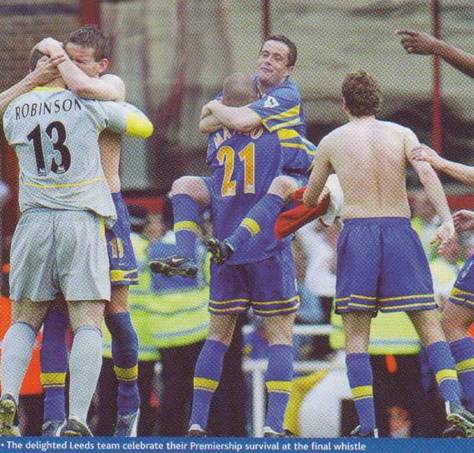 <![endif]>
Mark Viduka salutes the fans
<![if !vml]>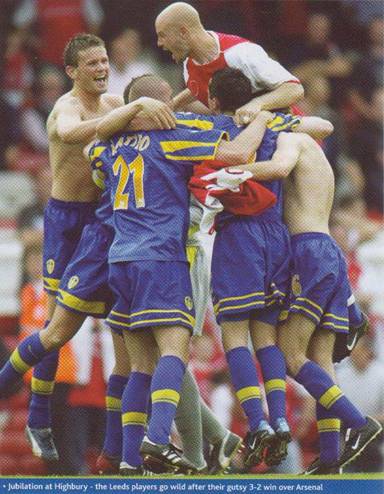 <![endif]> <![if !vml]>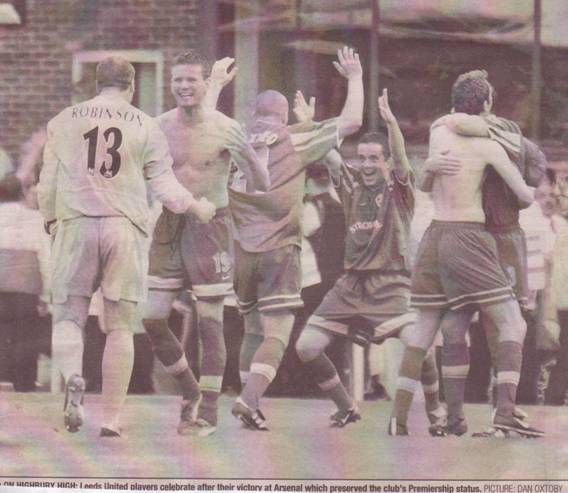 <![endif]> 
Players:
<![if !vml]>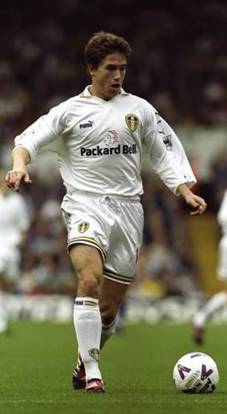 <![endif]> <![if !vml]>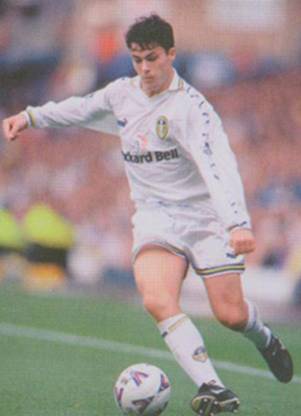 <![endif]> <![if !vml]>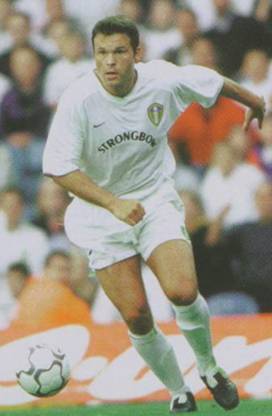 <![endif]>      <![if !vml]>

<![endif]>
                    Harry Kewell, Ian Harte and Mark Viduka scored the goals for Leeds                                                                        Alan Smith missed
                                                                                                                                                                                                                 the game suspended
<![if !vml]>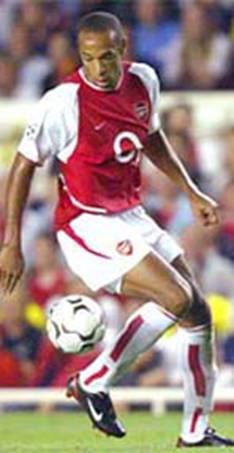 <![endif]> <![if !vml]>
<![endif]>          <![if !vml]>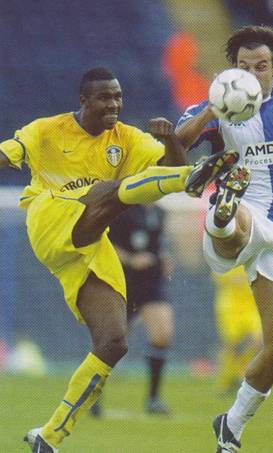 <![endif]>        <![if !vml]>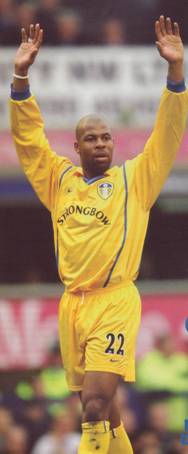 <![endif]>
Thierry Henry and Dennis Bergkamp replied for Arsenal                     Few gave Lucas Radebe and Michael Duberry much chance against
                                                                                                                    the prolific Arsenal attack
<![if !vml]>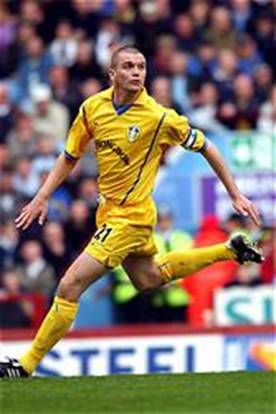 <![endif]>   <![if !vml]>
<![endif]>  <![if !vml]>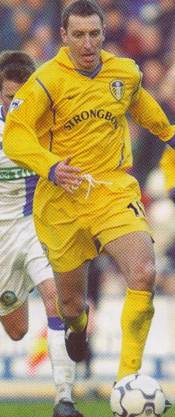 <![endif]>   <![if !vml]>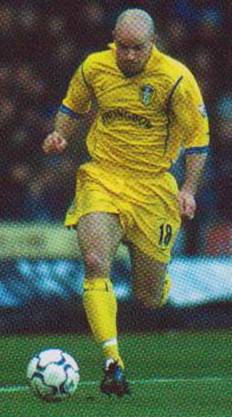 <![endif]>
Dominic Matteo's through ball                     Paul Robinson saved from Ray             Jason Wilcox's great ball     Danny Mills let Robert Pires get   
started the third goal                                     Parlour, but Thierry Henry                    started the first goal              the better of him for the second
                                                                        headed in the rebound
<![if !vml]>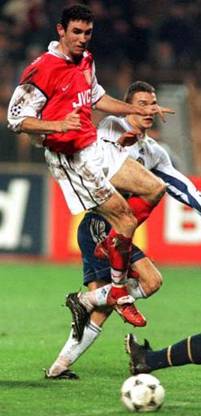 <![endif]> <![if !vml]>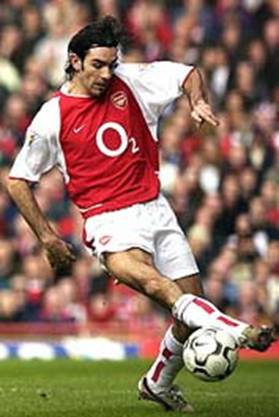 <![endif]> <![if !vml]>

<![endif]> <![if !vml]>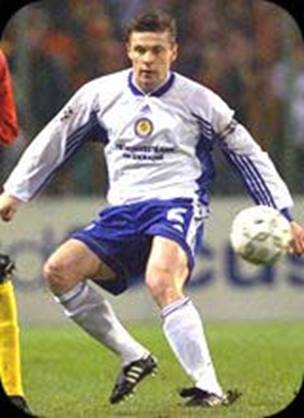 <![endif]>
                                    Martin Keown, Robert Pires, Dennis Bergkamp and Oleg Luzhny came into the Arsenal line-up
<![if !vml]>
<![endif]>      <![if !vml]>
<![endif]>     <![if !vml]>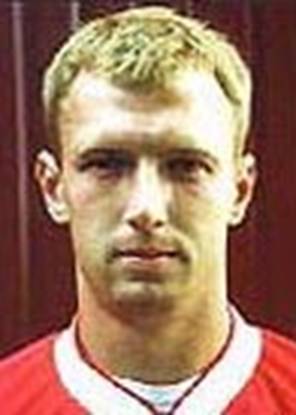 <![endif]> 
Giovanni Van Bronkhorst came on as a substitute, while Stuart Taylor and Igor Stepanovs were unused substitutes